Affiliate Disclosure: I publish various content marketing strategies, online business ideas, blogging tutorials, review articles, and discount offers on my blog. My content may contain some affiliate links for products/services I use, love, and recommend. If you take action (i.e., subscribe or make a purchase) after clicking one of my affiliate links, I'll earn an affiliate commission at no additional cost to you. It helps me in creating more helpful content like this.
How to make money from your blog? It's an interesting subject to talk about.
In my previous articles, I have written a lot about blogging, SEO, digital marketing, e-commerce, and money-making tips.
Today, I'm going to discuss a bit more about how to make money from a blog.
Many people don't understand that starting a blog and making real money from it are two different things.
Remember, starting a blog is quite an easy task today, but growing and monetizing it may not be everyone's cup of tea.
If you search for the term, "how to create a blog," you'll get thousands of websites and fully actionable stuff.
Right from picking your niche and appropriate domain + web hosting to installing WordPress and customizing it, you'll get help for everything on the internet. Not just blog posts but free video tutorials too.
It's because most of these sites use affiliate marketing where they get paid to refer you to some products and services, including domain names, web hosting, themes & plugins, and other blogging tools.
But have you thought about making money off a blog?
With a lot of enthusiasm and desire to make money online, many people start a blog, but only a few continue their journey after one or two years.?
This happens because they don't earn a significant amount of money from their blog.
If you're one of them or want to start your blogging journey without failures, you must read the complete article.
It's an action-packed piece of content that you're going to love.
In case you're already earning a good amount, it's great to hear, and I'd like to know about your journey.
However, I have mentioned here a total of 11 methods to monetize your blog even if you haven't earned a single dime online.
Do you want to see those methods?
Here are the 11 best methods to make money from your blog.
1. Google AdSense
You might have heard about making money online using Google AdSense, but it may not be working for you.
Remember, Google AdSense is a CPC-based advertising network.
Google shares a part of its revenue with content creators and publishers. When people visit your blog/website and click on the AdSense ads, you get paid for every valid click.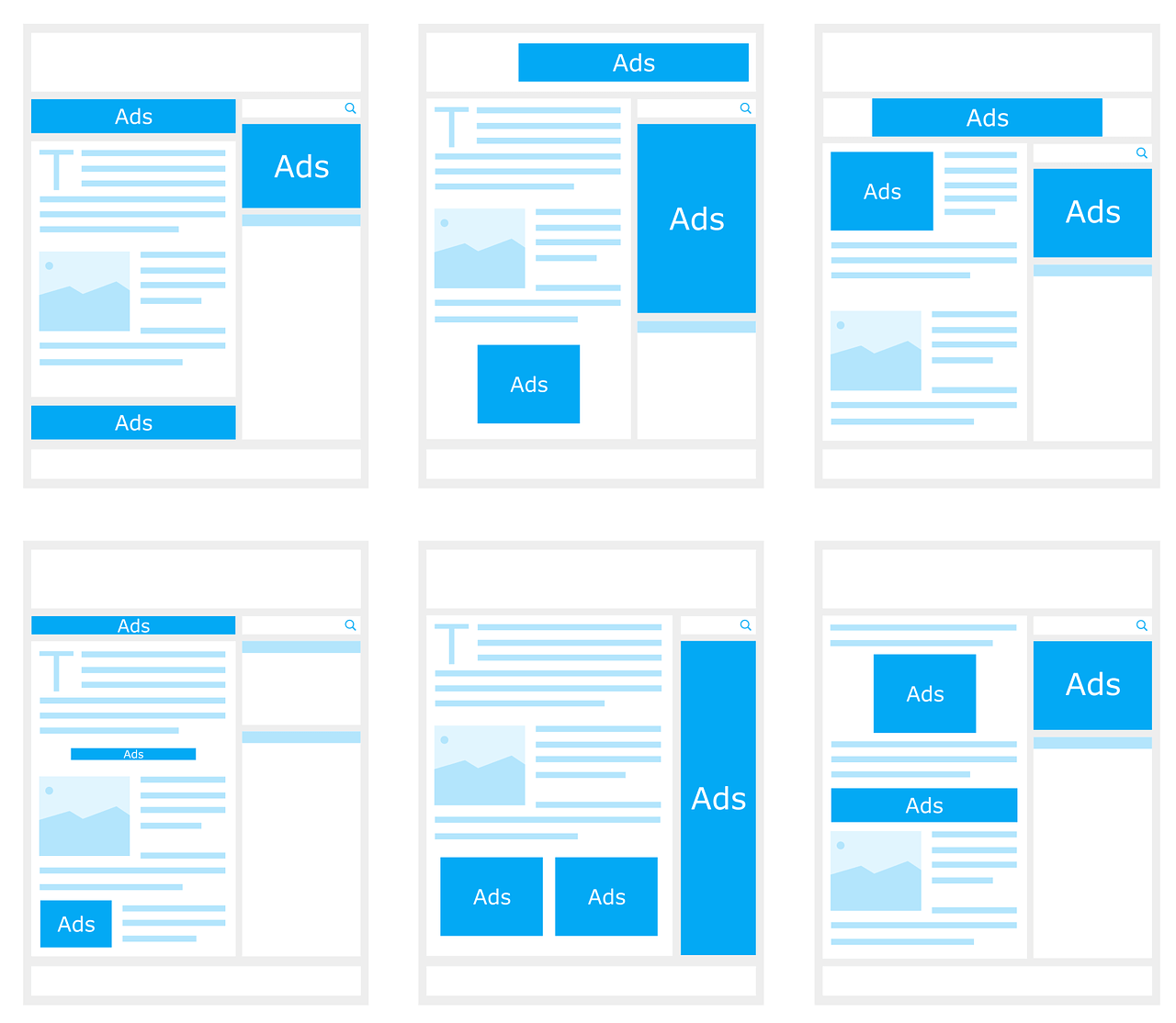 Google AdSense does not work well for every niche.
To be successful on the AdSense platform, you need an authority blog with a ton of visitors every single day, proper keyword research for getting a good CPC, viral content, or an extremely targeted audience who have positive buying intent and click on the ads naturally.
If you're blogging in specific niches like News, Fashion, or Travel and getting more than 1000 visitors per day, then it's the right time to display AdSense ads to your users.
However, you also need to follow Google AdSense guidelines and post blog content regularly to get a decent amount of money from your blog.
I don't use this monetization method aggressively, but it could be great for some people having a load of traffic.
To get AdSense approval, you need to understand a few things mentioned below:
Follow Google AdSense Content Quality guidelines
Write unique and original content that helps people come to your blog. Try to publish around 20+ decent articles before applying to AdSense.
Don't use copied contents unless you're using them for reference. Plagiarized content mostly won't get AdSense approval. Try to avoid writing errors, if you're not good at writing, use premium content, or hire a freelance writer.
Be real and be true. Add your genuine details like contact, address, etc. It helps to prove the authenticity of your publication.
Add all necessary pages like About us, Contact (as mentioned in the above point), ToS, Disclaimer, Privacy Policy, and Sitemap.
Site performance and visual appearance matter a lot too. Try getting good web hosting that can accommodate the traffic you'll get without having downtime and use an AdSense Friendly theme to get an attractive layout that will further help you get more clicks. Apart from that, your site's loading time should be a minimum (under 3 Sec.)
Once you've done this, head over to Google AdSense's official website and apply with the appropriate details. Within the next few days, the AdSense team will review your application and reply whether you're on board or not.
Remember: In some countries like India, you may need to wait at least six months before applying to Google AdSense.
Many people also ask, "How to get ads on my blog?" once they get AdSense approval.
It depends on your efforts, content quality, publishing frequency, and qualified traffic that your blog/website receives.
If you want to make passive income working from home with Google AdSense, then you can learn more from the resources mentioned below.
2. Display Banner Ads
If you've noticed, when you browse different blogs or websites, you might have seen some banners on those web pages.
These banners are nothing but display ads. Displaying banner ads is one of the best monetization methods for big publications companies and blogs.
These high-traffic sites charge a fixed amount of money from different advertisers who want to display the banner ads on their websites.
The display banner advertising method works mostly on a CPM (Cost Per Mille/Cost Per Thousand) basis or a monthly basis where advertisers make upfront payments to display their ads on the publisher's blog/website.
Websites like BuySellAds and AdClerks are a couple of the biggest marketplaces to buy and sell display banner ads.
However, if you want to sell ad spaces and monetize your blog with display banners, you should be getting ~100K impressions per month to receive a significant amount of money.
And, in many cases, they don't approve blogs on free platforms including Blogger, WordPress.com, or Wix.
Viral niche blogs and news sites have an excellent opportunity to use this method.
BuySellAds price for display ads on one of the publisher's sites.
If a banner gets 4,029,000 estimated impressions. Let's make a little calculation for this.
Ad Area: Super Leaderboard Rising Star (970 X 250 Top Center)
Est. impressions: 4,029,000/Month
CPM: $20
Total Est. Earning (In $): (4,029,000/1000) X 20 = 80,580
This's an amount for a single banner.
Now, you can easily find how much would be they earning with the three more ad spaces.
Remember, your hard work pays you in the long term.
3. Paid Reviews
Today, when you want to buy something online, you often get confused after seeing a variety of products or services.
In such cases, you ask your friends or relatives for suggestions, and most of the time they recommend the best product according to your needs.
But what'd happen if you get a well-researched buying guide and suggestions from experts who know the topic well?
You would definitely buy that product or service.
Am I right?
You might have seen so many buying guides and review articles similar to this that promote specific products/services.
And, most of the reviews you see online are sponsored by a relevant business to market their product in front of the targeted audience.
Many companies pay a significant amount of money to blog owners who have high-authority blogs to publish positive reviews about the products.
Yes! It's the harsh truth.
However, we don't recommend writing only the positive side of the product or service you are reviewing.
If there're cons or some features are missing, then you must mention that also.
It helps to build more trust among your visitors and make long-term blogging.
If you have a blog with a significant amount of traffic, then you can reach and pitch some companies in your niche for paid reviews.
Tell them that you'll publish a review about their products or service and promote it with your blog's authority to get more exposure and maybe some sales.
4. Affiliate Marketing
Affiliate Marketing means referring your blog visitors to another website to either generate leads or sales for them where you get a part of the revenue as an affiliate commission on a CPL/CPS basis.
It's my favorite method to monetize my blog.
Suppose, you have a sound knowledge of laptops or PCs and have a blog on this niche, then you can promote affiliate products mainly laptops, PCs, accessories, etc.
You have many ways to promote these products, including writing How-to guides, product reviews or comparisons, listicles, etc.
This method is a little bit different from the display banner ads and paid reviews that we have discussed above.
In both methods mentioned earlier, you get a FIX AMOUNT to display ad banners or write a paid review.
However, affiliate marketing is different and mostly a performance-based method to make money with your blog.
Being an affiliate marketer, you must be registered with the affiliate merchant company.
On approval as an affiliate, you get your unique affiliate URLs and display creatives to promote on the web.
You can get 1%-80% or even more on every successful referral tracked by the affiliate program.
The unique tracking link or Affiliate ID tells the company that you've referred the particular sale and they pay your commission once you reach the minimum payout limit.
Here's my affiliate link for promoting Bluehost web hosting
http://bluehost.in/?utm_source=affiliate&a_aid=0e0d421e
In this case, 0e0d421e is my unique affiliate ID. So, when someone clicks on this link, Bluehost knows that the person is sent by me.
On a monetization front, affiliate marketing is an excellent source of income for bloggers who don't have their products.
Many bloggers, including Pat Flynn, Matthew Woodward, and Harsh Agrawal. earn great with affiliate marketing.
To understand the basics of affiliate marketing and commonly used terms, you must read my previously written affiliate marketing guide.
5. Video Blogging
A popular and authoritative blog often ranks on the first page of Google and gets a lot of clicks.
While companies pay for review articles, these blogs also earn through video blogging.
Most of you are familiar with video-sharing sites like YouTube, and Dailymotion, and watch different talks, tutorials, or movies.
These sites get a ton of free visitors if your video rank for a particular keyword.
In some cases, you may see exponential growth in engagement, including several views, watch duration, likes, and shares.
What'd happen if you promote a sponsored or affiliate product there?
Plus, you can embed these videos on your WordPress blog to get more benefits.
How could be this possible?
Take an example.
You have a food blog where you post different recipe articles every day, but people love to watch how that particular dish is cooked.
Am I right?
You can create a video, upload it to YouTube, and embed it on your WordPress blog.
By doing this, you can improve on-page duration to enhance SEO, let people watch how to cook that dish in real-time plus throw some affiliate offers related to that content.
On another side, you will have a big YouTube channel growing, and you can also start monetizing it through Google AdSense, sponsored videos or affiliate marketing, etc.
6. Selling Your Products/Services
If you have expertise in a particular niche, then you can build trust among people by providing real value.
Once you succeed to get authority, then you can easily promote and sell your products or service.
It doesn't matter whether you're a photographer, wedding planner, web designer, or digital marketer; you can sell any digital or physical product to your visitors.
The blog is a great source to drive SEO traffic, build a portfolio, generate qualified leads to help people to solve their problems, and then sell your products or services.
E.g., Syed Balkhi from WPBeginner has built an excellent platform for WordPress tips and tutorials.
While he promotes some affiliate products like Bluehost, and Hostgator, his products, including OptinMonster, WP Forms, Soliloquy Slider, and Envira Gallery share a significant part of his total revenue.
7. Link Building Services
Though search engine algorithms are evolving every day, backlinks are still considered valuable for improving ranking and traffic.
If you have an authority blog that's visited by thousands of visitors, then many companies in your niche will contact you to put their website links in your articles for SEO purposes.
In such cases, you can write a relevant article and put the company's link in there with proper context and appropriate anchor text.
For an excellent blog, you can charge somewhere from a few dollars to a couple of hundred dollars to place an external link.
To be safe in Google's eyes, you should not accept requests from extremely low-quality sites.
Remember, you can use a similar strategy to get paid guest posts to your blog.
8. Online Coaching
Once your blog gets popular, it's easier to sell your knowledge via online training.
With a blog, you can easily find the interest of your audience and create a course around it.
Suppose, your audience needs help in SEO, then you can provide them with some valuable and action-packed content to improve their current ranking.
Once they start noticing some positive changes, you can quickly sell them your premium courses and build a substantial revenue stream.
SEO gurus like Brian Dean, Neil Patel, or even some renowned Indian bloggers like Deepak K., and Kulwant Nagi offer a lot of free stuff including case studies, and video tutorials, and sell their courses around that topic.
9. Membership Site
Just like selling online courses, you can start a paid membership for your blog visitors to access premium content.
Don't get what I'm saying?
Just head over to Medium.com, and it's a huge publication platform offering high-quality content on a daily basis.
But if you observe, you'll notice that they have a paid membership too, for accessing premium content.
It's just an example; you can have a membership site in any niche where you can provide some free stuff in the blog section and ask to upgrade their plan to avail of premium benefits.
The primary benefit of a membership site is that you can make substantial recurring income for a long period with minimal efforts on content management and promotion.
There are many solutions available in the market to create a membership site, but you should give a try to Ultimate Membership Pro or ARMember plugin if you want a feature-rich and beginner-friendly WordPress plugin.
For smart marketers, a membership site is one of the proven ways to monetize their blogs.
10. CPA Marketing
CPA (Cost Per Action/Cost Per Acquisition) is one of the top money-making methods that all famous internet marketers and bloggers use.
In CPA marketing, you need to drive your visitors to a specific page to make them take appropriate action.
The action could be filling up the form, submitting their credit/debit card information for the trial offer, or completing a survey.
In this case, companies pay you just for people taking action. And, there's no need to sell the products/services.
11. Email Marketing
You might have heard many times that money is on the list.
Am I right?
Yes! It's true. You can make a lot of money if you have a list of qualified leads who trust you.
I'm really grateful to Noah Kagan, A chief sumo at AppSumo.com for letting me understand the importance of email marketing.
By following his advice, I've started collecting the emails of my blog readers so that I can send them newsletters, offers, and deals that create a win-win situation for both of us and have some mutual benefits.
Similarly, by giving away some freebies on your blog, you can entice people to opt into your email list and make a healthy relationship by providing them valuable content regularly.
Remember, you can't control search engine ranking; it depends on Google's secret algorithms. Similarly, some companies control social media traffic. And, the paid traffic needs a significant amount of money to display ads on various platforms where ROI is quite lesser than email marketing when we consider the LTV (Lifetime Value) of a customer as a major metric.
So, you must start building your email list if you really want to make money from your blog by sending them affiliate offers, selling your products, or anything that could get you paid.
I know what you are thinking about.
There's a major misconception that email marketing tools are very costly. Like other newbies, I used to think the same.
Fortunately, this is not true.
You can build an email marketing funnel using free tools like MailMunch, and Icegram with the help of email services like MailChimp, Mad Mimi, and SendinBlue.
Once you reach a mark of minimum subscribers, then for scaling up your campaign or accessing more features like automation, advanced segmentation, in-depth analysis, etc. you need a premium email marketing solution like ConvertKit or Drip.
And, to grow your list faster, you should not mind investing a little money in such essential tools and services.
Now the actual question is, "How to start email marketing to make money with my blog?"
There are two main parts of email marketing.
The first one is lead capture where you need to lure people to opt-in to your list by giving away some free goodies. To make your work more comfortable, you can use some lead plugins like Thrive Leads and anything freebie, including an ebook, free course, or templates.
For email service, you can use ActiveCampaign, which is absolutely a gold mine for email marketing beginners.
It's one of the most loved and proven email marketing services in the world.
Plus, it's affordable even for people having a limited budget plus you can get a lot of beneficial features like visual automation, landing pages, webinars, and free tutorials to learn email marketing from scratch.
Do you really want to make your first dollar online with your blog and email marketing?
Final Words
These are the few methods I have tried to make money with my blogs. Select and give a try to any one of the methods listed in this article.
However, It may take a few months, depending on your efforts, dedication, and strategy.
Once you become a master over time, start adding your tweaks, and generate even more money from your blog.
I hope this guide about making money blogging will make you comfortable if you have started recently or if you want to create a new blog from scratch.
I'm damn sure that you've liked these blog monetization methods, so please share this article with your friends who want to start blogging and make money from it.
You May Also Like