Affiliate Disclosure: I publish various content marketing strategies, online business ideas, blogging tutorials, review articles, and discount offers on my blog. My content may contain some affiliate links for products/services I use, love, and recommend. If you take action (i.e., subscribe or make a purchase) after clicking one of my affiliate links, I'll earn an affiliate commission at no additional cost to you. It helps me in creating more helpful content like this.
In this Instamojo review, I have mentioned various useful features, the onboarding process, pricing structure, and my real-life experience with the Instamojo payment gateway.
Plus, a secret bonus is waiting for you at the end of this article.
If you are a blogger, digital marketer, or internet entrepreneur who sells different products and services, you probably need an online payment processing service to receive the payments from your clients.
However, e-commerce payment processing is quite a difficult task. You need to take special care while sending and receiving online payments to avoid fraudulent activities & potential monetary losses.
Cash or check payments are not convenient in today's dynamic world, while direct bank transfer has a lot of risks involved, especially when you send money to a third party.
That's why you need someone who will help you to solve your problems and transfer money securely and quickly.
In this case, online payment gateways are extremely helpful to people like me who frequently buy and sell online.
Initially, I was using PayPal to buy and sell services. Still, I'm using it.
Since PayPal does not support domestic payments due to RBI regulations, I started searching for the best online payment gateways in India that offer support for local transactions and simple onboarding.
I found a few services that offer the same I wanted.
Among all of them, Instamojo is one of the best payment services with a ton of great features and low transaction fees.
In this article, I'm going to break down how to set up the Instamojo payment gateway, how to send or receive funds, and some other amazing features.
If you search Instamojo review in Google, then you'll get mixed opinions about this payment gateway service, and you would get confused about whether you should sign up with Instamojo or not.
However, in this article, I'm going to share a complete Instamojo review and my experience as a buyer as well as a seller.
But before diving in deep, let's start with some amazing features and stats about it.
Instamojo Features
There are numerous payment processing companies in India, including CCavenue, CitrusPay, and EBS, but almost each of them charges the setup fees and AMC.
For small sellers, and startups, paying such fees is not affordable, and that's why Instamojo has entered the market with a simplified payment gateway solution that helps you to collect money online.
It does not charge any setup fees, or annual maintenance charges, making it easier for people to sell their products and services online.
In addition to that, Instamojo offers various amazing features you expect in a good payment gateway service.
1. Simple Onboarding Process
Starting with Instamojo is an extremely simple process.
Once you signed up using an email and filled in some necessary details, including PAN and bank account information, you can start collecting payments from your customers within a few minutes.

Plus, you can access different services available on your dashboard, including the analytics and online storefront.
2. Payment Links with Social Integration
Have you seen PayPal.me links for quick payments?
It's one of the best options to get paid without revealing sensitive information.
Instamojo offers a similar service for Indian merchants to create quick payment links and share easily on social media, including Facebook, Twitter, and WhatsApp.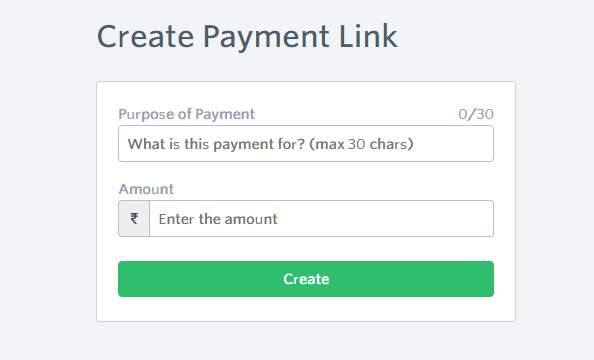 3. Payment Analytics
Keeping eyes on the analytics tab plays a major role in the growth of every business.
That's why Instamojo offers payment analytics to its merchant partners in a beautiful format to display the customer demographics and payment trends.
Plus, you can search, filter, and export the available raw payment data to a spreadsheet.
However, this feature will get enabled only after you received a minimum of five payments through the Instamojo payment gateway.
4. Free Online Storefront
You can create your web store in just a few minutes with Instamojo, and it's completely free.
Have you ever tried building an e-commerce store or dropshipping website?
You might know how difficult to create an online store and how big one could cost you.
For newbies who want a sophisticated eCommerce store with payment gateway integration, Instamojo will easily beat its competitors.
You can create an online store and list your products or services in a single place without involving in custom web development.
Plus, you can add business information and contact details, and customize the visual appearance of your web store by adding a logo and cover photo.
You also get shopping cart & checkout integration to your online store with all payment modes enabled including credit/debit cards and net banking.
Yes! There is one more awesome feature for Instamojo partners. They can create an affiliate network to boost their sales volume without any extra cost, excluding affiliate fees.
5. Digital File Hosting
Are you a professional graphic designer, a musician, a photographer, an author, or anyone who wants to sell digital products online?
If yes, then you have good news.
When you sell digital products or services such as ebooks, images, videos, music files, digital arts, 3D mockups, and illustrations, you get royalty only up to 35-80% and in rare cases, more than that.
However, Instamojo offers you a digital file hosting solution without any extra cost or development fees.
Your customers can pay and download the content, and you'll be charged only 5% + ₹ 3 per successful transaction.
6. Free Tools for Small Businesses (+ Premium Add-ons)
Instamojo is more than a regular payment gateways service offering numerous free and premium tools for small businesses.
You can get free tools, including an Invoice generator, Google Analytics integration, QR code and business card maker, etc.
While some growing businesses can purchase the premium add-ons, including Personalized social pay, pro analytics, missed call marketing, payment retry, etc. using Instamojo credits to earn more business.
7. Development Support
Apart from its hosted online store, Instamojo provides support for external integrations through developer APIs and plugins for major platforms.
Instamojo APIs support five different programming languages including Python, PHP, Java, Ruby, and C++ while the plugins are available for WordPress (WooCommerce), Drupal, CS-cart, Magento, Presta Shop, Meteor, Open Cart, and WHMCS.
To get the full benefits of external integrations, you must have a verified business profile at Instamojo. Otherwise, the payments will be made through the Instamojo window itself.
Instamojo Pricing
Instamojo seems quite honest & transparent with its pricing structure. Although it does not charge any setup fee or AMC, at the same time, there is no minimum commitment.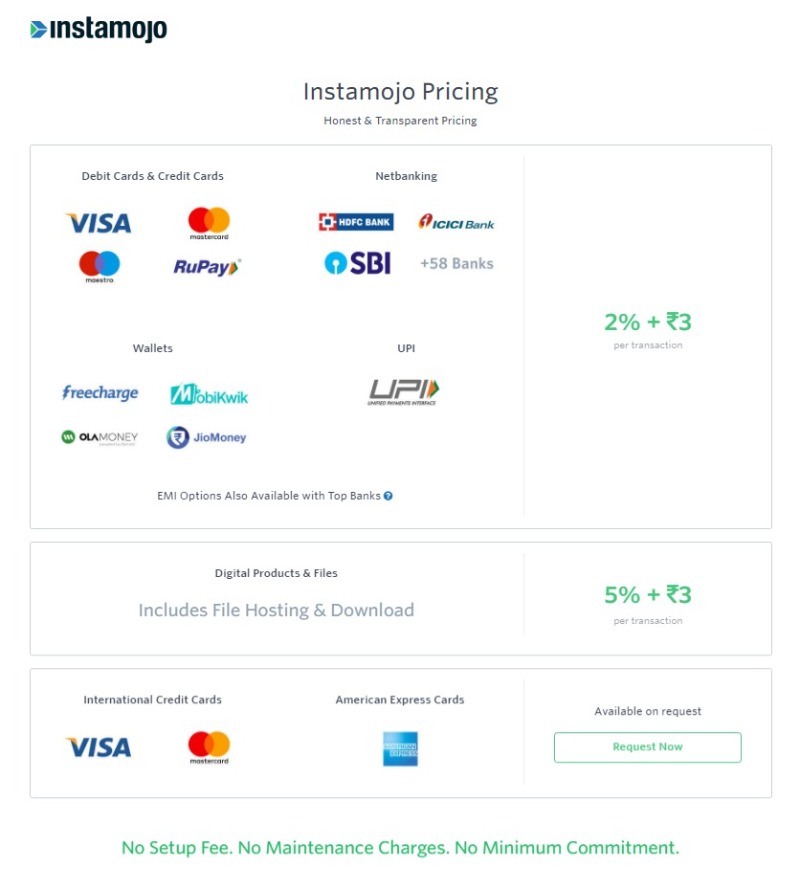 For regular payments, Instamojo charges 2%+₹3+GST and allows accepting payments through different online payment channels, including debit/credit cards, net banking, UPI, and mobile wallets.
And, if you have a web store with Instamojo to sell digital products & files, you'll be charged 5% + ₹3+ GST, which includes file hosting and download fees too.
However, this pricing is available for domestic transactions, and you can request quotes for international credit cards & AMEX cards in case you need to.
For an average seller, Instamojo pricing seems quite impressive with many advanced features without any extra cost.
Currently, Instamojo provides payment processing only in INR (₹) and does not support payments in alternate currencies.
Although it supports the payments from the cards issued outside of India, these customers will see the price in Indian Rupees (₹).
The sellers or businesses having large sales volume can also request custom pricing based on their monthly volume and other requirements.
My Experience with Instamojo (Real Instamojo Review)
I started blogging back in 2016 and before that, I was working as a freelancer.
Initially, PayPal was just fine for me to send and receive payments.
Although PayPal fees suck a lot, the reliability and security at PayPal are unignorable.
When I thought to create and sell my ebook for the Indian audience, I started searching the online payment gateways in India offering such services with minimum cost and landed up at Instamojo.
However, it was a horrible experience in my online career.
Although I submitted correct and valid KYC document copies, Instamojo failed to verify my account.
At that time, I was seriously looking for a payment processing service with no setup fees and annual maintenance charges but could not find any better alternative.
I tried to connect with Instamojo customer care, but I didn't receive any satisfactory resolution of my problem, and unfortunately, they closed my first account.
I was shocked, but what could I do?
Although I sold a few copies of my ebook with Amazon KDP and another couple of self-publishing platforms, I dropped that idea finally.
But recently I heard that Instamojo has improved a lot and thought to give it a try.
At this time, I used a custom email address instead of my regular Gmail address to sign up and completed the whole process, including email verification within a few minutes.
Then I uploaded all KYC document copies to Instamojo, and within one week, they removed the monthly limit of ₹10000 and I got a full-fledged admin dashboard.
Since then, I have collected a few payments via Instamojo and received all the money securely in my ICICI bank account.
Plus, I have received ₹500 as a signup bonus for registering through a unique referral link.
Do you want to collect money online from your customers or want to create a digital store to sell your products & service without building an eCommerce website?
Instamojo is a great platform to start with.
Pros and Cons of Instamojo
As I said earlier, I had a bad experience with Instamojo customer care, and there are many things you would like and dislike.
So, here I have mentioned some pros and cons of the Instamojo payment gateway to decide whether you should go with it or not.
Pros of Instamojo.com
Flexible pricing structure with zero setup fees and no AMC
No minimum commitment, so you need not worry about the volume you drive per month. However, more sales are better for the growth of your business.
Hosted online store to sell physical as well as digital products
Free digital file hosting with no monthly charges
Easily shareable payment links with social media integration
15+ different add-on apps (free and premium)
Copy-paste payment buttons (customizable) and development support for external integrations
Automatic routing of payments to prevent transaction failure
Cons of Instamojo.com
Document verification is not up to the mark
Instamojo customer care, especially the live chat feature, is still to improve where you need to open a support ticket for small problems.
Chargebacks may seriously affect your seller account. (Even if you have not broken the rules).
Instamojo WordPress plugin for individual account owners is just hype.
Should You Use Instamojo For Your Online Business
I have already mentioned various features, pricing structure, pros & cons, and my real-life experience with Instamojo.
For bloggers, startup entrepreneurs, and small businesses who need a simple payment gateway service, Instamojo is a great choice.
However, large business and enterprises can upgrade their account with premium add-ons like pro-analytics, SMS sales alert, payment retry, and missed call marketing by purchasing credits from your dashboard.
Now, you can decide whether it's a good choice to go with the Instamojo payment gateway.
How to Start Accepting Payments With Instamojo [₹500 Sign-up Bonus]
To start accepting payments to your bank accounts, you will need to signup for Instamojo.
Plus, you can receive a ₹500 sign-up bonus once you verify your business profile and collect your first successful payment transaction (at least ₹1) from your customer through the Instamojo payment gateway.
Remember, this offer is only available for legit businesses and not for personal transactions.
On the landing page, you need to add a valid email address (a custom email address is always better) and set a strong password for creating an account with Instamojo.
After you signed up, verify your mobile number to avoid fraudulent activities, set your preferred username, and add important KYC information and bank details where you want to withdraw all your payments.
Verify your email address and business/domain ownership to upgrade your account and remove the monthly transactions limit of ₹10,000.
On your dashboard, you can create payment links and send them to your customers.
Now, you can receive payments from your customers via different modes, including debit/credit cards, net banking, UPI, and mobile wallets.
Within a week (mostly in 3days), you will receive your money directly to your bank account.
So, signup today for free and start exploring the amazing features of Instamojo.
Instamojo Review: Final Words
You will see numerous Instamojo reviews on the different websites and mixed experiences of many people as end-user of this payment gateway.
This article is all-inclusive of features, pricing, setup process, and the real-life experience that I have written about earlier.
If you think Instamojo is a perfect fit for your business needs and could save a few bucks for you, definitely give it a try.
Name: Instamojo
Description: Instamojo is one of the best online payment gateways introduced to help all the bloggers, freelancers, online marketers, and small business owners for easier transactions, especially in India.
Offer price: 0.0
Currency: INR
Operating System: Linux
Application Category: Payment Gateway
Author: Ankit Main
Features

Security

Support

Pricing
Comments Rating
( reviews)