Affiliate Disclosure: I publish various content marketing strategies, online business ideas, blogging tutorials, review articles, and discount offers on my blog. My content may contain some affiliate links for products/services I use, love, and recommend. If you take action (i.e., subscribe or make a purchase) after clicking one of my affiliate links, I'll earn an affiliate commission at no additional cost to you. It helps me in creating more helpful content like this.
You are probably wondering how to make money from email newsletters.
Getting people to subscribe to your email newsletter will open the doors to income opportunities you never imagined.
Therefore I have shared the six ways to make money from your email list.
How to Make Money From Email Newsletter List: 6 Proven Methods
This article discusses six cool ways to make money from your newsletter list.
1. Sell Your Products to Email Subscribers
If you have a huge niche-based mailing list, you may consider selling your stuff to them via your email newsletter.
The simplest way is to include a clear message and links in the body of your newsletter.
In the second method, you add the link at the middle or bottom of the message instead of the top. This system should encourage people to click on your links after they browse everything else.
Both of these methods are useful when sending direct shop links to customers.
Important:
Make sure you don't spam your list with annoying updates and unwanted marketing offers.
2. Affiliate Marketing
Affiliate marketing is the most profitable way to make money from newsletters in the long term.
For example, I use and love WP Review Pro WordPress plugin.
It helped me quadruple my blog income within six months, so I am happy to recommend it to my audience interested in blogging and affiliate marketing.
I make a 55% commission on each sale when my email subscribers purchase WP Review Pro using my unique affiliate link.
Affiliate marketing through email newsletters can be a long-term strategy since trust must be earned before people buy from your recommendations.
Believe me, investing enough time and energy in building your audience's trust definitely pays off.
I started affiliate marketing on my blog in 2016 and have been living a laptop lifestyle ever since.
I also have friends who make $1000 or more per month just recommending other products.
Affiliate marketing is a powerful way to make money online.
Most affiliates don't actually sell anything themselves; they only send qualified traffic to the merchant's sales page and get paid every time the offer converts into a sale.
For example, a tech blogger may receive a prorated commission on successful transactions through his unique referral links.
Pro Tip:
If you send affiliate newsletters, you have to disclose your affiliate policies, and the offer must be clearly marked as an advertisement to avoid FTC penalties.
3. CPA
As a CPA marketer, you can send free offer links provided by various partners to your newsletter list and earn a commission (bounty) for everyone who signs up regardless of whether he/she purchases anything.
It's possible to make money by introducing people to free software trials that'll pay you based on the number of conversions (the moment someone subscribes or buys something).
For example, bloggers, content writers, or students subscribe to a Grammarly premium plan through your Grammarly affiliate links in your newsletter; you may earn a small commission.
Grammarly pays only $0.20 per successful referral to its free plan, but this amount increases to $20 if the users purchase the premium plan.
Even if it seems a tiny commission when you're just starting, it will add up a large amount of money for you over time!
4. Have a Newsletter Sponsor
Many businesses and individuals are always seeking new ways to get their products in front of the targeted audience.
In such a case, you can promote relevant products in exchange for sponsoring your newsletter.
You would be a sort of affiliate and receive a fixed/per-click-based payment when someone visits the sponsor's website through your link.
Nowadays, I use my newsletter list as more of a side hustle which helps me financially without interfering with my day-to-day activities.
It's more of an automated system, requiring minimal time for basic activities such as adding newsletter content, choosing subscribers list, and scheduling a broadcast!
Overall, it's a pretty lucrative way to make money from email newsletters!
Let me explain how it works.
When you have a large niche-specific mailing list, a company sponsors your newsletter to include their ads/marketing message in it!
It works just like placing an ad in a newspaper.
You only have to figure out what to share with your newsletter subscribers!
Below is an example of how to make money with email newsletter sponsorships.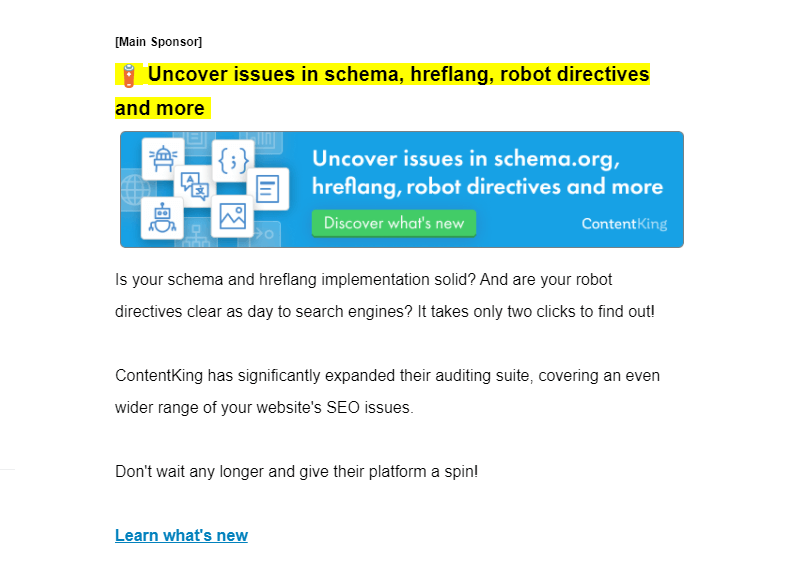 5. Advertisements
What about earning some extra money from your blog posts?
One of the best ways is to include ads on your blog and drive traffic using email newsletters.
Do you want to know how it works?
Here is a quick walkthrough of the entire process.
Readers visit your site from Google, Facebook, Pinterest, or any other source and decide to join my email list… (yay!)
They get your email newsletters containing a link to a blog post you recently wrote, visit your site again, see ads, and get value from the post.
You make money… whoo whoo!
Everyone who has an audience around their business area can send daily or weekly newsletters to get readers to their blogs.
The more relevant the email is, the better chance someone will click through!
You can use various ad platforms, including Google AdSense, Mediavine, or AdThrive, to display ads on your site.
Please read their acceptance criteria and ToS carefully before joining these ad networks.
Maybe you don't like ads on your website for some reasons, such as you may have too little traffic to make it worthwhile, or you may hate the idea of "forcing" your readers to view ads.
However, the ads allow me to make money, so I spend 3-4 hours creating a blog post like this that helps more people!
A win-win situation for both!
6. Paid Newsletter
The last way to make money with your email list is to offer a paid newsletter.
The premium newsletter strategy is not for everyone, but if your paid newsletter subscribers appreciate it, you may want to take advantage of it.
Your income is likely to be higher with paid newsletters since they have a higher open rate than free ones.
Unfortunately, many bloggers overlook the power of paid newsletters.
Are you planning to launch your first-ever paid newsletter after reading this post?
One of the popular ways to get people's attention is through webinars: they're very inexpensive to host (usually free) and don't take much time either!
The strategy is useful even if you don't have the expertise to run ads – as long as there are enough benefits offered, people will sign up.
Show them a comprehensive overview of your premium content and ask them to join your subscription-based newsletter to get more valuable content delivered directly to their inbox.
Currently, ConvertKit is running a paid newsletter challenge that you can participate for free.
It allows you to create your paid newsletter and earn unlimited income + up to $1675 in bonus cash.
Hurry up! The ConvertKit paid newsletter challenge will end on May 31.
How to Make Money From Email Newsletter – FAQs
Here are some commonly asked questions about how to make money from email newsletter lists.
1. Do people even read emails anymore?
Personalized emails with valuable content are more likely to get a response. Often, bloggers and email marketers spam subscribers with irrelevant emails and unwanted marketing offers they aren't interested in, resulting in low open rates. The avg. email open rate is 21.33% across all industries. (Source: Mailchimp Email Marketing Benchmarks)
2. How could I use an email list to grow my social media?
You can send a value-packed email newsletter and ask your subscribers to follow you on Twitter/Instagram, join your Facebook community, or subscribe to your channel. 
3. Should I include links to affiliate sales pages or direct traffic to my website?
You should direct email subscribers to affiliate sales pages instead of sending them to your website. Only direct them to your website if they need further explanations before taking action. It increases the chances of affiliate sales. 
4. Do paid newsletters work?
Subscribers will most likely join your paid newsletter if you share exclusive content or niche expertise with them.
5. How much can I earn with paid newsletters?
Unlimited! Depending on the niche you choose, your subscribers, and your marketing skills, you can earn a huge recurring income with paid newsletters. Additionally, you can earn up to $1675 in bonus cash by participating in the ConvertKit paid newsletter challenge.
Conclusion
Publishers and authors who are willing to build their brand can achieve fame and money by running a newsletter.
I have already shared six ideas on how to make money from email newsletters.
Let's put these ideas into action now.
Choose one of the newsletter services mentioned here and start growing!