Affiliate Disclosure: I publish various content marketing strategies, online business ideas, blogging tutorials, review articles, and discount offers on my blog. My content may contain some affiliate links for products/services I use, love, and recommend. If you take action (i.e., subscribe or make a purchase) after clicking one of my affiliate links, I'll earn an affiliate commission at no additional cost to you. It helps me in creating more helpful content like this.
If you plan to start an online store for selling or drop shipping various physical and digital products, you'll need an online payment gateway to receive money from your customers.
Before a few years, setting up a payment gateway and integrating it with a website was quite tricky.
You might need a lot of documentation for the tedious business verification process, huge setup & maintenance fees, and most importantly technical brain to make it work or seek the help of an expert developer.
But now, this has changed, and you can easily set up an online payment gateway using the DIY approach with little technical knowledge.
Several online payment gateways are available, and millions of people use these services daily to shop for online products.
Payment gateways are helpful for merchants too. Once set up and legal formalities are completed, the merchants/sellers can receive the payments directly into their bank accounts, and all transactions are listed in a single place.
It also becomes easy to track the payments, and no extra paperwork is required.
Whether you are a small seller, an e-commerce business giant, or even the end-user buying the product or service, online payment systems serve their purpose very well.
It is also helpful to bloggers, web designers, and online marketers to receive their payments without hassle.
The digital marketing industry is growing continuously day by day.
Today, most countries support digital money, which can be easily converted to different currencies through online payment services.
That's why people prefer online payment gateway systems over traditional cash and cheques.
Most sellers and buyers were wary of online payment processing services due to potential hassles such as fraud and theft.
However, online payment service has become the need of the hour due to some notable features, including fast transactions, support for multiple currencies, security concerns, real-time tracking, and much more.
Every system has its pros and cons. However, online payment gateways are the best choice among all the payment services, especially for businesses.
How to Choose the Best Payment Gateways in India
When you search for the best payment gateway in India, you'll see tons of results in the Google SERP for your query, including different opinions from industry influencers and real users.
India's major payment gateway services include CCavenue, Paytm, EBS, RazorPay, CitrusPay, Instamojo, and some of the biggest payment processing companies, such as PayPal and Payoneer, that are working globally in more than 200 countries.
Each of these online payment processing services has its own business strategy. Still, you must consider the ten essential things mentioned below while selecting an online payment gateway for your eCommerce business.
Market reputation and review from real customers
Required documentation for onboarding
Time to set up everything before you start receiving payments.
Payment gateway fees (Charges including the setup fee, TDR, and annual maintenance fee)
Available payment options (Credit/Debit Cards, Netbanking, UPI, and Mobile Wallets)
UI of the payment gateway dashboard and overall user experience as a merchant/seller/business, including the speed of the transaction.
Availability for domestic and international payments
After-sales Service and Prompt Customer Support
Development features, including APIs, Mobile SDKs, and different codes/key support for external integration.
Extra features, including buyer's protection/seller's protection, enhanced security and hosted e-commerce store (Instamojo).
I searched for the best online payment gateways for my agency website to receive funds from my clients.
I found a few payment gateways in India with no setup fees and a reliable online payment processing operation.
I have listed the top online payment gateways in India for small businesses that are easy to set up and do not charge any setup or annual maintenance fees.
Regarding the safety of transactions, commission rates, and overall features, the following online payment services secure a place on our list.
7 Best Payment Gateways in India for Small Businesses
1. Paypal
Key Features:
Payment Gateway: PayPal
Setup Fees: Zero
Annual Maintenance Fees: Zero
Transaction Fees: Up to 4.4% + Fixed Fee Based on the Currency.
Paypal is one of the best online payment gateways for your business and personal transactions. It is a very secure solution for sending or receiving money.
PayPal was founded in December 1998, and now it is one of the largest online payment gateways for small businesses.
It has a good reputation in the market for online money transfers.
PayPal seems an excellent alternative to traditional paper currency like banknotes and cheques.
In terms of features, it provides a superior solution for money transfer in a very secure way.
Although some scams have happened, it is still one of the most trusted online payment services in India and the world.
PayPal charges a flat 4.4% transaction fee+ fixed fee and can reduce up to 2.9% + fixed fee for larger volume.
It does not charge a single penny as a fee during the purchase. In addition, the annual account maintenance charges, setup fees, and monthly charges are also waived.
You have to pay when you receive funds directly transferred to your bank account linked to it (It may take some time to transfer funds to your account).
How Does PayPal Work?
Signing up for PayPal lets you link your local bank, mobile number, and debit/credit card. However, your account's primary email ID is used for receiving funds.
You can store funds in your PayPal account, but it is not supported in all countries like India due to Government regulations.
You have to share your PayPal email ID (or merchant ID for more secure transactions) to send & receive payments. Even you can shop with PayPal money. It gives another option to sell stuff on eBay for lesser transaction rates.
PayPal also supports a wide range of currencies which makes it easy to use in a worldwide situation.
2. Payoneer
Key Features:
Payment Gateway: Payoneer
Setup Fees: Zero
Annual Maintenance Fees: Zero
Transaction Fees: Up to 3% + Bank Charges, If Any.
Payoneer is an international payment gateway established in 2005.
Currently, it provides online money transfer and refillable debit card services in more than 200 countries and 150 currencies. The transaction rates are less than PayPal and variable according to your currency.
It does not charge you anything when you purchase or send money through Payoneer.
The fee structure has been made by keeping everything in mind and suitable for everyone.
If you compare PayPal and Payoneer, you won't find much difference, though the transaction rates of Payoneer are lesser than that of PayPal.
How Does Payoneer Work?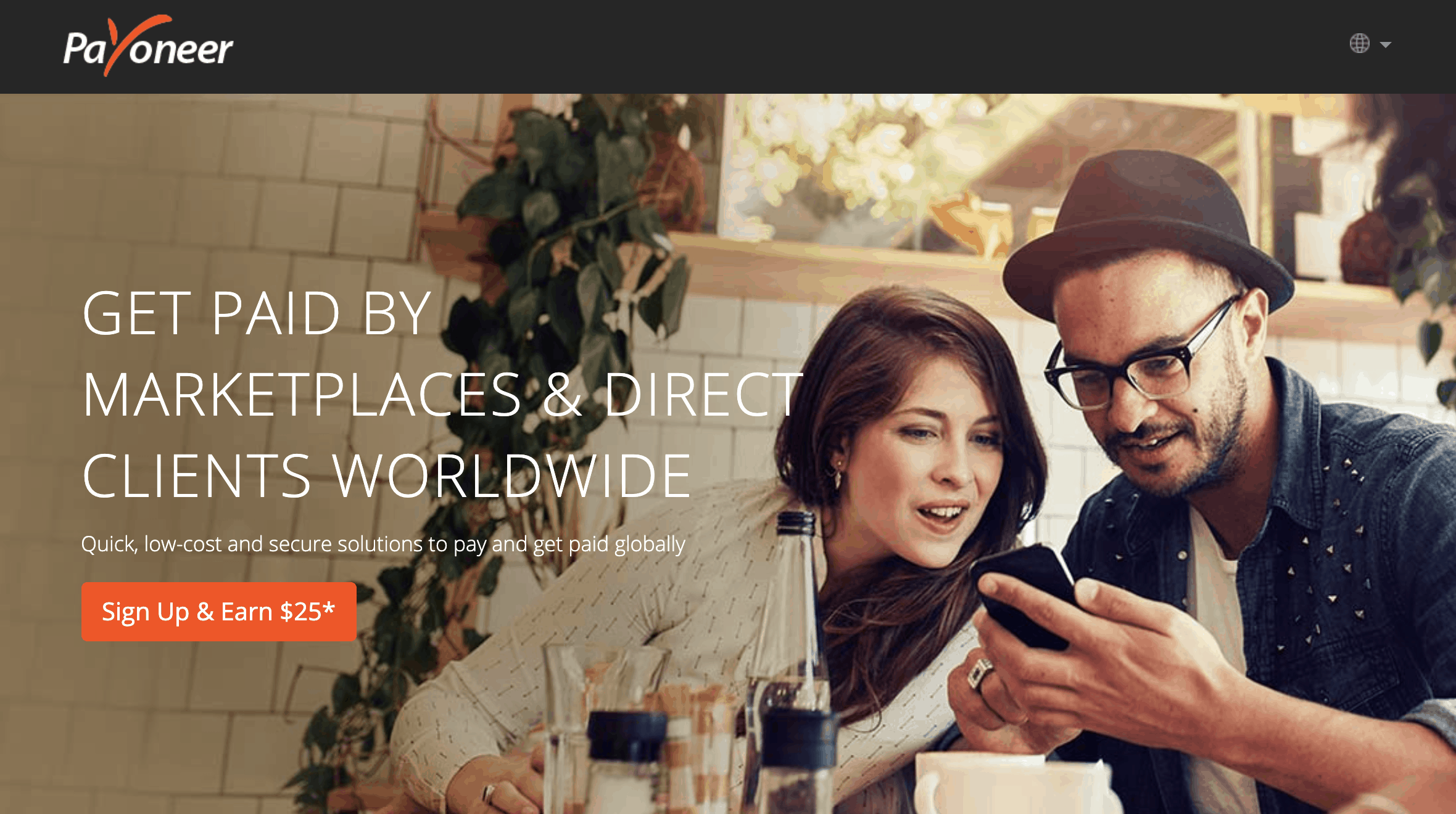 Payoneer is a cross-border payment gateway beneficial for receiving funds, especially from the US and EU. When you sign up for a Payoneer, it will link to your local bank account.
However, if you want to receive payments from international clients, Payoneer will give you a bank account for ACH in the US and SEPA in the EU.
It helps to do your business locally and internationally with the same efficiency. The benefit of this service is that you won't lose much in currency conversion when receiving payments from these countries.
Apart from transaction fees, it charges 2-2.75% to withdraw funds in your local account. Again, all details are shared on your dashboard.
Another advantage of choosing Payoneer is the association with Mastercard. For example, you can get Payoneer Prepaid Mastercard for more accessible and more convenient fund withdrawal or buying a product or service on a global level.
You can get the Mastercard currency converter tool to check your transaction fees.
It provides a cap of 5 lac for a single transaction and withdrawal for a single business day. The cap grows up to 25 lac for a calendar month.
The payments that exceed that limit will be rejected.
If you are receiving money from overseas clients, Payoneer will give you the edge over PayPal, especially when you are receiving from the US or EU.
You can earn $25 for the Sign up for Payoneer. The exciting thing is that it's free.
3. PayUMoney
Key Features:
Payment Gateway: PayUMoney
Setup Fees: Zero
Annual Maintenance Fees: Zero
Transaction Fees: Flat 2% + GST
In this list, PayUMoney is also a game-changer when discussing online payment gateways for India.
PayUMoney provides a faster and more secure transfer of funds with 128-bit SSL encryption and PCI DSS level 1.
It has a community of more than 2.5 lacs active sellers who are happy with its services.
The reasons are simple.
PayUMoney charges a flat 2% for all transactions, which is much less than other payment gateway solutions.
Apart from that, it adds 1% extra only on AMEX cards.
It does not charge any setup fee or annual maintenance fee. So it is growing at a very rapid rate.
The mobile-friendly versions and login free check out with the support of more than 125 banks and cards make it harder to beat by its competition.
Faster account activation and even more immediate settlement make it unique.
It also features free billing software for your phone that lets you create bills and collect payments.
It also provides the HTML code for the 'PAY' button to receive money on your website.
PayU POS Machines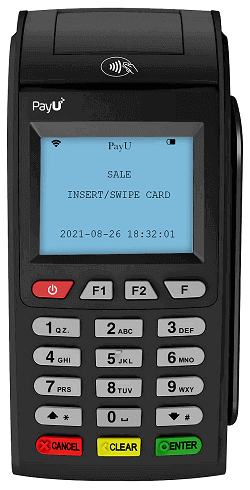 PayUMoney provides the card swipe machine for its sellers with minimum documents (PAN and a canceled cheque). You can link it to an existing bank account too.
The wireless card swipe machine can access any debit/ credit card anywhere in India, giving full access to your transactions. Moreover, being eco-friendly, it does not use paper and sends the receipt to the buyer's mobile number. Smart huh?
It costs only Rs. 8500, which is a significantly less price considering it has no monthly or yearly premium. TDR also set up 2% less. If you are a smart seller, you won't miss this deal.
Even if you haven't taken the decision, it's time to roll on.
4. Paytm
Key Features:
Payment Gateway: Paytm
Setup Fees: Zero
Annual Maintenance Fees: Zero
Transaction Fees: Up to 1.99% + GST
When we think about the mobile payment solution, no one misses out on the word Paytm. It is one of the leading mobile payment solutions with an e-wallet feature.
Easy to set up and simple to use even by a rookie. Paytm has integrated with most brands as the online payment gateway.
It also provides a money transfer solution with a zero setup fee and annual maintenance. The transaction rates are also set to 1.99% (+ service tax).
Even the Paytm payment gateway comes with a deal with zero fees for the first three months (or gross transaction of 2 lacs, whichever is earlier).
It is a popular payment gateway in India for small businesses, and thousands of sellers have Paytm merchant accounts.
I'm sure that you have been on Paytm as a buyer for many days, but it's time to use Paytm as a seller or business.
Don't miss this deal.
5. 2Checkout
Key Features:
Payment Gateway: 2Checkout
Setup Fees: Zero
Annual Maintenance Fees: Zero
Transaction Fees: up to 6% + $0.60 Per Successful Sale
It is also one of the trusted online payment gateways with no monthly charges or setup fees. The transaction rates may differ by up to 5% according to the country and currency used.
It also provides cross-border payments with a very low fee of 1.5%. Furthermore, it also features flexible payment methods with debit/credit cards and PayPal.
Moreover, it lets you receive payments by bank transfer, international wire transfer, and even on Payoneer Mastercard.
It is one of the options for the online payment gateway and is easy to start. So sign up and see your business grow.
If you want to check it out, Sign up for the free 2Checkout seller account.
6. Razorpay
Key Features:
Payment Gateway: Razorpay
Setup Fees: Zero
Annual Maintenance Fees: Zero
Transaction Fees: Up to 3% + GST
Razorpay is an excellent payment gateway in India that allows merchants to send and receive payments with its product suite.
You can accept payments through various modes, including credit/debit cards, UPI, net banking, and popular wallets such as JioMoney, Mobikwik, and FreeCharge.
It also offers automated recurring payments for different subscription services. In addition, Razorpay's Smart Collect feature allows users to easily collect payments via direct bank transfer methods (NEFT/RTGS/IMPS) and automates the tedious reconciliation process.
For people who don't have a website, Razorpay has developed payment links. You can share these links via SMS, emails, social media, and chatbot to get paid immediately.
Invoicing is another excellent feature in Razorpay. It will help you to build trust with your clients when you share detailed expenses over the invoices to get paid faster by letting them pay online from the invoice itself.
It does not charge a single penny for setup and annual maintenance of your online payment gateway account. You only need to pay the transaction fees.
Razorpay payment gateway charges only 2% per transaction for domestic/Indian card payments, Netbanking, UPI, and mobile wallets.
3% per transaction charges + GST on the transaction fees are applied for Dinner/Amex cards, EMI, and international cards.
For enterprise levels, you can ask for custom pricing, and Razorpay will help to match your business needs.
7. Instamojo
Key Features:
Payment Gateway: Instamojo
Setup Fees: Zero
Annual Maintenance Fees: Zero
Transaction Fees: 2%+ ₹3 for each transaction for regular payments and 5%+ ₹3 for the hosted digital products
Initially, I had a bad experience with the Instamojo service for the KYC document verification process.
They told me my business was not compliant with their service and closed my account without leaving any option.
I used to advise my peers if someone wanted to join them, he should clear the doubt about the KYC verification and business integration process before signing up for Instamojo.
Instamojo has improved its online payment gateway service, and you can expect an excellent performance as one of the leading e-commerce payment solutions.
It offers a simple and easy-to-follow user interface and features like social pay and a store for physical and digital goods (You can store your digital files on their server).
It charges 2% + ₹3 for each transaction while 5% + ₹3 for the hosted digital goods. It has also waived other payment gateway charges, including setup and annual maintenance fees.
If you want to know more about it, click here to read a complete Instamojo review.
If you haven't used Instamojo before, you can now create a new account and start accepting payments from your customers.
Exclusive Offer
When you complete the KYC/business verification process and receive the first valid payment on Instamojo, you will be rewarded with ₹500 as the signup bonus.
Use reference code ANKIT_MAINf564 when asked.
FAQs
1. What is a payment gateway?
A payment gateway is an online payment service that connects and authorizes your bank account to the platform where you want to transfer money, such as an e-commerce website, online retailer, or POS.
2. What are the payment gateways in India?
Instamojo, Razorpay, CCAvenue, 2Checkout, PayPal, and PayUMoney are a few top payment gateways in India for small businesses.
3. Which is the cheapest payment gateway?
Instamojo, PayUMoney, and Razorpay are the cheapest payment gateways in India, with no setup or annual maintenance fees.
4. How much does a payment gateway cost in India?
Usually, payment gateway charges in India vary between 1.75% to 6% based on the currency and transaction amount. GST will apply to the transaction fees.
5. How do I integrate a payment gateway?
Most payment gateway companies offer APIs, SDKs, and developer tools so that you easily integrate a payment gateway into your website or app.
Summary
I have found these online payment gateways the best suited for any e-commerce business, from the beginner to the established brands.
The payment gateway companies listed above have tied up with many big companies, including Amazon, Flipkart, Snapdeal, DishTV, MakeMyTrip, Jabong, eBay, and e-commerce platforms such as Shopify, Magneto, and WooCommerce.
Make sure to reread their TOS and Privacy Policy before moving ahead.
If you like this article, don't forget to share it with your peers.
If you have any feedback or want to add another payment gateway service, feel free to connect in the comment box below.