Affiliate Disclosure: I publish various content marketing strategies, online business ideas, blogging tutorials, review articles, and discount offers on my blog. My content may contain some affiliate links for products/services I use, love, and recommend. If you take action (i.e., subscribe or make a purchase) after clicking one of my affiliate links, I'll earn an affiliate commission at no additional cost to you. It helps me in creating more helpful content like this.
Most people join online businesses to earn a huge amount of money besides their passion. And, if a person wants to start his/her career in the online world, he should try affiliate marketing as one of the primary sources of monetization.
Being an attractive source of online income, affiliate marketing is a very popular source of revenue for bloggers, web designers and so many people working online.
Anyone can learn and implement affiliate marketing on his website, blog, or video channel.
Some well-known people like Pat Flynn, Zac Johnson, and Harsh Agrawal make a significant percentage of their total revenue through affiliate marketing that income is a few thousand dollars per month.
You may think if this is so easy then why not all people try affiliate marketing?
Let me be clear; that affiliate marketing is so easy is a miss-belief among most people.
Some people try it but don't get the success they expect and leave in between. Some of them even don't know the basics of affiliate marketing.
It is not a quick-rich scheme, but you have to be patient to get the desired success and return on your investment because Rome was not built in a day.
Here I will explain some of the basic tips and tricks of affiliate marketing.
However, to know every minute detail about it, you can go through the 'A to Z affiliate marketing' ebook and that will be your best investment for affiliate marketing training.
What Is Affiliate Marketing?
Affiliate marketing is a marketing system where a merchant/e-commerce company pays a commission to the external marketing agency (publisher of a website or channel) for traffic or sales generated through its unique referral link.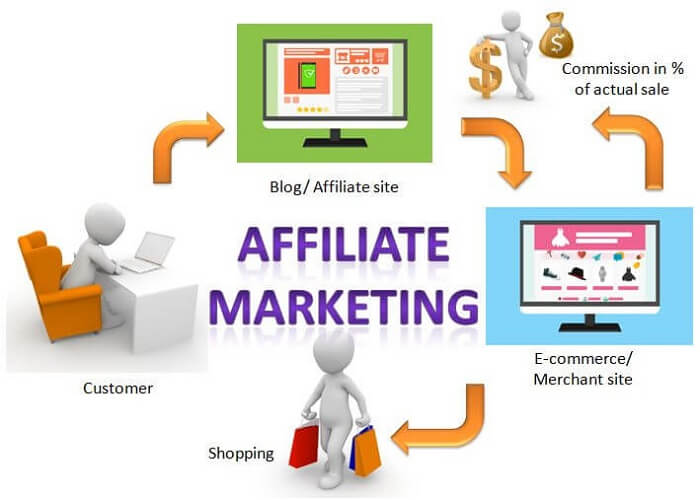 It's an inexpensive but effective way for both merchants and publishers to earn profit from increased sales.
It may also help buyers to choose good products or services according to their requirements, creating a win-win situation for all.
The merchant or the affiliate marketplace gives the affiliate links to the publisher for marketing purposes.
If the visitors buy the products from these links, the affiliate partner/publisher gets the commission for the actual sale generated through his referral link.
Some companies can give you a commission for products or services different from the referred one for sale made within a limited time after clicking on a referral link.
E.g. Most e-commerce websites have a 30-day cookie period.
If visitors click on your referral link and land on the product sales page (generally called a landing page for that product) and buy anything within the next 30 days, you will be awarded that sale's commission.
It's very beneficial for any affiliate marketer to earn extra revenue.
Affiliate commission can be 0.1% to 70% or even more for some products.
If you have good marketing skills, then you can create a tremendous amount of passive income with affiliate marketing.
You have to sign up for any good affiliate programs and promote its products to your visitors.
Now, I will explain a few common terms associated with affiliate marketing.
1. Affiliate Marketer/Publisher/Associate
The people who use affiliate marketing programs to promote products of third-party merchants or sellers.
They place the affiliate link given by the affiliate merchant or the e-commerce website for the promotion of their products to earn the commission in the percentage of actual sales generated through their referral links.
2. Affiliate Merchant
Affiliate merchants are the people (sellers or e-commerce companies) who create affiliate programs to increase their sales.
They create an affiliate program through an affiliate software like iDevaffiliate and give the affiliate referral link to their affiliate partners (affiliate marketers/publishers) for the promotion of their products or services.
Besides that, you can find some affiliate marketplaces where a few affiliate merchants have shared their products and services together for promotion.
It helps the affiliate marketer to choose the right affiliate program for promotion, and he can compare products or services and the commission rates too.
These companies act as a central database for so many affiliate programs and give good control over your entire marketing at a single dashboard.
VigLink, CueLinks, ShareASale, CJ Affiliate by Conversant, and ClickBank are a few examples of affiliate marketplaces that you can join.
However, they have their terms and conditions; please read them before proceeding further.
You may require specific daily or monthly visitors or other similar requirements to be fulfilled for such programs.
So I would suggest you try this option after a few months after starting your online publication.
3. Affiliate Link
A special tracking link generally called a referral link offered by the affiliate merchants to track sales generated through your affiliate promotion.
When the visitors click on the affiliate link on your website/blog or channel they land on the product sale page to buy the product that you have recommended on your website/channel. These links are very lengthy and look very ugly. To get rid of this you can try link cloaking techniques like URL shortener services or plugins like the thirsty affiliates.
4. Link Cloaking
Link cloaking is a method to convert a long affiliate URL link into a shorter and prettier one which looks more user-friendly.
Apart from that link cloaking has a few advantages over long and original affiliate URLs.
The link cloaking makes links customer-friendly and helps in protection from link hijacking and affiliate identity theft.
Link clocking also helps in easier tracking of link-related marketing metrics.
Use Link Cloaker plugins to get rid of lengthy and ugly links. Here, I recommend the thirsty affiliates plugin if you have a website/blog with WordPress.
5. Affiliate ID
It's a unique number allotted by affiliate merchants to their publishers.
Another one is tracking ID, it's similar to the affiliate ID, and you can create multiple tracking IDs associated with your affiliate ID/(associate ID) to track your income from different promotion strategies.
Here, I am going to explain it a bit more.
If you are an Amazon affiliate with affiliate ID affiliate-12345, you can use two different tracking IDs affiliate-1-12345 and affiliate-2-12345 to track your progress for two different promotion platforms like blog and social media marketing.
You can generate individual income and progress reports for each tracking ID.
6. Affiliate Commission (In %)
When an affiliate marketer makes the sale, the affiliate merchant/ e-commerce company pays the commission depending on the marketing campaign, the products, and the volume of sales generated.
I.e., high-moving products have low commission rates while less-moving products and digital downloadable products offer a high percentage of commission.
This percentage varies from 0.1% to 70% or even more. Some merchant companies can provide higher commission rates than regular rates for a higher volume of sales.
The affiliate marketer can put the deal for custom commission rates when the traffic and conversion ratio is relatively high.
7. Payment Mode
The affiliate commission is paid through different payment modes, and you can select any one suitable for you.
These modes are cheques, EFT, wire transfers, online payment gateways like PayPal or Payoneer, and gift cards.
EFT and online payment gateways are the most convenient payment modes and are very popular for online businesses.
Online payment gateways will help you a lot if you are a merchant/seller and gives your buyers to pay easily with their credit/debit cards, mobile wallets, or directly through their accounts.
To receive the affiliate commission you can use the online payment gateways. Here, you can select the best online payment gateways with zero setup fees.
8. Landing Page
A landing page is a unique page designed to increase the sale of products or services. It's optimized in such a way that maximum conversion can be obtained.
On a landing page publishers generally show offers, reviews, or recommendations for the products and services that they want to promote or sell.
The layout of the landing page should be optimized for SEO and users to boost traffic as well as conversion.
Some premium themes offer the best-suited layout for SEO and users both and give more clicks to your affiliate advertisements.
You can use A/B testing methods for your landing pages and check the progress over a specific period.
By applying this method, you will know which product or landing page is converting more and creating maximum revenue for you.
It's very helpful when you use a number of affiliate marketing programs on your online portal.
9. Sub-Affiliate Programs
Some companies provide you with a commission for recommending their products as well as the affiliate program.
Here, you can achieve higher revenue by recommending such good programs to others.
It's similar to a multi-level marketing (MLM) campaign, and the people downlinked to you are your sub-affiliates.
You can receive the percentage of commission earned by your sub-affiliates for a limited time or a lifetime also.
PTC websites are a good example of multi-level marketing where you can earn some money by applying this technique. However, I don't recommend it as the payout for such programs is very less.
10. Conversion
The conversion means getting the response from your traffic to your CTA (Call To Action) or performing an action desired by you beyond simply browsing your blog/website or channel. In very simple words, the traffic turns into actual customers that land on product sales pages (landing pages).
Opening an advertisement email sent by you or signing up for the newsletter on your blog are also kinds of conversion.
It engages your visitors in your advertisement network and helps you to turn them into your customers.
It is an important term in affiliate marketing because if your conversion is low, then you may have to work on your present strategies and improve your marketing skills to get more conversions.
If people are only browsing web pages but not taking action, then you will lose most of the revenue that would come to you by implementing simple techniques.
For increasing your conversion, you can offer some bets for your visitors in the form of downloadable content or access to your secured high-quality articles.
You will notice that the content upgrade marketing technique is used by many email marketers.
They create some useful content and offer a freebie to people who sign up for their list with a valid email address.
Making a sale is the biggest conversion in my opinion.
There are a few terms in this section like CTR, CPC, and PPC.
You can study all of them to improve your marketing skills and conversion, and finally the sale.
11. Affiliate Income
Affiliate income is net income earned by the affiliate marketer/publisher using the affiliate programs.
Most bloggers have a higher percentage of their total online revenue as the affiliate program.
A normal affiliate marketer can earn around a thousand bucks by taking small efforts.
So it's generally categorized as passive income also.
To increase affiliate income, publishers can use so many proven ways like email marketing, social media marketing, or by giving attractive offers like discounts or custom coupons.
These techniques are easy to use, and you can use them on your websites to increase your traffic, conversion, and sales.
Little Known Things About The Affiliate Marketing
Now, you have knowledge of the basics of affiliate marketing. If you want to start it, you can try your luck in this field. You just need good content creation and presentation skills, marketing skills, and basic knowledge of computers and the internet besides what you have learned here. There is no requirement for any particular qualification to become a successful affiliate marketer besides the above skills.
It's not compulsory to have a blog/website or a video channel. You can share your affiliate links on social media platforms such as Facebook, WhatsApp, and Instagram. However, having a blog/YouTube channel would surely help you. You can create your WordPress blog here within just 30 minutes.
If you already have a blog/website and you are using other advertising networks like Google AdSense then also you can use affiliate marketing for monetization purposes. It does not violate the Terms Of Service of Google AdSense.
According to me, affiliate marketing is much better for rookies than Google AdSense and similar advertising network programs. If you have a healthy blog/website with decent traffic, you can use both, Google AdSense and affiliate marketing side by side. Being a nice way of monetization, it is neither illegal nor harmful to your publication concerning SEO or SERP.
To join any affiliate program, you can search 'merchant name + affiliate' in the search box of your internet browser or visit the affiliate marketplace like ShareASale, CJ affiliate By conversant, ClickBank or E-junkie, etc. All companies don't offer an affiliate program, but you can check their websites to verify the existing affiliate programs, their commission rates, and terms of service. Most e-commerce companies and online products generally offer affiliate programs; you can join the best suited for you.
It's easy to join any affiliate program, and you don't have to pay any charges to join these programs. You can sign up with a valid email address and the required credentials for becoming an affiliate. However, you can use some paid services like email marketing services, PPC advertisements, etc. to boost your affiliate sales. It can help you to grow very fast and become a successful affiliate marketer. Though it is true, there is no guarantee that a specific strategy will work for you successfully. You can test several methods of marketing over time and select the best worked for you.
Always promote the products or services that add some value to your content. The products that you are going to promote should be relevant to the niche of your blog/website otherwise; visitors would feel your blog is of low quality and just for marketing purposes. In this case, your bounce rate may be high, and you will fail to convert.
It's also important to join quality affiliate programs that give quality products and satisfactory service to your buyers and a good percentage of commission to you as a publisher. Selecting and joining so many affiliate programs randomly is not a good practice for an affiliate marketer. It can hamper your career very badly. So select better affiliate programs and focus more on marketing & conversions. Research in this field will definitely help you to become a successful affiliate marketer.
You have definitely got the basics about affiliate marketing but learning it from who is already successful in this field is a great way to start. Invest in yourself and see the result pleasing you in the upcoming days.
If you have any queries or feedback, feel free to connect with us in the comment box.
If you are serious about your online career, especially in affiliate marketing, then you should consider buying the best affiliate handbook about affiliate marketing by Harsh Agrawal.
If you have any queries or feedback, feel free to connect with us in the comment box.