Affiliate Disclosure: I publish various content marketing strategies, online business ideas, blogging tutorials, review articles, and discount offers on my blog. My content may contain some affiliate links for products/services I use, love, and recommend. If you take action (i.e., subscribe or make a purchase) after clicking one of my affiliate links, I'll earn an affiliate commission at no additional cost to you. It helps me in creating more helpful content like this.
This article will get you from zero to hero within a few months if you want to make money with Amazon Affiliate Program.
You only need to follow the tutorial step-by-step and put in the effort.
Making thousands of dollars in passive income online is the dream of every internet entrepreneur and blogger.
In reality, only a few people consistently reach that level while the rest struggle to reach the minimum payout limit.
Are you curious about how successful affiliate marketers make a steady passive income with Amazon Affiliates and how to become one?
Learn what successful Amazon affiliates do differently than those who earn nothing and how you can join them.
Please continue reading the article.
How Can I Benefit from Amazon Affiliate Marketing?
If you plan on working online and earning large sums of money, you might want to consider affiliate marketing.
Amazon affiliate marketing is one of the simplest ways for people to earn handsome income from affiliate marketing.
Some have monthly revenues exceeding $1000, and a few have reached $30K, not an easy feat for someone working a regular 9-5 job.
Therefore, you should monetize your online work through affiliate marketing, Google AdSense, or other advertising networks.
If you want to boost your income, integrate affiliate marketing into your income source. You may feel comfortable with Google AdSense, but affiliate marketing may help you get a rocket boost.
My goal here is to explain one of the affiliate programs that I like most and is easy to set up, even for a newbie. I.e., Amazon Affiliate Program, a.k.a. Amazon Associates.
This article will teach you how to build successful affiliate marketing with Amazon. Therefore, keep reading until the end.
I recommend taking a peek at Amazon's e-commerce business before moving on.
What is Amazon?
Amazon is the world's biggest e-commerce company, founded by Jeff Bezos in 1994.
The company offers online retail, digital product stores, computing services, CDN services, consumer electronics, and more.
Look at the Amazon logo, an arrow designed as a smile from A to Z.
With Amazon, you can get almost anything you need from A to Z.
The Amazon team will deliver them to your doorstep anywhere in the world so you can smile.
As a result, Amazon has grown into a global company. Google Amazon if you don't know anything about it yet.
Let's now move on to the main topic of how to get started with Amazon affiliate marketing.
I'll walk you through the process step-by-step. You'll be ready to launch your Amazon affiliate campaign by the end.
What Will You Learn Here?
Selecting Profitable Niche
Selecting Platform For Promotion
Website Development
Crafting Contents
Signing Up for Affiliate Program
Working On Promotion & Marketing Strategies
Important Points To Remember
Quick Tip For Amazon Affiliate Program
When you start affiliate marketing with Amazon, the first step is to research the market and customer relationship.
The best way to sell an affiliate product is to find the people facing problems and provide them with solutions.
1. Selecting a Niche
Choosing the niche for your Amazon Affiliate website or other marketing channel is very important if you plan to use Amazon's affiliate network.
You need to find products with maximum customer benefit and a generous commission.
Consider the best-selling products because people want to buy those products (demand-pull).
The second step is to find a product with many positive reviews. Many people have already bought that product, so you can quickly drive more like them for your affiliate site.
You will significantly increase your affiliate income by using these two methods.
Depending on the category and selling volume, Amazon's commissions vary.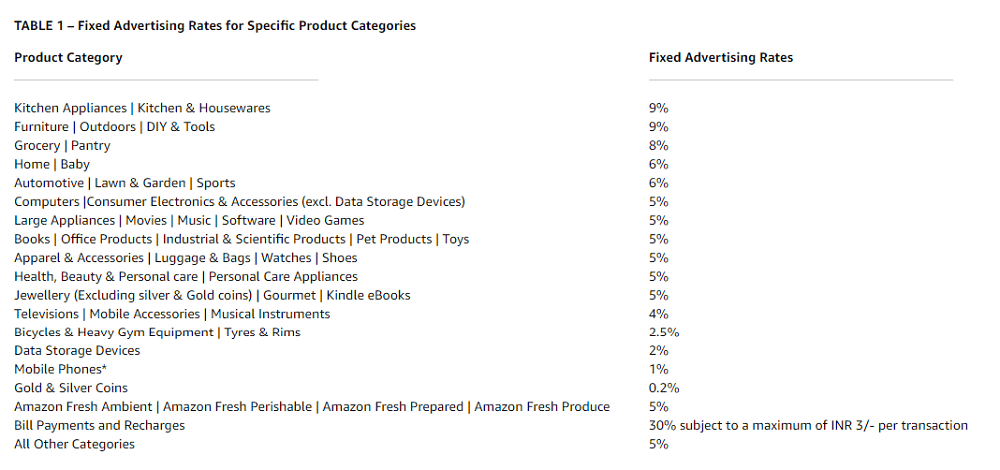 Sell high-end products with decent commission rates with a selling price of at least $100. It'll help you earn higher commissions on high-end items.
Some Amazon Affiliate niches offer commissions of around 10%. However, please think twice before selecting that niche whether it is worth your time and energy.
Those niches have high ROI if you know how to market them. E.g., apparel and shoes.
On the other hand, niches like cameras and laptops offer a lower commission rate of about 5%, which is still profitable.
Promoting a laptop worth $500 and getting $25 per sale is better than promoting a t-shirt worth $40 and getting $3.6 per sale.
However, it would be best if you had expertise in this field & be able to answer any questions your audience may have. Therefore, you should choose a niche that interests you but should also be profitable.
Next, select profitable keywords that people are searching for using tools like Google Keyword Planner or Semrush.
The few niches which may be profitable are:
Outdoor gears
Computers and laptops
Cameras
Home Décor
Kitchen accessories
Baby products
Pet products
Household products
2. Selecting a Platform for Affiliate Promotion
Congratulations on choosing a niche for your Amazon Affiliate business.
Choosing a platform for affiliate promotion is the next step.
The options for promoting affiliate products include free or self-hosted websites/blogs, social media, emails, video channels, and more.
My recommendation would be to choose a self-hosted WordPress blog. Then, you can integrate all other platforms simultaneously, like social media or email marketing, and have total control over your promotional campaigns.
Don't forget to create a YouTube channel as well. It can assist you in generating more traffic and converting it into sales.
Blogspot.com allows you to add widgets or affiliate links to Amazon products. However, if you plan for the long term, you should choose a self-hosted WordPress website.
In addition to looking more professional, it creates a sense of authority.
You can also add a few third-party plugins to add more functionalities and automate things.
Therefore, you should choose a self-hosted WordPress blog or website for affiliate promotion.
3. Website Development
The next step is to develop the website once you've decided to use self-hosted WordPress for affiliate advertising.
You must first purchase a domain and a web host, but it'll be beneficial in the long run.
Use Bluehost's WordPress hosting service, which offers a free domain, unlimited storage/bandwidth, free SSL, and 24/7 customer support.
Log in to your web hosting account after you purchase a web hosting service.
Bluehost offers an automated WordPress installation service.
Once WordPress has been installed, move over to the WordPress dashboard and select your theme and essential plugins.
If you can afford it, consider getting a premium theme. It will enhance your website's features. Finally, optimize your website for maximum conversions.
4. Crafting Contents
Start crafting articles and content around the products you decide to promote.
Check out customer reviews for these products, or better yet, purchase and use the product yourself.
Here are some examples of posts you can write about these products:
Review of a particular product
Comparison of products A and B
Listings of products
Interviews of actual users (Videos are more helpful here)
How-to-use tutorials/recipes (for cameras, kitchen accessories, etc.)
You can write about anything in your niche based on these examples. The main goal of your posts is to engage and drive sales.
Having a site focused on a single product niche, such as DSLR cameras, will help you attract more traffic and sales, even with a small number of posts.
A product in the high-cost-low-volume category will reward you with more money for every sale.
A website's aesthetic appeal and design are crucial in affiliate marketing.
Put relevant, high-quality images in your content to make it more appealing.
Engage your customers by asking questions and keeping them reading. Finally, you should provide a strong reason for people to buy the recommended product with a bold and easily accessible CTA (Call To Action).
Don't let the customer choose between A and B at the end. Instead, focus only on selling the product you wish to sell.
It would help if you made your content shareable. Please use Novashare; it's an excellent social sharing plugin for WordPress.
Besides sharing, it will also help you generate leads.
5. Signing up for Amazon Affiliate Program
After you have completed the initial website development, create basic pages such as about us, contact, privacy policy, disclaimer, and affiliate disclosure.
Additionally, write a few informative articles before applying for the Amazon affiliate program. It will improve your chances of approval.
When you are satisfied with your website, and it looks great, check out the Amazon affiliate program.
Type Amazon affiliate in the Google search and press enter.
Click the URL to the Amazon affiliate program. Once you reach Amazon Associates Central's landing page, click on Sign up. 
Add your personal information, website, and other details, and sign up for the Amazon Associates program.
It'll be easy for you if you are already an Amazon customer.
Once approved, move on dashboard and search products for your niche.
There are multiple ways to promote, including text, images, banners, and widgets. In addition, Amazon offers Site Stripe, which allows you to link directly from Amazon's website to product pages. You can generate short links using your affiliate ID via Site Stripe.
The Amazon affiliate program also has a social sharing and earnings report feature that I appreciate the most.
You can also add tracking IDs to your affiliate links if you plan to promote Amazon affiliate products on multiple platforms. Amazon affiliates have access to tons of features.
As an Amazon affiliate publisher, you can find products related to your niche and get links to promote.
Use the Amazon affiliate dashboard or site stripe to get quick links. You can use these links, banners, or widgets to advertise on your blog, website, or social media pages.
6. Developing Robust Marketing Strategies
The first half of your job is done. You now have to begin promoting Amazon affiliate products, which is the main course of your campaign.
Start with social media and share your articles on Facebook, Twitter, and other platforms. Engage your friends on social media to get the audience.
At the same time, work on improving your website's SEO to get organic traffic. A paid advertising option such as Google AdWords or Facebook ads can help you gain more visitors to your website. However, please check Amazon's guidelines from time to time for PPC advertising.
You can use lead generation plugins and email marketing services like AWeber and GetResponse. Start by using SendInBlue, which offers a generous free tier.
Add social media pages and video channels to your Amazon affiliate account.
Don't promote your links directly through PDFs, ebooks, or emails; use your blog's resources page instead.
Invest some time in crafting videos to drive more traffic to your blog posts.
Additionally, seasonal promotions on Amazon can boost your affiliate income, such as those around Friendship Day, Christmas, Halloween, or Valentine's day. So keep your website ready for those days.
Amazon Affiliate Tips
Follow these tips carefully if you'd like to learn how to make money with amazon affiliate program.
A niche research strategy is critical if you wish to earn significant commissions from Amazon affiliate programs.
Think about why people will buy from your link. Finding people's problems, helping them solve them, and being available when they need help or guidance will help you immensely.
Make your content valuable so that people will click the CTA button.
Give your genuine and honest opinion when people ask for it. Don't lie only to increase sales. Make sure your comparisons & reviews are unbiased.
When recommending products, make sure you have personally used them or know how they work. Product knowledge can help you answer customers' questions confidently.
Don't lose hope. Be patient, and don't give up. Amazon affiliate marketing is not a quick-rich scheme. Instead, develop better promotional strategies.
Utilize every available method to attract traffic and collect leads. Convert leads into customers. Nevertheless, don't stuff your page with keywords; it will hurt your search engine rankings.
Add rel="sponsored" to your affiliate links
Don't promote products that aren't relevant to your niche.
For more conversions, use contextual links and CTA buttons.
If you want to run a paid Amazon affiliate campaign, don't use Amazon's brand name. It may lead to account suspension.
Amazon affiliate links have a cookie period of 24 hours so update your links frequently. Using plugins like AAWP for automatic data fetching allows you to show your audience the latest deals and earn more revenue.
Bring in more monthly sales so you can get a higher commission rate.
Self-referrals via your affiliate links may lead to Amazon affiliate account suspension or even termination too.
Don't use URL shortening services like bit.ly for link cloaking. Use amzn.to service or site stripe feature on the Amazon website.
Don't mention prices on your blog since they are constantly changing due to deals and promotions. It'll lead to disputes because the customer won't get the products at the price seen on your website/blog.
Your website should include essential pages such as an about us, a privacy policy contact, and affiliate disclosure.
Last, Never give up because you are born to win.
How to Make Money with Amazon Affiliate Program: Conclusion
Now that you've read this article, I hope you better understand how the Amazon affiliate program works or what to do and what not to do. Please share this article if you enjoyed it.
I would appreciate any feedback or queries you may have via the comment box below.
Here are my recommended tools for starting an Amazon affiliate marketing niche blog/website.
It's your turn now. So go ahead and start your Amazon Affiliate marketing journey!