Affiliate Disclosure: I publish various content marketing strategies, online business ideas, blogging tutorials, review articles, and discount offers on my blog. My content may contain some affiliate links for products/services I use, love, and recommend. If you take action (i.e., subscribe or make a purchase) after clicking one of my affiliate links, I'll earn an affiliate commission at no additional cost to you. It helps me in creating more helpful content like this.
If you are thinking to build a blog or website, then you can choose the best web hosting suitable for your requirements. Beyond deciding which web hosting provider to go with, you'll also need to think about which service fits the best for you among a few options, including shared hosting, VPS, or a dedicated server.
Almost everyone chooses the shared hosting service to build their first website except a few big companies. It's one of the most popular web hosting types providing an economical solution to new bloggers, start-ups & small businesses.
But, do you know what is shared hosting, and whether it makes sense for your website?
Here in this article, we dive into what shared hosting means, and who could get benefit from this hosting package.
Are you excited to know?
Let's jump in!
What is Shared Hosting?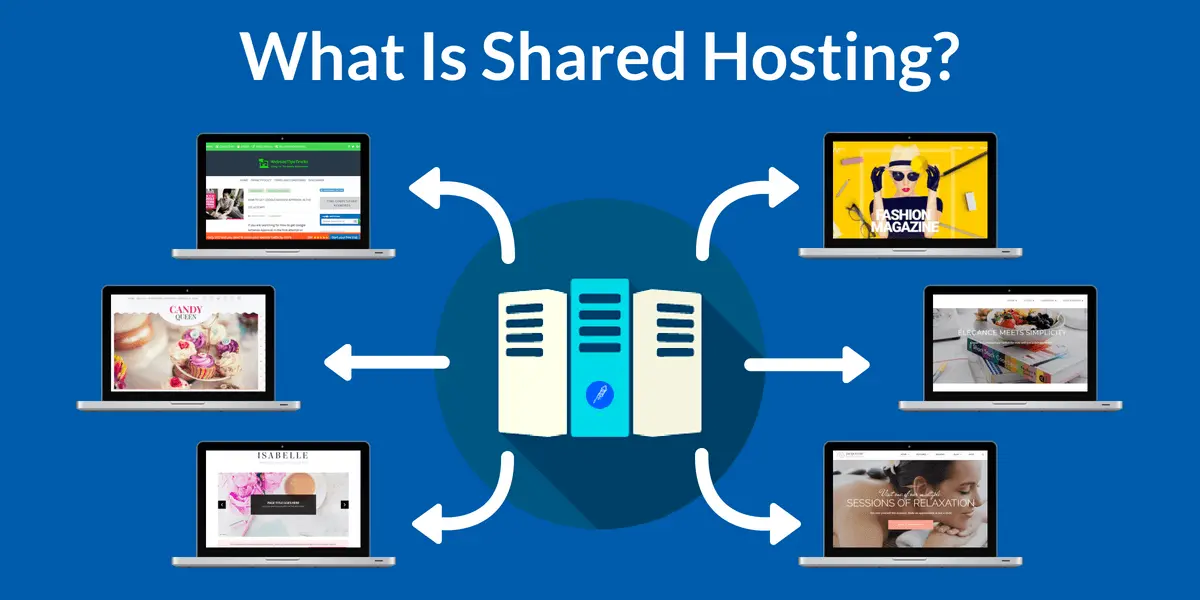 Shared hosting allows multiple website users to utilize a single physical server and share available resources among them.
Usually, it's a platform where every customer is having the limits on the total amount of resources they can use. E.g., disk space, bandwidth/traffic, emails, etc.
However, many web hosts claim to provide unlimited/unmetered server resources that you need to understand properly.
First of all, unlimited doesn't mean infinite as it's physically not possible to build infinite data centers, and we also have limits on data transfer speed.
Remember, unlimited means these web hosts don't limit your resources unless you are not consuming them in large amount for more than a predefined time. (mostly 25%)
It's important because you have shared a server with other users, and their websites also need adequate resources to function properly.
Many web hosts have clear specifications about what they provide with their hosting packages while some of them may have hidden policies.
So, I would suggest you go through all the important links, including ToS, usage policy, and pricing before finalizing your decision.
The shared hosting is a simple and economical option to build your website, especially when you are on a tight budget. However, you shouldn't choose an incompetent web hosting for saving only a few bucks.
It really sucks.
Since the most hosting companies offer almost similar packages, choose the company which has an excellent reputation in market and VFM tag.
I have tried many web hosting companies, but HostAramada impresses me with its cutting-edge performance and advanced features available in shared hosting like SSD storage, HTTP/2, page caching, and 1-click staging.
Pros and Cons of Shared Hosting Services
Although shared hosting services are an excellent way to start, they have some pros and cons as mentioned below.
Pros of Shared Hosting
I

t's by far the cheapest solution available for hosting your site. Usually, the price ranges from $1-30 per month. (However, some performance hosting like WPEngine may charge you up to $299 per month.)

Almost every shared hosting usually comes equipped with a built-in cPanel and auto-script installer like Softaculous, which makes it even easier to manage & maintain your site.

Most companies have multiple levels of hosting upgrade available, and you can seamlessly add resources to your account, which makes it a great place to start.

People with little to no technical knowledge can work with this environment as technical support is usually included as a part of your hosting package.
Cons of Shared Hosting
We have discussed the advantages of shared hosting that sound pretty good. It's affordable & easily manageable web hosting solution with solid uptime. But, it has certain drawbacks too.
As server resources are shared among various users, the performance is not as good as most of the VPS or dedicated servers. It mostly reflects in page loading time, which is one of the most important metrics of site performance.

Your server can become overburdened by other sites that are sharing the server, especially in case of huge traffic spikes. However, currently, web hosts are using tools like Cloudlinux to prevent such circumstances to ensure better & optimized servers for the shared environment.

As your site starts to receive massive traffic, you'll notice that your site has begun to perform much worse or even face frequent downtime until you upgrade to next level.

You never know with whom you're sharing the neighborhood. Although rare, it's possible that mistake by other site owners on the server can pose a risk to your site.

There's a lack of customization options like Root access, etc. to truly get the maximum performance from your website.
For most people who are just getting started online, the advantages of shared hosting will greatly outweigh the disadvantages, especially when they want to get a website up and running as quickly as possible and have little tech skills.
Alternatives to Shared Hosting
If you are using shared hosting, you most probably know how it performs. And, if you need more resources, there are no specific alternatives currently available.
However, you can find the upgrades like VPS and semi-dedicated or dedicated servers, but they are not as cheap as the shared hosting.
Still, you can manage to get a basic VPS at around $20-30 with a lower amount of CPU & RAM, which offers a greater level of performance & customization. But, the price will get increased with more resources and advanced features.
Summing Up
Now, you know what is shared hosting, how it works, and the advantages/disadvantages of shared hosting.
If you are planning to create your first website/blog, it's better to have shared hosting that you can upgrade with time when you'll need more performance for your site.
You May Also Like