Affiliate Disclosure: I publish various content marketing strategies, online business ideas, blogging tutorials, review articles, and discount offers on my blog. My content may contain some affiliate links for products/services I use, love, and recommend. If you take action (i.e., subscribe or make a purchase) after clicking one of my affiliate links, I'll earn an affiliate commission at no additional cost to you. It helps me in creating more helpful content like this.
If you are looking for a powerful yet affordable web hosting service, HostArmada can be a great option.
Although HostArmada is relatively new in the hosting market, you won't find any issues by hosting your sites with it.
I've been using the HostArmada WordPress hosting for the past few days, and I'm pretty happy with its performance.
In this HostArmada review article, I'll share my experience, the top features, pros, cons, pricing, and exclusive discount offer for first-time users.
HostArmada Review – Quick Introduction
HostArmada offers a wide range of web hosting solutions, including managed SSD shared hosting, WordPress hosting, cloud-based SSD VPS, open-source hosting, development hosting, and dedicated server for businesses that need more power.
High-quality services, reliable performance, the latest technologies, and professional customer support are key features of HostArmada hosting.
As an affiliate marketer, I always try to verify the company's marketing claims vs. actual performance to ensure my audience gets the best products for an affordable price.
The HostArmada review isn't an exception too. I've hosted a live site on the HostArmada server that's performing extremely well.
In addition to the performance metrics, I have mentioned a few notable features.
HostArmada Features
Like other top shared hosting providers, HostArmada offers cloud-based SSD web hosting.
All HostArmada plans come with free auto SSL, cPanel, daily backups, unlimited email accounts, and multiple PHP versions.
The 1-click auto-installer helps you deploy WordPress sites within a few minutes.
Free lifetime domain registration can be a great deal if you have a limited budget.
If you already have a domain name registered with a third-party registrar, HostArmada allows you to transfer one domain for free.
HostArmada will renew your domain name for free, as long as you remain its customer.
Free website migration is a useful feature if you want to move from your current web host to HostArmada servers.
Most web hosting companies offer automated website transfers or single-site transfer with extra fees for migrating additional websites.
However, HostArmada technical team will transfer up to five websites free of charge depending on your web hosting plan.
One more thing,
HostArmada is offering free site speed optimization services as a launch offer.
HostArmada Review: User Interface
HostArmada team designed an intuitive client dashboard to manage your web hosting-related services.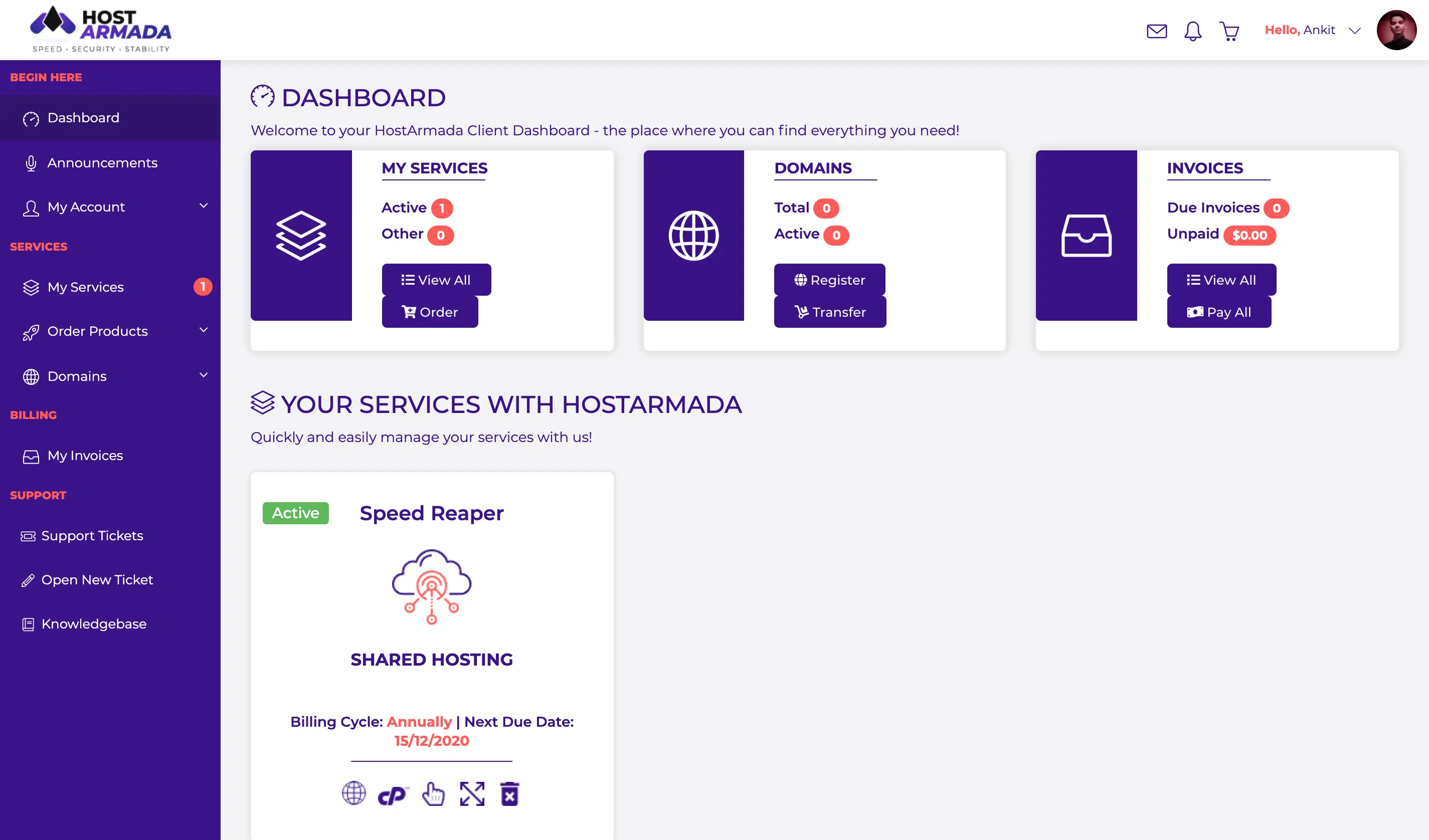 You can access your hosting accounts, domains, invoices & billing information, personal details, and support ticket in a single place.
You can also purchase additional services without leaving the account.
The hosting panel is fully mobile responsive so that you won't face any difficulties accessing your account from mobile devices.
HostArmada uses industry-standard cPanel for website and application management.
However, it's customized according to HostArmada's requirements.
As you know, cPanel offers great convenience and quick navigation.
It enables you to install SSL, add domains and subdomains, manage email accounts, access file manager, restore backups, maintain databases, install various apps using Softaculous auto-installer, and much more.
Overall, the HostArmada web hosting interface is standard. However, the client dashboard could be a little better.
HostArmada Review: Speed
Site speed is the most crucial aspect of any web hosting.
HostArmada offers a solid infrastructure and the latest web technologies to ensure faster loading time for the sites hosted on its servers.
SSD-powered cloud hosting with adequate resources, web cache, and less-crowded servers help you achieve the best speed performance.
The higher tier HostArmada plans offer more RAM and CPU, free private DNS, LiteSpeed web server, HTTP/3 (HTTP over QUIC), and dynamic caching solution.
I'd suggest you pick the Speed Reaper plan to get the maximum performance.
That's not all.
HostArmada has nine data centers around the world, including India.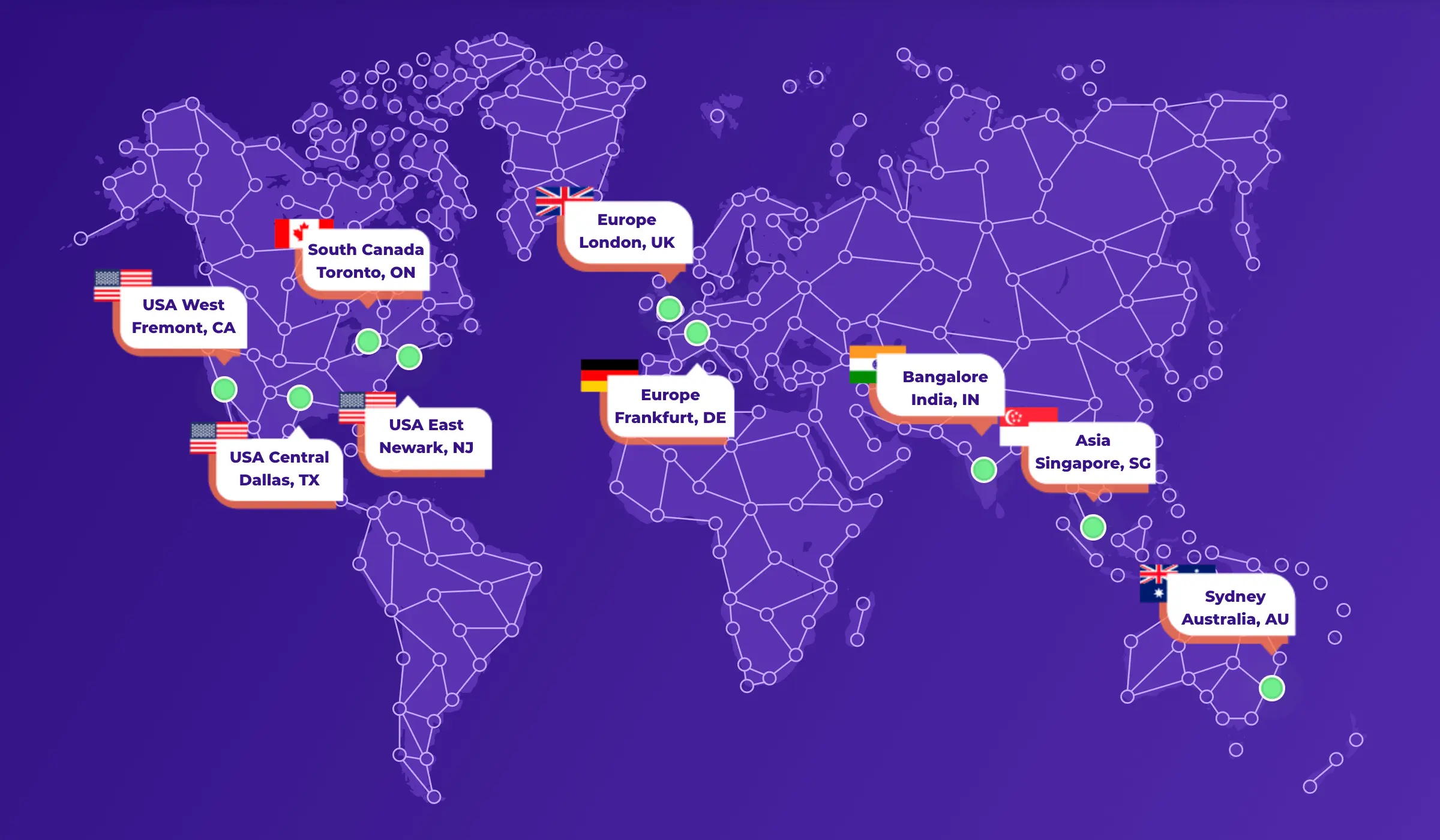 Choosing the server location nearest to your target audience reduces the latency, thus improving the site speed.
If you are experiencing slow site speed issues, open a support ticket mentioning you want to improve website speed.
HostArmada technical team will analyze your site and make necessary changes to ensure your site load quickly ( <1 sec. in most cases).
Here are the details of site speed optimization by the HostArmada support team.

I conducted a load-impact test for one of my sites.
See the results below and decide whether HostArmada is good for you or not.
HostArmada Review: Uptime
Server uptime is another factor you must consider while purchasing web hosting services.
You should always monitor server uptime to verify the service reliability claims by a particular hosting company.
Jetpack is a free tool to check server uptime.
In case you're not a WordPress user or don't want to use the Jetpack plugin, you can use third-party tools to track server uptime. E.g., UptimeRobot
I have already enabled uptime monitoring, and here are the results for the last 30 days.
*The 28-minute downtime is due to scheduled maintenance activities. The HostArmada team notified me about that two days before.
Please note that web hosting companies can't provide a 100% uptime guarantee because of scheduled maintenance activities, complex technical issues, or unforeseen reasons.
However, a web hosting company should offer ~99.9% uptime throughout the hosting tenure.
If any of my sites face a significant downtime in the future, I'll update my review.
HostArmada Review: Security
Protecting a website from various attacks and hacking attempts is a big challenge for most webmasters.
The HostArmada team knows it very well.
That's why it offers robust security features, including free SSL certificates, daily backups, and account isolation for shared hosting users.
Apart from the security measures mentioned above, HostArmada deployed a web application firewall (WAF) to prevent your website from XSS attacks or SQL injection.
It also promises quick security patches for the reported vulnerabilities.
HostArmada offers Imunify360 malware protection.
You can log in to your cPanel and scan for potential security threats. Additionally, Imunify360 allows you to set default action if it detects any malware or PHP-based attacks.
Distributed Denial of Service (DDoS) is another security threat associated with abusive resource consumption.
It makes a website inaccessible for legitimate requests.
HostArmada has implemented a server-side DDoS shield to prevent such attacks.
It consists of ModSecurity integration, Per-IP Request Throttling, SSL Renegotiation Protection Service, and HostArmada reCaptcha Guard to ensure maximum protection.
SSH Access, Hotlink Protection, Leech Protection, and Professional Spam filtering are a few more security features worth mentioning here.
HostArmada Review: Support
In my perspective, customer support quality is a necessary feature when choosing the hosting service.
The response time, technical expertise of the operator, resolution time, and professionalism are major factors of the best customer support experience.
HostArmada offers 24/7 customer support without compromising on quality.
You can contact the HostArmada support team via live chat, ticket, or phone call.
In most cases, you'll get instant replies to live chat queries. Even support tickets are answered within 10 minutes.
I have interacted with HostArmada support executives multiple times, and my experience is extremely good so far.
Please note that phone support is available from Monday to Friday (during US business hours).
While it may be a con for a few users, I don't prefer phone calls to connect with the support team.
HostArmada offers support for non-development website-related issues, domain issues, email service, SSH access, SSL certificates, and cPanel-related issues.
If you face difficulties in migrating websites, installing SSL, or accessing your site, simply contact HostArmada support.
I'm sure your issue will be resolved with priority, depending on its nature.
Do you have any pre-sale inquiries?
Ask your questions to the HostArmada support team.
HostArmada User Reviews
I always recommend people to read product reviews shared by real users.
Independent review sites, trusted review platforms, social media communities, and public forums are great places to verify a particular company's marketing claims.
I tested most of the advertised features before publishing the HostArmada review. It worked well in my case.
However, I have also shared a few screenshots here so that you can see what other people think about HostArmada hosting.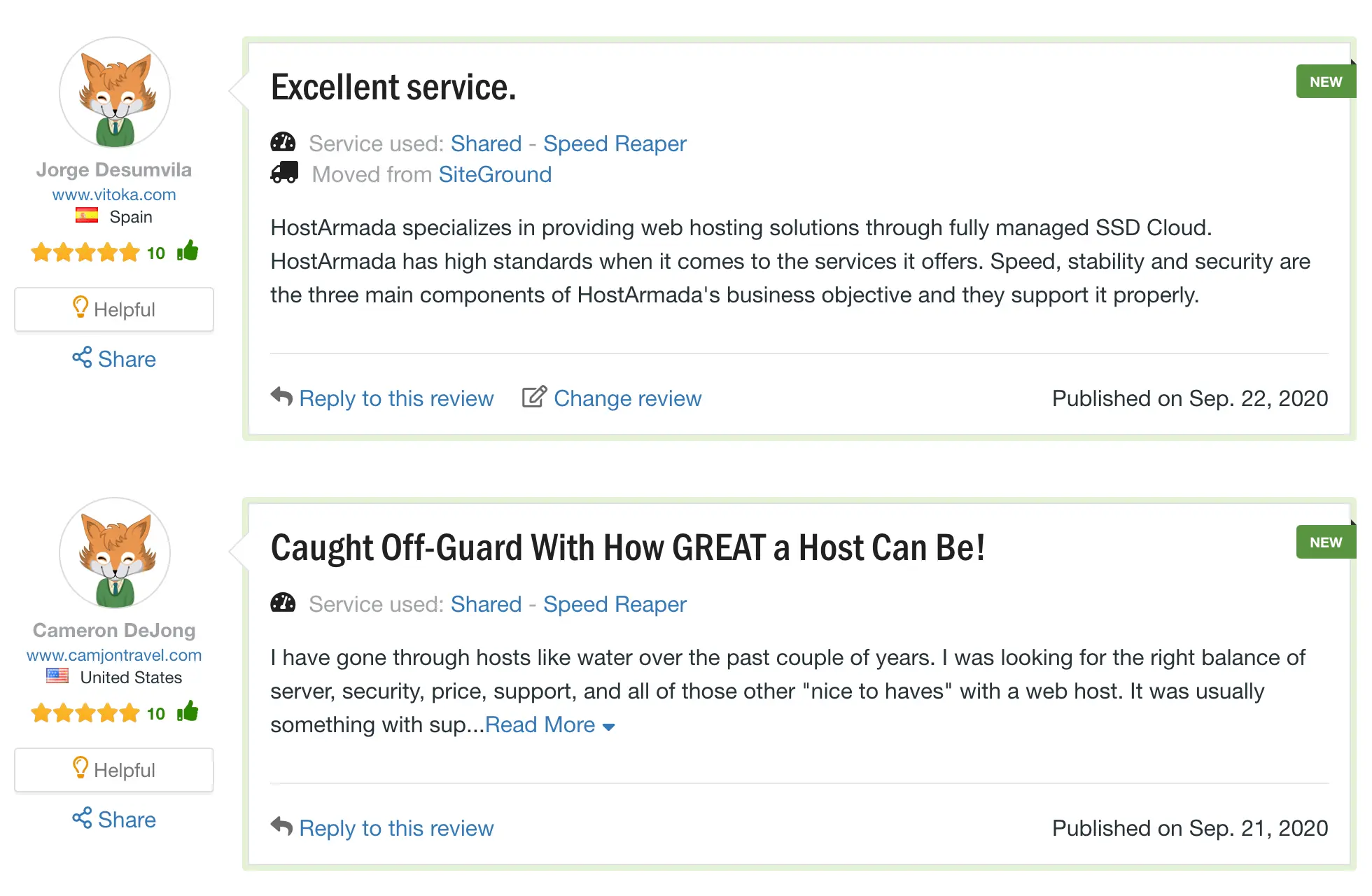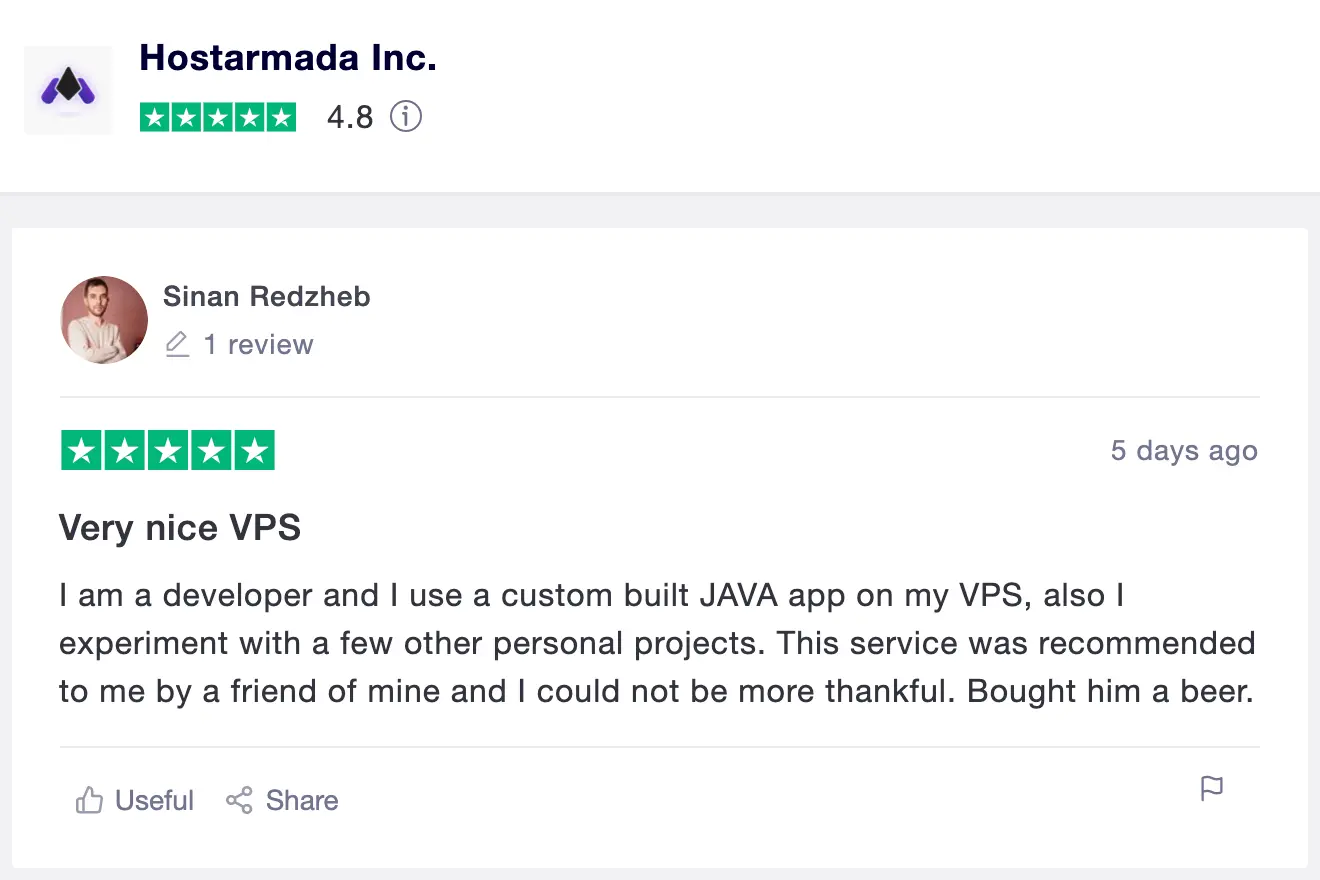 HostArmada Pros
➤ Free SSL
HostArmada offers free AutoSSL powered by Sectigo. Typically SSL certificates are installed automatically. However, you can check SSL status and perform force installation by visiting cPanel > Security > SSL/TLS Status.
➤ Free Daily Backup
To protect your website from accidental damages or security threats, HostArmada backups your entire site and stores remotely.
In case anything bad happens with your site, you can restore the most recent backup to get your site online.
➤ Free cPanel
HostArmada offers the cPanel as a web hosting control panel. Many people are already familiar with it.
Even if you're a beginner, you won't face an issue managing your site.
➤ Unlimited Email Account
You can create unlimited custom email accounts for free from your hosting control panel.
While other services like G Suite cost around $5 per month to access this feature, HostArmada has included it in your hosting package.
➤ Free Domain Name Registration
As I discussed earlier, HostArmada will offer free domain name registration for the hosting account's lifetime.
You may transfer your domain from your existing domain registrar to HostArmada, but I wouldn't advise that.
Anyways, free domain registration is a great deal for beginners with a small initial investment.
Please note that the free domain registration/transfer applies to the following TLDs only: .com, .net, .biz, .org, .business, .info, .in, .us, .ca, .click, .co.uk, .cn, .com.br, .eu, .de, .es, .space, .football, .uk, .nl, .tokyo.
➤ Website Migration
You can request the HostArmada support team to migrate your sites (up to 5) to its servers after purchasing a web hosting plan.
If you're a non-techies or afraid of site migration issues, this is a great deal for you.
➤ Website Speed Optimization
I've seen only a few companies offering such add-on services for free.
Although this service is available as a launch offer and only includes non-development speed optimization activities, you'll be impressed by the results.
I recommend you to give a try.
➤ Affordable Pricing
Being a new player in the market, HostArmada is focusing on business growth, especially customer acquisition.
Affordable pricing is part of their marketing strategy. Still, the hosting prices are extremely cheap, considering the performance and feature set.
HostArmada Cons
➤ No CDN Integration
Most hosting companies include Cloudflare CDN in their shared hosting plans.
Unfortunately, HostArmada does not provide one-click CDN integration.
You can enable it by visiting the Cloudflare site or asking the HostArmada support team to configure it for you.
➤ No Monthly Plan
Some people aren't comfortable paying annual hosting fees upfront, especially to a new hosting company.
So it'd be difficult for them to consider HostArmada as a hosting choice.
However, it has a 45-day money-back guarantee that enables such users to try HostArmada web hosting services before deciding to continue with it or not.
➤ Renewal Upcharges
Since HostArmada has heavily discounted its SSD cloud-hosting plans, the renewals seem a little expensive.
Still, it's one of the most affordable hosting providers considering the performance and rival's pricing.
➤ LiteSpeed and Dynamic Caching are Available Only on the Speed Reaper Plan
LiteSpeed servers are popular for their excellent speed performance. However, HostArmada has included LiteSpeed, HTTP/3, and dynamic caching only in the Speed Reaper plan.
If you want to benefit from these latest technologies, you need to purchase the Speed Reaper plan.
HostArmada Pricing
Web hosting is an ultra-competitive market, and you'll see many companies offering web hosting services as low as $1 per month.
However, most cheap hosting services can't provide good performance, security, and reliability to a growing website.
Instead of using cheap WordPress hosting, I prefer one that offers maximum uptime, faster speed, reliable security, and excellent technical support when needed.
HostArmada isn't the cheapest web hosting.
The regular shared hosting pricing starts at $13.31 per month.
However, if you read this HostArmada review carefully, you'll notice that it justifies its price, especially the 75% discount offer is a steal deal.
You'll get the Start Dock plan as low as $3.99 per month by clicking the special link.
Currently, HostArmada offers SSD shared hosting, VPS Cloud Hosting, and dedicated hosting services.
Here are more details about HostArmada pricing.
SSD Shared Hosting
HostArmada offers cloud-powered SSD shared hosting with standard features.
HostArmada WordPress hosting, Opensource hosting, and Development hosting services fall under the same bracket.
These all plans share a similar pricing structure as mentioned below.
| | | | |
| --- | --- | --- | --- |
| HostArmada Plan | Start Dock | Web Warp | Speed Reaper |
| Number of Websites | 1 | Unlimited | Unlimited |
| Disk Space | 15 GB | 30 GB | 40 GB |
| Data Transfer | Unlimited | Unlimited | Unlimited |
| Traffic Limits | ~10,000 MUV | ~60,000 MUV | ~120,000 MUV |
| CPU Core | 2 | 4 | 6 |
| RAM | 2 GB | 4 GB | 6 GB |
The HostArmada Start Dock plan comes with standard features, including free SSL, free website migration, free backup, unlimited email accounts, and free domain registration.
The Web Warp plan offers additional disk space, more server resources, up to 3 free site migrations, free private DNS, and unlimited addon domains on the top of the base plan.
In case you don't mind paying a couple of dollars extra to get the best performance, Speed Reaper can be an excellent web hosting choice.
This plan is bundled with some attractive features, including LiteSpeed servers, HTTP/3, dynamic caching, fewer clients per server.
Additional server resources and LiteSpeed caching enable you to handle more than 120K unique visitors per month easily.
If you're running a growing affiliate blog or a business website that needs ultimate performance, you should purchase the HostArmada Speed Reaper plan.
Please note that HostArmada shared hosting plans follow an extended 45-day money-back period.
If you purchase any plan after reading my HostArmada review but aren't satisfied with its performance, you will receive a full refund.
No cancellation charges, except domain registration/transfer fees.
SSD Cloud VPS Hosting
HostArmada Cloud VPS service is a good alternative to other managed VPS hosting providers like SiteGround, A2 Hosting, and GreenGeeks.
However, I'd suggest you visit Cloudways.com before purchasing VPS hosting from any of these companies.
In case you're a big fan of HostArmada's offerings, choose any cloud VPS plan listed below.
| | | | | |
| --- | --- | --- | --- | --- |
| HostArmada Plan | Web Shuttle | Web Voyager | Speed Raider | Site Carrier |
| Disk Space | 50 GB | 80 GB | 160 GB | 320 GB |
| Data Transfer | 2 TB | 4 TB | 5 TB | 8 TB |
| Network (In/Out) | 40 Gbps/2000 Mbps | 40 Gbps/4000 Mbps | 40 Gbps/5000 Mbps | 40 Gbps/6000 Mbps |
| CPU Core | 1 | 2 | 4 | 6 |
| RAM | 2 GB | 4 GB | 8 GB | 16 GB |
Please note that HostArmada Cloud VPS hosting plans are powered by NGINX servers.
Plus, it offers full VPS management, including server monitoring, daily off-site backups, website transfer, app installations, and server updates.
A 7-day money-back guarantee protects each HostArmada Cloud VPS purchase. That allows you to try HostArmada VPS service risk-free for a complete week.
Dedicated Cloud Servers
Large businesses or established publications that need powerful servers can look at HostArmada's dedicated hosting.
The servers are full of features, including a redundant SSD cloud platform, free cPanel, free SSL certificates, web caching solutions, daily backups, and 24/7/365 support.
After considering the above features, HostArmada's dedicated server pricing seems pretty competitive.
However, I can't comment on their performance because I haven't used one.
The HostArmada dedicated hosting pricing starts at $149 per month for 4 core CPU/8GB RAM plan and goes up to $329 per month for 16 core CPU/32GB RAM plan.
Here are more details about HostArmada's dedicated hosting plans.
| | | | |
| --- | --- | --- | --- |
| HostArmada Plan | Armada DS – Lift Off | Armada DS – Low Orbit | Armada DS – High Orbit |
| Disk Space | 160 GB | 320 GB | 640 GB |
| CPU Core | 4 | 8 | 16 |
| RAM | 8 GB | 16 GB | 32 GB |
| Bandwidth | 5 TB | 6 TB | 7 TB |
Like HostArmada's Cloud VPS, the dedicated hosting is protected with a 7-day money-back guarantee.
Name: HostArmada
Description: If you're looking for a fast, secure, and reliable web hosting service, HostArmada is a good choice for you. Free SSL, daily backups, latest technologies, web caching, 24/7 customer support, and up to 70% discount are a few things make the deal more valuable.
Offer price: 3.99
Currency: USD
Operating System: Linux
Application Category: Web Hosting
Author: Ankit Main
Performance

Security

Pricing

Support