Affiliate Disclosure: I publish various content marketing strategies, online business ideas, blogging tutorials, review articles, and discount offers on my blog. My content may contain some affiliate links for products/services I use, love, and recommend. If you take action (i.e., subscribe or make a purchase) after clicking one of my affiliate links, I'll earn an affiliate commission at no additional cost to you. It helps me in creating more helpful content like this.
Are you searching for the best-managed WordPress hosting service for your business website?
If your answer is "YES", then you have landed in the right place.
When anyone decides to create a WordPress site, he/she needs to get a domain name and a web hosting service. 
Without these tools, you can't build a website.
Although you can easily book a domain name using any top domain registrar in the market, finding a reliable web host is quite difficult.
Moreover, there are a few types of web hosting to choose from including Shared hosting, Cloud hosting, VPS & dedicated servers which further add confusion to the buyer's mind.
Since people are shifting their businesses online, many web hosts have started providing affordable solutions for newcomers to remove entry barriers.
The low-cost shared hosting is a great way of getting started and learning WordPress. However, mid-sized business websites or blogs may need better alternatives.
Being a blogger or affiliate marketer, you have to deal with content creation, graphics design, lead generation, and much more.
Adding website management to this list is really a headache.
Let your web hosting service take care of all the technical stuff and invest your valuable time into more productive work. And, here the Managed WordPress hosting services come into the picture.
Read this article till the end to find out what is managed WordPress hosting, why it's necessary, and a list of the best-managed WordPress hosting.
What is Managed WordPress Hosting?
The Best Managed WordPress Hosting is designed and optimized for websites powered by WordPress where the hosting provider takes care of all technical aspects including software updates, security, backup, and everything you need.
Apart from that, many hosting companies use their in-house caching/server-side caching technology, so you don't need to install separate cache plugins like WP Fastest Cache, WP Super Cache, or W3TC.
Sometimes, you may also get CDN which further improves the performance & speed of your website(s).
Managed WordPress hosting gives better performance, security, uptime reliability as well as email stability. Plus, the simple onboarding process and hassle-free management make it the first choice for busy bloggers and website owners.
Managed WordPress hosting is a perfect choice for websites that attract large traffic on a daily basis and can't afford to be offline for a single moment.
Last but not least, every managed WordPress hosting which really cares about its business growth is backed by 24/7 premium support by WordPress experts, and this is the prime reason why managed WP hosting is getting immense popularity nowadays.
Since the add-on services and features need extra resources and manpower, managed WordPress hosting generally tends to be a little more expensive than regular shared hosting.
Here are a few pros and cons of the Managed WordPress Hosting Service.
Pros of the Managed WordPress Hosting
1. High Performance
The managed WordPress hosting environment is fine-tuned with WordPress. Most of these providers use advanced technologies such as PHP 8.X, MariaDB, HTTP/3, and NGINX/LiteSpeed that ensure smooth operational performance at any time.
In addition to that, managed hostings offer Server Level caching and CDN to improve website speed. It greatly reduces the time in finding a good WordPress caching plugin.
In most cases, the server-level caching is much faster than any third-party plugin.
Plus, the managed WP hosting services are allotted private resources, unlike many shared hostings. It helps to keep your website running smoothly irrespective of other sites hosted with the same server.
2. Bulletproof Security
Being the most popular CMS (Content Management System), WordPress is a prime target for hackers.
But the security of the hosted websites is always the top priority of any reputed managed hosting service. They implement many active and passive security measures to protect your site from viruses, malware, DDoS attacks, and hacking attempts.
You may find two-factor authentication with some managed WordPress hosting like Kinsta to safeguard your hosting dashboard and restrict unwanted changes to your website.
Bad things may happen to anyone.
In case, you've signed up for one of the best-managed WordPress hosting services, then it'll help you to fight unexpected security threats and help you with malware removal & hack repair.
3. Automatic Updates
If your website is serving over managed web hosting, it'll automatically get updated to the latest version of WordPress.
You don't need to update your site manually or pay extra to someone.
Since the newer version of WordPress comes with many bug fixes and additional security or performance patches, this feature saves you valuable time otherwise lost in updating the WordPress core.
4. Automatic Backups
What would you do if something goes wrong and you suddenly lost everything?
You MUST always be prepared for the worst-case scenario, and that includes having regular backup copies of your WordPress installation.
Shared hosting often has a backup option with premium plans or sometimes you may need to pay extra to get this service.
However, a good managed WP hosting facilitates its users with daily automatic backups and on-demand one-click backups which can be restored later to a live site or a staging site.
With an automatic backup setup at the back end, you don't have to mess up with cPanel, FTP, phpMyAdmin, or any third-party backup plugin.
5. Scalability
Many shared hosting providers advertise their services with a tag of unlimited bandwidth which is limited at some point. You can read their TOS to know more about it.
When your website outperforms and starts eating more resources, your web host either forces you to upgrade to the higher plans or suspends your site until traffic gets back to normal.
But an e-commerce store, business website, or professional blog that receives huge targeted traffic can't afford to get offline for a while.
Managed WordPress hosting takes care of that.
Your website will be up and running no matter whether it has got a sudden traffic spike or reached its specified limits.
It means, if you manage to hit the top spot on Google News or Reddit homepage, your site will still be accessible without any issues.
*Hosting service may charge you overage fees for using additional resources beyond a certain limit.
6. Premium Support
Managed WordPress hosting deals only with the WordPress platform so the support team can focus on a particular area.
They really don't need to mess up with other CMS, although the support team can handle many advanced queries.
It doesn't mean shared hosting or other unmanaged hosting services offer poor customer support. But they can't assist you with everything for free and somehow need to manage the balance between operating cost and revenue with additional charges for premium support.
Yes.
There are many web hosting services that provide excellent support and resolve any issue in the minimal possible time without charging you much; still, you can experience the significant difference between support of regular web hosting and managed WordPress hosting.
Cons of the Managed WordPress Hosting
1. Expensive
The convenience and hassle-free experience of managed hosting often come with a higher price tag. It's quite similar to outsourcing all technical optimization and backend management to a reputed WordPress developer or agency.
"But how much will it cost?"
Typically, good shared hosting plans range between $5 to $50 while managed WordPress hosting costs twice or even more.
Since the price reflects a better hosting environment and overall improved performance, it may not seem a con for many users who really need to grow fast.
However, people having a constrained budget for web hosting can't afford these services.
2. Plugin Restrictions
WordPress plugins add extra features to your website to improve aesthetics, performance, or conversions.
But some managed hosts restrict the use of certain plugins that are resource-hungry.
If you need a feature that the particular plugin adds to your site, you may need to find an alternate solution or switch your hosting service.
3. Lack of Complete Control
Although every managed WordPress hosting service claims that you are in super control of your website, actually you are not.
It automatically updates, manages, and optimizes everything to improve performance.
If you are a developer or a person who loves to test things himself, you may feel that access is limited. Especially, people who are familiar with cPanel hosting will find there is a lack of complete control.
Best Managed WordPress Hosting Service Providers
Get a quick overview of the comparison table below. (We have included only a few that really offer great service rather than a long list of unreliable hosting services.
1. WPX Hosting
Key Features
1. Speed and Performance
If you compare WPX hosting with its competitors, you'll find why it's the best-managed WordPress hosting service.
Underloaded super-spec SSD servers and advanced technologies like PHP 8.1, and caching make your website load within a blink of an eye.
WPX claims to be the world's fastest WordPress hosting with its own custom-built free WP CDN which can deliver up to 320% speed improvements and handle 3 times more concurrent users.
2. Free Migration
If you are not satisfied with your current web host, then WPX offers unlimited free migrations removing the barrier to avail the best hosting service.
3. Security
Security is a top priority for WPX staff along with the stunning performance That's the reason why they offer free SSL certificates (by Let's Encrypt) and malware removal at zero cost.
4. Customer Support
Priority support is a USP for WPX hosting. It offers best-in-industry customer support with a 30-second promise.
Now, you can imagine the love and dedication of WPX toward providing managed WordPress hosting services.
Don't take my word.
Some of the established bloggers like Joe Fylan (WPKube), Chris Lee (RankXL), and Adam Connell (Blogging Wizard) are using this service and strongly recommended it to their audience who need the managed WP hosting solution.
Our Take
WPX is our #1 recommended managed WordPress hosting service and a complete value for money.
If you are a professional blogger who really cares about his time and invests it to make 10X revenue, then WPX hosting is the perfect match for your requirements.
Pricing
| | | | |
| --- | --- | --- | --- |
| Hosting Plan | Business | Professional | Elite |
| Price (USD) | $24.99/mo | $49.99/mo | $99.00/mo |
| No. of Sites | 5 | 15 | 35 |
| Storage | 15 GB | 30 GB | 60 GB |
| Bandwidth | 200 GB | 400 GB | Unlimited (∞) |
| | Start Now | Start Now |  Start Now |
2. GreenGeeks WordPress Hosting
Key Features
1. Performance & Speed
GreenGeeks WordPress hosting is one of the fastest, most secure, and cheap managed WordPress hosting powered by renewable energy.
GreenGeeks never compromise on performance. SSD-powered servers and free Cloudflare CDN integration ensure your site will be up and running 24/7.
2. Security
To keep your website safe and secure, GreenGeeks offers free Let's Encrypt Wildcard SSL. Plus, it constantly monitors your WP website for security threats with real-time scanning & brute-force protection.
3. Premium WordPress Features
Although it's the best option to start with and has a 1-click WordPress installation feature, existing sites (hosted elsewhere) can take benefit from their free concierge migration.
Yes.
There is a 99.9% service uptime guarantee so you can confidently choose GreenGeeks WordPress hosting.
4. Developer Tools
As you know, very few managed WP hosting services offer developer tools like WP-CLI, SSH, Git, Custom PHP.ini, etc. and GreenGeeks is one of them that lets you tweak some advanced settings to get the best out of it.
5. Customer Support
GreenGeeks has well-known for its 24/7 customer support by true WordPress experts. If you get stuck anywhere, you just need to open a live chat, and your problem will be solved within a few minutes depending on its complexity.
Our Take
Although GreenGeeks is a little cheaper compared to others, that does not mean it's substandard. For the price you are paying, GreenGeeks WordPress hosting is a steal deal.
Moreover, you'll feel proud because your website is powered by Green Energy.
Pricing
| | |
| --- | --- |
| Hosting Plan | EcoStarter |
| Price (USD) | $9.95/mo |
| No. of Sites | Unlimited (∞) |
| Storage | Unlimited (∞) |
| Bandwidth | 100 GB |
| Discount Link | Get Started |
3. Kinsta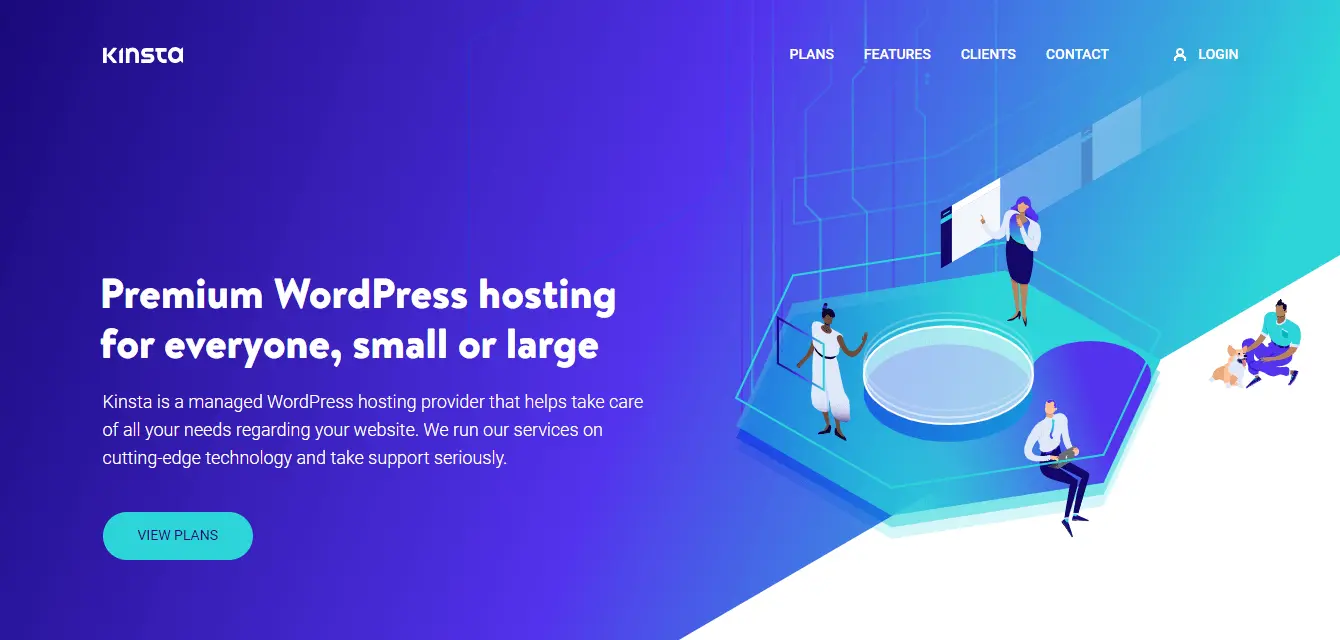 Key Features
1. Performance & Speed
When you need fully managed WordPress hosting to run your online venture without any hassle, Kinsta should on the top of your list.
Kinsta is a premium WP hosting that uses the latest web technologies like Nginx, LXD containers, PHP 8.1, MariaDB, and lightning-fast SSD storage on Google Cloud with built-in redundancy and real-time HTTP/2 Powered by KeyCDN to ensure high performance and faster loading time.
Every plan of Kinsta-managed WordPress hosting includes 35 global data centers to reduce latency, a powerful & intuitive admin dashboard, a staging area for development testing, and much more.
Here is something special about Kinsta Managed WordPress hosting.
If there is a surge of traffic, Kinsta lets the site's container scale to as many CPUs as needed utilizing Google Compute Engine so that your site stays online for every moment.
2. Security
"What about the security of my website hosted with Kinsta?"
Being a premium WP hosting, Kinsta offers a highly secure network with active & passive security protocols, firewalls, free one-click Let's Encrypt SSL certificates, daily automated backups, and uptime checks.
Sometimes you may get into emergency situations when you have very little time to look after your website security.
Don't worry!
Your website will always be safe and perform as expected.
Although Kinsta is not the cheapest WordPress hosting, you'll get what you have paid for.
3. Customer Support
Customer support is also one of the plus points of this hosting. Having a team of experienced WordPress experts who live it every day, you won't get disappointed if you have opened a support ticket or live chat.
Some big players like Ubisoft, Intuit, and GE and professional blogs like CodeinWP, ShoutMeLoud, matthewwoodward.co.uk, etc. have definitely researched a lot before choosing Kinsta.
Why are you waiting?
Our Take
Do you need the best-managed WordPress hosting service for your business website?
Kinsta is the absolute solution.
Remember, running a business it's not about the expenses, it's all about building loyal customers and ultimately the profit.
Make a smart move and move your business websites to Kinsta's fully managed WordPress hosting. (Choose an appropriate plan below according to your requirements).
Pricing
| | | | | | | | | |
| --- | --- | --- | --- | --- | --- | --- | --- | --- |
| Hosting Plan | Starter | Pro | Business 1 | Business 2 | Business 3 | Business 4 | Enterprise 1 | Enterprise 2 |
| Price (USD) | $35/mo | $70/mo | $115/mo | $225/mo | $340/mo | $450/mo | $670/mo | $1000/mo |
| No. of Sites | 1 | 2 | 5 | 10 | 20 | 40 | 60 | 80 |
| Storage | 10 GB | 20 GB | 35 GB | 40 GB | 50 GB | 60 GB | 100 GB | 150 GB |
| Bandwidth | 25K Visits | 50K Visits | 100K Visits | 250K Visits | 400K Visits | 600K Visits | 1M Visits | 1.5M Visits |
| Link | Choose | Choose | Choose | Choose | Choose | Choose | Choose | Choose |
4. Flywheel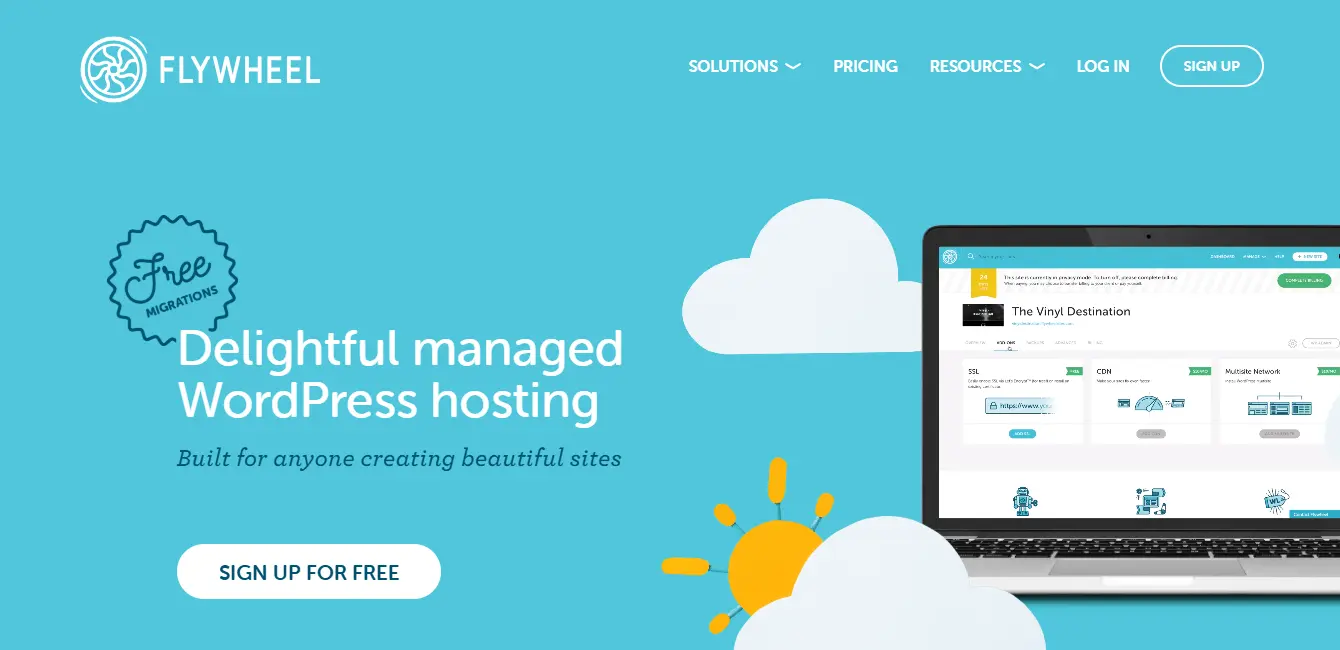 Key Features
1. Performance & Speed
From small agencies and freelancers to large enterprise sites, Flywheel offers fully managed WordPress hosting solutions to cater to every need of its customers.
Although they have entered late in the market, Flywheel is currently serving over 70,000 agencies and website owners with their world-class managed hosting service.
WP configured blazing-fast SSD servers and global availability through CDN to achieve a higher page-speed score making Flywheel stand out from the crowd.
Recently they have started shifting their infrastructure to Google Cloud to ensure better performance, faster page speed, and enhanced WordPress features for free.
2. Premium WordPress Features
WordPress staging & site cloning, nightly backups of your WordPress installation(s), and free unlimited site transfers are a few notable features that make Flywheel one of the best-managed WordPress hosting services.
However, there is something you'll be missing – Free Email service.
Flywheel does not provide free email and recommends using GSuite to host your email service to ensure high deliverability.
3. Security
Security is something essential for any managed WordPress hosting service provider.
Flywheel ensures hackerproof security for every website hosted on its servers with free malware removal. Plus, you can make your site HTTPS (secure) using free Let's Encrypt SSL.
4. Customer Support
Flywheel offers top-notch expert WordPress support available 24/7 for emergencies.
Do you want to talk to one of their representatives?
Just open a live chat tab, and your problem will be solved pretty quickly.
You can try a stupidly simple question or a difficult one to check their expertise even before buying a hosting plan from Flywheel.
Our Take
Flywheel is WordPress-only managed hosting service making it more dedicated and focused on providing its customers the BEST they can.
Pricing
Hosting Plan

Tiny

Personal

Freelance

Agency

Custom

Price (USD)

$15/mo

$30/mo

$115/mo

$290/mo

Custom

No. of Sites

1

1

10

30

30+

Storage

5 GB

10 GB

20 GB

5

0 GB

Custom

Bandwidth

~5K Visits/20 GB

~25K Visits/50 GB

~100K Visit/200 GB

~400K Visit/500 GB

Custom

(1M+)

Choose
Choose
Choose
Choose
Contact
Summary
You MUST decide whether you need managed WordPress hosting or any other solution depending on your requirements, technical skills, and most important time.
The bottom line is that managed WordPress hosting is not suitable for everyone.
You should only consider it only if your website has massive traffic and a sustainable revenue stream that needs a high level of performance, speed, security, and instant scalability. 
Although you may need to pay a little extra, web hosting pays off for itself. 
There are many people and affiliate bloggers promoting any crap as the best-managed WordPress hosting, just because they receive a hefty affiliate commission for it.
However, we believe in providing only useful information and recommending products that make sense. (**Read full disclosure)
I have discussed what is managed WordPress hosting and its advantages/disadvantages in a very simple manner.
Plus, I have mentioned a few companies which are truly worth hosting your own site or recommending to your audience.
Let me know your experiences and favorite host which really needs to be on this list. And, if you have any questions regarding this topic, feel free to leave a comment below.
*Ratings mentioned in the comparison table are taken from Trustpilot – a leading consumer review website.
**Full Disclosure:
This blog post may contain affiliate links, meaning that if you decide to purchase any recommended product by clicking through the affiliate link on our site, we may receive a small commission (at no additional cost to you).
It helps us to keep this blog running and provide you with more valuable information.
However, all opinions are our own, and we do not receive payments for writing biased positive reviews.
Best Managed WordPress Hosting Services
Name: WPX Hosting
Description: WPX hosting is a truly managed WordPress hosting. It claims to be the world's fastest WordPress hosting. Free unlimited SSL certificates, free migrations, high-level security, and unbelievable pricing are some of the key features of this hosting service.
Offer price: 18.74
Currency: USD
Operating System: Linux
Application Category: WordPress Hosting
Author: Ankit Main
Performance

Security

Pricing

Support
Comments Rating
( reviews)