Affiliate Disclosure: I publish various content marketing strategies, online business ideas, blogging tutorials, review articles, and discount offers on my blog. My content may contain some affiliate links for products/services I use, love, and recommend. If you take action (i.e., subscribe or make a purchase) after clicking one of my affiliate links, I'll earn an affiliate commission at no additional cost to you. It helps me in creating more helpful content like this.
Things You Need to Consider Before Buying Cheap WordPress Hosting
You might be searching for the best WordPress hosting for beginners.
However, you should consider additional expenses, including domain name, SSL certificate, CDN, remote backups, and overage charges, while calculating the hosting fees.
Before you pick any cheap WordPress hosting service, check whether you're verifying the following points to avoid future headaches.
1. Disk Space and Bandwidth
If you're an individual blogger without any strong experience in SEO, PPC or traffic generation, then it's always good to pick a starter plan.
Usually, starter plans offer disk space (storage) between 1 GB to 20 GB.
A few web hosting companies claim to provide unlimited storage that is just a marketing gimmick to get customers.
On another hand, a basic plan of cheap WordPress hosting can handle traffic of 5K to 25K visitors/month depending on the website optimization.
Although a few web hosting companies display bandwidth in GB or TB, you'll hardly reach their upper limits.
Important
Unlimited does not refer to indefinite server resources. It simply means that the web hosting company is not restricting your server resources on moderate usage.
If your website starts getting more traffic than a certain limit decided by the web hosting company, then you may need to upgrade the hosting plan, or your site may get suspended.
2. Free Domain Name
Cheap WordPress hosting is often bundled with a free domain name for a year or sometimes for the lifetime of the hosting plan.
You can transfer your existing domain name to the current hosting company or register a new domain.
Remember, you may need to pay huge domain registration fees if you don't like the hosting service and decide to opt-out.
3. Introductory Discounts and Renewal Charges
Almost every hosting company offers introductory discounts to lure customers.
You might have seen 25%-90% discounts on regular prices for initial terms of cheap WordPress hosting services.
However, you must ensure that a particular company is offering quality service and quick support.
When you get introductory discounts on hosting service, you need to pay significantly high renewal fees that may not be suitable for your budget.
In such cases, you need to migrate your website(s) to another hosting provider.
Remember, cheap WordPress hosting services offer additional discounts if you're paying upfront for long-term plans like a bi-annual or tri-annual subscription.
I'd not recommend buying any hosting plan for more than one year for a couple of major reasons.
You may decide to close your website and pick another career option. In this case, you may lose your money because most of the hosting companies offer 7 days to 97 days money-back guarantee. (Except A2 Hosting, they have any time money-back guarantee).
Upgrade cost for the particular hosting service may not be affordable if your website needs additional resources in the future.
4. Customer Support
If you're looking for the best WordPress hosting for beginners and not technically sound, then you will probably need to interact with hosting support for multiple times.
Right from the onboarding to WordPress installation and advanced technical optimizations – customer support is an essential thing.
Although you can read knowledgebase articles, watch YouTube videos or open a support ticket, I'd always prefer a hosting service that offers 24/7 live support through phone calls or chat options.
5. Add-on Features
SSL certificates, CDN integration, Automatic offsite backups, themes/website builder, Automatic WordPress updates, and website migrations are some of the nice extras.
Cheap WordPress hosting companies may offer these features as free add-ons or charge additional fees.
If you're a new WordPress user, then pick a web hosting service that offers the above add-ons for free or an affordable price.
Best Cheap WordPress Hosting for Beginners
Browsing websites of different hosting service providers and picking the cheapest option is not a great way to find the best WordPress hosting for beginners.
Instead, keeping us in the shoes of the actual buyers and using the service may help them decide the perfect option in their budget.
In the last four years, I have used multiple WordPress hosting services for my blog network as well as for clients' websites.
Here are the top companies that offer WordPress hosting for cheap.
1. GreenGeeks
GreenGeeks is one of the managed WordPress hosting services that offer the best performance for small and medium-sized websites.
You'll get many premium features like free Let's Encrypt SSL, one-click Cloudflare integration, daily backups, and free email.
If you're unsatisfied with your previous hosting company, then you can ask for a professional website transfer service.
GreenGeeks support team is extremely responsive, and you can get in touch with them at any moment using the live chat or phone call.
GreenGeeks has crafted its hosting plans specifically for customers' requirements.
Upgrading to more premium plans will unlock new features and increase the ability to handle more traffic.
You may not find any significant drawback for GreenGeeks WordPress hosting, except the popular introductory pricing gimmick.
Apart from that, the renewal fees are almost triple to their introductory discounted prices.
If you need an affordable WordPress hosting service with reliable performance and quick customer support, GreenGeeks is an impressive choice.
2. FastComet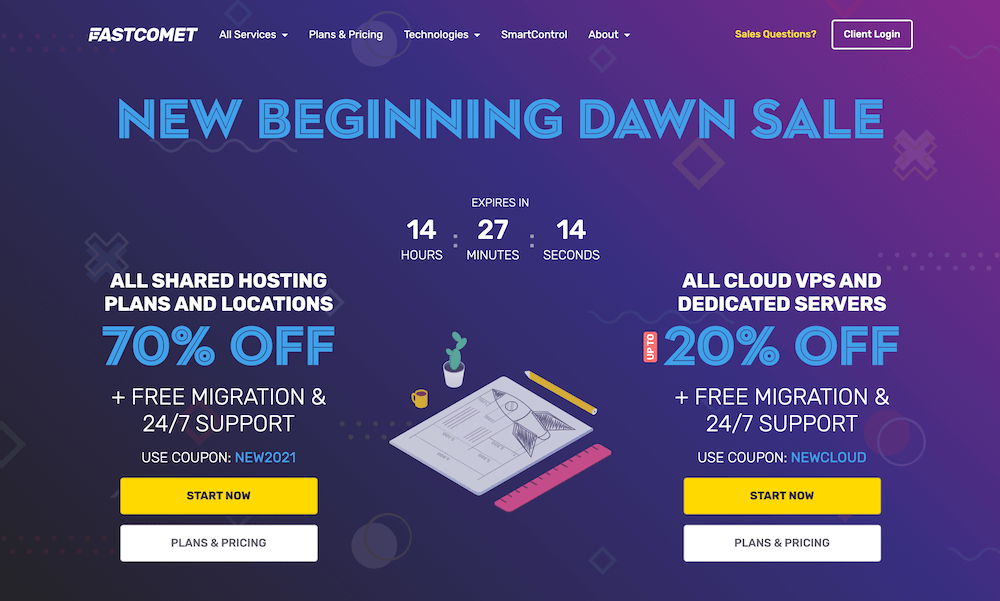 FastComet is a leading web hosting provider with a great reputation for providing reliable, fast and efficient WordPress hosting.
Multiple data centers across the globe, SSD only cloud, and Free Cloudflare CDN make your website extremely fast.
When you compare FastComet with other cheap WordPress hosting services, it should be your top pick.
FastComet offers all the features required in the best WordPress hosting for beginners including a free domain name for life, free Let's Encrypt SSL certificates, 1-click auto-installer, free drag & drop site builder, and unlimited email accounts.
Security is another key element for any WordPress site. FastComet offers Web Application Firewall (WAF) that protects your website from malicious attacks including Cross-site Scripting (XSS), SQL injection, Local File Include, XML-RPC, Remote File Include, and DDoS Attacks.
Unfortunately, if something goes wrong, the FastComet team will be there for you 24/7.
Depending on a plan, you will get 15-35 GB SSD storage, unmetered traffic, daily offsite backups, and free website migration.
The Best part about FastComet is its pricing structure. You can get a basic plan at $2.95 including all the features mentioned above or upgrade to higher-tier plans to add resources and unlock more premium features.
Immediate activation, 45-days money-back guarantee, and no cancellation charges are enough to give a try to FastComet.
Unlike other cheap WordPress hosting companies that offer introductory discounts and raise renewal prices by 2X-3X, FastComet offers the flat rate renewal fees policy which is again a huge benefit for people with a tight budget for web hosting.
It's a perfect choice for people who are looking for the best WordPress hosting for beginners.
3. Cyberin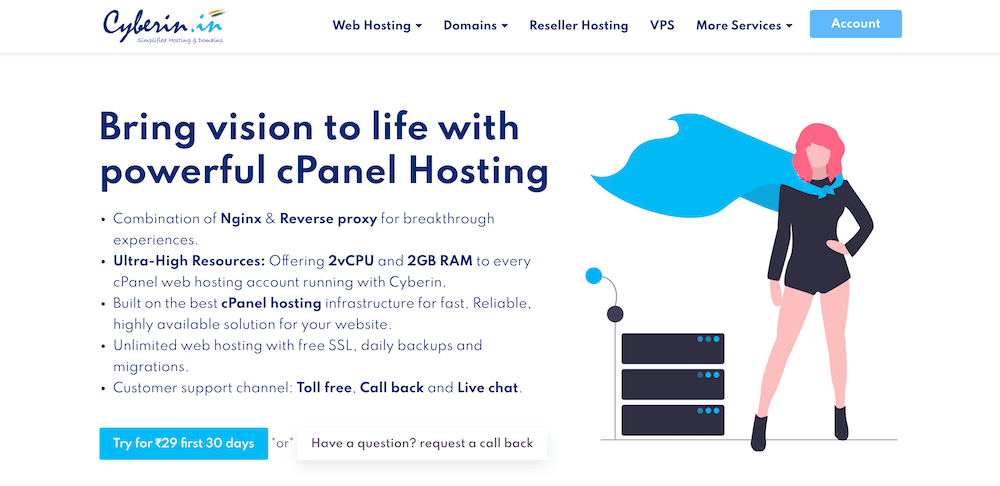 Cyberin is one of the cheapest WordPress hosting providers that costs INR 99 even when you're choosing their monthly subscription.
Pure SSD servers, free unlimited Let's Encrypt SSL certificates, daily offsite backups, one-click scripts auto-installer, and much more is available for such low-priced web hosting.
Customers can get a free domain name with the annual purchase of Cyberin web hosting.
It uses Digital Ocean cloud along with Cloudflare CDN integration for better performance and speed.
While being one of the cheapest WordPress hosting service, Cyberin still manages to achieve a great uptime of above 99.99%.
Currently, I'm using this hosting for three of my secondary blogs and I'm happy with its uptime.
Although disk space and bandwidth are not unlimited for all plans, Cyberin has set up fair limits so that every customer can get most of his investment.
More Resources
---
One small request,
I'm pretty sure that you have liked this list of cheap WordPress hosting services.
Please share it on social media channels so that more people can get benefitted.
SHARING IS ❤