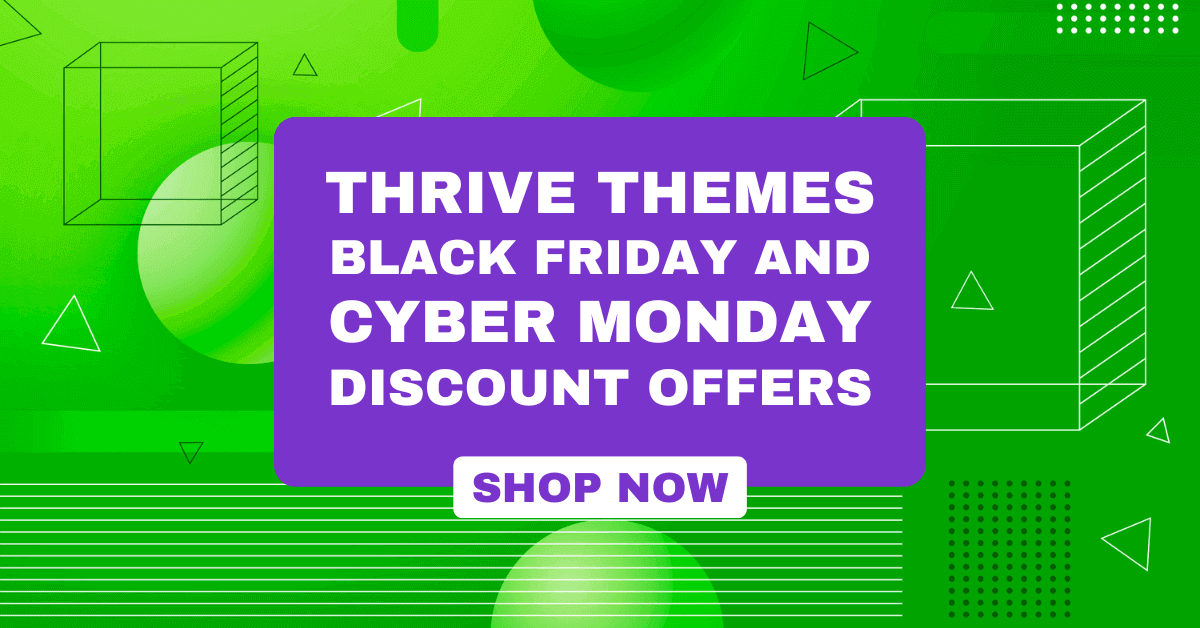 Affiliate Disclosure: I publish various content marketing strategies, online business ideas, blogging tutorials, review articles, and discount offers on my blog. My content may contain some affiliate links for products/services I use, love, and recommend. If you take action (i.e., subscribe or make a purchase) after clicking one of my affiliate links, I'll earn an affiliate commission at no additional cost to you. It helps me in creating more helpful content like this.
Are you searching for the best Thrive Themes black Friday deals? If so, you're in the right place.
This article discusses everything about the Thrive Theme Black Friday and Cyber Monday sales, including pricing plans, maximum available discounts, and deal validity.
Thrive Themes is among the industry's leading WordPress theme and plugin developers, with many popular products in its portfolio.
For example,
The company has received a lot of positive feedback from its users for developing conversion-friendly themes & plugins and top-notch online courses.
This is why many people want to purchase Thrive Themes subscriptions and look for discounts.
However, Thrive Themes take a unique approach to celebrating the Black Friday and Cyber Monday sales.
Unlike most competitors who offer massive discounts during holiday sales, Thrive Themes celebrates UnblackFriday.
Instead of offering huge discounts to lure more users into buying Thrive Themes products, the company donates part of the revenue from membership sales to charities.
While several sites promote 50% off Thrive Themes Black Friday deals in 2023; most are fake discounts because the company has made no such announcement yet.
At present, you can only get a maximum of 25% off Thrive Suite subscription by purchasing the yearly plan. So you'll pay only $299 for the entire year instead of four quarterly payments of $99. I. e., $97 instant savings.
Please click the unique affiliate link below to buy Thrive Themes annual plan and claim your 25% discount offer.
How to Claim Thrive Themes Black Friday Discount?
Step 1. Visit Thrive Themes' official website by clicking this unique discount link.
Step 2. Click the Start Now button on the landing page. It'll redirect you to the Thrive Suite sales page.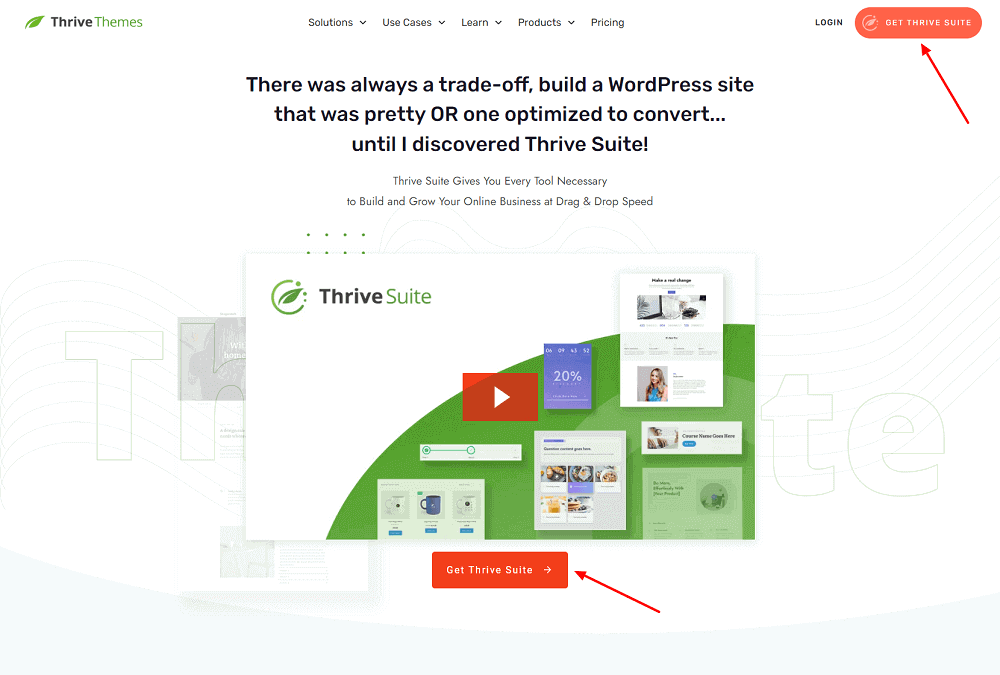 Step 3. Press the Get Thrive Suite button.
Step 4. You'll be automatically scrolled down to the Thrive Themes Pricing section.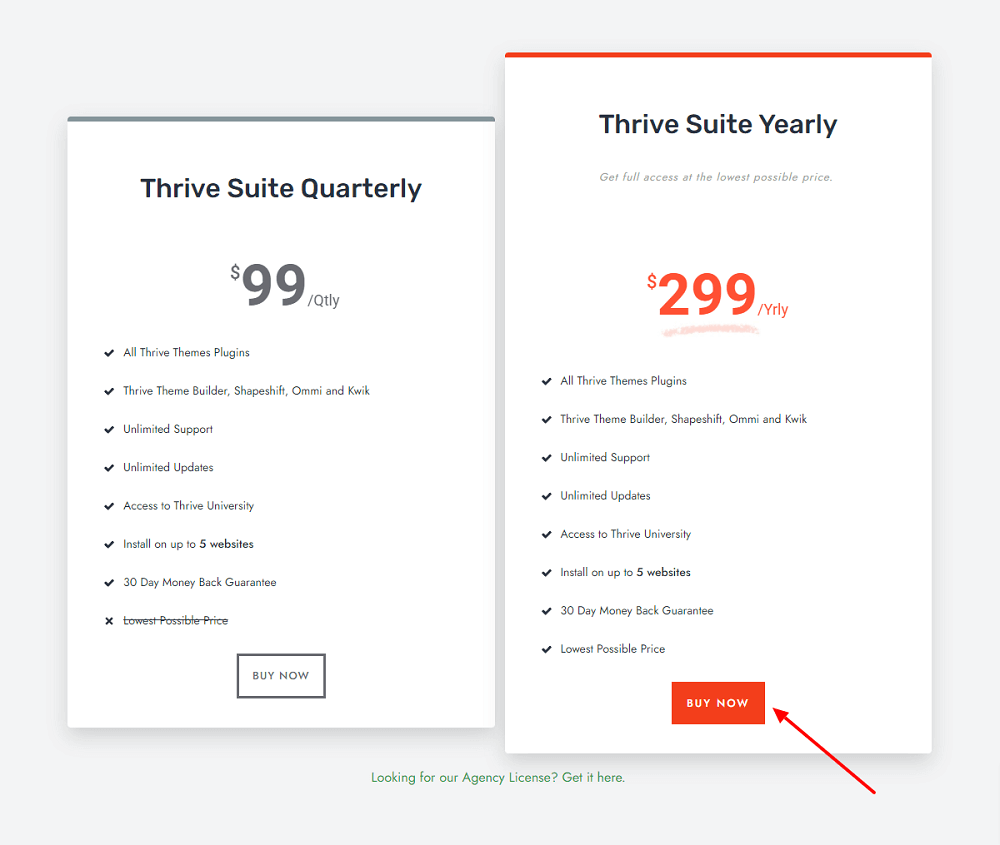 Step 5. Select the Thrive Suite Yearly plan after reading all the necessary information. The package includes access to all Thrive Themes products with unlimited updates at the lowest possible price. The Thrive Themes subscription also provides free access to Thrive University.
Step 6. Fill out the necessary information on your checkout page and choose a payment method.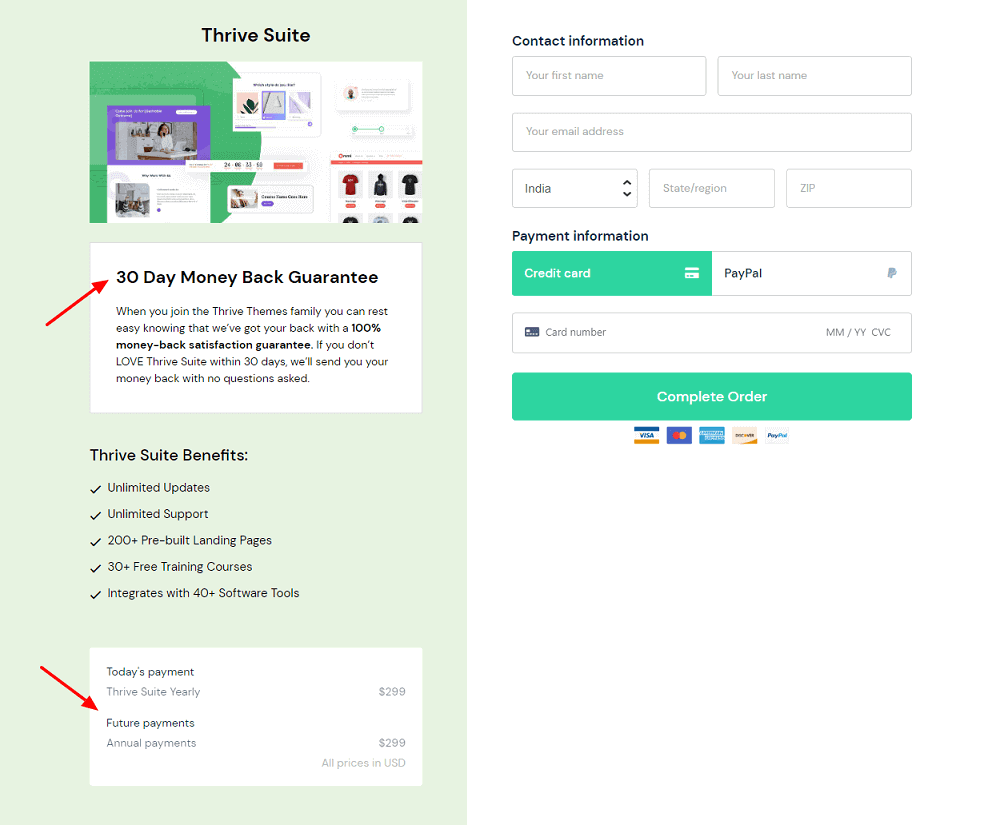 Step 7. Once you have added your payment details, click the Complete Order button.
Congratulations! You have claimed your Thrive Suite Black Friday deal.
Thrive Themes Pricing Plans
In addition to Individual products, Thrive Themes offers three pricing options: Thrive Suite Quarterly, Thrive Suite Yearly, and Thrive Suite Agency.
While the Thrive Suite Quarterly plan requires low upfront payment, the Yearly and Agency plans offer the best value for long-term users.
Below you'll find more information about the Thrive Themes pricing.
Individual Thrive Themes Plugins
The company offers standalone plugins for approx. $97 per year with one website license.
Buying individual plugins is a fantastic option if you want to add specific functionality to your site. However, you can get better value by upgrading to the Thrive Suite subscription.
Thrive Suite Quarterly Subscription
Thrive Suite Quartly plan is the perfect choice for building conversion-friendly websites without touching a single line of code.
The license allows you to install Thrive Themes products on up to 5 personal websites.
You can purchase the Thrive Suite Quartly subscription for $99 and enjoy full access to all integrated plugins for one low price. In addition, you will receive unlimited updates and support for the entire duration of your subscription.
Thrive Suite Yearly Subscription
Thrive Suite Yearrtly plan provides a cost-effective option if you want to build and grow your online business without extensive coding experience. You can purchase the Thrive Suite Yearly subscription for $299 and get instant access to a complete set of conversion-focused tools. I.e., $97 in savings or 25% off the Thrive Suite Quarterly subscription.
With the license, you can install Thrive Themes products on five personal websites and receive unlimited updates/support for one year.
In addition, Thrive Suite subscription provides access to 200+ pre-built landing pages and Thrive University's 30+ training courses for free.
Thrive Suite Agency Subscription
This plan is specially designed for web developers and agencies developing conversion-focused WordPress websites for their clients.
The plan costs $588 annually and allows you to install Thrive Suite products on up to 50 websites.
In addition, you'll receive unlimited product updates, prompt customer support, 200+ pre-designed landing pages, and thousands of pre-built templates.
Most importantly, you can build fully customized websites with Thrive Theme Builder for sale.
Click the below button to get instant access to Thrive Suite Agency plan.
What's Included in Thrive Suite Subscription?
Thrive Suite users receive the following benefits.
Thrive Theme Builder with complimentary access to Shapeshift, Ommi, Kwik, and Bookwise themes
Unrestricted access to all Thrive Themes designed plugins, including Thrive Architect, Thrive Leads, Thrive Apprentice, Thrive Quiz Builder, Thrive Comments, Thrive Optimize, Thrive Ovation, and Thrive Ultimatum
Unlimited product updates
Unlimited customer support for the duration of the subscription
Full access to premium templates and landing pages
Thrive Themes Black Friday Sale: FAQs
Please check out the FAQs about the Thrive Themes Black Friday sale to know more about the pricing, discounts, and refund policy.
1. What is Thrive Themes?
Thrive Themes is a leading WordPress theme and plugin developer that provides innovative yet user-friendly solutions for building conversion-optimized WordPress websites without coding knowledge.
2. Does Thrive Themes offer a Black Friday discount?
No. Thrive Themes has announced that the company isn't offering any Black Friday or Cyber Monday discounts. Instead, you can only get 25% off, i.e., $97 in savings, when you purchase Thrive Suite Yearly over Thrive Suite Quarterly. 
3. Is Thrive Themes free?
Thrive Themes isn't free. Instead, the company offers a range of WordPress products for a competitive price. Thrive Automator is the only free product from Thrive Themes. The plugin lets you set up powerful automations by integrating your favorite tools into your WordPress website.
4. Does Thrive Themes offer refunds?
Yes, Thrive Themes has a standard 30-day money-back guarantee. The company offers a full refund within 30 days of the first purchase if you don't like Thrive Suite. Please contact Thrive Themes support team if you have any issues so they can help you out or issue a refund.
Thrive Themes Black Friday Deals

Name: Thrive Themes
Description: Grab Thrive Themes Black Friday deals and save $97 on Thrive Suite annual subscription, i.e., 25% OFF. Enjoy full access to all Thrive Suite products at the lowest possible price.
Offer price: 299
Currency: USD
Operating System: Linux
Application Category: WordPress Themes
Author: Ankit Main
Performance

Ease of Use

Pricing

Support