Affiliate Disclosure: I publish various content marketing strategies, online business ideas, blogging tutorials, review articles, and discount offers on my blog. My content may contain some affiliate links for products/services I use, love, and recommend. If you take action (i.e., subscribe or make a purchase) after clicking one of my affiliate links, I'll earn an affiliate commission at no additional cost to you. It helps me in creating more helpful content like this.
Elegant Themes is back with the biggest ever Divi Black Friday Sale in 2023. 
You can get an instant 25% off on Elegant Theme membership plans and 15000 free prizes and bonus gifts worth more than $800,000 during the Divi Black Friday sale.
Elegant Themes (Divi) Black Friday Sale 2023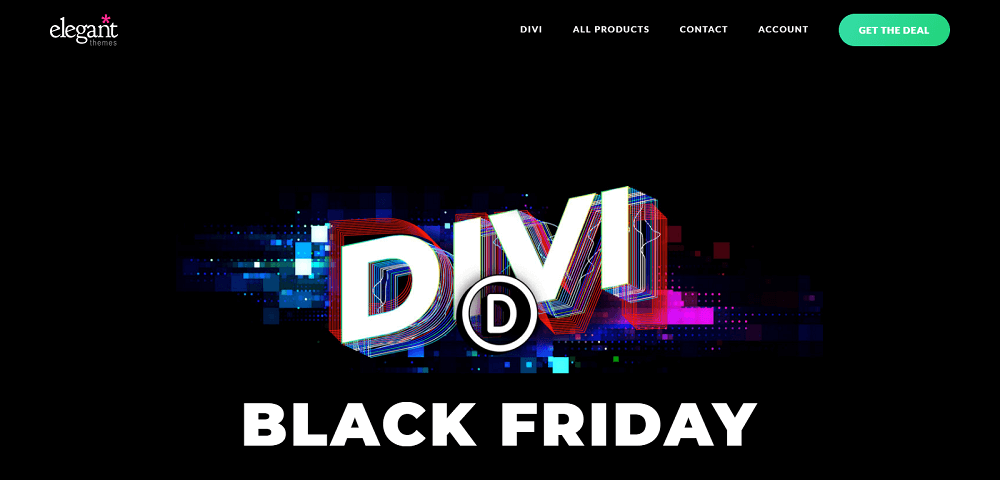 If you are looking for Divi coupons and discounts, the Elegant Themes club is offering huge discounts for its customers
Here are the top Divi Black Friday Deals you don't want to miss.
Best Divi Black Friday Deals 2023
1. Win An iMac For Free!
We still have a few weeks before Divi's Black Friday sale arrives, so it's better to get ready now.
In the meantime, the Elegant Themes club decides to plan something exciting while we wait!
Divi is giving away a brand new iMac to one lucky winner! If you want to enter for free, please click the link below. Submitting more raffle tickets increases your chances of winning.
2. Unlock Exclusive Deals On Divi Products Nowhere Else
During Black Friday, the Divi Marketplace will have incredible discounts beyond what you might expect. 🤑
Elegant Themes worked with creators to offer substantial discounts during the sale.
With every purchase, you'll unlock a hidden tier of discounts from some of the best creators.
In addition, all Divi lifetime members are eligible for these discounts.
The Divi Marketplace has something for everyone, making the Black Friday sale the perfect time to stock up on Divi modules!
3. 25% Divi Yearly Access Plan Discount
If you are a new customer of Elegant Themes, you'll get a 25% discount on Elegant Themes memberships.
Usually, Elegant Themes membership plans are sold for $89/yearly access and $249/lifetime access.
During Divi Black Friday sale, you can purchase the same plans for $67/and $187, respectively.
I'd recommend you to go with the lifetime membership because you need not pay yearly fees, and you'll also save more than $60 with Elegant Themes Black Friday deals.
4. 25% Divi Lifetime Access Discount
Many people buy the Elegant Theme yearly plan because of a couple of reasons.
The first one is that they need less upfront cost.
Since the Elegant Themes yearly membership is available for $87, it's more affordable than the lifetime membership plan.
Plus, people may buy other Black Friday deals with that extra money.
Secondly, people can assess product quality before sticking to Divi for a lifetime.
If you are an existing customer of Elegant Themes and want to upgrade your membership, Divi Black Friday sale is the best time to save more.
You'll get a 25% instant discount when you move from the Yearly Access to the Lifetime Access plan.
Reasons to Buy Elegant Themes Black Friday Deals
People who want to build a conversion-focused website or improve their lead generation efforts should consider shopping WordPress products during Elegant Themes Black Friday deals.
Here are the top reasons why you should grab Divi Black Friday deals asap.
1. All-In-One WordPress Theme + Plugins Bundle
Instead of selling individual products, Elegant Themes offers an all-in-one WordPress theme + plugins bundle at a single price.
Elegant Themes WordPress bundle is more affordable than most of the other theme clubs.
E.g. Thrive Themes membership costs $228/year, the MyThemeShop Extended Membership costs $420/year + a recurring fee of $35 per month, the StudioPress Pro Plus All-Themes Package cost $499.95/lifetime whereas the Elegant Themes membership costs only $87/year or $249/lifetime.
You can get a 25% instant discount during the Black Friday sale that reduces the pricing to $67/year or $187/lifetime.
2. Growth-Oriented Products
Elegant Themes is developing WordPress products for the past 11 years. So after years of developing experience, the Elegant Themes team knows what works for people.
The Elegant Themes repository has only top-quality products that help to grow your online business.
Divi is a drag-and-drop builder that you can pair with any WordPress theme to create beautiful, SEO-friendly, and conversion-focused websites. Even you don't need to search for the best WordPress theme around the web.
Elegant Themes offers a couple of WordPress themes named Divi and Extra.
Apart from that, you can get Bloom, an email opt-in and lead generation plugin to grow your subscriber list, and Monarch, a lightweight social sharing plugin.
3. 800+ Pre-Made Designs
Elegant Themes has packaged more than 800 pre-built layouts with 100+ full website packs.
Brand new website layouts are added weekly to the Divi library along with royalty-free photos, icons, and illustrations.
4. Crazy Discounts and Free Prizes
Since Elegant Themes Pricing plans are quite affordable, it rarely offers big discounts.
You may find up to a 10% Elegant Themes discount during regular days.
Divi Black Friday Sale brings crazy discounts and some additional perks from Elegant Themes as well as third-party developers.
By purchasing Elegant Themes membership during Divi Black Friday and Cyber Monday Sale, you get a huge 25% instant discount and guaranteed bonuses.
This offer is valid until Cyber Monday. So grab it fast.
5. Premium Support
Elegant Themes has a global team of WordPress experts engaged in operations including design, development, sales, and customer support.
It means that you'll always get the best WordPress products for your website. Nevertheless, Elegant Themes has deployed a customer support team if something goes wrong or people need technical assistance.
Usually, theme developers offer technical support via support forums or email tickets, but Elegant Themes has multiple options to connect with them.
You can either browse the knowledgebase documentation, open a support ticket or use the live chat feature to ask your queries.
In most cases, your queries will be resolved by the AI bot, but you can start a conversation with a real human if you are not satisfied with the answer.
Not to exaggerate, but excellent product quality and responsive support are the main reasons for getting tons of possible ratings for Elegant Themes on third-party review platforms like Trustpilot.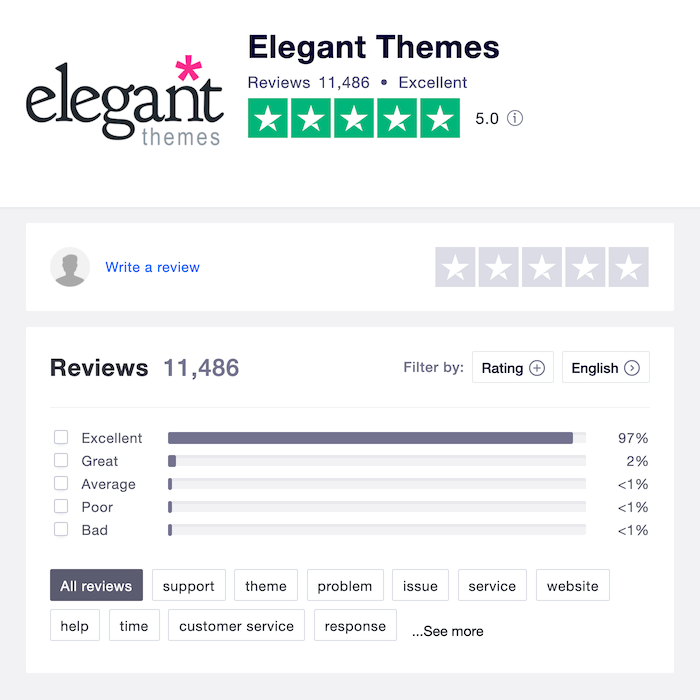 Elegant Themes Black Friday Sale: Pricing Plans
Elegant Themes offer two distinct plans for its users who want to purchase Divi drag and drop page builder and other Elegant Themes products, including themes and plugins.
You can pick any of these plans and start building beautiful websites within a few minutes.
1. Elegant Themes Yearly Access Plan
Elegant Themes Yearly membership offers access to popular Divi Builder along with Divi theme, Extra magazine theme, Bloom, and Monarch WordPress plugin.
Additionally, hundreds of beautifully designed website layout packs are available in Divi Builder.
Elegant Themes Yearly Access plan offers 1 year of product updates and premium support.
You can use all products on unlimited projects, including your own and clients' websites.
That's an insane value Elegant Themes is offering to its customers.
You can buy this plan at $67 instead of $87 during the Divi Black Friday sale.
2. Elegant Themes Lifetime Access Plan
If you don't want to pay recurring fees for your Elegant Themes membership, then you can purchase a Lifetime Access plan.
This plan allows access to all products from Elegant Themes with a promise of lifetime updates and premium support.
You can browse through hundreds of pre-build layout packs developed by Elegant Themes.
Remember, your purchase is protected with a 30-day money-back guarantee. You can ask for a refund within 30 days of purchase if you are not happy with your membership.
After reviewing the different features, pricing, and customer support of Elegant Themes, we can say that Divi Black Friday sale is a steal deal.
Currently, the Divi Lifetime Access plan is available for $187. Grab the deal before it expires.
Elegant Themes (Divi) Black Friday FAQs
Here are a few frequently asked questions regarding the Divi Black Friday sale to understand why you shouldn't miss this exclusive offer.
1. Is Divi a good theme?
Divi is a popular multipurpose theme that is suitable for building websites in any niche. It's bundled with a powerful Divi WordPress page builder making it an exceptional choice to create a beautiful website within minutes.
2. What is the difference between the Divi Theme and Divi Visual Builder?
Divi is a popular WordPress theme developed by Elegant Themes, whereas Divi Visual Builder is a drag-and-drop WordPress page builder plugin to create stunning WordPress sites using the DIY approach.
3. Is Divi Mobile-friendly?
Divi theme is mobile-friendly by nature and also gives you full control over how your WordPress website looks on mobile devices.
4. How much does Elegant Themes cost?
Elegant Themes pricing is $89 for yearly access and $249 for lifetime access. That includes access to a popular Divi WordPress theme, Divi Visual Builder, Extra magazine theme, Bloom email opt-in plugin, and Monarch social media plugin. However, you can get a flat 25% discount during Divi Black Friday deal, making the effective pricing $67/year and $187/lifetime access.
Divi Black Friday Sale 2023: Summary
Elegant Themes has announced the biggest sale of the year, i.e., 25% off Divi Black Friday Cyber Monday deals.
You can purchase the Elegant Themes product bundle, including the Divi WordPress theme and visual builder, Extra Multipurpose theme, Bloom lead generation plugin, and Monarch social sharing plugin at a discounted price.
Elegant Themes is giving over $1,000,000 in free prizes, bonus gifts, exclusive discounts on Divi membership & upgrades, and perks from its partners.
Now through November 30th, you'll get 25% off Divi memberships and up to 50% off discount deals in Divi Marketplace.
However, these deals won't last long, so act now!
Click the button below to get 25% off Elegant Themes Yearly and Lifetime Access subscriptions.
Elegant Themes Divi Black Friday Sale

Name: Elegant Themes
Description: During this Divi Black Friday sale, get a flat 25% discount on Elegant themes memberships and free prizes worth hundreds of thousands of dollars. Elegant Themes Black Friday deals offer you full access to beautiful themes, Divi Builder, Bloom, and Monarch WordPress plugins. Crazy discounts and free prizes make Divi Black Friday sale an unmissable deal.
Offer price: 67
Currency: USD
Operating System: WordPress
Application Category: WordPress Themes
Author: Ankit Main
Performance

Security

Pricing

Support
Comments Rating
( reviews)