Affiliate Disclosure: I publish various content marketing strategies, online business ideas, blogging tutorials, review articles, and discount offers on my blog. My content may contain some affiliate links for products/services I use, love, and recommend. If you take action (i.e., subscribe or make a purchase) after clicking one of my affiliate links, I'll earn an affiliate commission at no additional cost to you. It helps me in creating more helpful content like this.
Perfmatters Black Friday Deals 2023
Perfmatters Black Friday deals offer a great opportunity to grab a huge discount on all of its plans.
This year's Perfmatters Black Friday sale will run from 16 November to 1 December 2023, providing you with a 30% discount on all plans.
Perfmatters is a lightweight and easy-to-use web performance plugin for WordPress.
The plugin helps speed up your WordPress sites.
Slow-loading websites often have a higher bounce rate and lower conversion rate.
Therefore, you should focus on improving site speed.
With the Perfmatters WordPress plugin, you can instantly optimize most web performance aspects and make your site lightning fast.
During the Perfmatters Cyber Week Sale, you can buy the plugin at a discounted price.
So get your copy today and save 30% off!
Perfmatters Black Friday Sale 2023 Pricing Plans
The following table provides an overview of Perfmatters Black Friday pricing plans.
| | | | |
| --- | --- | --- | --- |
| Plan | Black Friday Special Discounted Price | Regular Price | Link |
| Personal | $17.46 | $24.95 | Buy Now |
| Business | $38.46 | $54.95 | Buy Now |
| Unlimited Sites | $87.46 | $124.95 | Buy Now |
At the moment, Perfmatters doesn't offer a free plan. However, premium plans seem affordable to most users.
The company offers three pricing options.
1 Site – Personal
Suitable for: Individual Bloggers
Updates & Support: 1 Year
Regular Price: $24.95
Discounted Price: $17.46
3 Site – Business
Suitable for: Business owners who manage up to three sites
Updates & Support: 1 Year
Regular Price: $54.95
Discounted Price: $38.46
Unlimited Sites
Suitable for: Website designers, agencies, and freelancers who manage multiple sites
Updates & Support: 1 Year (This version supports multisite installations)
Regular Price: $124.95
Discounted Price: $87.46
Every new Perfmatters purchase includes a 30-day money-back guarantee.
In addition, you'll receive a 15% renewal discount on all pricing plans.
How to Activate Perfmatters Black Friday Deal?
Step 1: Click this link to visit Perfmatters Black Friday deals page.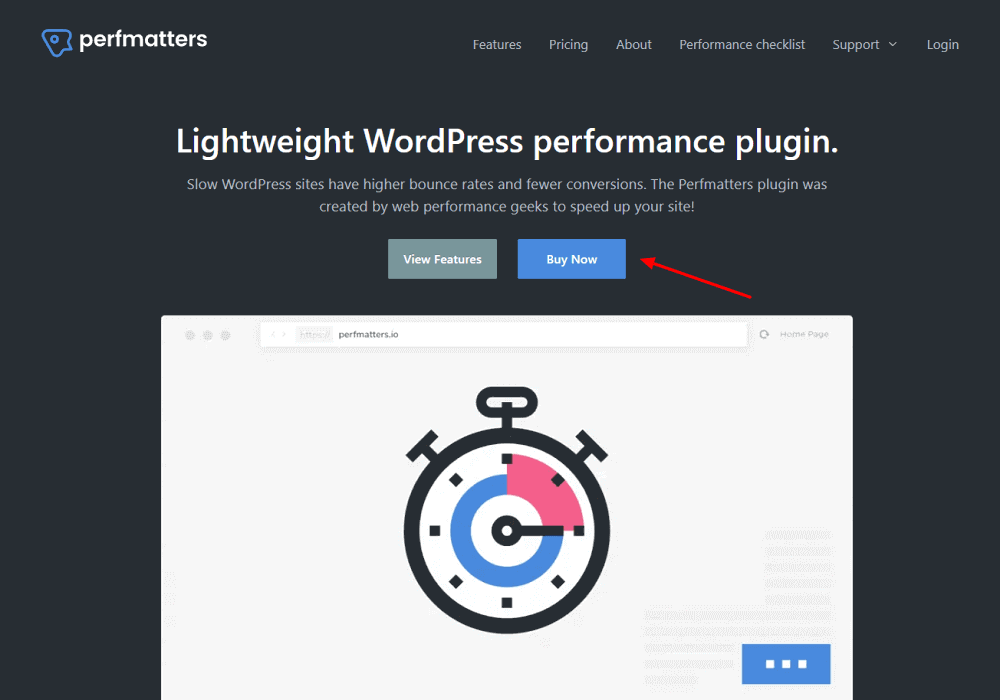 Step 2: Choose the Buy Now option. It will take you to the Perfmatters pricing page.
Step 3: Choose an appropriate Perfmatters license that best suits your needs and click the Buy it Now button.
Step 4: On the Checkout page, apply the special coupon code: BLACKFRIDAY to get an instant 30% discount on regular Perfmatters pricing.
Step 5: Choose your preferred payment method (credit card or Paypal).
Step 6: Enter your personal information, credit card information, and billing details.
Step 7: Read and accept the Perfmatters terms and privacy policy.
Step 8: Click on the Purchase button to complete your order.
Congratulations! You have successfully claimed the Perfmatters Black Friday deal.
You can now access the Perfmatters WordPress plugin by signing into your account.
Hopefully, it will help you improve your website's performance.
Perfmatters WordPress Plugin Features
Disable emojis, embeds, dashicons
Change autosave interval
Disable or limit post revisions
Disable and tweak Heartbeat API to reduce high CPU usage and a crazy amount of AJAX calls
Disable comments and URLs to reduce spam
Disable self pingbacks
Disable Google maps
Disable XML-RPC
Remove jQuery migrate
Remove WordPress version
Add blank favicon
Disable password strength meter
Remove RSD link
Remove wlwmanifest link
Remove shortlink
Remove RSS feed links
Disable RSS feeds
Disable REST API
Remove REST API links
Disable Google Fonts
Lazy loading for images, inline background images, iframes, and videos
Disable WooCommerce scripts and styles
Disable WooCommerce cart fragments (AJAX)
Disable WooCommerce widgets
Disable WooCommerce status meta box
A built-in robust Script Manager to disable scripts for individual posts/pages or across your entire site with a few clicks
Database optimization to maintain your site's performance and health
Change your WordPress login URL
CDN rewrite
Host Google Analytics and Google Fonts locally
Add custom code to a website's header, body, or footer
Preloading resources
Defer and delay JavaScript
Multisite support
Excellent customer support and ongoing plugin development
Attractive pricing, especially with the Perfmatters Black Friday deal 2023
Perfmatters Black Friday Deals 2023: FAQs
1. What is Perfmatters?
Perfmatters is a premium web performance plugin that helps you to optimize your site's performance.
2. How do you set up Perfmatters?
Once you have installed and activated Perfmatters on your WordPress site, play with its quick toggle options to get the best performance. You can also refer to Perfmatters support documentation to get help setting up the plugin.
3. Can I use Perfmatters with WP Rocket?
Perfmatters is compatible with all popular WordPress caching and optimization plugins, including WP Rocket. However, I would not recommend using Perfmatters if you already use WP Rocket to optimize your site. 
4. Is Perfmatters GDPR compliant?
Yes. Perfmatters is GDPR-friendly, requiring no additional configuration. The company puts a significant emphasis on data privacy. The plugin does not place cookies, use trackers, or collect any personally identifiable information.
5. Is Perfmatters good?
Perfmatters is a lightweight, easy-to-configure WordPress performance plugin that offers many features to increase your website speed without overburdening your server resources.
6. How often should I renew my Perfmatters license?
You need to renew your license every year to continue receiving support and updates. All purchases will automatically renew for your convenience. However, you can cancel your Perfmatters subscription at any time.
7. Can I upgrade my license?
You can easily upgrade your Perfmatters license from within your account at any time. Prorated charges will automatically be applied.
8. Does Perfmatters offer refunds?
Yes! Perfmatters offers a 30-day money-back guarantee as long as you comply with the company's TOS.
Perfmatters Black Friday Deals 2023: Summary
Slow site speed negatively impacts bounce rates, conversions, and search engine rankings.
That's why Brain and Brett Jackson (a brother-duo) developed Perfmatters, a lightweight web performance plugin for WordPress.
Basically, it aims to fix those annoying Google Core Web Vitals warnings.
Some of the plugin features include a powerful Script Manager, quick toggles for disabling unneeded scripts, local analytics, and Google fonts, changing your WordPress login URL, lazy loading, database optimization, CDN rewrite, deferring and delaying JavaScript, preloading, and more.
There are very few WordPress optimization plugins that offer such an extensive feature set.
So, if you want a fast-loading WordPress site that shows zero Core Web Vitals errors in GSC, consider using Perfmatters.
This plugin is available at a 30% discount for a limited time.
So why are you still waiting?
Get your Perfmatters license today!
Perfmatters Black Friday Deals
Name: Perfmatters
Description: Stop wasting money on inefficient WordPress caching plugins. Perfmatters WordPress plugin will help you boost your website performance and improve user experience. So if you wish to increase conversions on your website by optimizing its performance, Perfmatters can help you. Hurry up! The offer ends soon. Buy Perfmatters WordPress plugin today and save 30% off the regular price.
Offer price: 17.46
Currency: USD
Operating System: Linux
Application Category: WordPress Plugins
Author: Ankit Main
Performance

Security

Ease of Use

Pricing

Support
Comments Rating
( reviews)