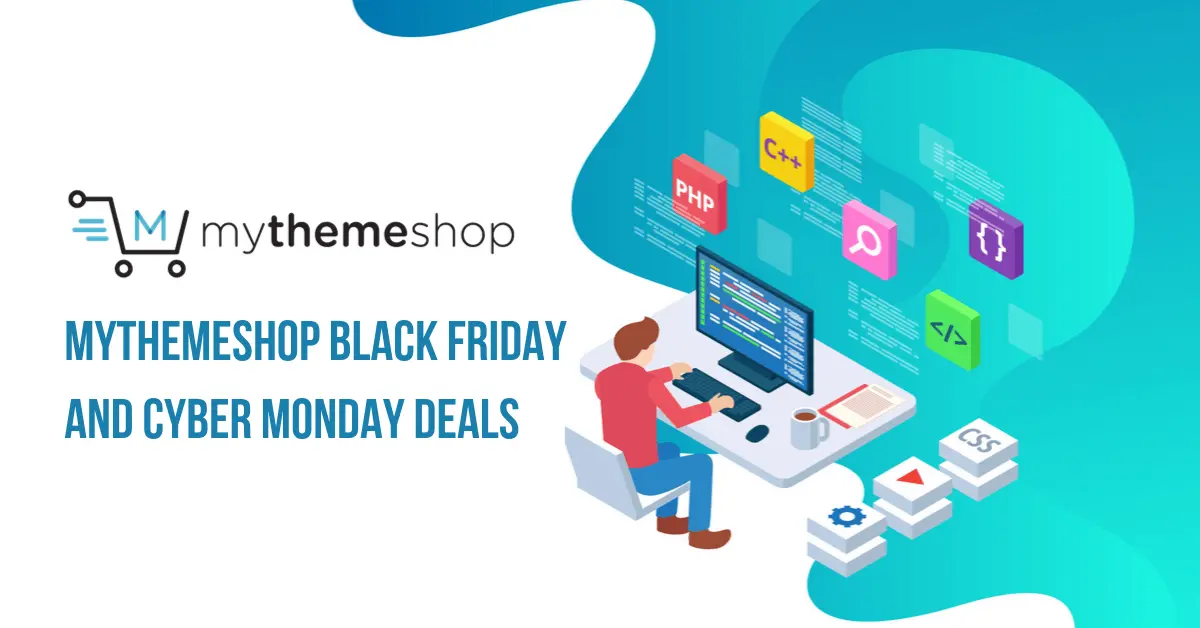 Affiliate Disclosure: I publish various content marketing strategies, online business ideas, blogging tutorials, review articles, and discount offers on my blog. My content may contain some affiliate links for products/services I use, love, and recommend. If you take action (i.e., subscribe or make a purchase) after clicking one of my affiliate links, I'll earn an affiliate commission at no additional cost to you. It helps me in creating more helpful content like this.
MyThemeShop Black Friday and Cyber Monday Sale 2023 offers the biggest ever discounts on its extended membership plan.
MyThemeShop is a premium WordPress theme club that develops beautiful and SEO-friendly themes, including MTS Schema and MTS AdSense.
The MTS team has crafted multiple feature-rich WordPress plugins, including WP Review Pro, WP Subscribe Pro, and the latest Rank Math SEO plugin.
Currently, MTS has 22 products in its repository to help WordPress users to improve their websites' aesthetics, performance, and conversions.
During this Black Friday season, MyThemeShop is offering insane discounts to all its customers.
What is MyThemeShop Black Friday Deal?
MyThemeShop Black Friday sale is the perfect time to buy your favorite themes and plugins at an unbelievable price.
This is the first time MyThemeShop is offering its all premium products with an extended membership for just $99.47.
You can use these themes and plugins on unlimited domains.
MyThemeShop Black Friday Discount Package
During MTS Black Friday sale, you'll get a complete bundle of MyThemeShop products at an unbelievable price.
This bundle includes:
8 beautiful WordPress themes
14 WordPress plugins
Unlimited license to each current and future product developed by MyThemeShop
One year of premium support and automatic updates
Unlimited theme and plugin downloads while your subscription is active
You can use any theme or plugin even on client websites
You can grab everything at a single price of $99.47.
That's a whopping 99% discount on the regular price.
Don't waste time thinking about whether you need it or not. Just grab this special offer, and you'll realize that it's a steal deal.
How to Activate MyThemeShop Black Friday Deals?
Step 1: Visit the MyThemeShop Black Friday and Cyber Monday deals page by following this link.
Step 2: Select the Extended Membership option. You may choose to buy an individual product if you don't want to buy an entire membership package.
Step 3: MyThemeShop Cyber Monday Deals discount coupon will be added automatically.
Step 4: Review your order and purchase the MyThemeShop Extended membership using any payment mode convenient to you.
Step 5: Now, you can access all MyThemeShop WordPress themes and plugins under the Member's Area.
Step 6: Download the theme or plugin and add it to your WordPress site. That's it!
Top Reasons to Buy MyThemeShop Black Friday Deals in 2023
Here are a few reasons why you should purchase MyThemeShop products during the Black Friday and Cyber Monday sale.
1. Beautiful Collection of 22 WordPress Products
MyThemeShp has a portfolio of 22 top-quality WordPress themes and plugins.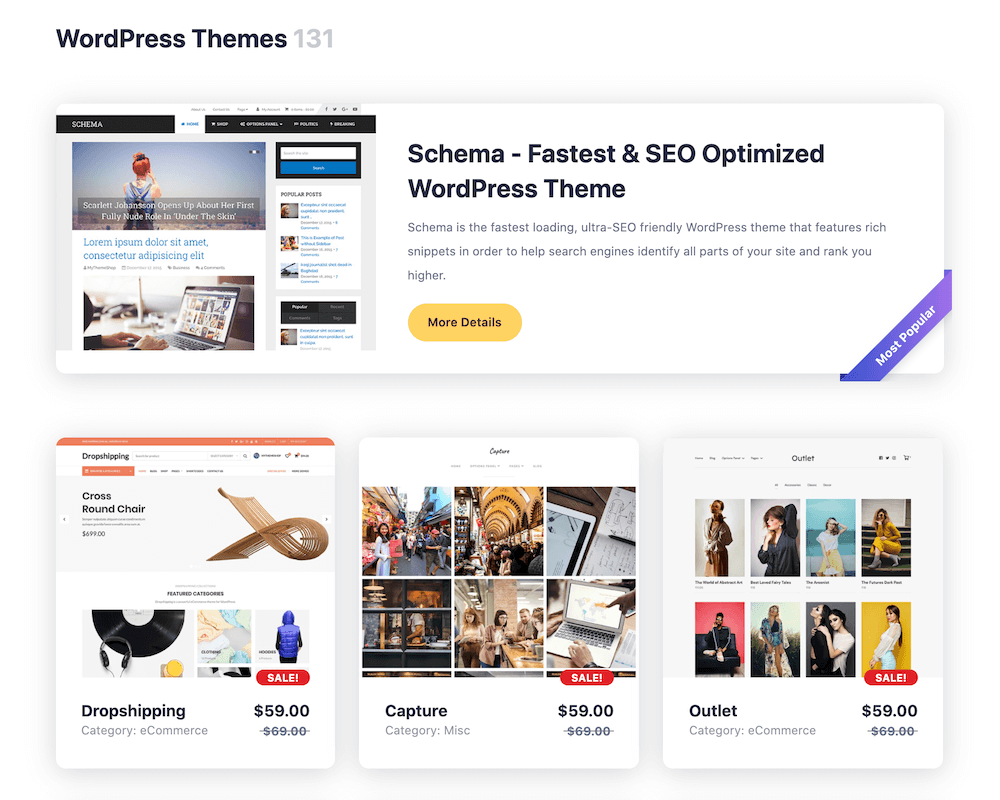 If you need a theme for a personal blog, pet blog, beauty blog, food blog, coupon site, or e-commerce site, MyThemeShop has every type of theme in its collection.
You will also get access to 14 highly useful WordPress plugins, including WP Review Pro, WP Subscribe Pro, and WP Subscribe Pro.
Each of these products easily costs around $19-$77.
However, you will get all of these products with unlimited licenses for just $99.47 during MyThemeShop Black Friday sale.
The best thing about this deal is that you can use these products even on clients' websites.
2. SEO-Friendly Themes
Every MyThemeShop product is coded lightweight keeping SEO in mind.
MTS WordPress themes are 100% mobile responsive, fast, and have built-in Schema integration.
Since MTS products use secure code and follow standard practices, you'll achieve great search visibility by using MyThemeShop themes.
Lazy load is another feature that comes bundled with MyThemeShop themes, making them achieve a better page speed score.
You might have used the Rank Math WordPress SEO plugin, which is a product of MyThemeShop company.
3. Conversion-Focused Design
As an online business owner, you always want to achieve better ROI. Without a conversion-focused design, it's a very difficult task.
Don't worry!
You can use MyThemeShop WordPress themes and plugins to improve your site design and optimize it for a higher conversion rate.
E.g., You can use MTS Adesne for your Adsense website or MTS Cyprus for your business website
4. Built-in Social Integration
No need to buy an additional social sharing plugin if you are using the MyThemeShop WordPress theme.
Each MTS theme has built-in social integration so that visitors can share your website or blog post with their friends.
5. Feature-rich Options Panel
Customizing MyThemeShop themes is very simple. MTS offers a feature-rich options panel to change the default colors, typography, background, and much more.
You can also add the Google Analytics code or Advertisement code to the header or footer section using the MyThemeShop Options Panel.
6. Regular Updates
MyThemeShop team develops not only new themes but also offers timely updates for all products to be compatible with the latest technologies and trends.
You don't need to use outdated or old-fashioned products on your WordPress site.
7. Premium Support
MyThemeShop offers priority support to its customers.
You can access their video tutorials, and support documentation, or ask your query using the support forum.
In most cases, your query will be answered within the next 24 hours with the best solution available.
No wonders why MyThemeShop has grown to 722K+ happy users.
It's your turn! Grab this limited-time MyThemeShop Black Friday discount offer and save 99% on your purchase.
MyThemeShop Black Friday Sale: FAQs
1. How many products will I get with MyThemeShop Black Friday deal?
During the Black Friday Cyber Monday 2023 sale, MyThemeShop offers 22 WordPress products, including 8 themes and 14 plugins with unlimited sites license for a single price of $99.47
2. Will I get MyThemeShop support for premium themes and plugins?
MyThemeShop offers 24/7 technical support for its themes and plugins. Premium customers can get access to priority support. Apart from that, MyThemeShop has an extensive knowledge base with beginner-friendly video tutorials.
3. What are the renewal charges?
MyThemeShop extended membership is a subscription-based service and you need to renew it yearly. Unlike many other companies that offer heavy discounts upfront but require to pay big renewal fees, there are no surcharges with MyThemeShop Black Friday deal. You need to pay only the price you are paying today.
4. What is the refund policy?
If you find any MyThemeShop product is broken that can't be fixed or not performing as promised, then you can ask for refunds within the next 30 days after the purchase date. You won't be eligible to get a refund beyond this period or just because you don't like the products after you purchase this deal (to prevent the abuse of MyThemeShop's liberal refund policy).
5. What will happen if I cancel my membership?
If you decide to cancel your MyThemeShop membership, you need not require to pay to MyThemeShop from next term. You can use all downloaded products as long as you want. However, you'll lose access to your premium products (theme/plugin files), updates, and premium support.
MyThemeShop Black Friday Deals 2023: Summary
MyThemeShop Black Friday sale is now live.
If you are looking to purchase the perfect WordPress theme, don't miss out on this opportunity.
MyThemeShop has a variety of themes to choose from that are lightweight, secure, and highly customizable. Additionally, the themes are mobile-responsive and SEO-friendly so that you can rank higher in search results.
I know you deserve the best WordPress theme for your site!
With MyThemeShop Black Friday deals, you'll be able to get all themes and plugins at 99% off!
Click the button below to view all the amazing MyThemShop Black Friday deals and activate your 99% off discount offer.
MyThemeShop Black Friday Deals
Name: MyThemeShop
Description: Are you looking for the best MyThemeShop Black Friday Deals? This year MyThemeShop Black Friday sale is offering 99% OFF on MyThemeShop Extended Membership with 7 exclusive bonuses.
Offer price: 99.47
Currency: USD
Operating System: Linux
Application Category: WordPress Themes
Author: Ankit Main
Performance

Security

Pricing

Support
Comments Rating
( reviews)