Affiliate Disclosure: I publish various content marketing strategies, online business ideas, blogging tutorials, review articles, and discount offers on my blog. My content may contain some affiliate links for products/services I use, love, and recommend. If you take action (i.e., subscribe or make a purchase) after clicking one of my affiliate links, I'll earn an affiliate commission at no additional cost to you. It helps me in creating more helpful content like this.
AAWP Black Friday Sale is an excellent opportunity to save on Amazon Affiliate WordPress plugin licenses.
The company offers 40% off all premium plans this year. However, the special discount offer may not last long. So grab your AAWP plugin copy as quickly as possible.
AAWP is a powerful Amazon Affiliate WordPress plugin that enables bloggers and affiliate site owners to make money by promoting Amazon products.
Amazon affiliate sites can use this plugin to increase conversions on their sites.
You may have noticed that despite high traffic and quality posts on your site, your Amazon affiliate sales are not high. In a lot of cases, outdated promotional items lead to conversion problems.
Therefore, the developers created AAWP, allowing you to drive more traffic to your affiliate links and make more sales by providing up-to-date information about the desired products in attractive formats.
If you are also planning to buy an AAWP plugin license, click the link below to get your special 40% Black Friday discount.
AAWP Black Friday Deal 2023: Overview
Below is a quick overview of the AAWP Black Friday and Cyber Monday deals in 2023.
AAWP Black Friday Deal: 40% instant discount on all paid plans
Deal Validity: 24 November 2023 to 27 November 2023
Standard AAWP Pricing: Starting at €49/year
Discounted AAWP Pricing: Starting at €29/year
AAWP Deal Status: Launching soon
How to Activate AAWP Black Friday Deals?
It's time to explore how you can save money on AAWP Black Friday purchases this year.
Follow the steps below to redeem this discount offer.
Step 1: Please click on this link to access the AAWP's official website.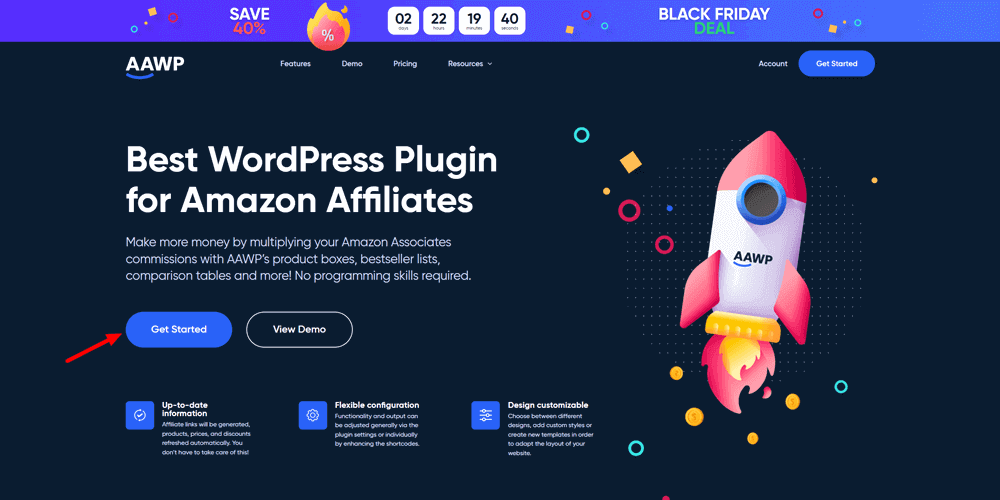 Step 2: Select the Get Started button to reach the AAWP Pricing page.
Step 3: Choose the appropriate license based on the number of Amazon affiliate sites you manage. AAWP offers a 40% discount on all plans.
Step 4: Select the package you wish to purchase and click the Get Started button. The AAWP checkout page will appear on your screen.
Step 5: Review the cart summary. AAWP specifies the license, item price, and applicable taxes.
Step 6: Scroll down and select your preferred payment mode between credit card and PayPal.
Step 7: Enter your personal info, credit card info, billing details, and business info (if any).
Step 8: Read and accept the AAWP's terms of service and privacy policy.
Step 9: Be sure you have filled in all required fields on the checkout page.
Step 10: Once everything looks okay, click the Purchase button to complete the transaction.
AAWP is undoubtedly one of the best Amazon affiliate plugins available. Congrats on making the right choice.
AAWP Pricing Plans
The company offers four affordable pricing options: Personal, Plus, Pro, and Ultimate.
In addition, you'll receive 40% off all AAWP plans during the Black Friday sale.
The following section provides detailed information about AAWP pricing.
1. AAWP Personal
The license allows installing the AAWP plugin on a single website. It offers all core features except for multi-site support.
In addition, you will receive free plugin updates and technical support for a year.
The AAWP Personal license costs €49/year. However, the price will fall to €29/year during the Black Friday sale.
2. AAWP Plus
License permits installation of AAWP plugin on up to three websites. All core features are available, including multi-site functionality. Like the AAWP Plus, you will receive a year of free plugin updates and technical support.
The AAWP Personal license costs €129/year. However, the price will drop to €77/year throughout the Cyber Week sale.
3. AAWP Pro
With the license, you can install the AAWP plugin on up to ten WordPress websites. In addition, it includes all core features, free plugin updates, and technical support for a year.
The AAWP Pro license costs €249/year. However, the price will fall to €149/year during the Black Friday sale.
4. AAWP Ultimate
The license allows you to install AAWP on up to 25 websites. In addition, it includes all AAWP Plus plan features, multi-site support, and free plugin updates & support for a year.
The AAWP Ulimiate license costs €399/year. However, you can buy it for only €239/year as part of AAWP's Black Friday promotion.
5. AAWP Agency Plans
Besides the licenses listed on the pricing page, AAWP also offers agency licenses.
Customers with a larger number of websites can benefit from these packages.
Pricing for AAWP Agency licenses starts at $599 for 50 websites and goes up to $2499 for up to 500 websites.
Like all other AAWP plans, the Agency packages come with one year of free updates and support.
Moreover, your license will automatically renew after this period (unless you cancel the subscription).
Quick Note: The plugin comes with a 30-day money-back guarantee. So you can easily request a refund if you are unsatisfied with the product.
AAWP Top Features
I have outlined a few top features of the AAWP plugin that should convince you to consider using it for your Amazon affiliate business.
1. No Theme Dependency
The plugin is compatible with any theme due to its flexible shortcodes and templates.
The plugin should work with any free or paid WordPress theme if it follows the WordPress code standards.
Furthermore, AAWP's Gutenberg block eliminates the need for shortcodes and makes your life easier.
2. Automated Data Updates
The plugin updates product information automatically using Amazon's Product Advertising API (e.g., pricing).
It also stores product information locally to reduce the number of API requests.
Moreover, it fully supports Amazon Partner Networks and Geotargeting. E.g., Amazon.com, Amazon.in, Amazon.co.jp, and more.
As a result, you don't miss out on a referral anymore and direct foreign visitors to their local Amazon store.
3. Automatic Tracking ID
This plugin dynamically generates affiliate links with your personal tracking ID.
In addition, it automatically converts Amazon product links into beautiful and easy-to-read http://amzn.to/ URLs.
You can mark Amazon Prime articles and earn extra commissions when you refer new Prime members.
4. Responsive and Mobile Friendly Design
AAWP is 100% responsive and mobile-friendly. It seamlessly works across all devices, including desktop pcs, tablets, and smartphones.
Also, the plugin developers have added support for Google's Accelerated Mobile Pages (AMP).
5. Pre-Built Templates
The plugin includes many well-crafted templates, including lists, boxes, and tables.
You can choose between different styles or customize the plugin's output using CSS.
1. Comparison Tables
With the help of AAWP's powerful table builder tool, you can compare multiple products side-by-side.
2. Text Links
With AAWP's shortcodes, you can insert customizable text links inside your running text.
3. Product Boxes
You can create visually appealing and conversion-focused product boxes for specific products.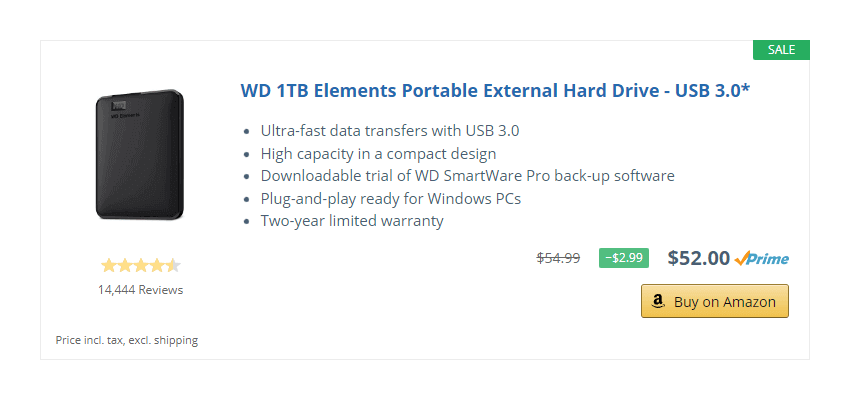 As a result, the product boxes often get more clicks and sales.
4. Bestseller List
The plugin allows you to create automated bestseller lists and adjust the number of products individually. E.g., Top 3 or Top 10.
5. New Releases
This feature brings your visitors' attention to the newest products within a specific category.
6. Data Fields
The Amazon data field allows you to display specific product information at custom locations.
AAWP offers this feature to insert individual product information (e.g., price or buy button) anywhere in your posts or pages.
7. Improved Click Tracking
The developers have incorporated Event Tracking functionality when using data analysis tools, such as Google Analytics, Google Tag Manager, or Piwik.
8. Well Structured Admin Area
An admin area allows you to adjust the output of your products and define the most critical settings.
Since the admin area is easy to navigate, you don't need any special skills to get the most out of it.
9. Translations
In addition to English, the plugin is translated into four other languages: German, Spanish, Italian, and French.
10. Developer Friendly
AAWP provides special functions, PHP templating, and WordPress hooks to developers if you want to make custom modifications.
AAWP Black Friday Sale 2023: FAQs
Below are some FAQs about AAWP's Black Friday and Cyber Monday sales.
Q: What is AAWP?
A: AAWP is an affiliate marketing plugin for WordPress that aims to increase conversions from the Amazon Associates program.
Q: What is the AAWP Black Friday deal?
A: AAWP offers a substantial 40% discount on its Amazon Affiliate WordPress Plugin. Unfortunately, you don't get any discounts throughout the year except for the 10% AAWP coupon code. So, you should grab the deal before it expires.
Q: When is the AAWP Black Friday sale?
A: The AAWP Black Friday and Cyber Monday sales will begin on 24 November 2023 and run until 27 November 2023.
Q: Is the AAWP plugin free?
A: No, AAWP is a premium WordPress plugin, with pricing starting at $49/year. However, AAWP offers a 30-day money-back guarantee so that you can try the plugin risk-free.
Q: Can I use the AAWP plugin on a multisite?
A: The AAWP Plus license (or a higher-level license) will allow you to use the plugin within a multisite environment.
Q: Is the AAWP plugin compatible with WordPress.com?
A: Yes, you can use the AAWP plugin if you are subscribed to WordPress.com's Business or e-commerce plans.
AAWP Black Friday Deals 2023: Summary
AAWP is running a Black Friday sale in 2023! You can get 40% off all their licenses for a limited time.
It's an excellent opportunity to save money on the best WordPress plugin for Amazon affiliate websites.
AAWP was specifically designed to increase conversions for Amazon affiliate sites, so you'll not want to miss out if you own one.
The templates, customization options, and promotional features it offers are truly incredible for the price.
In addition, AAWP Black Friday is the perfect time to buy the plugin since it offers an exclusive 40% off standard pricing.
Check out the AAWP website for more information, and take advantage of this incredible deal today!
Name: AAWP
Description: The AAWP Black Friday sale features some of the best deals available. If you are looking for a feature-rich WordPress plugin for Amazon affiliate-powered websites, you should definitely check out these deals. Visit the AAWP Black Friday sales page and grab an instant 40% discount on any AAWP plan.
Offer price: 29
Currency: EUR
Operating System: Linux
Application Category: WordPress Plugin
Author: Ankit Main
Performance

Ease of Use

Pricing

Support
Comments Rating
( reviews)