Affiliate Disclosure: I publish various content marketing strategies, online business ideas, blogging tutorials, review articles, and discount offers on my blog. My content may contain some affiliate links for products/services I use, love, and recommend. If you take action (i.e., subscribe or make a purchase) after clicking one of my affiliate links, I'll earn an affiliate commission at no additional cost to you. It helps me in creating more helpful content like this.
After SiteGround increased its web hosting pricing, many people started looking for alternative solutions.
GreenGeeks is one of the most popular SiteGround alternatives with similar features at an affordable price.
SiteGround and GreenGeeks are reliable web hosting services for growing blogs or e-commerce stores. You can't be wrong by choosing either of these services.
However, if you're confused about which one to pick between SiteGround vs GreenGeeks web hosting services, I have shared an unbiased comparison in this article.
SiteGround vs GreenGeeks: Overview
➤ SiteGround
SiteGround is one of the WordPress.org recommended web hosting providers, that serves more than 2 million domains globally.
With roots back in 2004, SiteGround has over 18 years of solid experience in managing web technologies.
SiteGround uses Google Cloud to take advantage of its ultra-fast network and a high level of server redundancy.
Google matches 100% of its energy consumption with renewal energy making it an environment-friendly hosting infrastructure for SiteGround users.
That's not all.
SiteGround ensures technical superiority with the quick adoption of the latest web technologies and custom-engineered services.
Since it's a managed WordPress hosting service, it takes care of your website speed, security, and software updates, and tries to keep your website always up.
This convenience comes with an additional cost. As a result, SiteGround is a little more costlier than regular shared hosting services.
➤ GreenGeeks
GreenGeeks has positioned itself as a green web hosting platform. You'll be proud of hosting your website on an eco-friendly hosting platform that matches its energy consumption with 300% green energy.
If you compare GreenGeeks vs SiteGround for the basic features such as storage, speed, security, reliability, and support, you won't find big differences.
GreenGeeks offers stable hosting performance and ensures your site is available for maximum time.
Although GreenGeeks clearly mentions its regular pricing on the landing page, the introductory pricing seems to be a marketing tactic. You might see the lowest price for GreenGeeks is $2.95 per month, but you need to purchase a 3-year hosting plan to avail the maximum discount.
Still, GreenGeeks pricing is cheaper than SiteGround pricing.
I'll discuss more in the pricing comparison section.
SiteGround vs GreenGeeks: Essential Features
Before diving in-depth, let's discuss some basic features available in both hosting services.
➤ SiteGround
SiteGround is widely popular for its managed WordPress hosting services. Apart from that, it offers regular shared hosting, cloud hosting, reseller hosting, and high-performance enterprise hosting.
You can register domain names or purchase add-on services through the SiteGround marketplace once you have logged into your account.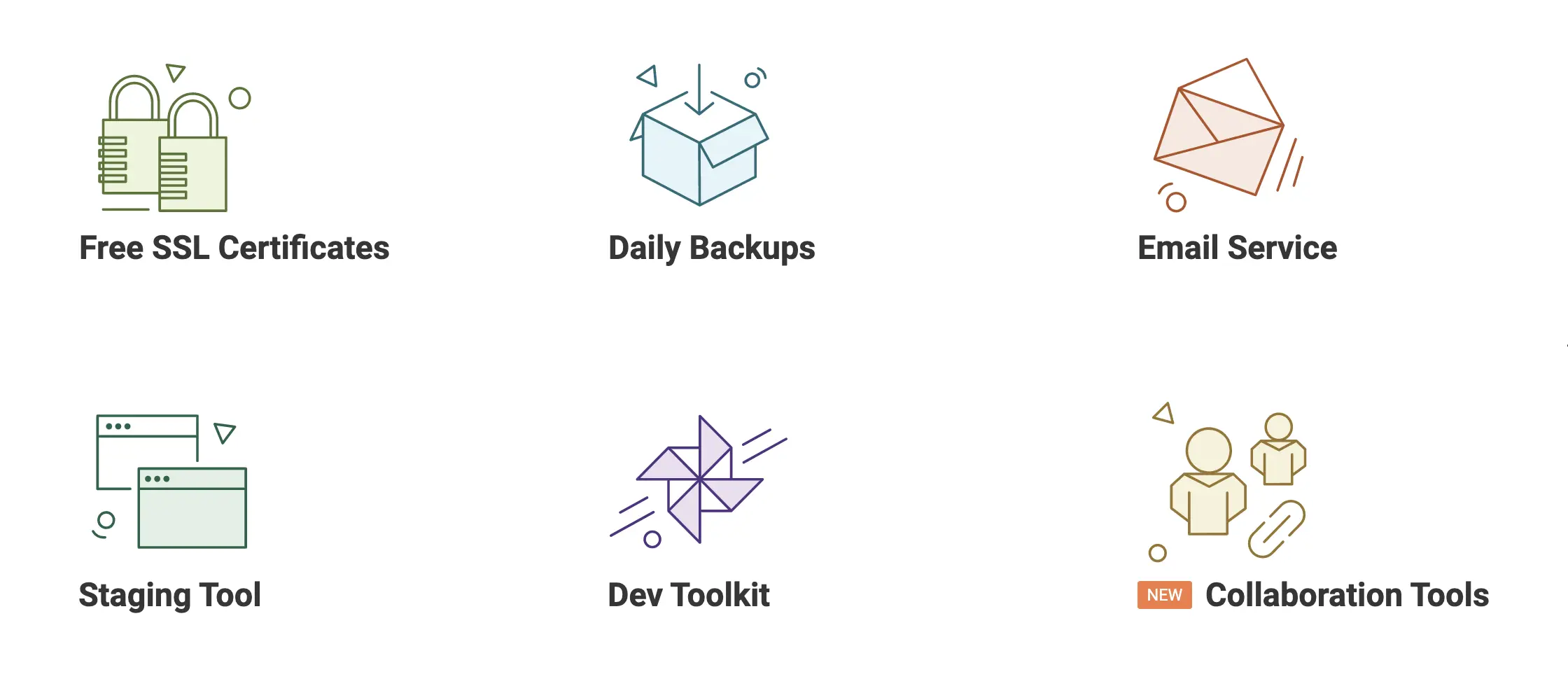 SiteGround offers enough SSD storage, unmetered bandwidth, free Let's Encrypt SSL, free Cloudflare CDN, daily backups, free email accounts, and free WordPress management tools for each user.
You may upgrade to higher plans if your site starts getting more traffic.
Please note that the SiteGround team has designed exclusive WooCommerce plans to create an online storefront with minimum effort.
Last but not least, SiteGround allows reselling of its services on GrowBig and higher plans.
However, I would recommend you purchase GoGeek or SiteGround Cloud hosting plans for your reseller hosting business for the white label option and priority support.
➤ GreenGeeks
As a GreenGeeks customer, you can access all standard web hosting features such as free SSL, free Cloudflare CDN, nightly backup, email accounts, WordPress installer/auto-updates, and LSCache caching solution.
Still, you'll find a few differences.
Unlike SiteGround, each GreenGeeks web hosting plan comes with unlimited storage and unlimited data transfer.
As I mentioned earlier, GreenGeeks matches its energy consumption with 300% green energy to minimize environmental issues.
The best part is that GreenGeeks offers a free domain name registration for the first year. 
Unfortunately, this combo deal isn't available for SiteGround customers.
For business users, GreenGeeks has designed the managed VPS hosting plans and cPanel-based reseller hosting.
Winner: GreenGeeks
SiteGround vs. GreenGeeks: Speed and Uptime
Site speed and uptime reliability are the most critical factors when picking a web hosting service.
Almost every reputed web host claims faster loading time and ~99.9% uptime for the websites hosted on its servers.
Instead of believing them, let's find which web hosting company between SiteGround and GreenGeeks offers the faster site speed and maximum uptime.
➤ SiteGround
Since SiteGround uses Google Cloud, you need not worry about the site speed.
SSD based servers and an ultra-fast global network ensure your site loads within a blink of an eye.
Plus, SiteGround offers multiple data centers located across four continents, Cloudflare CDN covering 90 countries and 194 cities worldwide to ensure the lowest network latency.
SiteGround uses the best speed technologies such as HTTP/2, PHP 8.X, and in-house developed SG Optimizer (SuperCacher) caching solution.
Uptime reliability is another factor you must consider while choosing a web hosting service.
SiteGround promises a 99.9% uptime guarantee and compensates every 1% drop in uptime with a month of free hosting.
If you're searching for a web hosting that offers a super-fast site speed and high availability, SiteGround is definitely an excellent option.
Previously, SuccessPixel.com was hosted on the SiteGround GrowBig plan, and my overall experience was satisfactory.
The best part is that I'm getting almost 100% uptime for my site.
➤ GreenGeeks
GreenGeeks users Solid State Storage Arrays in RAID-10 for quick page loading and maximum hardware redundancy.
It also offers the latest web technologies, including LiteSpeed, LSCache, HTTP/2, MariaDB, PHP 7.X, and free Cloudflare CDN.

On top of that, GreenGeeks is implementing HTTP/3 and QUIC for faster in-browser loading times.
GreenGeek has three data centers located in the USA, Canada, and Europe. You must reconsider your hosting purchase if most of your traffic comes from the rest of the world, especially the Indian subcontinent or Australia.
The CDN may improve the speed performance, but I recommend you pick SiteGround to deliver a faster site experience.
If you compare SiteGround vs GreenGeeks, both companies promise 99.9% availability. GreenGeeks has managed to keep the promise with 99.98% uptime in the last 24 months.
Winner: SiteGround
SiteGround vs GreenGeeks: Support and Documentation
Quick and user-friendly support is an important aspect of web hosting services. Sometimes, your site may face a technical problem, and you expect a web hosting company to assist you in solving it as quickly as possible.
Every website owner isn't a tech geek to understand and troubleshoot server-related issues.
That's why a responsive customer support team is an important point to consider when you purchase a web hosting service.
Let's compare SiteGround vs GreenGeeks to know which company provides a better support experience.
➤ SiteGround
SiteGround is famous for its quick support. It provides 24/7 support via live chat, phone, or ticket.
You hardly need to wait before connecting with a SiteGround support executive.
Recently, SiteGround revamped its support portal to offer instant answers for frequently asked queries with the knowledge base articles.
In case you're unable to resolve the issue, you can contact the SiteGround team for technical assistance.
Combining an AI-powered support bot with the human staff has helped SiteGround to minimize the support queue.
SiteGround has maintained extensive support documentation for frequently asked queries, and the support team updates KB articles regularly to ensure maximum accuracy.
You can contact the SiteGround team on social media platforms regarding your queries or share your hosting experience.
I rarely need to visit the SiteGround support portal, and I'm happy with the overall support experience.
➤ GreenGeeks
Although GreenGeeks emphasizes its eco-friendly hosting platform, it excels in other areas too.
Especially, the technical support is a strong side for GreenGeeks.
Just like SiteGround hosting, GreenGeeks offers quick technical support over phone calls, live chat, and support tickets.
Additionally, it has an extensive knowledge base for self-help.
You can learn everything from the onboarding process to managing complex server issues by going through GreenGeeks support documentation.
Winner: Tie
SiteGround vs GreenGeeks: Pricing
You'll find a significant difference in the pricing of SiteGround vs GreenGeeks web hosting. After SiteGround moved to Google Cloud, it restructured its web hosting plans, especially the managed WordPress hosting plans.
GreenGeeks is comparatively less expensive for similar tier plans.
Let's take a look at the pricing for both SiteGround and GreenGeeks hosting to know which one offers the best value for money.
Here is a quick overview of the pricing structure.
| | | |
| --- | --- | --- |
| Hosting Plan | SiteGround | GreenGeeks |
| Shared Hosting | $6.99/Month to $14.99/Month | $2.95/Month to $11.95/Month |
| WordPress Hosting | $6.99/Month to $14.99/Month | $2.95/Month to $11.95/Month |
| Cloud Hosting | $80/Month to $240/Month | – |
| Managed VPS Hosting | – | $39.95/Month to $109.95/Month |
| Reseller Hosting | Starts from $9.99/Month | $19.95/Month to $34.95/Month |
➤ SiteGround
You can easily notice that SiteGround is slightly more expensive than GreenGeeks by looking at the pricing table above.
SiteGround focuses on premium users, developers, and agencies and ensures the best user experience instead of overloading its servers by hosting a large number of sites.
Hosting over 2 million sites is definitely a remarkable achievement for any hosting company.
I have already discussed the SiteGround pricing and differences between StartUp vs GrowBig vs GoGeek plans.
SiteGround primarily offers three types of shared hosting plans depending on the final application, including regular web hosting, managed WordPress hosting, and WooCommerce hosting.
The pricing for SiteGround shared hosting plans start at $6.99/month and go up to $14.99/month.
The renewal is expensive too.
You may need to pay $14.99/month to $39.99/month, depending on the plan you choose.
Please read the SiteGround renewal discount guide to save up to 60% on SiteGround renewals.
The large sites can use the auto-scalable cloud hosting, but I would recommend you pick cheaper alternatives such as Cloudways that offer better performance under the same price bracket.
SiteGround Reseller hosting is a derivative of higher-tier plans with white-label access to clients, priority support, and resource management tools.
You may purchase additional services, such as domains, security add-ons, or third-party products, by visiting the marketplace section on your SiteGround dashboard.
A standard 30-day money-back guarantee applies to every SiteGround hosting purchase.
If you never used SiteGround hosting before, here is a 60% discount on SiteGround managed WordPress and WooCommerce plans.
➤ GreenGeeks
GreenGeeks follows the traditional pricing model with the lowest pricing for maximum tenure.
You'll notice significant pricing changes when you reduce the hosting duration from 3-years to 2-years or 1-year.
I often think it's a deceptive marketing tactic because most people purchase web hosting annually.
Still, GreenGeeks pricing is much cheaper than SiteGround pricing.
You'll get shared hosting at just $2.95/month with the tri-annual purchase, and the pricing may go up to $11.95/month for the highest tier plans.
The GreenGeeks renewals are quite expensive, considering the introductory prices. You need to pay $9.95/month to $24.95/month to renew shared web hosting and WordPress hosting plans.
GreenGeeks reseller hosting plans start at $19.95/month, which allows up to 25 cPanel accounts. You can upgrade to higher plans to host up to 80 cPanel accounts by paying $34.95/month.
The managed VPS plans are suitable for large business sites, e-commerce stores, and web publications with heavy traffic.
GreenGeeks VPS hosting's pricing starts at $39.95/month for 2 GB Ram, 4 CPU cores, 50 GB SSD storage, 10 TB bandwidth, and other standard features. You can upgrade your server by adding more RAM, storage, and the CPU core.
The 8 GB Ram, 6 CPU cores, 150 GB SSD storage, and 10 TB bandwidth managed VPS plan will cost you $109.95/month.
Like SiteGround, GreenGeeks offer a 30-day money-back guarantee for its web hosting and WordPress hosting plans.
You can try GreenGeeks hosting for a month before deciding whether it meets your requirement or not.
Winner: GreenGeeks
SiteGround vs GreenGeeks: Which Is Better Web Hosting?
After comparing both hosting services, I believe that both SiteGround and GreenGeeks are great options for bloggers, web developers, affiliate marketers, and e-commerce stores.
Choosing one option between GreenGeeks vs SiteGround is really difficult. Still, I believe GreenGeeks is an overall excellent web hosting service.
SiteGround has continuously improving its infrastructure, adding new features and integrating the best web technologies to ensure the best hosting experience.
Fewer freebies, slightly expensive pricing, and missing cPanel can be negative points for some people.
However, after using SiteGround hosting for almost a year, I experienced a huge customer support downfall.
On the other side, GreenGeeks is one of the affordable web hosting services with many attractive features. 
Low initial pricing, free domain for the first year, cPanel experience, and faster speed with LiteSpeed-powered servers make it the best low-cost WordPress hosting.   
If you're searching for WordPress hosting that offers a great UI, faster speed, robust security, high uptime reliability, responsive customer support, and affordable pricing, GreenGeeks is the best pick for you.
Get up to 70% off today.
SiteGround vs GreenGeeks: FAQs
I have shared some frequently asked questions related to SiteGround and GreenGeeks web hosting.
1. Is GreenGeeks a good hosting company?
Yes, GreenGeeks is offering web hosting services since 2008 and is trusted by 50K+ customers. Currently, it's one of the best web hosting companies, that offers high-performance managed WordPress hosting.
2. Why is SiteGround so expensive?
SiteGround uses Google Cloud to provide unmatched speed and high availability. Plus, you'll get free SSL, CDN, daily backup, email accounts, and 24/7 managed support. Considering everything SiteGround offers to its customers, you won't find SiteGround much more expensive than other web hosting providers.
3. Which is the best web hosting between Siteground vs Greengeeks? 
If you're planning to build an affiliate site or a small e-commerce store with faster speed, maximum security, and uptime reliability, SiteGround can be the best choice for you. However, beginners with a limited hosting budget or people who want to get eco-friendly hosting can purchase the GreenGeeks web hosting.
4. Why Should I choose GreenGeeks over SiteGround?
The GreenGeeks is an affordable web hosting service compared to the SiteGround with all standard hosting features. Plus, you'll get a free domain for the first year, cPanel experience, and LiteSpeed-powered servers by purchasing GreenGeeks hosting.
You May Also Like