Affiliate Disclosure: I publish various content marketing strategies, online business ideas, blogging tutorials, review articles, and discount offers on my blog. My content may contain some affiliate links for products/services I use, love, and recommend. If you take action (i.e., subscribe or make a purchase) after clicking one of my affiliate links, I'll earn an affiliate commission at no additional cost to you. It helps me in creating more helpful content like this.
Before diving into the discussion about the Semrush Content Marketing Toolkit, let's understand the meaning of content marketing.
Once you have a basic knowledge of content marketing, you can use the Semrush Content Marketing Toolkit more efficiently and achieve better results for your campaigns.
What is Content Marketing?
Content Marketing is a strategic approach for planning, creating, publishing, and distributing valuable and relevant content to the targeted audience consistently with the objective of driving the desired customer action.
Businesses use content marketing to:
Increase brand awareness and visibility across every possible marketing channel.
Attract potential visitors and convert them into leads.
Generate sales or increase the existing volume.
Increase customer retention.
Surprisingly, content marketing costs almost 62% less and generates 3x more leads per dollar spent compared to traditional marketing. (Source: Demand Metric)
You should understand the ideal customer's persona and create content for each stage of the customer's journey to achieve a remarkable customer experience (CX).
Please note that customer experience is a major factor in the success of your content marketing campaigns.
In fact, Dimension Data Global CX Benchmarking Report says, businesses that pay more attention to improving customer experience enjoy an uplift in revenue, reduction in costs, and increased customer loyalty.
However, creating content that resonates with the target customer's mind is the biggest challenge for content creators and marketers.
You must have clear content marketing goals, along with in-depth knowledge of content creation, distribution, and analytics to manage sustainable business growth.
Today, you can use various apps, marketing software, and data processing tools to accelerate marketing activities, but most of them have limited features.
Don't worry!
You can easily tackle this problem using the Semrush Content Marketing Toolkit – a one-stop solution for your content marketing needs.
Semrush content marketing platform allows creating an infallible content strategy for micro-niche blogs, affiliate sites, established businesses in B2B & B2C verticals, and even e-commerce giants such as Amazon, eBay, and Walmart.
It doesn't stop there.
You can expand the horizon of your marketing campaigns to offline businesses with the SMART content marketing approach.
You would probably be interested in how you could leverage the Semrush marketing suite to empower your content marketing strategy.
I have shared an extensive Semrush Content Marketing Toolkit review below, along with its top features, pros & cons, pricing, alternatives, and a small use-case where Semrush helped us quadruple the organic traffic for a micro-niche affiliate site.
Let's get started.
What is the Semrush Content Marketing Toolkit?
Semrush Content Marketing Toolkit is an exclusive platform designed to assist content creators and marketers in planning and executing an effective content strategy.
That's not all.
You can perform in-depth content analysis and optimize it for better search visibility.
If you are the one who manages content marketing for your own brands or clients, you will fall in love with the content marketing platform by Semrush.
Here are the top features of the Semrush content marketing suite:
Discover valuable content ideas for upcoming blog posts using the topic research tool.
Build a data-driven content strategy and set up an editorial marketing calendar for your team.
Gather essential data for writing high-quality, SEO-friendly articles.
Optimize content for the search engines as well as users by maintaining a unique writing style.
Analyze the unlinked web mentions to find potential backlink opportunities.
Evaluate your content's performance in terms of referral traffic, keyword rankings, social shares, backlinks, and estimated reach.
Perform content audits and take corrective measures to ensure maximum ROI.
You can combine the Semrush content marketing platform with other Semrush modules to take your business to the next level.
The best thing is that Semrush allows managing the entire content marketing campaign without leaving the dashboard.
In case you're facing problems in content creation due to lack of time or unavailability of professional writers, you can order a few articles or press releases on the Semrush marketplace.
Do you want to try a Semrush content marketing platform for free?
Registering a Semrush Guru or Business account grants you full access to its premium modules, including the content marketing toolkit.
After that, you can follow this step-by-step guide for building a custom data-driven content marketing strategy for your business.
Find Profitable Content Ideas Using the Topic Research Tool
A successful content strategy begins with a great idea.
Unless you find compelling topic ideas for your target audience, it isn't easy to get traction with content marketing.
While you can use various tools such as BuzzSumo, Ahrefs Content Explorer, and ContentStudio.io for topic idea research, Semrush outperforms almost every tool with its extensive feature set and massive content idea databases.
Semrush Topic Research module offers hundreds of content ideas based on your target keyword or competitor's domain.
Later you can expand the topic research by trending topics, popular content by social shares/backlinks, and top questions.
Using the Semrush Topic Research tool is extremely easy.
Simply sign in to your Semrush account and select Content Marketing Toolkit from the drop-down menus in the top-left corner.
The Topic Research module will be displayed on your screen.
Alternatively, you can click on the Topic Research tab on the left-sidebar to access this tool.
Now, enter your targeted topic or keyword and select the preferred country database.

Once you hit that Get content ideas button, Semrush will analyze popular content on the web and display winning content ideas relevant to your query.
You can view the content suggestions in multiple ways, including,
Cards
Explorer
Overview
Mind Map
Semrush allows users to prioritize the topics by search volume, and keyword difficulty.
If you want to receive higher engagement, you can enable the Trending subtopics first option to view viral topics.
This feature still has room for improvement.
Semrush can add third-party integrations such as Google Trends or Twitter Trends under the Trending subtopics first tab to enhance the topic research experience.
Please note that when you perform Semrush topic research, the Cards view is enabled by default.
You can select the most relevant cards and click on any card to get more information about it.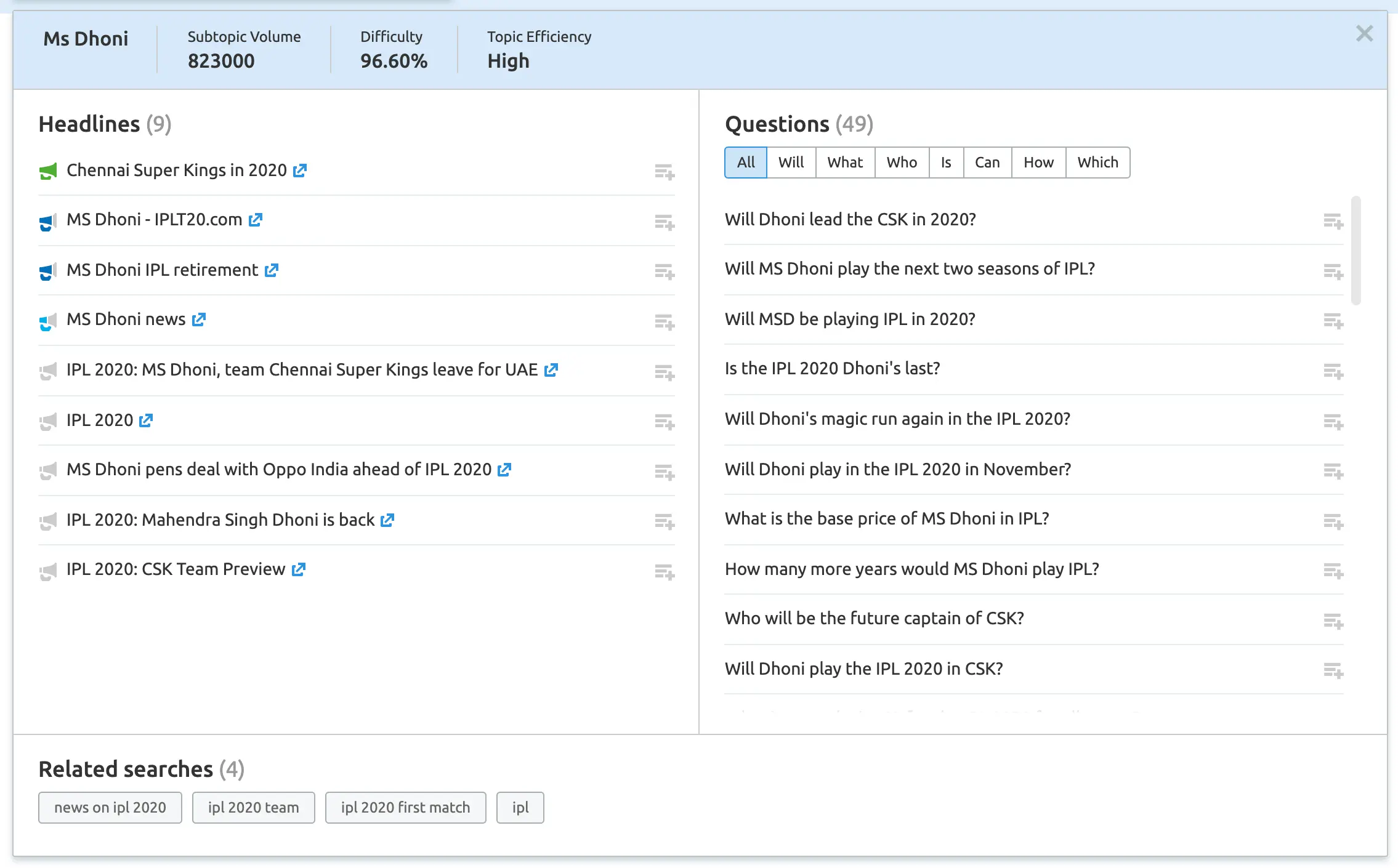 Each card shows top headlines, questions, and related searches along with subtopic volume, difficulty, and topic efficiency.
You can analyze each content idea's potential and add it to your Favorite Ideas section by clicking the (+) icon.
The Explorer tab displays the list of subtopics, popular content ideas, number of backlinks, Facebook engagement, and total social shares.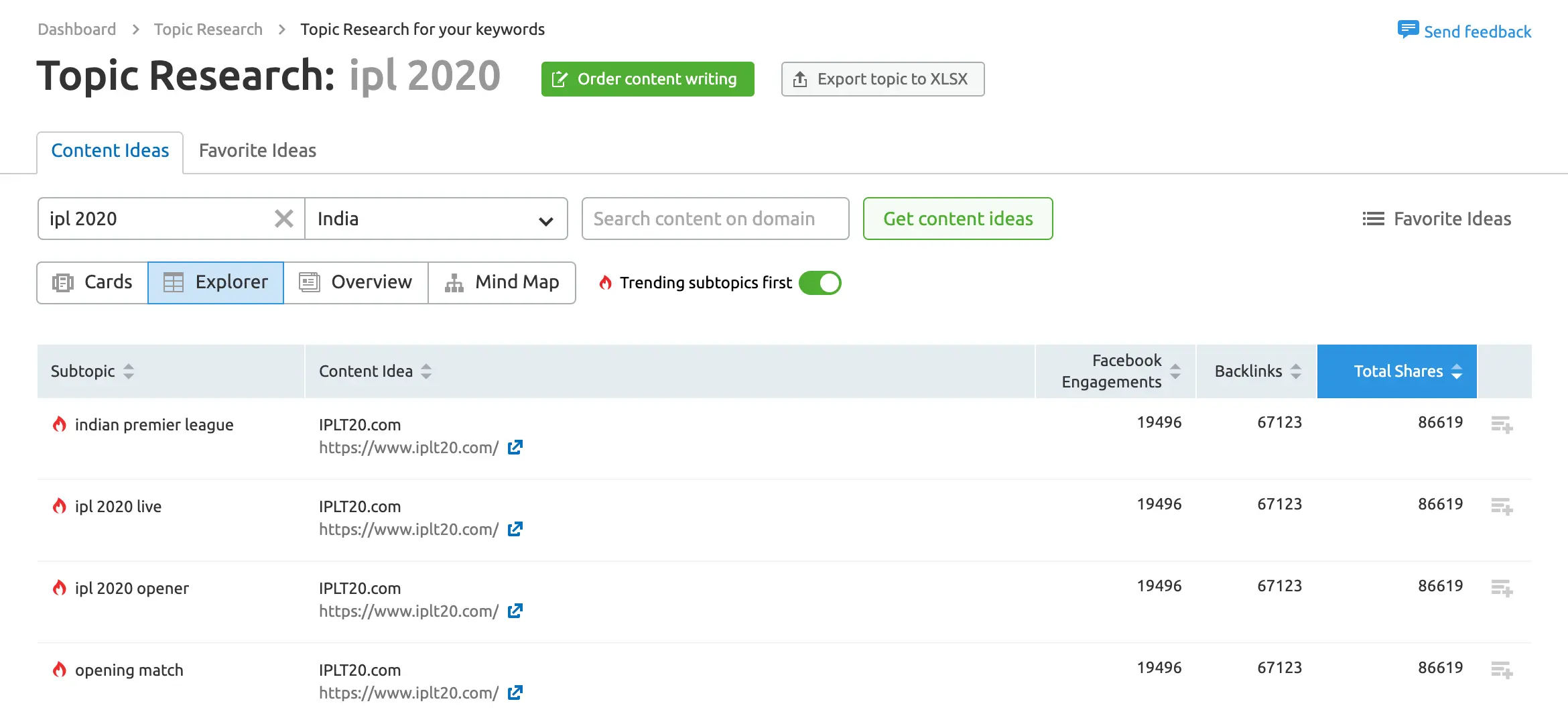 While Semrush shows hundreds of content ideas, you can visit the Overview tab to access the only top subtopics, top 10 headlines by backlinks, 10 interesting questions, and the top 10 related searches for the particular query.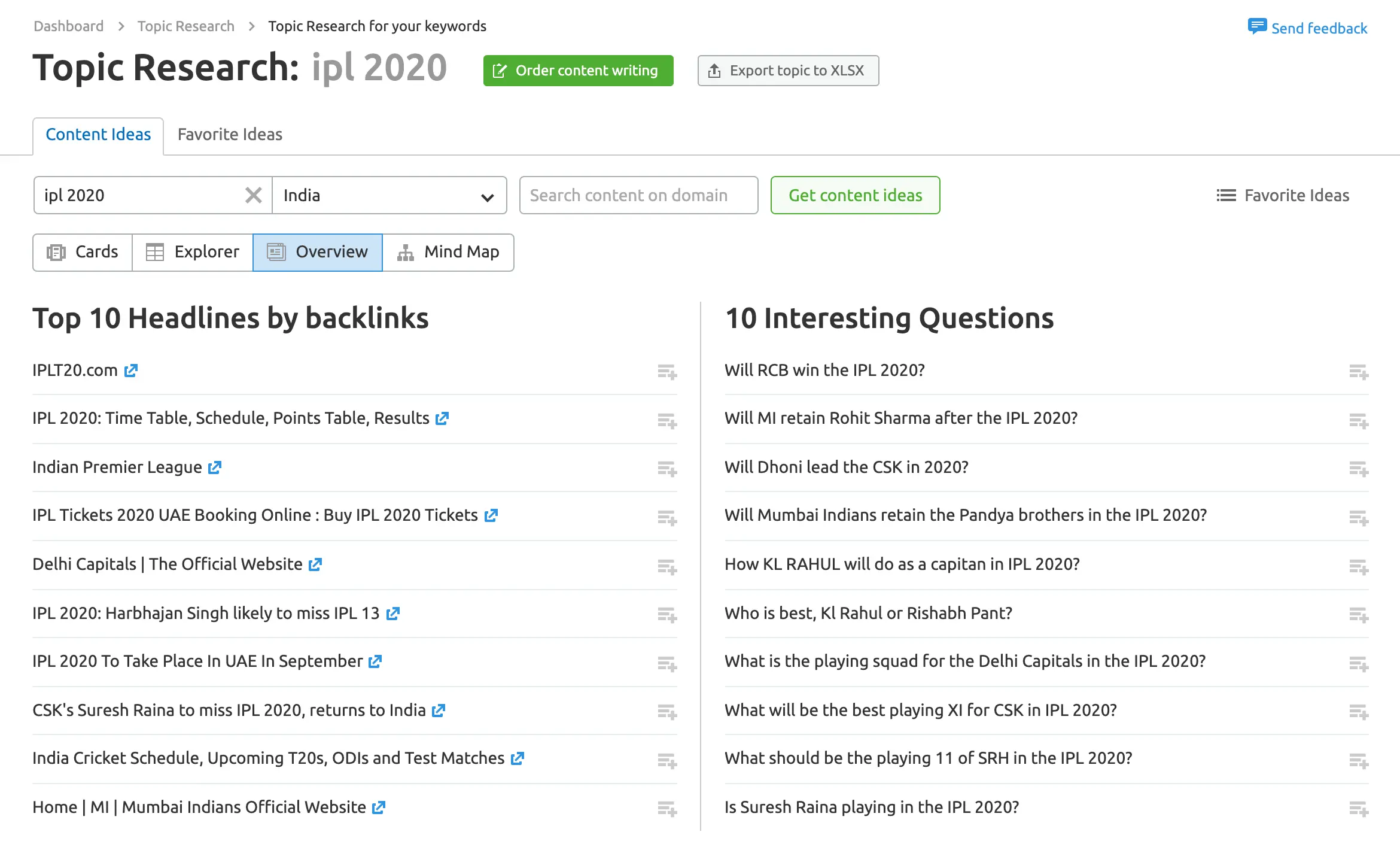 Finally, you can see the graphical representation of content suggestions under the Mind Map tab.
Semrush provided special attention to the UI of the Mind Map view. You can quickly analyze the trending subtopics (marked in red color) and expand each subtopic to see more data.
You might have used the AnswerThePublic tool for keyword research. Semrush carries a similar structure for its Mind Map tab.
Semrush offers three prominent sections under each tab.
1. Headlines
Each subtopic includes several headlines prioritized by backlinks. Semrush displays a bullhorn before each headline. The bullhorn color varies from green to light gray, depending on the relevance and audience interest.
2. Questions
Questions are one of the most engaging content forms. Most importantly, combining the right questions with high-quality content may help you achieve "position zero" (featured snippet) in the organic search.
Semrush allows you to find relevant questions by what, who, why, can, is, which, and any interrogative term based on your topic.
3. Related Searches
The related searches section is a great way to expand your topic research or collect content ideas for a new topic.
Semrush Content Marketing Toolkit offers one more interesting feature in the Topic Research module.
You can spy on your rivals' domains to get insights into their content strategy. Semrush analyzes your competitors' domains and shows the top content ideas.
If the competitor's domain ranks in the top 100 for the keywords in the cards, Semrush highlights these cards in green color.
You can either open the card or visit the web page ranking for the particular keyword by clicking on the blue arrow [↗️] link.
Favorite Ideas
Generating thousands of irrelevant articles eats up valuable resources.
Instead of doing that, smart content marketers focus on creating content that is valuable for users as well as the brand.
If you want to utilize content marketing resources most efficiently, add valuable content suggestions to the Favorite Ideas section.

Later, you can download these ideas in the XLSX format, send them to Trello, schedule content tasks, or create SEO content templates for the upcoming articles.
Favorite Ideas tab significantly reduces time in content idea analysis and task management.
Don't forget to give it a try.
Performing Keyword Research
Once you finalize the content ideas, the next step is to find profitable keywords to target in your marketing campaigns.
Keyword research will help you understand the most searched keywords, their volume, SEO difficulty, CPC, PPC competition, and many things needed for crafting an effective content plan.
Although Semrush displays the subtopic volume and keyword difficulty for each card under the Content Ideas section, you need to visit the Semrush Keyword Magic tool to access in-depth keyword research data.
You might argue that the keyword magic tool isn't a part of the Semrush Content Toolkit.
Yes, you're right!
However, combining the Keyword Magic tool with the content marketing platform will significantly improve your content strategy's effectiveness, especially in SEO and PPC campaigns.
Semrush has a few more tools for stealing competitors' top-ranking keywords and understanding the keyword gap between the analyzed domains.
Create an Editorial Content Plan in the Semrush Marketing Calendar
Remember the consistency is key to content marketing success. However, maintaining a regular flow of content needs a robust marketing plan.
Usually, beginners use free tools like Google Sheets, Microsoft Excel, or third-party task managers.
As the business grows, you may need to collaborate with team members and manage complex workflows.
Upgrading to more sophisticated software solutions is a great way to improve productivity, but these services come with a cost.
Don't worry!
Semrush has developed a powerful Marketing Calendar to manage editorial tasks and team activities.
You can access the Marketing Calendar module directly from the Content Marketing Toolkit dashboard or the left-side menus under the Management section.
Once you create a calendar, you can plan a new campaign or new activity, set deadlines, and assign tasks to different team members.
Let's discuss how to use the Semrush content marketing calendar most effectively.
1. Create a New Campaign
Depending on your marketing goal, create a new campaign. Choose the display color and campaign duration.
2. Campaign Editor
Campaign editor allows adding or editing campaign details such as descriptions, attachments, comments, duration, and display color.
You can also add activities, invite an unlimited number of team members, assign specific tasks to each of them along with a due date, and set a campaign budget.
Semrush team has taken care of every minute detail to ensure a streamlined workflow.
However, it would be great if Semrush allows budget allocation at the task level.
3. Viewing Campaign Activities
Semrush Marketing Calendar displays all active campaigns, deadlines, planned activities, and critical information like task completion details.
If you want to manage a particular activity, Semrush offers various filters to prioritize your search.
You can make some quick changes using the drag and drop feature or access the campaign editor to manage your active tasks in the Calendar mode.
4. Campaign Tracking
Semrush allows you to track the work progress and communicate with other team members.
You can see the status of all tasks such as In progress, Requires approval, or Done, and review each task in detail.
Moreover, individuals can see all tasks allotted to them, respective due dates, and task completion status under the My Tasks tab.
5. Calendar Management
Semrush Marketing Calendar is a complete campaign management suite. Unlike ordinary calendar tools, it helps you plan, organize, execute, and track the entire content marketing campaign.
Task notifications, user management, and campaign reporting are a few more features that make the Semrush editorial calendar a must-have tool.
Please note that the Semrush Marketing Calendar isn't available for Free or Pro plan users. You need to purchase a Semrush Guru or Business plan to access this feature.
Develop SEO Content Templates
You have topic ideas, a list of target keywords, and an editorial plan.
The next step of the content marketing process is to develop a content structure.
Usually, most content writers follow the traditional content writing procedure, i.e., putting keywords in the first line, in the body, headings, conclusion, and so on.
While this method can get some success, it may not work for some people.
Luckily, the Semrush SEO Content Template module solves the problem of creating a customized content structure according to your target keyword.
Here is how it works.
You select the SEO Content Template under the Semrush Content Marketing Toolkit.
You enter the target keywords, preferred country database, and hit the Create SEO Template button.
Semrush analyzes the content on the top-10 ranking pages in the Google SERP for that particular keyword and location.
Based on the analysis of your top 10 rivals in Google, Semrush offers SEO recommendations for your content.
For example,
I want to create a blog post on the best social media marketing tools targeting the US audience.
As I enter my keyword and target location and press the Create SEO Template button, Semrush will analyze the top 10 Google results for the input data and show valuable insights required to create SEO-friendly content.
Semrush displays the following details in its SEO content templates:
1. List of top 10 rivals based on the target keyword and location
You can see the top 10 pages ranking for the particular keyword and location. Later you can analyze these pages using the Semrush SEO tools to gather more marketing intelligence.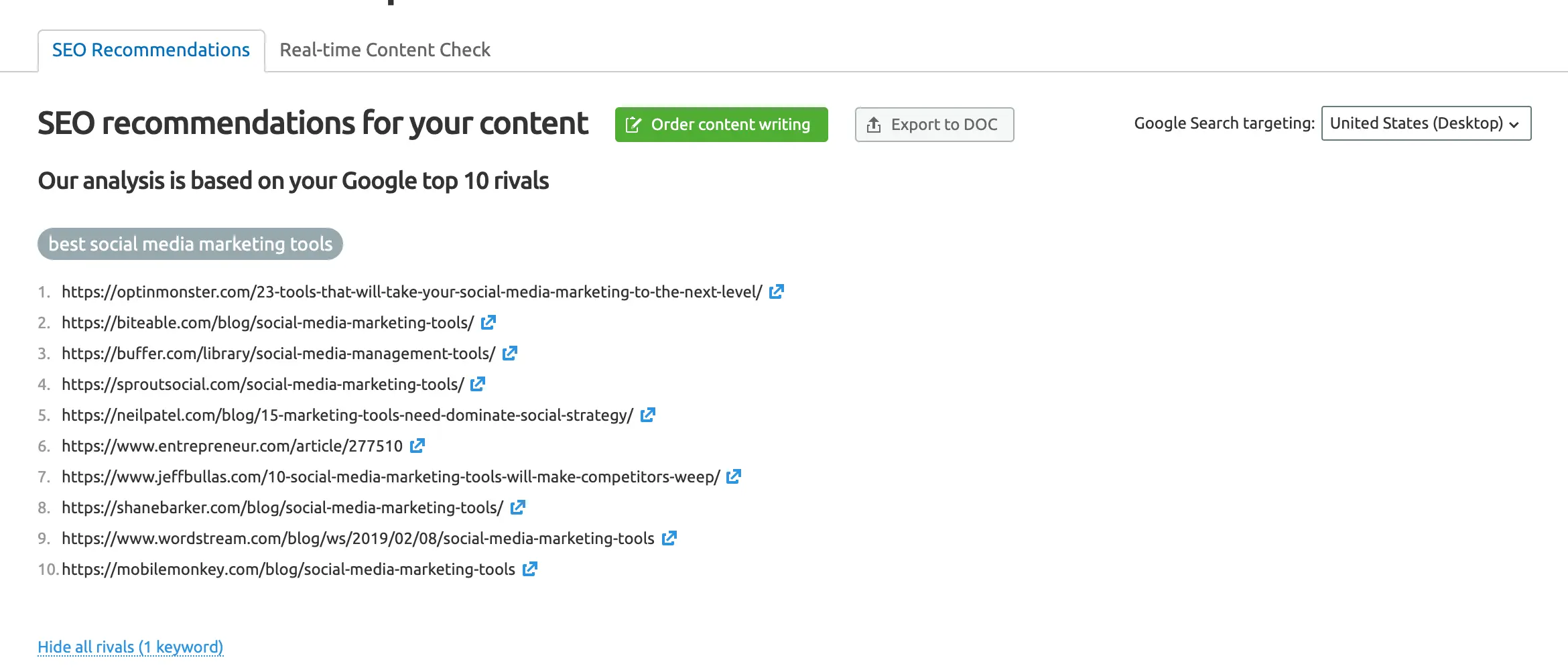 2. Semantically related keywords
These words help search engines to understand the context of an article. Since a few of your top competitors might be missing these words in their content, you get an opportunity to rank on the first page of google by including these semantically related words in your content.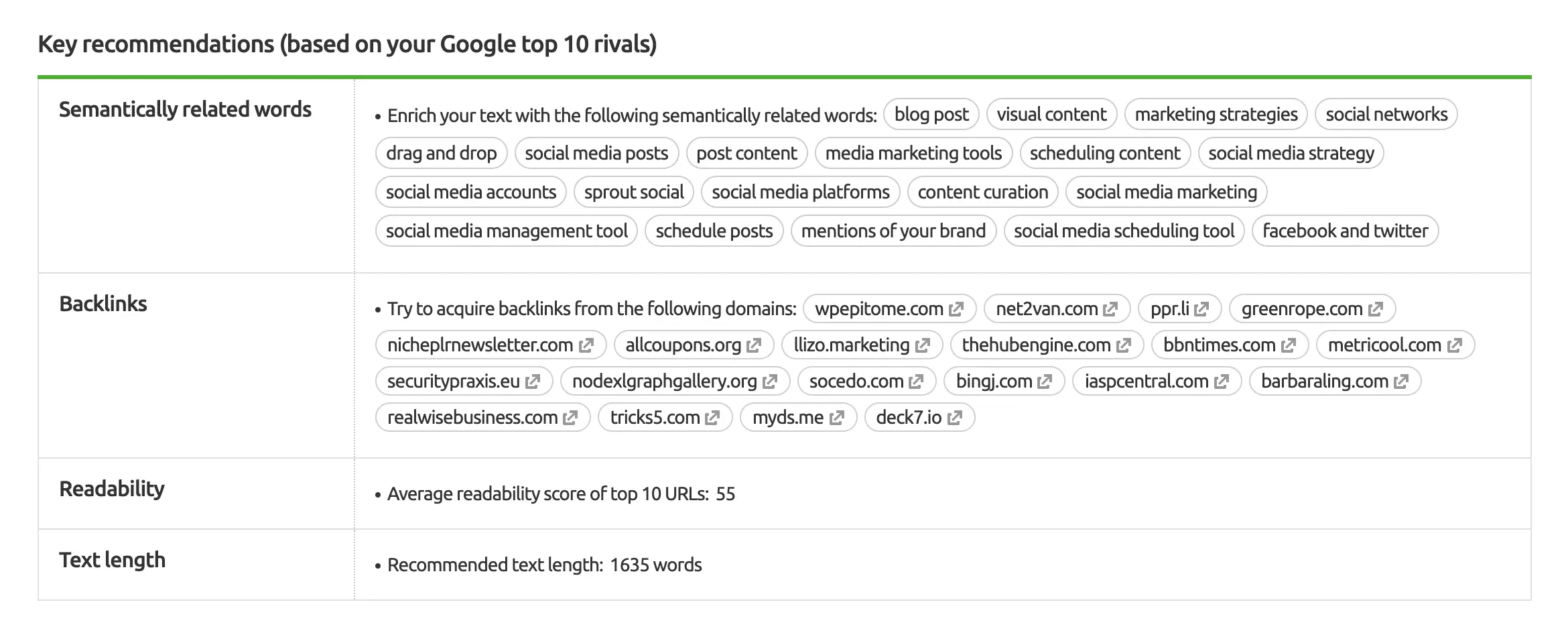 3. Backlinks recommendations based on top 10 competitors' analysis
Even in 2022, backlinks play a major role in organic ranking. That's why Semrush displays the relevant backlink recommendations to improve your SEO effort.
4. Average readability score to achieve
A higher reliability score ensures your content is easily understandable for most visitors. It may differ according to the niche, but try to manage the readability score above your top 10 rivals' average.
5. Text length recommendation
You'll find several theories describing the correlation between text length and ranking.
However, you can't implement the same rule for your articles by following the research based on the limited data.
Instead, I'd follow the Semrush text length recommendation or write a comprehensive article by understanding the intent behind a particular keyword.
6. Keyword proximity and density
Semrush displays the snippets of top-ranking pages mentioning the keyword placements.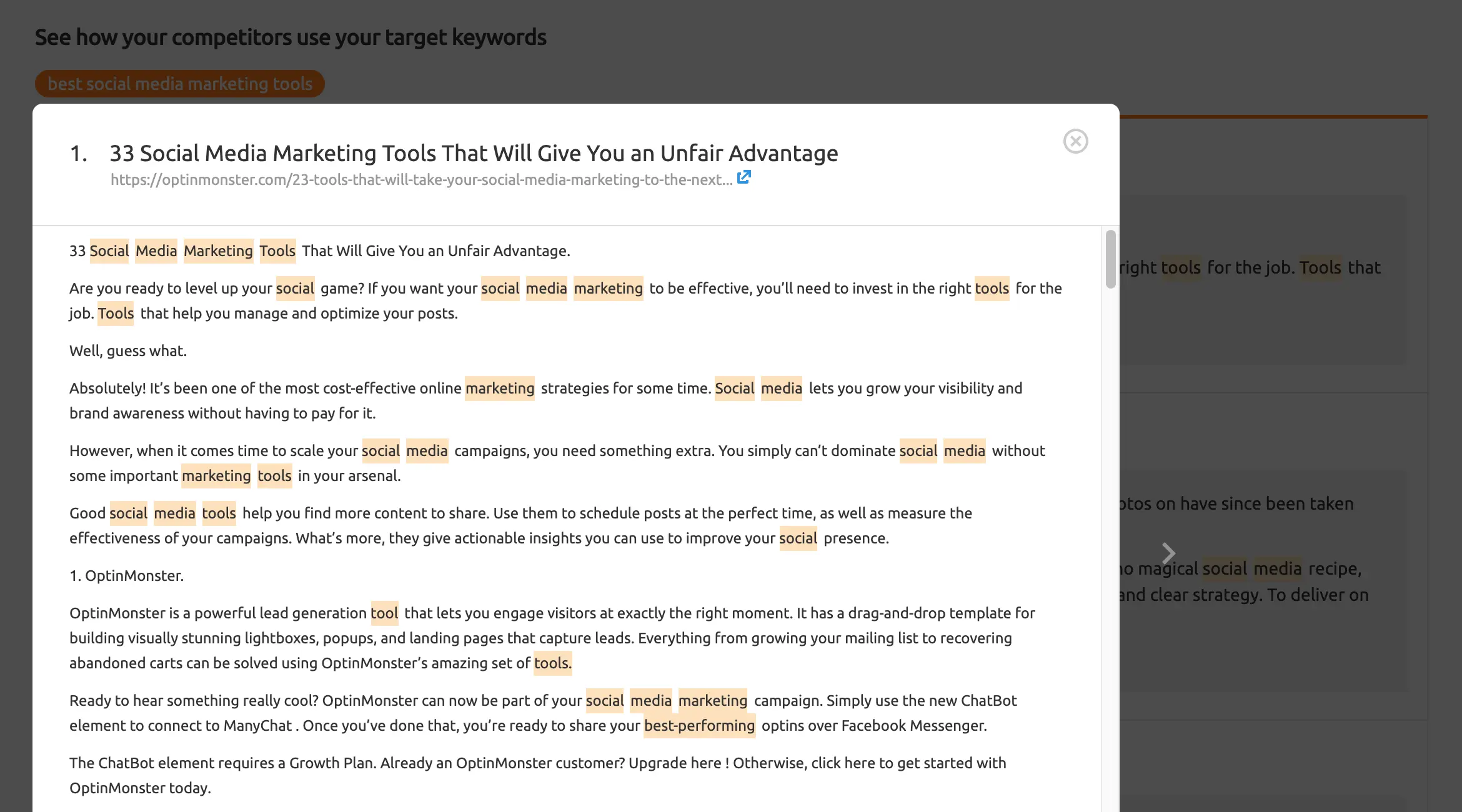 It'll help understand ideal keyword proximity and density before creating content.
7. Basic SEO recommendations
Finally, you'll see a few basic SEO recommendations for the page title, meta description, H1, and body text.

E.g., the inclusion of keywords in the most prominent places such as title, description, H1 tag, and body, the ideal length for the page title, and meta description
This way, gathering competitive intelligence even before starting the content creation process offers you an edge over your rivals.
Optimizing Content Using the Semrush SEO Writing Assistant
The Semrush SEO Writing Assistant (SWA) offers actionable content recommendations to ensure better search rankings without spoiling the user experience.
While SWA isn't a substitute for an SEO copywriter, it greatly improves your content in terms of readability, SEO, originality, and tone of voice.
While the SEO content template offers the winning content recommendations, SEO Writing Assistant helps in content optimization.
When you create an SEO content template, Semrush analyzes Google's top-10 results for the target keyword(s) and location and offers data-driven SEO recommendations.
Semrush SWA combines competitive intelligence from an SEO content template with other SEO copywriting aspects to offer content optimization ideas for maximum search visibility.
You can launch the Semrush SWA by clicking on the Real-time Content Check tab or SEO Writing Assistant menu.
Alternatively, you can get the SWA Google Docs add-on or WordPress plugin for absolutely free.
It doesn't matter which version of SEO Writing Assistant you're using; the content optimization process remains the same.
Now, add your content in the editor and start optimizing it for the four predefined parameters: readability, SEO, originality, and tone of voice.
You may edit or review the target keywords, location, language, device before starting the optimization process.
Please note that Semrush displays an overall score (out of 10) by combining the performance score of all four parameters.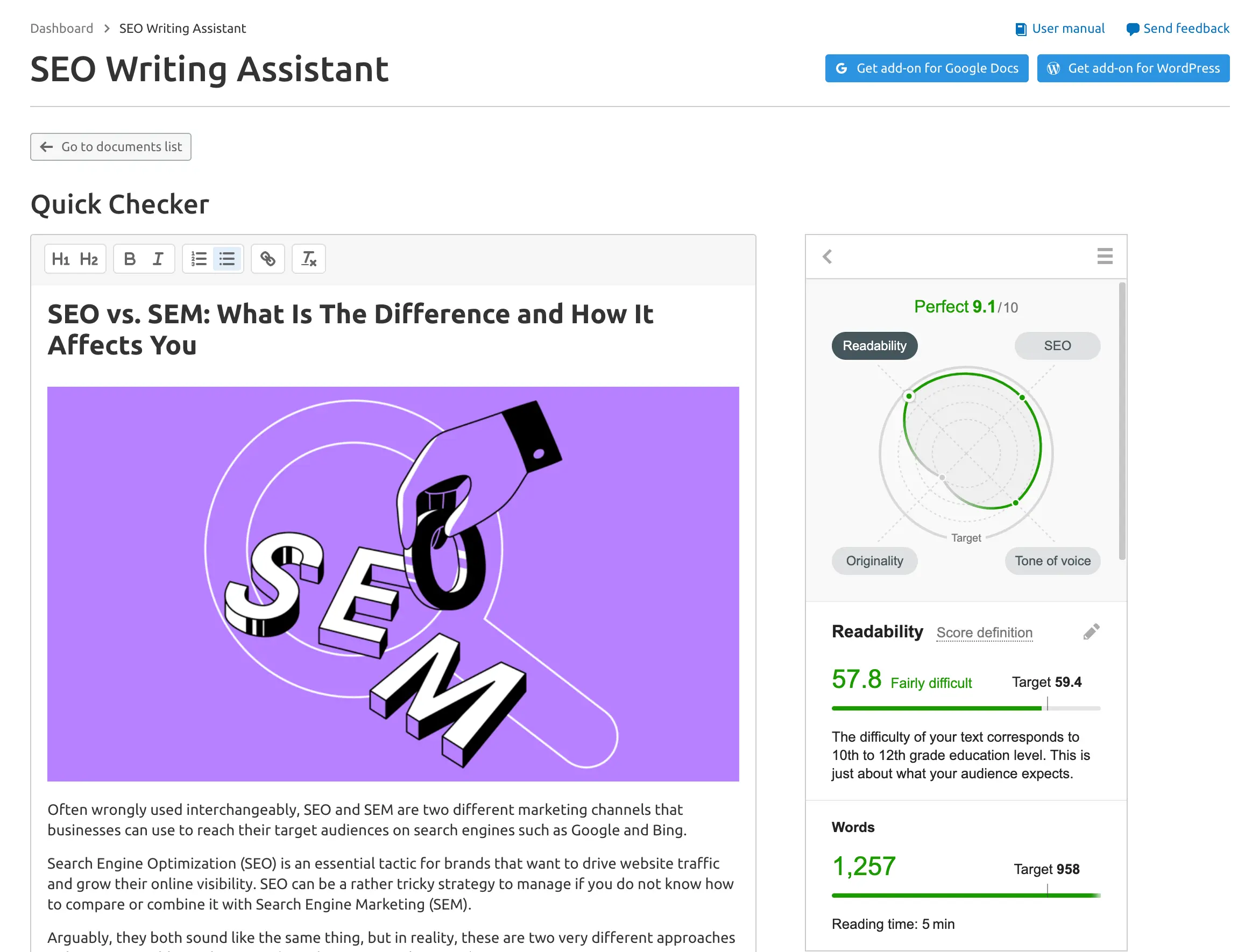 Since the most optimized content tends to achieve a better score, you might be interested in knowing the exact process.
Let's discuss how to optimize your content for each SWA parameter.
➤ Readability
Content readability, word count, title issues, and content issues contribute to the overall readability score.
Please ensure your content follows the average text length with optimum readability. Semrush may recommend you to rewrite hard-to-read sentences and replace complex words with simpler ones.
Content with properly-sized paragraphs and a well-optimized title significantly improves the readability score.
➤ SEO
Semrush SEO Writing Assistant analyzes your content and offers quick SEO recommendations.
It suggests semantically related words to include in your article. Plus, you can identify and fix other SEO issues such as missing alt attributes, weak link profiles, and broken links.
➤ Originality
Semrush plagiarism checks help you understand the total percentage of duplicate content and trace the content sources.
Depending on your objective, you can remove the copied content or cite back the original creation.
Unfortunately, Semrush offers a limited number of plagiarism checks. So you need to combine SWA with third-party tools like Grammarly or Copyscape to verify the content originality for the larger projects.
➤ Tone of Voice
Every brand maintains a consistent tone of voice to ensure effective marketing communication.
The tone of voice can be very formal, somewhat formal, neutral, somewhat casual, and very casual. It depends on the choice of words, their order, pace, and rhythm.
If you're creating content for yourself or a client, try to follow the brand's tone of voice whenever possible.
Practicing content creation with an SEO Writing Assistant will eventually lead you towards achieving a perfect SEO score for your content.
I have already written a step-by-step guide to analyze and improve the content using the Semrush SEO Writing Assistant.
Click here to read that article.
Brand Monitoring to Track Mentions
Semrush Brand Monitoring tool tracks web mentions for the predefined keywords such as your brand name, competitive brands, or specific topics, and notifies you whenever it finds new mentions.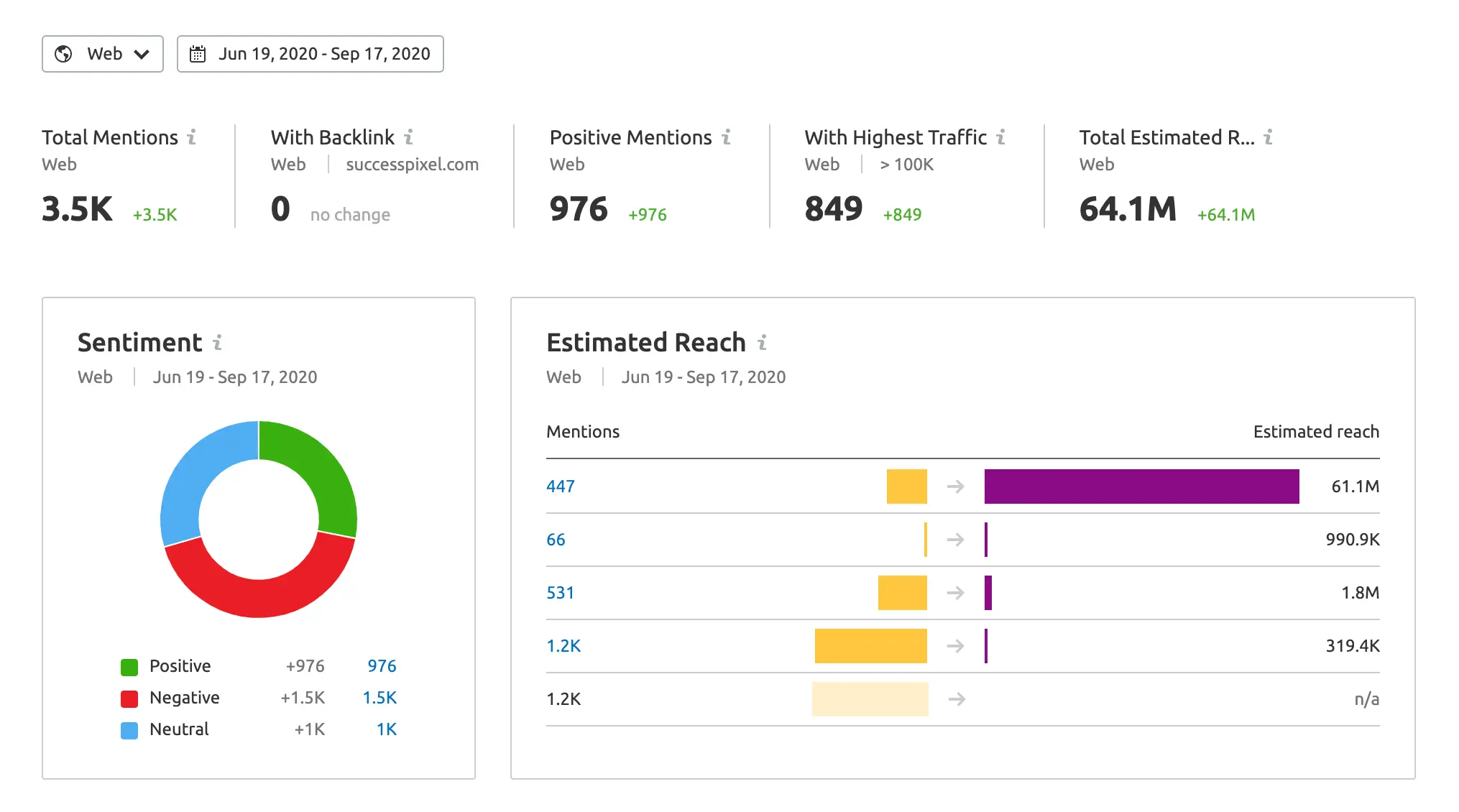 You can also get additional data about these mentions, including estimated reach, sentiment, authority score (AS), and domain traffic.
By analyzing the mentions, you can find backlink opportunities and evaluate PR strategy.
Here are seven benefits of using the Semrush Brand Monitoring Tool.
Semrush tracks and notifies you about the online mentions of your name, website, app, product, or brand. It'll help you quickly engage with the respective person.
Semrush Brand Monitoring tool displays the sentiment of the web mentions based on text analysis. Studying the sentiment will significantly help you in ORM activities.
You can find the unlinked mentions and send them to the Semrush link-building tool. With proper email outreach and follow-up sequences, you can convert those mentions into backlinks.
You can track brand mentions on forums and social media, and answer relevant questions or help users with proper solutions. It creates a positive brand impression in the users' minds.
Semrush allows track mentions for your competitive brands. It'll help you identify their marketing social media strategy. Plus, you can push your products where your competitor has weak products. E.g., Suppose a Twitter mention finds that a few users are complaining about your competitor's customer service. In that case, you can offer them your products by ensuring a better customer experience.
You can evaluate the virality score of the PR campaigns.
If you know niche influencers, especially those who speak about your brand or products, you can create a brand monitoring campaign to assist them whenever they need your help.
Semrush Brand Monitoring tool has massive potential if you know how to use it.
Improve Your Content Performance Using the Semrush Content Audit Tool
Content Audit is a part of the Semrush Content Analyzer module that allows you to audit the website content and identify the pages that need immediate attention.
You can configure the Content Audit tool by selecting one or more subfolders in your sitemap.
If Semrush can't find the sitemap from your domain URL or robots.txt file, it'll ask you to add a sitemap link or upload a sitemap to the Content Audit tool directly (only .txt, .csv, or .xml file less than 100 MB).
In case the sitemap is inaccessible for some reason, you can submit the remaining URLs manually.
Currently, the Semrush Content Audit tool has the following limits for each plan:
Free: up to 50 pages per content audit
Pro: up to 50 pages per content Audit
Guru: up to 20,000 pages per content Audit
Business: up to 20,000 pages per content Audit
You need to connect the Google Analytics (GA) and Google Search Console (GSC) to get insights about organic performance and user engagement on your content.
After you connect GA and GSC with Semrush and run a content audit, it'll analyze your content and group into four categories, a.k.a. content sets, as mentioned below.
➤ Rewrite or remove:
Pages older than 24 months that received less than 15 pageviews in the last 30 days are stored under this content set.
If the page topic is still relevant, you may rewrite the content. Otherwise, it's better to remove that specific page.
➤ Need to update
Pages older than 24 months but received more than 15 pageviews in the last 30 days are stored under this set.
Since these pages drive traffic, you may consider improving their content to generate more traffic and social shares.
➤ Quick review
Pages published in the last six months that received more than 150 pageviews are available for quick review.
You may add more useful content on these pages or leave them unedited till you see a significant drop in traffic or user engagement.
➤ Poor content
Pages with less than 200 words are often marked as thin content and stored under this category.
Depending on the purpose of these pages, you can remove or update them.
Semrush also allows you to create your own content set with custom data fields.
It helps you quickly understand the performance of your content marketing campaign.
By switching to Table Mode, you'll get a list of all pages and detailed information about the traffic, social shares, and optimization status.
You can apply some filters to distinguish the top-performing vs. low-performing content. It'll help you determine further strategy and put the effort in the right direction.
Finally, you can analyze and improve individual pages to make them more attractive and useful to your readers.
The Semrush collaboration feature simplifies the content rewriting process. You can invite members, add notes, create tasks, and send specific tasks to Trello or Google Calendar.
You may also order an article rewriting gig from the Semrush marketplace to speed up the content optimization process.
Measure the Impact of Content Marketing Campaign in Post Tracking
Post Tracking is the second-half part of the Content Analyzer module. It enables content marketers to measure the impact of their external content effort.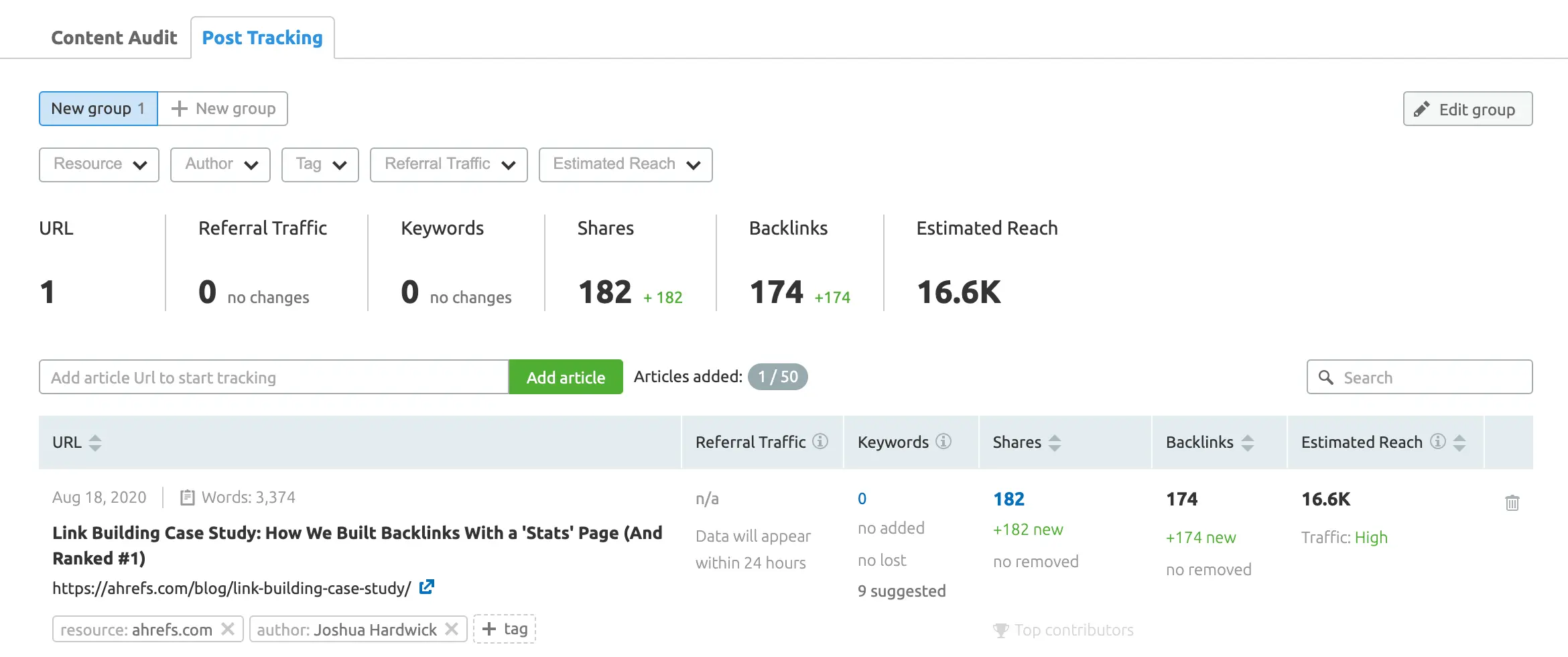 When you open the tool, it'll ask you to add an article URL to start tracking.
You can analyze up to 50 URLs per project.
Post Tracking displays the following metrics:
➤ URL: All URLs you're currently tracking along with the title, word count, publication date, and link to the source page.
➤ Referral traffic: The number of referral visits to the particular article since its publication date except for organic search traffic. Semrush collects this data when you connect your GA account to the tool.
➤ Keywords: The number of target keywords that your post is ranking for in the top 100. Currently, Semrush allows keyword rank tracking for up to 5 target keywords and 7 locations for each post. You can edit this keyword list at any time, but the previously gathered data will be lost.
➤ Shares: This section displays the total number of social shares. You can also see the top contributors, Facebook vs. Twitter shares, referral traffic, visibility trend, Share growth, and daily changes.
Usually, social share data under this section isn't accurate.
➤ Backlinks: A total number of external pages linking to your article.
➤ Estimated Reach: Semrush combines the domain's traffic value and big-data analysis to predict the particular posts' estimated reach.
While some people may complain about the tool's data accuracy, I advise you to consider it a reference point.
Although the Semrush Post Tracking tool is great for measuring external content efforts' success, I seriously think it needs a complete overhaul.
Amplify Your Content Marketing Effort Using Semrush Marketing Toolkit
Content marketing isn't limited to creating useful articles and optimizing them for search engines.
Content distribution and performance analysis are crucial parts of effective content marketing.
Luckily, Semrush offers a bunch of tools for social media marketing, link outreach, and PPC advertising.
You can use the Semrush competitive intelligence toolkit to measure the performance of your campaign.
The tools mentioned above aren't included in the Semrush Content Marketing toolkit directly.
However, they can assist you in improving your content distribution and analytics process.
For example,
Semrush Social Media Poster is a powerful tool to automate social media posting.
Currently, it supports six popular social media networks and Google My Business.
You can also get extra perks like RSS feed to social media posting, UTM tracking, link shortening, post scheduling, and detailed analytics.
One more thing,
Suppose you're managing content marketing campaigns for clients.
In that case, the Semrush Report Builder is a great tool to create and share customized reports mentioning the critical data points and overall campaign progress.
Semrush Content Marketing Toolkit Pros
You'll agree that the Semrush Content Marketing Toolkit is one of the best content marketing platforms available.
Here are some pros of the Semrush content marketing platform you would want to know.
The Topic Research module helps you find numerous content ideas for any keyword and location, including trending subtopics.
Semrush Marketing Calendar allows you to plan, schedule, and track editorial activities from a single dashboard.
The SEO Content Template offers data-driven SEO recommendations to develop a winning content structure.
SEO Writing Assistant (SWA) helps you create and optimize your marketing content by focusing on the four most critical aspects of copywriting, i.e., Readability, SEO, Originality, and Tone of voice.
The Brand Monitoring module helps you analyze the mentions for you and your competitors to find backlink opportunities and carry out ORM activities.
The Content Audit tool analyzes the low-performing content so that you can optimize it to drive more organic traffic and social engagement.
The Post Tracking feature enables you to track referral traffic, backlinks, and search engine rankings by the target keywords, social shares, and estimated content reach.
The Semrush content marketing platform's user management feature allows you to invite unlimited team members, assign various tasks to them, and track work-progress on an individual and a team level.
Third-party integrations extend the possibilities of using Semrush content marketing tools beyond the platform.
Data exports and reporting tools allow more efficient cross-platform collaborations and client management.
Semrush Content Marketing Toolkit Cons
I believe that Semrush has developed one of the robust content marketing platforms. Still, it's not a perfect option for everyone.
Here are a few things (or you can say cons) that Semrush needs to improve.
The Semrush Topic Research misses the direct integration for popular platforms such as Google Trends, Twitter Trends, and Top Stories.
It's difficult to spy the competitors' content publishing and republishing frequency using only the Semrush content marketing platform.
Semrush Topic Research module shows limited data to find low-hanging content opportunities by competitors' analysis.
You can't perform an in-depth analysis of individual pages displayed on the SEO content template.
Limited plagiarism checks irrespective of subscriptions.
The free and Pro plan user can access only limited features. The full access to the Semrush Content Marketing Toolkit is available to Guru and Business plan users.
Semrush Content Marketing Toolkit Reviews: What People Say About the Platform
To avoid affiliate bias, I have shared reviews from independent Semrush users and influencers.
Let's see what these people say about the Semrush content platform.
➤ Influencers


➤ Independent Review Sites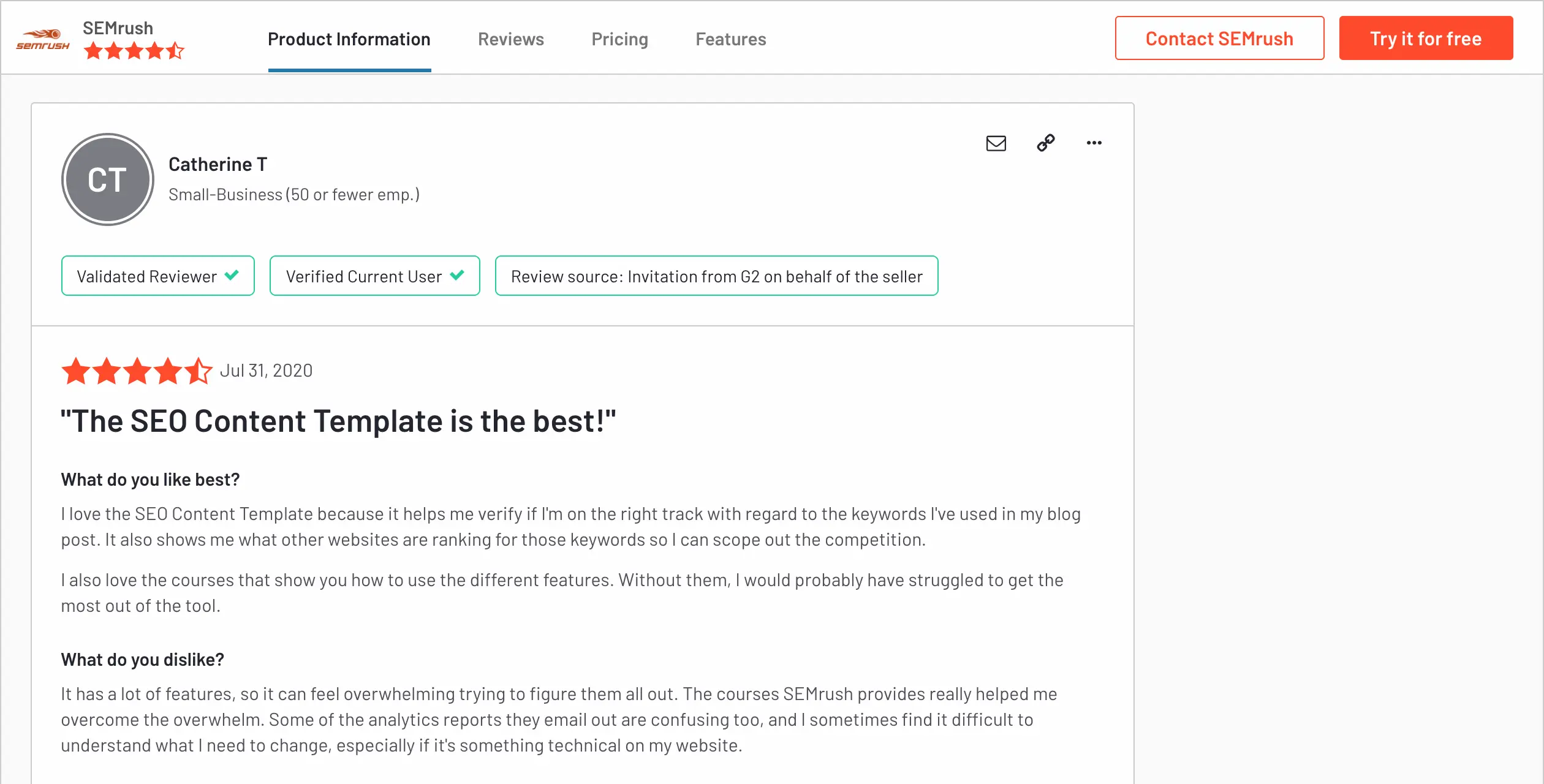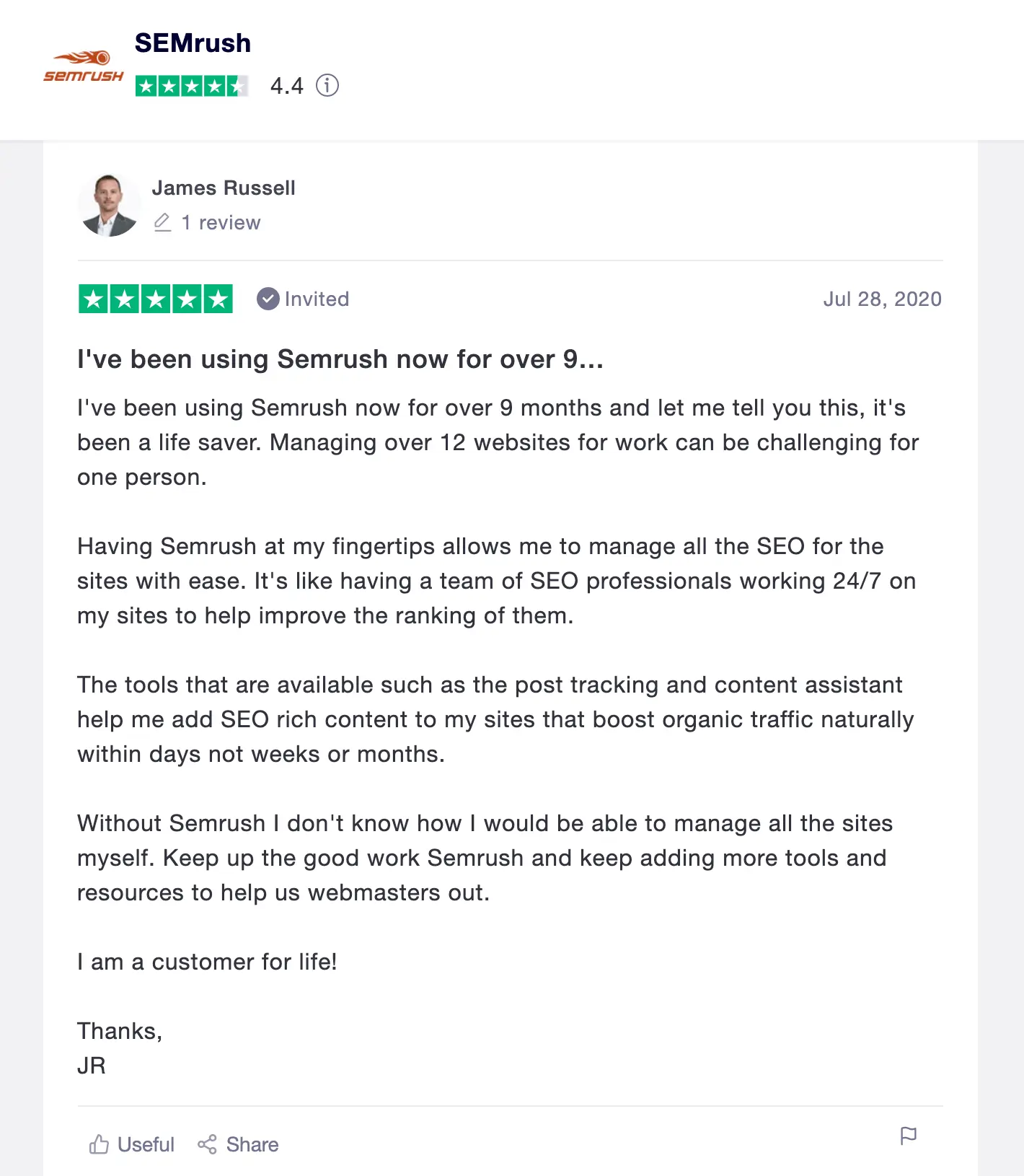 Although you saw some positive reviews, Semrush can't satisfy every user's requirements.
Nothing wrong with that. Semrush gets negative reviews too.
Most people share constructive feedback, but a few of them may criticize the product for its negative points.
However, the support team replies every comment/review professionally and assures a quick resolution of the issue.
I think this is an excellent approach to managing negative sentiment about the brand and improve the overall customer experience.
Here is an example from Trustpilot.com.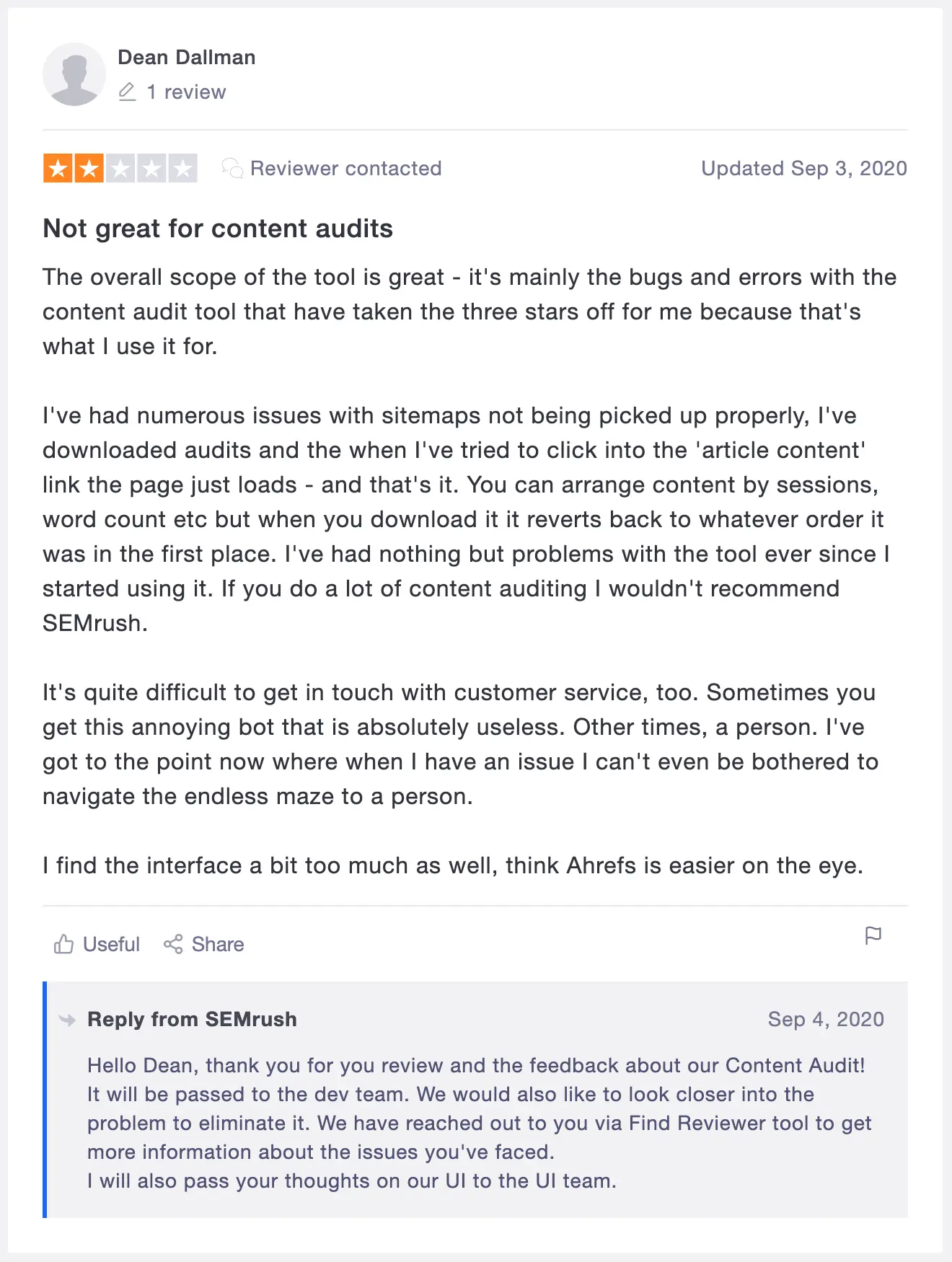 Pricing: Which Semrush Plan You Should Purchase?
Semrush is the best all-in-one marketing suite with 40+ tools in its arsenal.
Still, it's one of the most affordable services considering its features and performance.
Currently, Semrush offers three subscription plans for different groups of users.
| | | | |
| --- | --- | --- | --- |
| Semrush Plan | Pro | Guru | Business |
| Monthly Price | $119.95 | $229.95 | $449.95 |
| Yearly Price (16% Discount) | $99.95 | $191.62 | $374.95 |
| Suitable For | Bloggers, Freelancers, Startups, and Digital Marketing Individuals | Content Marketers, SMBs, and Growing Marketing Agencies | Established Agencies, E-commerce Stores, Large Business with an Extensive Market Share |
| Link | 14-Day Free Trial | 7-Day Free Trial | Subscribe |
Please note that you must subscribe to either Guru or Business plan to get complete access to the Semrush content marketing platform.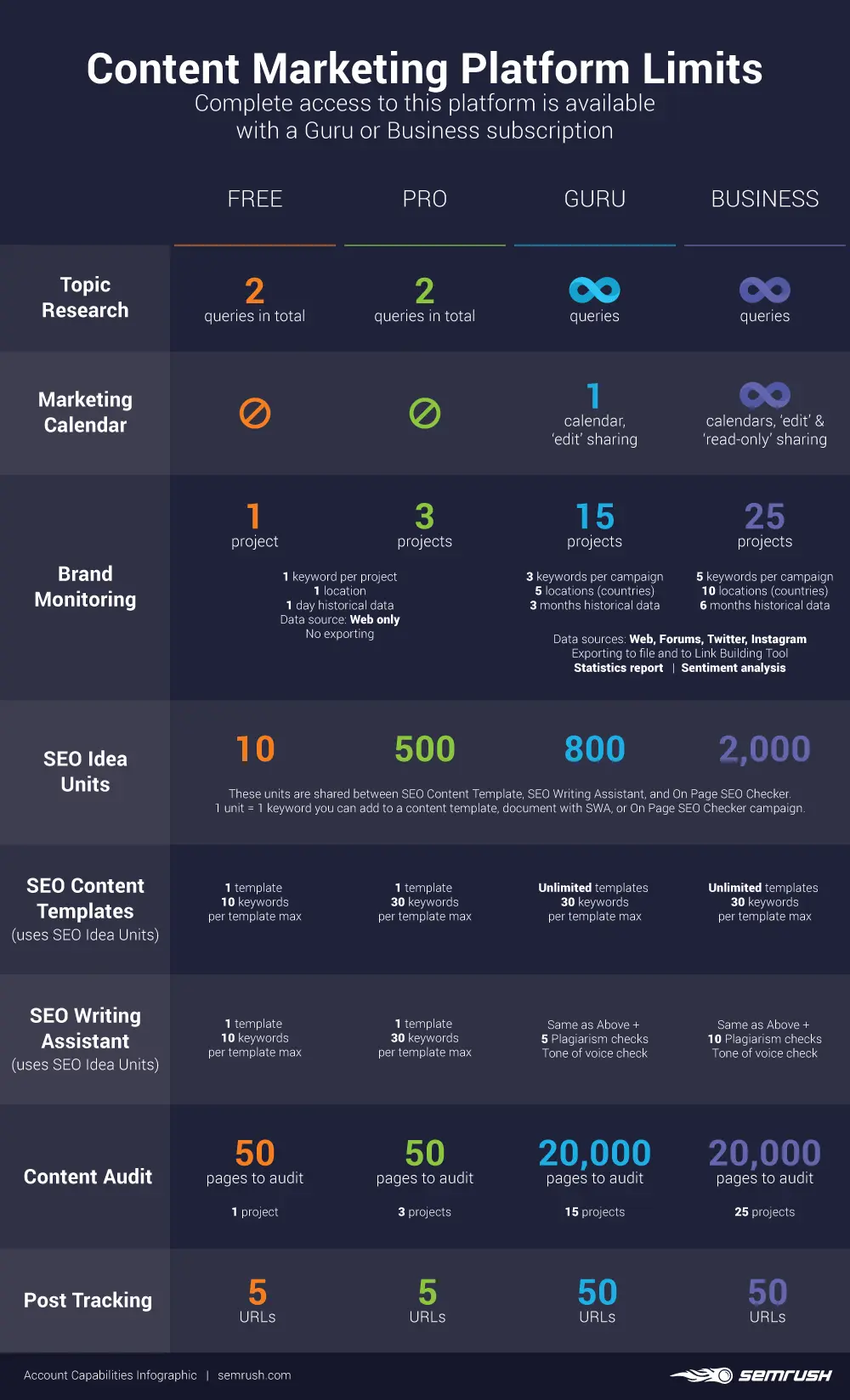 As you can see the above infographic, the Semrush Guru plan offers the following benefits:
Full access to the Semrush content marketing platform
Unlimited topics research
Up to 800 SEO content templates
Up to 20,000 pages to audit in the Content Audit tool
Up to 5 countries to track per project in the Brand Monitoring module
Up to 50 post tracking units
You can create only one marketing calendar
Up to 5 plagiarism checks per month via Semrush SWA
The Semrush Business plan offers extended limits in the Semrush Content Marketing Toolkit, including:
Full access to the Semrush content marketing platform
Unlimited topics research
Up to 2000 SEO content templates
Up to 20,000 pages to audit in the Content Audit tool
Up to 10 countries to track per project in Brand Monitoring tool
Up to 50 post tracking units
You can create unlimited marketing calendars
Up to 10 plagiarism checks per month via Semrush SWA
Content marketers, SEO agencies, and online businesses can leverage Semrush Content Marketing Toolkit to reach a broader market and generate more traffic.
Get Semrush Content Marketing Platform Free Trial
Do you want to try Semrush Content Marketing Toolkit risk-free?
Here is an exclusive deal you would not like to miss.
Follow the step-by-step guide below to get a 7-day free trial to the Semrush content platform.
Step 1: Click here to visit the Semrush content marketing platform's landing page. Please go through each feature and try to understand how you can use it effectively.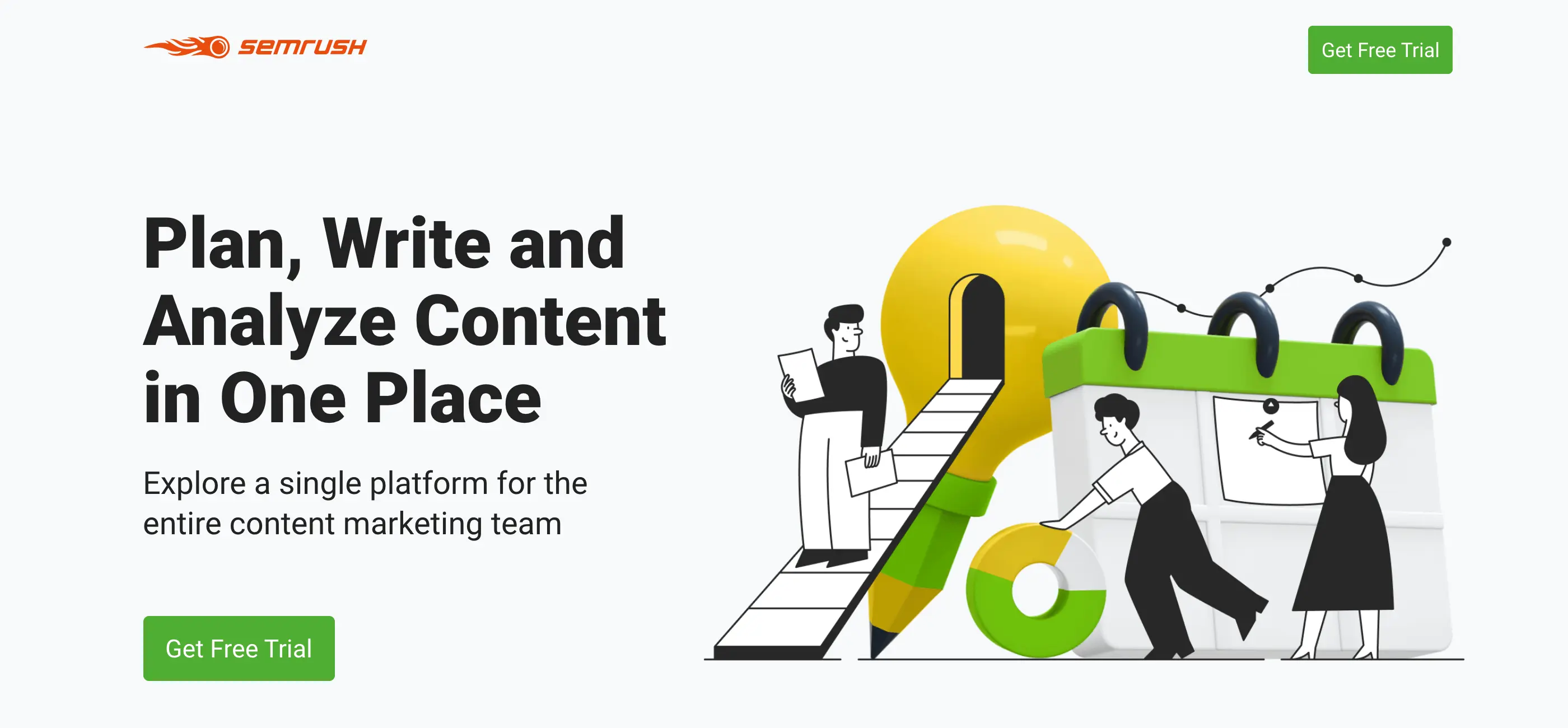 Step 2: Click on the Get Free Trial button. Semrush will ask you to create a new account.
Step 3: Register a new account by entering a valid email address and password. Or, you can click on the Continue with Google button for a quick sign-up.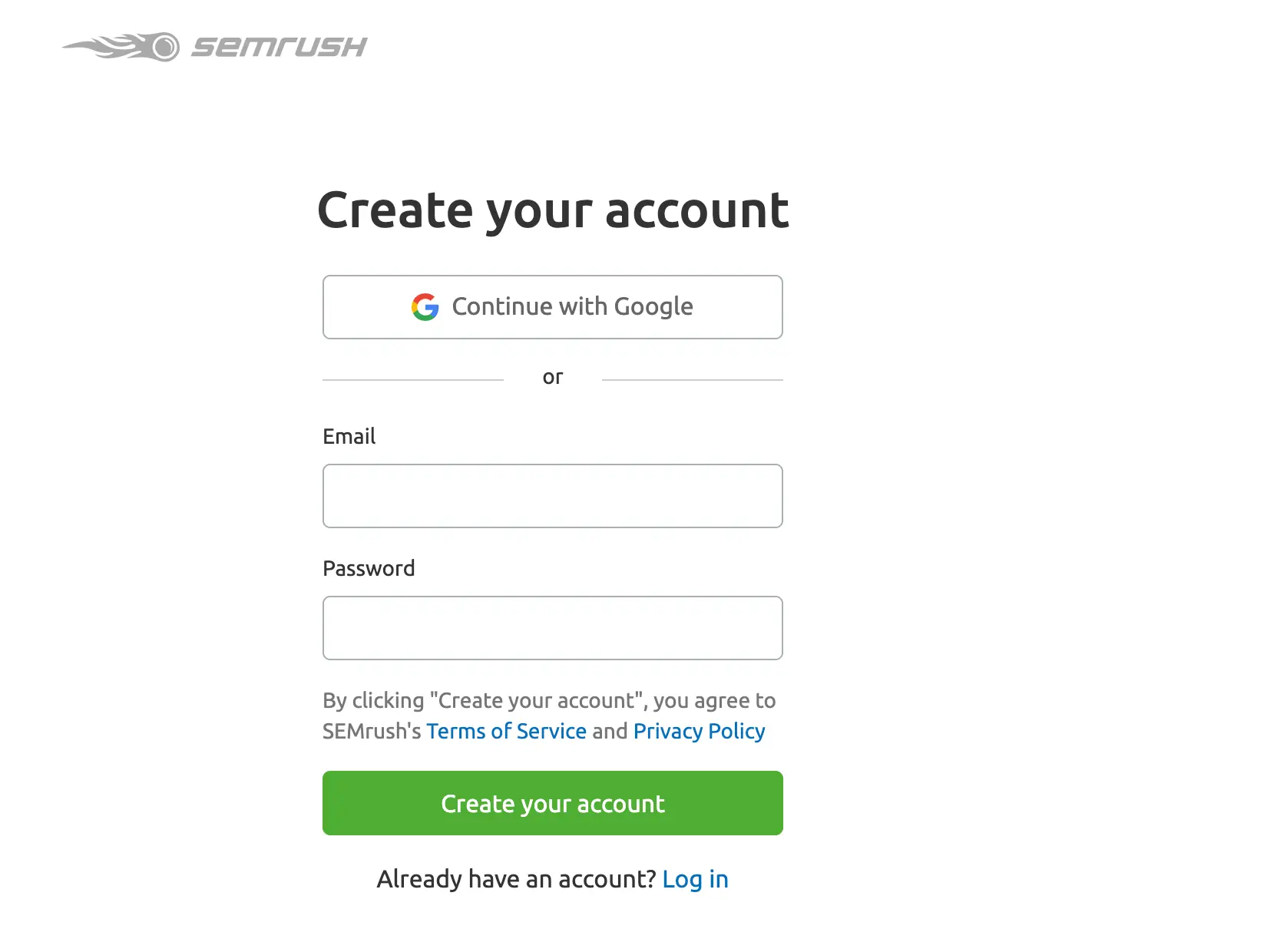 Step 4: Semrush Guru 7-day free trial window will popup. Please note that the Content Marketing Toolkit is available in the Guru and Business plans only.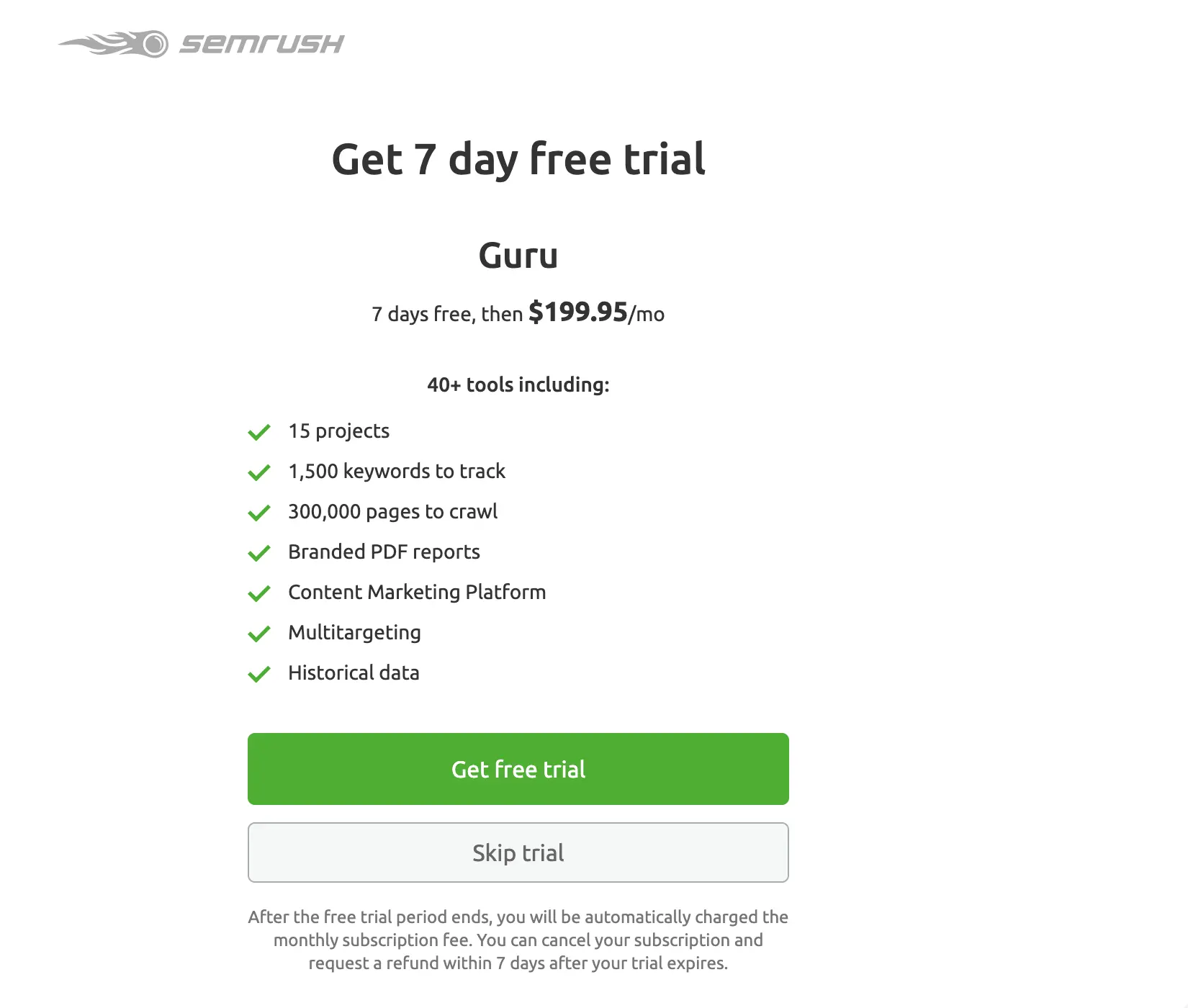 Step 5: Once you review the plan details and click on the Get free trial button, Semrush will ask you to enter the card details. Fill all fields properly and hit the Place the Order button.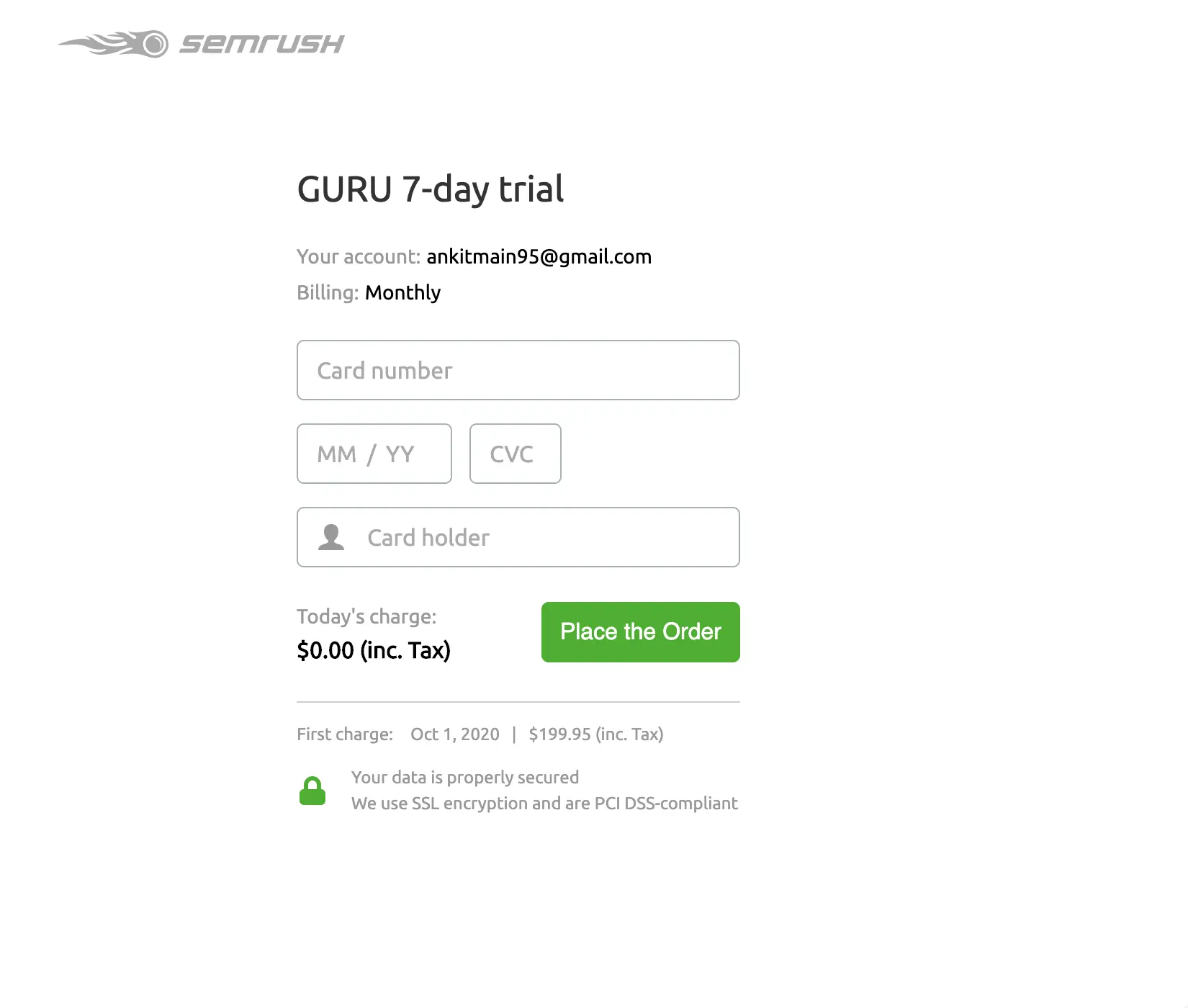 Congratulations! You have successfully claimed the 7-day free trial.
Now, you have unrestricted access to the Semrush marketing suite, including the content marketing platform, entirely free for the next seven days.
Semrush Content Marketing Toolkit Alternatives
Although the Semrush content marketing platform is my #1 recommendation, I have shared a few alternatives with similar functionalities.
As a content marketer, you'd like to explore more options.
1. Ahrefs Content Explorer
Semrush and Aherefs are the two most popular SEO toolkits in the community.
Surprisingly, they share many similarities, including keyword research, backlink analysis, site audit, and content marketing platform.
I have already compared Ahrefs vs. Semrush in one of my previous articles. Here I'll focus on content marketing features only.
Let's get started.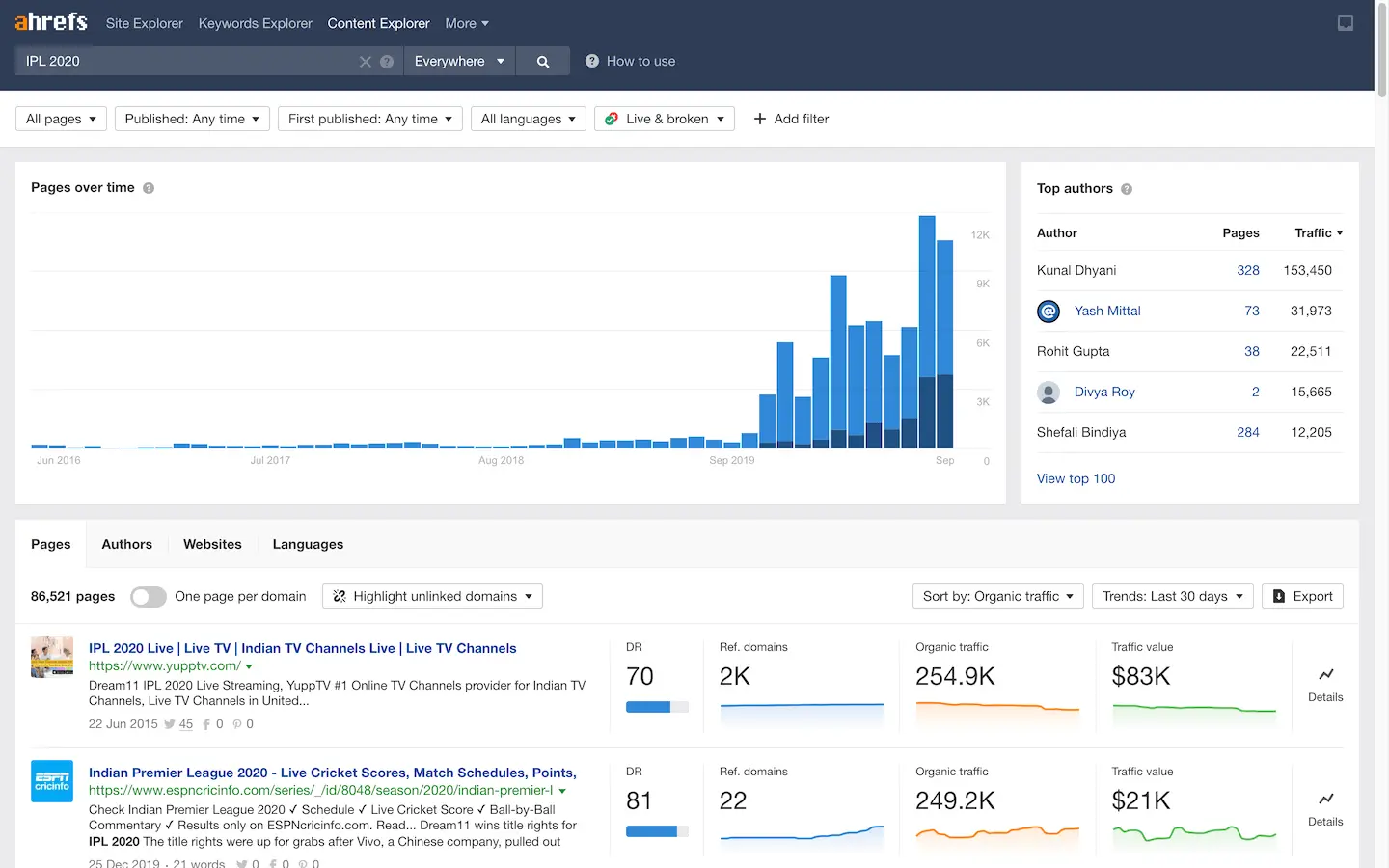 ➤ Content Discovery
Ahrefs Content Explorer tool helps you discover the popular pages, authors, and websites for your search query. You'll also find the relevant SEO metrics for each result.
➤ In-depth Analysis of Top Performing Pages
Ahrefs enables access to historic data for content performance up to the last three years. The data includes referring domains, links, organic keywords, organic traffic, social shares, and traffic value.
➤ Exploring Link Building Opportunities
Ahrefs Content Explorer is a great tool for finding link-building opportunities, especially using the broken link building and unlinked mention claiming methods.
➤ Content Trends Analysis
Ahrefs lets you analyze the content trends for the last three months, six months, and three years. Understanding the trends gives the idea about future content marketing campaigns.
➤ Spying Competitor's Content Strategy
Ahrefs users can spy competitors to see what type of content they publish, their publishing/republishing frequency, and its correlation with organic traffic.
Sometimes, you may find low-hanging content opportunities with massive organic traffic.
➤ Brand Monitoring
Like Semrush, Ahrefs has a robust brand monitoring tool. It'll help you analyze the web mentions, manage ORM activities, and build backlinks to unlinked mentions.
➤ Ahrefs Content Explorer Pricing
Unlike Semrush Content Marketing Toolkit, Ahrefs Content Explorer is available for all premium members.
Pick one of the plans suitable for your marketing needs to get started with the Ahrefs content platform.
Ahrefs Plan
Lite
Standard
Advanced
Agency
Monthly Price
$99
$179
$399
$999
Yearly Price
(2 Months Free)
$82
$149
$332
$832
Suitable For
Bloggers, Freelancers, and Digital Marketing Individuals
Content Marketers, Startups, and SMBs
Small E-commerce Stores and SEO Agencies (~10 Clients)
E-commerce Marketplaces, Large SEO Agencies, and Established Businesses
You can get Ahrefs 7-day trial for $7 to see whether it works for you or not.
Recently, Ahrefs launched its free plan, but the content explorer module isn't included in the plan.
2. ContentStudio.io
ContentStudio.io is a powerful content marketing tool with over 60K happy customers, including me.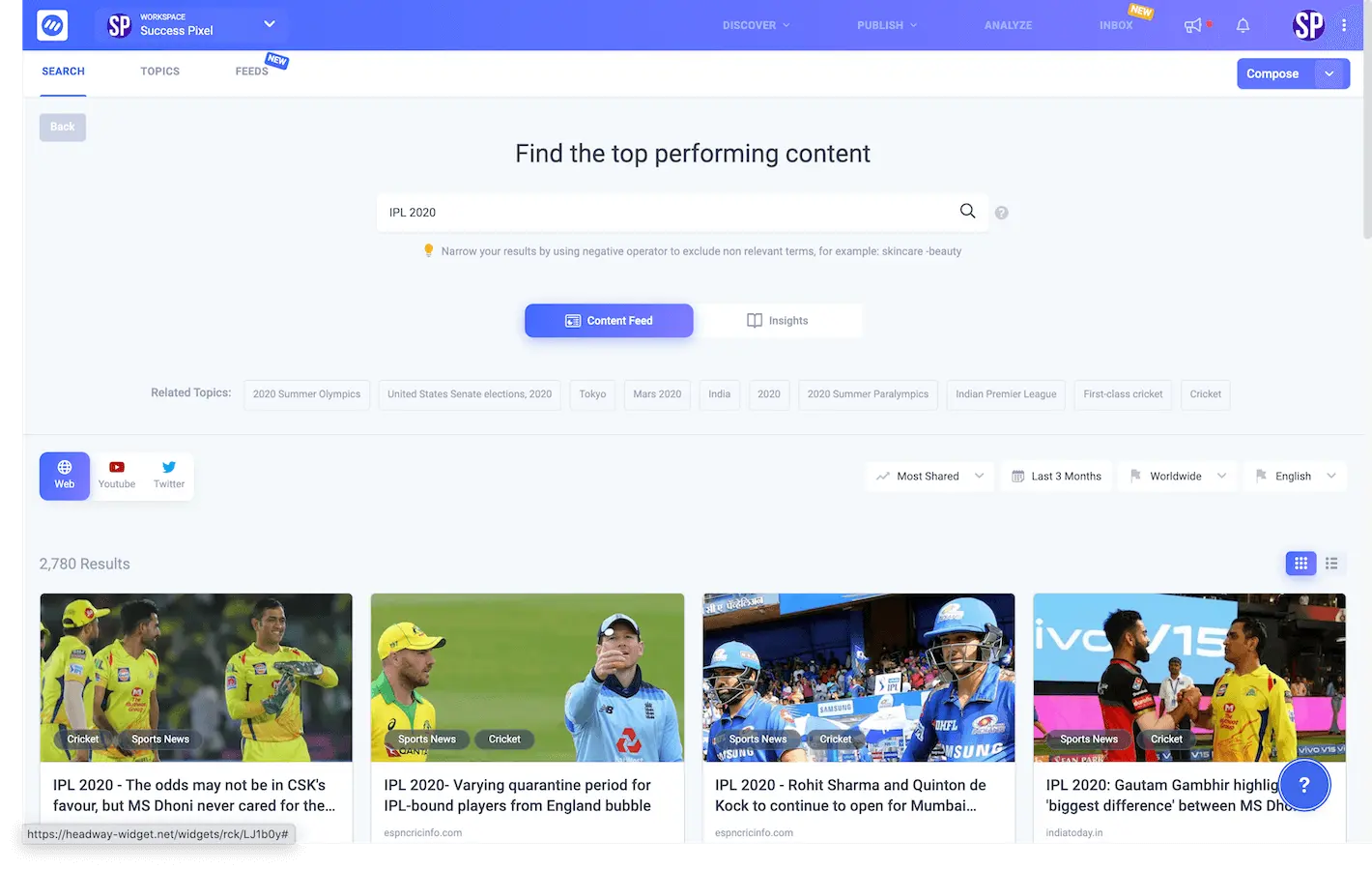 You can find the top-performing content for any niche, create an editorial plan with a built-in calendar, schedule content on multiple channels from a single dashboard, and track KPIs to measure your marketing campaign's performance.
Here are a few awesome features of ContentStudio.io
➤ Content Discovery
AI-powered content discovery engine to find highly relevant and trending content ideas from predefined sources.
Alternatively, you can add custom sources to receive more content suggestions.
➤ Multi-channel Composer
ContentStudio enables you to create engaging content for a blog or social media with its built-in editor.
It also includes an intuitive image editor, SEO assistant, trending hashtag suggestions, UTM builder, and many more.
You can also collaborate with team members, manage approvals, and embed content from the external sources.
➤ Editorial Calendar
ContentStudio content calendar comes with many powerful features such as advanced filters, team collaboration, and a content planner.
It helps you streamline the content workflow and plan campaigns in a single place.
You may switch between an interactive calendar or a list view depending on your preferences.
➤ Automation
ContentStudio lets you run automation campaigns saving lots of time.
You can set advanced rules to find, plan, and post relevant content on preferred channels according to your needs and settings.
Article and video automation, RSS feed publishing, and bulk upload via CSV are a few more features worth mentioning here.
➤ Analytics and Reporting
ContentStudio displays meaningful insights to make informed business decisions. Omni-channel analytics, customizable reports, and auto-email reports make your life a lot easier than ever before.
➤ ContentStudio Pricing
Since the launch, ContentStudio has improved its platform. Still, it's the most affordable all-in-one content marketing platform.
Currently, ContentStudio.io offers four subscription plans, as mentioned below.
| | | | | |
| --- | --- | --- | --- | --- |
| ContentStudio Plan | Pro | Small | Medium | Large |
| Monthly Price | $49 | $99 | $199 | $299 |
| Yearly Price (2 Months Free) | $39 | $79 | $159 | $239 |
| Suitable For | Bloggers and Solo Marketers | Content Marketers and Small Businesses | Marketing Agencies and Medium-sized Businesses | Content Marketing Agencies and Large Businesses |
If you want to test the ContentStudio platform before purchasing a subscription, you can get a 14-day free trial. No credit card is required.
I've been using ContentStudio for almost 2.5 years.
It's an amazing tool that saves me almost 2-3 hours a day otherwise spent in topic research, content planning, and distribution.
BuzzSumo and Frase are a couple more tools for content marketing professionals.
Both these products serve as excellent Semrush content marketing platform alternatives.
Semrush Content Marketing Toolkit Use Case
You would be interested in knowing whether the Semrush content marketing platform works on not, as mentioned in many review articles.
Here is a small use case where the content marketing toolkit helped us quadruple the organic traffic in 3 months.
Important: The project duration was three months (17 June 2020 to 16 September 2020). So the domain URL isn't mentioned here.
However, I have shared a GSC screenshot and the exact strategy of this project.
If the client extends the project's duration, I'll update this use case with fresh data.
Now, let's get started.
The clients contacted me on 15 June 2020 for the basic website help. After an hour of communication, she requested me to assist her in the content marketing effort.
After analyzing the site and her marketing strategy, I decided to take on this project.
Here are some details about the site.
Site: Micro-niche affiliate site
Niche: Kitchen appliances (only a few products)
Monetization Method: Amazon affiliate program
Traffic: ~ 15 organic visits a day.
Goal: 3x organic traffic and improving user interactions.
Project Duration: 3 months
The goal of 3x traffic growth was achievable because of the low existing traffic.
➤ Process
First of all, I added this site as a project in my Semrush account and ran a site audit.
I found some errors. E.g., redirection errors, broken links, title tag errors, and slow site speed. Since those errors could negatively affect my effort, I fixed most of them immediately.
My client did keyword research previously, but she was targeting the exact words only.
I performed topic research for the target keywords and collected some content ideas with a significant volume but low to medium keyword difficulty.
Semrush Keyword Magic Tool helped me find keyword variations, including related keywords and questions.
Later, I created an SEO content template to know her rivals' content strategy.
I also did manual research for the top 100 organic results to understand the competition and ranking potential.
Currently, this feature isn't available in the Semrush Content Marketing Toolkit.
I created a content plan, i.e., writing new articles & rewriting/optimizing the existing articles with a proper timeline.
The client was writing/updating content herself.
So I advised her to combine Semrush SWA and Rank Math SEO plugin to create well-optimized content. Surprisingly, she did better than I expected.
Finding duplicate content was also a big challenge.
We used Grammarly to improve our copy and remove plagiarism because Semrush offers very limited plagiarism checks per month.
Finally, I interlinked the relevant articles and did basic optimizations.
After 15 days, we saw positive changes in organic traffic. We added a few more articles and updated the existing content to make it more useful.
Within the 90 days, we increased organic traffic by 4x and maintained it over the project lifetime.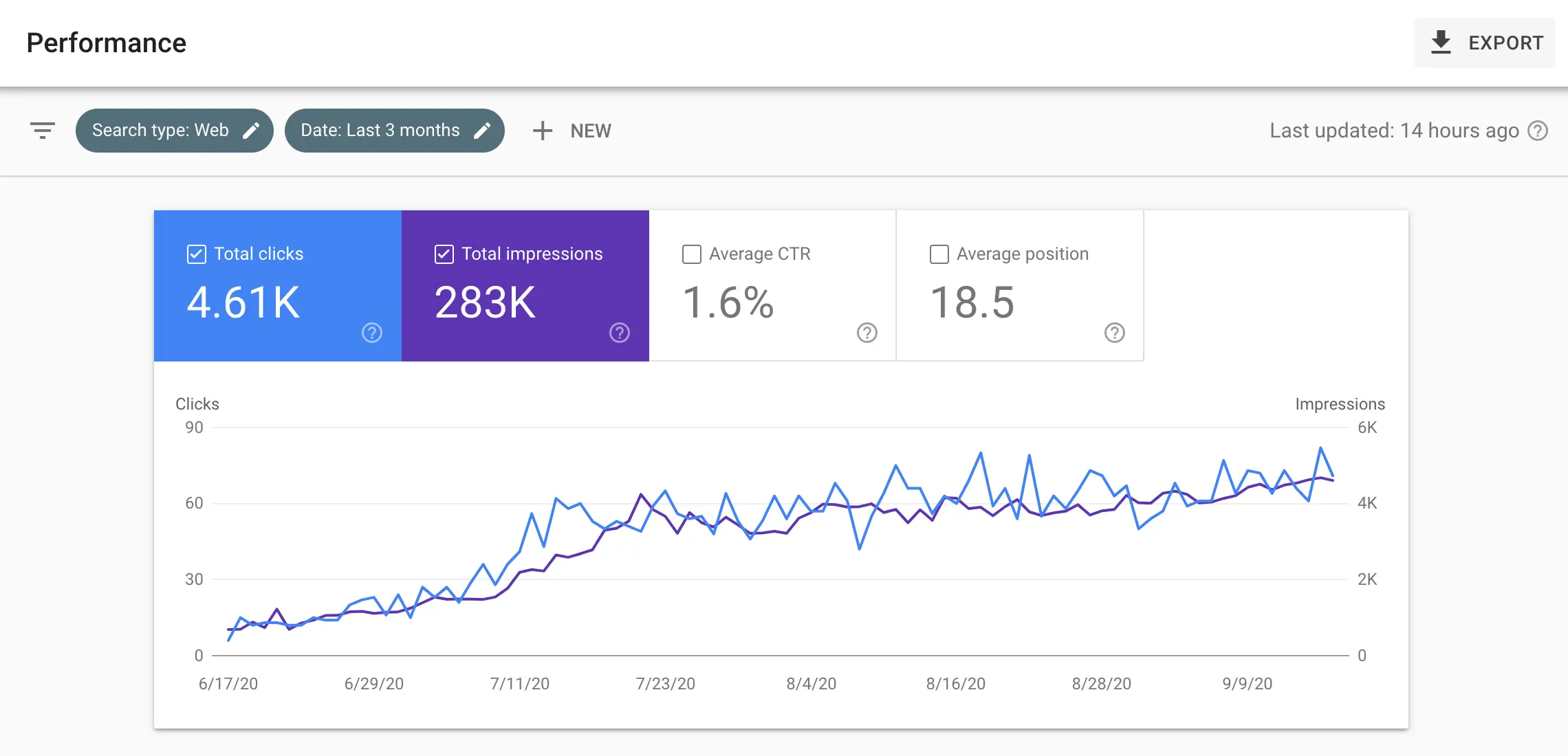 ➤ Challenges:
The client didn't want to spend much on link building (due to her previous experience) and had an extremely low budget for content distribution. Focusing on a single traffic channel is often dangerous. I explained to her why she must focus on a multi-channel traffic acquisition approach. She promised me to think about the same.
We couldn't utilize the Semrush Marketing Calendar. The client felt it has a learning curve.
The client wanted to add too many visual things unnecessarily, and it was challenging to explain to her the importance of site performance vs. aesthetics.
Overall the project was a great experience, and I'm happy that we could achieve the goal.
FAQs on Semrush Content Marketing Toolkit
1. What is the Semrush Content Marketing Platform?
Semrush Content Marketing Platform is an all-in-one software suite that enables marketing professionals, agencies, and businesses to plan, execute, and track the entire content marketing campaigns from a single dashboard.
2. How do I use the Semrush Content Marketing Toolkit?
Once you register a free Semrush account, you can access the content marketing toolkit by clicking on the menu section located in the top-left corner. Please refer to the above tutorial to use the Semrush content marketing platform effectively. 
3. Who can use the Semrush content marketing platform?
Content creators, marketers, agencies, SMBs, established e-commerce businesses, or anyone involved in content creation and distribution can use this tool. 
4. Is Semrush's content marketing platform reliable?
Six million users trust Semrush. Currently, it has 7 billion content ideas and 18 billion keywords in its databases. If you want to create a data-driven content marketing strategy, then you won't find such a robust and reliable platform. 
5. Is there any Semrush Content Marketing Toolkit guide or course that teaches how to use this tool?
I have shared this article primarily to introduce you to the Semrush content platform. You'll learn the exact process of creating and managing content marketing activities to grow your brand's reach, traffic, and user engagement. If you want to learn more about the tool, please sign up for the Semrush Content Marketing Toolkit course for absolutely free. 
Final Thoughts on Semrush Content Marketing Platform
I have shared a complete Semrush Content Marketing Toolkit guide and highlighted its top features, pros, and cons.
You can plan, execute, and track your content marketing activities from a single dashboard.
If you are looking for increasing your brand's reach and organic traffic, the Semrush Content Marketing Toolkit is the best choice for you.
You'll hardly find an alternative to the Semrush content platform for such an unbelievable price.
Have you used the tool?
Share your thoughts in the comment section.
If you liked this article, please share it with your friends. ❤️
Semrush Content Marketing Toolkit Review
Name: Semrush Content Marketing Toolkit
Description: Semrush Content Marketing Toolkit is a one-stop solution for marketers and brands to plan, execute, and track content marketing campaigns. I have shared a comprehensive review, user guide, pros, cons, pricing, alternatives, and a small case study of how we quadrupled the organic traffic for one of our micro-niche sites within just 3 months by using the Semrush content marketing platform.
Offer price: 0.0
Currency: USD
Operating System: Linux
Application Category: Content Marketing
Author: Ankit Main
Features

Performance

Pricing

Support