Affiliate Disclosure: I publish various content marketing strategies, online business ideas, blogging tutorials, review articles, and discount offers on my blog. My content may contain some affiliate links for products/services I use, love, and recommend. If you take action (i.e., subscribe or make a purchase) after clicking one of my affiliate links, I'll earn an affiliate commission at no additional cost to you. It helps me in creating more helpful content like this.
I moved my blog to SiteGround WordPress hosting a few days to a cyber week.
People often wait for Black Friday web hosting deals to create a new website or move their existing site.
There are a couple of reasons for this.
Black Friday and Cyber Monday web hosting deals provide huge discounts on regular pricing.
Why would you pay $10 for a shared hosting service when the same plan gets available for $2-$4 per month during the Black Friday sale?
You can also save a significant amount of money by migrating your site to another host instead of paying a huge renewal fee.
Buying a web hosting service is a big decision for most people because they often buy web hosting for a year or more.
Waiting for a month or two and investing that money into good web hosting is better than buying unreliable, shitty web hosting.
Now, you may ask, "Why did you move this blog to SiteGround web hosting before Black Friday?"
Do you want to know the exact reasons behind this move?
Stay tuned, and I'll discuss why I moved my blog to SiteGround web hosting.
Quick Introduction
You won't believe it, but this is an experimental blog that I created back in November 2016.
I purchased the domain + hosting for only $7.5 using ASmallOrgange Black Friday deal.
Yeah! That's true!
Back in 2016, I wasn't aware of the power of investing.
Later, I understood the need for buying high-performance hosting.
I created multiple blogs for myself as well as my clients, and tested more than dozens of hosting services, but never retired from this blog.
It's one of the first blogs I created and I learned many things by experimenting with this blog.
I'm running it as an experimental blog and applying the successful strategies to other money blogs.
Recently, I upgraded its design, added a few articles, and started getting a good affiliate income.
Everything was fine, except for site speed.
So, I decided to move this blog to better web hosting to achieve speed improvements. 
If you're in a blogging or digital marketing field, then you know the importance of site speed.
Performance Upgrade or Cost-Saving
It's definitely a performance upgrade.
However, it does not necessarily mean that I'm getting more disk space or bandwidth.
Here are a few details for the hosting company where this blog was hosted previously.
Web Hosting Company: Cyberin
Package Details: WordPress Hosting (Plus)
Hosted Domains: 5
SSD Storage: 50 GB
Bandwidth: 500 GB
Other Features: Unlimited SSL certificates, Unlimited Emails, Daily Offsite Backups + Restores, Nginx+Redis, PHP 7.X, Cloudflare CDN, and much more.
First Year Price: ₹3066.82 ($42.97)
Renewal Price: ₹3148.95 ($44.12)
Currently, I have purchased a SiteGround GrowBig plan, and here are a few details of this plan.
Web Hosting Company: SiteGround
Package Details: Managed WordPress Hosting (GrowBig)
Hosted Domains: Unlimited 
SSD Storage: 20 GB
Bandwidth: Unmetered (~25000 Monthly Visits)
Other Features: Unlimited SSL certificates, Unlimited Emails, Daily Backups + Restores, SG Optimizer, 1-click WordPress staging, PHP 7.X, HTTP/2, Cloudflare CDN, and much more.
First-Year Price: ₹5264.10 ($71.40)
Renewal Price: ₹17087.65 ($239.40)
Now, you can clearly understand that this wasn't a cost-saving move.
Reasons for Choosing SiteGround
Choosing a particular web hosting company is not the easiest decision, especially when you have multiple options to pick from.
I had finalized three hosting companies – SiteGround, Fastcomet, and WPX Hosting.
Every hosting company mentioned above has a solid reputation, friendly & knowledgeable customer support, and value-for-money products.
I researched a lot before moving to SiteGround. I could easily get a massive 70% discount for Fastcomet, and it's more affordable than SiteGround and WPX Hosting.
Even WPX Hosting was running a Halloween sale to get 99% off for the first month.
Still, I chose SiteGround.
It doesn't mean the other two hosting companies are bad.
These hosting services are better than most hosting services in the market. Otherwise, I wouldn't have listed them here.
Here are the top reasons why I chose SiteGround web hosting.
Please note that I'm not going to add standard features like SSL certificates, backups, and emails to this list.
Instead, I'll emphasize the points I like most.
Excellent Reputation in Social Media
Unlike most affiliate review sites, social media reviews are more unbiased.
Since real users who use web hosting services contribute to those threads or polls, you can see a clear picture of which web hosting company is offering the best value for money.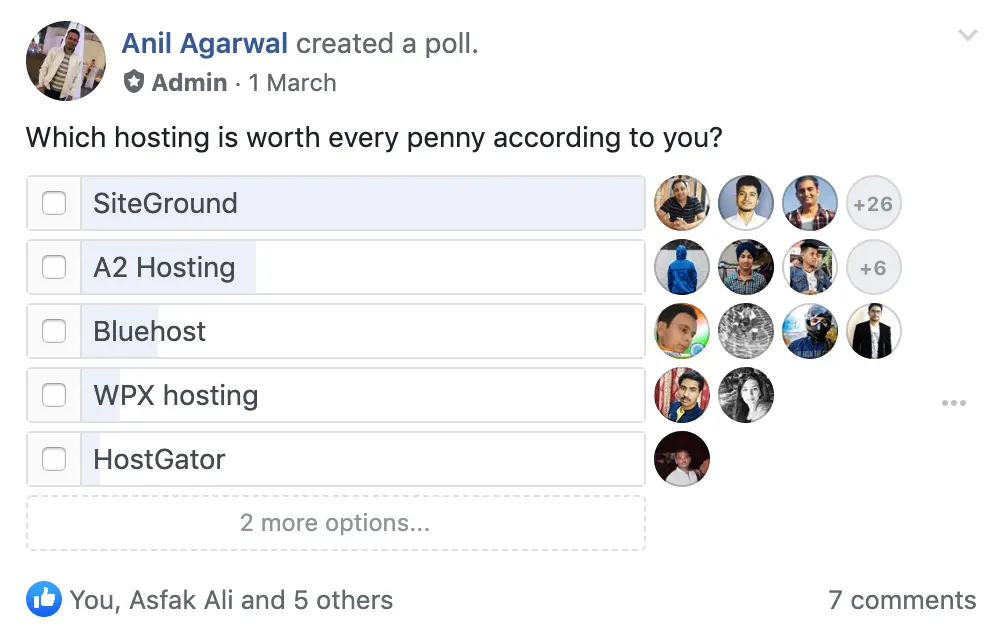 Faster Site Speed
This is what I was primarily looking for.
I have written more than 80 affiliate articles on Black Friday and Cyber Monday sales. 
Since website speed is one of the major ranking factors for SEO, I could not take the risk of hosting my website on a slow server.
I tested hundreds of websites with Google PageSpeed Insights and GTMetrix to find which web hosting performs best in my tests.
And the winner is SiteGround.
Although a few sites hosted with other servers could achieve better speed with small tweaks, the overall performance of SiteGround web hosting was better than its competitors.
I used WhoisHostingThis tool to find out the hosting services before running our test while I asked other site owners which web hosting they were using.
The average FCP (First Contentful Paint) and TTFB (Time to First Byte) were good for SiteGround.
Here is a screenshot after moving to SiteGround, and that's without Cloudflare CDN.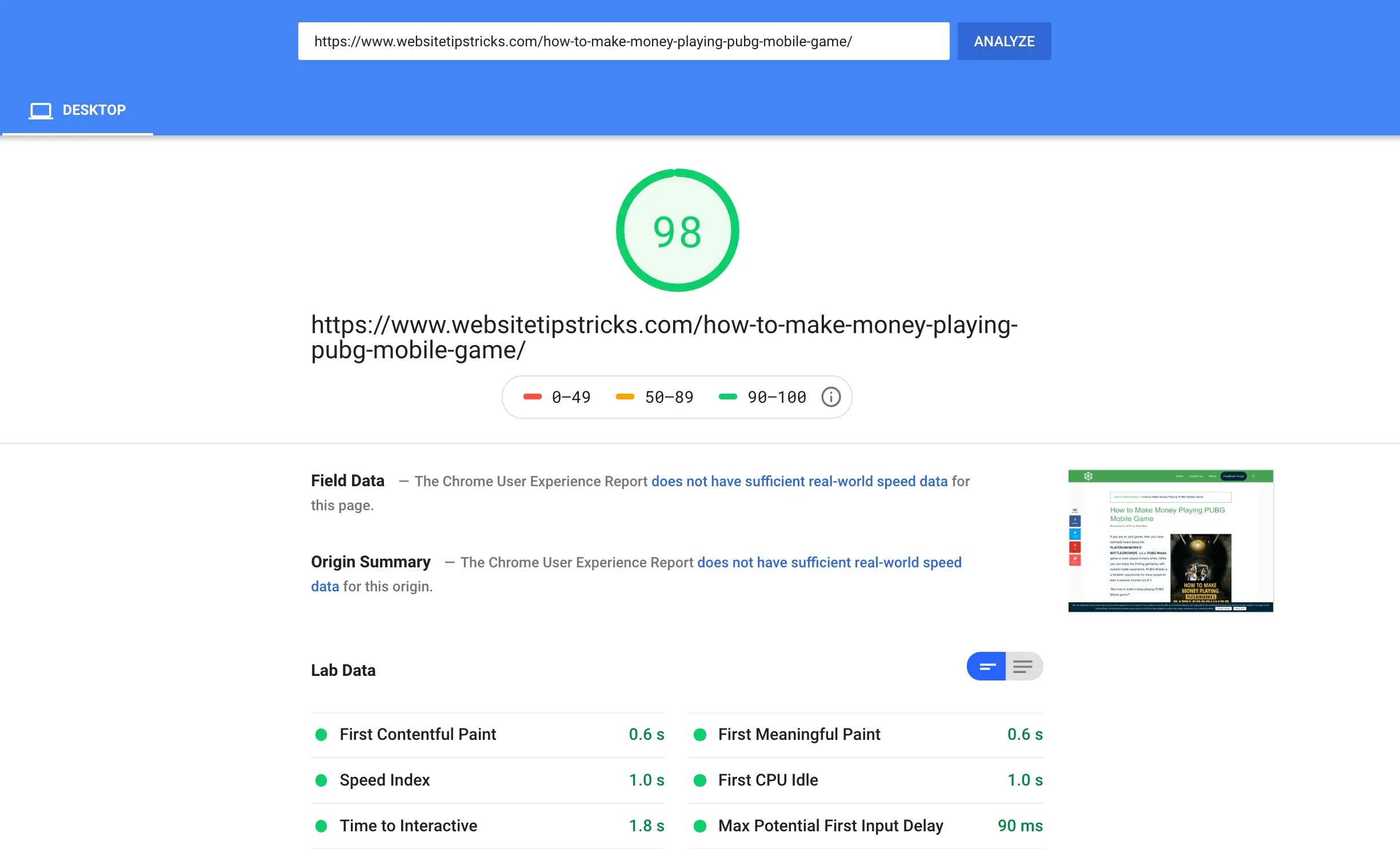 Currently, I'm using the GeneratePress Premium WordPress theme and 20 plugins on this blog, including SG Optimizer.
Although it can be better, for a non-techie like me, it's not bad at all.
Intuitive User Interface
SiteGround has created a custom control panel to manage your web hosting.
Earlier, it was not much user-friendly, and I used to feel it boring than cPanel.
However, the current version is beautifully designed and easy to use, even by a newbie.
You can install SSL certificates, activate Cloudflare, set up caching, and much more.
Quick Customer Support
Every blogger isn't a developer.
While you can know basic stuff, you need to knock on the doors of the technical support team to get a resolution for advanced queries.
SiteGround customer support team offers the best user experience when you interact with them.
I communicated with many web hosting companies asking some basic as well as advanced queries, and almost every hosting company gave satisfactory answers.
However, for my final question, the SiteGround support executive gave me the expected answer.
The question was – Why should I buy a web hosting service from your company?
After I purchased the SiteGround GrowBig plan, its support team moved my website within a few hours.
Later, I faced a few issues due to conflict between the plugins on my blog and Cloudflare.
The support team offered me quick help to get my site working back to normal.
Remember, purchasing SiteGround web hosting around a month before the Black Friday event allowed me to check whether it was working perfectly for me or not.
You can understand the impact of slow site speed or downtime during peak periods. That's why I moved my blog to SiteGround before the Black Friday and Cyber Monday sale starts.
If you're working on upcoming Black Friday or any other event, I highly recommend you pick the best web hosting that can handle your traffic without compromising on speed. 
---
A small request,
If you liked this article, please share it with your peers. If you have any queries or suggestions, let us know by commenting below.
SiteGround WordPress Hosting Review


Name: SiteGround Managed WordPress Hosting
Description: Here is why I moved my blog to SiteGround WordPress hosting before Black Friday. If you're in a dilemma whether you should buy web hosting today or during the discount offers like Black Friday web hosting deals, then you must read this post.
Offer price: 3.95
Currency: USD
Operating System: Linux
Application Category: WordPress Hosting
Author: Ankit Main
Performance

Security

Pricing

Support
Comments Rating
( reviews)