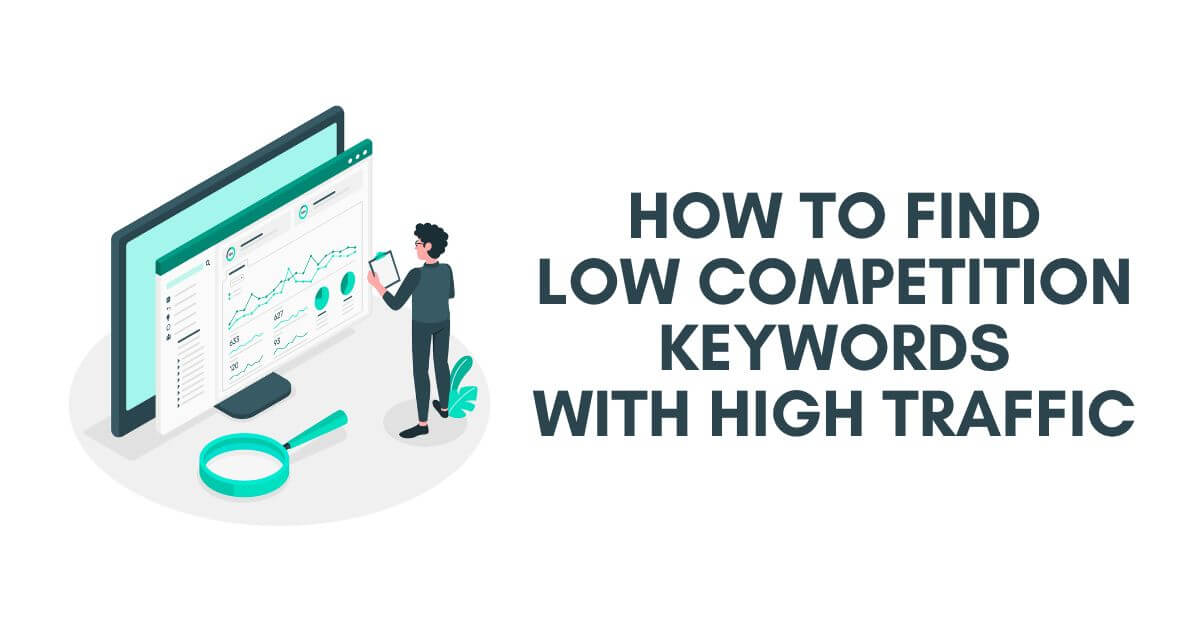 Affiliate Disclosure: I publish various content marketing strategies, online business ideas, blogging tutorials, review articles, and discount offers on my blog. My content may contain some affiliate links for products/services I use, love, and recommend. If you take action (i.e., subscribe or make a purchase) after clicking one of my affiliate links, I'll earn an affiliate commission at no additional cost to you. It helps me in creating more helpful content like this.
How to find low-competition keywords with high traffic and rank my website on the top of the SERP?
It's a commonly asked question by most newbies and even many experienced digital marketers.
Picking the right keywords for your website is one of the major things in your marketing campaign that determines the success or failure of your online venture.
Having low-competition keywords with a significant number of average monthly searches and writing super amazing content around those keywords will help your website rank better in the search results and drive targeted traffic.
When you build a site, you obviously want to rank on Google, Bing, or other search engines for the profitable keywords in your niche.
While building a list of such words and phrases, you should keep in mind that your competitors are also doing the same.
And, if you really want to create a solid stream of SEO traffic, you must be working to acquire position zero, not just the first page of Google.
However, it's not going to be very easy to get the top position in Google or Bing, especially when you have a brand-new website with less DA/PA.
Is there any way to beat the SERP competition and get in the first three results?
Yes!
When you perform SEO keyword research, make sure you have chosen the right low-competition keywords that your potential customer would use to find your products or services.
Including these keywords in your blog posts will help your website consequently to gain a boost in search ranking.
Is it really necessary?
Yes!
But why?
Here's a complete breakdown.
Why Should You Find Low Competition Keywords?
As I mentioned above, SEO keyword research is a vital part of the success of your web marketing campaign, but for many people, keyword analysis is a Herculean task.
Especially small businesses and website owners who have a limited budget to spend on marketing activities think ranking in the competitive niche is very hard after trying some general terms to rank for.
However, attempting to rank those keywords having heavy competition just because of large search volume is a common SEO mistake that most people make.
The keyword search volume is only half of the puzzle. There are many other factors you need to consider in keyword research including the SEO competition, PPC score, CPC, top sites, and their metrics including DA/PA, CF/TF, backlinks, and social counts.
And, if you are trying to rank such high volume search terms having extremely heavy keyword difficulty, then you will probably never rank in the top position or take a lot of time, money, and energy.
Here's a small example of why you need low-competition keywords.
The keyword "hosting" has about 463 million search results and more than 200K of average monthly searches.
Moreover, the prominent position of the first page is crowded with Google search ads while the rest of the space was occupied by high authority sites like GoDaddy, Bigrock, Website.com & Wikipedia, etc.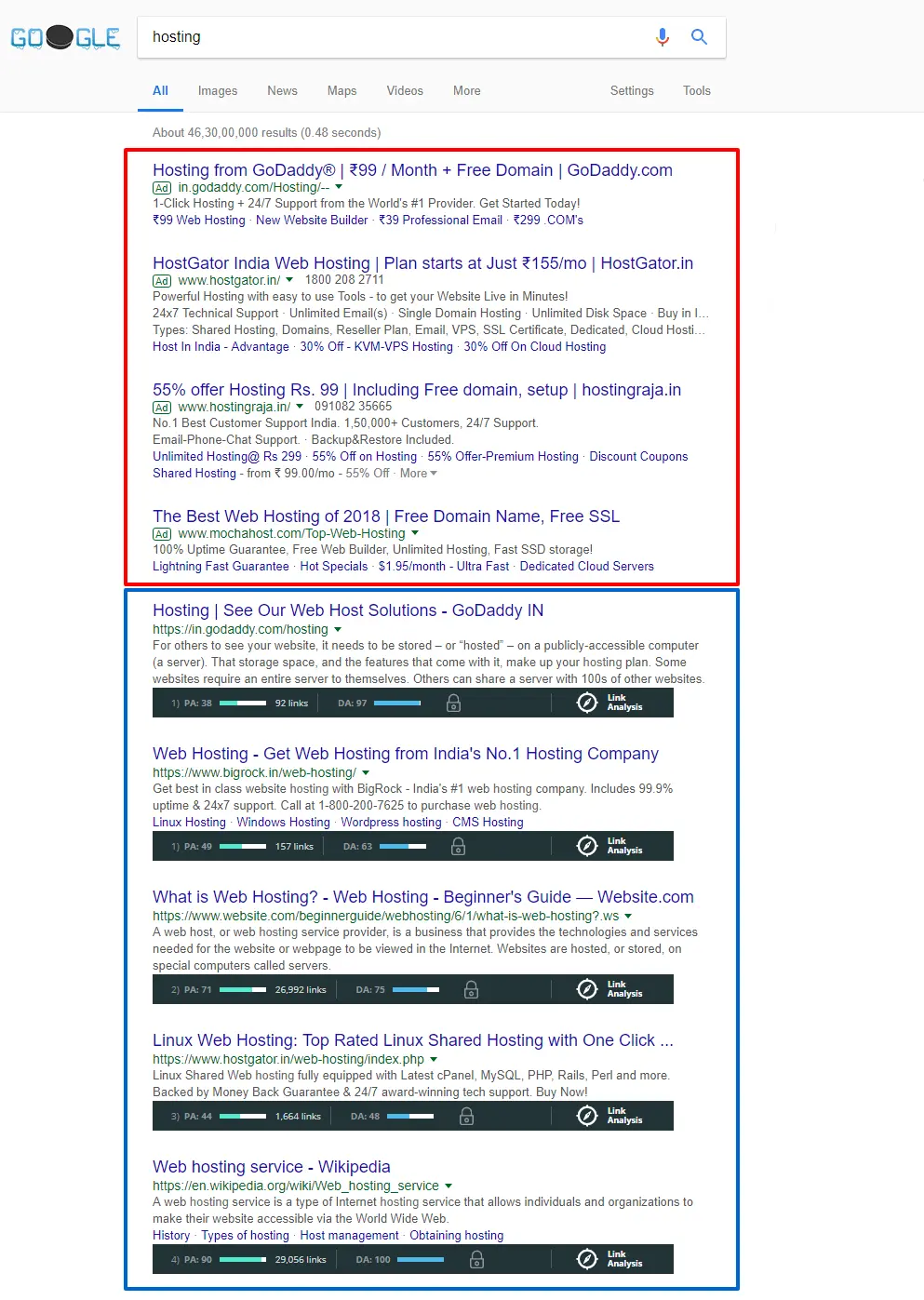 In case, you are running PPC (Pay Per Click) ad campaign for your newly launched web hosting business with limited funding; the marketing cost will blow your pocket in a very short time.
Because CPC for the term "hosting" is a whooping $17.61 and it's not affordable if you are selling your services at entry-level prices.
Normally, a small percentage of visitors clicking through your ads convert into customers, and the rest leave your site without buying anything or even providing contact information.
Marketing campaigns like this are often destined to fail, especially if you are trying to rank very competitive search terms nationally or globally.
Suppose, you are starting a web hosting business and want to promote it through search engines.
As I said earlier, the first page is crowded with PPC ads and organic results from high-authority sites where you are trying to rank for the keyword "hosting."
If you see, most of the web hosting companies offer very lucrative prices for the initial terms (between $20-50 or even less), and you also need to price your service around these figures.
Now, we'll do the actual math.
Consider average CTR is 10% and your price is $50 for the first year. So, with a CPC of $17.61, you will get nothing if you run PPC ads.
The operating cost and other business overheads are extra, so it's a big risk for your business.
Important: The big companies offering such low prices recover their costs when they upsell other products or upcharge service renewals and earn big in the long term.
However, providing a quality service, prompt customer support, and better VFM is the responsibility of these companies while site migrations can drain all their efforts as well as hundreds of thousands of dollars invested in building that business.
What did you learn from this example?
If you are planning to get your site on the top of Google or other search engines for broad keywords that have fierce competition, either through PPC or SEO, you may lose a large sum of money overnight without getting the expected results.
That's why try to find low-competition keywords with high traffic rather than finding the difficult ones.
Can I Outrank My Competitors by Targeting Low Competition Keywords?
Absolutely!
If you study the buyer's intent and observe the results, you'll notice that long-tail keywords with a specific interest often drive more conversions.
But how?
Suppose, there is a person who is searching for "shoes," and another one is searching for "Nike red running shoes online price."
What do you think, who will make the buying decision?
Needless to say, the second one searching for the more detailed query will most probably click your ad or organic listing and purchase the product.
Am I right?
So, performing proper keyword analysis and picking long-tail keywords with less competition are the best alternatives to those broad competitive keywords.
While most of the long-tail keywords you will get may not have high search volume, your site is likely to rank in search engines due to the less keyword difficulty.
Now, the main question arises, "How to find low competition keywords with high traffic and rank my website in SERP?"
You'll get different answers from different people, but I'm going to tell you how to find less competitive long-tail keywords.
How to Find Low Competition Keywords with High Search Volume
Before I explain everything, let me clear one thing: Why I'm focusing the keywords with less competition but high search volume?
Suppose,
You are a blogger and have written a skyscraper article about your favorite topic targeting a low keyword difficulty score having only ten searches per month.
You probably would get very less out of your efforts compared to a similar keyword having similar metrics but a higher monthly search volume of around 100-10K.
Do you agree?
Actually, many people, especially seasoned marketers, don't reveal the strategies that they use to uncover profitable keywords and rank their sites in organic results.
Do you want to know the exact same method?
Here, you will get how to find profitable long-tail keywords that drive organic traffic to your site and money in your pocket.
Read the article very carefully, and it can turn your blog successful in extremely less time.
1. Brainstorming
Finding money-making keywords is not everyone's cup of tea.
However, learning & experimenting on your own can give you real insights into keyword research and SEO.
Sometimes, you may need some free as well as premium tools or a combination of both to get massive success in your SEO and online marketing campaigns.
What are these tools?
And where to start?
These are two obvious questions you might ask.
Everything begins with picking a niche for your website. This may not be a problem if you have already chosen one and built your site.
But for the rest,
How could you get an idea about profitable niches?
Choose any industry with a large number of potential customers to perform keyword research and find the search terms that you could rank for.
Before doing that, discover a list of keywords that people are searching on the web (the search queries).
There are a few places online to get ideas about your seed keyword.
2. Social Media
If you have noticed, almost every social media channel shows the trending topics that people are interacting with, liking, and sharing with their peers.
At the same time, you can analyze adverts like Facebook ads, Twitter ads, StumbleUpon ads, and most importantly, hashtags.
By studying those topics in-depth and observing the historical index for a particular topic, you can come up with a bunch of profitable seed keywords.
3. Google
Google, itself gives you thousands of keyword ideas if you are smart enough. You can use Google autosuggest, YouTube auto-complete, related searches at the bottom of the page, Google trends, and AdWords keyword planner.
With Google/YouTube autosuggest feature, you can easily get to know which keywords people are searching for. While related searches directly give a list of search terms that are related to your primary search query.
Have I forgotten about Google trends and keyword planner?
Just head over to Google trends and put any query/niche and you can get an idea of whether it's profitable or not.
Plus, you can analyze the trends to check how that particular keyword was performing over time.
Google keyword planner is another powerful tool for people who want free keyword research tools.
It gives a big list of broad as well as long-tail keywords and some useful metrics like average monthly searches, competition & CPC, etc.
4. QnA Sites
If you are active on some popular QnA sites like Quora, Yahoo Answers, Answers.com, etc. you can see what questions people ask, and if you are interested in helping these people by creating useful content, it's the best ever strategy for content marketing.
Will it be easy to browse every site to analyze the keywords and predict competition manually to determine profitability?
Definitely not.
It requires a lot of experience and skills that you can build through trial and error over time.
Is there any better alternative?
Yes!
Simply pick one or a few SEO tools and let them work for you.
Amazing!
Isn't it?
I have mentioned here a few free as well as premium SEO research tools that will help you to find low-competition keywords with high traffic.
Best SEO Keyword Research Tools
Whether you want to rank your blog or e-commerce website, you'll need the right SEO tools to find profitable keywords, and perform proper on-page/off-page optimization to drive a recurring traffic stream.
Free tools usually give good results, but the only pitfall is that your competitors may be using a similar tool and getting the same results you do.
To beat your competitors and find some advanced metrics, you can buy one or a few SEO keyword research tools or all-in-one SEO research tools like Ahrefs and SEMrush.
Again, you will surprise after looking at the features and actual performance of those premium SEO tools vs. the cheap or free ones.
Needless to say, you get what you pay for, and I can say all the tools I have used are worth every penny if you use them properly.
But here, we will start with the free tools and then jump on the premium section.
1. Google Keyword Planner (Free)
Google keyword planner is a widely used and popular keyword research tool available for free.
Almost everyone with very little knowledge of search engine optimization techniques can use GKP effectively to find real money-making search terms and other important data.
Plus, it can give you hundreds of related keywords to target and give a more natural look to your copy.
Actually, Google keyword planner is created for AdWords users to find the valuable search terms that they can bid for and drive their potential customers to the landing pages through PPC/display ads.
It's a no-nonsense tool for newbies as well as experienced SEO executives to discover profitable keywords and their search volume for free.
How Does Google Keyword Planner work?
Anyone having a Google account can use GKP. If not, you can create one here. Once you have logged in to your account, add your seed keyword and choose filters from the following list.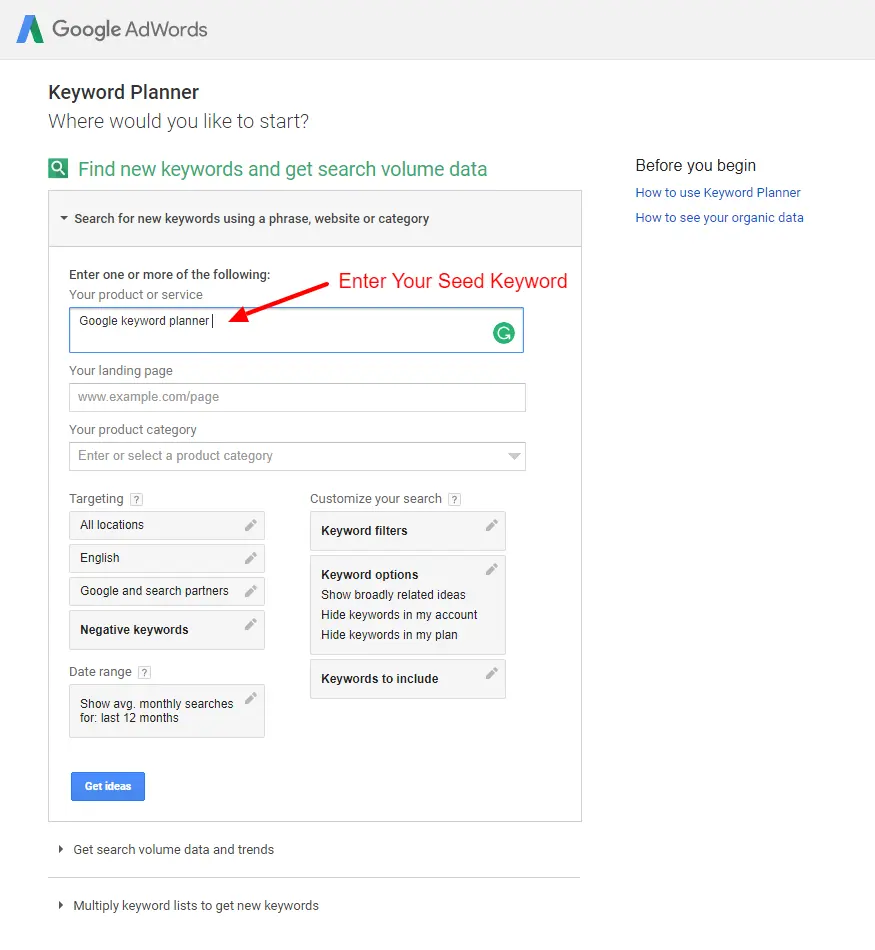 You can also set different targeting options like location, language, search platform, and negative keywords (unfavorable keywords that you don't want to include) to get customized results.
You might think it's normal for any keyword analysis tool.
But have you ever thought that you can spy on your competitors using GKP?
Yes!
You can.
Really?
Open the Google keyword planner tool and enter your competitor's URL in the landing page research box.
And, GKP will give you a complete analysis of search terms that your rivals are ranking for.
Although GKP is a simple-to-use and one of the best keyword research tools, I have found some pros and cons of using Google keyword planner.
Pros of Google Keyword Planner
The most popular keyword research tool is backed by Google, so, the quality of the tool and keyword analysis is definitely high.
A wide range of long-tail versions of your seed keyword and relevant low competition keyword suggestions.
Landing page analysis to find some valuable search terms.
Free of cost and no one is going to force you for paid upgrades unless you decide to run an AdWords campaign.
Cons of Google Keyword Planner
GKP is primarily built for advertisers and focuses more on PPC competition than the SEO keyword difficulty. Still, it's helpful to the publishers for keyword analysis.
You may not find unique keywords because millions of people are using this tool at the same time.
It gives a range of average monthly searches instead of a perfect search volume figure.
2. Ubersuggest (Free)
Ubersuggest is another free keyword research tool offered by neilpatel.com.
Neil Patel is a well-known SEO Guru, professional blogger, and an influencer in the digital marketing industry who has acquired this tool and offered it for everyone to use.
Though this tool is completely free to use, it will help you to get access to numerous low-competition keywords for your blog post or marketing campaigns.
How Does Ubersuggest work?
The best part of Ubersuggest is that you don't need to create an account on their site or log in through your social accounts to use this tool.
Just head over to https://neilpatel.com/ubersuggest/ and start searching for the keywords you want to rank for.
Add your seed keyword, and select the search platform among web, image, YouTube, and the preferred language/country you want to target.
This tool will give you hundreds of relevant keywords, CPC, and competition scores in just one click.
There is no limit on how many times you use this tool, and the number of keywords searched per day.
Pros of Ubersuggest
After acquiring this tool, Neil tried to improve the user interface of this tool.
One of the free tools lets you find the keyword by applying some filters or targeting options like search platform, language & country and gives a list of semantically related keywords including important data such as exact search volume, CPC in the native currency of the country you choose, and competition score.
No limits to keyword research
You can export all keywords in CSV format and save them for later.
Cons of Ubersuggest
It's not much more accurate than those of premium keyword research tools but for the price, you pay it's absolutely worth trying. In this case, you need another tool to check the potential of the keywords you received from Ubersuggest.
No data about competitors that are ranking for the requested keywords.
3. Semrush: All-In-One SEO Suite (Premium)
Semrush is one of the most popular SEO tools for keyword research, and backlink analysis, and streamlines your search engine optimization activities.
I forgot something.
It's a secret weapon of many digital marketers for competitor analysis and spies on their rivals' marketing campaigns.
While most keyword analysis tools give you a list of relevant search terms, Semrush goes a step ahead by letting you access the keywords that your competitor's site is ranking for.
Although Semrush is much more than a simple keyword research tool, I'm going to discuss only how to find profitable low-competition keywords using this tool.
As I said earlier, Semrush can help you not only find the relevant to your primary keyword but perform a complete competitor analysis.
You need not ask again and again, what keywords my competitor use.
Using this tool may be a learning curve for most people, especially newbies, but I'm going to share a step-by-step tutorial to find real money-making keywords in a few clicks.
Before going there, you should know that Semrush is a premium SEO tool, and you need to purchase one of its paid plans to get started.
However, you can get a free 14-day Semrush trial and check whether it's useful or not.
While SEMrush pricing is competitive, people from third-world countries or who are just starting out may feel this tool is a bit overpriced.
Determine the ROI and purchase any of its plans if you like this tool. You'll find it worth every penny.
Let's head back to our main topic; that's how to find low-competition keywords using Semrush.
#1. Build Your Initial Keywords List
The primary goal of any SEO campaign is to search for the most relevant keywords to craft engaging content and drive maximum organic traffic to the landing page, which includes your potential customers.
The easiest way to uncover those best keywords is by performing the competitor analysis using SEMrush.
1. Just log in to your Semrush account, go to organic research, and then positions.
2. Enter the domain name and perform a search.
3. You'll get the list of organic keywords that your competitor's site is ranking at the top in the SERP.
4. Use filters to get the most relevant organic search terms.
5. Export the results into an XLS or CSV file.
6. Rinse and repeat the process for a few more competitors ranking at the top of the SERP and generate reports for multiple domains that you are analyzing.
7. Merge all exported reports in a single file to get all relevant keywords.
8. You can check the unique keywords that your competitor is ranking for by using the Domain vs. Domain tool on your Semrush dashboard.
#2. Expand Your Keyword Suggestion List
"Why should I expand my list if I already know what keywords my competitors using in their SEO campaign?"
"Do I really need related search terms and key phrases to rank my site?"
Yes.
"But Why?"
Remember, the people who are ranking for a particular search term have already built authority and have gained the immense trust of users.
Plus, they have useful site metrics and a backlink profile.
To tackle these all things, you will need a lot of energy, time, and investment to create super amazing content and build high-quality links or conduct proper off-page SEO.
While there is no 100% guarantee that you'll rank then, for that specific keyword because no one knows how Google's search algorithm works.
So, it's always better to choose low-competition keywords having significant search volume and decent CPC.
To find those keywords, go to Semrush and click on the Phrase Match under the Keyword Analytics menu.
Enter the keywords you have got from the initial keyword list and perform a search to get a list of key phrases that include an indicated search term.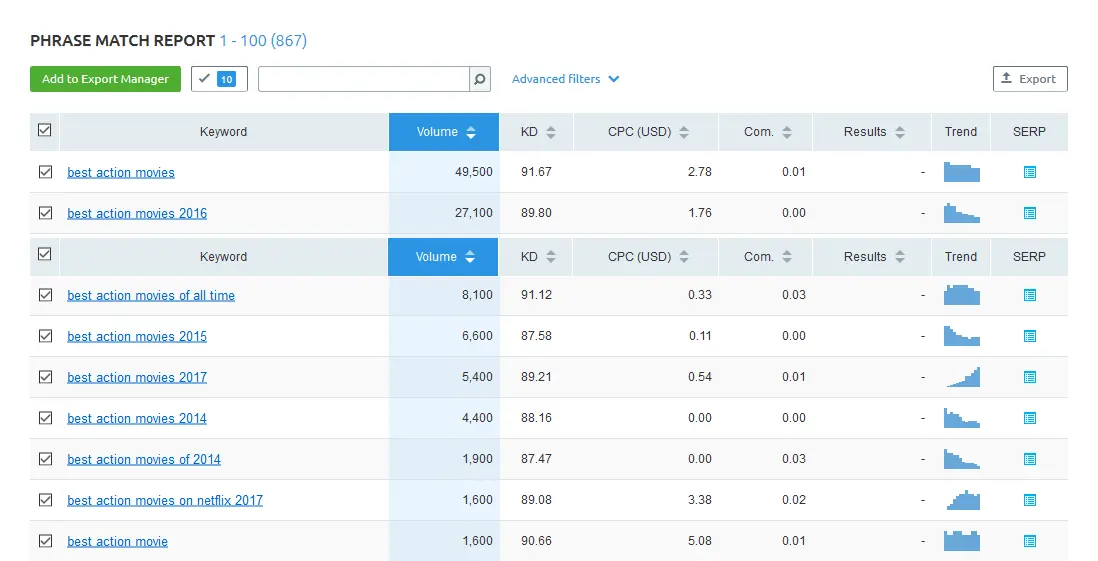 Similarly, you can use the Related keywords tool to get semantically related keywords to your primary keyword.
You can export these results too and add them to the consolidated file where you have stored other keywords you want to target.
#3. Find Real Money Making Keywords: High Volume Less Competition
Is there any sense in ranking for low-competition keywords with no search volume at all?
Definitely not.
The average monthly search volume shows how many visits you could receive. Ranking at the top of organic results for high volume keywords often drives a heavy pull of traffic to your site.
At the same time, you need to face fierce competition to rank at that place and keep your position intact.
So, you need to find the keywords with a perfect balance between average monthly search volume, CPC, and competition.
By using SEMrush Keyword Analytics, you can find the targeted keywords that you can rank in SERP and drive potential traffic to your website.
To view and analyze those metrics, you can use the Organic Positions report and export the results in an XLS or CSV format.
Similarly, the SEMrush keyword difficulty tool is built for determining the SEO competitiveness of any particular keyword or phrase purely based on organic listings.
It shows the competition level (1-100%) to estimate how difficult it would be to rank in top positions.
Remember, you need to put more effort to outrank your competitors with higher keyword difficulty scores.
If it's greater than 80%, you will find that the ranking for those keywords is quite hard while 60-80% is the average competition score.
You can easily rank your site where this score is below 60%.
However, finding high search volume low competition keywords is a bit difficult because most low-competition long-tail keywords have limited search volume.
In such cases, you need to focus more on competitors' analysis to find their weaknesses and improve your site's metrics.
How to Get Semrush?
Semrush is not just a keyword analysis tool but an all-in-one SEO suite and marketing tool.
Semrush pricing starts at $119.95 for the entry-level plan (Pro) to $449.95 for Business plan-focusing agencies and big SEO companies.
While the Semrush Guru plan is priced at $229.95, it's good for seasoned bloggers and professional digital marketers.
If you have never used Semrush, you can sign up for a free 14-day trial and start finding valuable keyword suggestions for your website.
Pros of Semrush
Semrush is an all-in-one SEO toolkit so most probably you will not require any other SEO tool unless you are a big SEO agency or large publication or an e-commerce marketplace that can't rely on a single tool.
You can perform competitor analysis to find their top organic keywords.
Since January 2018, Semrush has been improving its keyword database.
You can export your results in XLS or CSV files for later use.
Cons of Semrush
Semrush pricing may seem a con for many people who are just starting out, but really worth trying it.
A little learning curve for using this tool with full efficiency.
4. Long Tail Pro (Premium)
If SEMrush is not affordable to you, Long Tail Pro is the best alternative to it for finding low-competition keywords with a significant average monthly search volume.
LTP lets you find the long-tail keywords based on your queried search term that Google keyword planner could never discover.
Long Tail Pro is an awesome SEO tool to find low-hanging fruits that you could easily rank for.
It helps you find up to 800 keywords suggestions for the seed keyword you have entered.
However, the rinse-and-repeat method could give you the money-making keywords that yield real profit.
How Does Long Tail Pro Work?
Create an account with Long Tail Pro. We have managed to get a 33% recurring discount on annual plans and free access to Long Tail Bootcamp (worth $127) or start your 7-day free trial.
Verify your email address and log in to your LTP account.
Start a new keyword research project with any random name.
Enter one or more seed keywords in the primary search box. (You can literally put anything…means any word or phrase in your niche).
Filter and customize your search to get extremely profitable keywords with keyword difficulty below 30.
Export those keywords with all relevant metrics to use in your online marketing campaign.
If you want to see Long Tail Pro in action, start your free trial.
Pros of Long Tail Pro
LTP is one of the best premium keyword research tools so far.
It gives up to 800 keywords for each seed keyword you enter along with some helpful metrics like average monthly searches, keyword competitiveness, and top-ranking pages.
Long Tail Pro is now a cloud-based keyword generator. Previously, you need to install it locally on your PC.
Keyword rank tracking is available.
Cons of Long Tail Pro
Limited search quota for each plan you purchase. However, it's more than enough for a regular user.
A little bit slow compared to the top competitors like SEMrush & Ahrefs.
5. Serpstat (Freemium)
SERPSTAT offers six different tools, and the keyword generator is one of them. Being a cheap alternative to SEMrush, it shows keyword analytics data from Google searches as well as competitors' semantics too.
You can create a project in SERPSTAT and audit your site for different parameters, but at the same time, this tool will help you find some high-volume keywords with less competition.
How Does Serpstat Work?
Once you log in to your SERPSTAT account, type any word or phrase in the search box to get up to 500 keyword suggestions you might be interested in.
You will also find more information about each search term like average monthly volume, CPC, keyword difficulty, and PPC competition.
While Related keywords could help you discover a list of words or phrases that share identical pages in organic search results, mostly these keywords include synonyms, miss-spelled words, LSI keywords, and their long-tail variations.
Spying on competitors is one of the best features of SERPSTAT which lets you uncover the list of keywords your competitors are ranking for.
Plus, you can match their site with yours to understand the keyword gap and find the search terms your competitors ranking in the top 10 or top 20, which are not present on your site.
So, if you come up with at least five low-competition keywords for your site, you can analyze and target these keywords in your SEO campaign to improve your organic ranking.
Pros of Serpstat
One of the best and cheap alternatives to Semrush for people having a limited budget.
Beginner-friendly dashboard and simple navigation.
Various filters to get precise and targeted search results
Helpful in finding search questions, group keywords, missing keywords, and miss-spelled keywords.
The free trial is available with limited features to help you make a decision.
Cons of Serpstat
Each plan of SERPSTAT comes with a limited search quota. However, you get more in each of the SEPSTAT premium plans for the small fees.
Relatively new tool and no data is available for all regions. E.g., I'm from India and if I want to target Google.co.in, then this is not possible.
6. KWFinder (Freemium)
I recently came across the KWFinder, a premium keyword research tool that offers a great free version with limited features.
Unlock the real potential of low-competition keywords using KWFinder's research tool which offers the most accurate keyword difficulty score along with relevant search metrics like exact search volume (average monthly searches), search trends profile, CPC, and PPC competition.
How Does KWFinder Work?
KWFinder is one of the unbeatable keyword research tools when you compare it with other top alternative software.
To use this tool, you need to log in to your account. If you have not, create one here.
Though Mangools offers four different tools KWFinder (Keyword Research) SERPChecker (SERP Analysis), SERPWatcher (Rank Tracking), and LinkMiner (Backlink Analysis) tools, you get an all-in-one SEO toolkitk at a single price.
Plus, we have managed to get a 40% discount for our visitors on Mangools annual plans.
The next part is actually using the KWFinder keyword research tool.
Select KWFinder and add your seed keyword; it will give you extremely targeted low competition keyword suggestions.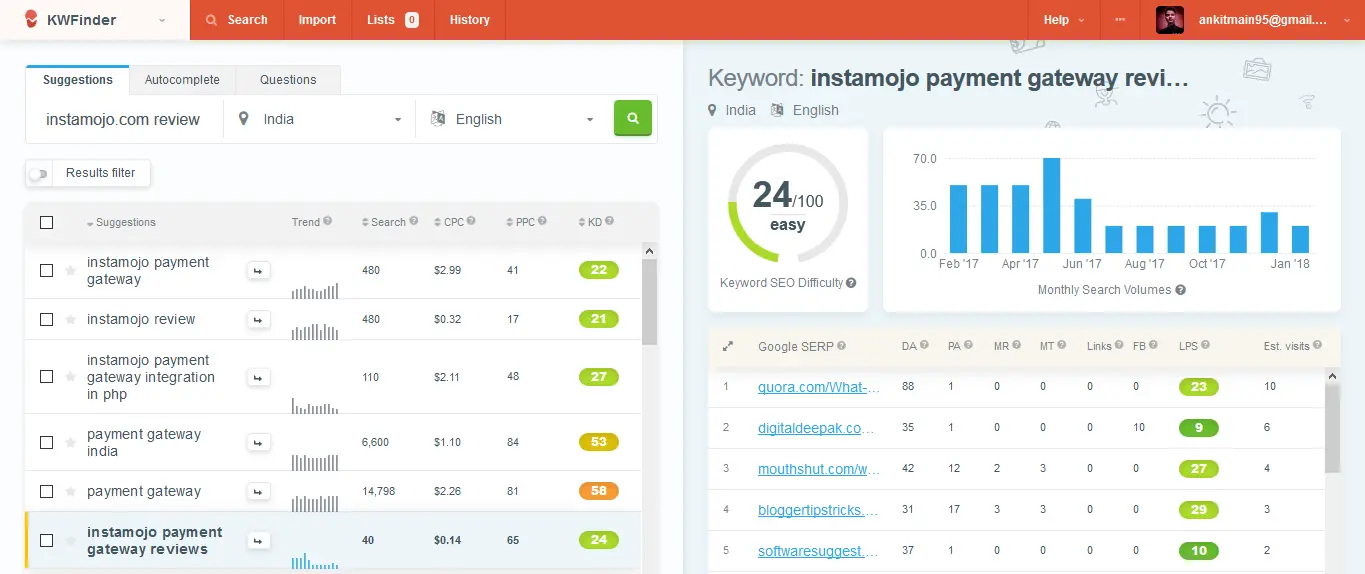 Pick the keywords having 100+ search volume and SEO keyword difficulty below 40 because those keywords are easy to rank in SERP.
Plus, you can get Autocomplete results and Questions related to the primary keyword you have entered in the search box.
And, you don't need to connect your Google AdWords account or any API to get those results.
You can also select an individual keyword to look in-depth and find top-ranking sites with their search & social metrics for that particular keyphrase.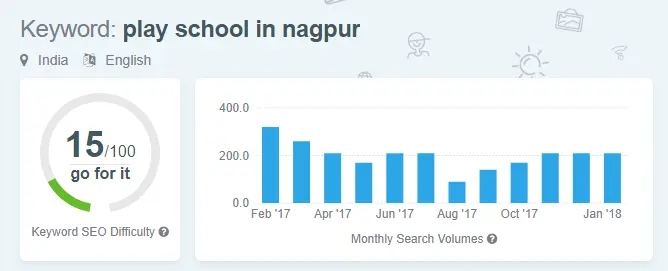 However, keep in mind that KWFinder does not offer unlimited searches. Still, it's more than enough for normal users even if you are using multiple variations of seed keywords to get the final targeted list.
Pros of KWFinder
It gives the most relevant keyword suggestions very fast highlighting the keyword SEO difficulty.
Simple, easy-to-use dashboard, and even a newbie can perform keyword research perfectly.
It is priced significantly cheaper when you look at its features and performance compared to other top SEO tools.
Keyword rank tracking and SERP analysis are also available to get more insights.
Search trends are included in graphical format and overall keyword analysis is more visual than just statistical.
Cons of KWFinder
Limited search quota for each plan you purchase. However, it's more than enough for small bloggers, and niche marketers, or you can upgrade your plan to the next level.
Sometimes, it doesn't show all the important metrics, and you need to look up an individual keyword.
Summary
Remember, the SEO tool you use in your SEO campaign is special and has its USP.
However, each tool has its pros and cons, as mentioned in this article.
No matter which tool you pick whether it's free or premium, using it smartly can boost your revenue as well as pay for itself.
But this process of learning how to find low-competition keywords with high traffic takes time so you need to be patient to see real results.
Moving generic competitive search terms into long-tail low-competition keywords is a skill that you build through trial and error over time or your own experiments.
Give a try to any of the free or premium tools among the above list to find targeted and profitable long tail keywords with less keyword difficulty score.
Usually, the paid tools are worth buying if used right. By putting efforts in the right direction at the right time, you will definitely see the results that you are looking for and yield real profit.
You May Also Like