Keyword research for affiliate marketing is a crucial step if you're expecting a passive income.
People who search for something online are most probably looking for information or products that solve their problems.
Finding and including those search terms in your content allows users to consume it to get relevant answers or product recommendations.
Putting thousands of dollars in web design, hosting, and other things won't help unless you find the right keywords to target on your affiliate blog.
If you want to rank an affiliate site, drive organic search traffic, generate leads and sales, then you must find low competition profitable keywords.
Don't you know how to find profitable keywords for affiliate marketing?
Read this actionable guide to get started with your affiliate journey.
1. Find a Profitable Niche for Affiliate Blog
Almost every beginner who wants to be an affiliate marketer makes a huge mistake, i.e., purchasing domain, hosting, theme, and many other things even before picking a niche.
Switching niches until you find a money-making affiliate niche isn't the right approach to do business.
It's a time-consuming process that may lead to disappointment, and some of you may give up after some time.
Plus, many people don't have enough resources to take the risk of being an unsuccessful affiliate marketer.
That's why finding a profitable niche is necessary for any affiliate blog.
Here is a step-by-step process to find the affiliate marketing niches that make money.
Find a common topic that you're interested in.
Check whether the particular topic has passive income potential.
Observe the demand and supply relationship. If people are actively looking for products or services and willing to spend money, you probably can pick that niche.
Check for advertisements and their frequency.
Understand the competition, the investment needed, and the time-frame to get a positive ROI.
Specific niches, especially event blog niches, are time-sensitive. So think about how you can convert these niches into a profit-making machine. Pick seasonal niches only if you have a solid plan and resources to make them work for you. E.g., Independence Day shopping, Black Friday & Cyber Monday sale.
2. Create a Customer Persona
Once you finalize a niche, the next step is creating a customer persona.
Why is it important?
Many people get poor conversion rates for their affiliate websites.
The major reason for this is they don't think about who is their ideal customer and how to convert him from a visitor to a customer.
It's not very complicated.
First of all, understand your target customers, including their demographics, geographics, online behavior, what problems they face, and their demands.
The next step is creating a list of such reports, analyzing them, and tweaking your marketing strategies to maximize the effectiveness of your affiliate campaign.
For example,
If you run a kids' blog and want to promote baby cars priced ₹5000, then you would probably want to target parents in the urban areas who earn at least ₹25000 per month.
You can expand the scope of targeting by gender, age, education, locality, employment status, income, shopping preference, and similar metrics.
Remember, affiliate promotion without understanding the target customer is a huge waste of resources, especially when you run PPC campaigns.
3. Brainstorm the Seed Keyword
The seed keywords are the baseline keywords that are most relevant to your niche.
After picking a niche and building customer personas for your affiliate site, the next step is to brainstorm the seed keywords.
Seed keywords are often 1-2 words in length and describe a part of the niche. E.g., digital marketing, babycare, kitchen, gardening, home decor, books.
If you're familiar with a particular niche, it won't be difficult to brainstorm seed keywords for your affiliate marketing keyword research.
4. Basic Keyword Research for Affiliate Marketing
When you have a few seed keywords, it's time to find common search terms closely related to them.
How could you do that?
Simply, head over to Google search and type your seed keyword.
Google will show relevant keywords in the autocomplete section as well as the related keywords section at the bottom of the SERP.
You can also observe the adverts to get some keyword suggestions.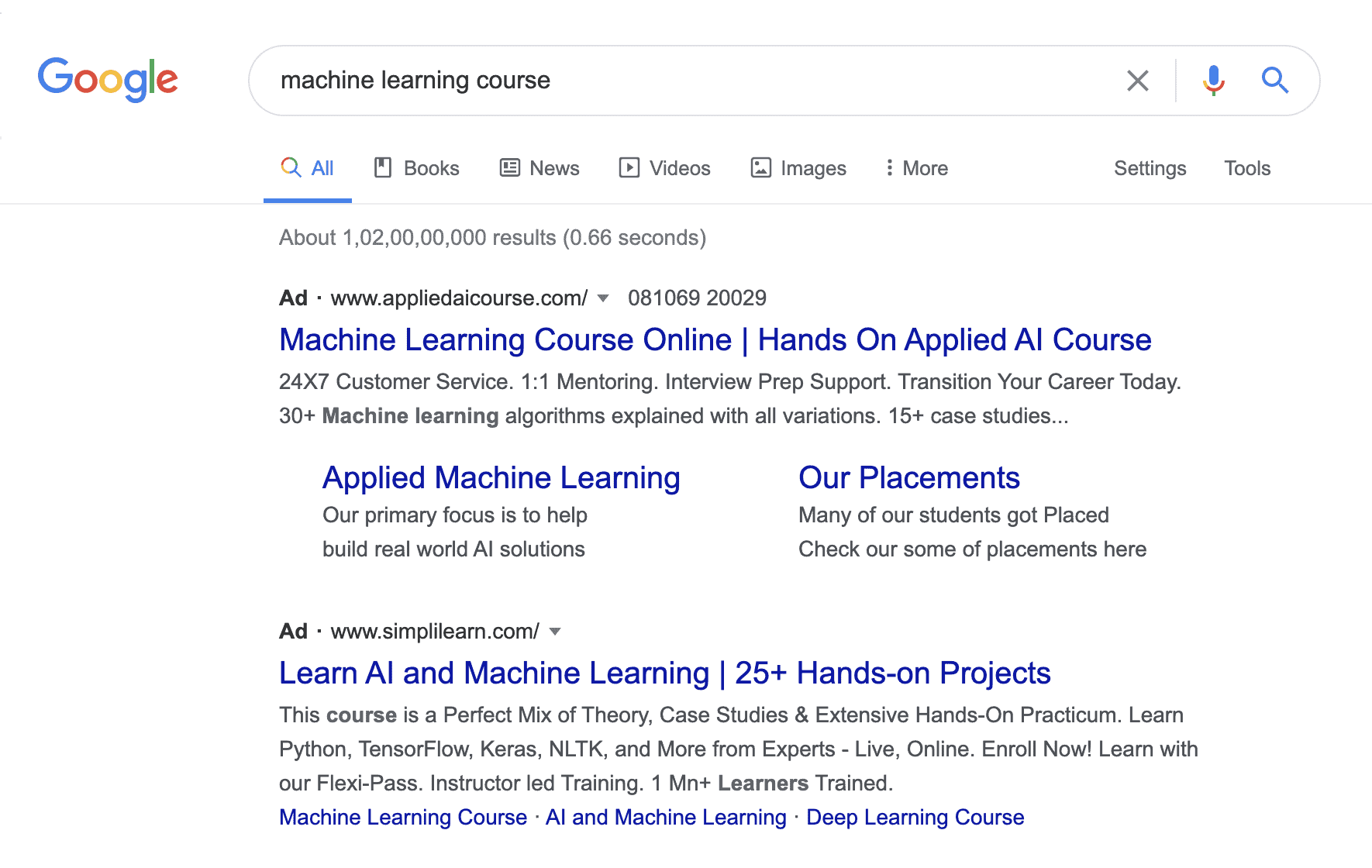 LSIGraph and AnswerThePublic are a couple of best tools to find semantic keywords and frequently asked questions.
Here is a secret tip for finding profitable keyword ideas.
Keep eyes on where your ideal customers spend most of their time, including social media networks, forums, blogs, and Q&A sites such as Quora.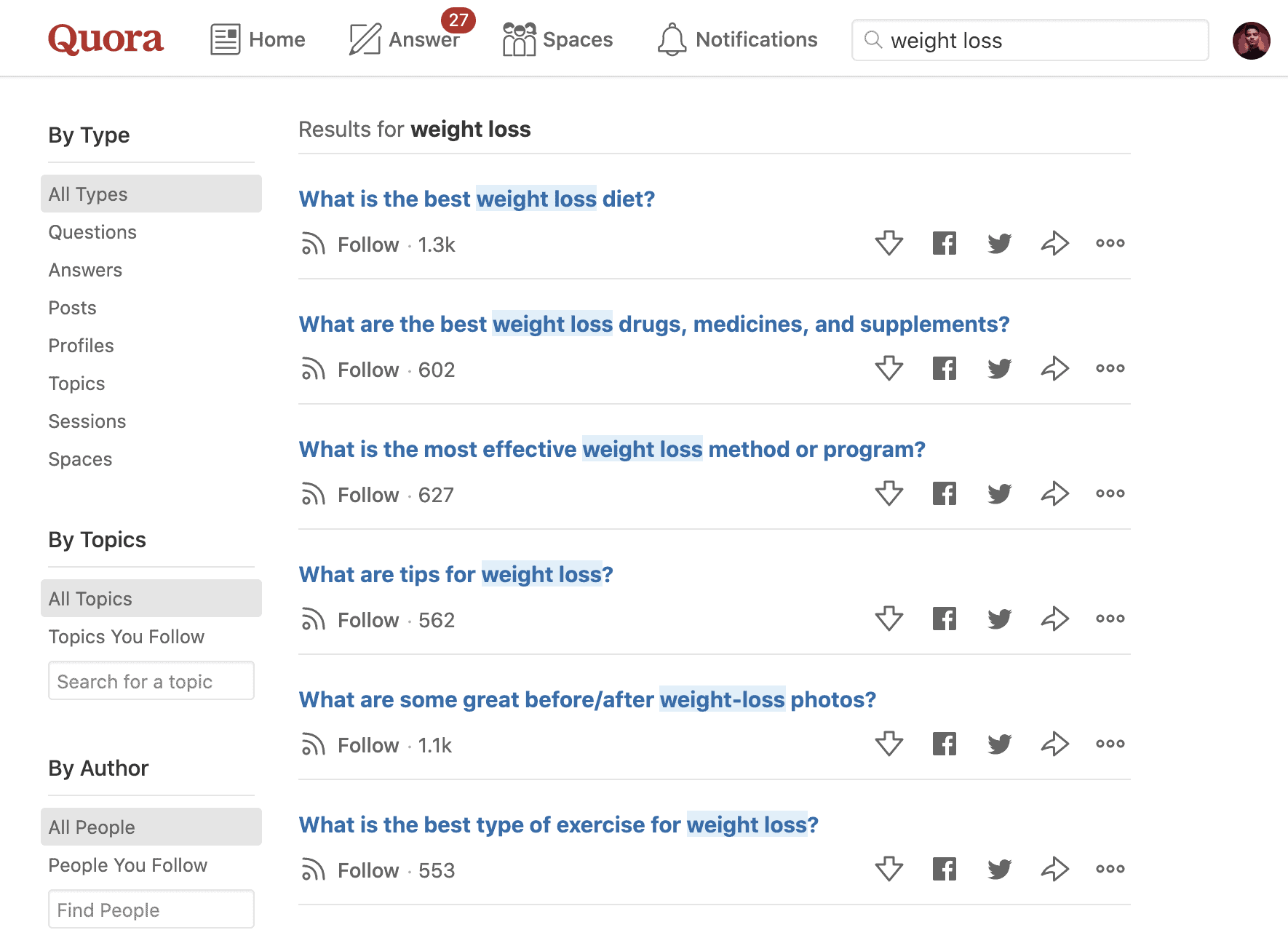 People often share their knowledge, status updates, comment, or ask questions to experts.
By analyzing this data, you can find hundreds of profitable keywords to target on your affiliate site.
5. Advanced Affiliate Keyword Research
Now, you have a list of relevant keywords that does not include essential metrics such as average monthly search volume, SEO keyword difficulty, CPC, PPC competition, search trends, and clicks potential.
Targeting random keywords without knowing the estimated revenue potential could be a huge mistake.
That's why you should perform advanced affiliate marketing keyword research.
Pick any keyword research tool that shows highly accurate results and enter your seed keyword.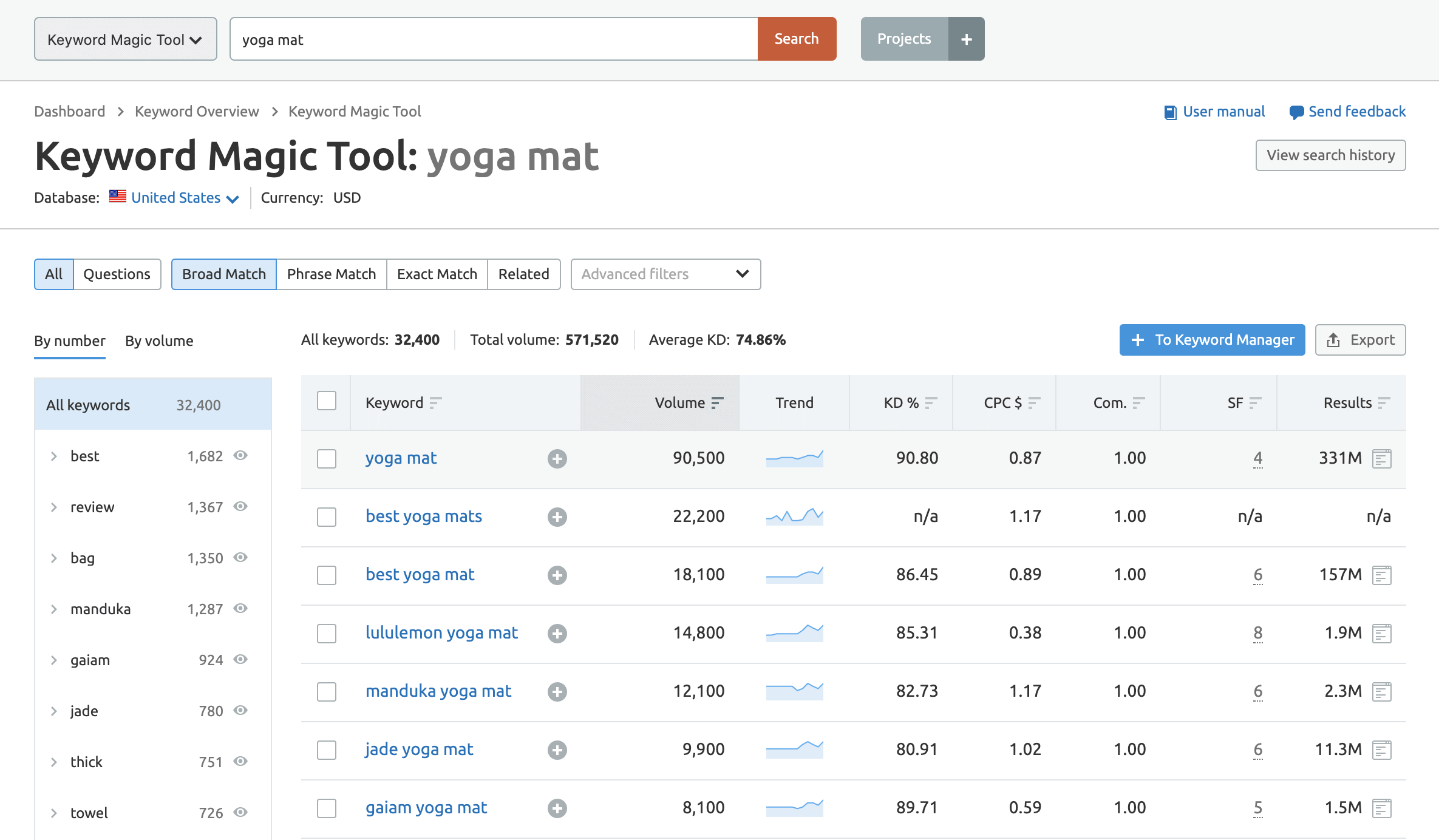 You may also choose any keyword from the list you have generated in the previous step.
The keyword research tool will display the essential metrics along with related keywords.
Premium keyword research tools such as Ahrefs and SEMrush show the list of top competitors and data for domain authority, backlinks, referring domains, and search traffic.
I highly recommend you to pick any of the above tools. However, KWFinder, KeywordTool.io, and LongTailPro are great keyword research tools for people who have a limited budget.
6. Competitors Analysis
Analyzing the top competitors is extremely important in affiliate marketing. It not only helps to discover some profitable keywords but also to create a winning marketing strategy to beat the competition.
Again the Ahrefs or SEMrush will help you move ahead.
Both tools show the list of top competitors for a particular keyword, or you can analyze custom domains to get profitable keywords.
Pro tip:
Visit Flippa.com, or any website buy/sell platform that showcases affiliate websites.
Pick any website that makes at least $500 per month and analyze it using the SEMrush.
You'll find hundreds of money-making keywords to target on your affiliate site.
7. Understanding the Search Intent
Knowing keyword intent determines the success of your affiliate blog. It simply means understanding what the potential customer wants to achieve.
Here are four types of keyword search intent.
Informational – The searcher is looking for information or answer to his query. E.g., what is affiliate marketing, fashion trends
Navigational – The searcher is looking for a particular brand/website. E.g., Facebook login, SEMrush traffic analytics, hp.com.
Commercial Investigation – The searcher knows about the problems and solutions available in the market but has yet to make a final decision. He might be looking for reviews, comparisons, and category leaders. E.g., best kitchen chimney, top electric scooters, Astra vs. GeneratePress.
Transactional keywords – The searcher is looking to make a purchase. Most probably he is solution aware but looking for the best place to buy. E.g., buy apple iPad pro, Bluehost hosting plans, SEMrush coupon.
You should have the right balance of keywords of different search intents to build your affiliate site as a comprehensive resource in the specific niche that you choose.
Informational keywords often have high search volume and low to moderate seo competition, but the conversion rate isn't great.
On the opposite side, search queries with commercial or transactional intent may have low search volume and extreme competition. However, these keywords mostly drive conversions generating revenue for your affiliate business.
Once you are able to discover and rank the low competition high volume keywords with commercial or transactional intent, affiliate marketing will be a money-making machine for you.
8. Filtering the Keyword Data
Performing in-depth keyword analysis will give a big list of keywords to target on your affiliate site.
It's time to filter the unwanted keywords.
First of all, remove all keywords with extreme competition that aren't worth your efforts. You would also want to exclude some non-commercial keywords to save bandwidth.
Unless you are displaying ads on your affiliate site, I recommend you remove those keywords from your list or build a funnel to convert that traffic into leads and sales.
For example,
The visitor looking for a nulled theme is unlikely to make any purchase. Targeting this keyword may not generate any direct sale.
However, you can write about the disadvantages of nulled themes such as malware insertion, hacking, possibilities of negative SEO, slow loading time, and revenue theft to convert the particular visitor into an affiliate sale.
Finally, create groups of relevant keywords and assign these keyword groups to different posts. You can use create mind maps or spreadsheets for better organization of the final keywords.
Final Words
Conducting keyword research for affiliate marketing is no more optional. Finding and targeting the right keywords on your affiliate blog define your success.
Conversion-focused site structure, high-quality content, and right promotion strategies will help you achieve the potential of keywords.
Now, it's your turn.
Sign a free trial and start finding profitable affiliate keywords that make money.