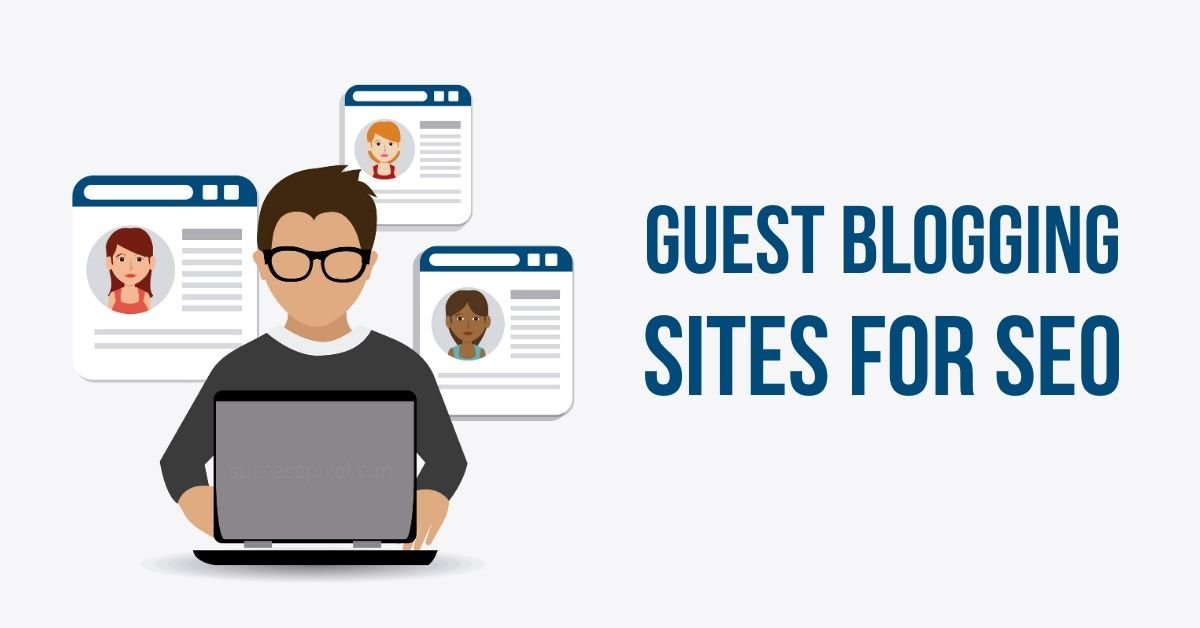 Affiliate Disclosure: I publish various content marketing strategies, online business ideas, blogging tutorials, review articles, and discount offers on my blog. My content may contain some affiliate links for products/services I use, love, and recommend. If you take action (i.e., subscribe or make a purchase) after clicking one of my affiliate links, I'll earn an affiliate commission at no additional cost to you. It helps me in creating more helpful content like this.
Guest blogging is a popular term in the digital marketing industry, especially among SEO professionals working on link-building.
A guest post means a blog post written by someone other than a regular blog author whether he's an individual or a third party (SEO agency or link-building professional).
Many people think that guest blogging is a simple way to get a link from a high authority site.
However, it's not just about getting backlinks, but a golden opportunity for personal branding by showcasing your knowledge & skills, targeting a new audience, increasing your followers, and building a relationship with other people related to your niche.
You might have heard from many people that guest blogging is dead and no more useful in SEO ranking.
Is it true?
Let's discuss it to clear up your confusion.
Guest Blogging for SEO is Dead, or is it?
Unfortunately, many black hat marketers and so-called bloggers are blaming that guest posting as no more helpful in SEO.
Google only penalized those sites which were spamming its search algorithm by creating poor-quality material only to generate tons of backlinks to manipulate search results.
Writing a post for other websites in the relevant niche is one of the best inbound marketing strategies to bring quality visits to your site and convert them into leads or customers.
In this article, I'll be revealing how guest blogging has evolved over the last few years as well as some of the best practices to find high-quality blogs that offer guest blogging opportunities and contribute to your post for mutual benefits.
One more bonus!
I'm sharing a complete list of guest blogging sites with high domain authority (DA).
Best of all, it's absolutely free.
Once, you've finished reading this article and fully understand how to create a killer post to feature on a guest blog that generates massive value for your online business for the years, you can get this list or download it for your reference.
So, let's get started.
Evolution of Guest Blogging
Remember, guest blogging for SEO in 2023 is not the same as the years before.
Now, Google has become more intelligent and crafted better search algorithms to ensure only high-quality and extremely relevant content in the SERP for any search query.
But the guest posting practices were far different and mainly focused on getting the backlinks to increase search engine ranking.
The whole process used to be similar to:
Find the blogs that accept guest posts whether it's relevant or not.
Pitch them for a free post or somehow bribe (or pay X amount) to post on their blog.
Link back to the author's site.
Repeat this process a few more times.
Sit back comfortably to see the improvements in search ranking and enjoy a load of traffic.
However, things have changed.
Today, implementing a successful guest posting strategy is quite challenging but it's incredibly worth your efforts.
In 2023, you need to be smarter to tackle the challenges and outrank your competitors.
Here's a quick overview of the guest blogging strategy that I use to improve my SEO ranking.
Finding high-quality and active blogs in my niche with real engagement and good SEO metrics is essential.
Contacting the site owner/editor to pitch my author contribution.
Getting accepted to write a guest post for their site because of the mutual benefits we both can get.
Creating an epic blog post that provides real value and is not meant for backlinks only.
Engaging with the audience, especially when they leave a comment.
Rinse and repeat the same process across a few more blogs rather than hundreds of low-quality sites.
Getting the value back in the form of high-quality backlinks, SERP improvement, referral traffic & followers from my genuine efforts.
I have already said, it's simple but not that easy.
To reap the fruitful rewards in the form of a healthy backlink profile, traffic, and leads from guest blogging, you need to follow this tutorial to the end.
How to Find Guest Blogging Sites?
If you have included guest posting in your SEO strategy, you need first to make a list of high-quality blogs that accept guest posts before you even start writing a draft.
It's necessary to consider at least 50+ sites where you could submit a guest post.
How could you find those sites?
Here are a few ways to find top guest blogging sites.
1. Google Search
While the old search string "Your keyword + write for us" gives some wonderful results, you can replace it with different search terms to yield more domains accepting guest posts.
I have mentioned a few search strings that you can use for your SEO campaign.
Section 1
Your Keyword + "guest post"
Your Keyword + "guest posting guidelines"
Your Keyword + "guest bloggers wanted"
Your Keyword + "submit blog post"
Your Keyword + "submit a guest post"
Your Keyword + "submit content"
Your Keyword + "submit your content"
Your Keyword + "submit post"
Your Keyword + "become a guest blogger"
Your Keyword + "become a contributor"
Your Keyword + "become an author"
Your Keyword + "become a guest writer"
Your Keyword + "writers wanted"
Your Keyword + "want to write for"
Your Keyword + "contribute to our site"
Your Keyword + "This post was written by"
Your Keyword + "guest post by"
Similarly, you can use the following search strings to add more guest blogging sites to your list.
Section 2
Allintitle + search strings in "section 1"
InURL + search strings in "section 1"
2. Guest Post Page
Generally, you will get a ton of results from the first method only. Still, you can use other ways mentioned here.
If you write a niche blog, then you might be following some influencers or even some top contributors around the various fields.
When you read their blogs, many times, you can field a guest post page. Read that page carefully to understand the guest posting guidelines.
If you can write a similar or better piece of content for them, then add the URL of this blog to your list.
However, being familiar with their blog and writing style, and interacting with these influencers through different channels can increase your chances to get approved to contribute to their blog as a guest author.
3. "Featured In" Section
Many bloggers love to focus on their branding, so they try to get featured in some popular magazines and blogs.
And, they usually display logos or names of the sites they have featured in to build authority among their audience.
If you are at a similar level, find the sites where these bloggers (your competitors) have submitted a guest post, observe their writing pattern, and guest posting charges if any.
Then, you can create better content and approach that particular site to contribute as a guest author.
By using this method, you can get dofollow backlinks from high authority sites to improve your site's SEO ranking or at least an enhanced reach, exposure for personal branding, and loads of traffic.
Create a list of at least ten websites you want to feature in and then start pitching them one by one.
Plus, you can get more ideas for your next blog posts.
By reviewing the "Featured in" section and then doing the competitors' analysis, you would get more details about their guest posting strategy for SEO.
Do proper homework before pitching the guest post. It will increase your chances of getting accepted as a guest contributor.
Also, this way, you can create a list where you can submit a post and get a link back to beat your competition by leveraging their efforts.
4. Reverse Engineering
1. Google Reverse Image Search
Google reverse image search is a goldmine to analyze your competitors and find guest blogging opportunities that you would have never expected.
All you need to do is pick any competitor in your niche having the almost same authority and audience size.
Then copy the URL of their website logo or profile picture and enter it in Google's search box. Otherwise, you can download that image and upload it to the Google image search.
Now, you can instantly find almost every site your competitors have written a guest post.
2. Sneak Peek Competitors Using Premium SEO Tools
While many sites publicly say that they are offering guest posting opportunities for talented authors, a few websites simply don't promote them.
How could you find those sites?
Just head over to a backlink tracking tool of your choice, and insert the URLs of top competitors' sites to find the inbound and outbound links.
Most of the time, you can find guest blogging opportunities you might not have expected using this tactic.
5. Social Media
Do you know that you can use the same search strings that you've used in section 1 and be presented with some amazing results on social media?
Yes, it's possible.
As the indexes for social media are updated more frequently, you can find relevant guest posting opportunities much faster.
Similarly, participating in some of the social media groups (especially Facebook/LinkedIn groups and Google+ communities) can get a chance to interact with your site owner to ask for guest post participation.
6. Blog Commenting
If you have a blog with quality articles on it, then you can leverage blog commenting for the sake of guest posting opportunities.
How can you do that?
There are a couple of ways to find guest blogging opportunities through blog commenting.
The first one is leaving a comment on some of the blogs in your niche, appreciating their work, and asking if they are looking for guest bloggers.
Normally, single-owner blogs that are updated after long intervals but have good SEO metrics and high-quality content can be targeted using this tactic.
On another hand, if you have a popular blog with a good audience size, you can ask people whether they want a guest post similar to your blog posts.
It works great when you write an in-depth blog post or case study, and people show interest to know more through the comment section.
Instead of acknowledging their comment and simply responding as "Thank you for reading," you can reach out to those people and ask whether they need a guest post.
Hopefully, you would find a few sites accepting guest posts, and may give you a backlink too.
Once you start using this method, you'll quickly realize the power of blog commenting in guest blogging strategy and how many potential guest posting opportunities you wouldn't have expected to exist.
7. Pre-Built List of Guest Posting Sites
The methods explained above are time-consuming, and you need a lot of research to know the SEO metrics, backlinks, content quality, and potential traffic of the particular sites you are targeting.
Instead of spending hours hunting down such guest blogging opportunities, why not simply use a pre-made list of guest posting sites around the web? (Similar to the one listed below.)
While you may face some issues with the pre-built list of guest blogging websites like the changes in contribution guidelines and losing relevance/quality over time, this is the far easiest way to start guest posting for SEO.
However, by bookmarking the sites which update their list more frequently (like this one), you'll save the long hours and energy to find the blogs that accept guest posts.
Best Guest Posting Sites 2023
If you are looking for the best guest blogging sites with high domain authority, then you can leverage the following list to pitch your ideas and write your article.
Important Disclaimer
The list you see below is updated in July 2023, and domain authority (DA) is checked using the Moz SEO toolkit.
The sites listed below may or may not accept the guest posting request for everyone.
Remember, the policies of every site may change from time to time. So, do your own research and read all guest posting guidelines before pitching them.
---
Business Websites for Guest Blogging
---
Marketing Guest Blogging Sites
---
SEO Guest Posting Sites
---
Social Media Guest Posting Sites
---
Guest Posting Sites in Blogging Niche
---
Content Marketing Guest Posting Sites
---
Web Design Guest Blogging Sites
---
News Guest Blogging Sites
---
Real Estate Guest Blogging Sites
---
Education Guest Blogging Sites
---
Technology Guest Posting Sites
---
Finance Blogs that Accept Guest Posts
---
Health and Fitness Guest Posting Sites
---
Food Blogs that Accept Guest Posts
---
Music Guest Posting Sites
---
Travel Guest Posting Sites
---
Camping and Hiking Sites for Guest Blog
Wrapping Up
As promised, I have explained why guest blogging for SEO is still important and how to find guest posting opportunities.
If you want to save time, you can use the list of best guest posting sites given here which includes all important SEO factors you might need.
Plus, I will be updating this article and list frequently. If you know a few sites that accept guest posts, you can ask me to add them to this list.
I hope you have liked this post, so don't forget to share it with your friends.
Recommended Articles
---
Important
We regularly update our list of guest blogging sites, adding fresh domains with good SEO metrics, and removing those that no longer accept content from guest authors.
Update #1
The above websites are considered as high authority sites, and if you want to add yours to this list, get in contact with your blog URL and relevant metrics.
However, we are charging a nominal fee ($50 via PayPal) to avoid spamming. Feel free to ask any questions, and we will get in touch asap.