Affiliate Disclosure: I publish various content marketing strategies, online business ideas, blogging tutorials, review articles, and discount offers on my blog. My content may contain some affiliate links for products/services I use, love, and recommend. If you take action (i.e., subscribe or make a purchase) after clicking one of my affiliate links, I'll earn an affiliate commission at no additional cost to you. It helps me in creating more helpful content like this.
Are you one of those people who is looking for the Semrush free trial?
Let's talk about the Semrush SEO toolkit, what is Semrush used for, and how to get an exclusive 14-day free trial.
You can find profitable keywords, perform Semrush competitors analysis to spy backlinks as well as the easy-to-rank keywords, PPC data, and much more to increase your website ranking on Google.
Read this post carefully to know how to get more traffic and boost your online marketing with the help of Semrush free trial.
Why is Semrush a Must-Have SEO Tool?
Several articles and tutorials online are involved in the haul telling that Semrush is a must-have tool.
If you are a person who deals with SEM, SEO, or SMM, then Semrush is a powerful tool designed to grow your online business.
It's beneficial to figure out the competitors' strategies and perform an in-depth analysis. With the help of Semrush, sustaining, and scaling your business becomes extremely efficient.
1. Potential Tool in a Limited Budget
Excluding prominent business performers, ordinary people have a limited budget for marketing their website and a set budget for using different tools.
It is a critical decision about how to fulfill the technological requirements without crossing the budget limit.
There are hundreds of different tools online to choose from that will help you in video creation, backlinks, keyword research, and SEO.
So it's necessary to choose the marketing tool which has the potential to transform your business and can trigger a website with the target audience.
Semrush has indeed become the first choice of many users without any hesitation because it offers various digital marketing tools in a limited budget.
2. A Massive Regularly Updated Keyword Database
Semrush has a massive database of around 20 billion keywords and more than 816 million domains.
When a user enters the keyword, it displays all related keywords along with other useful metrics, including monthly search volume, CPC, SEO difficulty, and traffic potential.
The user also gets to know which sites are ranking for the particular keyword.
All this information is beneficial for a business website to improve its ranking, traffic, leads, and revenue.
3. Semrush Greatly Helps the Bloggers and Affiliate Marketers
Semrush can help bloggers and marketers to spy the competitors' websites.
It helps to estimate the website traffic, competition level, as well as to find useful insights, including the top keywords and backlinks pointing to the website.
If you want to know more about how these features help bloggers and affiliate marketers, then start with Semrush 14 days of the free trial.
4. Great for Organic Research
Semrush is an excellent tool for the extensive overview of any website where the user can get useful insights about the top-ranking keywords, their organic search positions, monthly search volume, and estimated traffic.
Semrush backlinks data includes the total backlinks pointing to a particular website or page, referring domains & IPs, their authority score (A-Score), anchor text distribution, and much.
5. SEO Experts Highly Recommend this Tool
If you are already using similar tools for developing and executing your marketing strategies, then you can try switching to Semrush and observe the change.
Recommended Resources
21 Secrets of SEO Link Building with Semrush You've Never Heard Before!
6. Advertising Research
Semrush is more than just a traditional SEO tool that finds keywords and backlinks.
It offers a special module of Advertising Research that helps to improve your PPC campaigns to yield more ROI.
Competition analysis for Search and Google Display Network campaigns
Keywords and creatives research for PPC Ad campaigns
Keyword grouping and management
Negatives optimization
Ad Builder tool
Google Shopping campaign analysis (PLA data)
Benchmarks of PPC costs at a local level
7. Position Tracking
Putting lots of energy into the SEO campaign without analyzing the performance may be your biggest mistake.
You must track the SERP position for the targeted keywords, organic visits, and conversions to tweak your SEO strategies accordingly.
Semrush Position tracker will help you automate the keyword rank tracking process and display a few useful insights, including the keywords' organic ranking data for the targeted location, available SERP features, visibility trends, and estimated search traffic.
Semrush Pricing
You might have noticed that Semrush pricing is quite flexible.
It offers a free forever plan with limited features along with three standard monthly subscription packages.
Pro – $119.95
Guru – $229.95
Business – $449.95
Corporate clients can contact the Semrush sales team for custom solutions.
You can purchase Competitive Intelligence and Agency Growth Kit add-ons over the top of the existing plan for an additional $200/month and $100/month, respectively. 
However, paying annual subscription fees upfront may cut down your bill significantly.
The best thing about Semrush is that you can get 14 days of risk-free trial before becoming a paying customer.
Semrush FREE Trial (Semrush Pro Account Free)
Semrush is easy to register with your existing email, or you can create a new email using free services like Gmail, or Yahoo or create a custom email address using a domain name.
The Semrush coupon code is mentioned on many websites.
Make sure the website provides factual information before clicking on any link.
Pros and Cons of Semrush
When we talk about any SEO tool in detail, it is most important to talk about the pros and cons of a particular product.
So here you go!
Pros of Using Semrush
Semrush is an all-in-one SEO tool that will help users to save a lot of money.
Easy to find the potential keywords.
High accuracy of data is available
A built-in Site audit tool to know the performance of the website on Google as well as other search engines.

Semrush

Competitor

Analysis gives a clear view of the efforts required to be the #1 brand in the market.

Suitable for bloggers, affiliate marketers, and e-commerce companies to improve their marketing campaigns.
Cons of Using Semrush
The Semrush pricing can be counted a bit on the downside.
A little learning curve – Beginners may need to invest some time in getting used to it.
The tool comes with an easy interface, but the user has to watch training videos and go through tutorials before getting into natural use.
In comparison with other major tools like Ahrefs and Moz, the Semrush backlink database is quite limited which may lead to inaccurate backlink reports.
How to Activate the Semrush Free Trial
Usually, Semrush offers 7 days of risk-free trial for its users before they decide to purchase a premium subscription. However, SuccessPixel readers can get an exclusive Semrush promo code to try this tool for the next 14 days.
A Step-by-Step Tutorial to Activate the Semrush 14 Days Free Trial
Here is a step-by-step process to activate Semrush's 14-day free trial.
1. Visit an exclusive Semrush partner page designed for SuccessPixel.com users. You can see the active Semrush coupon code and special offers on the page.
2. Click on the Start your free 14-day trial now! button.
3. Register a new account or log into your existing SSemrush account to get a special discount on the Semrush Pro account.
Alternatively, you can continue using a Google account.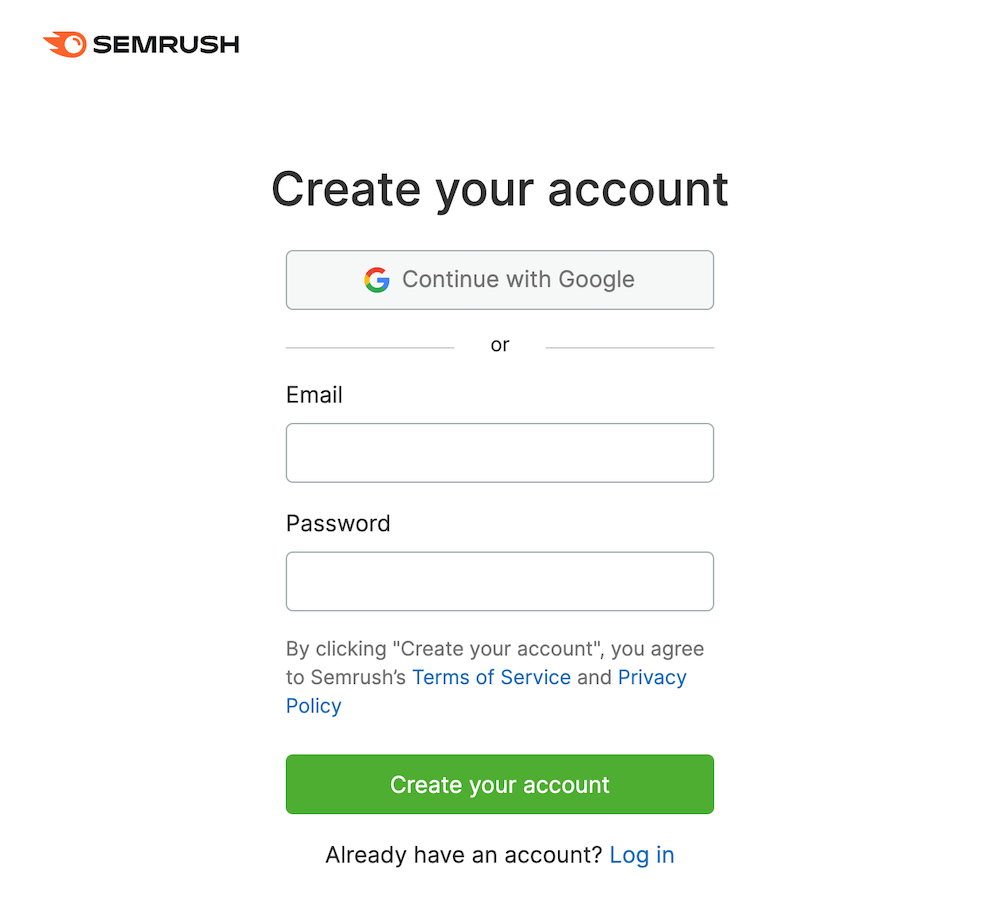 3. Enter your billing information (a valid credit card is required).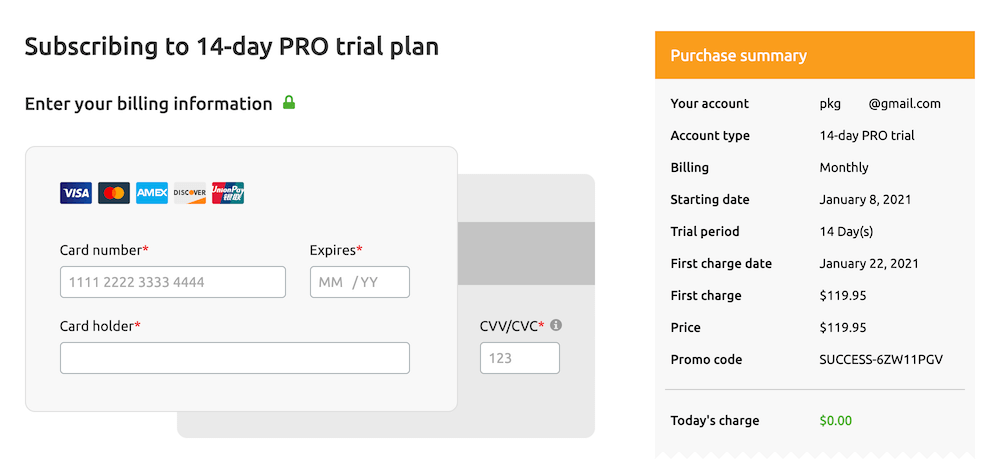 4. Enter your billing address.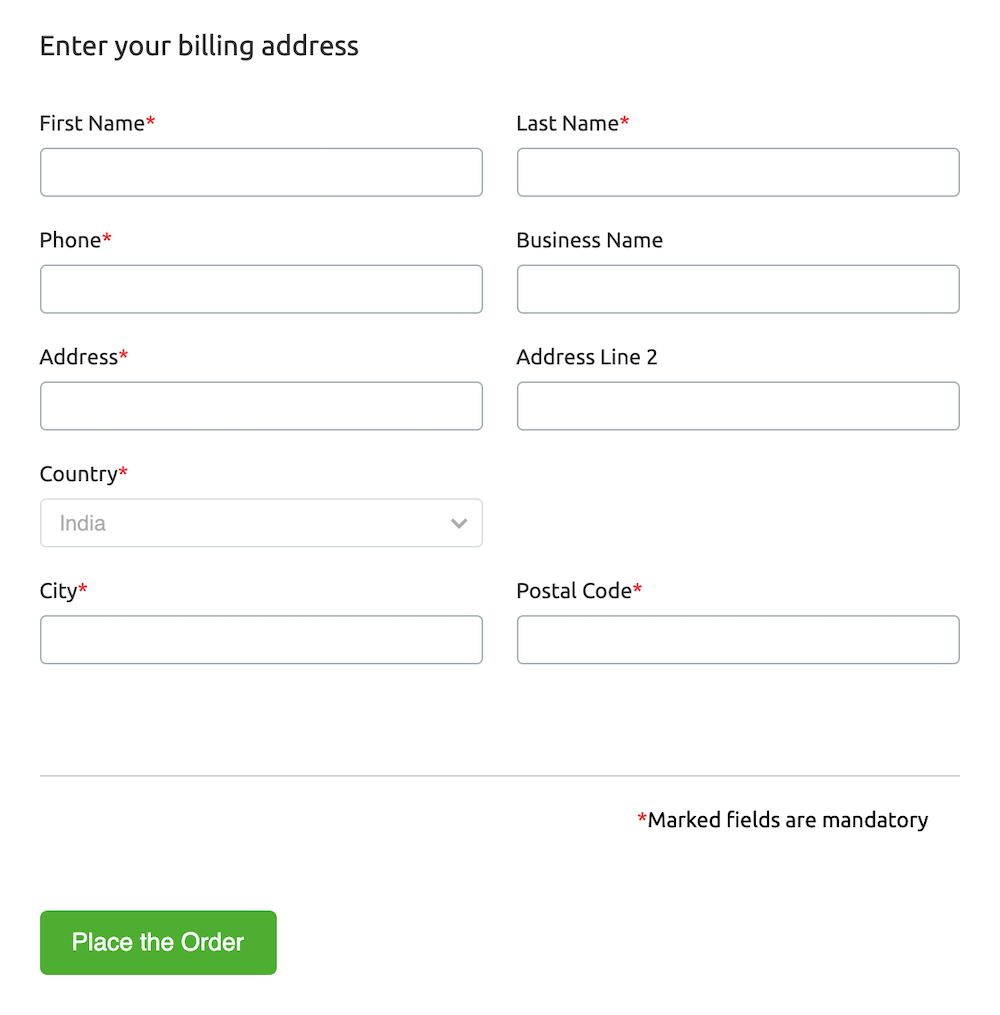 5. Verify the information and Semrush promo code, i.e., you're getting 14 days of Semrush free trial instead of just 7 days.
6. Click on the Place the Order button located at the bottom of the page.
7. Congratulations! Now, you can use the Semrush content marketing toolkit for the next 14 days, absolutely FREE.
Semrush Free Trial FAQs
1. Is Semrush suitable for me?
Semrush is an all-in-one digital marketing toolkit suitable for bloggers, marketers, SEO executives, and PPC executives who want to create robust marketing strategies. Semrush is one of the best content marketing tools if you're willing to take your website to the next level in less time.
2. How much does Semrush cost?
Currently, Semrush offers three subscription plans starting at $99.95 per month and can go up to $399.95 per month. Semrush also provides a free plan that includes a few basic features for every user, irrespective of whether he/she is a paying customer or not. For Enterprise Solution, you can contact the Semrush sales team at corporate@semrush.com to get more details.
3. Can I cancel my Semrush account after the free trial period to avoid charges?
Yes, why not? You will not be charged for 14 days, and if you want to continue, you can do so. In case you wish to terminate your account, I suggest canceling it before your subscription end time to avoid last-minute hiccups.
4. Can I cancel Semrush free trial?
If you're not satisfied with the Semrush performance in a rare case or think it's not a perfect match for your requirements, you can cancel Semrush free trial by sending a cancellation request to Semrush support.
5. How do I cancel my subscription to Semrush?
You can cancel your Semrush subscription by sending a cancellation request email to mail@semrush.com. They will cancel your account for you within one business day. Since Semrush is a must-have content marketing tool, I don't think that you'll cancel the Semrush subscription.
A Bonus Tip for All Semrush Free Trial Users
Semrush is one of the most popular and versatile search engine marketing software tools. Many beginners don't have enough funds to invest in such tools that drive future growth.
So leverage this Semrush 14 days free trial to collect the maximum profitable keywords as well as spy on your competitors' websites to grab exclusive insights and strategies.
Use this data to build a profitable online business and create a passive income stream for yourself so that you can repurchase the Semrush premium subscription to fuel your growth.

Name: SEMrush
Description: SEMrush is the world's leading content marketing toolkit and competitive intelligence software to take your digital marketing campaigns to the next level.
Offer price: 0.0
Currency: USD
Operating System: Linux
Application Category: SEO
Author: Ankit Main
Features

User Interface

Accuracy

Pricing
Comments Rating
( reviews)