Affiliate Disclosure: I publish various content marketing strategies, online business ideas, blogging tutorials, review articles, and discount offers on my blog. My content may contain some affiliate links for products/services I use, love, and recommend. If you take action (i.e., subscribe or make a purchase) after clicking one of my affiliate links, I'll earn an affiliate commission at no additional cost to you. It helps me in creating more helpful content like this.
Many people either use Rank Math SEO or Yoast SEO plugins on their WordPress websites to get quick SEO suggestions. However, there is one more tool that may impress you, i.e., Semrush SEO Writing Assistant a.k.a. SWA.
SWA is a part of the Semrush Content Marketing Toolkit.
This tool is useful for optimizing content for users as well as search engines so that you can achieve better search rankings.
A few of my blog readers asked me how to use the Semrush SEO Writing Assistant tool to improve the SEO score of their content.
In this tutorial, I'll explain how to use the SEO Writing Assistant to create SEO-optimized content.
It doesn't matter which platform you are using, the Semrush offers a dedicated WordPress plugin and Google Chrome extension along with the native visual editor for the SEO Writing Assistant.
What is SEO Writing Assistant?
SEO Writing Assistant is an online content optimization tool developed by the Semrush team.
This tool enables you to scan your copy for different SEO suggestions and improve the readability, SEO, Tone of Voice, and Originality of your content to achieve better SEO score.
How Does the Semrush Writing Assistant Work?
Here is a step-by-step process to get the best of the SEO Writing Assistant module.
1. Grab an exclusive free Semrush trial or register a free account.
2. Navigate to Content Marketing Toolkit > SEO Writing Assistant and enter a focus keyword to create a content template based on the top results for a particular term.
3. I highly recommend you perform keyword research by using the keyword magic tool to find profitable keyword ideas and pick a focus keyword for your content.
4. Once you generate a content template, the Semrush will generate a list of semantically related keywords to include in your copy.
5. It'll also suggest a few link placement depending on the SEO keyword difficulty and backlink profiles of the top-ranking articles.
6. Include a focus keyword into your page title, headings, and meta description. Don't forget to keep an eye on the maximum recommended length for the page title as well as meta description so that it won't get truncated in the SERP.
7. Adjust the article length based on the average length of the top results. The Semrush displays the average length as well as the top 10 blog posts within your SEO writing Assistant dashboard. 
8. You can also see the keyword placement and frequency for the focused keywords to understand how these websites are structuring their content.
9. Although you are writing an SEO copy, it should be readable by the target audience. So try to achieve a better readability score for your content based on the topic and the average readability for your competitors.
10. Create a copy that sounds natural and engaging instead of a plain technical jargon that no many people want to read. Try to understand how the users are communicating and use the tone of voice suitable for them i.e., casual or formal.
Since the tone of voice is a critical factor in building trust and standing out from the crowd, you should pick the best one suitable for your business.
11. Analyze your content for plagiarism by comparing it with similar articles published on the web previously.
The Semrush has a built-in plagiarism checker functionality, so you need not purchase third-party plagiarism checker tools such as Grammarly Premium.
12. Finally, publish your article by importing it to your website or directly if you're using the Semrush SEO writing Assistant WordPress plugin.
How to Use Semrush SEO Writing Assistant in WordPress
Semrush team has developed an SEO Writing Assistant plugin for WordPress users.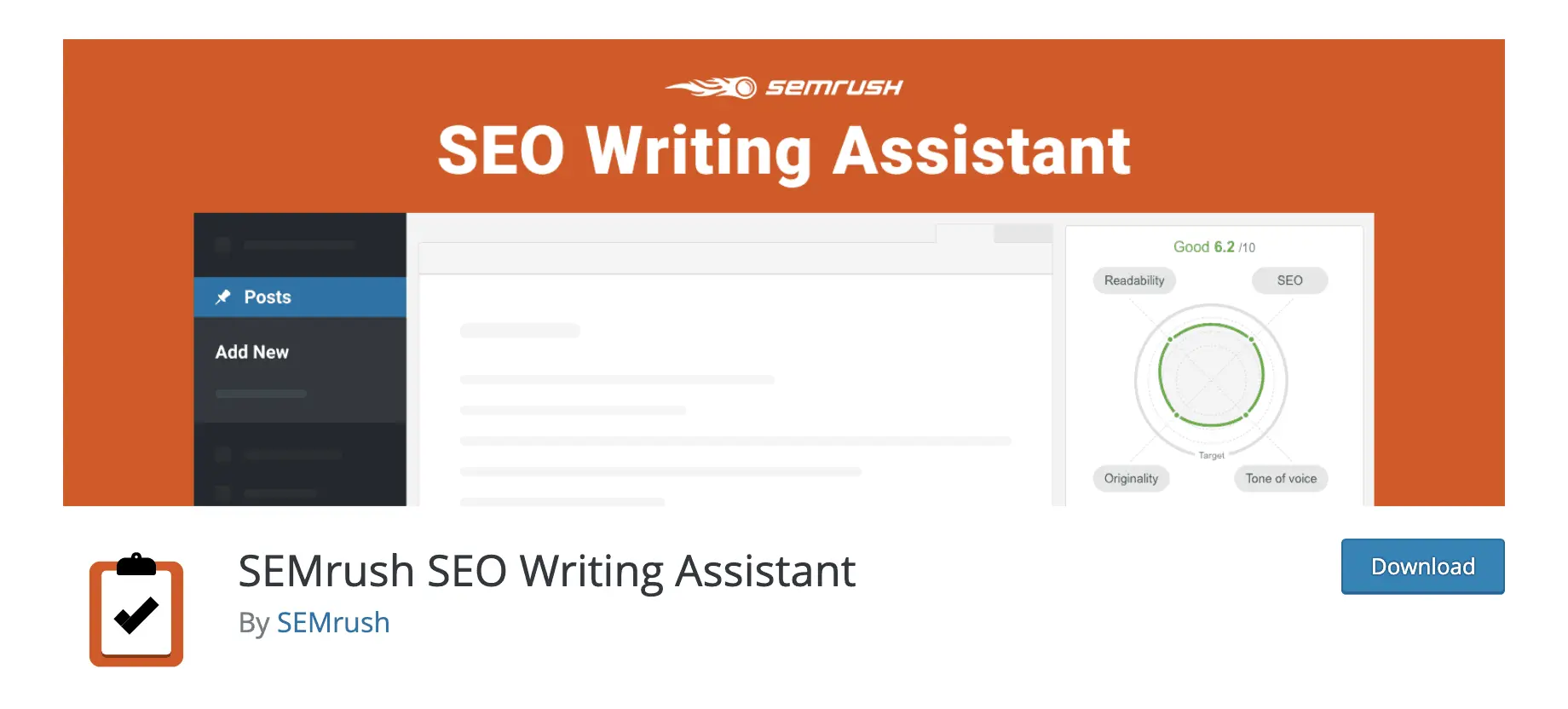 Simply, log into your WordPress admin dashboard and install the Semrush SEO Writing Assistant plugin by visiting the official WP repository.
Now, create a new post or edit an existing post that you want to improve.
Scroll down to the Semrush SEO Writing Assistant section or convert it into a sidebar widget to enable float mode.
Click on the "Start Optimizing" button or "Log in" option to connect this plugin with your Semrush account.
If you don't have the Semrush account yet, then you can create one for absolutely free using this link.
Authenticate the API access for WordPress plugin by clicking on the "Approve" button.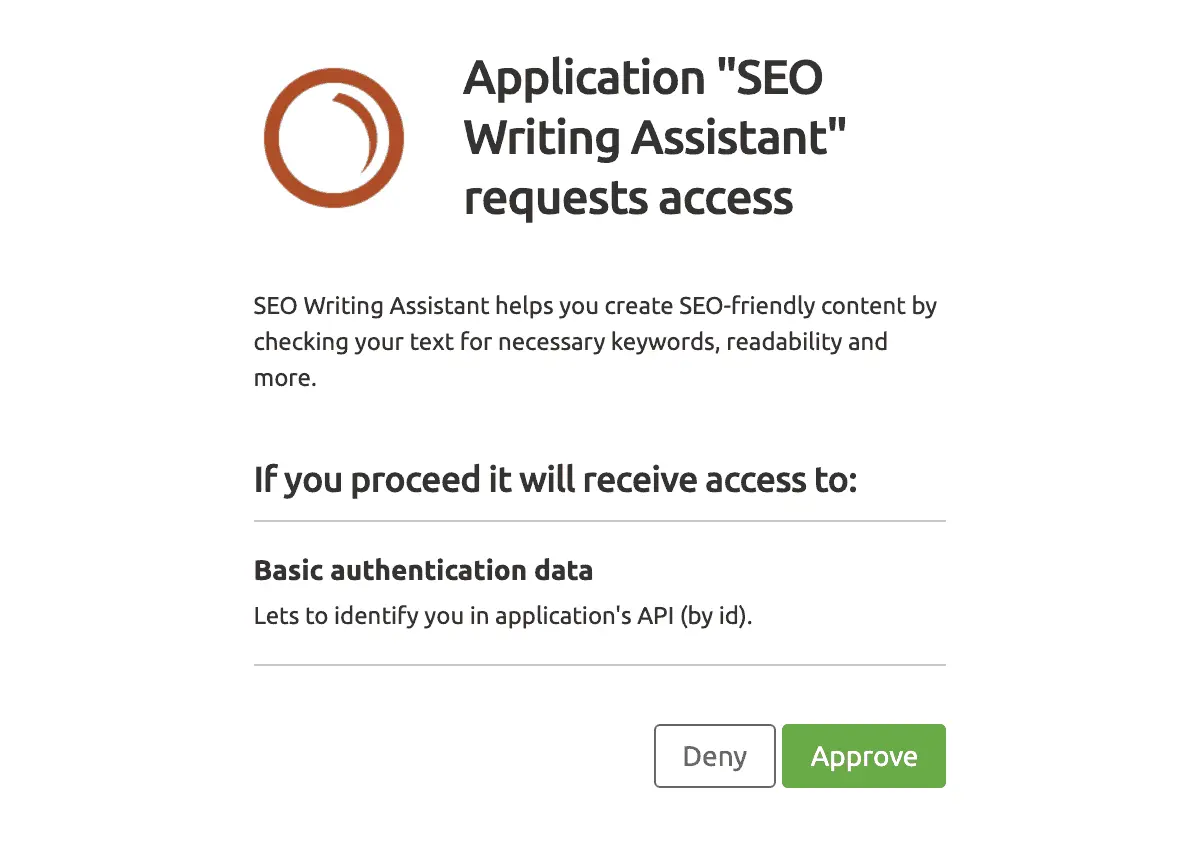 Create a new goal by considering your target keyword(s) and location. You can add up to 30 target keywords for each post.
Once you create a goal and click on the "Get Recommendations" button, the Semrush will analyze your competitors' content and give you winning SEO content ideas.
Start optimizing your content based on the SEO recommendations offered by Semrush. You can click on different options, including Readability, SEO, Tone of Voice, and Originality, to see in-depth analysis and suggestions to improve the SEO score.
Ensure each quadrant of the Semrush SWA circle is marked in green color, and you have worked on all possible recommendations.
Congratulations! You have optimized your content for better search visibility without compromising on user experience.
How to use Semrush SEO Writing Assistant Google Docs Add-on
If you prefer writing content in Google Docs or outsource content writing work, then the Semrush SWA will come in handy to check the overall score for your SEO copy.
How could you do that?
Visit the Google Docs and create a new document or click on an existing document that you want to analyze for SEO.
Click on or hover over the Add-ons menu and pick "Get add-ons" option.
The G Suite Marketplace will open. Search for the Semrush SEO Writing Assistant and install it.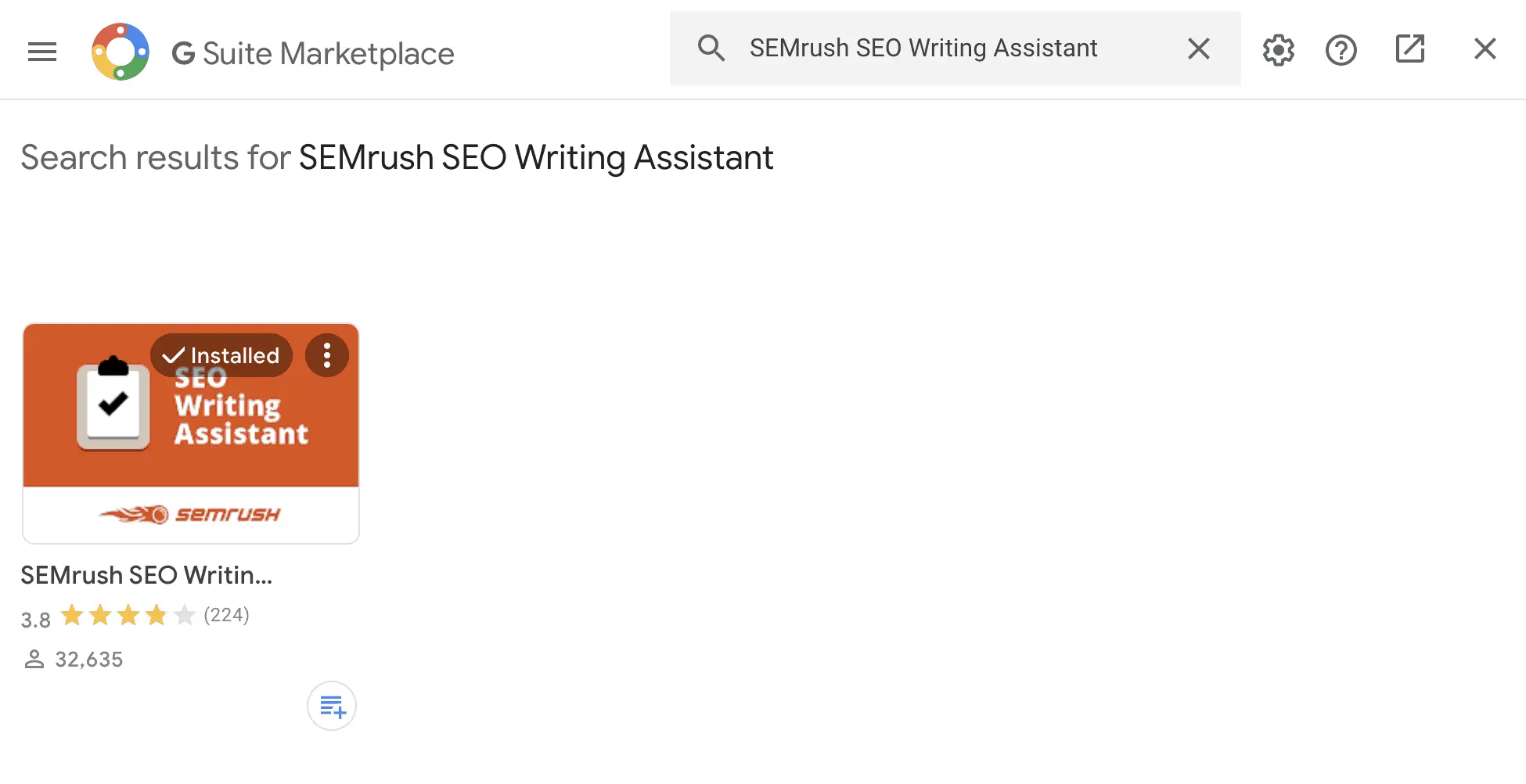 Once SWA is installed, activate it and connect your Semrush account to Google docs via API.
Now, you can use the Semrush Writing Assistant into your Google docs.
How to Optimize Content by Using the Semrush SEO Writing Assistant Tool
Search engine optimization isn't only about adding target keywords a few times to look it relevant to the search query.
An SEO professional should focus on content readability, uniqueness, and tone of voice along with the regular SEO tasks to satisfy users as well as search engines.
Understanding the different features of the Semrush SWA is necessary to use this tool effectively.
Let's discuss how each feature works and contributes to the overall SEO score.
1. Readability
Readability is the measure of how easily a reader can understand text content.
The Semrush uses the Flesch reading-ease score formula to determine the content readability.
Try to match the target readability score displayed by the Semrush SWA, which is an average for the top 10 Google rivals for the target keyword.
The Semrush also recommends the word count for your article by calculating the average for top results.
For a better readability score, all paragraphs should be properly sized. You may also consider rewriting the hard-to-read sentences and removing complex words if that doesn't have a significant impact on your marketing communication.
Readers can easily guess the page content by looking at the title. That's why adding a page tile and including a keyword in it is extremely important.
Please note that it shouldn't be too wide. Otherwise, it'll get truncated while displayed in the SERP.
2. SEO
This feature enables you to optimize the content for search.
You can add one or multiple target keywords (up to 30), choose the target region, and language to generate a list of recommended keywords.
Adding closely related keywords under a specific topic is a great choice compared to targeting vague searches that don't yield meaningful results.
I highly recommend you perform keyword research before you start optimizing your content for SEO.
Don't worry!
Even if you haven't performed keyword research, the Semrush will suggest some relevant search terms to enrich your text.
Adding those terms into your copy will improve the relevance of your article for the target keywords as well as create an opportunity to rank for a few more keywords with a little effort.
The Semrush SEO Writing Assistant will also find whether the images in your article have alt attributes or not.
People who have purchased a premium Semrush subscription can check the link profile, including the inbound and outbound links.
3. Tone of Voice
The tone of voice is a way of delivering marketing messages to your customers. It includes the choice of words in a particular sentence, their order, rhythm, and pace.
Since the tone of voice varies between formal to informal, you must choose it carefully to engage customers, build trust, and create a unique identity for your business.
The Semrush calculates the tone of Voice score by using a machine learning (ML) algorithm based on thousands of human-rated texts and scientifically proven research.
Here are some tips for choosing the tone of voice for your business:
Suppose you're speaking with a client over the phone call or face-to-face instead of writing an article. Find how you would interact in that case.
Perform research on how customers talk about your products or services. Get direct or indirect feedback.
Remember, the best tone for your content depends on your users, the message you want to convey, and your brand positioning.
Usually, a formal tone of voice is preferred in B2B space, and a casual tone of voice is preferred in B2C space.
4. Originality
The Semrush offers a built-in plagiarism tool.
This tool analyses your content for plagiarism and shows the total percentage and number of copied words along with the content sources.

However, you need to upgrade to the Semrush Guru or Business subscription plan to access the content originality check feature.
Compared to other plagiarism detection tools, the Semrush pricing for this feature is on the expensive side.
Tracking Your SEO Performance
Tracking SEO performance for your target keywords is essential to understand whether the Semrush SEO Writing Assistant tool is helping in your SEO campaigns or not.  
Using Google Search Console and Google Analytics is the most accurate and free method of tracking the performance of your SEO campaigns.
The Semrush also has a Position Tracking tool that gives additional information about your target keywords along with daily rank tracking.
Pros of SEO Writing Assistant
The following are some pros to choose the Semrush Writing Assistant over other SEO tools.
Easy to install and setup. I have already written a step-by-step tutorial on how to use this tool.
Instant readability check and recommendations to improve the content readability.
Semantically related terms are displayed under the recommended keywords tab that you can include in your SEO copy.
Link recommendations under the SEO Content Template tool.
The AI-powered tone of voice analysis to offer the best suggestions for your content.
Built-in plagiarism checks to avoid duplicate content issues.
Free to try with an option for a quick upgrade.
WordPress plugin and Google Docs add-on for quick integration with these platforms.
Cons of SEO Writing Assistant
Although Semrush has developed this awesome SEO tool, it can be improved in many areas, as mentioned below.
The subscription limits are so tight, especially for plagiarism checks. I'm sure that most of you would choose Grammarly Premium instead of buying the extra credits from Semrush for plagiarism detection.
As an SEO writing tool, I was expecting more in-depth on-page analysis. Here Rank Math SEO plugin does a better job.
No option for importing keywords from the Semrush Keyword Magic Tool directly.
No recommendations for links and link placements under the SEO Writing Assistant directly.
Target word count cannot be taken as an SEO recommendation in all cases.
Switching between WordPress, Google Docs, and the native Semrush SWA editor isn't possible.
Summary
I'm sure that this article helped you understand how to use SEO Writing Assistant in WordPress to improve the SEO and get more organic traffic.
Please use this tool on your website and share your experience in the comment section. 
Semrush SEO Writing Assistant

Name: Semrush SEO Writing Assistant
Description: The Semrush SEO Writing Assistant is an SEO content writing and optimization tool that offers instant recommendations to achieve better SEO rankings for your targeted keywords in a given location. Bloggers, SEO copywriters, and content marketing professionals can use this tool to check whether their content meets the standard quality guidelines based on the established SEO expectations.
Offer price: 0.0
Currency: USD
Operating System: Linux
Application Category: SEO
Author: Ankit Main
Performance

Features

Pricing

Support
Comments Rating
( reviews)