Affiliate Disclosure: I publish various content marketing strategies, online business ideas, blogging tutorials, review articles, and discount offers on my blog. My content may contain some affiliate links for products/services I use, love, and recommend. If you take action (i.e., subscribe or make a purchase) after clicking one of my affiliate links, I'll earn an affiliate commission at no additional cost to you. It helps me in creating more helpful content like this.
TubeBuddy Coupon Code (2022)
If you're searching for 100% verified TubeBuddy Coupon Codes, you've come to the right place.
Tubebuddy offers an exclusive up to 50% discount on its Pro plans when paid for a year upfront.
To receive this deal, you need to enter a special promo code RisingStarBuddy on the TubeBuddy checkout page.
The deal is only available to creators with fewer than 1000 subscribers who wish to purchase the TubeBuddy Pro plan.
In addition, you'll receive up to 20% off on other TubeBuddy plans with an annual subscription.
Indian residents will get a 10% extra discount for non-recurring payments (annual billing cycles), which is 30% off regular monthly TubeBuddy pricing.
501(c)(3) non-profit organizations qualify for a 25% discount on all license purchases.
What is TubeBuddy?
TubeBuddy is a YouTube intelligence tool that provides in-depth insights into your channel's performance and finds growth opportunities for your channel.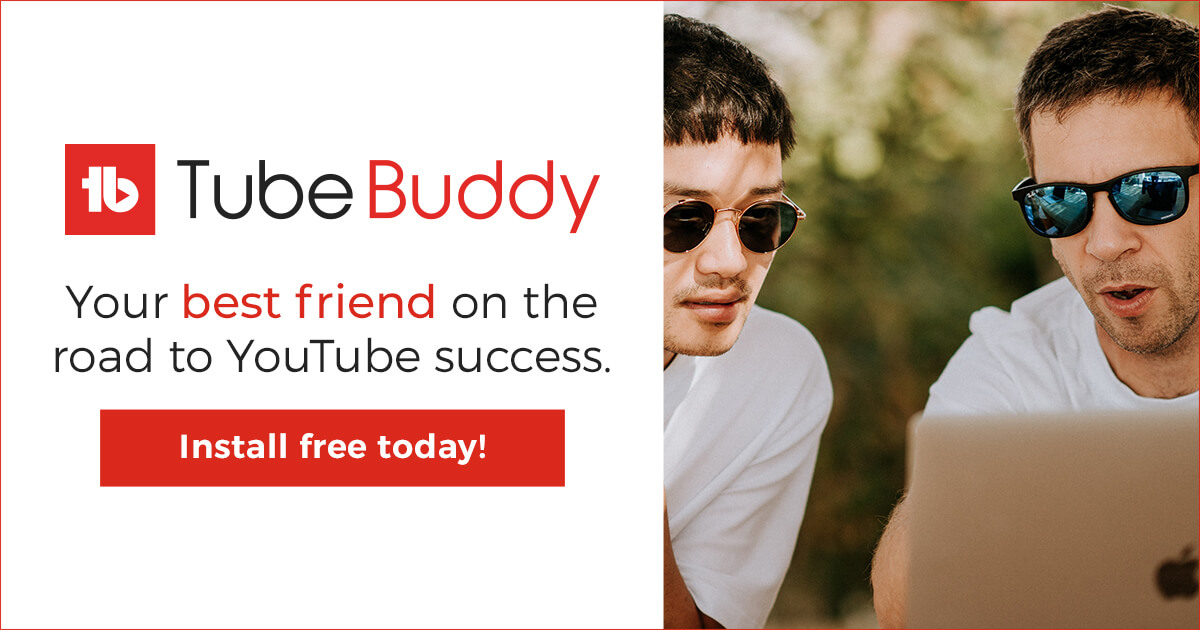 TubeBuddy provides a free browser extension and mobile app to manage your YouTube channel effortlessly. Later, you can upgrade to one of its premium plans to access more advanced features.
If you want to explore how it works, try its free features by installing a browser extension or use the TubeBuddy coupon code to save up to 50%.
How to Use the TubeBuddy Coupon Code?
With the exclusive TubeBuddy coupon code, you can save 50% on the Pro plan.
Follow the instructions below to redeem the promo code to get the best discount on TubeBuddy.
Step 1: Visit TubeBuddy via our unique link to get started. 
Step 2: Click on TubeBuddy's Pricing menu in the header section and choose the Pro plan.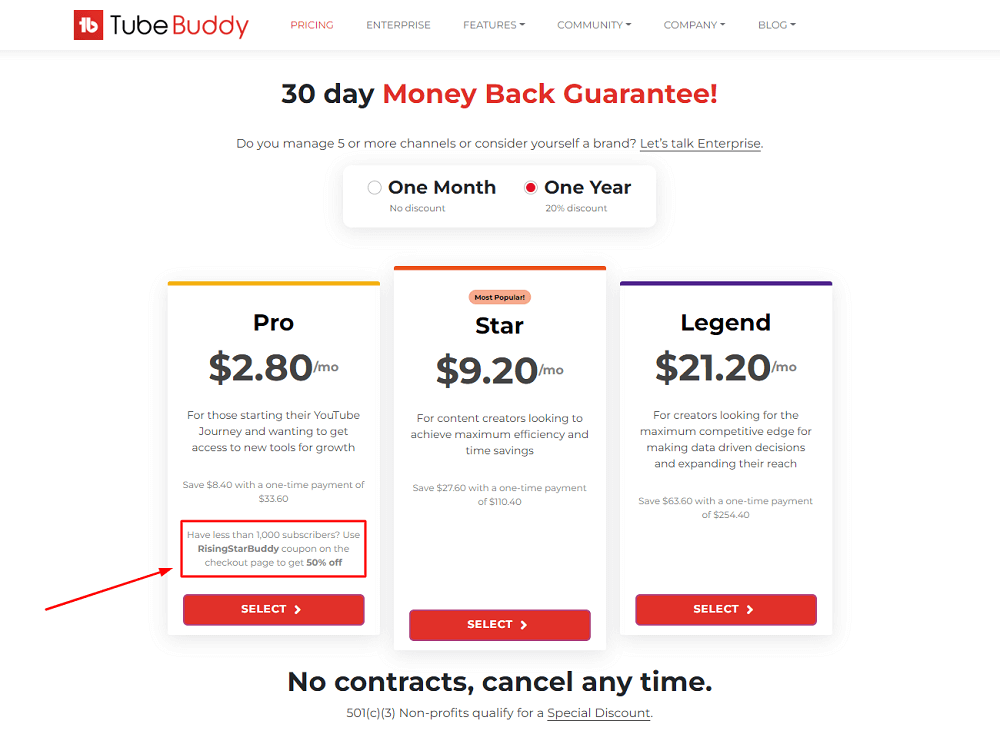 Step 3: Sign in with Google to register a new TubeBuddy account to access advanced tools, such as keyword explorer and A/B tests. Make sure you have read and agree to TubeBuddy's Privacy Policy and Terms of Service.
Step 4: You'll be redirected to the checkout page. Go to the Coupon code section and insert the special TubeBuddy coupon code RisingStartBuddy to get an instant 50% off your billing amount.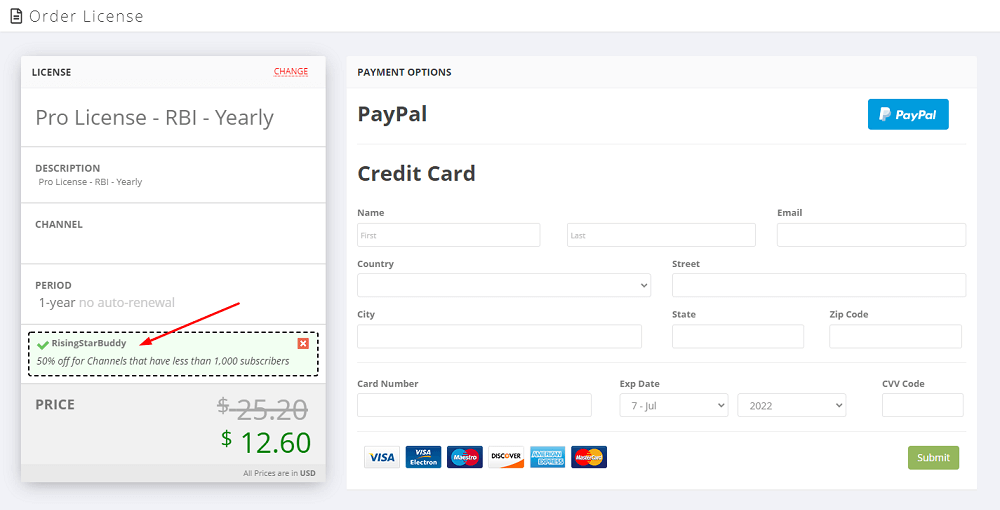 Please note that the above promo code is only valid for YouTube channels with less than 1000 subscribers.
In case your YouTube channel has more than 1,000 subscribers, the TubeBuddy Legend plan is a good option.
As a result, you can utilize all TubeBuddy features for faster channel growth.
Step 5: Choose an appropriate payment method, either PayPal or credit card. Confirm your purchase by completing the transaction.
Step 6: Install the TubeBuddy browser extension for quick access to research, scheduling, management, and analytics features.
Congratulations! You have successfully redeemed the TubeBuddy Coupon Code and received a 50% discount.
TubeBuddy Pricing Plans
To cater to the varying needs of YouTube creators and businesses, TubeBuddy offers three pricing options: Pro, Star, and Legend.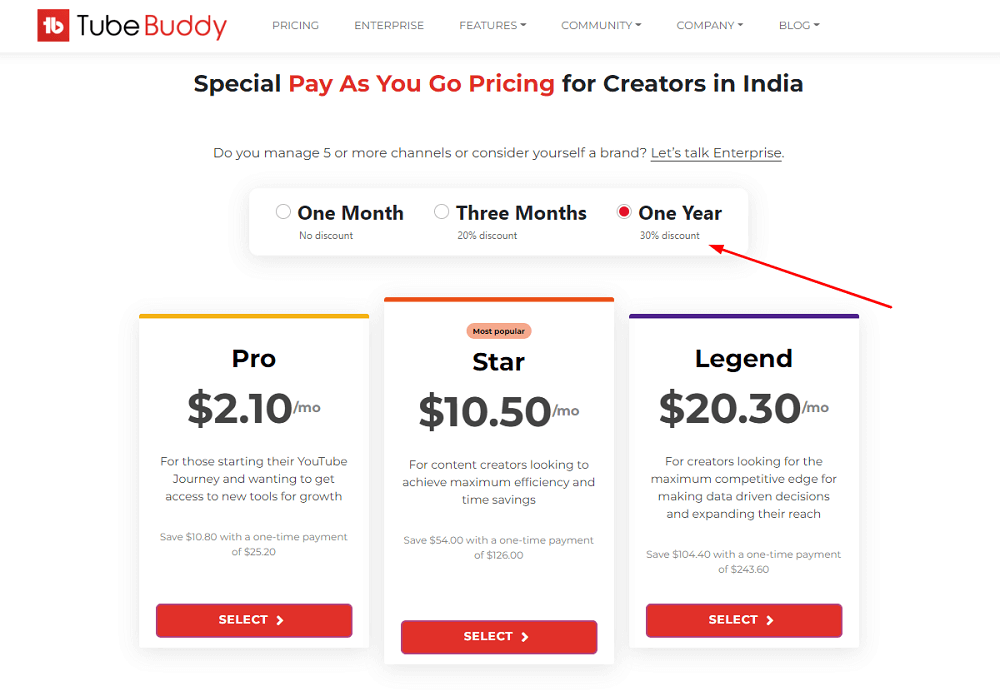 The following section provides you with a detailed overview of each plan.
1. TubeBuddy Pro Plan
YouTube creators who want an affordable growth tool for starting their YouTube journey can benefit from the plan.
The plan costs $3.50 per month. However, a yearly subscription will get you 20% off, reducing its price to just $2.80 per month.
Best of all, new YouTube creators with less than 1K subscribers get a limited-time 50% off TubeBuddy coupon code RisingStartBuddy.
TubeBuddy offers special pay-as-you-go pricing for Indian creators to comply with RBI's rules on recurring transactions.
So instead of the regular 20% discount offer, Indian creators can enjoy up to 30% off their TubeBuddy subscriptions by paying for a longer duration.
Current TubeBuddy prices for Indian creators on the Pro plan are $3 per month (when paid monthly), $2.40 per month (when paid quarterly), and $2.10 per month (when paid annually).
2. TubeBuddy Star Plan
The plan is suitable for intermediate users who want maximum efficiency and time-saving features, including Sunset Videos, Bulk Processing, and Channel Backup.
The plan costs $11.50 per month. However, if you pay for a yearly subscription, you'll save 20%, reducing the monthly price to just $9.20.
With the final discounted prices being more expensive than regular TubeBuddy pricing plans for Indian creators, a 30% discount doesn't make much sense.
TubeBuddy's Star plan costs $15 per month for Indian creators (when paid monthly), $12 per month (when paid quarterly), and $10.50 per month (when paid annually).
3. TubeBuddy Legend Plan
The plan is ideal for professional creators who want to make data-driven decisions and expand their reach using an advanced YouTube intelligence tool.
The plan costs $26.50 per month. However, if you pay for a yearly subscription, you will save 20%, bringing the monthly price to just $21.20.
For Indian creators, TubeBuddy Legend Plan is available at $29 per month (when paid monthly), $23.32 per month (when paid quarterly), and $20.30 per month (when paid annually).
TubeBuddy Legend pack includes many exciting features to grow your YouTube channel faster and stay ahead of the competition.
Are you still unsure whether TubeBuddy is right for you?
Please take advantage of TubeBuddy's 30-day free trial to check all its features for yourself.
TubeBuddy Pros and Cons
Find out the pros and cons of TubeBuddy before you redeem the discount code.
TubeBuddy Pros
Keyword Explorer, Insta Suggest, Tag Lists, Video Metadata Optimizer, and many other Video SEO features
Suggest the best time to publish when your audience is most active
Auto-translation of the video title and description into other languages to increase global viewership
Bulk Processing, e.g., Bulk Copy Cards, Bulk Delete Comments, and Bulk Thumbnail Overlays
Analyze any YouTube video instantly with advanced videolytics
YouTube certified software
Android and iOS apps are available
Intuitive user interface
Excellent customer support and community forums
The free forever plan is available to casual users (includes limited features)
Exciting membership perks
Get 50% off Pro Plan for channels with less than 1000 subscribers
TubeBuddy Cons
Full access to TubeBuddy Legend features is only available with the Legend plan.
TubeBuddy Discount Code: FAQs
I've compiled a few FAQs about TubeBuddy coupons. Before you purchase a TubeBuddy subscription, please read this section carefully.
1. What is TubeBuddy?
TubeBuddy is an advanced YouTube intelligence tool for Video SEO, Bulk Editing, Content Promotion, and Analytics. 
2. Is TubeBuddy free?
TubeBuddy is free with limited features. The company offers you a 30-day free trial with a valid credit card. Additionally, TubeBuddy will grant you free access to one of its premium plans after you complete some tasks.
3. How much does TubeBuddy cost?
Depending on the package you choose, TubeBuddy's prices range from $3/ month to $29/ month. However, you can get up to 50% off using the TubeBuddy coupon code.
4. Is TubeBuddy worth it?
TubeBuddy is a powerful YouTube channel management tool. This software offers plenty of growth features, including video SEO, a productivity suite, advanced video analytics, and video marketing options at an affordable price. Considering its performance and pricing, TubeBuddy is definitely worth the investment.
TubeBuddy Coupon Code: Summary
Thank you for using this TubeBuddy discount code.
TubeBuddy is an all-in-one YouTube growth accelerator tool, offering great savings for a limited time if you haven't signed up yet!
Take advantage of an exclusive 50% off TubeBuddy promo code for a great deal!
Check out this link to get started! 
Name: TubeBuddy
Description: Here is an exclusive TubeBuddy coupon code that will save you 50% off its Pro plan when you pay upfront for a year. In addition, you'll save up to 30% on other TubeBuddy plans with an annual subscription. To claim your TubeBuddy discount, click the button below.
Offer price: 12.60
Currency: USD
Operating System: Linux
Application Category: YouTube
Author: Ankit Main
Performance

Ease of Use

Pricing

Support
Comments Rating
( reviews)