Affiliate Disclosure: I publish various content marketing strategies, online business ideas, blogging tutorials, review articles, and discount offers on my blog. My content may contain some affiliate links for products/services I use, love, and recommend. If you take action (i.e., subscribe or make a purchase) after clicking one of my affiliate links, I'll earn an affiliate commission at no additional cost to you. It helps me in creating more helpful content like this.
Are you searching for the best Cloudways promo codes or coupons to purchase the best-managed cloud hosting service at a discounted price?
The good news is that you're at the right place. The article shares Cloudways coupon codes and deals that will help you save your hard-earned money on your next Cloudways purchase.
Besides the Cloudways discounts, you can get a 3-day Cloudways free trial and an Astra Pro license.
Look no further if you wish to host your business website or application on high-performance cloud hosting.
Cloudways provides everything you need to run your business: robust infrastructure, security, uptime reliability, scalability, and technical support on demand.
The Cloudways pricing plans start at just $11 per month, which is extremely affordable. On top of that, Cloudways offers special deals for new customers.
Please visit the official deal page for the latest Cloudways promo codes and discounts.
How to Apply Cloudways Promo Code and Get the Highest Discount?
It only takes a minute to apply the Cloudways promo code and avail of the special discount!
Please follow the step-by-step guide below to redeem your Cloudways coupon code.
Step 1: Click this special discount link to visit the official Cloudways deals page.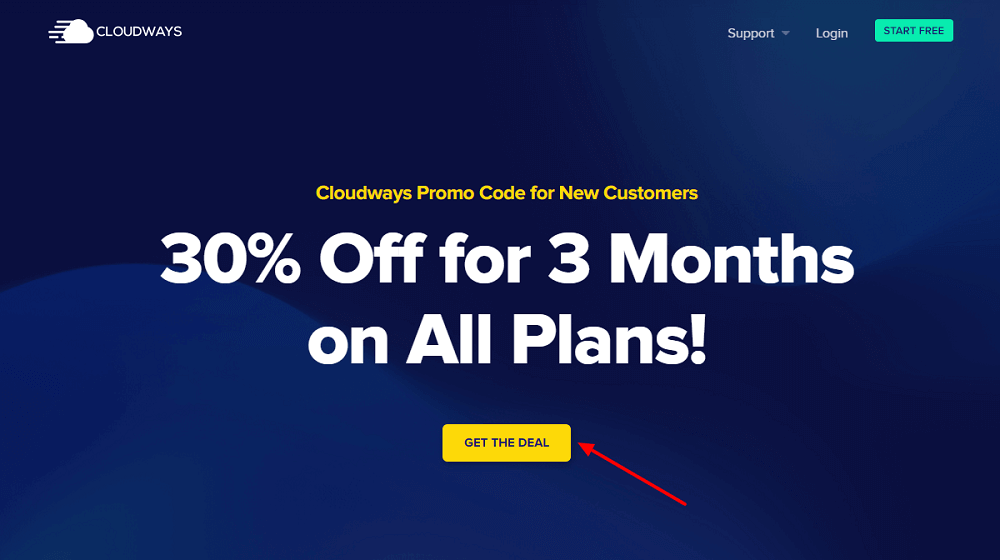 Step 2: See the latest Cloudways discounts. Currently, the company offers 30% off for three months on all plans! Only new customers are eligible for the offer, so make sure you enter a new email address when signing up.
Step 3: Hit the Get The Deal button or fill in the online request form for larger hosting requirements.
Step 4: The Cloudways signup page will appear with a prefilled exclusive Cloudways promo code. If the Cloudways coupon code is not applied automatically, please enter CW30FOR3 to get 30% off for 3 months on any Cloudways plans!
As part of the deal, you'll receive a 3-day risk-free trial (no credit card is required), Free Object Cache Pro, SSL certificates, unlimited websites, and 24/7/365 real-time expert support.
Step 5: Enter your name, a valid email address, password, business type, and monthly hosting spend. Before you sign up, please review Cloudways' Terms of Service and Privacy Policy.
You can also use Google, LinkedIn, or GitHub for faster signup.
Step 6: After you fill in all necessary information and click the Start Here button, Cloudways will send you an email with a 6-digit verification code.
Step 7: Enter the verification code and click on Activate My Account.
Step 8: Congratulations! You successfully created a Cloudways account and are ready to launch your server.
Step 9: Navigate the Account > Credit Card > Authorize Credit Card to add your credit card information and redeem the Cloudways Coupon code 2023. In case your primary card fails, you can add funds using PayPal or other credit cards (using the Pay by link option).
Step 10: Cloudways uses a pay-as-you-go pricing approach with an hourly billing cycle.
You can see the monthly accumulated hosting bill in the Invoices section of your account. The 30% off for 3 months discount will be automatically redeemed in your account once you've added your card details. Now, enjoy a discounted price for three months and exceptional performance.
Step 11: Visit the Add-ons section and activate your free Astra Pro license for unlimited sites. Usually, an Astra Pro subscription costs $4 per month for unlimited sites, but you can get it free for one year as a Cloudways customer.
Step 12: Finally, launch your server with a preferred data center and optimal server configuration to achieve maximum performance for your applications.
What Are the Benefits of Hosting with Cloudways?
Besides Cloudways discounts, there are several benefits of hosting your websites or applications with Cloudways.
Find out why Cloudways is the right hosting choice in the following section.
1. Exceptional Performance
Cloudways' advanced tech stack is the primary reason we recommend it.
Cloudways offers SSD-powered, PHP 8-ready servers with preconfigured PHP-FPM to improve loading times.
In addition, Cloudways servers support HTTP/2 and HTTP/3 (via Cloudflare Enterprise add-on), which significantly speeds up communication between the web servers and clients.
Cloudways also offers the following speed optimization features:
Built-in advanced caches that include Memcached, Varnish, Nginx, and Redis
Breeze: a free WordPress caching plugin
Cloudflare CDN: High-speed content delivery network for faster response time and reduced latency
2. Managed Cloud Platform
Since Cloudways provides a managed hosting service, the company handles all technical aspects of your site optimization.
In addition to server management, security hardening, and speed optimization, Cloudways specialists provide expert help whenever needed.
As a result, you can focus on your business growth without worrying about technical issues.
3. Easy Onboarding and Intuitive UI
The Cloudways setup process is easy to follow. Sign up with the unique Cloudways promo code, verify your email, select the cloud provider, and select the application and preferred configuration to launch your server.
Installing SSL certificates, managing domains, creating staging sites, or enabling safe updates is very easy with Cloudways' intuitive UI.
Moreover, you can quickly add, remove, or recover servers from your Cloudways dashboard.
With Cloudways hosting, anyone with a little experience can publish their websites or applications.
4. Excellent Security
Cloudways' dedicated OS-level firewalls can keep malicious traffic and intruders at bay.
The company implements OS-level firewalls to protect its servers from malicious traffic and prevent unauthorized intrusions.
Additionally, the Cloudways security team performs regular patches and firmware upgrades to prevent vulnerabilities.
Lastly, you get the easy-to-setup unlimited SSL certificates and backup/restore feature at no additional cost.
5. Dedicated Support Team
Cloudways' highly knowledgeable support team is available to assist customers with troubleshooting issues.
Cloudways offers tiered support. For most users, live chat and a ticket system provide quick and easy access to technical assistance. With the premium support add-on, you will have access to the private Slack channel and priority phone support.
Upgrades to advanced and premium support come with extra costs, but they offer a few more features, including plugin/theme troubleshooting, on-demand performance/DB optimization, server error investigation, proactive monitoring, and customization support.
Besides that, the support team will move your first site to Cloudways servers for free without any delays.
6. Affordable Pricing Plans
You can save a lot of moCloudways'loudways' affordable cloud plans, which come with unlimited app installation, easy DNS management, one-click server cloning, smart AI assistant, and auto-healing cloud servers.
Cloudways' managed servers are highly scalable. With just a click, you can quickly increase resources (e.g., RAM, disk space, or CPU) to cope with traffic spikes.
Best of all, you only pay for the resources you use since the company uses a pay-as-you-go pricing model with an hourly/monthly billing cycle.
Still worried about the performance?
Get a 3-day risk-free trial without entering your credit card information. Once satisfied with Cloudways, you can upgrade to a premium plan.
Cloudways Pros and Cons
Please refer to the following pros and cons before buying Cloudways managed hosting services.
Cloudways Pros
Fully managed cloud hosting service gives a remarkable performance and user experience
PHP 8-ready servers and advanced caching for fast page loading.
Secure your website with free SSL certificates, automatic backups/restores, and dedicated firewalls
It gives you complete control to manage your website or application like a pro
One free expert application migration and unlimited self-migrations via the Cloudways WordPress Migrator plugin
Cloudflare Enterprise CDN and many premium add-ons are available a-la-carte
Free Astra Pro subscription for one year.
Cloudways Cons
Domain registration is not available
No email hosting is included. You'll need to buy an add-on to integrate email service.
Standard support doesn't meet expectations for a managed cloud hosting service.
Cloudways Coupon Code: Conclusion
Purchasing a high-quality cloud server will boost your search engine rankings and create the best user experience. Once you have access to the right tools, such as Cloudways managed hosting, nothing can stop you from achieving success.
The Cloudways hosting services are perfect for small businesses, affiliate bloggers, e-commerce stores, and online entrepreneurs. It's an excellent alternative to Kinsta, Bluehost, WP Engine, and many other managed hosting services.
With the Cloudways promo codes and deals mentioned above, you can purchase a premium cloud server at an incredibly low price!
However, please use the coupon code during the signup process to receive discounts, or you'll regret it later.
The Cloudways promo code may expire or change anytime, so grab your discount as quickly as possible.