Affiliate Disclosure: I publish various content marketing strategies, online business ideas, blogging tutorials, review articles, and discount offers on my blog. My content may contain some affiliate links for products/services I use, love, and recommend. If you take action (i.e., subscribe or make a purchase) after clicking one of my affiliate links, I'll earn an affiliate commission at no additional cost to you. It helps me in creating more helpful content like this.
If you're looking for the best Bramework Black Friday or Cyber Monday deals, you've come to the right place.
Bramework's AI writing assistant generates unique, high-quality content automatically. Furthermore, it is capable of producing long-form SEO-friendly content using artificial intelligence.
You can enjoy the benefits of a full-time writer without worrying about heavy expenses and tight deadlines.
Bramework's AI writing assistant can create 1,000 words of high-quality original content tailored specifically for your topic in just a few minutes.
Best of all, Bramework offers affordable pricing plans starting at just $19. Additionally, you can receive a flat 50% discount (use coupon code: 50M1PERCENTOFF) during Cyber Week 2023, reducing the price to $9.5 for 10,000 AI-generated words.
In addition to the above discount offer, you can save 30% on Bramework Starter, Pro, and Agency annual plans by using Bramework Black Friday coupon code: BF2023D30.
The savings you can expect depend on which annual plan you choose:
Starter Plan: Save $150 per year
Professional Plan: Save $299 per year
Agency Plan: Save $899 per year
Visit your account's billing section and upgrade to a Starter, Pro, or Agency annual plan to receive this discount.
How to Activate Bramework Black Friday Deals
You can easily activate Bramework Black Friday deals by following these simple steps:
Step 1: Visit the Bramework official website by clicking this special discount link.
Step 2: Click the Start 7-day trial option on the landing page or header menu.
Step 3: Create a new Bramework account by entering your full name, email address, and secure password.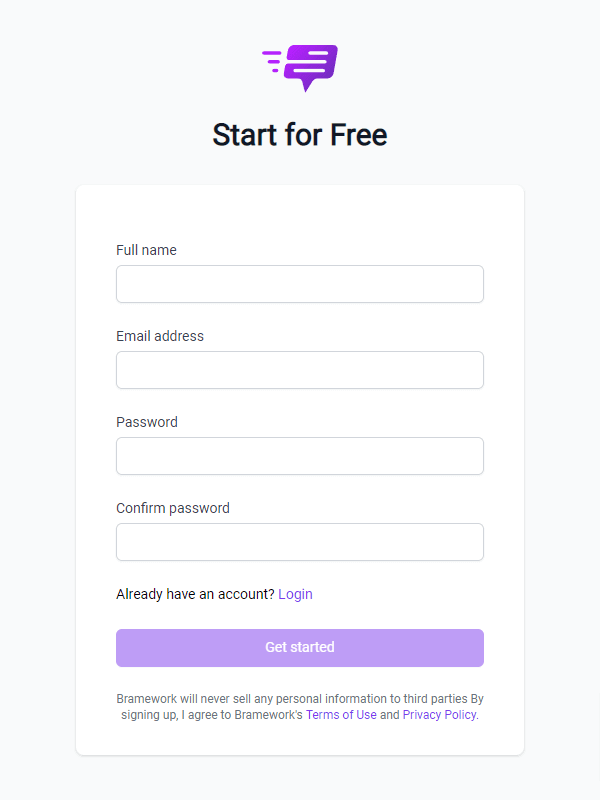 Step 4: Complete the onboarding process to access the Bramework dashboard after confirming your email address.
Step 5: Bramework pricing plans and a 7-day free trial option will appear. Choose the desired plan and press the Start Free Trial button.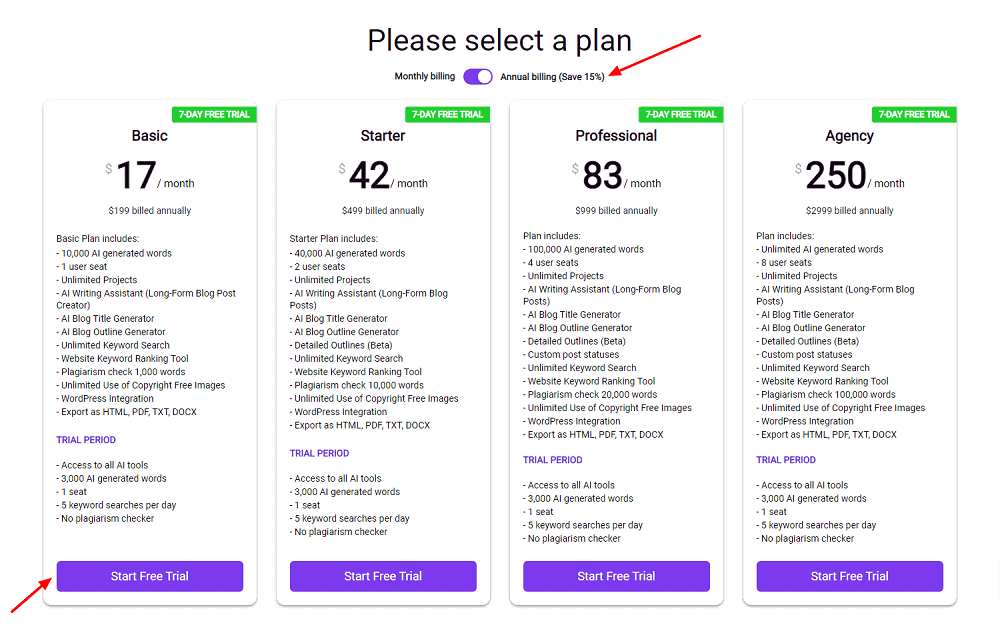 The company offers a 15% discount on annual packages for long-term customers. In addition, you'll receive a special 30% Bramework Black Friday discount by using a promo code: BF2023D30.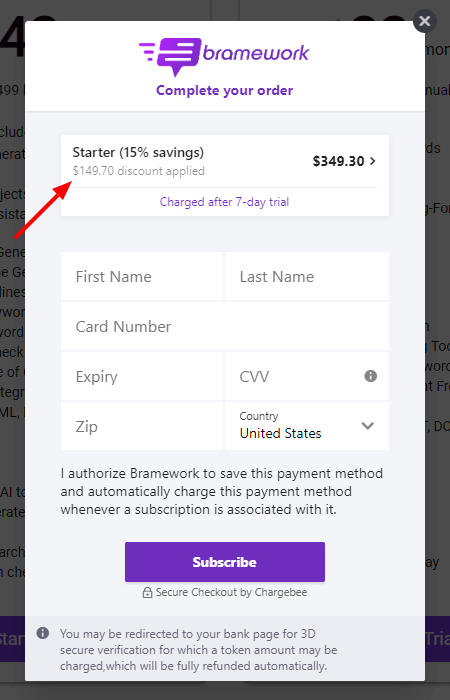 However, if you want to try the Bramework software before committing for a long time, you can choose a monthly billing cycle and use an exclusive promo code: 50M1PERCENTOFF to get an instant 50% off your subscription fee.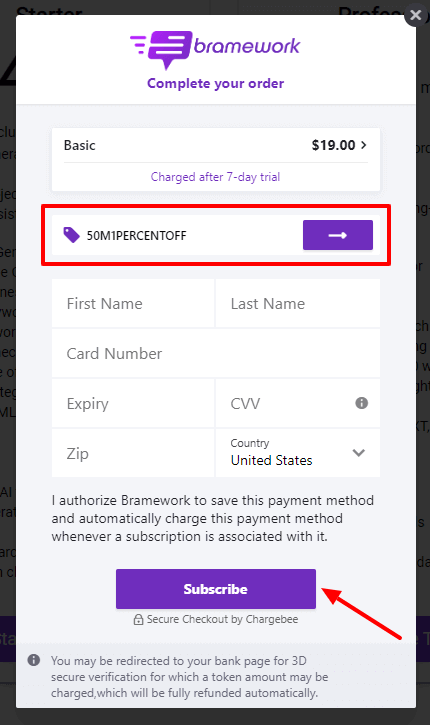 Step 6: Review your order summary, enter your billing information, and click Subscribe to finish the checkout process.
Congratulations! You've successfully redeemed the Bramework Cyber Monday 2023 deal. Enjoy savings on your Bramework purchase!
Bramework Pricing: How Much Does Bramework Cost?
Bramework's costs vary according to your content writing requirements. The company offers four pricing options: Basic, Starter, Professional, and Agency.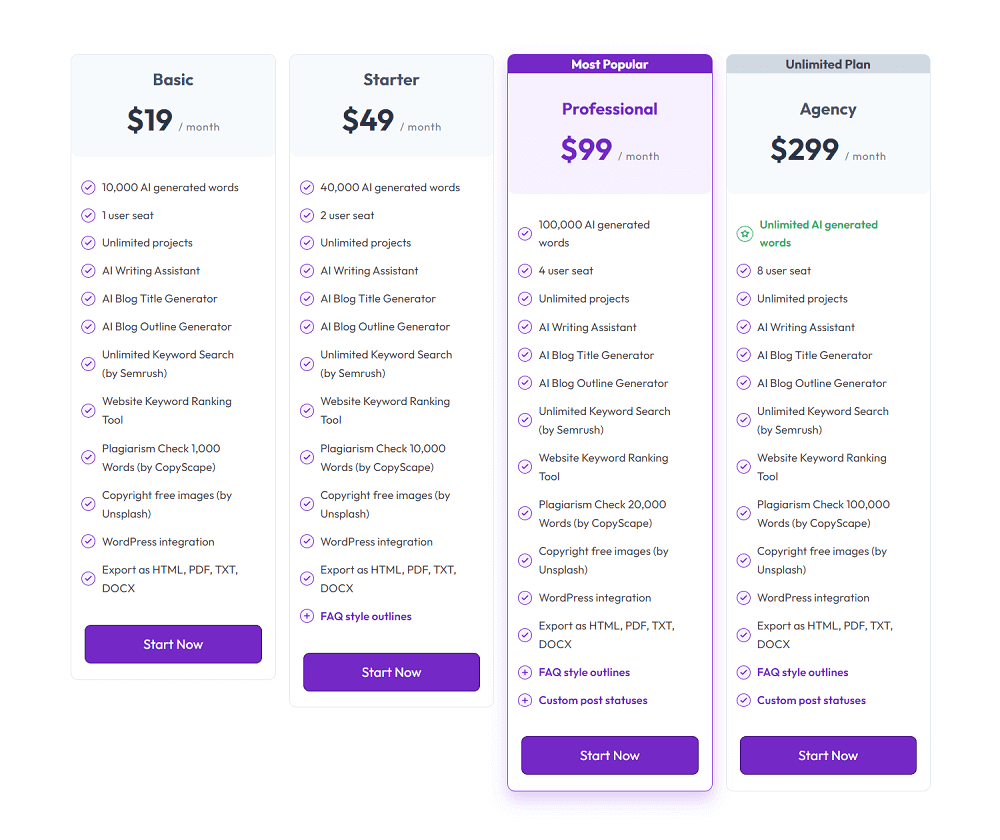 Please check out the limits and features associated with each plan below.
1. Bramework Basic
Key Features:
10,000 AI-generated words
One user seat
Unlimited Projects
Unlimited Keyword Search (powered by Semrush)
Plagiarism Check 1,000 Words ( powered by CopyScape)
Regular Pricing: $19 per month
Discounted Pricing: $9.5 per month
2. Bramework Starter
Key Features:
40,000 AI-generated words
Two user seats
Unlimited Projects
Unlimited Keyword Search (powered by Semrush)
Plagiarism Check 10,000 Words (powered by CopyScape)
Regular Pricing: $49 per month
Discounted Pricing: $24.5 per month
3. Bramework Professional
Key Features:
100,000 AI-generated words
Four user seats
Unlimited Projects
Unlimited Keyword Search (powered by Semrush)
Plagiarism Check 20,000 Words (powered by CopyScape)
Regular Pricing: $99 per month
Discounted Pricing: $49.5 per month
4. Bramework Agency
Key Features:
Unlimited AI-generated words
Eight user seats
Unlimited Projects
Unlimited Keyword Search (powered by Semrush)
Plagiarism Check 100,000 Words (powered by CopyScape)
Regular Pricing: $299 per month
Discounted Pricing: $149.5 per month
In addition to the above benefits, Bramework offers a powerful AI Rewriter, AI Blog Title Generator, AI Blog Outline Generator, Website Keyword Rank Tracking tool, Image Finder, WordPress integration, and multiple export options (HTML, PDF, TXT, and DOCX).
Starter and Basic plans are great options for solo entrepreneurs and writers who need a reliable AI blogging assistant.
On the other hand, Professional and Agency plans serve big companies, agencies, and publications with heavy SEO content requirements.
Take a moment to review each Bramework plan and choose the one that meets your needs.
Bramework Pros and Cons
Please carefully check the pros and cons of Bramework AI writing assistant before making a purchase decision.
Bramework Pros
A powerful AI-writing assistant for bloggers capable of writing long-form SEO content effortlessly
Unlimited keyword research powered by Semrush
Keyword rank tracking
Up to 100,000 words of plagiarism checking by Copyscape
Intelligent image finder and auto image alt text generator
A 7-day free trial and an instant 50% off for the first month
Publicly available product development roadmap
Integrations with third-party services, such as Semrush and Copyscape, as well as a WordPress plugin
24/7 quick and friendly customer support
Bramework Cons
Only English language support for AI content generation
Free trial requires credit card details
Besides blogging, Bramework is not suitable for writing other content, such as books, whitepapers, marketing material, or website copy.
Bramework Black Friday Deals: Frequently Asked Questions
1. What is Bramework?
Bramework is an AI-driven writing assistant that helps bloggers overcome writer's block and accelerate their writing by 5X. After you pick a topic, Bramework enables you to perform keyword research, develop a title, write an outline, and generate high-quality SEO-friendly content. A blogger or content marketing agency can easily set up a Bramework account and begin writing blog posts at scale.
2. What are the Bramework Black Friday and Cyber Monday deals in 2023?
Besides 15% annual discounts, the company offers 30% off all annual plans with the exclusive Bramwork Black Friday Discount code: BF2023D30 and 50% off all plans for the first month with the special promo code: 50M1PERCENTOFF during the holiday sales. However, the discount is only valid for a limited time, so grab your deal before it expires. 
3. Who should use Bramework?
Bramework is perfect for freelance writers, bloggers, and agencies offering blog writing services. However, for content other than blogs, such as e-books, whitepapers, advertising materials, or website copy, Bramework may not be the best choice.
4. Who owns the copyright to the content I write with Bramework?
Of course, you do! So even though Bramewok assists you in getting started and generating the content, you own all copyrights.
5. How fast can I expect to see a boost in my SEO results?
Although Bramework generates content following best SEO practices to help your articles rank well in search engines, there are many other factors, such as your website's authority, page experience signals, and keywords' competitiveness. That's why some Bramework customers with AI-generated content may achieve top rankings on Google, but others may not.
6. What technology does Bramework use for its AI content generator?
The Bramework AI content generator uses Open AI's GPT-3 and its proprietary algorithms powered by Natural Language Processing (NLP) to generate high-quality content.
7. Is Bramework's AI content plagiarism-free?
Bramework AI content generator produces plagiarism-free content 99% of the time, but even robots can make mistakes. So I recommend you check your copy for plagiarism using Bramework's built-in plagiarism checker or third-party tools like Grammarly. 
8. How many languages does Bramework support?
Bramework generates text only in English at the moment. However, multi-language support is planned for the near future. If you want a language added, contact the development team at support@bramework.com.
9. What happens if my plan reaches its word limit?
The system will ask you to upgrade your plan if you reach your word limit before you can continue to use Bramework's AI.
10. What's the refund policy?
You can cancel your Bramework subscription before your next billing period, and you won't be charged again. However, Bramework does not offer any refunds for the fees you have already paid for your current subscription period. Therefore, you can continue using the service until your subscription period ends.
Bramework Black Friday Deals: Conclusion
Bramework is a top-notch solution for long-form SEO blog writing using artificial intelligence. In addition to being easy to use, the platform is supported by a talented team constantly working on improving the software experience.
You can generate SEO articles more efficiently without sacrificing the output quality or paying thousands of dollars to hire top-tier writers.
With a proven SEO-optimized writing framework, Bramework is truly a game-changer software for growing websites and blogs.
Hopefully, this article has provided insight into the capabilities of Bramework software for long-form SEO content creation for your businesses.
Now it's time to take action!
Use this special discount link to visit Bramework Black Friday sales page, and use code 50M1PERCENTOFF at checkout for a 50% discount on your subscription.
Bramework Black Friday Deals

Name: Bramework
Description: Bramework's Black Friday sale is the best time to get massive discounts on its premium subscriptions. You can enjoy up to 50% instant discounts using an exclusive coupon code. You don't want to miss this awesome Black Friday deal from Bramework! So get started and get your SEO content ready for the festive season and beyond.
Offer price: 9.5
Currency: USD
Operating System: Linux
Application Category: AI Copywriting Tools
Author: Ankit Main
Performance

Ease of Use

Pricing

Support
Comments Rating
( reviews)