Affiliate Disclosure: I publish various content marketing strategies, online business ideas, blogging tutorials, review articles, and discount offers on my blog. My content may contain some affiliate links for products/services I use, love, and recommend. If you take action (i.e., subscribe or make a purchase) after clicking one of my affiliate links, I'll earn an affiliate commission at no additional cost to you. It helps me in creating more helpful content like this.
Are you looking for an all-in-one tool for conducting research, creating content briefs, and writing SEO-optimized content that ranks on Google?
Then you cannot afford to miss Scalenut Black Friday and Cyber Monday deals in 2023.
The company offers a staggering 70% discount on its annual subscriptions during this Black Friday sale. The discount is a lock-in for life, so you will pay the same price every year.
In addition, you'll receive up to $1000 worth of SaaS credits and 3X SEO Docs and Topics Clusters limits by signing up for early access.
However, the deal is only valid for a limited time, so grab your discount before it expires.
Scalenut Black Friday Sale: Overview
Product Name: Scalenut (A comprehensive AI content platform)
Maximum Black Friday Discount: An Exclusive 70% off
Scalenut Black Friday Promo Code: Not required
Special Offer: 3X ‍Limits + $1000 ‍‍worth of SaaS credits
Scalenut Black Friday Sale Start Date: 21 November 2023
Scalenut Black Friday Sale End Date: 30 November 2023
Discount Link: Grab Scalenut Black Friday Deal
What is Scalenut?
The Scalenut is more than just an AI-writing assistant. From brainstorming ideas to preparing comprehensive content briefs and writing persuasive copy, Scalenut simplifies everything.
The software helps you create content that meets your business objectives. Besides plenty of short-form templates, Scalenut also has a Cruise mode that enables you to write an entire blog post in just five minutes.
You can also use Scalenut's full-featured content reports (powered by industry-leading NLP) to optimize your SEO content.
So grab this once-a-year opportunity and take your content marketing to the next level.
Scalenut Black Friday Sale 2023: Pricing Plans
Scalenut is a powerful all-in-one SaaS platform for creating compelling and SEO-friendly content.
The company offers three pricing options: Individual, Growth, and Pro.
Each plan includes access to Scalenut's advanced features, including Competitive Research, Content Grading, Content Brief, Social Listening, and Chrome Extension.
Let's take a closer look at each plan.
1. Scalenut Individual Plan
The plan is ideal for individual creators.
Key Features:
100,000 words of AI content generation
5 SEO reports
Access to 40+ AI tools
24/7 live chat and email support
Regular Price: $348/year or $29/month
Maximum Scalenut Black Friday Discount: 70%
Discounted Price: $104.4/year
2. Scalenut Growth Plan
The plan is suitable for professional bloggers, startups, and growing businesses.
Key Features:
All Scalenut Individual plan features, plus
Unlimited AI content generation
Up to 30 SEO reports
30 topic clusters
Cruise mode (Generate a full-length blog in 5 minutes)
Write, Instruct, and Paraphrasing tools
Third-party app integrations
AI settings
Collaborations
Regular Price: $948/year or $79/month
Maximum Scalenut Black Friday Discount: 70%
Discounted Price: $284.4/year
3. Scalenut Pro Plan
Scalenut's Pro plan is perfect for large content teams, established businesses, and SEO agencies.
Key Features:
All Scalenut Growth plan features, plus
Unlimited SEO Reports
100 topic clusters
The dedicated customer success manager
Up to 2 additional team members ($49 per user seat)
Regular Price: $1788/year or $149/month
Maximum Scalenut Black Friday Discount: 70%
Discounted Price: $536.4/year
How to Claim Scalenut Black Friday Deals?
Follow the steps below to get the maximum discount during Scalenut Black Friday sale in 2023.
Step 1: Visit Scalenut Black Friday deals page by clicking this link.
Step 2: Click the Get started for free button on the header, or sign up on the landing page with your email address and hit the Get Started button.
Step 3: Clicking either option will direct you to the Signup page.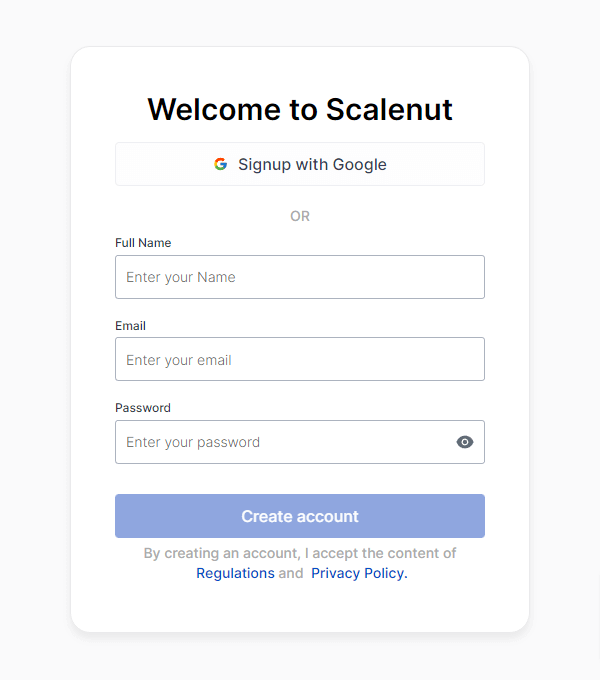 Step 4: Set up your Scalenut account by entering your name, business email address, and password.
Alternatively, you can signup with your Google account.
Step 5: Scalenut will send you an email with a verification link. Click on the link in the email to verify your account.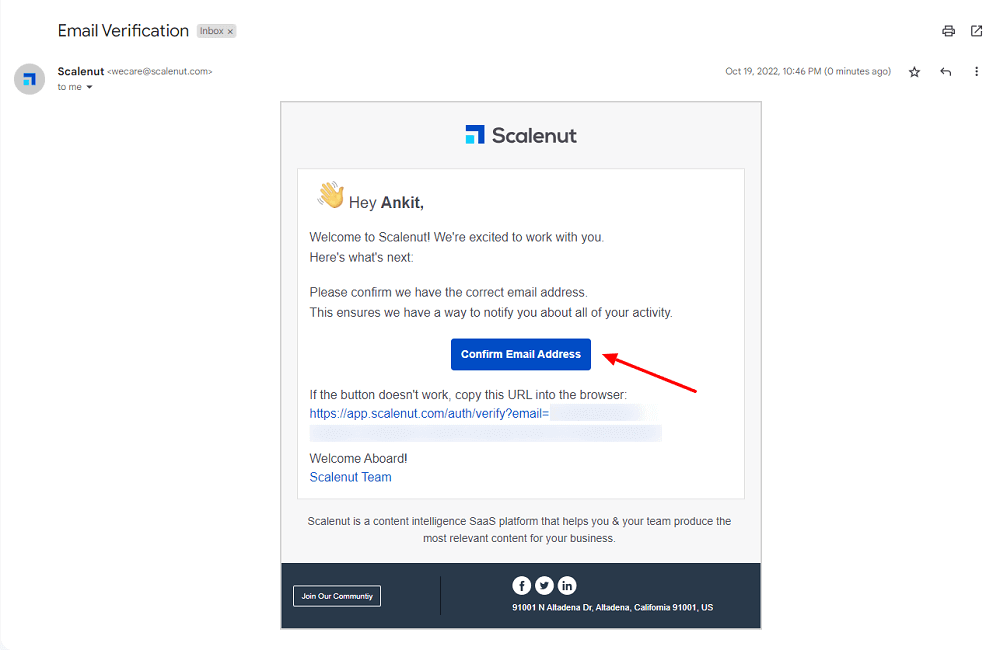 Once you complete this process, you will receive a 7-day Scalenut free trial.
Step 6: The Scalenut dashboard will now appear. Choose the My Account option from the left sidebar. While the Scalenut trial period is still running, you can upgrade your account by clicking Explore Plans.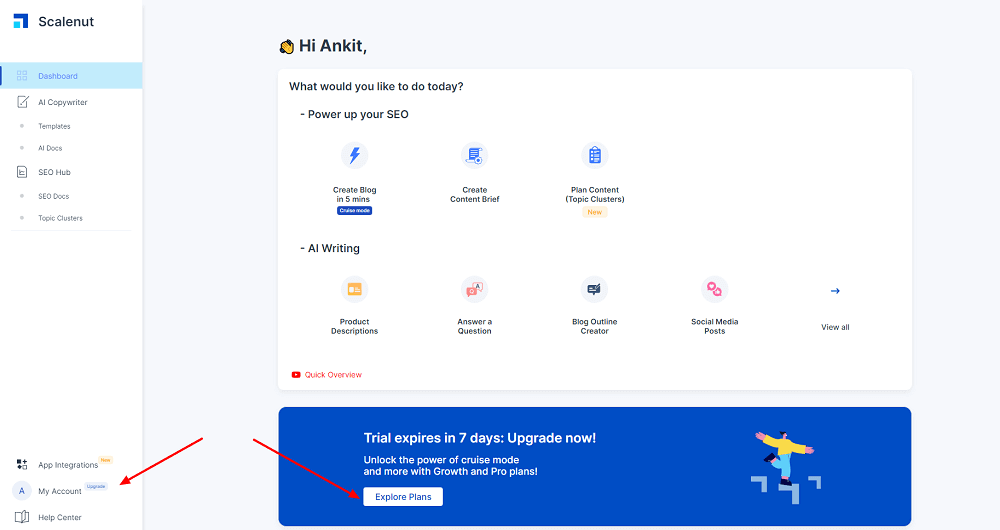 Step 7: Choose an appropriate plan on the Scalenut pricing page. For the maximum discount, opt for an annual subscription.
I recommend you sign up for the Growth or Pro plan since those plans offer unlimited AI words, cruise mode access, and a decent number of Topic Cluster credits & SEO reports.
Note: Scalenut displays the billing amount in your local currency. Since I'm from India, the price is in Indian rupees.
Step 8: Clicking Choose Plan button will bring you to the checkout page. The left side of the screen shows your order summary. Moreover, you'll notice that the 70% Scalenut discount code is automatically applied to your order value.
Step 9: Provide the correct credit card information and billing address on the right side.
Step 10: Finally, click the Subscribe button to confirm your order.
That's all! You have successfully redeemed your Scalenut Black Friday and Cyber Monday deals.
Who Should Use Scalenut?
Scalenut can be helpful to you if you fall into one of the following roles.
1. Content Strategists
With Scalenut's AI tools and talented workforce, you can easily create content at scale.
2. Content Creators
Scalenut's AI capabilities and real-time editor can help you write content faster and more efficiently.
3. Startup Founders
Boost your brand's visibility with beautiful stories people want to read and rank higher than ever at the same time by publishing SEO-optimized content at scale—cost-effectively, of course.
4. Content Marketing and SEO Agencies
Scalenut helps you scale content production quickly and meet the content requirements of your clients.
Scalenut Black Friday Cyber Monday Sale: FAQs
Please check out the Scalenut Black Friday FAQs below to learn more about the available discounts, Scalenut deal validity, refund policy, and more.
1. What is Scalenut?
Scalenut is an AI-driven content research and writing platform that produces original, high-quality SEO content for both long- and short-form formats. The software combines next-generation technologies like NLP and AI to create content that outperforms the competition.
2. What is the Scalenut Black Friday deal?
Scalenut offers a massive 70% discount on its annual subscription during its Black Friday sale. In addition, you'll receive up to $1000 worth of SaaS credits and 3X plan limits when you register for early access.
3. When does Scalenut's Black Friday sale begin and end?
Scalenut's Black Friday sale goes live on 21 November and ends on 30 November 2023.
4. How can I get Scalenut Black Friday Discount?
Please click this unique discount link and follow the step-by-step instructions for deal activation to get an instant 70% off during Scalenut Black Friday deals.
5. Does Scalenut offer a free plan?
Yes. After your Scalenut free trial expires and you do not upgrade to a premium plan, you will automatically be moved to a free plan. It includes access to 2000 AI words generation/month, 2 SEO reports, content briefs, content grading, competitive research, social listening, and Chrome extension.
6. What is the Scalenut SEO Hub?
SEO Hub is an innovative feature that analyzes the top 30 search engine results and reveals your competitors' keyword ranking strategies. Afterward, you can use competitive intelligence provided by the SEO Hub's Editor to create SEO-optimized content for a particular keyword to outrank your competitors.
7. How can I buy more Scalenut SaaS credits?
You can upgrade to the higher plans for more credits. For larger requirements, you may contact wecare@scalenut.com.
8. What is your refund policy if I am unhappy with the quality of the work?
Since Scalenut offers a 7-day free trial and a free forever plan, you may not receive refunds on premium account upgrades. However, Scalenut provides unlimited revisions to AI-generated copies until you are satisfied. 
Scalenut Black Friday Sale: Conclusion
Scalenut's AI-powered writing assistant provides numerous short and long-form content creation templates.
Additionally, you can easily create long-form content with Cruise Mode in just a few minutes.
The software includes many innovative features, such as SEO Hub and Topic Clusters, designed to help you improve your SEO performance.
As a result, you can create content that will outperform your rivals by combining Scalenut's AI writing and SEO capabilities.
Scalenut integrates with popular apps such as Semrush, Copyscape, and WordPress to streamline your content workflow.
So if you're looking for the best deals on AI content platforms, check out Scalenut's Black Friday offers. This promotion offers you up to 70% off Scalenut's annual subscription.
However, the promotional offer is only valid for a limited time. So grab this deal before it expires.
Scalenut Black Friday and Cyber Monday Deals
Name: Scalenut
Description: The Scalenut Black Friday deals are now live. You can save up to 70% on Scalenut's annual subscriptions for a limited time and get $1000 worth of SaaS credits and 3X plan limits. So make sure you don't miss out on these great deals!
Offer price: 104.4
Currency: USD
Operating System: Linux
Application Category: SEO Tools
Author: Ankit Main
Performance

Ease of Use

Pricing

Support
Comments Rating
( reviews)