Affiliate Disclosure: I publish various content marketing strategies, online business ideas, blogging tutorials, review articles, and discount offers on my blog. My content may contain some affiliate links for products/services I use, love, and recommend. If you take action (i.e., subscribe or make a purchase) after clicking one of my affiliate links, I'll earn an affiliate commission at no additional cost to you. It helps me in creating more helpful content like this.
Cloudways vs Bluehost: Getting Started
This article compares Cloudways vs Bluehost, two popular managed WordPress hosting providers.
In general, Cloudways and Bluehost offer similar features. But, on the other hand, the results are pretty different when you analyze the technical details and real-life performances.
So if you want to choose one of them, you might find this article helpful.
I have analyzed both services on various parameters, such as performance, uptime reliability, security, pricing, and technical support.
The verdict at the end of each section will help you determine which service provider is best for your business blog or website.
However, before we compare Cloudways vs Bluehost, let's first understand the top reasons for buying a managed WordPress hosting service.
The Benefits of Managed WordPress Hosting Services
Managed WordPress hosting service is a specialized solution that only a few companies offer.
You can set up your website on shared hosting, VPS hosting, or a dedicated server.
However, managed WordPress hosting provides exceptional performance, reliable security, and absolute peace of mind.
Since a managed WordPress hosting provider oversees the full server management, it saves you the hassle of handling technical aspects.
Instead of stressing over minutiae, you can focus on creating and maintaining the best WordPress site possible.
Cloudways vs Bluehost: A Brief Introduction
When discussing WordPress hosting, two names pop into our heads: Bluehost and Cloudways.
Both companies offer excellent hosting packages suitable for bloggers, internet entrepreneurs, web developers, and small businesses.
Each of them excels at making WordPress hosting accessible to everyone.
In general, both companies operate in the same way.
Despite sharing the same operating style, Cloudways and Bluehost have significant differences, which we have covered in this article.
So after reviewing Cloudways vs Bluehost features, performance, pricing, and other key factors, you can decide which one is right for you.
1. Cloudways vs Bluehost: Speed Performance
Cloudways Performance
Cloudways offers SSD-based cloud hosting with managed servers that automatically resume when problems arise.
With Cloudways Thunderstack, a PHP stack installed on world-class cloud providers paired with the world's best server software, you can expect noticeably faster websites right out of the box.
Cloudway's priority CDN, tiered caching mechanism, and advanced image & mobile optimization all ensure the quickest possible content delivery, reducing latency, loading time, and bandwidth usage.
Cloudways performs well on speed tests, so you can be confident that your website is running at its best.
Bluehost Performance
With solid state drives (SSDs) and a lower server density on Bluehost WP Pro plans, WordPress websites load faster, resulting in improved load time compared with traditional hosting services.
Moreover, Bluehost ensures all users on a managed WordPress hosting server have quick access to their resources.
Although Bluehost's hosting service isn't faster than Cloudways, it is undoubtedly one of the most affordable and has various useful features.
Verdict
Considering the website speed performance, Cloudways is a clear winner.
2. Cloudways vs Bluehost: Uptime Reliability
Looking at a provider's uptime statistics is the quickest and most straightforward way to gauge reliability in web hosting.
It is a measurement of how frequently the servers are operating without errors.
Every hosting company strives for 100% uptime and takes preventive actions to minimize server downtime.
Minor problems, nevertheless, make it almost impossible to accomplish. In light of this, service providers can put technologies in place to proactively stop problems from happening.
Additionally, they may have established procedures to cover all of their bases in the case of a failure. Both Cloudways and Bluehost excel at it.
Still, you might want to see which performs better.
Cloudways Uptime Reliability
Cloudways includes some cutting-edge technology to guard against accidents. For example, all of the servers have auto-healing capabilities. As a result, if a performance issue arises, the server will restart itself. The majority of problems get fixed by the restart, which takes only a few minutes to complete.
The company guarantees a 99.999% uptime, which is impressive.
Bluehost Uptime Reliability
Bluehost also makes an effort to address issues swiftly. According to the company's Server Uptime Agreement, most problems get fixed in 15 minutes or less. If not, Bluehost might offer account credit to offset any expenses you incur due to the outage. At the moment, Bluehost's uptime rating is around 99.9%.
Verdict
While Bluehost's 99.9% uptime is a respectable performance, Cloudways comes out somewhat ahead.
3. Cloudways vs Bluehost Resource Limits and Scalability
Cloudways Resource Limits and Scalability
With Cloudways, you can select the number of CPU cores and the amount of RAM you need when creating your account.
Moreover, you can add extra server resources without purchasing a new plan.
Easier vertical scaling is one of the reasons many people move their sites to Cloudways.
The feature enables you to scale your plan or server size with just a click.
Moreover, Cloudways is better at handling resource-intensive plugins/tasks than Bluehost, such as WooCommerce, page builders, and other heavy WordPress plugins.
As a result, WooCommerce stores and other popular websites switch to Cloudways to get the best possible performance.
Bluehost Resource Limits and Scalability
Purchasing a Bluehost plan might be a good idea, but what if your traffic increases or you need to add several more plugins?
You may experience CPU overages if you do not have sufficient server resources due to your current hosting package's limitations.
In that case, you'd need to purchase a brand-new plan on Bluehost (who knows whether they'll give you the discounted introduction costs).
You should be aware of Bluehost's CPU limits and 503 errors. The CPU throttling may slow down your websites and the admin panel.
In addition to the CPU limits, Bluehost hosting imposes strict limits on the number of inodes per account, which can be troublesome if you publish large amounts of content regularly or want to host your email there.
Verdict
After reviewing both hosting services' resource limits and server scalability, Cloudways wins hands down.
4. Cloudways vs Bluehost: User Interface
A user interface (UI) should be clean and easy to navigate, enabling users to manage everything easily under one roof.
Let's compare Bluehost vs Cloudways user interfaces to find out which one is more user-friendly.
Cloudways User Interface
With Cloudways, you'll have access to a custom dashboard.
Although it appears simple, the Cloudways dashboard provides plenty of useful tools to manage your server and websites.
The Servers and Applications tab contains most information, such as backups & restores, SSLs, staging, migration tools, CDN, and so on.
This UI has unmistakably precise settings and is easy to navigate.
As a result, you can effortlessly launch & manage your apps, add server resources, and perform backups.
Here is a screenshot of the Cloudways dashboard.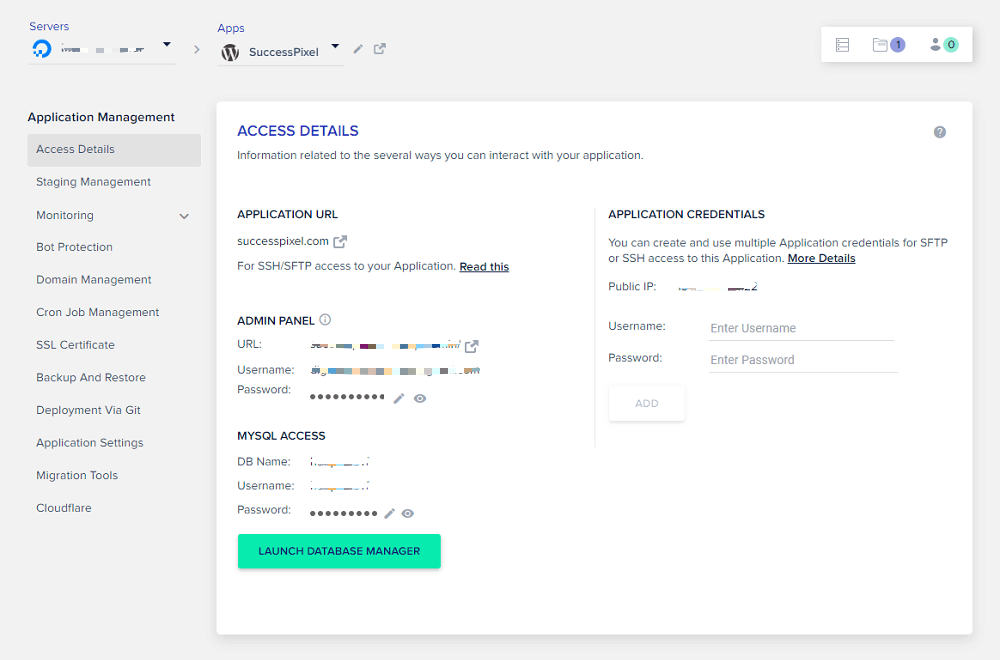 Please request a demo if you are interested in learning more about Cloudways before purchasing it.
The product specialists will try to answer all of your questions.
Bluehost User Interface
There is no doubt that Bluehost's backend is simple and has a customized control panel.
However, I dislike unnecessary paid tool options and marketing tactics spoiling the user experience.
Adding a new style and more user-friendly settings can significantly improve the Bluehost user interface.
Verdict
User interface choice is subjective. While I enjoy Cloudways' UI, it is not necessarily something everyone should like. So both services receive equal points here.
5. Cloudways vs Bluehost: Security Features
Websites are susceptible to malware, hacking attempts, privacy invasions, DDoS assaults, and other threats.
In light of this, you must introduce strong security measures to protect your website and visitors from malicious attacks.
Luckily, both Bluehost and Cloudways provide built-in security mechanisms.
Let's take a closer look at them.
Cloudways Security Features
Installing SSL certificates is no longer optional.
Since SSL certificates encrypt the communication between the client device and the server, visitors check whether a website uses one or not.
Cloudways provide a free SSL certificate with an auto-renewal feature.
Besides that, you get the following features by hosting your website or app on Cloudways servers:
Automatic/on-demand backups & restores
Web Application Firewalls (WAF) analyzes millions of sites and 32 million requests per second to identify and block attackers and emerging threats!
Cloudways mitigates DDoS attacks in less than 3 seconds via dedicated IP ranges.
Login security and suspicious device login control paired with two-factor authentication (2FA) enhance platform security and prevent unauthorized access.
Cloudways implements solid operating system security and database security.
Use Malcare's technology solutions to protect your WordPress websites from malicious bots, brute force login attacks, and Denial-of-Service (DoS) attacks.
Users can run multiple applications on the same server, but each is isolated from the others, preventing server-wide issues.
GDPR compliance demonstrates the company's customer data security commitment
Bluehost Security Features
Bluehost customers receive free Let's Encrypt SSL certificates.
With increasingly sophisticated hacking techniques for stealing user data, an SSL certificate tells your visitors that your website is secure and trustworthy.
Backups are a savior if something wrong happens to your website.
Unfortunately, Bluehost does not offer scheduled backups across all hosting plans by default. Instead, only select Bluehost plans get an automatic backup feature.
The company has started developing more security features, such as SSO, two-factor authentication (2FA), and account validation by tokens.
Future updates will include additional security features.
Verdict
Bluehost and Cloudways offer their customers free SSL certificates and other basic security features. However, Cloudways has the edge regarding advanced security features and privacy protection.
6. Cloudways vs Bluehost: Data Centers and Networks
The data centers of the hosting provider heavily influence performance and reliability. Your website's data is stored there.
So the data center location, the tech stack, and connection speed have a massive impact on the user experience of visitors accessing your site.
Cloudways Data Centers and Networks
In comparison to traditional hosting companies, Cloudways takes a slightly different approach.
It doesn't own any of its data centers, in contrast to Bluehost.
The company has partnered with the world's top five cloud providers for server resources, including:
Amazon Web Services (AWS)
Google Compute Engine (GCE)
Vultr
Digital Ocean
Linode
Currently, Cloudways has 65+ data centers across five continents.
Moreover, using networks from these providers has a few advantages.
First, you don't have to worry about performance issues.
All of these networks are well-established and have substantial financial backing.
Some of the biggest websites use these networks, so you're in good company.
Second, downtime isn't allowed to exceed certain limits.
Third, Cloudways spreads data across several servers in the cloud instead of storing it on a single server.
Visitors will connect to the closest cloud server to load content, which speeds up connections.
Bluehost Data Centers and Networks
Some sources claim that the company has data centers in the US, Europe, and Asia. However, Bluehost does not specify the locations.
That's because the company places a high priority on safeguarding and securing its data centers.
All facilities are connected to redundant power sources and various emergency mechanisms to ensure uninterrupted website access.
Select the server location closest to your target audience when subscribing to a managed WordPress service to achieve the best speed performance.
Verdict
Despite Bluehost's incredible efforts to establish a global data center network for high availability, it falls behind Cloudways.
The Bluehost's speed performance and uptime data indicate that.
In contrast, with Cloudways' extensive network options and reliable data centers, visitors will not encounter such problems while browsing your site.
Therefore, you should choose Cloudways over Bluehost whenever possible.
7. Cloudways vs Bluehost: Website Migrations
Essentially, migration is the process of transferring all of your website data from one server to another.
A site migration service ensures smooth data transfer if you are switching providers.
Cloudways Site Migrations
If you already have a WordPress site and want to move it to Cloudways, you can use the Cloudways migrator plugin.
It facilitates the site transfer by providing step-by-step instructions to securely move your data from your existing server to Cloudways servers.
In addition, Cloudways offers Managed Application Migration, where the cloud experts take care of all the heavy lifting and ensure a smooth migration experience.
Bluehost Site Migrations
Bluehost has recently released a free guided website migration service.
With Bluehost Site Migrator, your WordPress site is backed up and securely transferred to Bluehost.
You'll be able to review your site on a temporary URL once it's been transferred.
Following your confirmation, the Bluehost technical team will make the final adjustments to complete the migration.
As an alternative to free migration, the company offers a paid migration service, which provides a more customized experience.
Verdict
While both companies offer guided website migrations using their WordPress plugins, Cloudways offers one free managed migration.
With Bluehost, you have to pay for managed migrations. So once again, Cloudways wins.
8. Cloudways vs Bluehost: Customer Support
Often, users ignore customer support services when choosing a hosting provider.
Encountering an issue that you cannot resolve can be quite frustrating.
Therefore, before comparing Bluehost vs Cloudways, be sure to review customer support options.
Cloudways Customer Support
The Cloudways customers receive 24/7/365 live chat and ticketing support, with improved SLAs.
This includes infrastructure support, platform support, application support, and proactive monitoring in three support tiers.
Advanced support add-on gets you priority in the support queue and offers customization support.
The premium support add-on offers all advanced support features, plus a 24/7/365 Private Slack channel and phone support to connect your team directly with Cloudways senior support engineers.
However, Advanced and Premium support add-ons cost $100/month and $500/month, respectively, with a six-month commitment.
Previously, customer support was one of the weak points of Cloudways; however, it has been improving rapidly recently.
In addition, Cloudways has a comprehensive knowledge base for self-help.
Bluehost Customer Support
Bluehost customers have 24/7 access to technical support through live chat, email, or the online ticketing system.
You can also connect with the support engineers via phone calls by dialing 888-401-4678. Please note that international calling fees may apply.
In addition, a comprehensive knowledge base is available. It includes troubleshooting manuals, step-by-step instructions, and more.
Verdict
Response times are generally excellent for both providers. Cloudways deserves special recognition for its superb customer service.
The company employs highly qualified professionals capable of doing more than answering questions.
However, if you're a complete novice, you won't notice much difference in the support quality of both hosting providers.
9. Cloudways vs Bluehost: Pricing Plans
As we move forward, let's compare the prices of each hosting provider's plans.
Managed WordPress hosting services typically cost a little more than standard shared hosting packages.
So, you should expect to pay more because of the fully managed service and personalized assistance.
Cloudways Pricing Plans
Unlike most other hosting providers, Cloudways has a pay-as-you-go pricing model. So, the Cloudways hosting prices vary considerably based on your cloud provider, server resources, and add-on features.
Below is a complete breakdown of Cloudways pricing.
1. Cloudways Digital Ocean Plans
The Cloudways Digital Ocean packages include up to 160 GB of SSD storage, 8 GB of RAM, 4 CPU cores, and 5 TB of bandwidth.
The Digital Ocean Standard plans start at $10/month and go up to $80/month, while the Digital Ocean Premium plans start at $12/month and go up to $96/month.
2. Cloudways Vultr Plans
The Cloudways Vultr packages offer up to 4 CPU cores, 256 GB of SSD storage, 8 GB of RAM, and a massive 4 TB bandwidth.
The Vultr Standard plans range from $11/month to $84/month, while the Vultr High-Frequency plans range from $13/month to $100/month.
3. Cloudways Linode Plans
The Cloudways Linode plans include up to 4 CPU cores, 8 GB of RAM, 160 GB of SSD storage, and a massive 5 TB of bandwidth.
Currently, Linode plans cost between $12 and $90 per month, depending on your server configuration.
4. Cloudways AWS Plans
The Cloudways AWS plans include up to 4 CPU cores and 16 GB of RAM.
With AWS plans, you can choose your disk size and pay for bandwidth as you go.
AWS packages with a standard server configuration range from $36.51 to $274.33 per month.
5. Cloudways Google Cloud (GCE) Plans
The Cloudways Google Cloud (GCE) plans include up to 4 CPU cores and 15 GB of RAM.
Like AWS plans, you can configure the disk size and pay for bandwidth as you go with your GCE servers.
Cloudways' Google Cloud plans with a standard server configuration range from $33.18 to $225.93 per month. Additional charges may incur based on your disk size and bandwidth usage.
Bluehost Plans
Bluehost's hosting services have a more conventional pricing plan, for example, no storage or web traffic caps with any subscription.
For the Bluehost vs Cloudways comparison, we will focus on the managed WordPress plans.
1. Bluehost Build Plan
With Bluehost's Build Plan, you get site analytics, daily scheduled backups, malware protection, and domain privacy.
The plan costs $29.99 per month. However, with Bluehost promotional offer, you can grab it for only $19.95 per month.
2. Bluehost Grow Plan
The Grow Plan provides access to all features of the Build Plan, plus Bluehost SEO tools, business review tools, Jetpack ads integration, 10 GB video compression, and 24/7 hands-on assistance on design, functionality, and more from real WordPress experts at no additional cost.
The plan costs $39.99 per month. However, with Bluehost's introductory offer, you can grab it for only $29.95 per month.
3. Bluehost Scale Plan
Bluehost's Scale Plan offers advanced e-commerce features for WordPress websites.
It includes everything in the Build plan, plus unlimited backups & restores, PayPal integration, unlimited video compression, and Elastic Search integration.
The Scale plan costs $59.99 per month, but you can get it for only $49.95 per month for the initial billing term with Bluehost's promotional offer.
10. Cloudways vs Bluehost: Discounts
Everyone likes discounts, regardless of what hosting services they use.
The good news is that both Cloudways and Bluehost offer their new customers introductory offers and big discounts.
Cloudways Discounts
Cloudways offers a risk-free 3-day trial (without a credit card). It's an excellent opportunity to test Cloudways' managed hosting solutions before purchasing.
If you like the hosting performance and want to upgrade to a paid plan, please use an exclusive Cloudways promo code: CW30FOR3.
The coupon code offers 30% off for three months and is only valid for a limited time.
You can visit Cloudways' official deal page any time for the latest discounts.
Bluehost Discounts
Bluehost features numerous discount offers for different types of web hosting services available from the company.
You can get up to 73% discounts by purchasing annual plans. However, the savings only apply to the first billing cycle.
Bluehost WP Pro packages don't receive heavy price cuts, despite coupon codes and special offers.
Any WP Pro plan will get you only $10 off, regardless of the hosting tenure.
Verdict
Bluehost and Cloudways offer attractive discounts to drive new customers to their platforms.
While Bluehost provides up to 73% off, the deal is valid for starter hosting packages. Heavy users rarely get such steep discounts. In contrast, Cloudways features a flat 30% discount regardless of the plan you choose.
If you ever decide to buy a managed WordPress hosting service, Cloudways is a much better option than Bluehost.
Cloudways vs Bluehost: Conclusion
Bluehost and Cloudways are great managed web hosting options for starting a small business site or a blog. However, if you need more resources and advanced features, Cloudways is a superior choice.
As you can see in the Cloudways vs Bluehost comparison article, Cloudways has undoubtedly emerged as the winner since it aims at providing its clients with a fast and reliable hosting service.
Despite Bluehost being a strong competitor, the company needs to improve in many areas, including speed performance, security, and customer support.
So, grab your Cloudways account today, and don't forget to use the Cloudways coupon code to get an exclusive 30% discount.
Also read: Cloudways vs Kinsta: A Detailed Comparison