Affiliate Disclosure: I publish various content marketing strategies, online business ideas, blogging tutorials, review articles, and discount offers on my blog. My content may contain some affiliate links for products/services I use, love, and recommend. If you take action (i.e., subscribe or make a purchase) after clicking one of my affiliate links, I'll earn an affiliate commission at no additional cost to you. It helps me in creating more helpful content like this.
Google Chrome is undoubtedly one of the best internet browsers with a ton of cool features. Moreover, it's insanely fast and flexible.
But what makes it more powerful and stands apart from the crowd?
The best Google Chrome extensions enhance the browsing experience by allowing users to be more productive while browsing.
Since Google Chrome is my first choice as a desktop internet browser, I have tried hundreds of chrome extensions that help me save time & money.
You already know blogging is not just about writing some articles and monetizing them.
It's a beautiful journey.
So I spend most of my time browsing the web to learn new things related to blogging, digital marketing, SEO, and much more.
Sometimes, you would find me crafting a draft for my next article or designing a banner for social media.
There are many things to do.
But Google Chrome has a solution for every small thing no matter you want to take a screenshot of your current tab or save some web pages to view them later.
Chrome Web Store has thousands of amazing extensions. However, only a few are the best in their respective categories.
In this post, I have listed the 20+ best Google Chrome extensions for bloggers which can help you improve your productivity to the next level.
Yes. I mean it.
Important: Installing and activating too many Google Chrome extensions at the same time may slow down your browser resulting in a poor web experience. Install only those chrome extensions which are required & updated regularly.
Best Google Chrome Extensions For Bloggers & Digital Marketers
1. Keywords Everywhere – Keyword Tool
Keyword Research is one of the most critical tasks for any SEO guy or blogger. While you can use some free tools to find average monthly searches, CPC, and competition, the premium tools give more insights to help you rank your web pages better in SERP.
But the main problem with premium keyword research tools is their subscription fees which a newbie blogger can't afford.
Adding the Keyword Everywhere Google Chrome extension to your browser could be a good solution.
Once you installed this extension, you just need to sign up for free to get an API key to render keyword-related data to your browser screen.
Currently, Keyword Everywhere shows average search volume, CPC, and SEO competition for a search query and related keywords.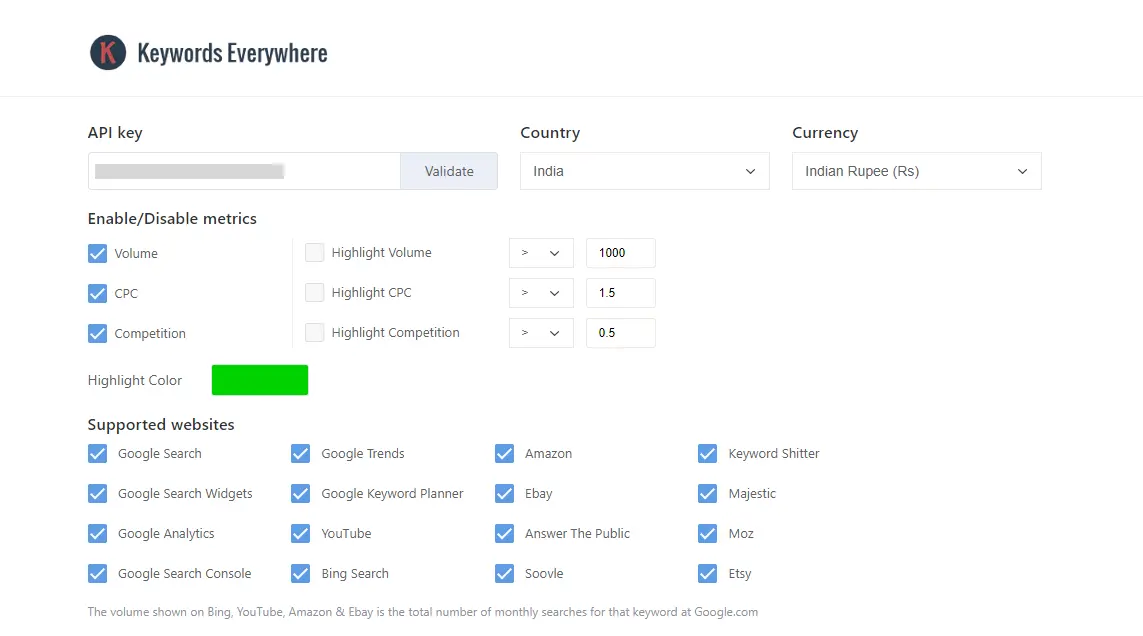 Although it supports multiple currencies, the keyword research data is available for seven countries only along with the global stats.
2. Open SEO Stats
SEO (Search Engine Optimization) for a particular website is the most important thing if you are expecting a ton of visits from Google or other search engines.
However, SEO is a broad subject and requires a lot of effort to rank your web pages at the top of SERP. High-quality content, relevant backlinks, technical SEO including faster page speed, mobile-friendly, and HTTPS secure site are a few key elements of SEO.
I'm sure that you are using different free as well as premium SEO tools like Semrush and KWFinder to find essential SEO metrics.
But you can take a glance at any web page by using the Open SEO Stats Google Chrome extension.
It shows pages indexed in Search, server location, and traffic stats including Alexa rank, and page speed info. You can also check whether the site contains a robot.txt, or Sitemap and see its source code in a single click.
Plus, you can get an overview of on-page SEO including Title, canonical URL meta description, H1, H2, and styling elements.
Open SEO Stats also show external & internal links with the "rel" attributes and anchor text.
3. SEO Search Simulator by Nightwatch
Manually checking SERP is the best and most accurate way of analyzing the SEO ranking for your targeted keywords.
As Google shows geo-targeted content to its users, you need to find at which position your keyword is ranking for a particular geo-location.
It's not possible unless you are using a premium VPN service like NordVPN.
However, you need not worry about this when you have a Nightwatch SEO search simulator. This Google Chrome extension simulates search queries from any location (country) on Google and quickly checks the ranking of your keywords and keeps an eye on your competitor's SEO rankings too.
No need to buy a VPN service or proxies. It's always free for any SEO professional or blogger.
4. Pinterest Save Button
Pinterest is one of the largest social media networks which primarily deals with image sharing.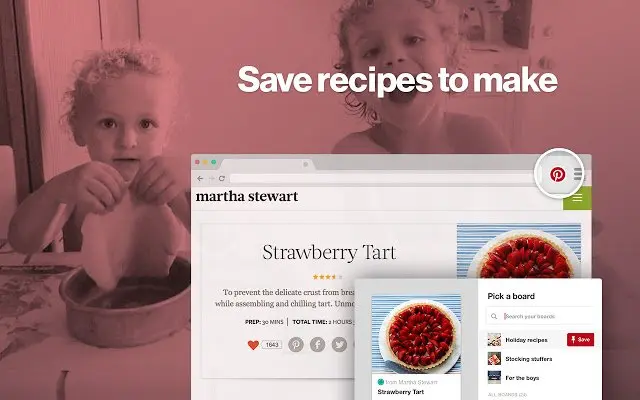 Pinterest Save Button lets you save any image to one of your boards so that you can get back to see it later. Just click on the Pinterest icon while you hover over any image and you'll find the option to save it to your account.
Plus, its visual search tool powered by AI can discover visually similar ideas on Pinterest you may be interested in.
5. Downloader for Instagram™ (+ Upload photo)
Instagram has primarily focused on the smartphone app with limited desktop features. Even you can't upload or download any media file unless you're using third-party tools like Gamblr.
However, the Downloader for Instagram Google Chrome extension lets you tackle this problem by adding the top functions you want for Instagram on PC which are available for the mobile version only.

You can download images, videos, and Instagram stories quickly with a couple of clicks. This extension also supports a one-click mass download.
If you prefer using a PC or laptop for work, Downloader for Instagram can bring you new possibilities.
6. ContentStudio
You probably have used Buffer or HootSuite for managing social media accounts for yourself or clients.
ContentStudio is a similar service and provides different options in a single dashboard.
You can manage multiple social media accounts effectively along with your team. However, ContentStudio is a premium service, and you need to purchase a subscription before using the extension.
Discover niche-relevant content across the world-wide-web filtered by social share, media types, and virality, and set up automation campaigns to publish content even if you are enjoying your vacations.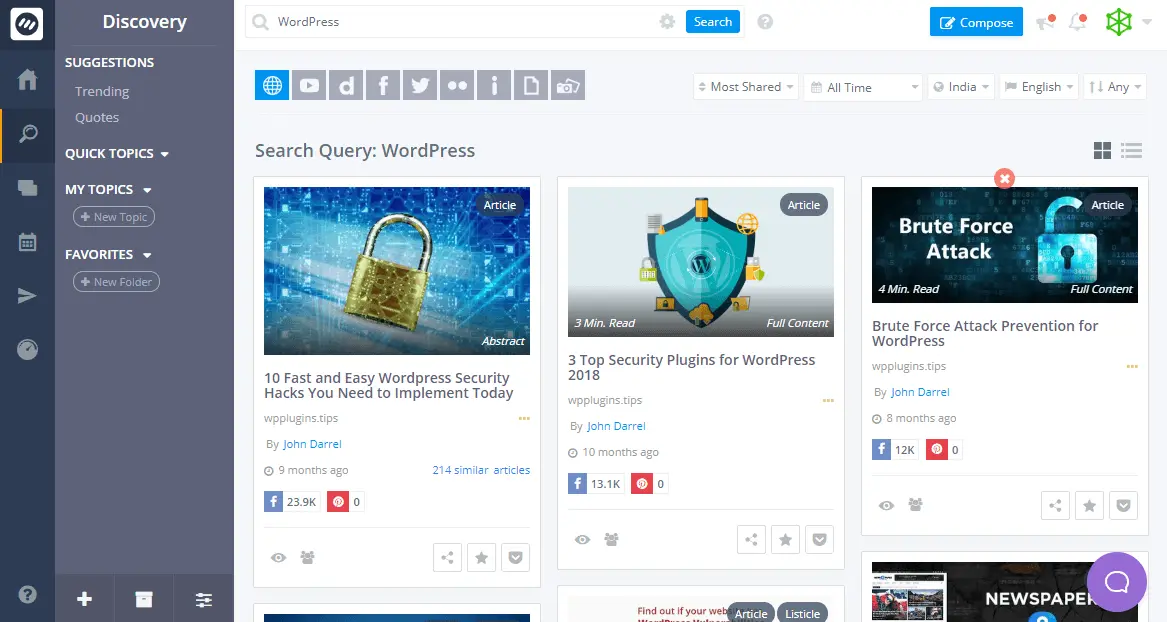 I'd say ContentStudio is a perfect choice for automated social media management and amplifying content marketing.
7. VidIQ Vision for YouTube
You might have gotten confused many times while trying to understand how YouTube SEO works.
Am I right?
Do you want to know the secret sauce behind the success of your favorite videos or YouTube Channel?
VidIQ Vision lets you discover what makes content go viral and optimize them to get more views.
With many essential features & metrics beyond YouTube Analytics, you can significantly improve the views & engagement to your YouTube videos.
Although the free version is fine for most users, VidIQ Pro lets you access the historical data of popular videos, track your competition, find the best keywords to rank in YouTube search, and provides an optimization engine for the title, tags, and description.
8. Social Blade
Watching a live match is a joy for cricket lovers. Similarly, analyzing trends and knowing the live stats of competitors or their own social media channel is something digital marketer or blogger always wants.
Social Blade chrome extension provides all these stats right on your YouTube, Twitter, Instagram, and TwitchTV channel.
It offers the most important data about any YouTube video and the channel you are watching.
For YouTube, Social Blade provides the following statistics:
Channel Grade
Subscribers & Views in the past 30 days with Average daily subs & views (includes % growth)
Subs & views gained today with Live subscribers count (requires free Social Blade account)
Subscriber & View Rank
Estimated Monthly Earnings for the channel
Tags video uses
9. Tailwind Publisher
The bloggers telling Pinterest success stories have definitely used or at least heard about the Tailwind app. It's a content-scheduling app for Pinterest and Instagram.
Discover popular content across the web, schedule posts with a smart scheduler, amplify reach, monitor conversions, and analyze overall campaign results with a single tool.
Tailwind Publisher extension makes content scheduling so easy that you can schedule monthly pins in advance so it'll publish them even if you are traveling around the world.
You can select multiple boards, repin or re-gram in bulk, and set an interval between publishing the post with a drag-and-drop calendar which smartly optimizes your content publishing for maximum reach & engagement by analyzing audience behavior.
To use the Tailwind Publisher chrome extension, you will need to sign up for an account with Tailwind which you can upgrade later to avail of premium features.
10. Bitly: Unleash the Power of the Link
Bit.ly is not just a link-shortening service but a complete suite to shorten your links, and optimize them for maximum sharing and measuring results.
Convert the long ugly URLs into short ones.
Yes, you can customize your links or use tags to easily organize and search them later.
Do you know bit.ly measures the link clicks, geolocation of the audience, and much more so you can improve your marketing strategies?
It's really useful for bloggers or internet marketers who need bulk sharing without getting spam warnings from websites like Facebook or Twitter.
11. Grammarly
It's quite embarrassing to find some grammatical mistakes in an article you publish on your blog or social media page. Such mistakes in email communication are crazy.
Don't let readers pick errors in your post; spot them before anyone else.
But how can you do that in an effortless way?
Here Grammarly comes into action. It's a freemium grammar and spell check service that also offers a Google Chrome extension for quick access.
There is no room for grammatical errors with Grammarly. It comes with an advanced algorithm that can smartly detect hundreds of spelling and grammatical mistakes including subject-verb agreement, use of articles, and modifier placement. Plus, it can suggest a powerful alternative to commonly used words to improve your copy.
With millions of active installs, Grammarly is the first choice for bloggers, students, freelance writers, business professionals, and many other people who want to write better copy.
Also read: Grammarly Review: Fix your grammar and plagiarism errors instantly
12. FontFace Ninja
Fonts or letter styling is an important element of the branding of any website or business. Remember, when you just stayed on a particular site because you love the font it uses?
Yes, Fonts also have a huge impact on the audience.
What would you do if you find such a beautiful font which can connect you better with people visiting your website?
Let FontFace Ninja help you.
Explore the world of fonts, bookmark, and buy premium font with a single Google Chrome extension.
It gives the name of the font, size, line spacing as well as letter spacing, and color too.
Plus, you'll know whether the font is free or needs to pay where you can purchase this particular font by going to the developer site.
13. Awesome Screenshot: Screen Video Recorder
Awesome Screenshot does well when it comes to capturing either screenshots or screen videos. Although it's a freemium tool, you will get a ton of features with this tool absolutely free.
You can capture the visible part, selected & scroll area, the entire screen, the browser window as well as delayed shots. It also supports screencasting which is very useful for creating tutorial videos where you can activate the mic to record your voice.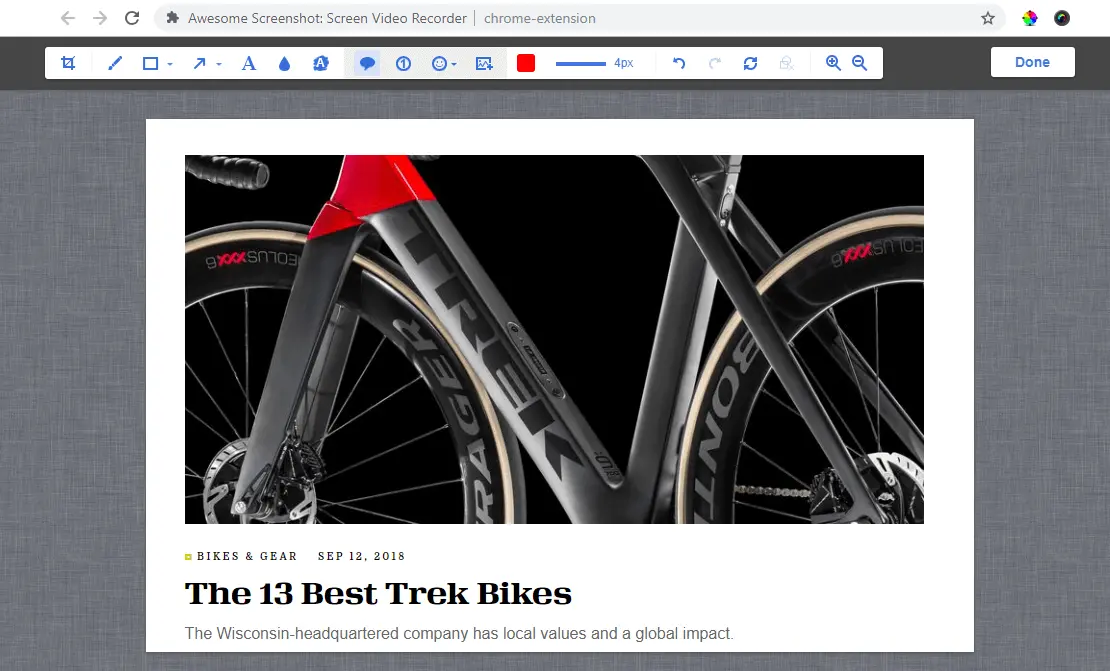 This extension also allows users to edit screenshots in a browser window itself and download them to multiple locations including local storage, Google Drive, and Diigo.com.
Though most of the users will be happy with the free version, advanced users can upgrade their premium service ($19.99/year) to get extra benefits.
For less powerful PCs and laptops, the Lightshot Screen Capture tool is a good alternative to Awesome Screenshot: Screen Video Recorder.
14. Save to Pocket
While researching for your next blog post, you may get overwhelmed with a ton of information. Save to Pocket google chrome extension is the best way to save these reference articles, videos, and other data in a single click.
When you find something interesting, save it to Pocket to view later. Although you save web pages, links, or media in Google Chrome, this tool automatically syncs everything to your smartphone, tablet, or any device.
Adding tags to your links to quickly access them is another great feature. You'll also see related recommendations when you save to pocket.
15. Evernote Web Clipper
You'll be definitely familiar with Evernote Web Clipper- a widely popular note-taking app. Evernote extension lets you quickly save interesting things you see on the internet into your account to view later.
You can save the entire web page or a simplified version with no media or formatting, take a screenshot or just bookmark a link.
Plus, you can edit the screenshots to make them more appealing.
Organizing things with Evernote is easier than ever before. You can choose which notebook to clip on, and add relevant tags for quick access.
It also syncs data across multiple devices (*2 devices for a free account) and allows data-sharing with teammates to collaborate more effectively.
If you need a one-stop solution for saving reference web pages and capturing awesome screenshots, Evernote is a perfect suite for any pro-blogger.
16. Nord VPN
Virtual Private Network a.k.a. VPN helps users to encrypt internet traffic and protect their online identity with a complete feeling of privacy & security.
Since your ISP (Internet Service Provider) can track & monitor your web browsing behavior and may hand over this data to advertisers, Government agencies, or any other third parties, VPN is a handy service to stay protected every time.
While using public Wi-Fi connections where chances of hacking are more, traveling, and P2P file sharing VPN can be really useful.
Currently, there are hundreds of free as well as premium VPN services operating around the globe, but NordVPN is one of the best services in the market.
NordVPN has deployed more than 5600 servers in 59 countries to provide a smooth and fast connection.
No log policy is another important feature. Although it's a premium service, you can try NordVPN for 30 days for free.
Wider device support including Windows, macOS, Android, and iOS with up to 6 simultaneous connections, military-grade encryption with a kill switch, unlimited bandwidth, and blazing-fast servers are some points that make NordVPN a perfect choice.
Still, worried?
You can even pay in crypto for minimum footprints. I'll definitely rate it 5/5 stars.
17. StayFocusd
Have you ever thought about how much time you have wasted on Facebook, Instagram, or other social sites without being productive?
Remember, when you were unable to publish a blog post on a scheduled time because the previous day you met your classmate on Facebook and spend 4 hours of your timetable exchanging some casual messages?
I will not go deep into whether procrastination is a boon or bane. However, the habit of delaying things may severely affect your productivity and overall blogging career.
StayFocusd Chrome extension helps us to increase our productivity by restricting our online behavior which may lose focus on important things.
You can allow some regular sites including your own blog or any other website you may need anytime and block time-wasting websites that become inaccessible once the allotted time is used up (say 10-15 min).
Do you want to pull strings to the maximum limits?
StayFocusd extension has the Nuclear Option which can block all unwanted sites for a specified time. Remember, this action is irreversible independent of your Active Hours, and there is no way to cancel this option once activated.
18. Todoist
As a blogger, organizing daily tasks is not an easy task at all. We need to make a to-do list or a timetable for our work so that we can work more efficiently.
Don't you think so?
Using a diary or smartphone is a good idea, but we mostly use our PC or laptop while working. That's why Todoist is the best tool to improve your productivity by helping you to get organized.
You can add tasks, set project categories & priorities, add reminders via email or push notifications and keep eye on the entire schedule.
Todoist is a really stress burner which does not only calculate & improve your productivity but also helps to stay motivated keeping you on the right track.
With a community of over 10 million people around the globe and praised by top publications like Forbes, The Guardian, USA Today, The Wall Street Journal, the New York Times, and Lifehacker, Todoist is one of the best Google Chrome extensions for bloggers.
Use this link to get Todoist Premium completely free for two months. (Special discount offer is available only through the invite link for a limited period).
19. Checker Plus For Gmail™
Many people often get distracted by a simple email notification tone. On another hand ignoring important emails may lead to a loss of opportunities, product sales, or limited-time discount offers.
How can you avoid it?
Install Checker Plus For Gmail Google Chrome extension to get notifications about all incoming emails, and read, or delete them without opening Gmail.com. Plus, you can easily manage multiple accounts in a single browser window.
Checker Plus offers a mail preview popup window to read, archive, mark as read, or delete emails without leaving the current tab (or it has the option to go directly to your Gmail tab).
Need to answer a particular email?
You can add a quick reply from the Checker Plus popup saving a great of time otherwise wasted on non-productive things.
20. Unlimited Email Tracker
Unlimited Email Tracker is basically an email tracking tool for Gmail that lets you know about the status of the emails you've sent.
See whether your email has been opened or not, how long ago, and how many times. It tracks the link clicks too.
Don't ask colleagues, friends, and fellow bloggers again whether they have read your email or not.
This extension is free forever with no visible signature, logo, or trademark like Mailtrack. Other features of this software include real-time live push notifications, tracking reports, multiple accounts tracking, and much more.
It's useful for many people including managers, sales teams, and people with direct client relationships, e.g., freelancers. However, bloggers can smartly use this extension in the outreach campaigns to track email status and decide the follow-up strategy.
21. Snov.io
A true warrior for cold outreach automation, there is no better introduction to Snov.io. It helps you find the email addresses from Linkedin profiles or websites you surf, validate them with an inbuilt email verifier and create unlimited drip campaigns to turn prospects into customers.
It's possible to find an email address of a website owner if he mentioned it or connect with him through the comment section or contact form.
However, there are very few chances that a particular person will revert.
It is better to find an email address that not everyone can see on their web page. Snov.io does its job perfectly. Plus, verify this data to save yourself from email bounce.
If you find a website that may need your services or you want a link from that site, then just click on the Snov.io icon and start your cold outreach campaign in a minute.
I was previously using email hunter.io which is pretty similar to Truecaller mobile app where you need to reveal your identity to get contact information about other websites.
*Email Hunter does not support free email services like Gmail and needs a custom email address to register an account. (Maybe people have spammed a lot earlier).
22. ColorPick EyeDropper
Colors make any graphic or image complete. We sometimes see a beautifully designed web page and try to pick that color scheme for our own use.
However, finding a perfect shade is not that easy without ColorPick EyeDropper. This tool allows users to select the color for a particular pixel of any web page.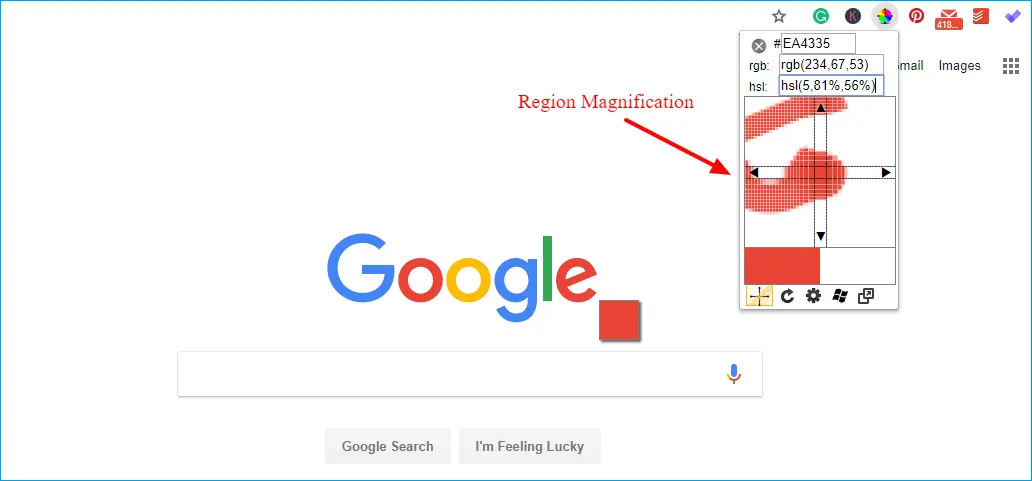 ColorPick EyeDropper also contains web page region magnification features to improve accuracy during color selection.
23. BuiltWith Technology Profiler
While visiting some amazingly designed websites, we often ask which technology or theme, or plugins it's using.
Next time you won't need to ask anyone this question. Just install BuiltWith Technology Profiler Chrome extension and find out the technology profile for a website you are visiting.
This tool is very useful for developers, bloggers, researchers, and designers to find out the technologies behind a particular web page so that they can choose a better option for themselves.
BuiltWith technology tracking mainly includes the widgets (snap preview), frameworks (.NET, PHP, Java), analytics (Google, Nielsen), publishing platform (WordPress, Blogger), advertising networks (AdSense, DoubleClick, Chitika), Content Delivery Networks (Amazon S3, Limelight), standards (XHTML, RSS), hosting software (Apache, IIS, CentOS, Debian), etc.
For a blogger or basic user, it's free for up to 5 detailed lookups per day which can be upgraded anytime at $144/year for unlimited lookups (perfect for web developers or researchers).
Final Words
Google Chrome is definitely a powerful & smartest web browser, but the extensions make it more user-friendly.
I use many chrome extensions quite often to help me with blogging-related activities. Grammarly, Evernote, and ContentStudio are some of my favorite extensions for Google Chrome.
What is your favorite tool from this list (or from the Chrome Web Store) and how is your experience using it?
Let me know via the comment section below. And, I'd love it if you share this list of best Google Chrome extensions for bloggers with your friends who may find this useful.