Affiliate Disclosure: I publish various content marketing strategies, online business ideas, blogging tutorials, review articles, and discount offers on my blog. My content may contain some affiliate links for products/services I use, love, and recommend. If you take action (i.e., subscribe or make a purchase) after clicking one of my affiliate links, I'll earn an affiliate commission at no additional cost to you. It helps me in creating more helpful content like this.
Many people who are just starting want to know how to find the most profitable blog niches that make money online.
If you are facing a similar problem and confused about choosing the best blogging niche, then read this article till the end.
What is the meaning of a niche?
In simple words, the niche means a specific segment of the broad market. It may be a vast topic like blogging, food, health, and tourism, or a narrow one like Books from APJ Abdul Kalam, Keto Diet Recipes.
You can pick any topic as a blogging niche — from the Mariana Trench to Mount Everest and a tiny atom to the entire universe.
I think writing a blog is not a job; it's fun.
Still, continuing with the topic you have chosen is quite challenging, and most people simply give up after some days or choose another topic for their blog.
Although moving to another topic makes sense if you are not satisfied with your performance, ask one question yourself, why you had picked that niche when you started blogging?
Randomly moving to a different niche without any reason is simply a waste of time and hurts your blogging career in the long term.
You can't build authority in that particular field just by flipping over various topics without giving value to your work.
Suppose, you write about smartphone cases, and next month you stop working on that niche to start a new blog on music.
Will it make sense?
Unless you are a web developer working on various projects, picking a random niche and expecting a huge revenue is not the right approach.
As I said earlier, you may either lose authority or the audience looking for a particular topic or keyword.
There are many people who have continued with their niche and earning passive income from their blogs.
Digital Inspiration, ShoutMeLoud, Your Story, and Tech PP are a few examples of blogs that stuck to their niche and got excellent returns for the efforts that they had put in.
It has not happened overnight; these people pour their all & soul into their work. And, that's the reason behind their success.
Now, we will analyze why they got successful and what mistakes I made while selecting a niche for my blog.
Honestly saying, this mistake could give me a failure, but I have survived which is not possible in every case.
So let's discuss how to find the most profitable blog niches that make money.
1. Analysis of Successful Blogs
You might have noticed that every successful blogger has followed their passion, at least 99.99%.
Am I right?
All people have nourished their blogs for a long time to get this position whether it's in search engine ranking or financial state.
It took them more than 5-6 years, and still, they are working.
Now, look at the mistake that I made while choosing the niche for my blog. I selected marketing and WordPress as a niche for my blog because I didn't know the competition and fell for it by looking at the profit I could get.
I spent days and months to reach this stable position & still I'm struggling to get organic traffic.
Not to exaggerate, but only for your kind information, it took me 16 hours per day for at least half of the year which is not a short span to give up for anyone.
After looking at my own mistake, I decided to help you with picking a profitable niche.
It's not an ultimate guide but an article after my in-depth study. I hope you'll like it.
You may notice that on this blog I write about blogging, copywriting, website tips, affiliate marketing, online money, etc. but these all come under blogging.
SuccessPixel is a blog for helping you succeed through digital marketing.
There are many authority blogs, but when it comes to digesting their techniques, you'll realize that it's not an easy task.
My motive is to make all blogging-related tips and tricks available in a single place and entirely in an easier way than it has already been presented.
In this article, I'll tell you how to pick a profitable niche for your next blog. It may be possible that you want to choose an entirely new topic or move on to another one for any reason.
2. Checking the Profitability of the Blogging Niche
You might already know the answer, but still, I tell you why to choose a profitable niche.
There are a lot of niches where you can create a blog easily and get a huge sum of traffic within a very short time.
Many people will visit your blog even from the search bar of Google, but is it make sense if you are not getting any benefit from your work?
The answer is yes, and partially no.
It's because when you choose a random niche like free images, free Blogger templates, Facebook tips or WhatsApp hacks it doesn't make any financial benefit until you use ads on your blog and too many ads spoil the user experience, as least I think so.
The income generated from these niches is very less compared to other niches for the same traffic, then why pick these niches?
On another hand, you have many expenses related to the domain, hosting, design, and other stuff. If you are using it all for free and just for fun or passion, then it is fine.
You will get success in your job, but in case you are taking blogging or any e-commerce business seriously, then you should pick a profitable niche that will give a huge ROI on the monetization front.
Being a professional, you should consider this point as a very critical part of your online career. Don't you think so?
After researching in-depth, I have found a few factors that influence your success in niche blogging, so read the whole article carefully to find the best niche for your next blog/website.
3. Are you Passionate About that Topic
It's a crucial part of your success as a blogger because if you don't have passion or interest in the topic you have chosen for your blog, you may face a massive failure.
It's not that common, you might think. Your passion may be drugs, alcohol, or such bullshit niche (sorry for the language) but choosing these niches for your blog can backfire, and you are wise to know what will happen.
I explained it because it's also similarly important; otherwise, it may hinder your progress in the future. Leave that because you're not going to pick these niches for your blog.
Apart from that, you can choose any subject as your blog niche about which you are passionate.
Your interest may not be from childhood, but even if you have developed it in the last few months, then also it's fine. You will not win here unless you lose interest or give up easily.
Online jobs may not generate revenue for one month or a couple of months or even a year; it doesn't mean you are not getting success.
If you learn anything new within this period and make a few dollars, then also it's a big thing for your success.
I'm saying this because I have experienced this situation and I can say it's a learning phase after which you can get a hefty sum in your bank account. So give yourself sufficient time and keep your interest alive.
Even if you are interested in a couple of topics or more than a dozen, don't worry!
Make a list of these topics with priority sequence and pick one of the best among them that is best suited for you and that you think is profitable.
4. Expertise Matters a Lot
You heard right because when it comes to picking a niche, especially for blogging your expertise or prior experience & knowledge matter a lot.
If you don't know about the topic you are going to write or present, then why people will come to your blog or trust you?
Let's take an example,
Does a person have matriculation passed advising Radiology make sense?
Absolutely not.
You must possess knowledge of that particular subject or at least be researched in-depth.
It doesn't mean only knowledge and experience make a difference. Many people who don't have these things or educational qualifications can surprisingly earn money by doing something different or unique, but it happens merely.
To establish authority and trust among the people, it's necessary that you have a strong influence on that particular subject.
If you don't have, then also you can learn & keep learning continuously. No one becomes an expert in one day.
It takes time, so don't worry.
5. Market Value of the Niche
When you open the web browser and search for the niche you have selected, you should get a decent value for it. It depends on different factors:
Supply and demand
Quality of products and services
Market trends
Monthly search volume
Geographic
Competition
Advertising value (Mostly CPC)
You can predict which blogging niche to choose by making little effort.
Find the keywords people are searching for.
It's possible that someone is already there ranking in search engines and has extremely low competition for a particular keyword.
Find out such long-tail keywords and craft unique content, preferably better than existing content.
You can study the related keywords to get a targeted audience and thus, customers.
Combining and interpreting the results, you can segment your audience to craft a unique message that grabs more attention from customers.
It'll require some effort, but I have mentioned a few tools to make it easier.
Google Trends and Auto-suggest
E-commerce website bestseller products & services (like Amazon bestsellers)
Google Keyword Planner
BuzzSumo
By using the tools mentioned here, you can easily get to know which is a hot topic.
You can use the first five tools for free, or, use the other keyword research tools to get more comprehensive results.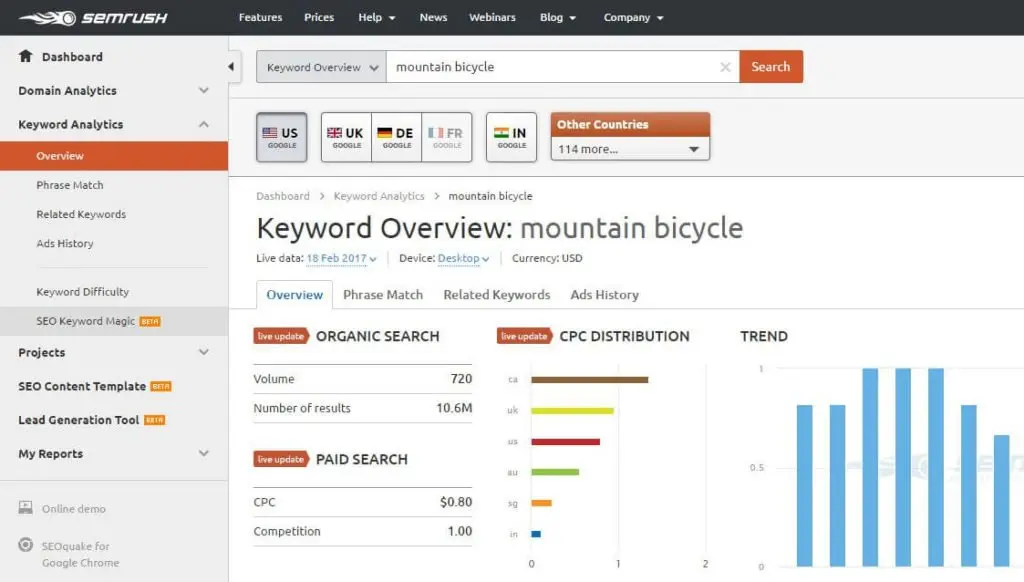 6. Problem-solving Potential
It's going to make you more profit than any other tip. People have many problems, and nowadays, they find solutions online.
Why don't you consider helping them? Their questions may be too silly or something complicated that needs the finest analysis of the problem and a full-proof solution.
Searching for these issues and providing help for those needy people will help to build a relationship and trust with the audience.
So try to find the problems the people have and offer a comprehensive solution to their problem.
There are many forums, Q&A sites, and the tools I mentioned earlier to make your task simple.
One thing to remember is don't just boast that you are very talented and know everything.
Make them feel that you are genuine and want to help them. In the long term, it's important, and doesn't matter what niche you have selected.
To find the problems spend a whole day with a pen & paper or your smartphone. Observe where people have stuck and find the solutions later on to fix your niche.
Make conversation with new people or even with your friends and family to know their problems.
Watch TV, read the newspaper, surf the web, roam around your city, travel through public transport, eat street food, and when you come back at night, you will have a list that you can use to pick a niche for your blog.
Actually, I have given you a bunch of ideas here.
Here, you have done half of your work.
Now, find what problems you noticed in your entire days, what are the expected solutions that you think, what makes people happy, and most important where people spend their money.
7. Find Resources for Your Blog
It's the condition where you will fail if you have not looked yet. Whenever you pick anything as a niche of your blog, find what resources you currently have, will need in the future, or you can get easily.
Suppose, you have decided to review the mobiles, then think about what are chances that you can get mobile to review, what you know about mobiles and their functionalities, software, hardware, etc.
Are you going to buy the devices or anyone is interested in sponsoring you at the beginning stage?
You have to find the answers to such questions that you don't get easily.
Apart from it, which platform you want to choose for content promotion, your backend process, and total expenses in terms of time & money both are very important.
In case you stick to any situation or write a post having the source of information can add an advantage to your blog's success. So keep it in mind while selecting a niche for your blog.
8. Brainstorm, Brainstorm, and Brainstorm!
Now, you have all you need to pick a profitable niche. First of all, overlook the list you have made and remove the niches you are not interested in.
After that, remove the topics you don't have expertise in or think not providing value to both people or you.
Once screening has been completed, you should have a maximum of five niches on your list.
Yeah, you have completed the 90% of your job, and now, the final step has to complete.
Recall your day from morning to night and pick the subject that will make a profit for you (don't forget competition) and is closer to your interest, that's where you have started.
Congratulations! You have picked a solid rock niche for your blog/website. Now, it's time to create a blog.
See, how to create a responsive website/blog in just 30 minutes.
Last Few Words
Picking a profitable niche is a crucial part of any blog or online business, but if you don't put effort to flourish it, you will not achieve what you expect.
Remember, blogging is not a quick-rich scheme where you get success or tons of money overnight.
It's a journey that takes significant time to reach the destination, so keep learning and stay tuned.
I think it's a simple guide for how to find a profitable niche.
You can say it's another common post that the internet has in its database, but if you feel it's worth of share don't forget to do that.
You May Also Like