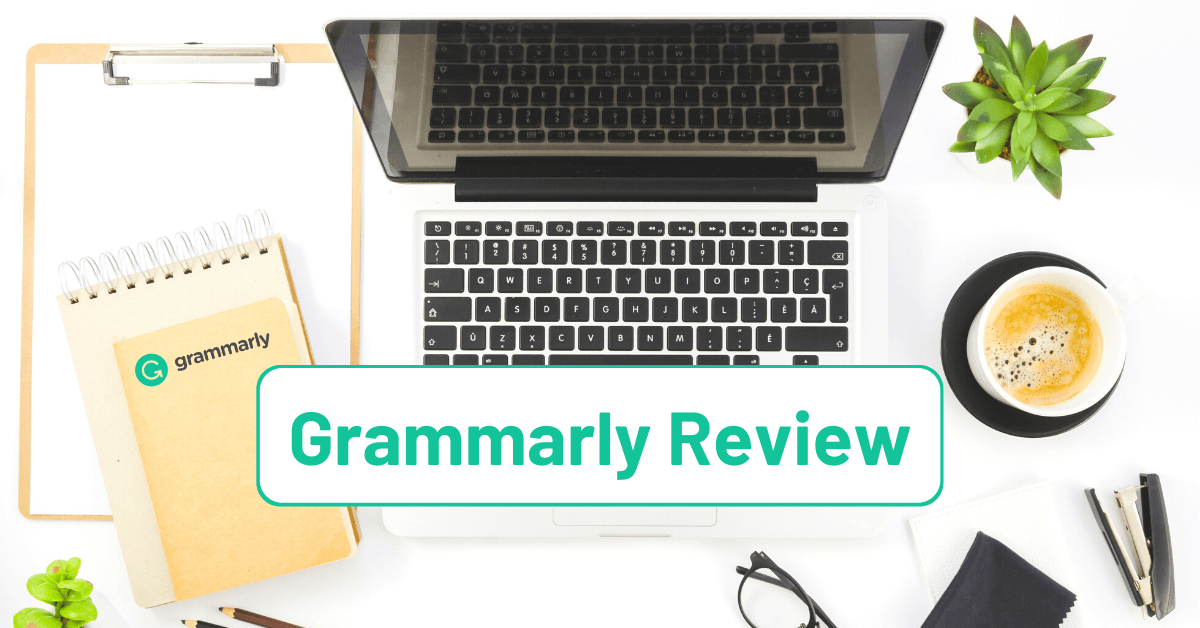 Affiliate Disclosure: I publish various content marketing strategies, online business ideas, blogging tutorials, review articles, and discount offers on my blog. My content may contain some affiliate links for products/services I use, love, and recommend. If you take action (i.e., subscribe or make a purchase) after clicking one of my affiliate links, I'll earn an affiliate commission at no additional cost to you. It helps me in creating more helpful content like this.
You might know that I'm not a native English writer, and when I started blogging five years back, I was pretty weak in English.
You may not believe it, but I also joined a Spoken English course.
I learned many things. Still, there was room for improvement.
Since I wanted to start blogging, I searched for a service to improve my English skills, especially grammar.
And, I found Grammarly.
It's a MUST-HAVE blogging tool for all who want to write better copy.
If you are struggling with content writing, you should definitely use Grammarly. It's an excellent tool to improve your copywriting skills.
Grammarly can instantly correct more than 250 types of grammatical errors in your content.
Plus, it offers vocabulary enhancement and plagiarism detection with its premium plan.
It's helping me a lot in my blogging career to serve more accurate content to my audience.
I've decided to write a review and step-by-step guide on Grammarly.
In this Grammarly Review article, I will explain how you can use this tool on your PC to find the mistakes in your copy and correct them.
Before that, take an overview of Grammarly.
Grammarly Review: Tutorial, Pros and Cons, and Exclusive Discount Code
Grammarly is an awesome tool to improve your copywriting score.
According to the website claims, it's the World's best online grammar checker tool that corrects and proofreads your content to make it more accurate.
If you're using Grammarly, there is no room for errors. It displays a complete list of all the mistakes you have made in your article and suggests possible solutions.
This list may contain silly grammar mistakes like using "there" instead of "their" or "they're" and forgetting to add proper punctuation marks where needed.
In addition, Grammarly offers vocabulary enhancement and plagiarism-checking tools. You can see how your dull copy turns into the perfect one with the help of Grammarly.
Also Read: Best Plagiarism Checker Tools to Avoid Google Penalties
How to Use Grammarly?
Grammarly provides different versions to proofread and improve your copy, whether you're using a free or premium plan.
You can get the basic features with its free plan or subscribe to a premium plan to avail all the advanced features like vocabulary enhancement, advanced proofreading, and plagiarism checker.
You'll also get 24/7 callback or email support with its premium plan, and to be honest, it's pretty impressive and surprisingly fast.
If you don't have enough to pay for the paid service, simply you can sign up for the free plan and start correcting all your spelling and grammatical errors.
Currently, Grammarly offers five versions to its users; the browser extension, a native app for Windows/macOS, iOS & Android mobile apps/keyboards, a cloud app, and a Microsoft add-in.

I prefer using the browser extension, which is incredibly easy to use and fixes most errors within a couple of minutes. It's also helpful while writing an important email, updating Facebook status, or tweeting something new.
When you are doing anything related to writing or proofreading, I think you should consider using Grammarly. It'll scan your entire copy and display all the errors that need to be fixed.
Let's see how to use Grammarly with its different versions step-by-step.
1. Using the Extension (Download for free)
Even when using the free plan, you can download and install Grammarly's browser extension (available for Chrome, Firefox, and Safari).
It will continuously scan your website content and display the errors if any.
When you hover over those errors (underlined in red color), you'll see a slide-in showing you the suggestion for the respective mistake.
Otherwise, it shows the total number of errors in the right-bottom corner that you can correct.
Once you hover and click on Grammarly's logo, an editor slide will pop up where you can find the mistakes and the possible corrections based on the advanced algorithm of Grammarly.
If you don't see any mistakes, check whether your internet connection is working or not — otherwise, congratulations on not making any grammatical errors.
If you see any error, apply the corrections suggested by Grammarly either directly or using the editor.
Generally, I don't make spelling mistakes, but grammar errors and especially wrong or missing punctuations are my weak copywriting points.
Although I'm consistently improving it, I still need Grammarly to help me edit and proofread.
Apart from that, Grammarly proves the best sentence checker tool, which tells where I should change passive voice to active or whether I've made an incomplete comparison or unclear sentence, etc.
Before using Grammarly, the Yoast SEO was helping me to find some basic writing improvements, but now Grammarly takes care of all.
Grammarly provides many advanced features like vocabulary enhancement and plagiarism checker service with in-depth analysis of your text with its premium plan.
Once you've installed Grammarly on your computer, you have to click on the correct words on the right side suggested by Grammarly, and the errors in the text will be replaced with the correct version of words/phrases and punctuation marks.
It not only works with WordPress but with almost every other site where I write regularly.
There may be some exceptions where the Grammarly extension doesn't work due to some technical reason, but I use the web version of Grammarly to proofread my content.
Let's see an example.
As I'm writing this post in the WordPress editor, it's continuously scanning my copy and showing me the mistakes in my article.
2. Using the Web Version of Grammarly
You may notice that using the browser extension of Grammarly is extremely simple and offers real-time scanning of your text, but sometimes it may be inconvenient to use the browser extension.
For example, suppose you're a freelance content writer, and you offer the article writing service to your clients in Microsoft Word (.docx file) or some other format, then you should have to make sure that your articles are 100% error-free.
At that time, you will need a web version of the Grammarly application to check your copy for errors. You can copy-paste your article directly into the Grammarly editor or simply upload your file to it with a few clicks.
It'll proofread your content, which you can save as the final draft to be delivered. The process will be the same as mentioned earlier, and the only thing to do is create an account.
A step-by-step guide using the web version:
Create an account with Grammarly. Don't worry; it's free.
Once you've created the account and selected a plan, whether it's free or premium, log in to the Grammarly dashboard, where you'll see something like this shown in the picture.
Upload the file that you want to proofread or cure for grammatical mistakes or click on the New button and directly copy-paste the text into the Grammarly editor.
Rectify all the errors in your article/content and save the improved version as your final copy.
By following these steps, you can proofread any of your articles, writing projects, or even the essays, homework of students, etc.
3. Using Grammarly Microsoft Add-In
It's another excellent way to use Grammarly on your computer to fix writing errors. You have to download the Add-In for the Microsoft products.
You can then directly use this add-in to your Microsoft applications like Word and Outlook, etc.
When you sign up and log in to the Grammarly account's dashboard, you will see a notification to install the Microsoft add-in for Windows.
You need to download the software setup file and install it on your computer.
You can select both applications, i.e., Microsoft Word & Outlook, where you need to fix writing errors most time.
Once you've installed the add-on, activate it with the login credentials used while creating a Grammarly account, i.e., your email and password.
The next thing to do is to enable the add-in for the Microsoft applications. You can do that by clicking on the Grammarly logo in the top toolbar.
Once you enable the Add-In, it'll scan your document or mail draft and show you the list of errors that need to be cured. You can simply fix them or ignore them if you feel those words are necessary for you.
4. Using Grammarly's Native Application For Windows
Grammarly offers a native application for Windows users, and you can directly use that without switching to the web browser.
You just need to download & install the software file (.exe file) on your Windows computer. After activating the app, you can start fixing the errors in your copy.
Grammarly Review: Important Features
Now you have to understand that Grammarly isn't just a proofreading tool that checks spelling & grammatical mistakes, but it's much more than you think due to its exceptional capabilities to make your writing perfect.
1. Vocabulary Enhancement
If you're not a native English speaker or a writer like me, then you might have experienced a shortage of engaging words while writing.
I used to write boring copy with repetitive words before using Grammarly, but now I've got an excellent tool to improve my vocabulary.
Yeah!
Grammarly's vocabulary enhancement feature helps me find alternatives to my current repetitive words and fills my copy with many beautiful words that I can't easily recall while writing.
Truly, it's an amazing feature that helps to improve vocabulary quickly.
Enabling this feature will scan your text article, find repeated/commonly used words, and suggest different words having the same meaning.
You can replace them with the words/phrases suggested by Grammarly's advanced vocabulary enhancement tool.
2. Plagiarism Detection
You might know what plagiarism means. Nowadays, plagiarism, a.k.a. content piracy, has become a big problem in copywriting.
Search engines, including Google & Bing, may penalize websites that use plagiarized or copied content.
How will you know whether your copy is plagiarised or not?
Have you any idea?
No?
You can use the plagiarism checker tools for that purpose, and I'm glad to tell you that Grammarly has proved to be the best tool for plagiarism detection.
It shows the copied content and the source where the contexts look similar. You can then cite the source properly to avoid plagiarism (the percentage of copied contents should not be more than 5%).
In this way, Grammarly will help you make your copy original & more unique so that you'll not get penalized by search engines for plagiarism.
If you're writing articles/blog posts yourself, then it may not be a big issue. However, when you hire someone to write for you, you must proofread the copy & check for plagiarism to avoid further tension.
Grammarly will help you find the copied contents by scanning & relating your copy with 16 billion web pages in its database.
It's mind-blowing, isn't it?
You can enable this feature from your Grammarly dashboard (on the left-hand sidebar). Once you've done it, it'll automatically scan your text and show you the duplicate content already published by someone else.
So you can change your text to make it more unique and original.
Important: The additional features listed here are included in the premium plan and are not available in the free one!
Take a look at some of Grammarly's features below.
Top Grammarly Features
Corrects grammar, spelling, and punctuation errors
Ensures consistency in spelling, punctuation, and formatting
Encourages natural-sounding word choices to improve fluency
Creates concise and readable sentences
Transforms complex sentences into simple, understandable sentences with a single click
Organizes long lists into bullet points for easier reading
Enhances the impact of every message by using vivid words
Replaces repetitive, monotonous passages with more intriguing ones to ensure the best reading experience
Tone detection ensures your message sounds exactly the way you want it. 
Eliminates ambiguous language and unnecessary qualifiers to make the copy sound more confident.
Adds politeness to copy by using less harsh or hurtful alternative phrases in writing
Maintains the appropriate level (tone) of formality
Utilizes respectful and current language
Enables the creation of a style guide for company writing that ensures clear, consistent, and on-brand writing
Analyzes your copy for duplicate content with links to the sources
Extensive third-party integrations and apps, including browser extensions, MS Word, MS Outlook, and Google Docs add-ons, iOS and Android keyboards, and native Windows and macOS apps
Grammarly Free Vs. Premium – What to Choose
We've already discussed Grammarly offers you two different packages of its service. One is the free version, which helps to fix basic errors in grammar & spelling.
The premium version has advanced features and premium-level support available 24/7 through callback & emails.
When you sign up for a Grammarly account, it asks whether you want to stick to its free version or upgrade to a premium plan.
If you continue with a free version, it corrects hundreds of basic errors like contextual spelling, critical grammar, and punctuation errors.
The free version works perfectly as long as you have an internet connection and remove the errors in your content.
The free version might work seamlessly. However, try using the premium version of Grammarly, which has additional features to make your copy more accurate and appealing.
And, if you're getting your articles/posts written by other writers, then you should upgrade your account to a premium plan because of its unbelievable capabilities like vocabulary enhancement and plagiarism detection.
Also Read: Grammarly Business Black Friday Deals: Up to 50% Discount
Pros and Cons of Grammarly Tool
Pros of Grammarly
Here are the key benefits I noticed during my Grammarly review process.
It's a fantastic tool that corrects more than 250 types of critical errors in your copy, including grammatical, punctuation, contextual spelling, and vocabulary errors.
Compared to Microsoft Word, it's much better and fixes more errors. According to my personal experience, Grammarly is 500% more helpful than the current Microsoft Word editor in correcting grammatical errors.
Built-in plagiarism detection tool which is missing from your favorite MS Word editor
It's incredibly easy to use even for non-techies and is available in various formats like a browser extension & web version, native desktop application for Microsoft Windows, and the Microsoft Add-in package.
Cons of Grammarly
There are no specific disadvantages of Grammarly, but a couple of things you may feel are problematic. As I want to put a complete picture of Grammarly in front of my audience, you should check these points too.
Grammarly's first drawback is that it's not accessible offline. Grammarly requires an active internet connection so that its algorithm can scan your pages and provide you with the best possible results.
The additional features cost a premium fee. But no one can say that it's overpriced after looking at its performance.
It'll not work directly for all the websites, and you have to use the web version to get your errors fixed. It's due to these sites not allowing Grammarly to scan their contents for some technical reasons.
Microsoft Add-In for Word is not as smooth as I expected or as the web version. It may be slower as compared to the web version.
My Grammarly Review After Using it for 5 Years
As I said initially, neither English is my first language, nor am I an expert in it.
I've improved my English skills significantly in the last three years. Still, I need assistance to write error-free articles.
When I started blogging, many people criticized me for my poor write-ups.
Mostly, it went wrong for grammar and other writing errors.
You might have heard; If there is a will, there is a way.
Grammarly scans my articles for mistakes resulting in better content published on my site.
Initially, I started using the free version as I wanted to test it before going to the premium, or honestly, I don't want to spend on such stupid things.
Did I say stupid?
Yes! But actually, I was stupid because was not using the premium plan of Grammarly.
Since I started using it, I have loved Grammarly the most as my writing assistant.
It finds spelling & grammatical mistakes, wrong or missing punctuations, and other mistakes in my sentences such as wordiness, incomplete sentences, and missing word sequences.
Unlike Microsoft Word, Grammarly helps me write blog posts confidently and concentrate more on my content's quality instead of grammatical errors.
It also helps me to enhance my copy by adding appealing words and phrases.
Simultaneously, I can check my copy for plagiarism to remove the duplicate content or cite the respective source.
Now It's Your Turn
I generally use the browser extension or web version of Grammarly premium, but the Native applications and Microsoft Add-In packages are also similarly good.
It's a better idea to have Grammarly access whenever you write or proofread something.
Grammarly is the best proofreading & plagiarism detection tool that I've ever used.
I recommend it to every content writer, blogger, student, and everyone who works in the writing niche because of its excellent ability as an all-in-one package of Grammarly.
Grammarly provides everything as it promises and picks up every mistake you make in your copy.
The best thing about Grammarly is that it explains every mistake and suggests possible corrections.
I'm sure you'll love this tool.
In case you have used Grammarly earlier, I'd like to know your experience while using Grammarly.
Did you like this Grammarly review? Please share it with your friends, and don't forget to leave your comments below.
Name: Grammarly
Description: Grammarly is an excellent tool to improve copywriting by finding spelling & grammatical mistakes, plagiarism, and adding advanced vocabulary. Subscribe to Grammarly today and get rid of all grammar errors and plagiarism.
Offer price: 12
Currency: USD
Operating System: Windows/MacOS
Application Category: Productivity
Author: Ankit Main
Features

Ease of Use

Reliability

Pricing

Support
Comments Rating
( reviews)