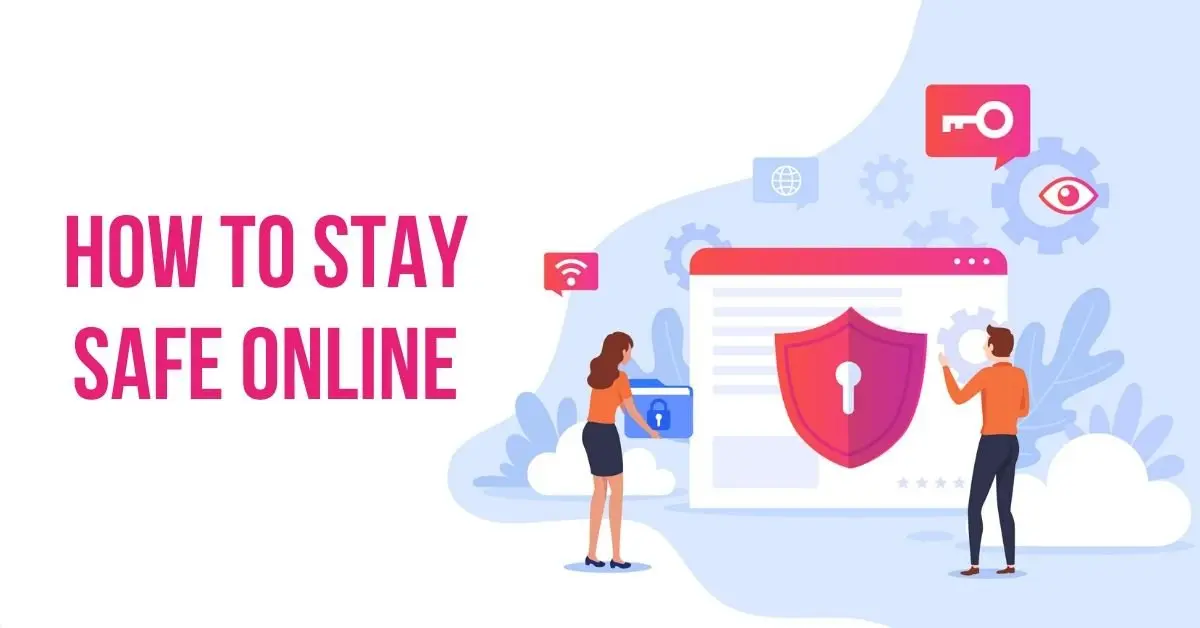 Affiliate Disclosure: I publish various content marketing strategies, online business ideas, blogging tutorials, review articles, and discount offers on my blog. My content may contain some affiliate links for products/services I use, love, and recommend. If you take action (i.e., subscribe or make a purchase) after clicking one of my affiliate links, I'll earn an affiliate commission at no additional cost to you. It helps me in creating more helpful content like this.
With over 4.5 billion internet users, the world seems more connected than ever before.
While internet connectivity is bringing positive changes in people's lives, cybercrime and online frauds are becoming more common these days.
I know that losing your money, personal information, or anything valuable within a few seconds sounds scary.
That's why I have listed the top 10 internet safety rules.
Please read this article to know how to stay safe online while internet browsing, communication, media consumption, shopping, and as a professional.
1. Limit the Amount of Personal Information You Share on the Internet
Listing your email address and NAP details on online directories, social media channels, or public forums makes other people easy to contact you.
E.g. Businesses may receive calls or inquiry emails from potential buyers regarding a new product. People who have shared their resume on job portals may get an interview call from a relevant company.
In the above cases, sharing your personal or professional information on trusted platforms will be beneficial. However, cybercriminals may extract this information and sell it to third parties to carry spamming or phishing attacks.
Sharing excessive personal information on social media is dangerous too. While posting your travel updates on social media gives a feel of social empowerment, you're letting burglars know that you're out of the house. They may use this opportunity to steal some valuables such as cash, jewelry, or electronic gadgets from your home.
That's not fear-mongering.
Back in 2011, 80% of robbers checked social media when planning a robbery. Although these stats are pretty old, it's highly possible that the situation hasn't changed.
You can also read how burglars use social media for their benefit.
I'm not saying that you should stop using social media from today, but at least try to limit the amount of private information you share on the web, especially social media platforms.
Popular social media sites offer an option to set your profile to private, so that only friends, family members and people you trust can your posts. Additionally, you should not add unknown people to your Friends list whom you don't know, or who seems like a fake, copycat profile.
2. Keep Your Privacy Settings On
Marketers and hackers both want to know more about you. Since tracking your online activities helps them immensely to scam you, you must keep privacy settings on.
This way, you can limit the information shared with cyber criminals. Most web browsers and operating systems have privacy guards to protect your private data online.
Even major social media websites like Facebook and Instagram also have built-in privacy settings available.
Since these companies want your personal information and online activity log for their advertisement business, the privacy settings are quite difficult to find in the first place.
3. Practice Safe Browsing
Don't visit dangerous websites or applications if you want to stay safe online.
Cybercriminals are ready to cash your silly mistakes. They utilize clickbait content to lure you.
Many people get tempted by dubious content and remove security measures.
It's the time when online frauds and cyber crimes happen.
E.g. If you want to download a premium application for free, then you'll be asked to download a particular download manager or disable the firewall or antivirus application.
Being careless, you could easily expose personal or professional data or infect your device with unwanted programs such as viruses or malware.
4. Don't Use Public Wi-Fi for Sensitive Stuff
Always make sure you're using a secure internet connection. If it's not possible in some places, then use a reliable VPN connection.
Public Wi-Fi offers free and quick internet access. However, it can be a major reason for security breaches and online frauds.
Kaspersky Lab researchers found that around 28% worldwide Wi-Fi hotspots don't use reliable encryption at all.
Although this percentage is not that huge, considering the number of public Wi-Fi hotspots worldwide, nearly 127.12 million hotspots are unsecured in 2020.
In case you're using an unsecured public Wi-Fi connection, hackers can easily spy your online activities and steal vital information, such as:
Login credentials and security pins
Bank account details
Credit card information
While the majority of Wi-Fi hotspots use WPA2 (Wi-Fi Protected Access Ver. 2), you should take care when using secured public Wi-Fi too – be it at a restaurant, hotel, library, railway station or even at home.
Why?
Because it's found that even WPA2 is highly susceptible to a certain type of cyber attack called KRACK (Key Reinstallation Attacks).
WPA3 is supposed to offer higher protection against cyber attacks, but it'll take a few more years to get widely adopted.
After all, you can't just stop using public Wi-Fi altogether. In case you need to connect to public Wi-Fi, make sure that you're using it for online browsing only.
Never use public Wi-Fi (whether it's protected or not) to login to your social media accounts, check emails, or access internet banking portal/apps. In case of emergency situations, use your mobile data plan instead of public Wi-Fi.
Using a VPN can secure your online connections on Wi-Fi hotspots with no/weak encryption to minimize the risk of your private data getting exposed to hackers.
5. Be Careful What You Download
Many people search for free alternatives or cracked versions of premium applications or games and paid content such as movies, podcasts, or ebooks.
While downloading apps, games, and premium content seems a lucrative option to save a few bucks, cybercriminals can trick you downloading files that contain malware or steal your private data by asking unwanted permissions.
E.g. If you want to download a popular AAA game or premium software program for free, then you might end up with losing access to the device or in the worst case, your private data.
Never download applications that are developed or offered by suspicious or unreliable sources.
Popular operating systems such as Windows, macOS, and Android feature dedicated app stores that contain thousands of free or premium apps. You can download apps from these platforms or get them from trusted sources.
6. Choose Strong Passwords
While almost everyone chooses passwords to safeguard their private data in computer systems, hackers know that the passwords are one of the biggest weak spots in the entire Internet security structure.
However, there is currently no major solution to this problem, excluding 2FA.
The real problem isn't the passwords but the weak passwords that can be easily guessed and cracked with minimal efforts by a professional hacker.
E.g., 123456, 12345678, password, your name, your girlfriend's/boyfriend's name, birthdate, or similar.
If you want to stay safe online, then choose strong passwords that are difficult to guess or crack.
Additionally, you should use a unique but complex password for each of your online accounts.
A strong password is at least 16 characters long and a combination of numbers, letters, and special characters. You can use the password manager applications or cloud services to manage multiple passwords so that you don't forget them.
7. Make Online Purchases Only From Secure Websites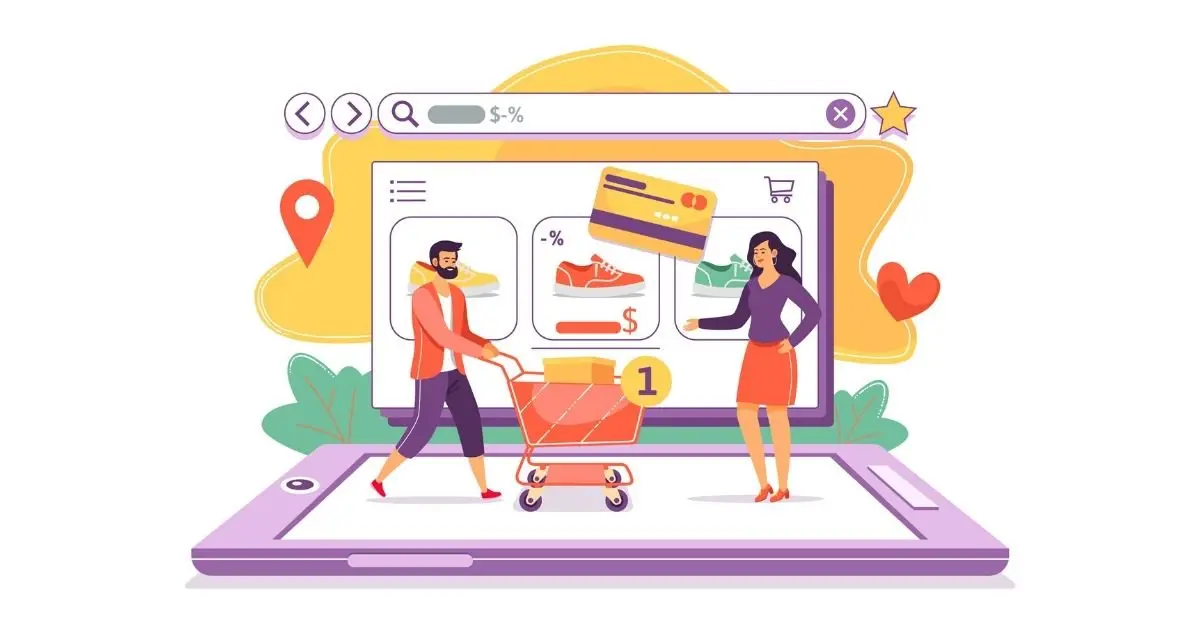 Internet shopping involves online transactions unless you're clicking on the COD option. You need to provide debit/credit card or bank account information, the data that cybercriminals are eagerly waiting to get their hands on.
If you want to stay safe online while shopping the goods or services, then ensure that the connection is secure and encrypted.
Nowadays, HTTPS is standard for e-commerce websites, so supply the critical information only to the websites serving through the HTTPS instead of HTTP. Often you see a padlock icon before the web page URL that represents the secure connection over an SSL.
If you're the owner of an e-commerce site, then you can easily purchase and add an SSL certificate to your website. Small merchants can use a web hosting service that offers free SSL.
This way, you can increase trust among your potential customers and increase conversions.
8. Be Careful What You Post
Unfortunately, the Internet does not have a delete key. Once you post anything online, it stays online forever because removing the original post doesn't the copies or screenshots that other people made.
That's why don't put anything that you don't want people to see.
E.g., Embarrassing photos, nude or semi-nude selfies, or pornographic content.
In such cases, cybercriminals may blackmail you and ask for random.
On the other hand, posting hateful or abusive content such as extreme political comments, unlawful or illegal content may invite strong responses or punishment.
9. Don't Interact with Phishing and Spam Emails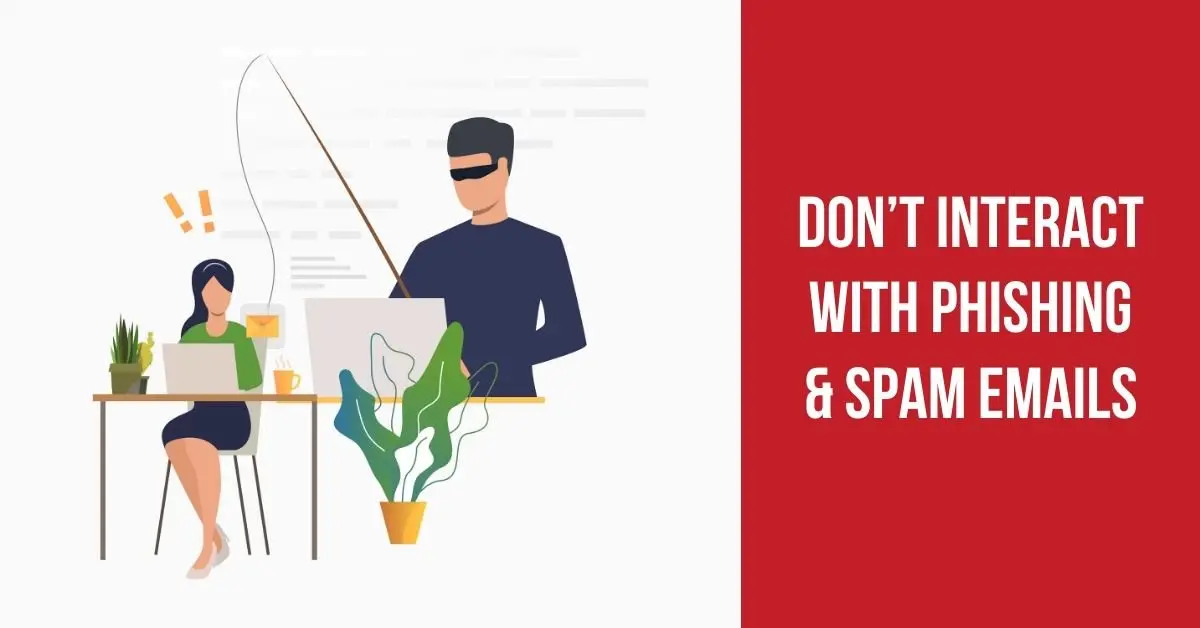 With online phishing attacks are increasing rapidly and spam emails accounting for 54.68% of total emails traffic, you must protect yourself from falling in these traps.
Otherwise, there is a big risk of identity theft, online frauds, e-robbery, and massive business losses in terms of monetary value as well as brand reputation.
Spam emails are often associated with a particular marketing campaign. You can easily find out the spam emails by looking at the email copy such as the grammar, tone of communication, and desperation of the sender.
Phishing emails tend to be better crafted and personalized according to the individual recipient.
Scammers research their victims' profiles and track their online activities before sending a phishing email. It increases the chances of the recipient getting engaged with the phishing email and taking a desired action to the scammers.
Here are a few examples of phishing emails:
You receive an email from a popular social media website or affiliate account asking to update your password or account information.
Someone is pretending to be a bank employee and asking to verify your identity by sharing the login credential or private data or clicking on a malicious link pointing to a third-party website.
Hackers may pretend to be your boss, client, government officer, or auditor and ask you to share sensitive information. In some cases, they may claim to be your superior and ask you to install a malicious software program on the professional systems.
Although making phishing emails so real-looking that most people can't recognize, there are a few signs that say the particular email or message is sent for the phishing purpose.
Spelling mistakes in the sender's email address, especially the domain name. E,g., support@y0utube.com or support@yotube.com instead of support@youtube.com.
Shortened links or links that point to random, non-secure (HTTP) websites.
A sense of extreme urgency and an aggressive or threatening tone if you don't comply with the sender's demands.
Executable files when you're looking for a document or a similar format.
If you receive a spam or phishing email, simply ignore and delete that email. If the sender has crossed his limits, then you should take legal action against him.
10. Keep Your System Up To Date
Hackers always try to break the security to get access to your system. However, keeping your system and applications up to date can minimize the risk of getting your system exposed to security threats.
Operating system companies and app developers release security update frequency to protect your system and data.
Whenever such updates are available, download and install them. These updates a vital layer of security for malware or virus attacks and vulnerabilities in previous versions.
FAQs
1. What are the tips to stay safe online?
To stay safe online, you must use a secure internet connection, choose strong passwords, and make purchases only from secure e-commerce websites. Apart from that, don't post too much personal information or offensive posts or interact with phishing or spam emails.
2. How can I stay safe online shopping?
Make sure you're using a secure connection (HTTPS), shopping on a trusted site, and not clicking links in the email. Be extra careful when you enter your login credentials and billing information such as PayPal email address, credit card number, and bank details.
3. What information should never be shared online?
Any private data should not be shared online, including financial information and vital personal information such as birthday, birthplace, details about kids and their school.
4. What is a VPN, and why would I need it?
VPN (or Virtual Private Network) is an encrypted internet connection from a device to a network. VPN prevents unauthorized access to internet traffic routed through it by adding a strong security layer and ensures that your sensitive data is safely transmitted.