Affiliate Disclosure: I publish various content marketing strategies, online business ideas, blogging tutorials, review articles, and discount offers on my blog. My content may contain some affiliate links for products/services I use, love, and recommend. If you take action (i.e., subscribe or make a purchase) after clicking one of my affiliate links, I'll earn an affiliate commission at no additional cost to you. It helps me in creating more helpful content like this.
What is Local Listing in SEO?
A local business listing in SEO means an online entry of your Business name or DBA (Doing Business As), a valid physical address of your office or storefront, and a local phone number (NAP) along with other business-related details such as opening and closing hours, website URL, social profiles, and more.
Any business, whether a single location SMB (small and medium-sized business), famous national brand, or globally recognized chain/organization which meets its customers face-to-face through storefront, office, or service area, is termed a local business.
The promotional strategy you use to improve the visibility of your local business on the web is called local search marketing.
And the unique set of skills or techniques used for the organic promotion of local businesses is called local SEO or local search engine optimization.
Providing clear information about your business and optimizing it for a better user experience using some proven marketing tactics can transform your unknown local business into a widely recognized brand.
Why is Local Listing in SEO Important?
A few years back, the local businesses had offline publicity options, including newspaper ads, yellow pages inclusion, banners & hoardings, telemarketing, and media buying for local radio or TV channels.
These methods are still viable and may work like a charm in some niches but ignoring digital marketing for local businesses could have been your biggest mistake.
More and more offline media channels are becoming optional nowadays, and internet marketing is getting a prominent position in business marketing activities.
In today's world, if you don't have digital marketing strategies for your local business, you are close to nowhere.
Benefits of Local SEO and Business Listings
Online business listing is like selling products offline. You must capture the market as much as possible to get better exposure and sales.
Similarly, you need to add your business to more local listing directories to drive maximum real human visitors and, thus, revenue.
Here are a few more advantages of the local business listing.
1. Proximity Searches
Local SEO is becoming an essential part of local search marketing with an increase in mobile searches, which has overtaken desktop searches.
People can now search for any local business, especially services. In addition, the proximity search feature will display the relevant results in their vicinity (nearby area) rather than the city or region.
You might have experienced that local SEO is showing more targeted listings for a specific location whenever possible.
Why not take advantage of this feature?
Especially local manufacturers, retailers, and service providers can benefit from the proximity searches to target specific locations and connect with local customers.
2. Increased Visibility
Search engines love local businesses because of relevancy and user experience.
Listing your business online improves visibility, and Google also shows slight favoritism towards optimized local listings irrespective of domain authority or the website's history.
Adding your business & website URL to Google My Business and other high-quality business directories quickly boost the search ranking. Google wants users to give the best user experience but, at the same time, offers an opportunity to small businesses with limited resources to succeed online.
And local SEO is one of the most effective ways to achieve that.
3. Increases Authority
Local listing in SEO tells all people that you're a legitimate business that helps you build authority.
Adding your website URL to those local listing directories creates some good backlinks (maybe with Dofollow or Nofollow attributes), which have high DA/PA and CF/TF and ultimately boost SEO ranking.
Don't worry!
Creating and managing local listings in SEO is easy, even when you are not tech-savvy. You can list your business in a few minutes using NAP+W and other required details.
These directories automatically send email alerts to confirm the registration, update pre-submitted data, reviews & feedback, and several other things to manage your listing.
Using local SEO, you can represent your brand most effectively and build trust or authority among potential customers so that they won't have a second thought while purchasing your products or services.
4. Cost-Effective
Registration in most local directories is free, and you need not pay anything unless you want a premium listing (Local business directories prioritize paid users and display their listings on the top of search results).
Although it's recommended to have a website for every local business due to various benefits, you can skip it if you are on a tight budget and only use local business sites to get leads.
Provide your NAP+W and other business details, follow the platform's guidelines, and you are good to go.
Registering the business and managing your listing is easy, cost-effective, and does not require extensive technical knowledge.
Yes!
You can outsource your work to a reliable local SEO expert or a local SEO company with a proven track record.
But it's entirely up to you how much you want to spend on your local search marketing activities, especially local SEO.
I have another great news for you.
You can utilize some free classified sites like OLX & Quikr to advertise your business to the targeted audience and pull maximum revenue from your free listings.
I'm sure you have liked this hack.
5. Beat the Biggest Players
When you decide to move your local business online, you may notice fierce competition in every field. The top players in your industry also capture the organic search results and AdWords ad sections because they have a ton of budget to spend on paid marketing activities and SEO.
In such cases, competing with these brands becomes very difficult. However, local SEO allows smaller businesses and service providers to present themselves in the market.
Local listings in SEO and various local search marketing techniques can help you strategically position your business and attract potential customers in the nearby area.
In this way, you can get a chance to compete with larger companies in your niche that often dominate the organic and paid search results.
Setting up Local Business Listing-Part 1
Now, you know what is local listing in SEO and why it matters.
The next part is setting up the local listing so your business will be visible on top of the organic search results in different search engines and maps.
However, you need to think about a few important things in order to maximize your ROI by proper allocation of resources and staff hours.
Selecting the Right Business Listing Platforms
You'll find hundreds of local listing directories to add your business to them, but you should decide which platform makes sense to be listed on.
It may not be the best approach to add your business to every local listing site, search engine, application, or index by investing your valuable time, money and men power just because they exist on the web.
Instead, pick some major platforms like Google My Business (GMB), Yelp, some popular social bookmarking sites, and local business directories that actually drive some traffic.
Select the platforms which are highly relevant to your business type, geographical location, and target audience.
By getting listed in such quality places you can save your marketing budget, track on user activities, and update your listing along with the latest changes.
Setting up Local Business Listing-Part 2
You need to fill out a form with a specific set of fields (information about your local business) every time you create a structured local listing, whether at Google My Business, Facebook, Yelp, or any other local business directory. These fields are core elements of any local listing and are essential to get found in local searches.
1. Core Elements of Local Listing
Business name/Title or DBA (Doing Business As)

Valid Physical Address where customers have direct contact with the business.

Phone number

Website URL (Having a professional website opens new opportunities for the business)

Categories (Only relevant)

Description

Tagline

Business Hours and other Attributes

Payment forms accepted

Social profiles

Logo & Images

Additional Media

Certifications

Brands Carried

Fax number

Alternate phone numbers if any
Today Google is dominating the local search by displaying the most relevant results for any search query.
And, if you are doing local SEO for your own business or providing local SEO services for your clients, you can't ignore this biggest player in the industry.
To improve your local SEO, Google has provided a set of best practices for formatting the local business listing data. You can refer to their complete business listing guidelines here.
In this way, you can ensure your local citations or business listings are matching Google My Business to get maximum visibility in SERP as well as other networks like Google Maps. etc.
2. Basic Guide For Adding Local Listing Data
1. Business name/Title or DBA (Doing Business As)
When you will add the business name to any local listing directory or Google My Business, always use the real-world name of your business in this field which is used on your storefront, website, or stationary as known to your customer.
An accurate representation of your business name will help your potential customers to find your business online which results in improved sales & revenue.
Remember, Google can read street-level signage, understand images through AI and recognize natural voice through advanced machine learning algorithms, so make sure the way you format your business name matches the sign on your business card, your print marketing media, website logo, and the way your phone is answered if you provide on-the-go call support.
Do not add a marketing tagline, geographic terms, phone number & website URL, or other modifiers to your business name field.
Here are a few types of Business Names/titles:
Multi-location Businesses
Businesses operating at different locations, especially chains and franchises should not add city names or other modifiers to their business name in GMB or other business listing sites unless it's a part of a legal name.
However, Facebook is an exception in this case. It allows the creation of different listings for the same brand with different location modifiers. You don't need to worry about inconsistency with Google listing because all multi-location businesses are using the same method as Facebook business listing hence no competitive demerit for anyone.
Businesses in Container Locations
While roaming in shopping malls, you might have seen different Brand stores or showrooms like MacDonald Restaurant inside the PVR. In such cases, only list your business name and not the container store name/location.
Co-located Businesses
If two businesses are closely related to each other/co-related, don't combine the names of the two businesses. Instead, create separate listings for both brands at that location with the individual business name field for each of them.
Multi-department Businesses
Multi-department business like Hospitals or Colleges can create unique listings for each forward-facing department provided that each of them has a separate entrance, business categories as well as their own phone number.
In such cases, you can mention the primary business name to your Business name field.
E.g. Lifeline Hospital Cardiac Department
Multi-practitioner Businesses
The service-oriented multi-practitioner local business like Legal or Finance consultants can only put the actual name of the practitioner without the practice name inclusion. And, for the best local SEO practices, every one of them should have a dedicated phone number.
This rule is not for solo-practitioner and they can add their own name along with the practice like Matthew Taylor CA.
2. Address
Always list a valid physical address for your business without any fictitious modifiers or alternatives.
A valid physical address means a real-world location where your business directly meets your customers either through a storefront, office, or service area.
PO addresses, Virtual offices, or unregistered co-working spaces are not considered real-world addresses, and you should not build local listings for them.
Put your street address (office number or store code along with area name) in the first line and any suite, or mailbox number in the second line. Follow the same practice for all local listings & citations to avoid strange formatting of data.
Service Area Businesses
Service Area Businesses that serve customers only at their (customers') locations can leave the address field blank and only enter your service area based on the postal codes, cities, or other areas that they serve.
However, the businesses that serve customers at the physical business address as well as have a service area need to enter both, the business address and service area.
Hybrid Businesses
Some businesses like Pizza shops, popular local restaurants, etc. serve customers in-store as well as provide home-delivery services. They take equal advantage of traditional marketing channels as well as online media like a website or mobile app.
In this case, the storefront location is considered a business address, and it should be able to receive customers at that particular location during its stated business hours.
Remember, Service Area Businesses, as well as Hybrid Businesses, should be staffed & operated at a particular physical location in stated business hours to be listed on Google local listings.
Important: Creating multiple listing pages for the same business location using one or multiple accounts may negatively impact your search ranking especially when you are focusing on local SEO in integration with Google My Business listing.
If you have more than one listing for a single business location, follow this process.
Keep only one page verified, and unverify the rest of the listing pages.
Merge your listings to the verified Google My Business listing page.
That's it.
And, if your local business operates at multiple locations, then you can create multiple GMB listings with unique phone numbers and location-specific landing pages. However, the business name should be exactly as in the real world and not contain any location modifier like a city name.
If you wish, you can manage all listings from the central office to ensure consistency and uniform updates of data without any misunderstanding which could be a potential risk when these listings are managed by individual location managers.
3. Phone Number
Google's business listing guidelines express a preference for local phone numbers instead of central toll-free numbers whenever possible. Still, some local businesses like Hotels can use toll-free numbers for their business listing.
Actually, these businesses are local but most of their customers come from outside of the area, and a toll-free number is convenient in such cases.
If you are using the same, always make sure you have added it consistently across all listings on the web whether it's your website, GMB listing, or any local citation which can be crawled by search engine spiders.
The primary phone number should be under the direct control of the business and not redirected to the call center.
Some local listing directories will also allow you to add an alternate phone number which can be a toll-free helpline number or a mobile number.
4. Website URL
Although NAP details are core elements of any local listing in SEO, you may lose a significant revenue share by not having a professionally designed website.
Creating a website for local businesses has multiple benefits.
To build authority and trust among potential customers.

Improved visibility and SEO opportunities

Creating the landing pages to convert the leads into customers

To provide information about your business, products, and services, even when you are, are not present at your office.

To provide documentation for your staff and service manuals for your customers which they can refer to at any time.
Also read: 25 Solid Reasons Why Small Businesses Need A Website
The single location operating businesses can easily add their website URL to any local listing site or business directory.
The multi-location, multi-department, and multi-practitioner businesses can add their website's homepage URL in the business listing. However, individual listings for different locations, departments, and practitioners should point to separate landing pages.
Whether you should point all listings to the home page (due to high authority) or create separate landing pages for each (better user experience) is a part of the debate among local SEO experts.
You have a little scope here for experiments because you need to keep the right balance of SEO ranking as well as usability and customer experience.
5. Categories
Most of the local listing directories have a default set of categories you'll be choosing from to define your business. You can typically select one or a few of these categories.
When it comes to Google My Business listing in particular, proper categorization will have a profound impact on local SEO ranking.
Google's business listing guidelines encourage businesses to choose categories that define those businesses at the most refined level.
E.g., Shriya's Yoga Classes is a more refined category than just health & fitness center.
Proper categorization helps the platforms as well as search engines to understand which search queries are most relevant for your business so they can display your business listing accordingly.
Sometimes, a small local business in a particular niche may not find an accurate category to represent itself on a particular platform; in such cases try to choose the closest possible category matching the type of business and rely on other core elements like Website or Description to clarify the nature business, products, and services.
6. Description
The description field in the local listings is an opportunity to highlight the USP of your business or the impactful elements that convince a potential customer to choose you.
Generally, you will have several hundred characters available to create a business description where you can add a short sales pitch, value prop, and some relevant tags/keywords.
You may add a description for each local listing platform, or if you prefer, you can safely roll out the same description across all local citations.
Currently, Google doesn't display the description added by a business owner on Google My Business listings and displays its own custom-created snippet. Still, you can enter a short paragraph with appropriate keywords and Google will crawl it, even it won't be shown live.
Most other local listing directories and citation platforms will display your business description live where you can add the proximity to major landmarks, awards & appreciations, guarantees, and famous brands carried.
A few business directories allow using hyperlinks in this area. However, it should look natural; not spammy.
Business descriptions may not have any direct impact on local search rankings, but they can influence click-through rates (CTR) which indirectly affect SEO efforts.
7. Tagline
Many local businesses have taglines associated with their business title or brand name. And, some business directories provide a dedicated field for entering a tagline or slogan.
You can use the existing one or create a fresh tagline that can bring brand recognization.
Traditional marketing channels like Radio and TV might be using taglines to create brand awareness and build brand identity.
If your business has a tagline, then you can use it online to relate to existing customers and get more engagement.
8. Business Hours and Other Attributes
Most of the local businesses operate for a specific time of the day. So, it's necessary to add attributes likes business hours, the currency you accept, and the price range.
For Business hours, you may select "24 hours open" or a particular time span like 9.00 am to 6.00 pm, etc. You also need to add the operational timing for weekends and holidays.
Business attributes help people as well as search engines to know more about your business
The local listings in SEO especially Google My Business listing may treat these attributes as a ranking factor in the local snack pack. That's why consider adding those attributes whenever possible.
9. Payment Forms Accepted
You can easily add the payment methods you accept and display them on your site in a visual format.
similarly, some platforms will allow you to specify the payment processing methods including Cash payments, Card payments, Netbanking, and digital wallets.
Previously, local businesses used to accept payments only with cash and POS machines. However, using modern technologies for consumer convenience will definitely influence them to connect with your brand.
10. Social Profiles
Many business listing platforms allow social profiles or business pages along with their listings.
Facebook, LinkedIn, Twitter, Instagram, Snapchat, Pinterest, Google Plus and Medium are a few social media channels you should be focusing on.
These big social sites drive real users to your business and feedback or reviews to improve the product quality and overall customer experience.
Sometimes, you can use social channels added to your listings to analyze your brand reach, engage with customers and provide real-time support.
11. Images
Creative visuals and images also have a major impact on local SEO and CTR.
It's always a smart idea to upload high-quality, engaging images and optimize them to get more exposure to your local listings.
Logo
The most important image in any local listing is the logo which represents your business too. Always make sure you have a professional logo with a unique design and that you have used the same logo across all listings, stationery, banners, hoardings, print media as well as the storefront. so people can find your business easily.
Product Images
Product images help people to visualize things before making a buying decision. You need not hire a pro photographer each time but you should at least know the difference between good shots and bad shots.
Other things including the ISO, color balance, exposure, focus, and background make sense while doing product photography.
Customer Images/Success Stories
These kinds of images are mostly used to attract prospects and show them social proof so they can easily become your customers.
The photographs of real people using your products, their success stories and a crowd of happy faces let others also strongly think about your brand and buy from you.
Remember, some business directories may have restrictions for image size or resolution and types of context allowed to be presented through images.
Follow the guidelines for each platform where you want to list your local business and have the best shots to display in their image gallery.
Some websites, especially review portals let users upload images to tell their experience. However, you should be monitoring if your competitors or pranksters are not postings some crap that can damage your brand reputation.
12. Additional Media
Certain local business listing sites allow businesses to upload videos, PDFs, Powerpoint presentation slides, documents, etc.
This ensures a better user experience which influences traffic and conversions.
Many people have seen amazing sales performances with live videos on Facebook and YouTube.
13. Certifications
Obtaining a business license should be your priority if you haven't registered yet. It gives you a competitive advantage and provides legal protection in many cases.
Plus, people trust the businesses that carry professional licenses and certifications offered by the government and authoritative institutes.
You may have a few queries like "Where to get a business license?" or "How much is a business license" etc. but you need not worry about this.
Ask a legal service provider like CA or a Lawyer how to get a business license and he will provide you with the appropriate solutions. You can google it before approaching these professionals or agencies to get a fair idea about business licenses and permits.
14. Brands Carried
If you have a popular brand under your business administration, you can leverage it to carry a huge convenience for customers.
It's necessary because people tend to remember the particular brand they follow or interact with rather than the parent company behind it.
And, if your brand enjoys a loyal following, try to offer great value to your consumers so that when you add that brand to any local listing or business directory, people will easily find it which may result in improved traffic and revenue.
15. Fax number
With the evolution of emails, very few people use Fax to communicate with each other. This field is optional but some industries like medical centers or legal offices maybe still using the Fax to receive legal documents.
16. Alternate Phone Numbers
If your local business is in a growing phase and getting heavy traffic on support lines, you may need toll-free numbers to help your customers.
Some platforms let add such numbers to their listings.
Setting up Local Business Listing-Part 3
It's exciting to gather your business listing details together in a spreadsheet to add to different business listing sites.
However, local SEO is not limited to just adding NAP details and website URLs to different local listing directories. You need to take care of NAP consistency and NAP spread/breadth.
1. NAP Consistency
NAP (Name, Address, and Phone number) is a core element of local listings along with the website URLs.
In order to gain the trust of search engines as well as customers, you need to ensure that NAP+W is consistent across the web whether it's Google My Business (GMB) listing or a small business directory.
Remember, inconsistent NAP+W details can misdirect customers as well as search engines which will negatively impact your business listing.
This may decrease your brand reputation, reliability, and most importantly the organic ranking in SERP (both local as well as global) ultimately resulting in the loss of revenue.
To ensure NAP+W consistency, you must have a list of all online business directories where you want to add your local business and your business details.
Local listings in SEO should be an in-house operation, or you can hire a reliable third-party agency having expertise in local SEO services.
2. NAP Spread/Breadth
NAP spread or NAP breadth involves the uniform distribution of your business details across all structured and unstructured citations.
Structured citations include mainly local listings in SEO like Google My Business (GMB) listing, Yelp, Bing Places for Business, Facebook, and other local business listing sites.
Similarly, unstructured citations like blogs, news publications, mentions on social platforms, and other online media can also help you grow the NAP spread.
NAP+W consistency and NAP spread both will help you in the improvement of your local listing in SEO because the search engines find your local business a relevant and reliable source for a particular local search query like "near me keywords."
Setting up Local Business Listing-Part 4
1. Add Your Business to Google My Business (GMB Listing)
Google My Business (a.k.a. GMB) is a free and easy-to-use tool for local businesses to create and manage their online presence across the Google network, including Search and Maps.
By entering the correct business information and verifying it, you can help your customers find you easily and present your business in a better way.
Here's a simple step-by-step tutorial for creating a Google My Business listing.
Visit https://www.google.com/business/ and click on the Manage Now button.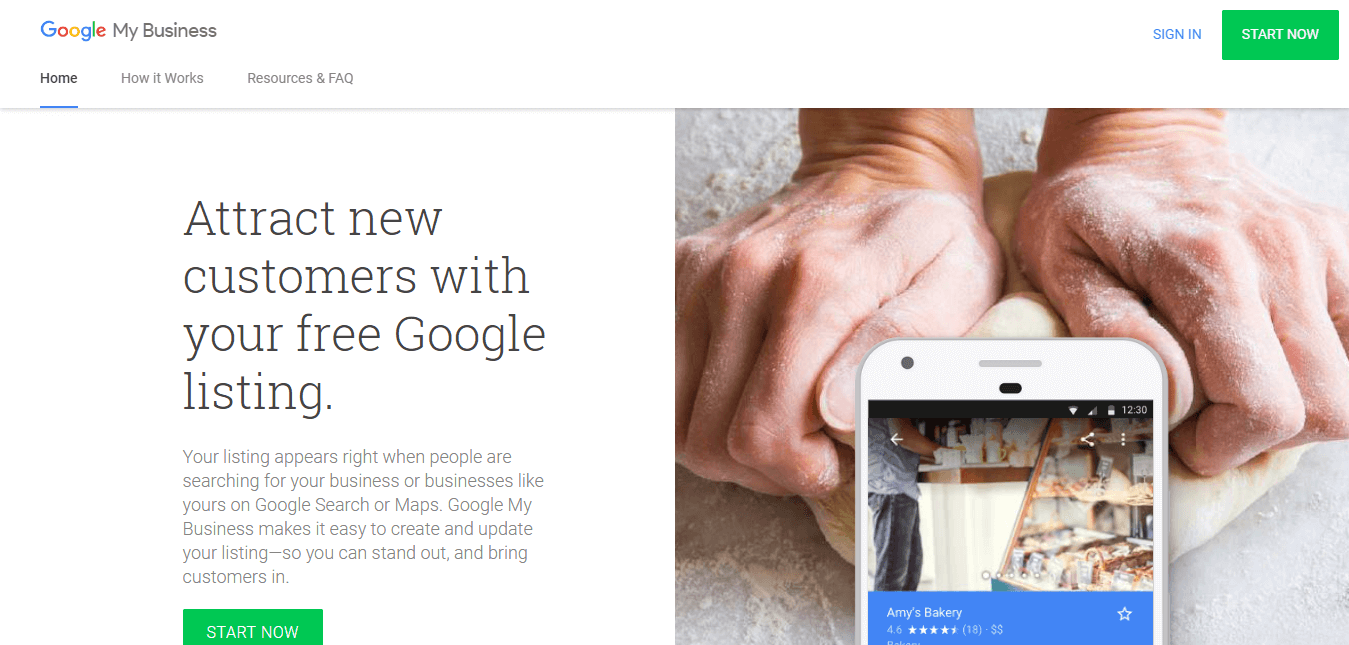 Select a Gmail account you want to sign in to. If you don't have one, you can create it for free. It's always recommended to have separate email accounts for personal and professional use.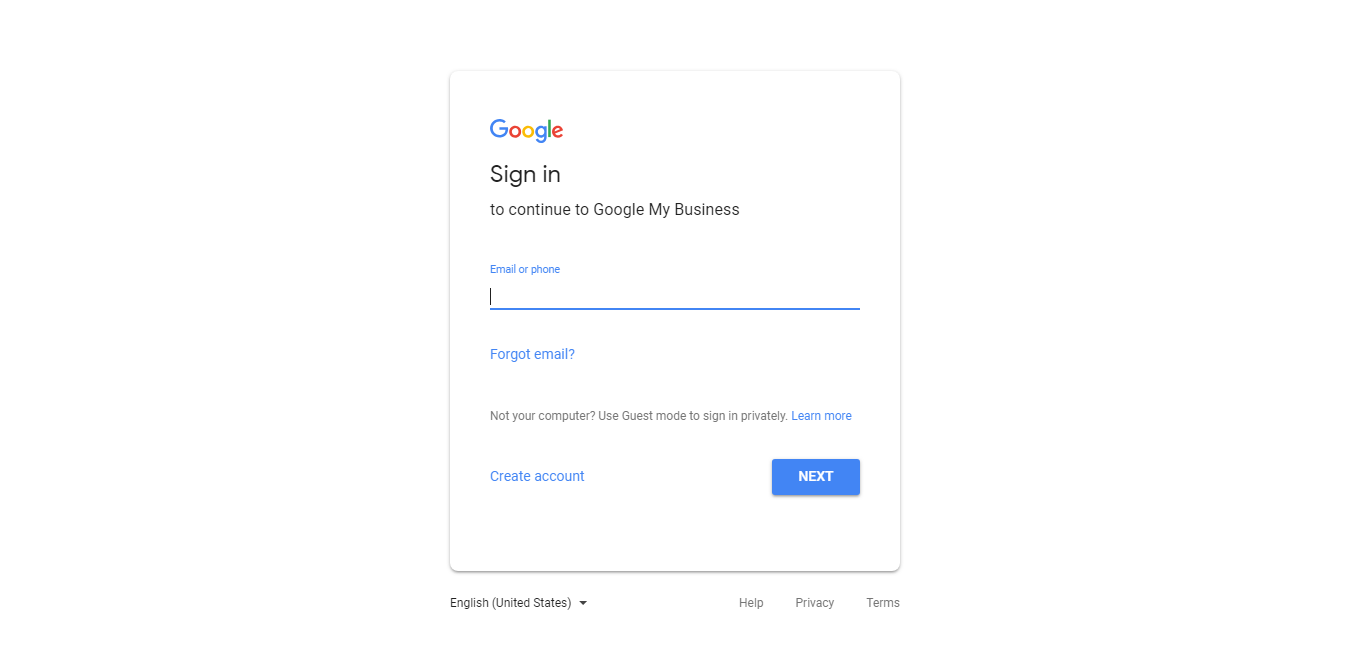 Your business name or DBA is the first thing you need to add to the Google My Business listing.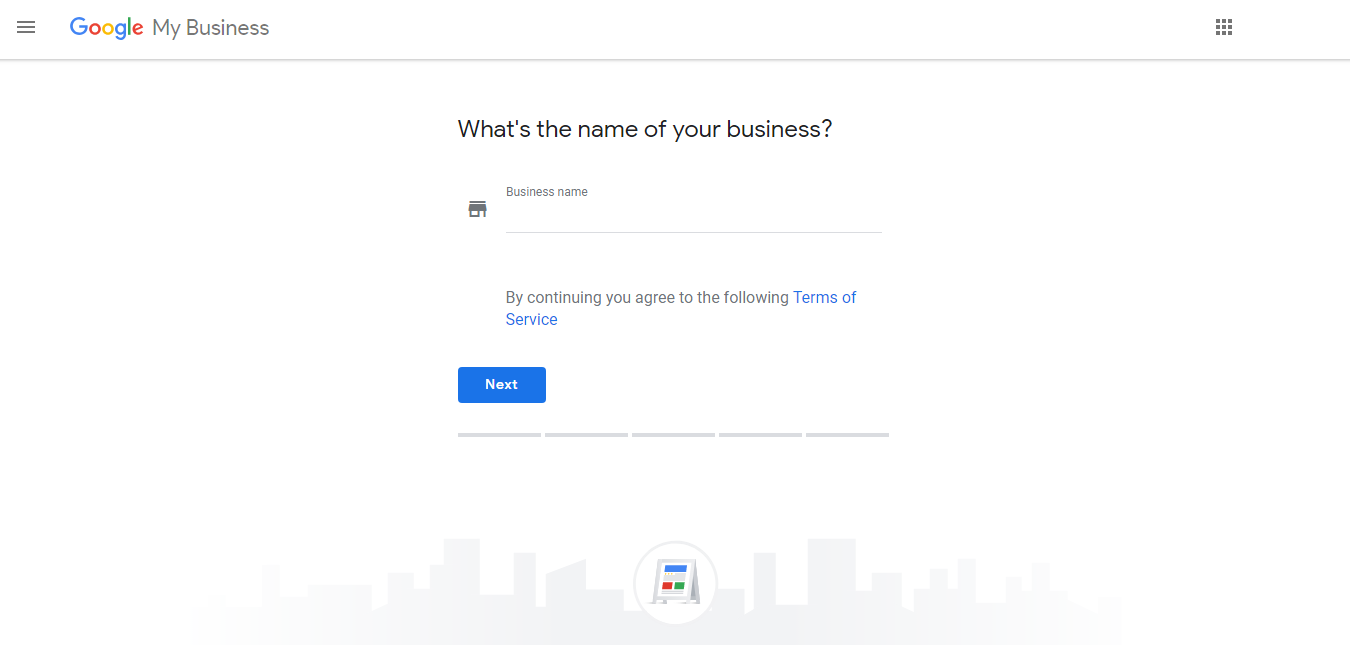 You can also select your business name if it's already present in the GMB list and claim your business by verifying the required details (NAP).
The next step is adding the valid Business Address where you are located. Be clear yet precise while entering these details and don't forget to add the correct Pincode.
You can specify whether you deliver goods and services to your customers or not.
Moreover, you can hide your address and set it to display the only region if you don't have a store. This feature is useful for Service Area Businesses that provide local services at customers' places.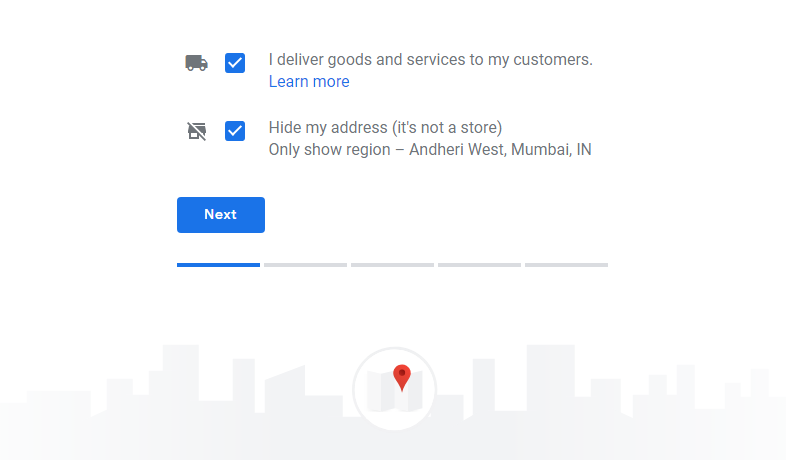 Google may populate some relevant results for a particular location you are targeting which you can claim ownership of.
To receive the benefits of Google's Proximity Search feature, you should pick the exact spot on Google Maps. You can simply use Drag and Zoom options to position the map marker/pin.
You also need to specify how you are going to deliver goods or services to your customers: the delivery method, and service area with a maximum radius from the central office/store location.
Now, select the appropriate category to attract customers who are searching for businesses similar to yours.
You can also add a phone number and website URL (it's optional in GMB but highly beneficial) so that people can easily get in touch and enquire about your products or services.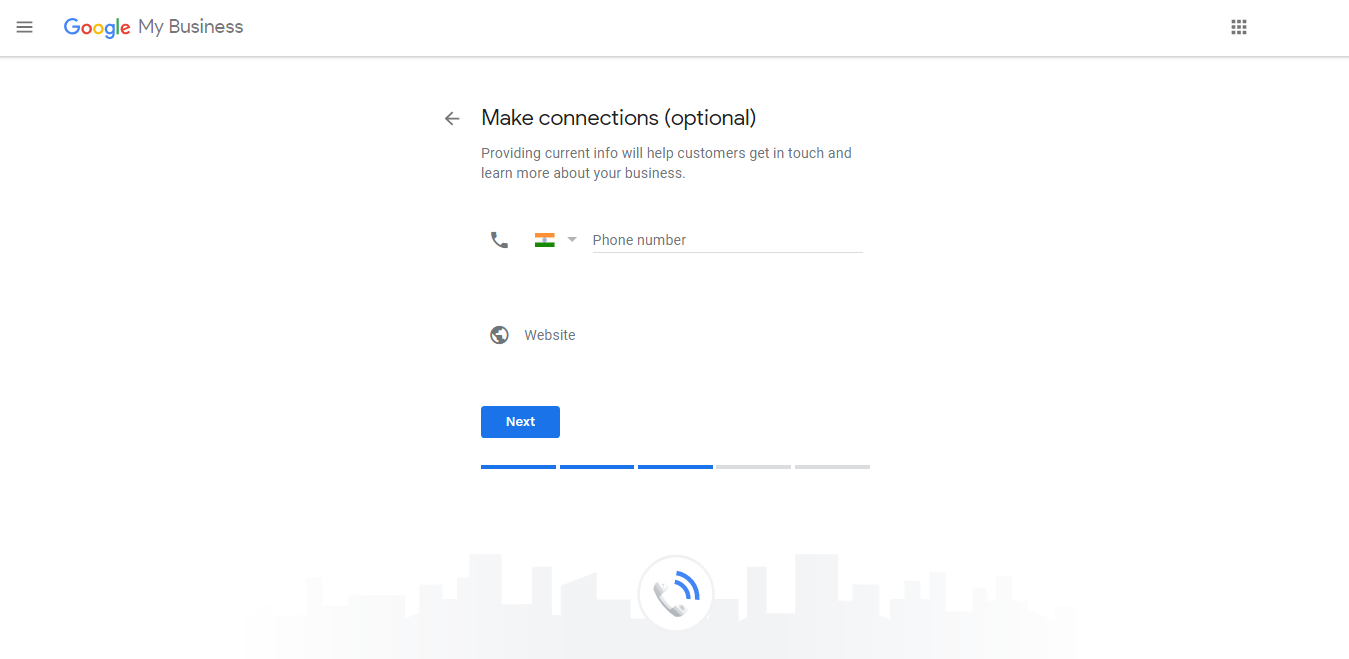 Finally, you need to verify all business information to manage your listing. Google will send your verification code via postcard with the name of the respective business owner.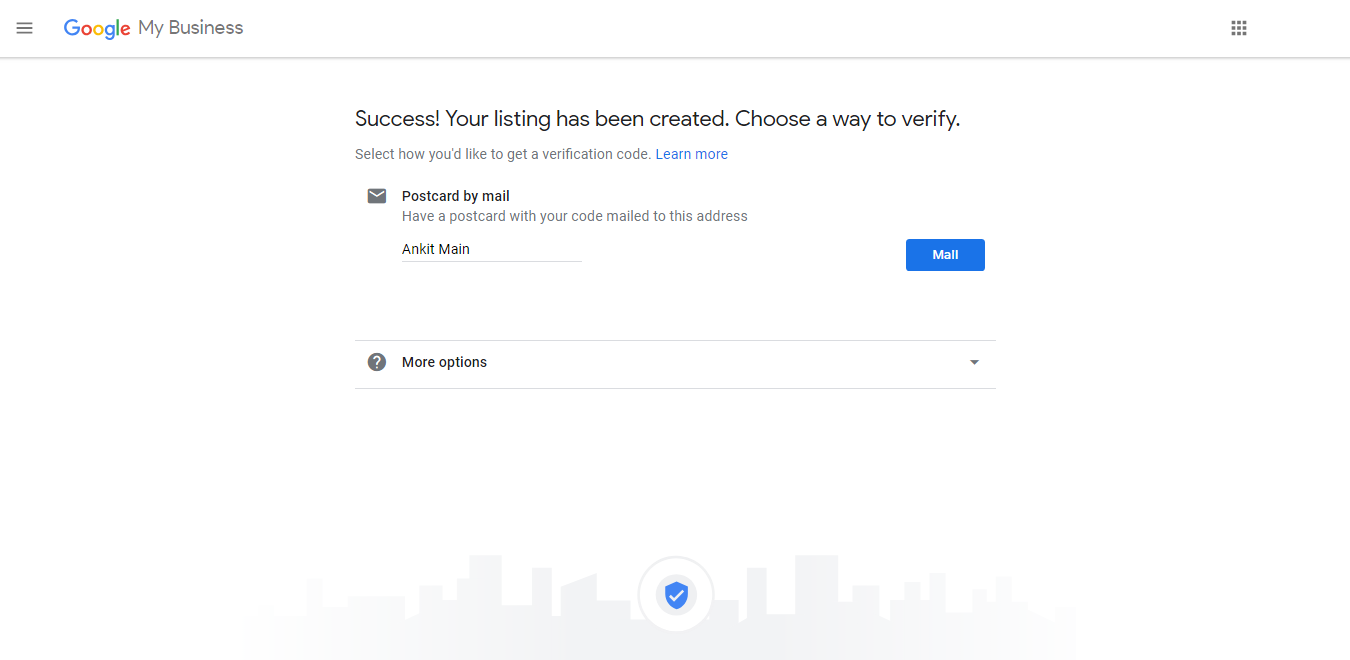 This process may take a couple of weeks or you can choose to verify later. Most of the postcards arrive in 12 days. But you shouldn't change the business details within the verification period otherwise you need to re-verify your listing with a newer code.
Remember, you can't manage your GMB listing until you have successfully verified your business through the postal mail (Exception: Select business types).
Once you verify your business, you'll have the following benefits.
Your business will be listed in Google's local search results as well as maps so customers can easily reach you.
You can promote your business with photos, and posts, or advertise using Google AdWords.
Track your business insights using Google Analytics to understand your customers.
Respond to customer reviews which is a major part of ORM.
2. Business Listing Sites in India
Similar to Google My Business, there are a few more sites to submit your business to get free targeted customers. Here I have compiled a list of 100+ local business directories in India with useful metrics.
Business Listing Sites in India
Local SEO Ranking Factors 2022 and Actionable Tips to Rank in Local Search
You have already got why Local SEO is important and how to add your business to Google My Business and different local listing directories.
However, your competitors may also be taking it seriously and doing the same activities to feature in the local snack pack. So, it's essential to understand local SEO ranking factors and craft your strategies accordingly.
Here I have mentioned the top local SEO ranking factors in 2022 and some actionable tips to rank in local search results.
Business Category
Keyword Research
Proximity
Reviews
NAP Consistency
Local Listing & Citation
On-page SEO & Internal Linking
Technical SEO
Off-page SEO and Hyper-Local Link Building
Local Schema Markup
1. Business Category
It does not make sense to choose any random category while adding your business to GMB as well as other local listing directories.
Suppose, you have a Mexican restaurant, then it would be better to list your business under the same primary category rather than "cafe," "dining," etc.
When the desired category is not available, then only select the closest possible category matching the nature of your business.
2. Keyword Research
Whether you are targeting a local or global audience, keyword research is something you can't afford to ignore. Whenever you create a local listing or a website, you need a bunch of keywords that people will use to come to your local listing in SEO.
For local businesses targeting keywords according to the specific location is very important. e.g. "lawyers in Orlando" or "auto insurance in Houston, TX" etc.
Finding keywords with low competition and high search volume is a skill, especially for local businesses due to area restrictions.
Plus, you need to keep the right balance between local searches as well as national/global searches because one day you will scale your business to the next level.
Refer to my ultimate keyword research guide: How to find low competition keywords with high traffic?
If you ask me which keyword research tool I recommend, then KWFinder or Semrush are two amazing tools for any level of expertise.
Moreover, both tools provide a complete SEO suite for backlink analysis, competitor analysis, technical SEO, and much more.
For a small cost you invest, you'll get big returns if you can use them smartly.
3. Proximity
Proximity is none other than how near your business location is to the potential customer. It possibly improves the user experience because they can shop with the nearest business easily and receive the products or services fast.
Adding a physical business address and verifying it can be beneficial to rank in local search results because Google, as well as other search engines, will understand you are the exact business nearer to your target audience.
Here's another hack to improve your proximity score.
Advertise your business in nearby areas and give people a reason to come to your place. Google will track them with different technologies including GPS on their mobile devices because most people will use Google Maps to come to your storefront/business place.
It clearly lets Google understand that you are providing quality services so that people come to you by traveling a long distance.
4. Reviews
Reviews are a type of social proof that customers take seriously.
Google My Business, as well as almost every local listing directory, offer a review feature to rate the overall customer experience which directly matches the relevancy to search query and UX.
So, if you want to rank higher in local search results, try to get honest reviews from your customers as well as respond then professionally and promptly.
Here is the best approach to dealing with your customer reviews (ORM).
If you are consistently getting negative reviews means you need to improve the quality of service or products you sell.
You can ask people what they actually want and build your products & marketing strategies.
In case, only a few customers have some problems, ask them personally using a phone call or email and apologize for the bad experience and tell them how could you help them.
This act will create a good impression in the mind of your customers about how you care about your customers and how serious you are about your business.
Most probably, people will change their opinion and give your positive review.
On another hand, if you are receiving positive reviews, then it means you are going right.
Thank people for their purchases and positive review. You can also ask people to visit again and they will for sure.
Remember, review quality and quantity both matter in local search ranking. And, how quickly you respond also influence the local SEO as well as potential customers.
5. Local Listings and Citations
I have discussed what is local listing in SEO above in detail. When you want to rank your business in a local snack pack, local listings and citations play a major role.
You should create listings in different business directories to get the backlinks and drive a pool of real human traffic that is actually interested in buying your goods and services.
Have you ever seen the organic results for near-me keywords?
Take a look, and I don't need to tell any more.
6. NAP+W Consistency
I have already mentioned this point earlier in this article. Still, keep the NAP+W consistent across all local listings and citations you have online.
Remember, inconsistent NAP+W details confuse users as well as search engines which leads to loss of traffic to your physical shop or website and ultimately results in loss of revenue.
Whether you are building local citations manually in-house or hiring a local SEO company, consider creating a complete spreadsheet file to keep an eye on all activities.
Have a list of all core elements you want to add to local listing directories and the list of local listings sites that I have provided above so that it'll become easier for you to maintain NAP+W consistency to boost your local SEO ranking.
7. On-page SEO and Internal Linking
Creating a business website is important to showcase your products and service, convert leads into customers by letting them book your services as well as improve ranking in local search.
A properly optimized website has a positive impact on local search ranking whereas on-page SEO and internal linking help a lot.
Here are key points in order to improve your on-page SEO
Proper keyword optimization
Maintain keyword density between 1 to 2.5%
The keyword proximity and keyword prominence both matter too. Add your primary keyword in different tags, first paragraph, and last paragraph, and sprinkle throughout the copy along with secondary and LSI (Latent Semantic Indexing)keywords.
Title/Heading tags optimization
The title should be around 55-60 characters and should not be cut when appears in SERP.
Natural & prominent primary keyword inclusion in tile as well as heading tags.
Meta-description
The meta description appears in the SERP along with the title and URL that people see before landing on your site. So, always use a catchy description that entices users to click on your listing.
Including primary/secondary/LSI keywords in the meta description will also help you get more clicks, thus increasing CTR and overall ranking indirectly.
SEO-friendly URLs
Canonical URLs with the primary keyword in it.
Image optimization
Adding keywords to the image title as well as alt text.
Image compression whenever possible to improve website loading time.
Adding caption/description.
Geotagging images for better local SEO signals.
Citing the image source if you are taking them from third-party resources, but strictly no hot-linking or copyright infringement which can damage your business severely.
Readability & User experience
Keep blog posts and product descriptions easily readable and understandable to every potential customer.
Minimum use of passive voice, technical words which are unnecessary, and relatively long sentences over 20 words.
Internal Linking
Proper internal linking for all relevant content, categories, pages, etc. to pass linking juice to improve overall website ranking.
Don't link random contents that do not make sense.
Voice Optimization
You have probably heard about Google Assistant, Siri, and Amazon Alexa. Today many people use voice recognization enabled virtual assistants like Google Home, and Amazon Echo for help in daily activities, especially in local searches.
Even you might have used your smartphone's voice search feature to Google something or find directions on Google Maps.
The accuracy of voice search is also increasing steadily, and people are now accepting this technology happily.
The bottom line:
Voice search is definitely influencing the local SEO which can have a bigger impact on your business.
Here is the video giving SEO tips for Voice Search Optimization (by Neil Patel).
Understand the context and what people are actually searching for to plan your content. You need to think from the customer's point of view to get the best from it.
E.g. people in the SEO industry may be neglecting the stopping words because these words do not add any value to context but in voice search, everything matters a lot.
Remember, Google's natural voice processing technologies are improved a lot and you should take it seriously.
8. Technical SEO
#1. Check sitemap & indexing.
#2. Add a robot.txt file if it's not present and tell search engine bots which pages to crawl.
#3. Remove duplicate content.
#4. Make sure your website is mobile-friendly. If it's not, ask your web developer to design a responsive website because Google has started mobile-first indexing.
Otherwise, picking a mobile-friendly WordPress theme can help you a lot. You can get one here at a very affordable price.
#5. Improve page loading time. Preferably your website should load within 3 seconds.
#6. Add an SSL certificate to your domain and all subdomains.
Choosing the right web hosting is an essential part of technical optimization, which helps improve page speed and secure the website from external attacks.
I recommend moving to the Cloudways managed hosting, which is suitable for almost every small and medium-sized local business.
Don't worry!
You will also receive a free site transfer.
#7. Remove broken links or redirect them to the correct web page.
#8. Set custom 404 pages for deleted pages/contents or redirect them to an appropriate web page.
9. Off-page SEO and Hyper-Local Link Building
Off-page SEO and backlinks also contribute a huge ranking factor in SEO after verified Google My Business listing signals.
Social signals, PR links, and some authority links from relevant blogs or websites can turn your fresh local business website into an authoritative one.
Here are a few tips for off-page SEO and hyperlocal link building.
#1. Reach out to the influencers or industry experts and invite them to write about your business in exchange for complimentary service.
Don't be shy. Influencers are also looking for such opportunities because they need to feed their followers in order to maintain their position so they'll appreciate it if you offer something cool to share with their audiences.
#2. Do article submissions to different directories.
#3. Submit PR to local PR sites to grab the attention of a maximum number of people.
#4. Social signals also offer strong signals in Local SEO.
#5. Be an active commenter and open up communication whenever possible.
#6. Ask for guest posting on relevant blogs.
#7. Create high-quality infographics, PDFs, and documents that are worth sharing and promote them for getting free backlinks.
10. Local Schema Markup
Local businesses need to add different attributes to be compatible with the local schema markup.
Add business hours, the currency you accept, the pricing range for your goods/service, specific location, or even some business information that you might think less important including the founder & foundation date, employee count, etc.
Know more at https://schema.org/LocalBusiness
Conclusion
Every year thousands if not millions of businesses shift online by creating a business website or app. However, most of them don't utilize the power of local search marketing, especially local SEO.
By utilizing these marketing techniques, small local businesses can easily compete with the big brands in the industry and generate a pretty solid stream of revenue.
You need to act quickly under the guidance of a local SEO expert.
Yes! You can hire me as a Local SEO consultant and marketing strategist to grow your local business into a popular brand.
Did you like this article?
Share it with your peers to help them with local SEO and marketing campaigns.
Have a question or feedback?
Don't forget to leave a comment below or use a contact form to connect with me directly.