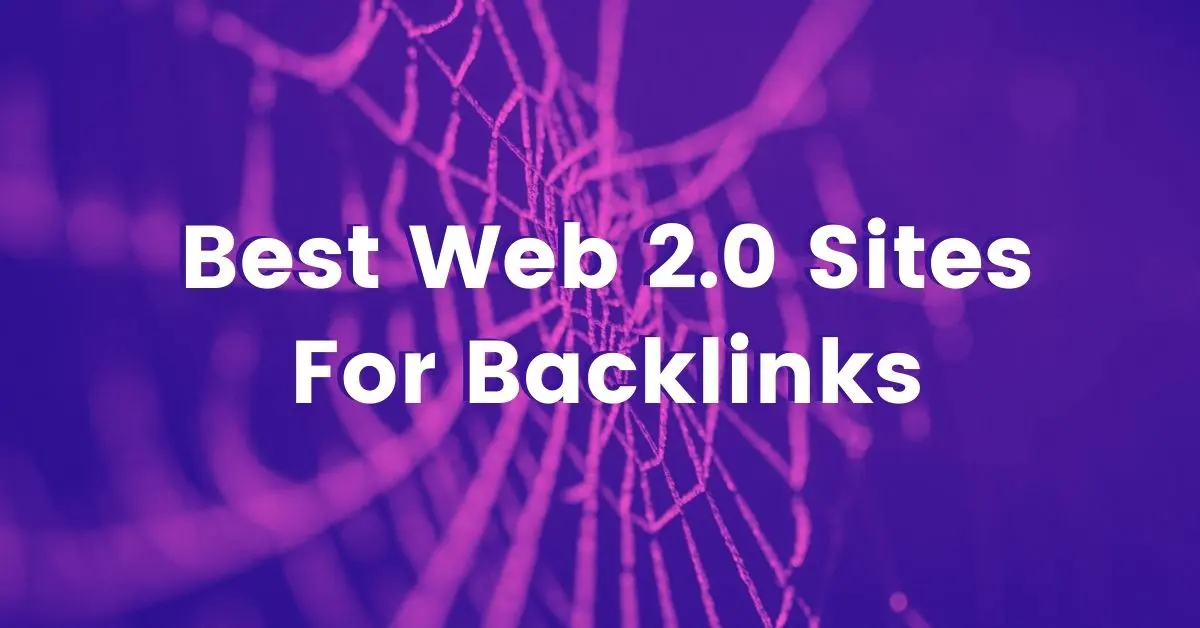 Affiliate Disclosure: I publish various content marketing strategies, online business ideas, blogging tutorials, review articles, and discount offers on my blog. My content may contain some affiliate links for products/services I use, love, and recommend. If you take action (i.e., subscribe or make a purchase) after clicking one of my affiliate links, I'll earn an affiliate commission at no additional cost to you. It helps me in creating more helpful content like this.
Before presenting the list of best Web 2.0 sites for backlinks to improve your website's organic ranking, you need first to understand what actually Web 2.0 means. After that, you can easily create multiple Web 2.0 properties or a PBN to rank your primary website.
What does
Web 2.0
mean? [Definition]
Web 2.0 means the second generation of the World Wide Web where it moved from static HTML pages (constrained web communication) to the dynamic web experience.
Web 2.0 is mainly focused on the ability for people to collaborate and share information through online platforms such as social media, blogs, and web-based groups/communities.
Web 2.0 websites have brought a massive shift in the web experience to make it more interactive because of its multi-channel and multi-directional communication abilities between users, publishers, and developers rather than the uni-directional information transfer that previously existed in the older version.
And, the development of new tools made it possible for almost anyone to contribute, regardless of their technical knowledge, which ultimately made web 2.0 popular.
Remember, Web 2.0 is pronounced as "web-two-point-o."
Still, does it sound a little technical and difficult to understand, right?
The term Web 2.0 has evolved, and in today's world, it's an integral part of anyone's online life.
Although social media and blogs are the major components, new web applications like AJAX and the development of modern browsers have started providing opportunities to people to express themselves like never before.
For example,
A review website can use user-generated content (UGC), photographs from various photo-sharing websites, social media contents, and integrate Google maps using API to create a better and more complete user experience.
For some people, it may be just a buzzword, but we all know there's a difference between 90's brochure-like websites and today's dynamic web 2.0 websites.
Benefits of Using Best Web 2.0 Sites for Backlinks
Using high DA web 2.0 websites for backlinks can help you improve your SEO efforts and get a boost in search engine ranking.
Here are a few benefits of using the best web 2.0 websites for backlinks having high domain authority and dofollow attributes.
Creating web 2.0 properties is free, and you don't need to pay anyone unless you decide to upgrade your plan, which is entirely optional.

You have control over your backlink profile, and you can get contextual dofollow links for a lifetime.

Since almost every website from our list has undergone several development phases and is

ultimately built for the best possible user experience, creating & maintaining them is simple. Plus, you don't even need any technical and coding skills.
Best web 2.0 sites for backlinks mentioned in our list have high domain authority and great SEO metrics values that carry more trust to your primary website, which leads to a

quick SERP climb.

If you have taken some efforts to create useful web 2.0 websites

, then ultimately it attracts more people to consume your content, and your money site gets the referral traffic as well.

A few web 2.0 sites such as Blogger, Wix, and WordPress.com lets you make money through different monetization channels, including Ad networks, affiliate marketing, and CPA.
Best Web 2.0 Sites List with High DA
Maybe some people are still struggling to get improvement in SERP ranking with the help of web 2.0 sites for backlinks.
If you are in the same situation, then there's something wrong.
Is there any hack?
No! Simply follow the guide below on how to create a PBN with web 2.0 manually and avoid being spotted on Google's Radar to save yourself from the penalty.
How to Create PBN with Best Web 2.0 Sites For Backlinks?
You already know what web 2.0 means. However, creating a single or a few random web 2.0 websites won't help you much because many people do the same.
In this guide, I'm sharing an excellent method to build a PBN (Private Blog Network) with web 2.0 to get massive SEO value for your money site.
If you still don't know what a backlink means, then it's just any link pointing to your website/blog which is also known as an inbound or incoming link.
To create a PBN with web 2.0, you need a few resources.
Random email accounts with login details

List of best web 2.0 sites for backlinks

SEO-optimized content to upload to these websites

VPN/proxies

Miscelliounse tools
1. When you are creating web 2.0 sites for yourself or your clients, you should use random email accounts to minimize tracking. Using a VPN or Proxies also helps you to work privately.
For email accounts, you can use Gmail, Yahoo mail, Rediff, etc. and if you can't afford VPN (Virtual Private Network), then use the built-in VPN feature in the Opera Browser or install Browsec VPN chrome extension.
2. The next step is creating a schedule for building PBN with web 2.0 sites. To be safe, I suggest only 4-5 websites for a couple of days.
You already have a list of best web 2.0 sites for backlinks where you can choose properties where you want to build your SEO empire. If you don't have the list, you can download it from here.
3. In this step, you'll be actually creating websites and adding your bio to the profile section. Fill maximum fields you can.
Remember, building manual links is much better than using SEO software like GSA (It's not entirely safe).
This is a little time-consuming process in SEO but worth every minute you invest.
4. After creating the site, you need to add content to these sites. Pick only a couple of web 2.0 websites and write only original content on each website (around 10 posts X 500 words).
Yes, you can rewrite or auto-spin the already published posts from your website or other authoritative sources but make sure you are publishing only human-readable and plagiarism-free content. Copyright-free rich media files will have added advantages if used smartly.
5. Maintain a random gap in publishing frequency to look natural and keep adding more content depending on the niche.
6. Now, you can index these properties with free/premium indexers and verify them in the search consoles of different search engines. Submit URL to Google and add the sitemap is also part of indexing your website.
You can let your content index and rank naturally if you have the patience to see fruitful results later on. In this case, sharing your content on Google properties will help you a lot.
Social media sharing is another option.
This is simple, isn't it?
7. Keep a random gap and create the maximum web 2.0 websites possible for you. In a couple of months, you will have a PBN of around 50-75 high-quality web 2.0 sites which you can either interlink with each other or point some relevant backlinks from high-quality pages to your money articles.
Remember, you need not place the links of your money site in every web 2.0 property.
Use tiered structure like only very high DA (90+) and popular sites like WordPress.com, Blogger.com, and Tumblr.com in tier 1 and the rest websites in subsequent tiers based on their DA and other SEO metrics.
Conclusion
I know this is definitely not an easy task, so I have mentioned every possible point which will help you. Plus, I have added a downloadable list of the best 2.0 sites for backlinks. It's always better to have an excel spreadsheet to keep track of your daily progress.
Follow this simple process, and you will see improvements earlier than you have expected.
In case you like this post and think it's worth sharing; please help others by sharing it with them.
Recommended Resources