Affiliate Disclosure: I publish various content marketing strategies, online business ideas, blogging tutorials, review articles, and discount offers on my blog. My content may contain some affiliate links for products/services I use, love, and recommend. If you take action (i.e., subscribe or make a purchase) after clicking one of my affiliate links, I'll earn an affiliate commission at no additional cost to you. It helps me in creating more helpful content like this.
SEO link building is a hot topic nowadays.
Building and managing a good backlink profile is always a major concern for search engine optimizers because inbound links are one of the crucial ranking factors in Google's search engine algorithm.
Currently, more than 1.99 billion websites are online, and the number is continuously growing.
Although these sites are divided into multiple niches and sub-niches, you only have limited space to grab visitors.
Unless your website is ranking in the top 3 on desktop and position zero on mobile devices, you'll most likely be losing potential customers and millions of dollars in revenue.
How can you beat your competitors to achieve the #1 position in organic results?
Do you want to know?
Read this article till the end to get a few excellent SEO hacks especially the link-building techniques that no one shares.
Important
Building backlinks may be considered a violation of Google webmaster guidelines.
Creating unique, relevant, and valuable content that satisfies the user intent is the best way to attract high-quality editorial links from relevant sites and gain natural popularity in the internet community. (Source: Google)
Remember, building backlinks is not a difficult task.
You can hire random people to build manual links or use automatic link-building software/scripts to create thousands of backlinks in a single day.
But what about the results?
You may build tons of backlinks even without being caught by search engines.
However, any content marketer or SEO who wants to play a long-term game would not risk his/her brand for the sake of a few backlinks or short-term ranking.
Google is getting smarter day by day, and you can't escape from its sight.
In case, your site gets penalized for a link scheme or violation of webmaster guidelines; you would lose not only organic ranking, but also all the traffic, trust, and most importantly the revenue that ultimately matters for any business.
Then how to create backlinks for my site and rank it on the top of Google using SEO?
You might have the same question in your mind.
Am I right?
Although SEO link building is not recommended, you can use some techniques which involve minimal risk.
In this tutorial, I'm going to share the exact strategies used by pro-digital marketers.
You'll probably need an SEO link-building tool, and I'd recommend using Semrush because it's the most versatile content marketing tool and complete SEO powerhouse available in the market.
SEO Link Building with Semrush
Although backlinks are a vital element of an off-page SEO strategy, the website should be technically sound and follow standard on-page SEO guidelines.
Keyword research with an understanding of user intent and crafting problem-solving content that meets EAT as well as topical relevance is the best SEO strategy to achieve a better position in SERP.
Site architecture and proper internal linking also play a significant role in Search Engine Optimization.
Once you've created a solid foundation for your SEO campaign, you can start building inbound links to dominate organic search results and get a competitive advantage over others.
Since SEO is quite a broad topic to cover in a single post, I will be focusing on how to build SEO backlinks with Semrush that actually work.
Remember, this tutorial contains some advanced SEO link-building techniques, and as the title speaks, you'll need a premium Semrush account to get the most out of it.
If you've never been a Semrush user before, then you can get a 14-day Semrush free trial account before deciding to become a paying customer.
Now, we'll dive deep into how to build backlinks using Semrush.
1. Add Project
Semrush is a perfect weapon for content marketers, not just a common backlink checker tool.
To get the full benefit of your subscription and understand the power of Semrush, you should add your website as the first project.
By doing that, you can understand many critical aspects of your website, including crawlability, site performance, HTTP status, and website health along with organic positioning and backlink profile.
Since we are talking specifically about backlinks, Semrush has a couple of options under the Project menu.
Backlink Audit
Semrush backlink audit helps to find the total links pointing to your site, including their quality (toxic score), anchor text, and source URL.
If you're just starting with an off-page SEO, then your website may not have a strong backlink profile.
However, the growing, as well as authority business sites, may have tons of inbound links.
Semrush will check the source (referring web page) quality, relevancy, link type, link attribute (follow/nofollow), anchor text type, and diversity to determine whether the particular link is useful for your website or not.
The Semrush team has developed a metric called toxic score to assess the link quality and probable risk associated with a particular inbound link.
By using this option, you can audit your website's backlink profile and remove or disavow the bad links pointing to your web pages.
Semrush allows its users to send link removal requests to respective webmasters right from the dashboard, increasing productivity.
In case it's not possible by any chance or your rival company is doing that purposely to take down your website in organic ranking, then you can directly export all bad links to a text file and upload it to the Google Disavow tool for an appropriate domain.
On the next tab, you can find the newly earned backlinks as well as those that are lost.
Sometimes, you may find a few broken backlinks that need immediate attention. Otherwise, your competitor may steal those backlinks.
Semrush finds out such broken backlinks so that you can take corrective actions to avoid unwanted backlink loss.
If you're an SEO guy who cares about Google organic traffic, then you need to connect your Semrush account with a Google Search console having the same domain properties.

It'll help Semrush to acquire more information and filter that data to give a more accurate backlink report for your website.
Link Building with Semrush
Once you understand the strengths and weaknesses of your website's SEO strategy, it's time to find the relevant sites to get backlinks.
Semrush provides an all-in-one dashboard for SEO link building where you can add the targeted keywords, competitors' domains, and brand keywords to monitor web mentions.
Depending on the combination of the above inputs, Semrush generates a list of prospective web pages to build backlinks.
It also shows the URL type (general, blog, review, or forum) as well as different metrics including domain score, trust score, and an overall rating out of 5 (more is better).
Although Semrush has a unique algorithm for setting priorities about which backlink is more useful that need to acquire first, you can dig deep into the suggestion list and decide your link outreach strategies.
Semrush offers eight pre-built templates to reach the prospects, or you can craft a customized link-outreach email template from the dashboard itself.
On the next couple of tabs, you'll find the link outreach campaigns in progress and the overall performance, including detailed statistics about all backlinks.
2. Keyword Analysis
You might get confused about why I'm adding this point while the article is particularly talking about SEO link building with Semrush.
See,
Building random irrelevant backlinks even from high-authority sites doesn't make any significant difference in organic ranking.
That's why topical research and in-depth keyword analysis are critical elements of an off-page SEO strategy.
You can use the keyword magic tool and the competitor's organic analysis module of Semrush to find some untapped keywords.
It's possible that you may already be targeting a few of those search terms, but the keyword magic tool will give you a complete list of less-competitive, yet profitable keywords with high monthly search volume (MSV).
Most importantly, if your SEO campaign is conversion-focused, then don't forget to understand the user intent behind each search query.
Analyze the maximum competitor's sites by following the above techniques and create a master spreadsheet for your organic keywords.
Filter that data to remove duplicate keywords as well as the search terms which may require a significant amount of time and energy to achieve top ranking in the SERP.
Related article: How to Find Low Competition Keywords with High Traffic
3. Competitors' Backlink Analysis
For each keyword you're targeting, find the top 10 competitors, and analyze their backlink profiles.
Checking the competitor's backlink is one click away from Semrush.
You can enter their domain or URL in the main search box and click on the Backlinks option on the Domain Overview page.
Alternatively, you can find the Backlinks option under the Domain Analytics menu on the left sidebar for quick navigation.
To understand the backlinks analysis module and perform reverse engineering, I have divided it into seven subparts.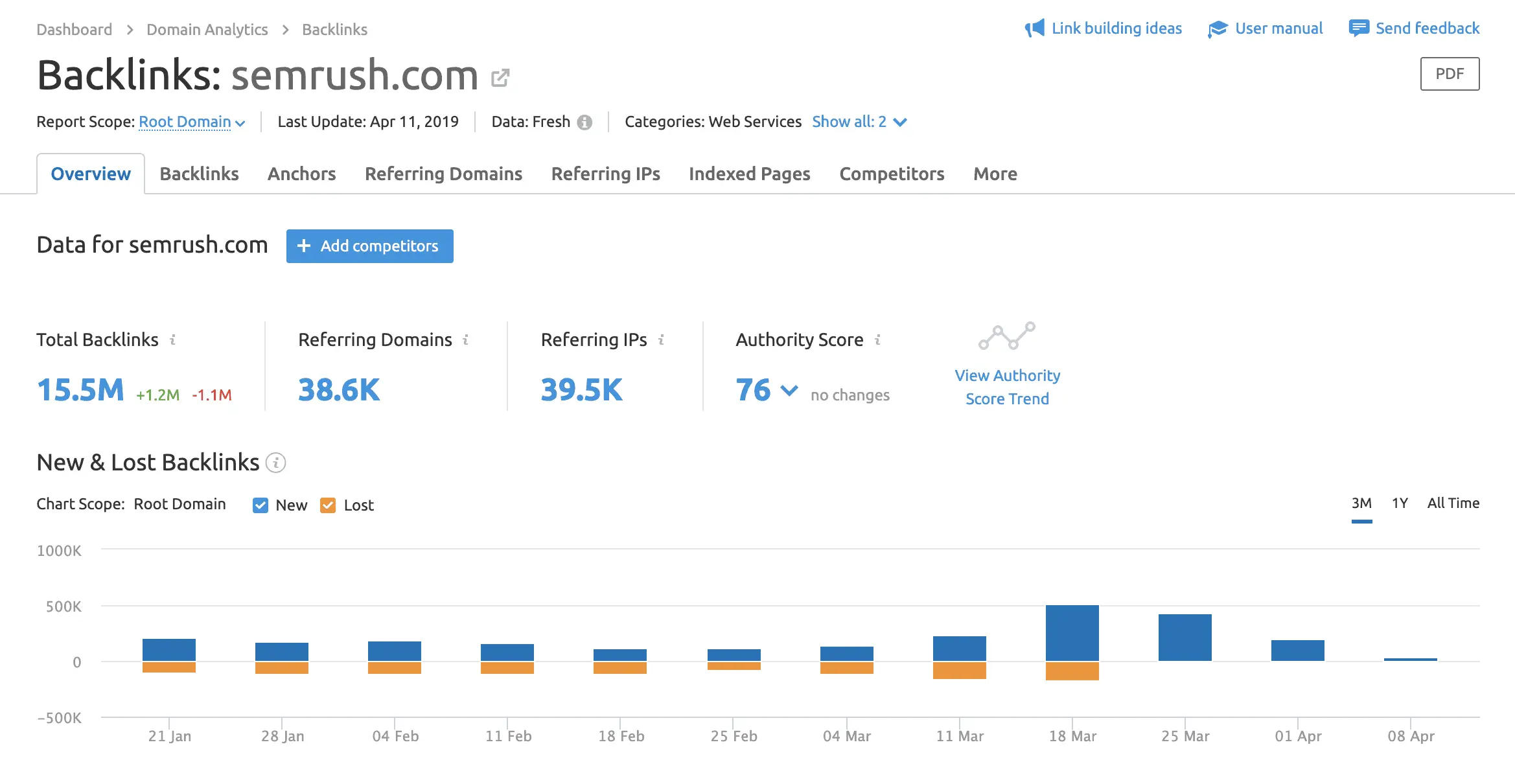 Backlinks
Here, you'll get a clear picture of any website's backlink profile including the total backlinks, referring domains, referring IPs, backlink type, the HTML attribute value (link rel.), and an entire list of backlinks with all useful metrics.
Further, you can filter those backlinks according to the referring domain, anchor, IP address, sitewide links, new/lost links, and zone (locale).
Age of Backlinks
Backlinks from authority domains having significant industry exposure are more valuable than newly generated links.
Semrush backlink checker shows all data when Semrush crawlers first discovered a particular backlink and whether it's active or not.
Semrush makes it easy to understand the new, lost, and active links by using color filters to the date itself.
Anchors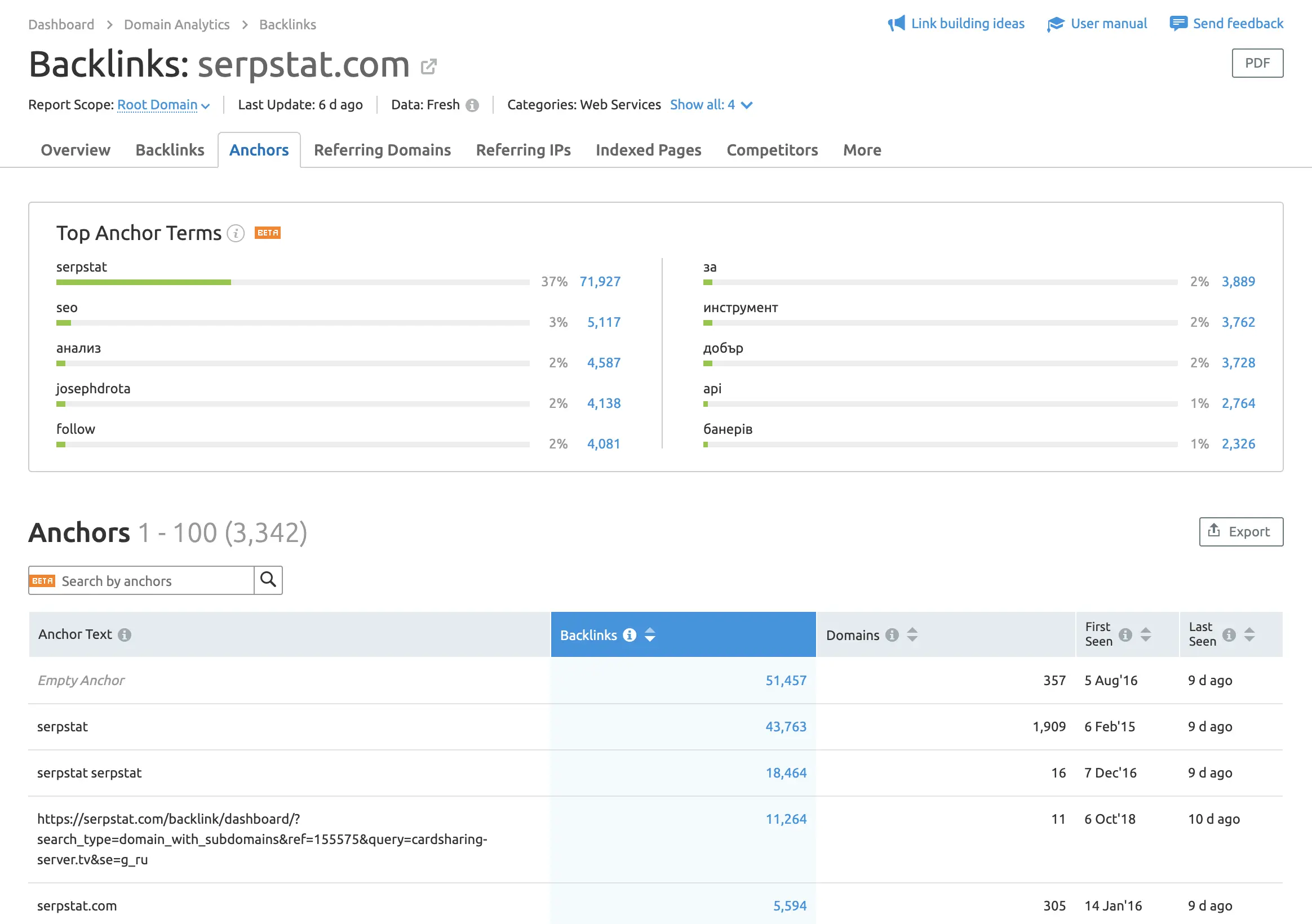 Over-optimizing anchors around the targeted keywords may send the wrong signal to search engines that the webmaster is trying to manipulate their algorithms to get positive rankings as people did with keyword stuffing in the past.
To be on the safer side, it's better to diversify the website's anchor text profile.
Using this option, you can find the top anchor text terms (in %) and total backlinks using the same anchor text.
Understanding the competitors' anchor text profile and comparing it with your site's anchor text profile will give you a better idea of where you can improve and beat them.
Referring Domains
You'll find critical information about the referring domains to your site, including the actual domain, TLD distribution, geolocation & IP address of referring domain's host, and Semrush Domain Authority Score.
This information is beneficial for targeting multiple geo-locations/countries, especially in international SEO.
Even national and local SEO can filter this data to reach the right prospects and generate the most relevant backlinks.
Important: Semrush Domain Authority Score (A-Score) is a compound SEO metric developed by Semrush to measure the inherent strength and popularity of the specific domain, which is a little different from the MOZ Domain Authority (DA).
Referring IPs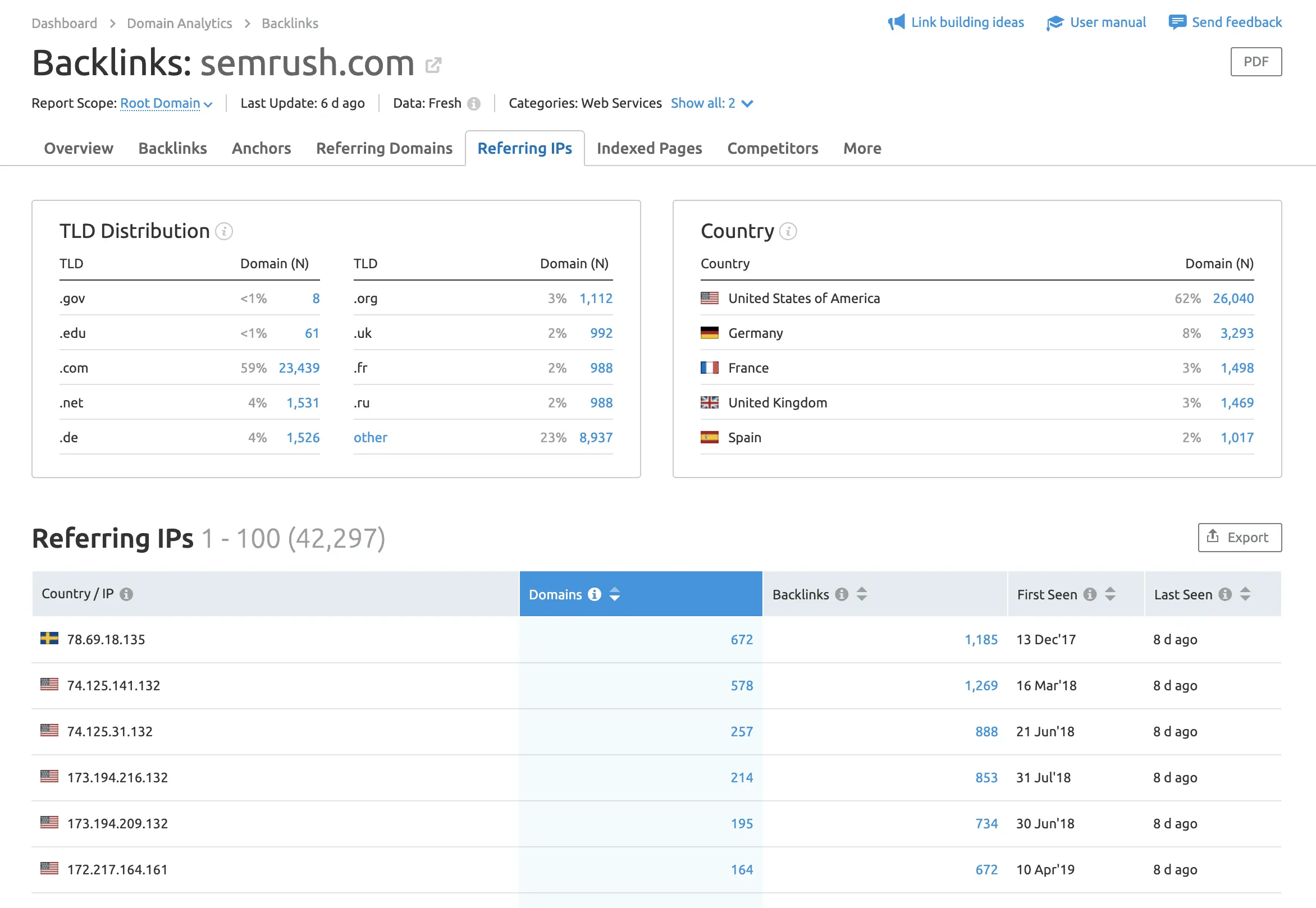 Similar to the Referring Domains option discussed in the above point, Referring IPs tab helps to understand top referrer countries and TLD distribution.
Indexed Pages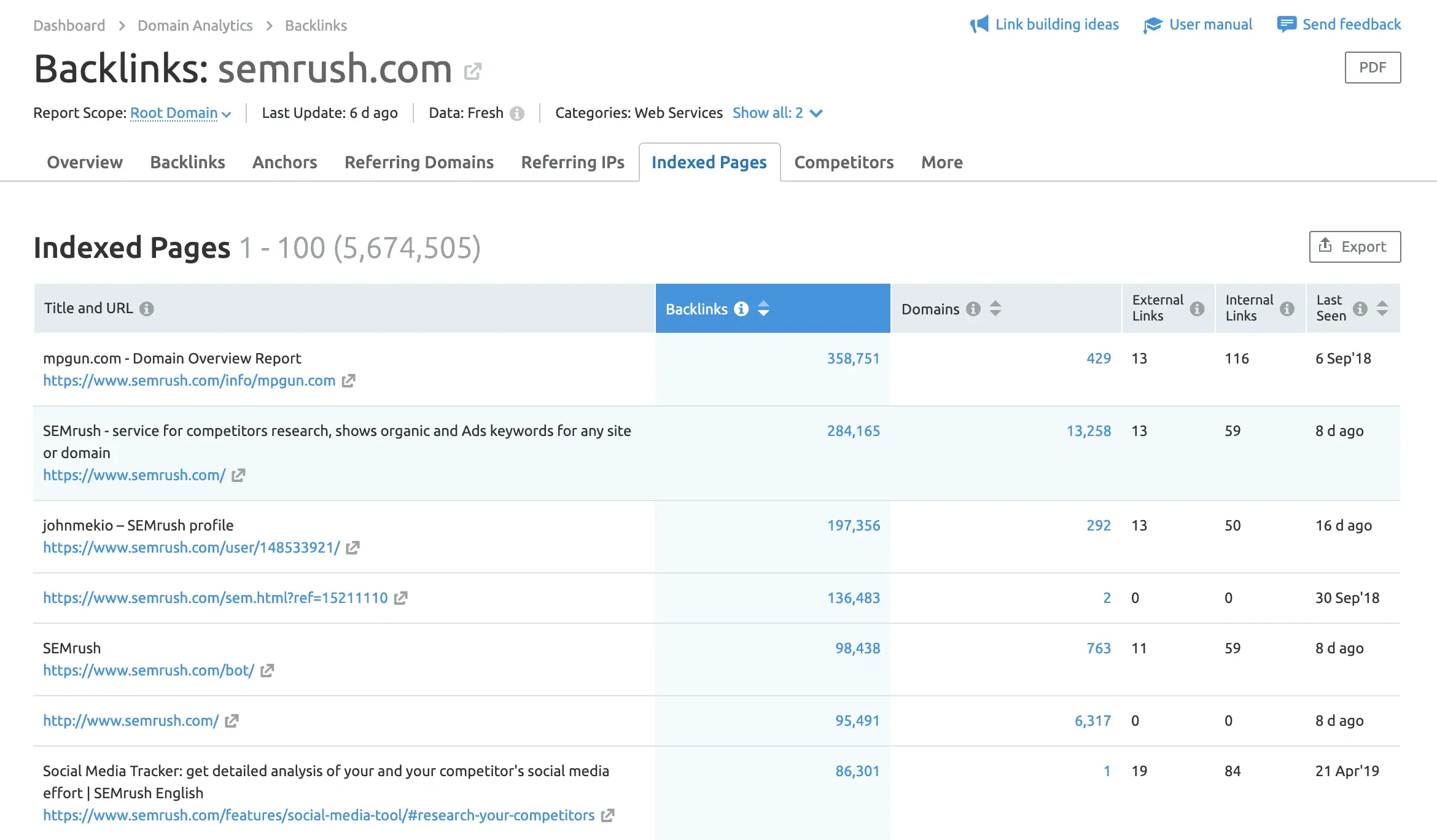 Receiving tons of backlinks from unindexed web pages does not make sense.
You must focus on getting backlinks from websites that are crawled and indexed by search engines.
Backlinks built with automatic backlink-building software disappears from the search index within no time because of thin content and high-spam score.
So, ensure that you're getting backlinks from the live pages which may drive referral traffic.
Competitors
This option will let you find all competitors of the analyzed domain that have a similar backlink profile.
Plus, you can check their Authority Score, competition level, total referring domains, common referring domains, and total inbound links pointing to each root domain, subdomain, or exact URL (individual web page).
It'll help you to see the bigger picture of your competitor's backlink profile and define your off-page SEO strategies.
4. Backlink Gap Analysis
Backlink Gap analysis is one of the most loved features of Semrush. It allows users to quickly compare up to five different domains or URLs and show results intuitively.
You can compare your website or exact URL with the competing web pages to know how your SEO link-building strategies are working and tweak them to improve the organic ranking.
You can access this tool by navigating to Gap Analysis >> Backlinks on the left sidebar.
Once you add your domain along with the competing domains, this tool will show you the link-building performance for each of the domains over the selected time frame.
Semrush uses individual color coding for each competing domain/URL to quickly identify the trend in SEO backlinks.
You'll find a detailed comparison below the graphical representation for in-depth backlink gap analysis.
Simply, select your domain name and Semrush will show all link opportunities you're missing – in short, the domains linking to competitors' websites, but not to yours.
Alternatively, Semrush allows Bulk Analysis for up to 200 domains or URLs for quick Backlink comparison for multiple domains.
You can export that list for your link outreach campaign.
5. Create a Master List
Semrush gives tons of insights about your own backlink profile as well as the competitors' site that you analyze.
Combine that information into a master spreadsheet including the total backlinks, referring domains, anchors, toxic score, and link priority.
By doing that, you can filter the duplicate, spammy, or toxic links and set priority about which links are more important than others that you need to acquire first.
6. Replicate Competitor's Backlinks
Analyzing and replicating backlinks to top competitor sites is the best way of SEO link building with Semrush.
Look at the master spreadsheet and decide on a handful of links that can positively impact your website's organic ranking.
Launch your link outreach campaign with Semrush, or you can use platforms like Ninja Outreach to automate your work.
Manual link outreach is the most abused phrase in the SEO industry. Remember, Google has one of the world's strongest crawlers, and it also owns communication platforms, including Gmail, Hangout, and Google Contacts.
If Google finds that you're involved in a link scheme or backlink building to manipulate its search engine algorithm, then your website's organic ranking and traffic may reduce significantly.
In the worst case, Google may penalize your website and remove it from the search index.
Play smart, but don't act as over-smart.
7. Attracting Natural Backlinks
As I mentioned earlier, natural editorial backlinks from relevant, high-quality domains are the best for SEO.
Here are a couple of ways to create link-worthy content.
Skyscraper Technique
The skyscraper technique refers to creating fresh, relevant, and useful content, preferably better than the existing one.
Since millions of websites are working in a similar niche, skyscraper content differentiates your site from the rest who develop ordinary content without significant value addition.
If you have put enough effort to create a content masterpiece, then people can't stop themselves from sharing your content or linking it in their articles.
Here is another benefit of writing skyscraper content.
Many people across multiple niches do monthly, weekly, or daily link roundup posts by curating the best content across the web.
If you've created high-quality EAT-driven (Expertise, Authority, Trustworthiness) content, then it may feature in those link roundup posts getting you a contextual backlink and some referral traffic.
Sometimes, people send a link roundup newsletter to their email subscribers.
In such cases, you may receive hundreds of targeted visitors that may become your leads or customers.
Newsjacking
The term newsjacking means developing viral content by taking advantage of trending news or the big events currently going on.
Although newsjacking has a limited lifespan, you may end up getting tons of backlinks and referral traffic.
However, make sure you're not publishing clickbait posts or spreading fake news which may risk your brand reputation as well as revenue.
8. Testimonial Link Building
People who have already created authority in a particular domain may use this technique for SEO link-building.
Startups, as well as established enterprises, are looking for industry influencers to talk about their products or brand.
Since testimonials and reviews serve as the best way to showcase social proof, you can use this opportunity to build some high-quality backlinks.
How could you do that?
Suppose,
If you're working in a health and fitness niche for the last five years; then you may have a good audience, including social followers and email subscribers.
In such a case, you may generate some high-authority backlinks which are difficult to replicate by your competitors.
Use the Semrush Ad Builder tool to create a list of the health and fitness brands which are actively promoting their products or services.
Analyze the backlink profile for each site to narrow down the link prospects list. Don't forget to check whether they provide a backlink for a testimonial or not to prioritize the available link prospects.
Finally, reach out to the brands and ask them for a review copy.
Being an authority figure, you may receive a product or service for review purposes.
If the product performs exceptionally well in your tests, then create relevant content for that particular product and ask the brand that you're interested in writing a testimonial on their website.
Almost every business website has a testimonial section so that they'll accept your offer happily and you may receive a valuable backlink to your site.
In some cases, you may receive monetary benefits for brand promotion or at least an affiliate commission for your referrals if the brand has an affiliate program.
Remember, acquiring high-quality testimonial links requires real expertise and significant efforts, but you can get tremendous ROI by using this strategy.
9. Infographics Backlinks Building
You might be familiar with this technique.
Usually, people create an infographic and reach out to other bloggers with overused email templates.
I receive at least 3-4 emails weekly from the so-called marketing professionals/outreach experts to publish their (clients') infographics on my blog.
I would not mind embedding their infographic on my site and even linking to the original site, but almost every email and the infographic seems to be copied one that doesn't add any value to my audience.
Now, you may get confused about how to build a backlink with an infographic.
Here is a simple method for infographic link building with Semrush.
Log into your Semrush account and find all Image backlinks to your competitor's site.
Most of the HQ image backlinks are generated for infographics.
Analyze all image backlinks pointing to the infographic and filter them as new/lost as well as dofollow/nofollow.
Now, the real game starts.
Check all infographics where you can add more value or provide more accurate/fresh data.
E.g., You can find infographics on Email Marketing Statistics for 2018 and craft a better one with newly available data for 2019.
Now, you can launch your link outreach campaign and ask website owners to replace the old infographic with one that you've created.
Since you're adding value to their websites by offering fresh content, most of the website owners will accept your request happily and may link to your site.
Once you have completed this step, reach out to other site owners in your niche and ask them to review your work.
Don't forget to add social proof that your infographic has been featured on some leading sites.
It'll create a positive impression, and you may get massive success for your outreach campaign.
10. Broken Link Building With Semrush
Normally, people use the Ahrefs Backlink checker tool for broken link building and complain that Semrush does not show competitors' broken links.
However, I have found that Semrush has the edge over Ahrefs if you know the secret recipe for broken link building with Semrush.
You may find only new or lost backlinks under the Backlink Analysis tab.
If you want to find broken links, add your competitor's website as a New Project and perform a backlink audit.
Under the Lost & Found tab, filter link data by State=Broken and Group by=URL. You will find all broken links pointing to the particular domain.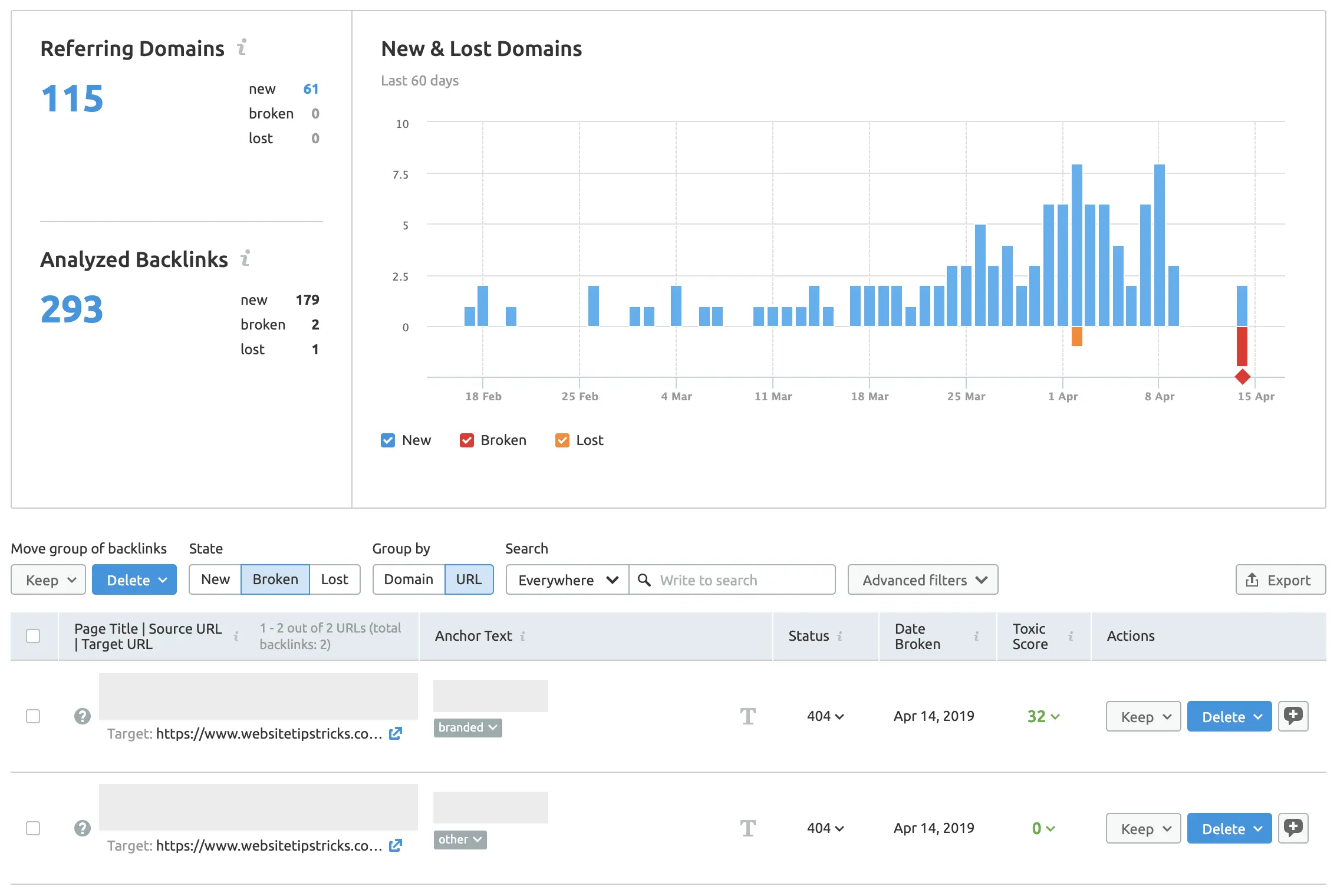 Now, you can outreach to the website owners and bring all broken links to their notice.
In most cases, the source page is deleted which gives a 404 error. You can offer them a valuable piece of content and ask for a backlink.
Since you're helping them to find out critical SEO errors as well as adding value to their site, the site owner or editor will be most likely to accept your offer.
11. Moving Man Method
Businesses are often rebranding, changing their domains, discontinuing product lineups, or in some cases, shutting down completely.
These changes make webpages move to a new URL or disappear altogether.
People linking to these web pages may find that they are linking out to sites or resources which don't exist anymore.
However, most webmasters are unlikely to find and fix those links without constant backlink monitoring.
This is where you can use the Moving Man Method to build some high-quality backlinks to your site.
First of all, find all websites in your niche that no longer exist, that rebranded, moved to new domains, or discontinued their products/services.
It's not easy to find such web pages since most of them are redirected to new addresses (URLs).
However, a little smartness will get you tons of link opportunities.
E.g., Using some advanced Google search queries like keyword + "we have rebranded" or keyword + " this page no longer exists," you will be able to find many moved web pages.
Put those URLs in the Semrush backlink checker to get a complete list of sites that are linking to the old page.
Lastly, you can contact the respective webmasters to let them know about the outbound link from their site is pointing to an outdated/moved page. Also, don't forget to suggest better content from your site for link replacement.
It's a win-win situation for both of you, isn't it?
12. Expired Domains Link Building with Semrush
The expired domain link-building technique is a little different from the Moving Man Method where you outreach to webmasters asking for link replacement for a moved URL.
Since expired domains are available to buy either directly or through auction platforms/domain brokers, you may purchase one or more relevant domains and use a 301-redirect to your existing site.
There is a better way to utilize the expired domain.
First of all, find a high-quality expired/expiring domain under your budget and check the domain history (niche and contents) using Wayback Machine.
If it satisfies your requirement, then analyze it using the Semrush backlink checker.
Semrush will show all backlinks with the anchors, referring domain, toxic score, and other information useful to assist in your buying decision.
Finally, when you purchase that domain, contact the webmasters linking to that domain and ask them for link replacement.
However, valuable content is the only way to get a higher success rate with this strategy.
The site owner will be most likely to replace the dead link with something of value instead of a spammy one-page affiliate website.
Alternatively, you can create a privately owned Content Development Network, but it's not cool or glamorous.
It requires an extreme understanding of the process and 100% accuracy in implementation.
I'm not going to discuss this strategy because –
It's a deceptive link-building technique.
I'll need to write the other 5000+ words to explain this concept.
13. Resource Page Link Building
Many websites create a dedicated page listing some helpful links and resources for a particular subject.
For example, a fitness site might have a resource page that includes links a few high-authority blog posts in the fitness niche.
Find out such resources using simple Google search queries like –
Keyword + "resources"
Keyword + "helpful resources
Keyword + "useful resources"
Keyword + "links"
Keyword + "helpful links"
Keyword + "useful links"
Keyword + intitle:resources
Keyword + inurl:resources
Keyword + intitle:links
Keyword + inurl:links
You can try more search modifiers to get additional link opportunities.
The next step is to find out the most relevant and high-quality resource pages.
Perform a site audit for each domain you've listed to analyze the organic traffic, backlinks, and toxic score of the resource page.
Finally, reach out to the right person and recommend him the most relevant content that you've published on your site.
Make sure to submit the best content adding enormous value to the resource page.
Don't be pushy and pitch only when you're confident about your content quality.
I have attached an outreach template below to get you an idea about how to send a friendly request for resource page link inclusion.
Hey [first name],
I was reading [your topic] and found that you have maintained a killer [resource page] on your website. Awesome job!
Since you're clearly an influencer in this niche, I thought you'd be interested in checking out my article on [your content title].
It's super in-depth and I think it would make an excellent addition to your resource page.
Here's the link if you'd like to check it out:
[Your link]
Cheers,
Your Name
14. Guest Posting
Guest posting is the best way to get exposure to a large audience base by showing your skills and knowledge.
If your contribution is adding value to the host sites and their visitors, the site owner/editor won't mind linking back to your site.
This way, you can get tons of targeted referral traffic and eventually, conversions.
However, people who don't understand the real potential of guest posting, outreach to high authority sites and ask for a permanent dofollow link in exchange for content, or sometimes, the monetary benefits (buying backlinks).
This is an unfair practice and is considered a violation of webmaster guidelines.
I'd not recommend picking the wrong route if you are planning for the long term.
Here is the better way if you want to use guest posting for SEO link building.
First of all, analyze the top competitors' backlink profiles and replicate all easy links, including comment backlinks, forum links, web 2.0 links, and directory submissions.
You can also use other methods mentioned above to build additional backlinks.
Now, go to the Semrush Backlink gap tool analysis to find SEO link-building opportunities.
Create a list of websites linking to your competitor's web page, but not to yours.
Collect some essential metrics about those backlinks, including domain authority score, toxic score, referring domains, referring IPs, and other relevant information to set link acquisition priority.
The next step is guest posting outreach.
A few websites allow guest contributions and have a dedicated page for inquiries whereas you need to find the email addresses of editors for the rest.
Either fill out an inquiry form or ask them for a guest contribution by sending an email.
Be clear and concise in your message. You must introduce yourself, create the first impression, and explain how your contribution will benefit the site owner.
It's not about you; it's about them.
If you succeed in conveying the value added by your guest post, then most likely, you'll get a chance to feature on their sites as an author.
Submit high-quality content with solid references.
Finally, you can also ask for link insertion if you have relevant content on your site that compliments your guest post.
15. Affiliate Link Building
What if you get targeted traffic, hot leads, and sales using a simple hack?
Yes, I'm talking about the affiliate link-building technique.
Online stores, as well as other websites where product creation or selling is possible, can leverage this technique for their SEO benefits.
How?
Log into the Semrush account and enter your competitors' domains in the search box.
Analyze their backlinks profile to find out all affiliate links pointing to their site.
You may need to spend some time to figure out the affiliate links because nowadays, many websites diversify incoming affiliate links to multiple pages and relevant blog posts.
Create a better product, invite affiliate marketers in your niche, and offer a good percentage of sales revenue.
You may see thousands of links pointing to your website, which may drive additional traffic and probably sales too.
If everything goes fine, then people may start searching for your brand name along with the primary keyword, which may boost your SEO efforts.
E.g., Rank Math SEO plugin, Semrush link-building tool, and more.
The next step is finding out a low-quality affiliate site using the Semrush Backlink Analysis tool and removing them from your partner program.
It'll ensure your site has a healthy backlink profile that does improve not only traffic but also conversions.
16. Free Product Creation
Before explaining the exact strategy, let me share a story of one of the most popular WordPress SEO plugins – Rank Math.
Earlier people were using Yoast SEO, All In One SEO, and similar SEO plugins.
The MyThemeShop team developed a free product that created a buzz in the market because it offers all the features available in the premium versions of other plugins.
40K+ active installations with an average of 4.9/5 rating, and 89.1K backlinks within just six months after the official launch.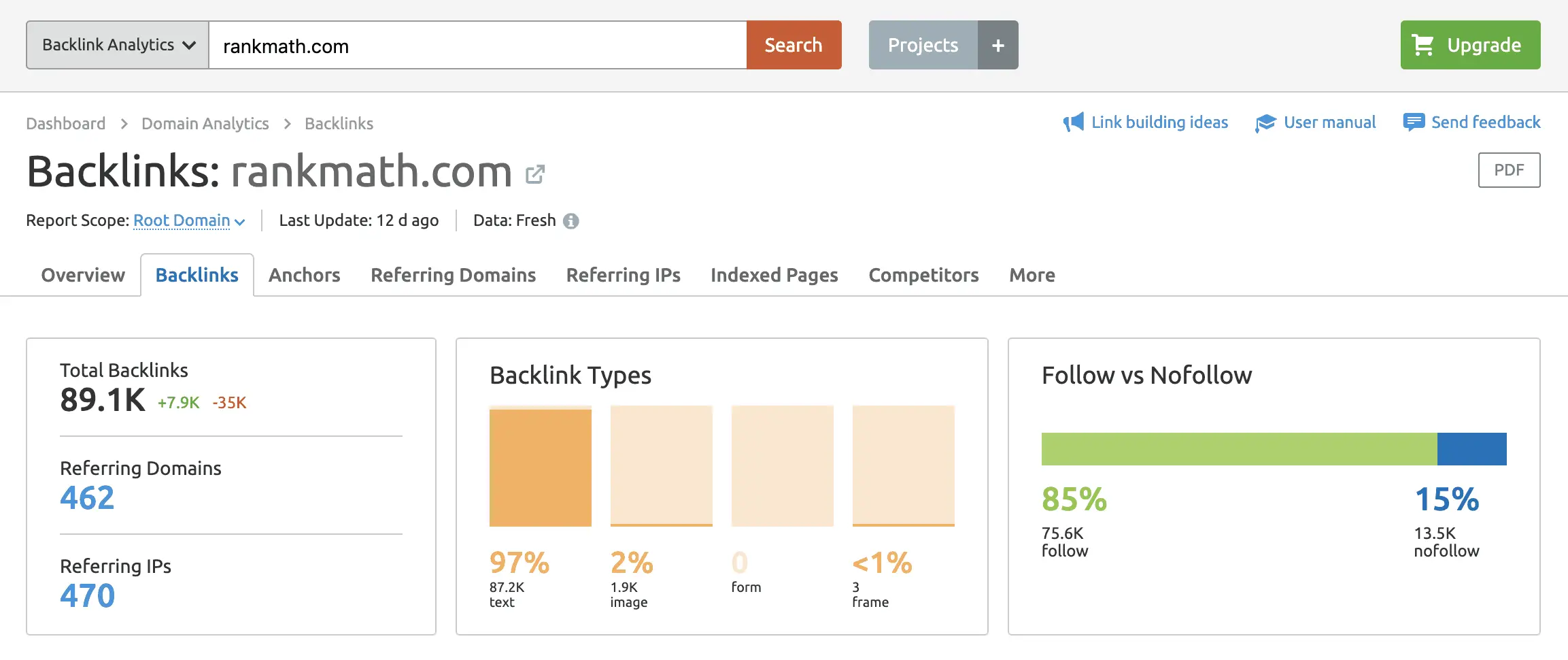 Do I need to say more?
MyThemeShop is going to launch a premium add-on on top of the core version of the Rank Math SEO plugin.
At that time, Rank Math will have a solid SEO foundation with high-quality inbound links from relevant websites that drive referral traffic.
You can adopt this strategy in any niche.
For example,
Online coaching classes can offer free crash courses.
Health websites can offer embedded tools like a free BMI calculator, Daily Calories Intake calculator, etc.
Links embedded in the footer of free WordPress themes are a common example of link building with free products.
People write review articles or create listicles for valuable products. By putting in small efforts, you can build a problem-solving product to generate traffic, leads, and links.
Later, you can shift to a freemium model to monetize your business by offering additional features.
17. Event Link Building
It's one of the under-utilized SEO link-building techniques that you can start using right away.
I'm going to break it down into three types.
Hosting an Event
If you run a product/service-based company or an e-commerce website, you should consider hosting special events.
Even, you can celebrate special occasions, including company anniversaries and local festivals.
E.g., Recently, MyThemeShop celebrated its 7th anniversary where it ran heavy promotions using a limited-time discounted pricing strategy (FOMO principle).
This event brought a massive sales volume to not only the MyThemeShop offer page but also tons of backlinks from affiliate websites promoting that event.
How could you use a similar strategy for your business?
Sign in to the Semrush account and find the Marketing Calendar under the Management menu on the left sidebar.

Pick the event that is most relevant to your business or create one for local festivals like Diwali, Holi, your company's anniversary, or on achieving a milestone.
Then, you can promote the event using content marketing, PR, or PPC adverts.
You'll receive HQ backlinks from the PR/news articles along with strong media coverage and engagement.
However, you must strategically invest time in developing good relations with PR agencies, media houses, bloggers, and influencers.
Use the Semrush backlink audit tool to find potential link opportunities and narrow down the prospects' list.
You can also reach out to individual publishers, journalists, and niche influencers to write about the particular event. It may earn a few high-quality inbound links from relevant websites or blogs that drive referral traffic.
Isn't it a great deal?
Sponsoring an Event
Sponsoring top events opens new doors for getting exposure to your target audience, brand mention, and eventually, a backlink.
Leverage the true power of the Semrush Topic Research module to find the most popular events where you can associate as a sponsor or an event partner.
In the above example, I researched the fashion events in Mumbai (MH, India) and Semrush returned multiple cards matching my search query.
Now, the biggest question is – How to sponsor a particular event?
Sending merchandise, helping an event site to drive traffic/leads, or sometimes, offering monetary value are a few ways to collaborate with the event host.
By using this method, you'll get massive brand awareness and backlinks from an event site's Homepage or the Sponsors' page.
On another hand, you can use the Semrush SEO tool to find out authoritative niche websites and sponsor them to run a special giveaway.
It'll help them to grow their audience and earn you a few backlinks, referral traffic, and leads too.
A win-win situation for all.
Attending the Event as a Speaker
Industry influencers can leverage this opportunity for SEO link-building with Semrush.
When you've positioned yourself as an authoritative figure in a particular niche, you'll probably get a chance to collaborate with large events as a speaker.
Almost every time, the host website mentions the speakers on their landing page, so you shouldn't care much about that.
Stay with me.
I'm going to share little-known secrets of event link building with Semrush that you might have never heard before.
1. Find link prospects using Semrush and offer them free entry passes to the event you're speaking in.
Since you're speaking at the big event, people will mention you in their blogs or email newsletters.
2. Network with your audience and offer special discounts on your products or services.
You can build a few backlinks to your sales page adding an affiliate twist with limited-time coupons only for the event attendees.
3. People may ask you for interviews. Take time to answer them with some valuable insights.
When the interview goes live, you receive a few backlinks.
4. Use the Semrush Brand Monitoring tool to find unlinked web mentions or social mentions and convert them into inbound links.
18. Link Reclamation
Link reclamation is the process of finding and reclaiming the lost/broken links which were pointing to your website previously.
Remember, claiming unlinked brand mentions on other websites and link reclamation are two different concepts.
You can't reclaim backlinks that never existed before.
Before launching a link reclamation campaign, you need to understand a few common reasons for link losses.
The site author or editor removes/replaces your link as a part of the content updation process.
The linking page no longer exists (404 Error) or gets redirected to the new address (301 Redirect).
The source (your web page) is no longer updated or relevant to the linking page.
Either the linking page or the source is no longer indexed in SERP. Although the link exists, it ultimately loses its value because of not being indexed one of these both.
Since each high-quality link matters in SEO, you should focus on reclaiming the lost links.
How could you do that?
Log into your Semrush account and make sure you've connected to Google Search Console.
Navigate to Backlink Analysis and enter your domain name, subdomain, or exact URL in the search box.
Semrush will show all links pointing to the entire website or a particular web page.
Use a New/Lost filter to create a list for link reclamation.
Finally, you can reach out to those site owners and ask politely for a link back to your web page.
Important: Before launching a link reclamation campaign, you must understand why the link would have been removed and work on it. Updating content with fresh data and insights for added value may increase your success rate for link building.
19. Create a Separate List for Your Backlinks
SEO link building is an ongoing process, and you must keep an eye on each link you receive.
I'd suggest you create a separate list to create a central database for your website's backlinks.
You may use advanced filters including niche, link type, anchor text, link status, link attribute, and Domain Authority score for quick backlink monitoring.
20. Track All Links for Indexing
Once you have a master spreadsheet for all backlinks pointing to your site, you can check those links for indexing status.
Checking all links manually in the Google Search Console is the best way to confirm the live indexing of all backlinks.
However, you can connect your Semrush account to Google Search Console, which contains the exact domain property to find all indexed links.

21. Analyzing Overall SEO Performance
Putting tons of effort into Search Engine Optimization and link building may not give the expected results unless you're tracking the performance of your SEO campaign.
You must check the SERP improvement for the targeted keywords, organic clicks, and conversions so that you can tweak your SEO strategies.
Semrush will help you to automate the rank-tracking process and display some useful insights, including the keywords' organic position for the selected region, available SERP features, visibility, and estimated traffic.
Using this data,
You can find which posts are getting maximum traffic and improve them to achieve better organic rankings or drive more traffic.
Identify the opportunities to occupy more SERP space, including Featured Snippets, Video Snippets, Rich Snippets/Star Ratings, Sitelinks, and People also ask/Related Questions.
Find out the money posts for the decrease in keyword ranking or organic traffic.
Since achieving positive results motivates us for putting in more effort, you should monitor the performance of your SEO campaign.
If you have never used Semrush Position Tracker before, here is a small tutorial for you.
First of all, sign in to your Semrush dashboard and add your website as a new project.
Choose a domain, subdomain, URL, or directory for which you want to track keywords' organic ranking. Optionally, you can add the business name as it appears in the local snack pack/map listing.
Select the Search engine (Google/Baidu), Location, and Device type for rank tracking as well as add your Competitors' Site URLs to get a better overview of your SEO performance.
Semrush may suggest to you a few competitors in organic as well as Google Ads listings.
Finally, add the keywords to the Position Tracker tool using Semrush itself. You may import keywords from Google Analytics, .txt or .csv file, or add a few keywords manually.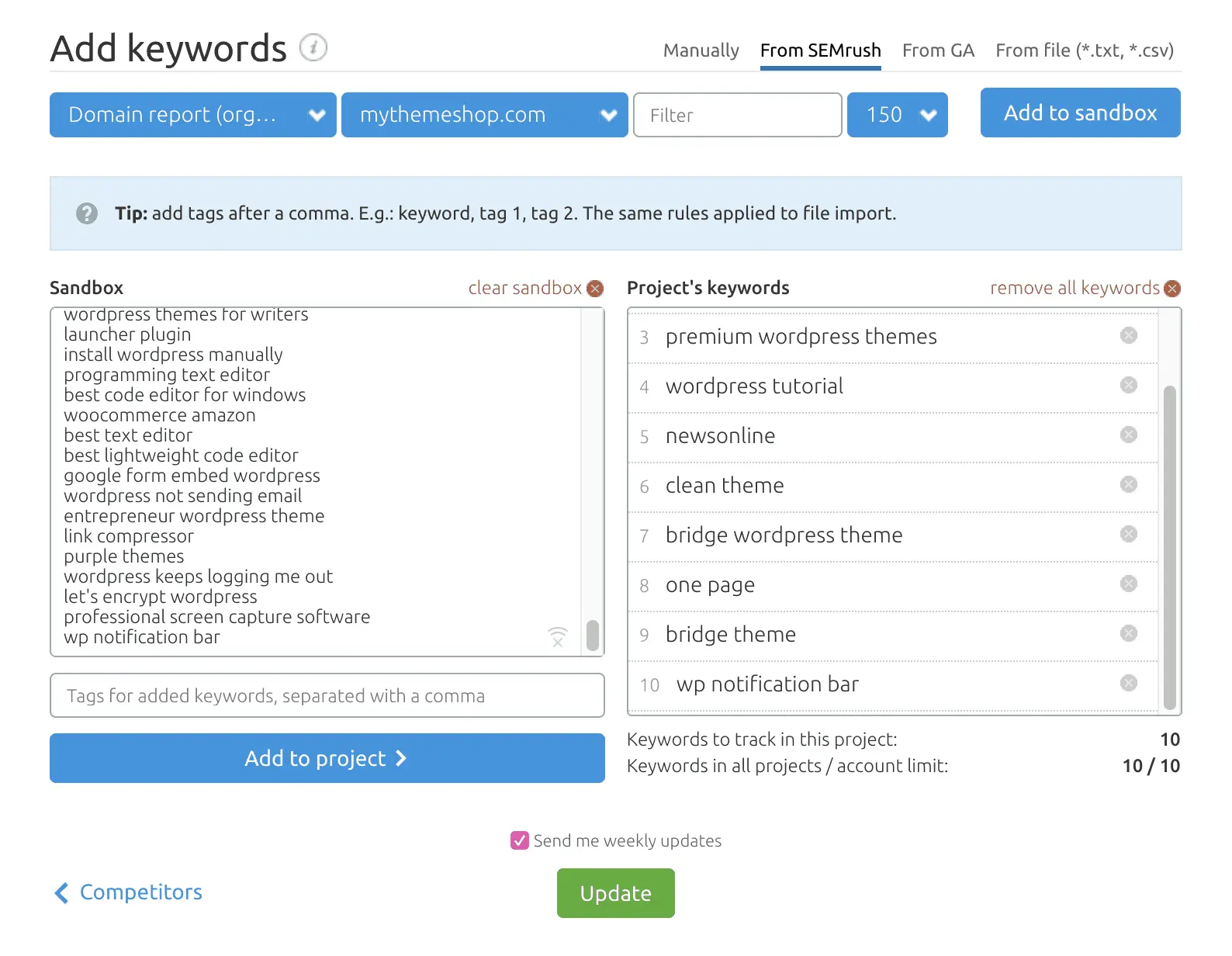 Remember, each Semrush plan has limits for adding projects and keywords for rank tracking. E.g., Semrush Free Plan can accommodate only a single project and track up to 10 keywords simultaneously.
If you want to track more than 10 keywords or add multiple projects, then you need to purchase one of the Semrush paid plans.
Don't worry!
You can opt into a 14-day of risk-free trial before deciding to continue with the Semrush premium subscription.
Once you add your keywords and competitors' URLs in the Semrush Position Tracker tool, it will display organic ranking data for each keyword.
You can filter the results for keywords, top positions and changes, SERP features, Tags, Volume, and some advanced filters.
Semrush also offers a unique feature – Smart Zoom, where you can see keyword ranking history in the form of a zoomable graph.
Since your SEO efforts require a few days before showing the true impact, I'd suggest you check SEO performance on a weekly basis.
Giving enough time before making some changes in your on-page as well as off-page SEO elements will help you better understand the effectiveness of your current SEO strategies.
Summary
Link building is a critical element of Search Engine Optimization (SEO).
You may develop a winning content marketing strategy that generates mentions, links, traffic, leads, and revenue, or follow downright nasty practices which may certainly get you into big trouble.
It's your choice to decide what's right for you.
If you're planning to build long-term authority sites, this tutorial will definitely help you in SEO link building.
Hey, wait…
I have a special offer for you.
Semrush Free Trial
An Exclusive Offer for SuccessPixel.com Readers
If you've liked this article and want to explore more SEO Link Building with Semrush, then you can try Semrush Pro for 14 Days, Absolutely FREE of charge.
Why are you waiting?
---
One small request,
I'm pretty sure that you have liked these little-known secrets for link building with Semrush and GSC. 
Please share it on social media channels so that more people can get benefitted.
SHARING IS ❤️