Affiliate Disclosure: I publish various content marketing strategies, online business ideas, blogging tutorials, review articles, and discount offers on my blog. My content may contain some affiliate links for products/services I use, love, and recommend. If you take action (i.e., subscribe or make a purchase) after clicking one of my affiliate links, I'll earn an affiliate commission at no additional cost to you. It helps me in creating more helpful content like this.
ScalaHosting Black Friday sale is a great opportunity to buy a powerful managed VPS hosting at an affordable price.
You can get up to 50% off Scala Hosting managed VPS hosting services. Please enter an exclusive Scala Hosting coupon code: BFCM2022S to get an instant 50% off on annual plans.
The deal is live and runs through 31 December 2022.
Scala Hosting started back in 2007. Since then it provides a wide range of web hosting services, domain registration, and SSL certificates.
If you want to buy ScalaHosting-managed VPS, please click the button below to visit the deal page and get up to a 50% instant discount.
Earlier non-techies used to prefer shared hosting for convenience and hire server admin when the site grows.
However, hiring a server admin is very costly.
The managed cloud VPS services solve this problem by offering affordable hosting solutions.
It allows you to launch a small server and add more resources when required.
For example,
Cloudways has received an excellent response for the above reason. However, Cloudways customer support has room for improvement.
On the other hand, Scala Hosting offers superfast cloud VPS hosting with complete server management, an intuitive user area, managed security, and 24/7 technical support.
If you are not happy with Cloudways UI or support, ScalaHosting is the best alternative in a similar price range.
Plus, you can get a 50% discount during ScalaHosting Black Friday sale.
Please note that ScalaHosting isn't running any Black Friday or Cyber Monday promotions this year.
The prices for ScalaHosting Managed Cloud VPS are already the lowest globally and you won't find any official discounts except the one mentioned in this article.
How to Activate ScalaHosting Black Friday Discount?
Follow the simple steps below to grab the ScalaHosting Black Friday and Cyber Monday deals.
Step 1: Visit the ScalaHosting managed VPS hosting landing page by clicking this exclusive link.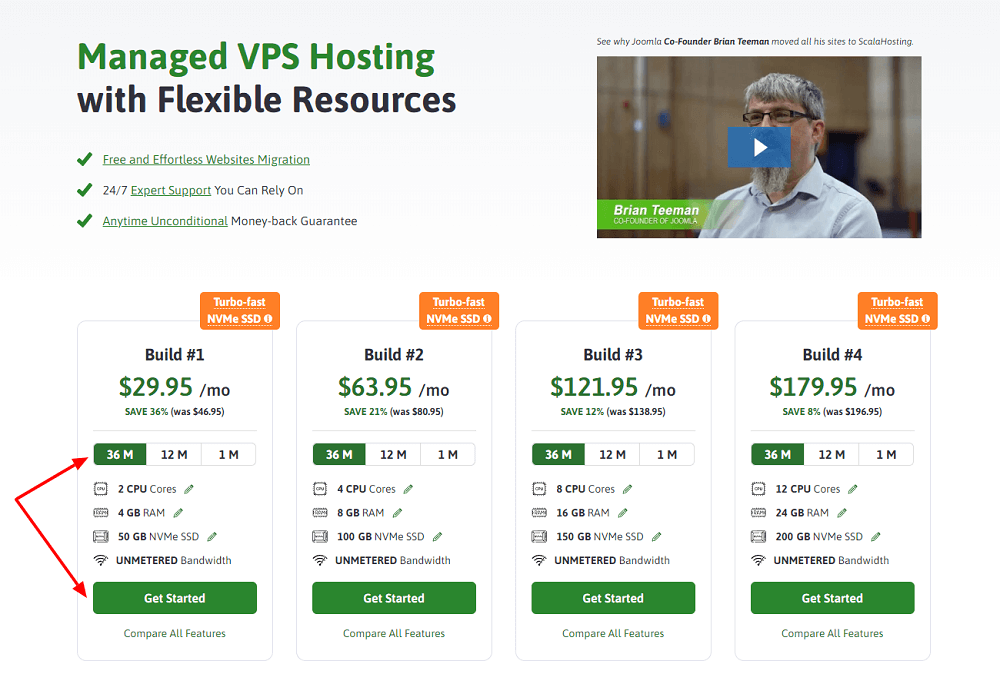 Step 2: Scala Hosting offers a wide range of web hosting services, including managed cloud VPS, self-managed cloud VPS, WordPress hosting, email hosting, and reseller hosting. However, I recommend ScalaHosting's managed cloud VPS which is a VFM service for most users.
Step 3: Choose an appropriate plan depending on your website's requirements.
Step 4: If you want more resources, add more CPU cores, RAM, and SSD storage to your plan.
Please note that each Scala Hosting plan comes with freebies worth $84/month, including a SPanel control panel, daily remote backups, free migration, an SShield security solution, a dedicated IP address, and guaranteed resources at any time.
Step 5: Select the billing cycle. Scala Hosting allows you to buy up to 36 months of hosting in advance. A long-term relationship often gets an additional discount.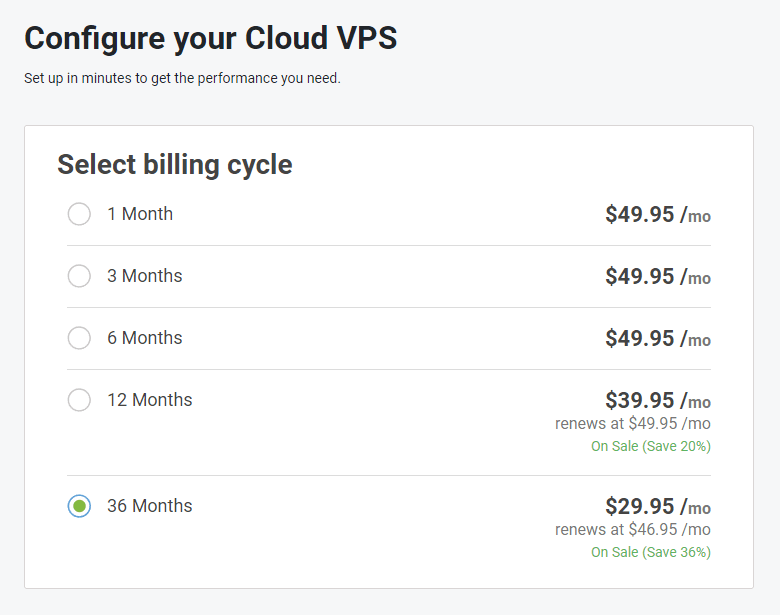 However, I suggest you buy Scala Hosting annual plan to claim the Black Friday discount.
I'm sure you'll love ScalaHosting managed cloud VPS.
Step 6: Select a management level (managed vs. self-managed) and control panel (SPanel vs. cPanel).
Please read all information when you choose a particular option.
Step 7: Customize your server by adding suitable resources, choosing a preferred data center, backup frequency, and pro-active 24/7 monitoring. Some of these services are chargeable, and the prices will be reflected in the order summary.
Step 8: Choose your domain name. Register a brand-new domain or transfer your existing domain to Scala Hosting.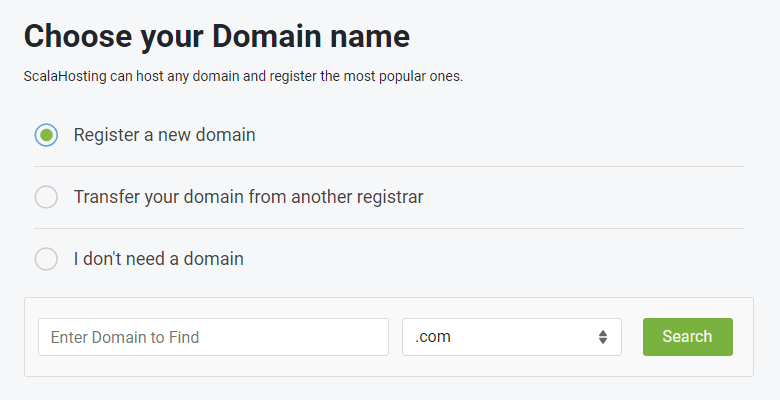 If you've registered a domain name with another domain registrar, choose I don't need a domain. However, your domain should point to Scala Hosting to serve your site from there.
Step 9: Create a new Scala Hosting account using a valid email address and a strong password.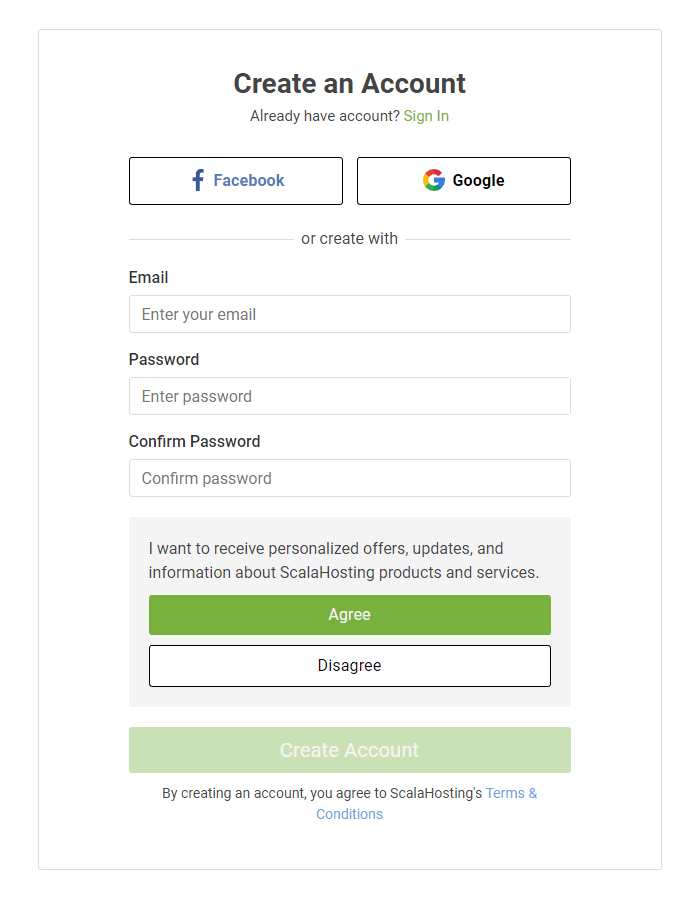 Step 10: Enter your personal details, review the order summary, and make payment using a credit card or PayPal.
Don't forget to add an exclusive ScalaHosting promo code: BFCM2022S to get an instant 50% off.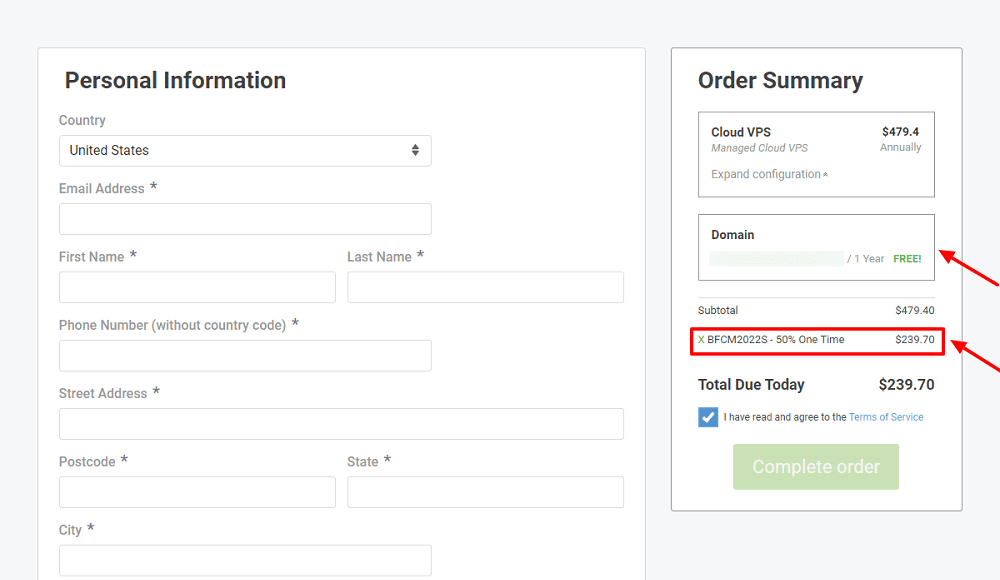 Scala Hosting may accept bank transfers in some cases, but please confirm with its billing team before moving ahead.
On successful payment, you can access your Scala Hosting account.
ScalaHosting Black Friday Exclusive Deal
If you purchase Scala Hosting managed cloud VPS through this special link, you'll have a domain name free for the first year.
The offer won't last for long. So grab it before you miss it.
Benefits of Choosing ScalaHosting Managed Cloud VPS
There are some benefits of choosing ScalaHosting managed Cloud VPS, as mentioned below.
1. Excellent Hosting Performance
ScalaHosting offers multiple web hosting plans, including WordPress hosting, managed Cloud VPS, and self-managed VPS.
Each plan is tuned for maximum performance, especially the managed Cloud VPS is the best choice if you want high-performance hosting with the least technical hassles.
ScalaHosting designed a custom control panel – SPanel, that supports Apache, Nginx, OpenLiteSpeed, and LiteSpeed Enterprise web servers.
You can choose LiteSpeed servers that often give better performance.
Apart from that, each ScalaHosting VPS plan gets guaranteed resources.
2. Intuitive SPanel
ScalaHosting offers an intuitive control panel – SPanel, to manage your hosting account and the website associated with it.
You can take a backup, create email accounts, change the PHP version, access your website's files, and perform many other tasks.
ScalaHosting's SPanel is the best alternative to cPanel.
Most importantly, SPanel is free, which lowers the overall cost of the hosting service.
3. Unlimited Free Migrations
Do you want to switch to ScalaHosting, but are afraid of technical problems or losing important files?
Don't worry!
ScalaHosting's technical support team will move unlimited websites for absolutely free and ensure that the sites load properly on new servers.
There will be zero to minimal downtime during the migration process.
While Cloudways charge $30 for more than one migration, ScalaHosting's free migration is absolutely useful for non-techies who want to switch to high-performance hosting.
4. Flexibility in Upgrades
ScalaHosting offers free SSL, CDN integration, daily remote backups, free Snapshots, dedicated IP, and SShield Security with every managed cloud VPS.
However, you can add more resources or advanced features by paying small fees.
ScalaHosting offers complete flexibility in upgrades so that you can purchase only the necessary add-ons instead of a services bundle that costs significantly more.
5. Free Email Accounts
Most shared hosting companies offer free email accounts that you can set up using the hosting control panel.
However, some managed cloud VPS hosting companies like Cloudways recommend you purchase third-party email services for an additional cost.
Unlike Cloudways, ScalaHosting provides unlimited email accounts for free.
So you can create brandable email addresses on your domain name. E.g., yourname@yourdomain.com
Overall, ScalaHosting is a great option for people searching for affordable managed Cloud VPS hosting.
Get a 50% instant discount by clicking the button below.
ScalaHosting Black Friday Pricing Plans
Shared Web Hosting Plans
| | | | |
| --- | --- | --- | --- |
| Plans | Mini | Start | Advanced |
| Websites | 1 | Unlimited | Unlimited |
| Storage | 20 GB | 50 GB | 100 GB |
| Average Visits Per Month | ~30,000 | ~60,000 | ~120,000 |
| Signup Price (36 Months) | $3.95/mo | $5.95/mo | $9.95/mo |
| Renewal Price | $6.95/mo | $8.95/mo | $13.95/mo |
| Suitable for | Starter Site | Growing Sites | Complex sites |
| Buy Now | Mini | Start | Advanced |
Please note that each ScalaHosting shared hosting plan offers free SSL, Cloudflare CDN integration, unlimited bandwidth, unlimited email accounts, free website migrations, and automatic backups.
Plus, you'll get a free (.com/.net/.org/.info/.eu) domain registration or transfer for the first year of service that renews at a standard rate.
You can get additional features such as SShiled security, spam protection, priority support, website SEO Analysis (worth $49), and up to 4x CPU power by upgrading to higher-tier plans.
Managed Cloud VPS Plans
| | | | | |
| --- | --- | --- | --- | --- |
| Plans | Build 1 | Build 2 | Build 3 | Build 4 |
| CPU Cores | 2 | 4 | 8 | 12 |
| Memory | 4 GB | 8 GB | 16 GB | 24 GB |
| NVME SSD Storage | 50 GB | 100 GB | 150 GB | 200 GB |
| Signup Price (36 Months) | $29.95/mo | $63.95/mo | $121.95/mo | $179.95/mo |
| Renewal Price | $46.95/mo | $80.95/mo | $138.95/mo | $196.95/mo |
| Discount Link | Buy Now | Buy Now | Buy Now | Buy Now |
ScalaHosting's Managed Cloud VPS plans seem the best alternative to the Cloudway managed hosting service.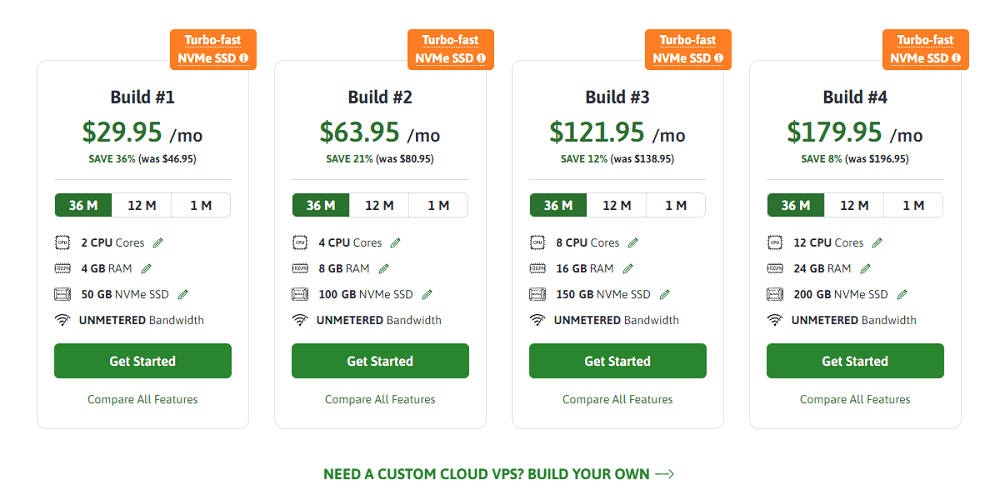 You'll get dedicated resources, industry-leading hosting performance & page speed, 24/7 responsive support, and many advanced features being a Scala Hosting customer.
Security is also a top priority for Scala Hosting.
That's why each managed Cloud VPS user gets a dedicated IP, free daily backup, free snapshots, and a bulletproof SShield security solution to fight malware and unwanted threats.
The best thing is that you'll get up to a 50% ScalaHosting Black Friday discount by clicking through the special link below.
ScalaHosting Black Friday Sale 2022: Summary
ScalaHosting Black Friday deals are now live. You can get up to 50% off + a free domain name for a limited time.
ScalaHosting has been providing hosting services since 2007.
The company offers outstanding performance, a 99.9% uptime guarantee, 24/7 support, and more than years of experience in the industry. In addition, all ScalaHosting managed VPS plans include free SSL certificates, automatic backups, and SShield state-of-the-art security protection, so you can rest assured your website is safe and secure at all times.
Please don't wait any longer, and take advantage of this fantastic ScalaHosting Black Friday deal before it expires!
Buy now and enjoy up to 50% off ScalaHosting-managed VPS today!
ScalaHosting Black Friday Deals

Name: ScalaHosting
Description: Scala Hosting offers top-notch performance, extreme convenience, bulletproof SShiled security, many advanced features, and 24/7 support. Do you want to move to Scala Hosting? Get an exclusive 50% Black Friday discount by clicking the link below.
Offer price: 3.95
Currency: USD
Operating System: Linux
Application Category: Managed Cloud VPS Hosting
Author: Ankit Main
Features

Performance

Pricing

Support
Comments Rating
( reviews)