Affiliate Disclosure: I publish various content marketing strategies, online business ideas, blogging tutorials, review articles, and discount offers on my blog. My content may contain some affiliate links for products/services I use, love, and recommend. If you take action (i.e., subscribe or make a purchase) after clicking one of my affiliate links, I'll earn an affiliate commission at no additional cost to you. It helps me in creating more helpful content like this.
A2 Hosting Black Friday Deals 2022
You should not miss A2 Hosting Black Friday 2022 deals if you are searching for a web hosting service for your blog or an e-commerce website.
This year, A2 Hosting is offering up to 81% massive discounts on its shared hosting plans.
Up to 20X faster A2 Turbo Boost plans are available at a 71% discount.
No special coupon code is required to get the above-mentioned discount offers.
The A2 Hosting Black Friday sale starts on 22 November 2022 and runs until 29 November 2022.
You can purchase various web hosting services, including shared hosting, VPS, reseller hosting, dedicated server, or managed WordPress hosting during A2 Hosting Black Friday sale.
If your current web hosting provider charges huge renewal fees or has some performance issues, you should definitely consider switching to A2 Hosting services.
Click the following link to grab this mind-blowing A2 Hosting Black Friday deal.
More A2 Hosting Black Friday 2022 Deals
Besides A2 Hosting's shared web hosting Black Friday deals, the company offers additional discounts on various other services, as listed below.
Up to 54% Off on Reseller Hosting (Plans start from $15.99/mo)
Up to 57% Off on Managed VPS (Plans start from $29.99/mo)
Up to 50% Off on Unmanaged VPS (Plans start from $4.99/mo)
Up to 60% Off on Managed WordPress Hosting (Plans start from $12.99/mo)
No special codes are required to claim the above offers.
You'll automatically receive the best deals for the package they're ordering during the Black Friday sale!
How to Claim A2 Hosting Black Friday Deals
A2 Hosting Black Friday discount is valid for a limited time. Follow the simple steps mentioned below to claim your A2 Hosting Black Friday and Cyber Monday deals.
Step 1: Click here to visit the A2 Hosting Black Friday and Cyber Monday deal page.
Step 2: Choose which A2 Hosting plan you want to purchase. For most people, shared hosting or managed WordPress hosting plan is enough.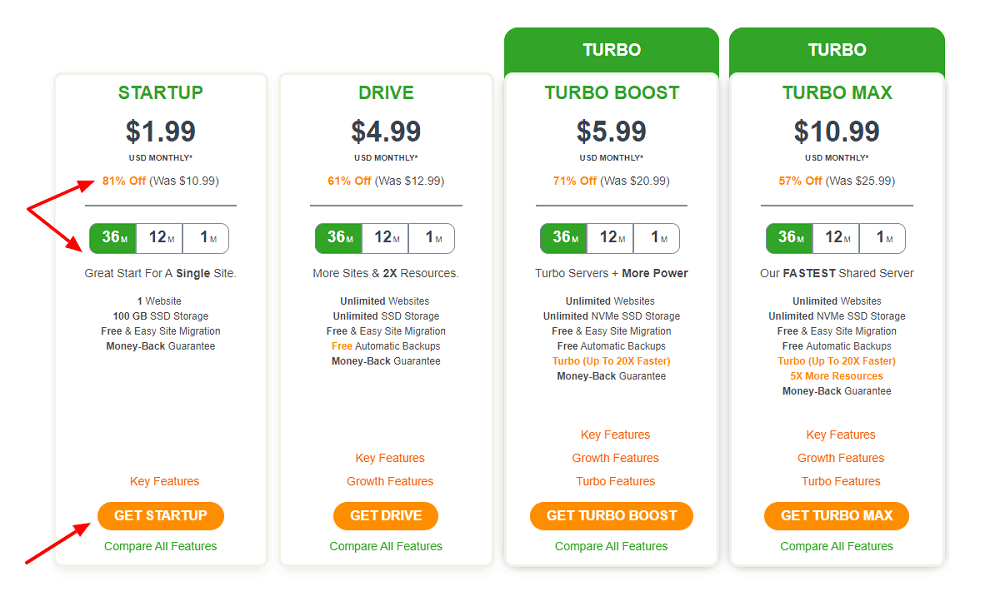 Depending on the number of sites and requirements of resources, you can choose any of the web hosting plans.
Step 3: Once you select the preferred plan, it'll ask you to choose a primary domain name.
Step 4: You can register a new domain name, transfer your existing domain, choose to update the nameservers, or use the A2 Hosting subdomain.

I highly recommend you register a domain name with a different domain name registrar company and update nameservers.
Step 5: Now, you'll be redirected to the billing page where you can buy add-on services to improve the performance of your website.
However, these services are entirely optional, and you can skip them.
Step 6: You'll see that your A2 Hosting Black Friday coupon is already applied.
Step 7: By default, A2 Hosting asks for tri-annual billing so that you can get the maximum discount on A2 Hosting Black Friday deals.
If you don't want to pay upfront for 3 years, then you can choose a monthly, annual, or biannual billing cycle.
Step 8: On the Checkout page, review your order and coupon code to get an 81% A2 Hosting Black Friday discount.
Step 9: Finally, enter your personal details and billing information, verify the payment details, and pay using a credit card or PayPal.
A2 Hosting also allows payment through Skrill, Checks, and Bank Transfer.
Congratulation! You have successfully claimed the A2 Hosting Cyber Monday deals.
Top Reasons For Buying A2 Hosting Black Friday Deals
Below are the top reasons to get the A2 Hosting Black Friday Offer. Please note, most of these features are for Shared Hosting only.
Hosting Infrastructure
Blazing Fast Speed
Pre-Installed WordPress
Free SSL Certificate
Free Backups
Uptime Reliability
Free Website Transfer
Global Data Centers
Customer Support
Highest Discounts
1. Powerful Hosting Infrastructure
A2 Hosting is built using a top-class hosting Infrastructure that includes a 10 Gbps redundant network and web servers with a minimum of 12 cores and 64 GB of RAM.
Apart from that, all A2 Hosting plans come with free Full SSD storage for your files, OS, and Database, which is faster than the traditional spinning hard disks. (*You can choose the HDD option while purchasing a regular dedicated server).
This further improves your website load time and enables the server to handle more traffic.
2. Blazing Fast Speed
Being hosted on top-class hosting infra, A2 Hosting has the edge over competitors. You can expect perfectly configured web servers for the speed-optimized hosting environment.
A2 Hosting Turbo boost uses caching technology to speed up your website loading time. It claims to be 20 times faster than competitor hosting companies.
However, it does not support Ruby-based or Python-based applications.
For normal WordPress users, the Turbo plan is a great choice with A2 Optimized Site Accelerator, Cloudflare plus, and much more to improve site speed.
Since Google loves fast-loading websites, your ranking will also go up if you are using A2 Hosting.
3. Pre-Installed WordPress
WordPress is the most popular CMS and the first choice of many webmasters or developers.
A2 Hosting gives you the option to get a blank server or WordPress pre-installed on it. You can also choose an A2 Optimized WordPress installation for better performance and security.
Any beginner or non-techie can use this option and spend more time on website building, crafting content, and promotion instead of technical optimization.
4. Free SSL Certificate
Modern Browsers flash a warning of non-secure sites if you have not installed an SSL certificate. And, if you care about SEO (Search Engine Optimization), then you MUST get an SSL to achieve a better ranking in SERP.
Since many other web hosting companies charge for SSL, some people don't leave their site on HTTP only.
This is not the case with A2 Hosting.
It offers unlimited FREE Let's Encrypt SSL certificates depending on the plan you choose. It helps to secure your website without paying anything extra out of your pocket.
5. Free Automated Backups
A2 Hosting provides free server rewind backups protecting you against accidental deletion, mistakes, or data corruption. It regularly creates snapshots of your account, which you can restore from cPanel.
Most web hosting companies charge a certain amount for such add-on services, but A2 Hosting offers these services for free.
*Although A2 Hosting creates a backup of your data, we recommend everyone to not rely solely on the hosting company and take your backup at remote storage to avoid future losses if something worst happens.
6. High Uptime Reliability
What makes a good web host apart from speed and performance?
Reliability.
Here are a few things to prove A2 Hosting is a reliable web hosting service.
99.9% Uptime Commitment
CloudLinux OS for shared hosting accounts to isolate and control resource spikes. It means your site will be up and running smoothly irrespective of other sites hosted on the same server.
24/7 Network Monitoring & Quadruple Redundant Network
Redundant Power with UPS/Diesel Generator backup solution
The balanced number of accounts on each server for the optimum load.
Did you find any reason to say NO to the A2 Hosting Black Friday deals?
7. Free Website Transfer
Migrating a site successfully to another host is a real pain for non-techies.
Although you can create and restore a full backup or use migration plugins, it requires a certain degree of technical knowledge and a lot of time to serve data from the new web hosting.
Many web hosting services do not provide site migration or may transfer only one website. A2 Hosting does not restrict your growth by adding an entry barrier to choosing a good web hosting service.
You can migrate all websites to A2 servers for FREE as long as they are simple or using cPanel.
8. Global Data Centers
Currently, A2 Hosting has four data centers; two in the US (Michigan and Arizona), one in Europe (Amsterdam), and one in Asia (Singapore).
Strategically placed global data centers help you serve your site visitors from the nearest possible location and improve page loading time by reducing latency.
9. Responsive Customer Support
A2 Hosting provides reliable customer support. I'd not say they have the best WordPress support team, but overall performance is better than most of the competitors.
Their customer support agents are knowledgeable enough to solve your hosting-related queries in the minimum possible time.
The best thing about A2 Hosting is that 24/7 expert customer support is available through live chat, email, and phone calls.
Whether you have a pre-sale question to know more about their web hosting or need to open a support ticket to solve a complex WordPress problem, you'll never get disappointed.
10. Highest Discounts: Up to 81% OFF
A2 Hosting Black Friday sale is the perfect time to get the maximum discounts on web hosting plans
Getting 81% off for such good web hosting is an excellent deal that you should not miss.
Press the button below to activate A2 Hosting Black Friday deals.
A2 Hosting Black Friday Deals: FAQs
You must know a few frequently asked questions before buying web hosting during A2 Hosting Black Friday and Cyber Monday sales 2022.
1. What should I know about A2 Hosting Black Friday deals 2022?
With A2 Hosting's Black Friday deals, you'll save up to 81% on its shared hosting plans. Claim your discount offer before it expires.
2. How can I get A2 Hosting Black Friday deals?
You can get the A2 Hosting Black Friday and Cyber Monday discounts by clicking on this special link.
For a more detailed description, you can check the step-by-step process mentioned above in this article.
3. Why should I use A2 Hosting over other hosting sites?
A2 Hosting is better than most of the traditional web hosting companies in the market. It offers lightning-fast SSD hosting, free SSL certificates, automated backups, and an anytime money-back guarantee. If you need web hosting with faster site speed and high uptime reliability, then you should not miss A2 Hosting Black Friday deal. 
4. Does A2 Hosting provide good customer support?
Yes, A2 Hosting offers 24/7/365 excellent customer support via live chat, phone calls, and email. In case, you need any technical assistance regarding your A2 Hosting account, you can connect with its support executive and get a quick resolution. A2 Hosting also has a huge knowledge base to refer to the commonly asked questions.
5. What's the A2 Hosting refund policy? What if I'm not satisfied with A2 hosting?
A2 Hosting offers an anytime money-back guarantee. If you're not happy with the A2 Hosting service, then you can request a refund in your user area. You'll get a full refund for the first 30 days. After that, you'll get a refund for the unused service period. Please back up any data that you want to save before requesting the account cancellation. Otherwise, you may lose valuable data. 
6. Is A2 Hosting good for WordPress?
A2 Hosting is well-known for its ultra-fast and reliable WordPress hosting service and 24/7 guru technical support. It is an excellent choice for WordPress site owners who need a 99.9% uptime guarantee and scalability in the future.
7. Do you recommend A2 Hosting Black Friday and Cyber Monday deals?
Yes. During the A2 Hosting Black Friday Cyber Monday sale, you can get a massive 81% discount on its shared hosting plans. Other services are also available at a discounted price. So if you're looking for affordable web hosting, I highly recommend getting the A2 Hosting Black Friday deals.
A2 Hosting Black Friday Sale: Summary
If you focus on the speed and performance of your website, you must consider buying web hosting during A2 Hosting Black Friday sale.
Their affordable plans sound even more lucrative with the Black Friday discount offers.
Unless you are very tight on budget and looking for a Cheap $1 Hosting, there's no reason you should hold yourself back from getting the A2 hosting Black Friday Deal.
A2 Hosting Black Friday Deals
Name: A2 Hosting
Description: A2 Hosting is a renowned web hosting service provider that offers a wide range of hosting products at a super affordable price. A2 Hosting's speed, performance, reliability, and security are also better than comparable services on the market. Additionally, it offers up to a massive 81% off regular prices during this Black Friday season. Check out the latest A2 Hosting Black Friday Cyber Monday deals and save up to 81% off your hosting bills.
Offer price: 1.99
Currency: USD
Operating System: Linux
Application Category: Web Hosting
Author: Ankit Main
Performance

Security

Pricing

Support
Comments Rating
( reviews)