Affiliate Disclosure: I publish various content marketing strategies, online business ideas, blogging tutorials, review articles, and discount offers on my blog. My content may contain some affiliate links for products/services I use, love, and recommend. If you take action (i.e., subscribe or make a purchase) after clicking one of my affiliate links, I'll earn an affiliate commission at no additional cost to you. It helps me in creating more helpful content like this.
Fastcomet Black Friday and Cyber Monday Early bird deals are now live and run until midnight of 29 November 2023.
Fastcomet Black Friday sale is one of the most anticipated events for bloggers and internet marketers who want high-quality hosting at an affordable cost.
If you're finding the best deal for hosting your website, then Fastcomet Black Friday sale is a perfect time to buy SSD WordPress hosting.
This offer won't last long.
Grab this opportunity and save 80% on Fastcomet WordPress hosting plans.
You can also get up to a 90% off on selected domains and up to a 30% discount on Cloud VPS services, dedicated servers, account renewals, and hosting upgrades.
Fastcomet Black Friday Deals 2023
The company is offering a massive 80% discount on its WordPress hosting plans during the Fastcomet Black Friday early bird sale.
All new customers can use a special coupon – EARLYBF80 to get an instant 80% discount on their shared hosting purchases.
Here are a few Fastcomet Black Friday Deals you must consider in 2023.
| | | | |
| --- | --- | --- | --- |
| Pricing Plans | Discounted Price (80% OFF) | Regular Price | Link |
| FastCloud | $1.99/Month | $9.95/Month | Get This Plan |
| FastCloud Plus | $2.99/Month | $14.95/Month | Get This Plan |
| FastCloud Extra | $3.99/Month | $19.95/Month | Get This Plan |
1. FastCloud
Regular Price: $9.95
Fastcomet Black Friday Deal: 80% Instant Discount
Coupon Code: EARLYBF80
Discounted Price: $1.99
2. FastCloud Plus
Regular Price: $14.95
Fastcomet Black Friday Deal: 80% Instant Discount
Coupon Code: EARLYBF80
Discounted Price: $2.99
3. FastCloud Extra
Regular Price: $19.95
Fastcomet Black Friday Deal: 80% Instant Discount
Coupon Code: EARLYBF80
Discounted Price: $3.99
How to Activate Fastcomet Black Friday Deal?
Fastcomet Black Friday deals are live on 26 November 2023 and are valid for 24 hours only.
Hurry up to get a massive 80% discount.
Follow the simple steps mentioned below to activate the Fastcomet Black Friday discount.
Step 1: Decide how many blogs/websites you want to build in the upcoming year. You can also calculate the estimated disk space and bandwidth required for all websites before buying the web hosting service.
Step 2: Visit the Fastcomet Black Friday deals page and pick a suitable web hosting plan for your website.
Step 3: Check whether the selected hosting plan meets your requirements. For most users, the Fastcomet Fastcloud Plus plan is more than enough to host a few websites with moderate traffic.
Advanced users may opt-in for more premium plans to get additional resources for their websites.
Step 4: If everything is perfect, click on the Get Started button.
Step 5: Enter the new domain name if you're starting for the first time or choose an existing domain name.
You can also transfer your existing websites (up to 3 per account) free of cost, depending on the web hosting plan you've selected.
Step 6: Create an account with Fastcomet and select the web hosting plan, data center location, and hosting tenure.
Remember, Fastcomet Black Friday discount coupon is applicable for the first invoice only.
Step 7: Fastcomet pushes a few extras on the checkout page. However, these services are completely optional, and you may skip them.
Step 8: Review the final price and complete your purchase using a credit card or PayPal.
Voila! You've successfully redeemed the Fastcomet Black Friday deals coupon.
Top Fastcomet Features
Here are the top 10 reasons for choosing Fastcomet Black Friday deals.
1. SSD Powered Hosting
Solid-State drives run much faster than traditional hard disk drives. Using SSD plays an important role in improving the overall performance of a website hosted on it.
Since the site visitors can access data quickly, that reduces bounce rate and improves on-page duration, resulting in a better user experience.
2. Free Website Migration
Fastcomet offers up to 3 website transfers free of charge.
Depending on which web hosting plan you have purchased, Fastcomet experts will move your website from the existing host to the new home.
Here is good news for you.
If you decide to transfer both domain and website to Fastcomet, you'll get one year of free complimentary domain renewal.
3. Lightning-Fast Speed
Never compromise on website speed!
Fastcomet offers a well-optimized hardware infrastructure and software bundle to achieve the maximum possible speed for the websites hosted on it.
SSD servers, CDN, and advanced technologies, including Nginx, HTTP/2, and PHP 8.X, help to uplift the site speed by more than 300%.
4. Global Datacenter Locations
Fastcomet has 11 data centers widespread globally on 3 continents, including Mumbai (India).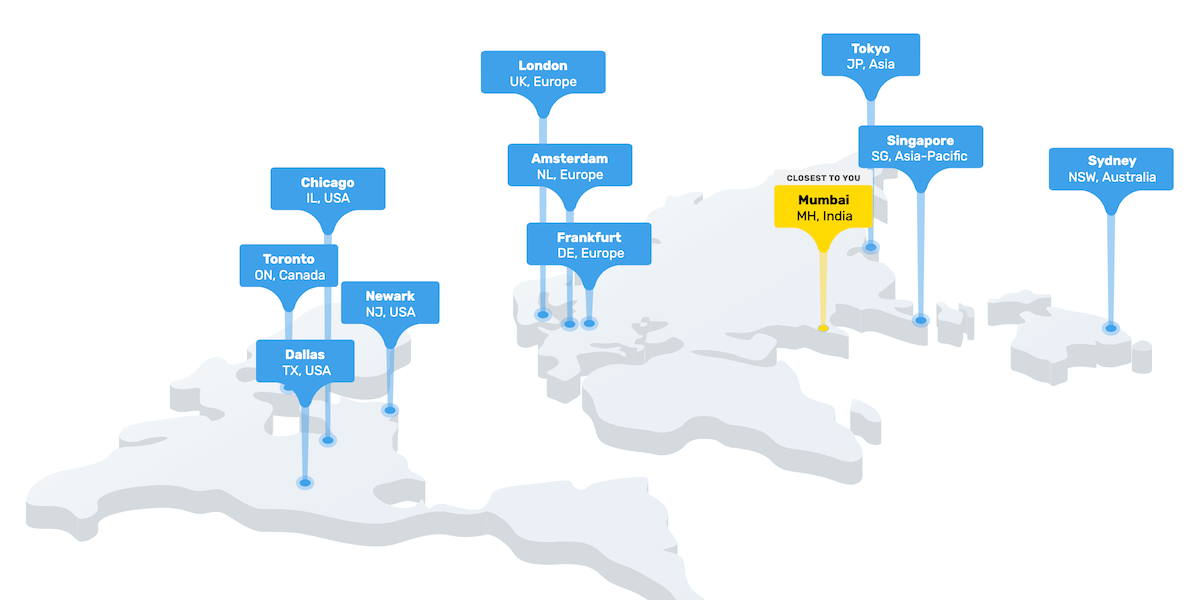 A closer data center ensures reduced latency.
Hosting your website on the server nearest to your targeted audience will offer them blazing-fast website access.
Fastcomet data centers are located in –
Chicago (IL-US)
Dallas (TX-US)
Newark (NJ-US)
Frankfurt (DE)
Amsterdam (NL)
London (UK)
Singapore (SG)
Tokyo (JP)
Toronto (CA)
Mumbai (IN)
Sydney (AU)
5. Daily Backups
What would you do if something goes wrong on your website?
You can easily revert those changes if you have a backup copy of your site.
Fastcomet provides free daily backup and a one-click feature with every hosting plan so that you can sleep comfortably.
6. Robust Security Features
Thousands of websites get hacked every day and if you don't want to be the next, choosing secure web hosting is essential.
Fastcomet offers multiple security features to protect your website from viruses and malicious codes.
A free malware scanner, SSL certificates, and hack removal services ensure that you don't have to worry much about site security.
7. Uptime Guarantee
All web hosting companies experience downtime for various reasons, including emergency overhauls and scheduled maintenance.
Fastcomet doesn't want its users to go through hard times.
So, it offers a 100% uptime guarantee for the network and a 99.99% uptime guarantee for your website, email, and core service.
It means you'll receive ~100% uptime with Fastcomet except for an emergency or scheduled maintenance.
Apart from that, Fastcomet checks the accessibility and status of servers from 7 independent locations on 4 continents every 60 seconds.
If any issue arises, the Fastcomet technical support team will start working on it asap to provide an uninterrupted web hosting service to its customers.
8. No Account Suspension Policy
Shared hosting is a perfect choice for beginners to create a website at an affordable cost.
However, most of the time, hosting resources are restricted for each account, or FUP (Fair usage policy) is applicable for accounts exceeding certain limits.
Growing websites may need extra resources to handle the flood of traffic. Unfortunately, many web hosting companies suspend such accounts that need to be upgraded to the higher-tier plan.
Unlimited hosting is just a marketing gimmick to get you into their sales funnel.
This is not the case with Fastcomet.
It actively monitors each website for resource consumption and proactively connects with customers who may need to move to a more premium plan.
It means your website will continue performing at the same or better speed without any downtime.
9. 24/7 Human Support
Everyone creating a website may not be technically sound to manage server technologies.
That's the time when people look for quick yet best solutions.
Although knowledge base articles, video tutorials, and AI bots may answer general queries, certain situations need human intervention to find and fix the problem.
Fastcomet offers 24/7 human support through live chat and phone calls. Alternatively, you can open a support ticket for some critical issues.
10. 45 Days Money-Back Guarantee
Everyone wants value for money web hosting service, no matter if he is buying during Black Friday deals or not.
Fastcomet is confident of its services, and that's why providing a 45-day money-back guarantee.
If you buy web hosting during the Fastcomet Black Friday deals and don't like it, simply cancel the service in the first 45 days. You'll get a full refund – no questions asked.
Pros and Cons of FastComet
Please check out the below pros and cons before getting your FastComet Black Friday Deals.
FastComet Pros
Free site migration from your current web host to FastComet
Free domain transfer on selected TLDs and one-year free renewals.
Guaranteed server resources (e.g., CPU and RAM) across all plans
Free Cloudflare CDN for faster website loading
Free daily data backups for an enhanced security
A 45-day money-back guarantee
11 data centers worldwide for reduced latency and improved site speed.
Instant help via live chat if you need assistance
FastComet Cons
Limited disk space, which can be an issue for content-heavy sites
Average user interface
No free domain registrations
Renewals are expensive after the initial billing period
Fastcomet Black Friday Deals 2023: FAQs
Here are a few commonly asked questions you must know before buying FastComet Black Friday deal.
1. What is Fastcomet?
Fastcomet is an independent web hosting company that offers superfast SSD hosting across the world. If you're searching for a reliable web hosting company, then you should get Fastcomet Black Friday and Cyber Monday deals to save up to 80% on web hosting.
2. What is the Fastcomet Black Friday discount offer?
During the Black Friday season, Fastcomet offers up to an 80% discount on its web hosting plans and up to 90% off on selected domains. This offer is valid for a limited time. So grab your Fastcomet hosting plan as quickly as possible.
3. Where is Fastcomet based?
Fastcomet hosting company is headquartered in San Francisco, CA, with 11 global server locations in major cities, including Dallas, Chicago, London, Singapore, Mumbai, and more.
4. How can I purchase Fastcomet Black Friday deal 2023?
If you are interested in purchasing Fastcomet web hosting, click on this exclusive link to get up to an 80% instant discount.
5. Is Fastcomet good?
Superfast speed, advanced features, affordable pricing, excellent uptime, a responsive customer support team, and many things make Fastcomet a great choice for bloggers and digital marketers. If you are searching for the best Black Friday web hosting deals for bloggers, then you should not miss this opportunity.
Fastcomet Black Friday Deals
Name: Fastcomet
Description: Fastcomet Black Friday deals are live and offer up to 80% instant discount on Fastcomet WordPress hosting plans. Save more on web hosting services during this cyber week. Visit the deal page for more exciting offers.
Offer price: 1.99
Currency: USD
Operating System: Linux
Application Category: Web Hosting
Author: Ankit Main
Performance

Security

Pricing

Support
Comments Rating
( reviews)