Affiliate Disclosure: I publish various content marketing strategies, online business ideas, blogging tutorials, review articles, and discount offers on my blog. My content may contain some affiliate links for products/services I use, love, and recommend. If you take action (i.e., subscribe or make a purchase) after clicking one of my affiliate links, I'll earn an affiliate commission at no additional cost to you. It helps me in creating more helpful content like this.
In this MilesWeb review, I'll discuss various MilesWeb hosting services, their performance, security, customer support, pricing, and whether you should buy them or not.
Important: MilesWeb has provided us with a demo account to test its services. However, all opinions in this MilesWeb Review are our own and not influenced by any incentive.
MilesWeb Review
MilesWeb is one of the best web hosting companies in India. Although it's an Indian web hosting provider, it has servers deployed in the USA, UK, Singapore, and Australia.
MilesWeb offers a wide variety of web hosting services, including shared hosting, managed WordPress hosting, cloud hosting, reseller hosting, VPS, and dedicated servers.
If you're looking for affordable WordPress hosting in India, then MilesWeb is one of the best choices for you.
MilesWeb Hosting Features
1. SSD Storage
MilesWeb hosts all websites on superfast SSD servers. It means your website will load faster than the sites hosted on spinning HDD.
2. Latest Web technologies
MilesWeb offers a stable hosting environment for your site. You'll get the latest versions of PHP and MySQL to empower the websites hosted with MilesWeb.
3. Built-in Caching Mechanism
Caching helps to deliver a faster web experience and save bandwidth. MilesWeb's built-in caching mechanism enables improved site performance with APC, xCache, and OpCache.
4. Global Datacenter Locations
The server location closer to the target audience ensures minimum latency and improved response time.
MilesWeb knows it well, and hence it has placed servers at six global locations, including the USA, Canada, UK, Mumbai, Singapore, and Australia.
Pick the server location nearest to your target audience and let them access your website as quickly as possible.
5. SSL Certificates
SSL certificates enable secure data transfer between the server and the user's browser.
Plus, HTTPS is considered a ranking signal and gives a little SEO boost to your site.
Nowadays, people prefer buying from HTTPS-enabled websites instead of non-secure websites.
Don't worry!
MilesWeb offers free Let's Encrypt SSL certificates to protect your website. Business websites or e-commerce stores may consider buying premium SSL certificates from third-party companies for an additional layer of security.
6. cPanel Control Panel
MilesWeb offers an industry-leading control panel – cPanel, to manage your domains, sub-domains, email accounts, security, and some advanced features.
It also includes a one-click script auto-installer and free website builder so that you can bring your business online in no time.
7. Website Backup and Restore
Losing website data can be a nightmare for a webmaster. You must be prepared for the worst.
MilesWeb daily backup feature will let you create a copy of your entire website and restore it when required.
Remember, MilesWeb charges additional fees for website backup because its web hosting pricing is quite low compared to other hosting companies in the market.
8. Free Website Migration
If you want to move your existing website to MilesWeb, then you can contact the MilesWeb support team for a free website transfer.
MilesWeb team will help you migrate your website without any additional charges.
On completion of the migration process, your site will start serving its users from MilesWeb lightning-fast servers.
9. Free Domain Name
Many beginners don't want to spend a huge amount on domain+web hosting services before trying these services.
MilesWeb provides a .COM domain name free for one year with its Swift and Turbo hosting plans. After one year, you can renew it at a regular domain registration fee or transfer it to another registrar.
Pros of MilesWeb Web Hosting Services
1. Lightning Fast Speed
No one likes slow websites.
That's why choosing a web hosting that offers superfast loading speed is crucial for improving the user experience.
Due to the latest web technologies and proper server optimization, page loading time for the websites hosted with MilesWeb is extremely low.
See the speed test results from our MilesWeb review.
Google PageSpeed Insights Test
MilesWeb performed quite well in the Google PageSpeed Insight test. It achieved excellent scores for desktop as well as the mobile version.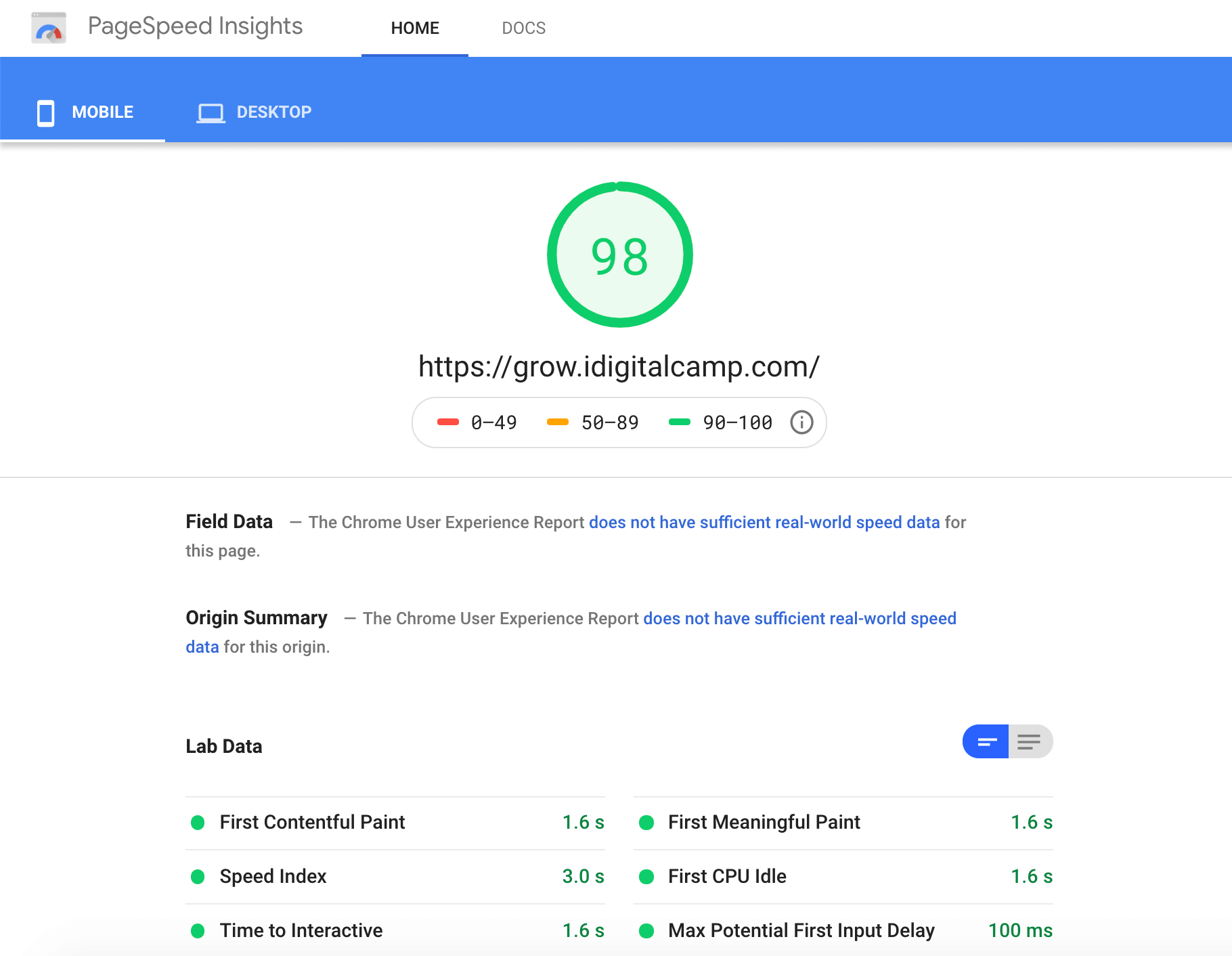 Load Impact Test
Some web hosting services may give good results in the test environment. However, in real life, they seem a complete waste of money.
So, we conducted a load impact test for MilesWeb hosting account to see how it performs when traffic surges.
Here are the final results of our test.
You can see the fluctuation s in response time with a sudden increase in website traffic, but the average response time was around 41 ms.
That's a great number for a shared hosting service.
2. Excellent Customer Support
Everyone isn't tech-savvy to manage their own servers. Hence you should purchase a web hosting service that offers quick and reliable technical support when you're in trouble.
You can't go wrong by choosing MilesWeb as your web hosting partner.
Ask your questions on live chat to get instant answers or open an email ticket for critical problems.
Are you a DIY kind of person who loves to explore each problem in-depth?
MilesWeb has a massive knowledge base for various web services in its repository.
Apart from that, you can sign up on the MilesWeb hosting forum or connect with customer support executives via phone call if necessary.
What I didn't Like About MilesWeb
No doubt that MilesWeb is one of the best web hosting companies in India, but I didn't like a few things when I conducted the MilesWeb Review.
1. Not Focusing on Negative MilesWeb Reviews
Although MilesWeb has thousands of happy customers and positive reviews, some people may have a genuine problem who moved to other hosting companies.
The real problem is when someone starts badmouthing; it seems that MilesWeb simply ignores them.
It may sound more practical to offer the best web hosting services to existing customers instead of wasting time on negative people.
However, it may change the opinion of potential customers who is interested in buying MilesWeb Hosting.
Being an affordable web hosting company in India, satisfying the requirements of each customer is quite a challenging task.
Still, the MilesWeb team needs to proactively look for negative reviews on the web and respond to them politely. Putting a clear picture in front of the audience will help it to build a solid brand reputation.
Remember, this is my opinion, and MilesWeb need not agree with it.
2. Pricing Structure
Usually, web hosting companies advertise huge discount offers and coupon codes to lure new customers. However, at the checkout page, the pricing increases if you decide to reduce the web hosting tenure.
It's understandable to offer extra discounts to long-term customers, but it should be clearly mentioned in the ad copy or at least on the landing page.
As a customer, I never like such tricks. I prefer web hosting companies that are transparent about their pricing and what they are offering.
MilesWeb Pricing
MilesWeb provides a wide variety of web services, including shared hosting, reseller hosting, managed WordPress hosting, VPS, dedicated servers, server management, domain registrations, premium SSL certificates, and email services.
Although it's one of the affordable web hosting services in India, you'll get unmatched product quality and steller customer support without burning your hard-earned money.
Here I have mentioned some popular web hosting plans from MilesWeb. You can purchase any of them that suits your requirements.
1. Shared Hosting
2. Reseller Hosting
Final Thoughts on MilesWeb Review
MilesWeb is the best web hosting provider for beginners in India, as well as many other locations. It has performed quite well in our tests.
Now, it's your turn.
Get a massive 50% discount when you purchase MilesWeb web hosting plans.


Name: MilesWeb Hosting
Description: MilesWeb is one of the best web hosting services in India. Due to various useful features and affordable cost, MilesWeb is a reliable WordPress hosting for beginners.
Offer price: 60
Currency: INR
Operating System: Linux
Application Category: Web Hosting
Performance

Security

Pricing

Support
Comments Rating
( review)