Affiliate Disclosure: I publish various content marketing strategies, online business ideas, blogging tutorials, review articles, and discount offers on my blog. My content may contain some affiliate links for products/services I use, love, and recommend. If you take action (i.e., subscribe or make a purchase) after clicking one of my affiliate links, I'll earn an affiliate commission at no additional cost to you. It helps me in creating more helpful content like this.
ConvertKit Black Friday and Cyber Monday Sales in 2023 are the best opportunity to save hundreds of dollars on your favorite email marketing software.
Usually, the best-performing email marketing companies, including ConvertKit and ActiveCampaign, do not offer huge discounts on their services.
However, ConvertKit Black Friday deal is available until 28 November 2023, offering an exclusive 31% off the annual Creator plan.
Upgrade to the annual ConvertKit Creator plan today for $199 instead of $290 and get access to a full suite of marketing tools to build and grow your email subscriber list.
Almost everyone loves Black Friday and Cyber Monday deals because they can purchase their favorite products at extremely low prices during cyber week.
When we compared different email marketing companies in the market, ConvertKit ranks at the top of our list.
Nathen Barry founded this company to help bloggers and website owners who need a feature-rich email automation platform with lean design.
Even a beginner blogger can start using ConvertKit to its full potential in a couple of weeks.
When you look at the pricing, ConvertKit isn't the cheapest email marketing software. However, it's the best value-for-money product that offers advanced features and simplicity.
Here is an exclusive offer for you.
How to Activate ConvertKit Cyber Monday Deal 2023
Let's discuss the Convertkit Cyber Monday offer and how to redeem the exclusive ConvertKit Cyber Monday deal.
Step 1: Visit the ConvertKit Black Friday landing page by clicking this special link.
Step 2: Read all the information you need about ConvertKit's holiday promotion and click the Get Black Friday Deal button.
Step 3: Create a new ConvertKit account using a valid email address and password. Please read and agree to ConvertKit's TOS and privacy policy before clicking the Get started button.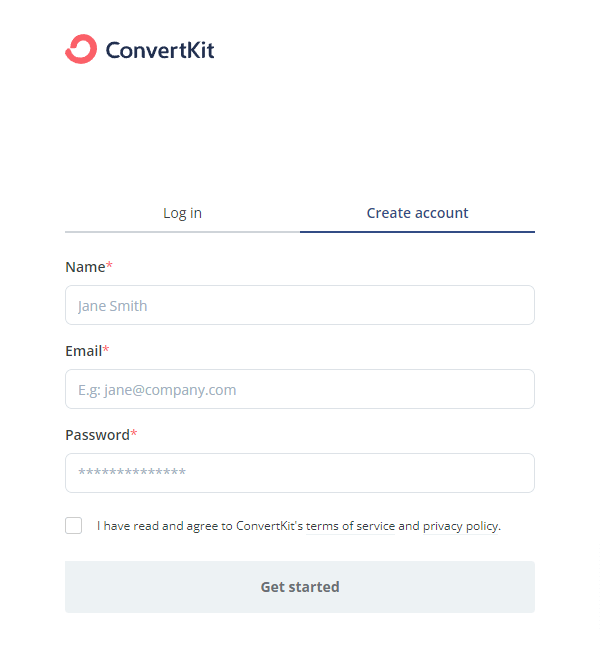 Step 4: Verify your email address to confirm your ConvertKit account.
Step 5: On the welcome screen, ConvertKit will ask you about migration assistance, audience size, and creator type (your area of expertise). Choose the appropriate options so that ConvertKit will better understand your needs and suggest the right plan.
Step 6: A pop-up will appear on your screen asking you to claim the ConvertKit Cyber Monday deal.
Enter your credit card details and your address, and click the Upgrade to Creator Annual button to activate your ConvertKit Creator subscription.
ConvertKit also rewards active customers by offering them a special goodie for completing a few steps.
Here is the checklist:
Design a landing page
Send a broadcast
Create an email sequence
Create your first visual automation
Make the campaign official and get your first 10 subscribers.
Upon completion of this checklist, you'll receive a free ConvertKit shirt!
ConvertKit Pricing
ConvertKit is transparent about its pricing structure. You'll see a flat pricing structure for ConvertKit email marketing software, depending on your email list size.
You can send unlimited emails and access all advanced features regardless of the plan you have subscribed to.
ConvertKit has three plans for up to 1M+ email subscribers depending on your requirements.
If your email list outgrows this number, you can ask for custom pricing.
Apart from that, ConverKit offers free concierge migration for people who want to move their email list to ConvertKit Creator or Creator Pro plans.
In case you use ESP other than ConvertKit, its support team will help you migrate the entire list from the current ESP to your ConvertKit account for absolutely free.
This feature is available for premium ConvertKit customers only. I.e., ConvertKit Creator and Creator Pro plan customers.
Here are different ConvertKit pricing plans.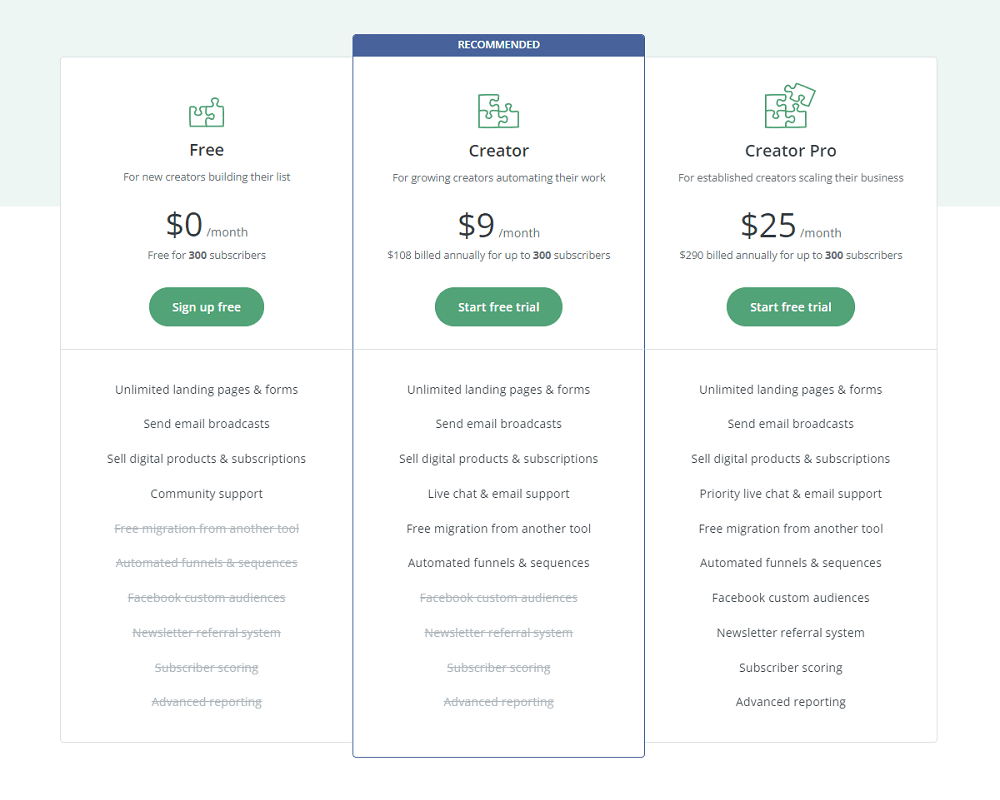 ConvertKit Free Plan
Anyone who wants to expand his/her online business can sign up for a free plan during the ConvertKit Cyber Monday sale.
As the title says, the plan costs zero investments to get started and can manage 1000 email subscribers.
The plan is free forever, and no credit card is required to create an account.
Key Features
Unlimited landing pages & forms
Unlimited traffic
Send email broadcasts
Customizable domain
Subscriber tagging
Manage up to 1000 subscribers
ConvertKit Creator Plan
The plan is suitable for individual bloggers and online creators who want to grow their email list, get more referral traffic, and generate more revenue through affiliate marketing/product sales.
The ConvertKit Creator plan costs $15 per month for up to 300 email subscribers for the monthly billing cycle.
The annual subscription for the same plan costs $9 per month for up to 300 email subscribers.
Additionally, ConvertKit offers a special Cyber Monday deal for the Creator plan.
You can purchase a one-year subscription to the ConvertKit Creator plan for $199 instead of $290.
Suppose you want to connect with your audience, nurture them, control your traffic, and automate the revenue stream.
In that case, the ConvertKit Creator plan is the right choice for you.
Key Features
Unlimited landing pages & forms
Unlimited traffic
Send email broadcasts
Subscriber tagging
Customizable domain
Suitable for up to 1M+ subscribers
Automated funnels & email sequences
Premium support
Third-party Integrations
Free concierge migration (switch from your current ESP to ConvertKit seamlessly)
ConvertKit Creator Pro Plan
The plan includes everything in the ConvertKit Creator Plan with extra features for seasoned marketers and e-commerce businesses.
Please note that the extra features in the ConverKit Creator Pro plan come with a price tag.
The plan costs $29 per month for up to 300 subscribers and can go high up to $2599 for 400,000 subscribers with a monthly billing cycle.
The annual subscription offers two months of free services.
If you want to purchase the Creator Pro plan, here are a few features worth mentioning.
Key Features
Get everything in the ConvertKit Creator plan plus the advanced features mentioned below:
Facebook custom audiences
Deliverability Reporting
Subscriber engagement scoring
Redirect links in email broadcasts
Newsletter referral system
Priority support
Invite your team
Free concierge migration (switch from your current email marketing tool to ConvertKit seamlessly)
ConvertKit Features
Selecting an email marketing automation software is quite difficult. However, ConvertKit offers everything you need to grow your blogging business to the next level.
Go through the following features and decide whether ConvertKit is suitable for your business or not.
1. Built-in Lead Forms and Landing Pages
Lead generation is a critical step for any business for survival and growth. Even bloggers and creators need to build an email list to generate more traffic and sales.
ConvertKit offers the ability to create beautiful lead forms and landing pages so that you do need not to buy third-party plugins or landing page software.
Although you get basic forms with limited customization, it can save a few bucks for people who don't want to buy separate products for creating lead forms or landing pages.
2. Simple and Intuitive UI
ConvertKit email marketing software comes with minimal UI, and you won't see any clutter on the dashboard.
Every option is placed nicely so that the first-time user can also get through it,
No matter if you want to create a simple lead generation form or build visual automation, everything is accessible with a couple of clicks.
3. Detailed Statistics
We feel happy when users sign up for our email list or take certain actions.
How could you track the user actions in a statistical format?
Let ConvertKit work for you.
It shows the number of subscribers, unsubscribers, open rates, CTR, and much more.
Even you can know how many people have subscribed to a particular form or sequence.
The best part is that Convertkit displays subscribers and unsubscribers in graphical format. So you can compare your campaign performance over a period of time to decide your future strategies.
4. Email Automation
ConvertKit lets you send emails to your subscribers in the form of Broadcast, Sequence, or Triggered Automation.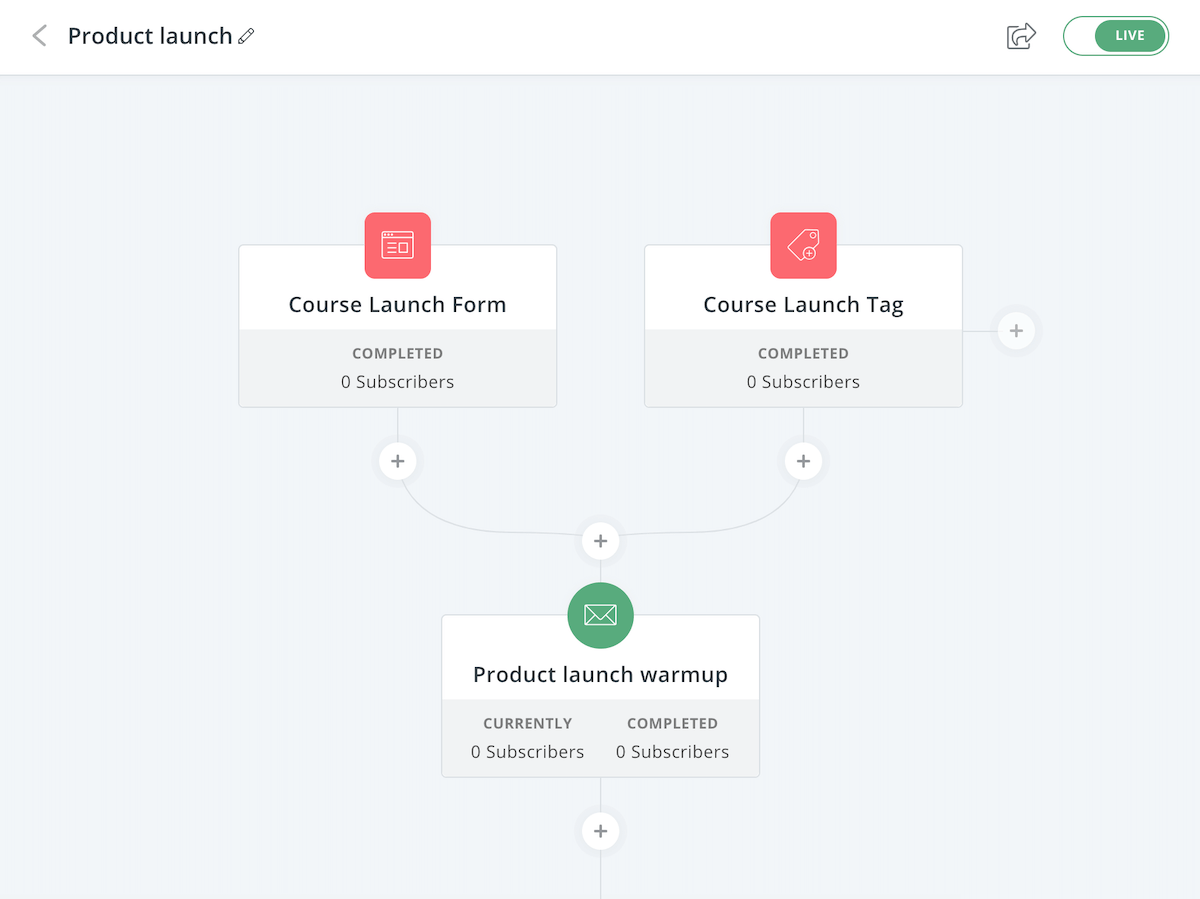 You can do A/B testing, broadcast to selected people, send a pre-built sequence for new leads, or build visual automation for your affiliate or e-commerce site.
5. Industry-leading Deliverability
ConvertKit is definitely far away from the cheapest email marketing software available in the market.
That's why ConvertKit isn't popular among the spammers who run mass-mailing campaigns.
It means you are surrounded by a good neighborhood, and your campaigns will achieve high deliverability.
6. Tag-Based Subscriber System
ConvertKit has simplified the entire email marketing process with the tag-based subscriber system. It helps customers in multiple ways.
Each subscriber will be counted only a single time irrespective of how many lists he/she has subscribed to. So you don't have to pay for duplicate leads.
You can create hyper-targeted email campaigns, including simple autoresponder sequences as well as advanced automation.
No need to use complex automation rules or develop custom code.
7. WordPress Integration
Since most bloggers prefer WordPress as their CMS, ConvertKit has developed a dedicated WordPress plugin for its users.
Now, people can show any form on their WordPress website using a short code or integrate third-party services through API.
ConvertKit Black Friday Deals 2023: FAQs
1. How much discount can I get with ConvertKit Black Friday Deal?
You can get the annual ConvertKit Creator plan for $199 instead of $290 during the ConvertKit Black Friday and Cyber Monday sales. That's 31% off the original price.
2. How can I get this ConvertKit Cyber Monday deal?
An exclusive ConvertKit promo code will be automatically applied when you click on this special link. By prepaying the year in advance, you will receive 3 months of free subscription.
3. Does ConvertKit have landing pages?
ConvertKit offers lead forms as well as landing pages so that you don't need to invest in third-party tools. You can access this feature under ConvertKit Dashboard > Landing Pages & Forms > New Form > Landing Page.
4. Does ConvertKit offer a money-back Guarantee?
Yes. ConvertKit offers a 30-day money-back guarantee for all new customers. It means that you can try ConvertKit email marketing software without any risk.
5. Is ConvertKit better than Mailchimp?
If you need only basic automation and email sending feature, Mailchimp's free plan is a great option for you. ConvertKit is suitable for bloggers, creators, and internet marketers who sell products or services, and need advanced automation features, and excellent email deliverability. 
6. How much does ConvertKit cost?
ConvertKit pricing plans start at $9 per month for 0-300 subscribers and you can refer to the ConvertKit pricing section above to know how much you need to pay depending on your list size.
7. Does ConvertKit integrate with Shopify?
ConvertKit email marketing software can be integrated with many services, including Shopify, WordPress, Teachable, Unbounce, Squarespace, Stripe, PayPal, Zapier, and many others.
8. Do you recommend using the ConvertKit Email Marketing tool?
If you are a blogger, affiliate marketer, or online creator who wants to grow your email list, website traffic, and revenue, I strongly recommend you to try ConvertKit. I'm sure you can achieve a great ROI with the ConvertKit email marketing tool by putting a little effort into a marketing campaign.
ConvertKit Black Friday Deal 2023: Summary
Enjoy an exclusive 31 discount on ConvertKit's Creator Plan during the Cyber Monday Sale.
You can purchase one year of the ConvertKit Creator plan for $199 instead of paying $290.
Hurry up! This offer is only valid until 28 November 2023 (Cyber Monday). Please take advantage of this deal before it expires.
ConvertKit Black Friday Deals
Name: ConvertKit
Description: Celebrate ConvertKit Black Friday and Cyber Monday Sales with an exclusive 31% discount on the annual subscription to the Creator Plan. Get a yearly ConvertKit Creator Plan for $199 instead of $290. Hurry up. This offer is valid only on Cyber Monday.
Offer price: 9
Currency: USD
Operating System: Linux
Application Category: Email Marketing Service
Author: Ankit Main
Ease of Use

Reliability

Pricing

Support
Comments Rating
( reviews)