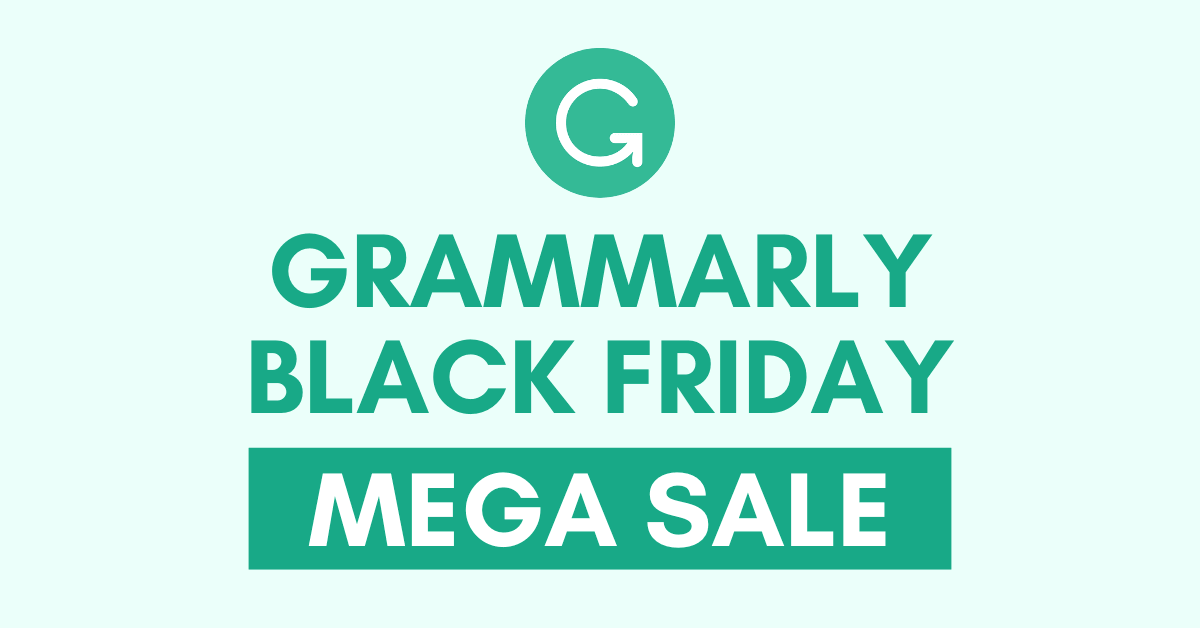 Affiliate Disclosure: I publish various content marketing strategies, online business ideas, blogging tutorials, review articles, and discount offers on my blog. My content may contain some affiliate links for products/services I use, love, and recommend. If you take action (i.e., subscribe or make a purchase) after clicking one of my affiliate links, I'll earn an affiliate commission at no additional cost to you. It helps me in creating more helpful content like this.
Grammarly Black Friday Deals 2023
You've reached the right place if you're searching for the best Grammarly Black Friday deals in 2023.
Here's an exclusive Grammarly discount offer for you.
Upgrade to the Grammarly Premium annual plan during the Black Friday sale period to save 60% on standard monthly pricing, plus get an extra 55% off on top of the discounted price.
Grammarly rarely offers such a massive discount on its premium plans.
Moreover, the promotional offer lasts only a limited time. So act fast and claim your Grammarly Black Friday discounts now.
Grammarly Black Friday Sale: Overview
Product Name: Grammarly
Maximum Black Friday Discount: Up to 82% off
Grammarly Black Friday Promo Code: Not required
Special Offer: 60% off + an extra 55% off Grammarly plans
Grammarly Black Friday Sale Start Date: 24 November 2023
Grammarly Black Friday Sale End Date: 30 November 2023
Discount Link: Grab Grammarly Black Friday Deal
How to Activate Grammarly Black Friday Deals
Follow this step-by-step guide to activate the Grammarly Black Friday and Cyber Monday discount offers.
Step 1: Visit Grammarly's official website by clicking this link.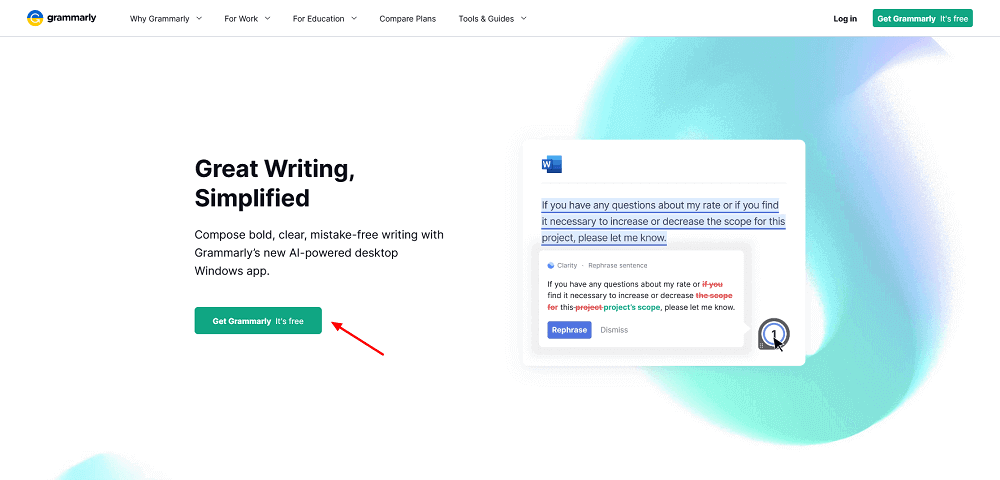 Step 2: You'll be prompted to install the Grammarly browser extension.
Step 3: After installing the extension, please sign up for a Grammarly account. Enter the necessary details and sign up for Grammarly. By signing up, you agree to Grammarly's Terms and Conditions and Privacy Policy.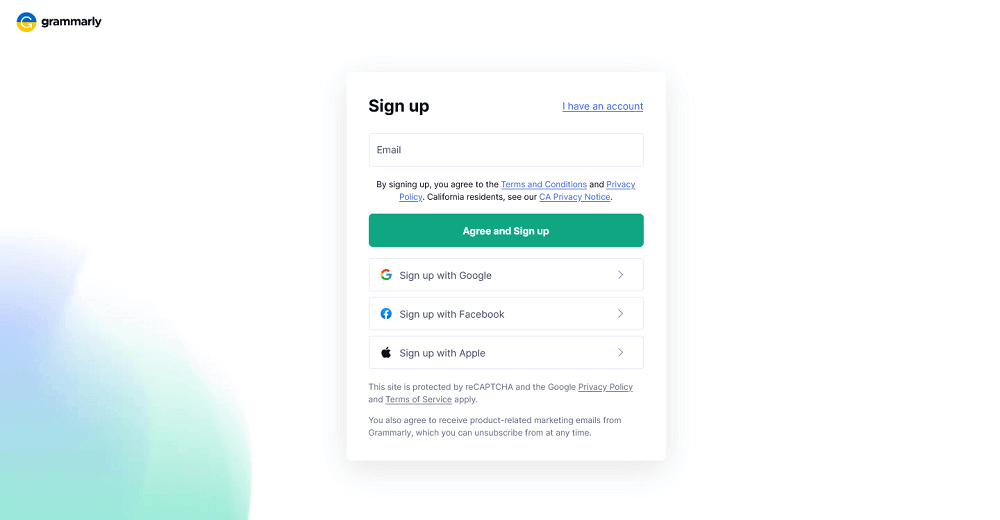 Step 4: You can continue to use the free plan, which offers basic grammar and spelling checks.
However, I strongly recommend you upgrade to Grammarly premium.
The plan unlocks many advanced features, such as in-depth proofreading, vocabulary enhancement, sentence structure improvement, and plagiarism detection.
The premium version is an excellent investment for business people, students, digital marketers, or content writers.
Step 5: Choose an annual subscription since it offers the biggest discount.
Grammarly's Cyber Monday sale offers up to a 60% discount on its Premium plan + an extra 55% off already discounted prices.
Step 6: Review your order and complete the transaction using a credit card.
Congratulations! You have successfully claimed the Grammarly Black Friday discount offer.
What is Grammarly?
Grammarly is the best online proofreading and plagiarism checker tool.
Visit Grammarly's official website to access its cloud version.
The company also offers browser extensions, a standalone web editor, native Windows or macOS apps, an MS Office extension (for Windows only), and the Grammarly keyboard.
Grammarly's free plan includes grammar and spelling checks, as well as other basic features.
The Grammarly Premium subscription unlocks some advanced features.
If you wish to write error-free emails, produce top-notch blog content, or ace academic projects, you should consider purchasing Grammarly Premium.
Grammarly Black Friday Pricing
The Grammarly Premium pricing starts at $30 per month.
Below is a list of the various Grammarly Premium plans.
1. Standard Grammarly Pricing

Monthly Plan: $30/Month
Quarterly Plan: $20/Month (billed as a single quarterly payment of $60)
Annual Plan: $12/Month (billed as a single annual payment of $144)
2. Grammarly Black Friday and Cyber Monday Sales Pricing: An Exclusive 40% Discount [Live]
Monthly Plan: $18/Month
Quarterly Plan: $12/Month (billed as a single quarterly payment of $36)
Annual Plan: $7.20/Month (billed as a single annual payment of $86.40)
3. Grammarly Black Friday Mega Sale 2023: An Exclusive 55% Discount [N/A]
Monthly Plan: $13.50/Month
Quarterly Plan: $9/Month (billed as a single quarterly payment of $27)
Annual Plan: $5.40/Month (billed as a single annual payment of $64.80)
4. Grammarly Student Discount
In the past, Grammarly provided great discounts to students.
Today, the company offers more refined plans tailored to individual students and educational institutions.
Below is a screenshot of the Grammarly For Education plans. Grammarly's sales team can provide you with pricing and discounts if you're interested in buying one of these plans.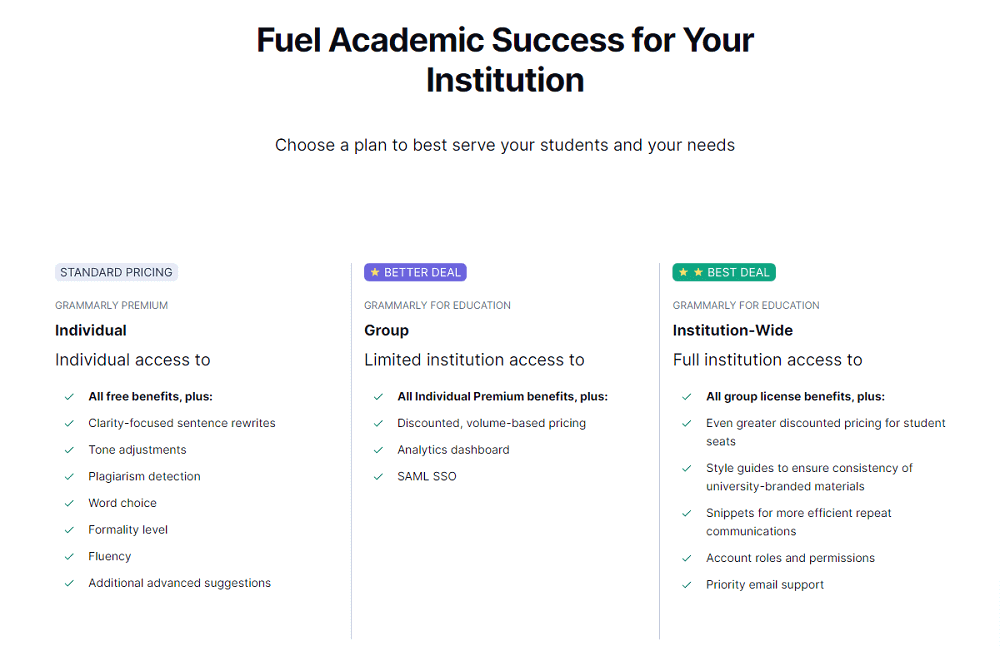 Grammarly for Education provides access to all premium plan features, plus
Discounted, volume-based pricing
Style guides to maintain consistency in university-branded materials
Snippets to simplify repeat communications
Account roles and permissions
Analytics dashboard
SAML SSO
Priority email support
5. Grammarly Business Pricing and Discounts
Grammarly Business plans are perfect for SMBs, copywriting agencies, and content marketing teams that need seamless collaboration.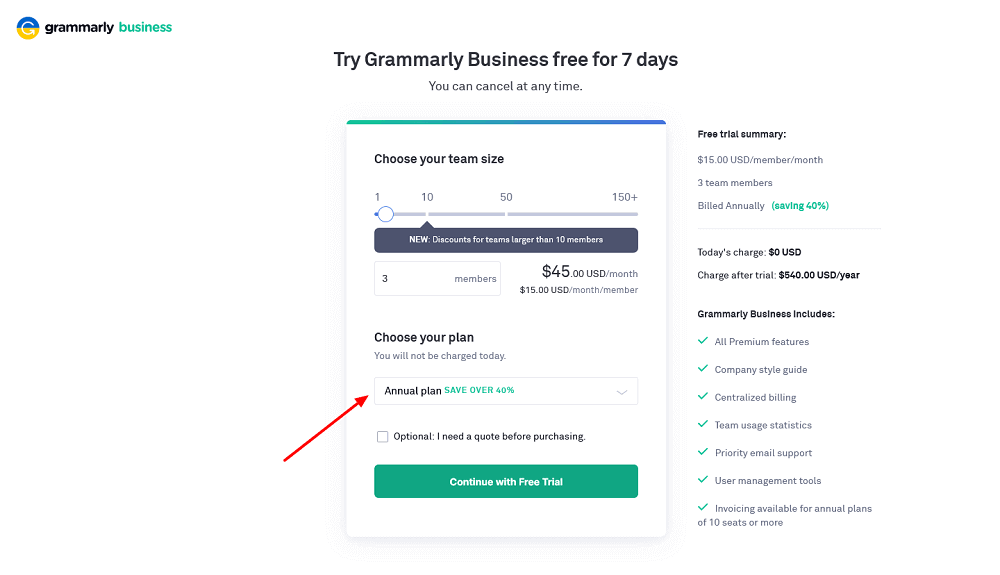 Subscribing to Grammarly Business will allow you access to all premium features and additional benefits, such as:
Company style guide
Team usage statistics
User management tools
Centralized billing
Priority email support
Invoicing is available (for annual plans of 10 seats or more)
A Grammarly Business subscription requires a minimum of three user seats per account. However, if you sign up for an annual plan, you can save up to 50%.
Monthly Plan: $25/Month
Annual Plan: $15/Month (billed as a single annual payment of $540)
Grammarly's Best Features
Grammarly has many outstanding features to improve your writing and productivity. Below are some of its key features:
1. Grammar Checker
Grammarly analyzes your text and identifies grammar errors, spelling mistakes, punctuation errors, and more.
Furthermore, the tool predicts the wrong word in the copy and suggests the most appropriate replacement.
This tool may benefit non-native speakers or those with weak grammar skills.
2. Plagiarism Checker
Grammarly scans your content against billions of web pages to detect duplicates.
This feature allows you to find copied text on your document quickly. After that, you can either remove it or properly cite it. Unlike many other plagiarism checkers, Grammarly does not impose any usage restrictions.
This feature is not available in any Grammarly alternative.
3. Tone Detector
Grammarly's tone checker analyzes the word choice, phrasing, punctuation, and even capitalization of your message before you send it.
This will help you adapt your tone to the audience so you can communicate with kindness, disagree with grace, and express yourself confidently rather than defensively.
The feature is useful when sending an email to a team member or boss, posting on social media, or sending marketing messages.
4. Grammarly Editor
Grammarly offers much more than just grammar checking. The software has a web-based editor to find and fix your content errors quickly and easily.
It enables you to fix grammar, detect plagiarism, format your text, and receive rewrite suggestions to meet your writing goals. You can also improve your content length and readability to ensure your content is clear, engaging, and tailored to your audience.
5. Vocabulary Enhancement
With its premium subscription, Grammarly includes a built-in vocabulary enhancement feature.
Besides suggesting alternate words for repetitive words, it can also display synonyms for any selected word.
6. Multi-platform Compatibility
In addition to Grammarly's web editor, the software supports multiple devices and browsers.
E.g., Grammarly for MS Office, Grammarly Browser Extension, The Grammarly Keyboard, and more.
So if your device has an internet connection and an active Grammarly subscription, you can improve your writing anywhere.
Grammarly Pros and Cons
Grammarly Pros
More than 250 types of grammatical checks, including missing punctuation marks, missing or wrong articles, inappropriate use of tenses
Contextual vocabulary enhancement
Alerts for spelling mistakes, including context-sensitive spelling errors, e.g., they are vs. their vs. there.
Clarity-focused sentence rewrites
The industry-leading plagiarism-detection algorithm that automatically scans your copy against an index of 16 billion web pages
Smart writing style checks for better output tailored to your content genre
One-click error rectification along with a beautiful online editor
A detailed explanation of each error and the best possible solution(s)
A browser extension, web-based editor, native apps for Windows and macOS, keyboards for iOS and Android, and an add-on for MS Office
Grammarly Cons
Grammarly needs an internet connection to function since it's a cloud-based tool.
MS Office add-on isn't fast as the web version.
Due to its automatic operation, the algorithm may sometimes make misleading suggestions.
Grammarly Premium's monthly plan seems to be a bit expensive.
Special offer: Instead of paying high recurring fees every month, purchase Grammarly Premium annual plan and save 60%.
Grammarly Black Friday Deals 2023: FAQs
1. What is the Grammarly Black Friday deal in 2023?
Grammarly offers a 60% discount on yearly billing. You'll also get up to a 55% additional discount during the Black Friday Cyber Monday sale.
2. When does Grammarly's Black Friday sale begin?
Unfortunately, Grammarly Black Friday sale 2023 is not live yet. However, I anticipate that the sale will begin on 24 November 2023. Please keep checking our page, as we will provide updates once the deal goes live.
3. How can I get a Grammarly discount code?
Please visit the Grammarly website by clicking this unique link and sign up for a free account. Next, subscribe to the annual plan to enjoy an instant 60% discount. You may also receive an exclusive marketing offer to your registered email with an additional 55% discount on the already discounted price.
4. What is Grammarly, and how does it work?
Grammarly is a web-based writing enhancement app that ensures everything you type is easy to read, effective, and error-free. Grammarly automatically detects spelling, grammar, punctuation, word choice, and writing style mistakes to make your copy more appealing to readers.
5. How much does Grammarly Premium cost?
The Grammarly Premium monthly subscription costs $30 per month, a quarterly subscription costs $20 per month (billed as one payment of $60), and an annual subscription costs $12 per month (billed as one payment of $144).
6. How do I get a discount on Grammarly Premium?
You can get up to a 60% discount by purchasing the Grammarly Premium annual subscription. Besides that, you can get special deals during promotional campaigns. E.g., a 55% instant discount during Grammarly Premium Black Friday and Cyber Monday sales.
7. Is Grammarly worth paying for?
Grammarly is an AI-powered online writing assistant that identifies grammar and spelling mistakes, helps with vocabulary enhancement, and detects plagiarism to improve your final copy. If you're a blogger, student, writer, or busy content marketer, Grammarly Premium is worth paying for.
8. Can I use Grammarly for free?
You can use Grammarly's free version to correct misspelled words, imperfect grammar, and punctuation errors. In addition to all that, Grammarly Premium offers a lot more features to improve your writing.
Grammarly Premium Black Friday Deals 2023: Summary
Grammarly is an excellent tool to avoid the most common grammatical errors and spelling mistakes.
It makes you feel confident about the emails you send or blog posts you publish.
While Grammarly's free version offers many essential features, upgrading to a paid subscription has numerous benefits.
It provides access to hundreds of advanced features and a powerful plagiarism detection module.
In general, the Black Friday Sale offers the biggest discounts of the year, but these discounts usually disappear pretty quickly.
Don't miss out on this chance if you've been waiting for the best Grammarly Premium Black Friday deals and discount offers.
Grammarly Black Friday Sale

Name: Grammarly
Description: Grammarly's Black Friday Sale offers a special 60% off the regular prices when you upgrade to an annual subscription of Grammarly Premium + an additional 55% off on top of the discounted price. I.e., a total of 82% off. This offer is valid for a limited time. So claim your discount before the offer ends.
Offer price: 5.40
Currency: USD
Operating System: Windows
Application Category: Productivity Improvement Tool
Author: Ankit Main
Features

Performance

Pricing

Support
Comments Rating
( reviews)