Affiliate Disclosure: I publish various content marketing strategies, online business ideas, blogging tutorials, review articles, and discount offers on my blog. My content may contain some affiliate links for products/services I use, love, and recommend. If you take action (i.e., subscribe or make a purchase) after clicking one of my affiliate links, I'll earn an affiliate commission at no additional cost to you. It helps me in creating more helpful content like this.
If you are looking for ContentBot Black Friday deals, you have arrived at the right place.
ContentBot.ai is a robust and innovative AI content-generation tool for writing blog content, paraphrasing, and creating ad copy.
Here I have compiled the best ContentBot AI Black Friday deals and discounts.
During Black Friday and Cyber Monday, ContentBot AI offers special discounts on its software.
The company offers 10,000 words of free credit in addition to these discount offers for new customers.
However, the sale runs from 24 November through 29 November 2023.
Therefore, you may not be eligible for the special benefits after the promotional period.
So grab the ContentBot Black Friday deals today and enjoy 2 months of free service.
ContentBot.ai Black Friday Deal: Overview
Product Name: ContentBot AI writing assistant
Black Friday Discount: 2 months of free access when paid annually
Special Bonus: 10K words of free credit
ContentBot Black Friday Sale Start Date: 24 November 2023
ContentBot Black Friday Sale End Date: 29 November 2023
Discount Link: Click here to activate
What is ContentBot
ContentBot is an AI-driven content creation service to help you write better content for your blog, landing pages, emails, advertising campaigns, and sales copies.
Additionally, Contentbot assists you in selecting the right keywords and creating SEO-optimized content to attract potential readers.
You can subscribe to our Automatic AI Content feature to receive blog topics or full blog posts daily, weekly, or monthly.
Grab your ContentBot prepaid plan today and enjoy free bonus credits of 10K words.
Who Can Benefit from ContentBot AI?
Business Owners & Founders
Content Marketers
SEO Specialists
Digital Marketers
Copywriters
Bloggers
Email Marketers
How to Activate ContentBot Black Friday Deals?
Follow the step-by-step guide below to avail of the ContentBot AI Black Friday discount offer.
Step 1: Visit the ContentBot.ai Black Friday and Cyber Monday sales page via the exclusive link.
Step 2: Hit the Get Started button to visit the account creation page.
Step 3: Create a new ContentBot.ai account by entering your name, email address, and password.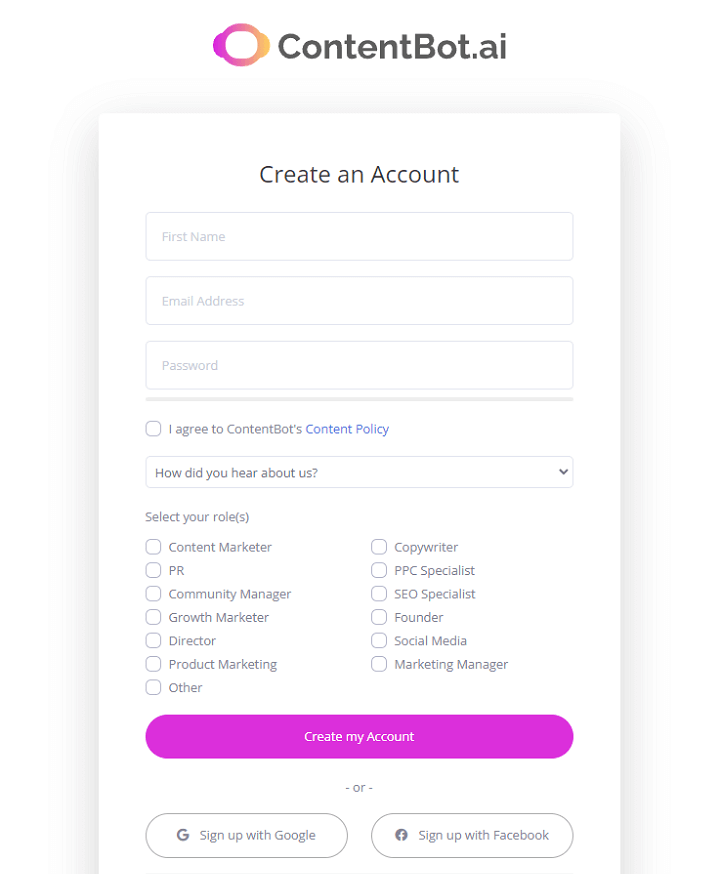 Alternatively, you can sign up using Google or Facebook. Before continuing, please review the company's content policy.
Step 4: Once you've created an account, the ContentBot pricing options will appear on your screen.
Choose from one of the subscription plans or the prepaid plan (pay-as-you-go).
I recommend you buy the ContentBot Premium or Premium+ plans. These plans include better pricing/1K words, long-form assistant, SEO tools, plagiarism checker, and advanced automations.
Step 5: Please select the annual billing schedule on the checkout page, which will get you two months free.
Step 6: Add your ContentBot Black Friday coupon in the Add promotion code field.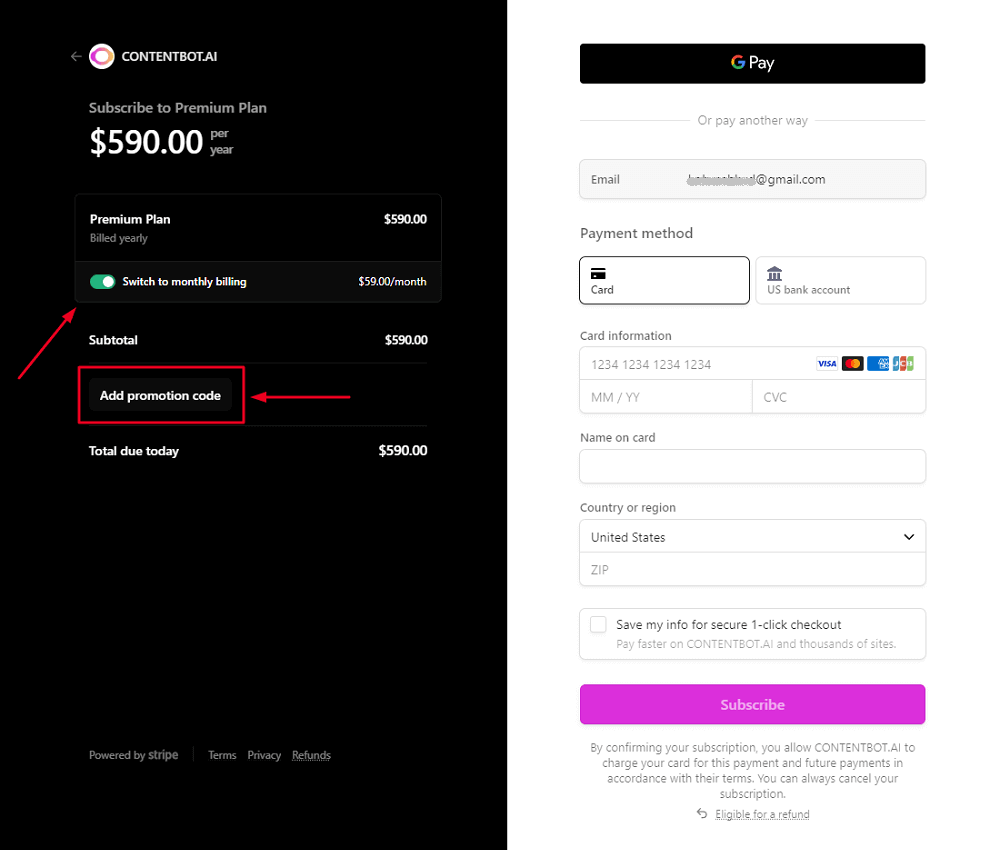 Step 7: Enter your card information and other necessary details.
Step 8: Review the cart summary. Sometimes, ContentBot displays the order amount in the customer's native currency for hassle-free checkouts.
Step 9: Click Subscribe to finish the order. ContentBot AI dashboard is available immediately after successful payment.
Step 10: Log into your ContentBot.ai account and start creating high-quality AI content.
ContentBot Pricing Plans
ContentBot offers four pricing options: Prepaid, Starter, Premium, and Premium+ subscription.
Since these plans differ in features, their prices vary as well.
The following is an overview of ContentBot's pricing:
1. Prepaid Plan
ContentBot Prepaid features a pay-as-you-go model, where you pay $1 for every 1K words generated.
You can purchase up to 5M words of AI content generation credits at once.
For a limited time, ContentBot offers 10,000 words of bonus credits when you make your first purchase.
Unfortunately, the package does not include a plagiarism checker, content automation, and SEO tools integration.
2. Starter Plan
ContentBot.ai's Starter package costs $29 per month and allows you to generate up to 40,000 words per month.
Purchasing an annual subscription includes two months of free access. However, the plan does not have a long-form assistant, plagiarism checker, content automation, and SEO tools.
3. Premium Plan
You should purchase ContentBot Premium if you plan to take your blogging or content writing business seriously.
The package costs $59 per month and allows you generate up to 100K words per month. A free two-month subscription is included with an annual subscription.
The plan unlocks access to ContentBot's long-form assistant, plagiarism checker, content automation, and SEO tools.
Moreover, you'll receive priority access for any ContentBot-related issue.
4. Premium+ Plan
ContentBot Premium+ plan includes everything in Premium. The only difference is the number of AI-generated words and the price.
The package costs $99 per month and allows you generate up to 300K words per month. Due to its affordable price, the plan is most suitable for publication houses and agencies with high content demands.
In addition, you get two months free with an annual subscription, further reducing the cost per 1K words generated.
Top ContentBot Features
ContentBot.ai's outstanding features include the ability to conduct research, generate content and optimize it for better search rankings.
You can find more features in the following section.
1. Overcome Writer's Block
You probably understand what it feels like to stare at a blank screen for hours, struggling to come up with even a single sentence. It's often an incredibly frustrating experience.
Thankfully, ContentBot can help you overcome writer's block and get those creative juices flowing once again.
This tool provides you with ideas and inspirations, as well as some of the content you need, in just a few clicks.
Each piece of content is 100% unique and original. Make some tweaks, and you're ready to go.
2. 35+ Content Templates
Get access to a library of 35+ content templates that you can use as a starting point for your content.
Then, simply fill in the blanks and go!
From blog topic generators and copywriting formulas to sales email generators, ContentBot offers a wide range of tools.
Moreover, the company constantly adds new tools and features to improve your AI copywriting experience.
3. Generate Engaging Content in Seconds
By understanding the critical elements of engagement, such as emotion and intent, ContentBot can help you generate compelling content that resonates with your audience.
Fill out a few input fields, and ContentBot AI will generate the desired type of engaging content in under 30 seconds.
4. Unique and Plagiarism-Free Content
The software generates 100% unique and plagiarism-free content.
In addition, the Premium and Premium+ packages include a plagiarism checker to reduce the risk of content duplicates.
5. Paraphrasing Tool
ContentBot's paraphrasing tool can help you rewrite existing content to make it unique and original.
The paraphrasing tool can be beneficial during rush hours or when you need a lot of filler content for secondary usage, e.g., content for tier 2 backlink building or web 2.0.
6. Long-form Assistant (Write 2000+ Word Articles Quickly)
ContentBot's new AI writer is the perfect tool for anyone who needs help generating long-form content.
For example, you can generate 250 words each time you click Write for me. In addition, its built-in short-form templates (e.g., outlines, listicles, answers) help you get started quickly.
The new Discover SEO tool optimizes your writing to maximize search engine visibility.
So why wait? Try ContentBot AI Writer today!
ContentBot Pros and Cons
To help you decide whether ContentBot is right for you, let's look at a few pros and cons.
ContentBot AI Pros
ContentBot allows you to create high-quality content quickly and easily.
30+ AI Skills (templates) to get started.
Intuitive user interface for effortless navigation
Long-form assistant for faster content generation
Content automation to create AI content in the background
Built-in plagiarism checker
SEO tools to optimize your content for better search engine rankings
Flexible pricing structure
10,000 words of bonus credit by signing up through our discount link
ContentBot AI Cons
Compared to monthly subscriptions, prepaid plans are much more expensive and miss some key features.
Content output may not be as refined as Jasper AI.
Top ContentBot Alternatives
Consider the following AI writing software if you are looking for a ContentBot alternative to save time and improve your writing.
ContentBot Black Friday Deals: FAQs
Please check out these FAQs related to ContentBot Black Friday and Cyber Monday deals:
1. What is ContentBot?
ContentBot is an innovative GPT-3 based AI tool for writing blog posts, creating landing page content, producing high-converting ad copies, and paraphrasing.
2. What are the best ContentBot AI Black Friday deals and discounts?
The company offers two months of free access with an annual subscription. In addition, new prepaid customers receive 10,000 words of bonus credit. 
3. How long do the ContentBot Black Friday and Cyber Monday deals last?
The ContentBot Black Friday and Cyber Monday deals run from 24 November through 29 November 2023.
4. How can I get ContentBot AI?
You can purchase ContentBot AI from its official website. The software is currently available at a special Black Friday sale price.
5. What are the benefits of using ContentBot AI?
Some benefits of using ContentBot AI include faster content creation, more efficient content management, content automation, plagiarism detection & SEO optimization, increased productivity, and more.
6. How much does ContentBot AI cost?
ContentBot pricing starts at $29/month. However, you can get two months of free service with yearly payments. With higher tiers, you'll pay more but have access to more advanced features. Casual users can opt for Prepaid plans, costing $1 per 1000 words.
7. Is ContentBot free?
ContentBot.ai does not offer any free trial. However, new customers can receive 2000 words of free credit when signing up via this unique link.
8. Does ContentBot offer a lifetime deal?
ContentBot previously offered a lifetime deal on AppSumo, which is currently unavailable. Unfortunately, for SaaS companies like ContentBot, offering lifetime deals for a long time is impractical due to recurring costs for servers, software licenses, and development.
9. Who owns the copyright to the content?
It is unlikely that ContentBot.ai will claim copyright over content generated by their AI tool. Therefore, you can freely use ContentBot AI-generated content for personal and business purposes. 
10. Is ContentBot.ai worth using?
Yes, ContentBot Premium and Premium+ packages are worth the price. With these plans, you can use the tool for researching, creating, and managing content from a single dashboard. The 44,000 marketers who use ContentBot can't be wrong. So buy ContentBot without any hesitation.
ContentBot Black Friday Discount Offers: Summary
With its well-designed user interface and solid AI copywriting capabilities, ContentBot has taken the world by storm as the leading AI writing software.
Several key features distinguish ContentBot AI from its competitors, including its 30+ AI skills, unlimited seats, long-form assistant, SEO tools, plagiarism checker, automations, and paraphrasing tools.
But despite that, the ContentBot pricing is quite affordable compared to some of its rivals.
You can save even more during ContentBot Black Friday and Cyber Monday sales and get 10K words of free credit for AI content generation.
The special discount offer is only valid for a few days, so grab it before time runs out.
Please click the button below and continue with the signup process to claim your ContentBot Black Friday deal.
ContentBot Black Friday Deals

Name: ContentBot
Description: ContentBot Black Friday sale is the perfect time to snag steep discounts on its AI writer subscriptions. You can enjoy two months of service for free, plus 10,000-word bonus credits. Be sure not to miss out on this incredible Black Friday deal from contentbot.ai! So act now and take care of your content needs for the holidays and beyond.
Offer price: 15
Currency: USD
Operating System: Linux
Application Category: AI Copywriting Tools
Author: Ankit Main
Performance

Ease of Use

Pricing

Support
Comments Rating
( reviews)