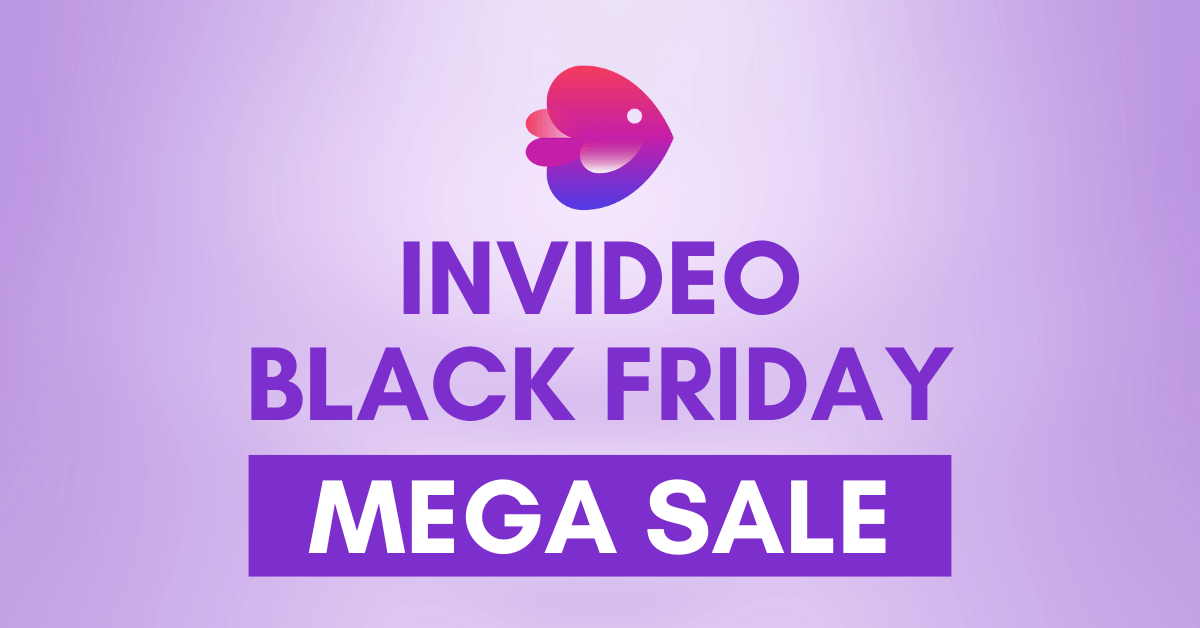 Affiliate Disclosure: I publish various content marketing strategies, online business ideas, blogging tutorials, review articles, and discount offers on my blog. My content may contain some affiliate links for products/services I use, love, and recommend. If you take action (i.e., subscribe or make a purchase) after clicking one of my affiliate links, I'll earn an affiliate commission at no additional cost to you. It helps me in creating more helpful content like this.
Are you searching for a feature-rich and affordable AI-powered video creation platform?
If so, you can't miss out on InVideo Black Friday and Cyber Monday deals in 2023.
InVideo is offering a massive 70% discount during this holiday sale.
With loads of video templates, premium media, automated text-to-speech, and background removal, InVideo is the perfect tool for creating captivating videos.
The software allows you to create videos for marketing campaigns, business advertisements, social media posts, and YouTube videos, as well as many events like weddings, gaming, birthday wishes, sports, and more.
The app is much more convenient with Android and iOS compatibility.
Getting this powerful tool at such a discount once-a-year opportunity, you may not want to miss it.
The deal will only be available from 21 November to 01 December 2023. So act fast and take advantage of this deal before it expires.
InVideo Black Friday Sale: Overview
Product Name: InVideo (An AI-Powered Video Generator Software)
Maximum Black Friday Discount: Up to 70% off
InVideo Black Friday Promo Code: CYBERM40 or SAVE40
Special Offer: Up to 70% off InVideo Business and Unlimited plans
InVideo Black Friday Sale Start Date: 21 November 2023
InVideo Black Friday Sale End Date: 01 December 2023
Discount Link: Grab InVideo Black Friday Deal
How to Activate InVideo Black Friday Cyber Deal
InVideo offers up to a massive 70% discount on its Business and Premium plans during the Cyber Week sales. Please find below a step-by-step guide to claim this InVideo Black Friday discount.
Step 1: Follow this unique link to visit the InVideo Black Friday deals landing page.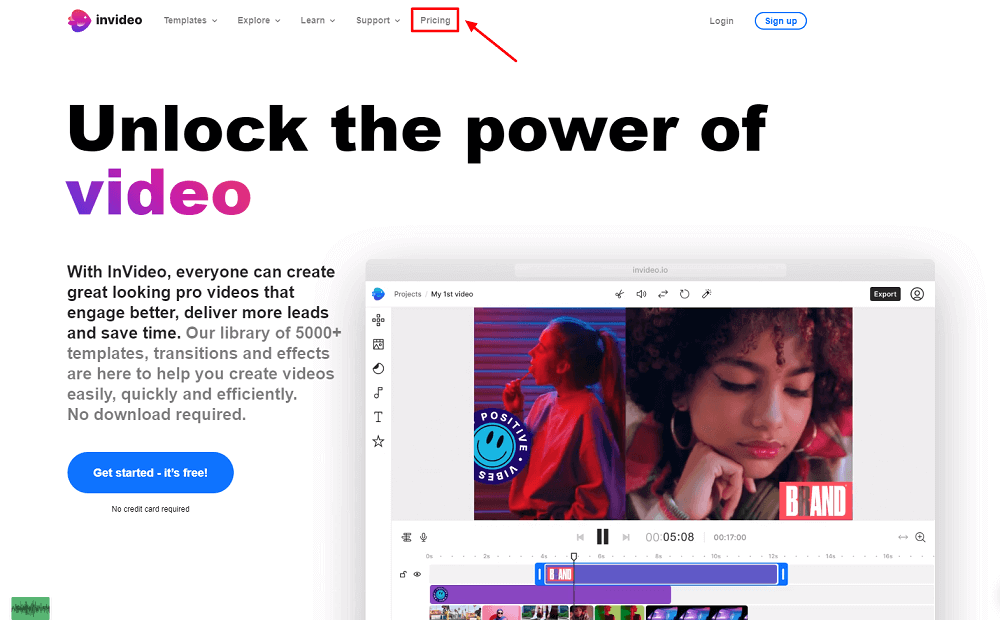 Step 2: Navigate to the Pricing menu in the header section. Special InVideo pricing will appear with a 50% discount on an annual subscription.
Step 3: Choose the right plan based on your requirements. I recommend you subscribe to the Unlimited plan since it offers several impressive features, including unlimited video exports and 100 GB of cloud storage.
Step 4: Once you click the Get Unlimited button, the signup page will appear. Create a free InVideo account by entering your full name, email address, and password. Alternatively, you can use the Sign up with Google or Facebook options to register a new InVideo account.
Step 5: The checkout page will appear after you sign up successfully.
Now enter the special InVideo Black Friday coupon code: SAVE40 to get a whopping 40% off already discounted price. I.e., an effective 70% off regular InVideo pricing.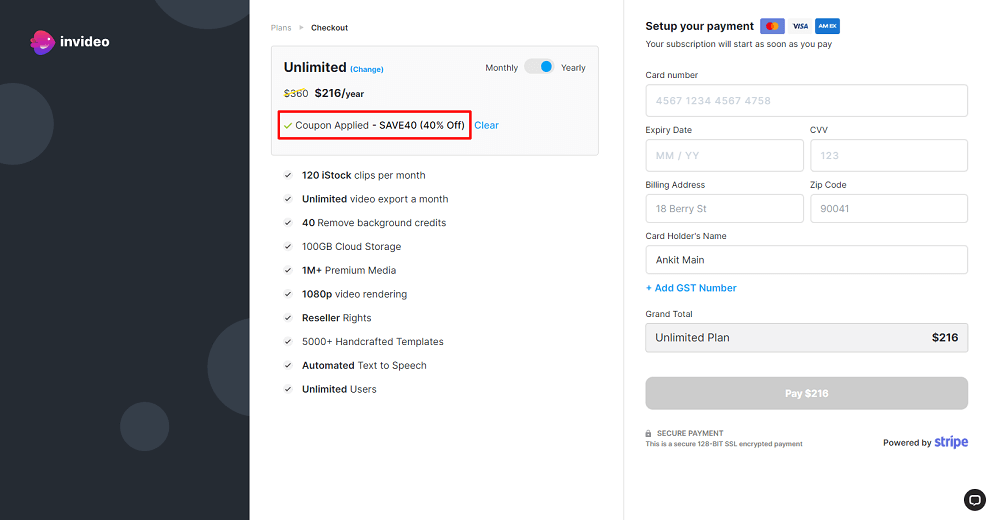 Step 6: Provide your credit card information and billing address.
Step 7: Review the order summary and click the payment button to confirm your order.
Congratulations! You have successfully redeemed the InVideo Black Friday discount.
Now log into your InVideo account and create eye-catching videos for your marketing campaigns.
Top InVideo Features
Below are the top reasons you should get InVideo Black Friday and Cyber Monday deals in 2023.
1. Beautiful Video Templates
Using pre-built templates speeds up and simplifies the process of creating content.
InVideo's 5000+ handcrafted templates and millions of premium templates sourced from worldwide creators allow you to create videos for any purpose.
InVideo offers templates for:
Slideshows
Advertisement
Bumper Ads
Memes
Holidays & Greetings
Collage Videos
Wedding Videos
Technology Videos
YouTube Videos
Birthday Wishes
Business Videos
Travel Videos
Social Media Posts
Real Estate Videos
Logo Videos
Sports Videos
Fashion Videos
Music Videos
Gaming Videos
Marketing Videos
Food & Restaurant Videos
Outro Videos
Educational Videos
Intro Videos
Animated Videos
Promo Videos
Invitations
Special Days
2. Extensive Media Library
Making an engaging video starts with choosing the right images, videos, and audio tracks.
It's no secret finding the right media takes quite a bit of effort and time.
However, InVideo provides access to iStock's 8M+ media, which is among the best in the world.
You will also have access to 1M+ premium media (worth $1500) and 3M+ stock media from Pexels, Pixabay, and Unsplash.
3. Powerful Video Editing Features
InVideo provides an array of editing features that enhances your creativity and helps you to make more engaging videos.
It allows you to make videos in three different formats: landscape, portrait, and square.
Depending on your preference, you can trim and crop the video. By setting the time in seconds, you can cut the video perfectly.
The InVideo interface allows you to transition seamlessly between two videos when merging them.
You can also add text and suitable stickers to your video.
4. Audio Editor
Adding the right audio track to the right place in the video can enhance engagement.
InVideo's audio editor lets you accomplish this.
It enables you to trim, loop, and duplicate specific portions of the audio track with remarkable accuracy.
5. Text-to-Speech Conversion
People who make YouTube videos and advertise their products using video marketing will benefit greatly from this feature.
This feature is handy if you are uncomfortable recording videos with your own voice.
InVideo will convert your content into a human voice once you provide it in text form.
The software can convert your content into eight different male and female voices.
Multilingual support has contributed significantly to InVideo's global adoption.
InVideo Black Friday Deals: Pros and Cons
If you plan to purchase an InVideo subscription, review its pros and cons before signing up.
InVideo Pros
The software has a user-friendly interface for non-techies.
The InVideo pro subscriptions offer access to 8M+ media from iStock, 1M+ media from premium sources, and 3M+ media from standard libraries such as Pexels, Pixabay, and Unsplash.
It offers a wide selection of video templates, including marketing, business, wedding, greetings, sports, social media, fashion, and animated templates.
You can export unlimited videos with a maximum duration of 40 minutes.
Automated text-to-speech conversion
Multilingual support for video creation
You can upload your media files.
Up to 100 GB of cloud storage is available.
Add unlimited team members with easy team sharing for seamless collaboration.
iOS and Android apps support with paid InVideo subscription
Offers 24/7 priority support via live chat and email
InVideo Cons
You can't switch templates; if you pick another template, it will start over from scratch.
The maximum video duration is 40 minutes across all plans.

The video exporting process is somewhat lengthy.
InVideo Black Friday and Cyber Monday Deals: FAQs
1. What is InVideo?
InVideo is a video creation platform that helps you to transform your content ideas into engaging videos. People who want to foster engagement through video content, such as marketing agencies, businesses, brand owners, and influencers, can significantly benefit from the platform.
2. What is the InVideo Black Friday Cyber Monday deal 2023?
InVideo offers up to 70% discount on its annual subscription during Black Friday and Cyber Monday sales.
3. When does the InVideo Black Friday sale start and end?
The InVideo Black Friday sale will be live for a limited time. It will start on 21 November and live up to 01 December 2023.
4. How to get an InVideo Black Friday discount?
This article includes a step-by-step guide to activate the InVideo Black Friday discount. Please click on my special link and follow the steps to receive a massive 70% discount on all InVideo annual subscriptions.
5. How much does InVideo cost?
Besides a free forever plan, InVideo offers two paid pricing options: Business and Unlimited. The Business plan costs $30 per month, while the Unlimited plan costs $60 per month. However, you can get up to 70% off during the Black Friday and Cyber Monday sales.
6. Does InVideo offer a free plan?
Yes. InVideo offers a free plan with some restrictions. You will receive access to 5000+ handcrafted templates, automated text-to-speech, 720p video rendering, 1 GB of cloud storage, and 24/7 chat support.
7. Does InVideo have a watermark?
Watermarks will appear on videos if you have the free InVideo plan. However, paid plans remove the watermarks from the videos.
8. Can I use videos exported from InVideo on YouTube?
Yes, you can use videos exported from InVideo on YouTube without any issues. You can monetize your video content with Google Adsense if you adhere to their guidelines.
9. Can I upload a video to InVideo?
You can upload your video and other media files or choose from InVideo's royalty-free stock library of over 8M media.
10. Can I use InVideo on my phone?
With an InVideo paid membership, you get full access to the InVideo(Filmr): Video Editor mobile application that helps create high-quality professional videos on the go.
InVideo Black Friday Deals: Conclusion
InVideo is a complete package for video creators with thousands of customizable video templates, premium media library access, and powerful editing tools.
In addition, the InVideo mobile app subscription enables you to create and share videos from anywhere.
Over 7 million creators in 190 countries use InVideo's video creation platform.
Please check out the InVideo Black Friday and Cyber Monday sales if you are interested in buying this tool.
The promotion allows you to save up to 50% on InVideo's annual subscription and an extra 40% off with an InVideo coupon code.
Hurry up! Please take advantage of the deal before it expires.
More AI Software Black Friday Deals
InVideo Black Friday Cyber Monday Deals
Name: InVideo
Description: With InVideo, you can create professional videos that engage your audience, generate more leads, and save time. In addition, the software unlocks the power of AI video generation through various innovative features and premium media libraries. Best of all, you can buy it at 70% off during the holiday sale. So hurry up and grab the InVideo Black Friday deal now.
Offer price: 108
Currency: USD
Operating System: Linux
Application Category: AI Video Generator
Author: Ankit Main
Performance

Ease of Use

Pricing

Support
Comments Rating
( reviews)