Affiliate Disclosure: I publish various content marketing strategies, online business ideas, blogging tutorials, review articles, and discount offers on my blog. My content may contain some affiliate links for products/services I use, love, and recommend. If you take action (i.e., subscribe or make a purchase) after clicking one of my affiliate links, I'll earn an affiliate commission at no additional cost to you. It helps me in creating more helpful content like this.
The following article discusses —
What is a domain registrar?
How to choose the best domain registrar?
A list of the best domain registrars/top domain registration companies.
If you want to create a website, then you'll need to register a domain name.
Yes!
You can use a free subdomain of popular sites like Blogger (Blogspot), WordPress, Weebly, etc. but getting a domain makes your site more professional and authentic.
While there are several domain registration companies in the market, you need to choose the best domain registrar to manage the domain name(s).
Every domain registration company offers a unique set of features and has many advantages as well as disadvantages by opting-in their services.
What is a Domain Name Registrar?
A domain name registrar is an ICANN (Internet Corporation for Assigned Names and Numbers) accredited company to register and manage the domain names.
Without DNS (Domain Name System), the internet would have been so confusing with hard-to-remember IP addresses. That's why registering a domain name is an easier and better option out there.
Take an example.
Suppose, you are planning to create an e-commerce store to sell customized iPhone cases and other accessories, then you can register a domain name iphonecasestore.com with one of the best domain name registrars.
However, the particular domain name must be available to register.
If another person already takes the particular domain name, then you can register the same domain with a different extension or purchase from its current owner.
"But what is the best place to buy a domain name?"
Although you can register a new domain name or renew/transfer the existing ones with any domain name registrar, you must choose it wisely.
Browse a domain registrar website to see what features they are offering such as overall pricing and customer support
Still, not sure?
Read the domain registrar reviews from the industry experts as well as real users. It'll help you decide which is the best domain registrar to work with.
Also, I'm going to explain how to choose the right domain registrar.
How to Choose the Best Domain Registrar?
When you search the term domain registrar on Google, you'll find hundreds of companies claiming themselves the best domain registrars.
As a customer, you must know a few things while choosing a domain registration company.
Once you have found a perfect domain name for your website, you probably check which is the cheapest domain registrar.
Am I right?
But, there are several other factors you need to consider while the domain registration process.
1. Reliability
I have seen that many people ignore this point, especially beginners.
When you register a domain name, you must check whether the particular company is an ICANN accredited or not.
There are some domain resellers services, but make sure they are reliable and won't steal your domain name once it gets popular.
Beware of the sites which claim to offer the free domain names. They may withdraw your control from a domain you are managing.
Free domains are suitable for educational or testing purpose. In certain cases, you may use them for the short term projects like event blogs, affiliate link redirect, etc.
See the domain registrar reviews, how long they are doing this business, their customer base, and a total number of domains under their management to verify whether you are on the right path or not.
2. Pricing
Some people might be thinking the domain names are cheap nowadays and there should not be a big issue.
Yes, it's right!
You can register a .COM domain name at just $0.99 using the GoDaddy coupon.
But at the same time, you will see the premium domains are priced at more than $1000 and even more.
Generally, the domain name prices range between $6.99 to $14.99, which may further vary according to the selected domain extension, country, and available offers.
Many domain registrars offer cheap domain registration for the initial term (first year) but have high renewal charges. So, reviewing their pricing policies is essential to save yourself from paying the extra fees.
By opting in for an extended period or buying in bulk may give you an additional discount but don't forget to read all contract terms carefully.
Important
If you are planning to buy a domain name for your business, then buy it for the maximum period (say ten years). You can also turn on the automatic renewal features to avoid domain expiration.
But, you MUST check the expiry date on cards, minimum balance required in your bank account, etc.
3. Domain Add-on Services
The premium add-ons like privacy protection, email, etc. can add the cost at the top of the base price.
1. Privacy Protection (WhoisGuard)
While registering a domain name with ICANN, you need to provide your name, address, email address, and phone number, etc. details which may attract spam call or email communication.
Privacy Protection helps you protect your sensitive information by hiding it from spammers/hackers.
You will get it free with some of the best domain registrars where others may charge a yearly fee for that.
2. Domain Parking
Domain parking means registering a domain that is not actively associated with any internet service, including a website or email.
However, you can redirect a parked domain to a particular site or show ads to the domain parking page to generate revenue.
If you want to build a site around it in the near future, just reactivate the domain. Sometimes, you may get a fantastic deal for the parked domain where you can decide whether to sell it or not.
3. Private Email
You can host your private email address like yourname@yourdomain.com as an add-on service. Private emails are mostly premium add-ons and have monthly recurring fees.
4. Premium DNS
Premium DNS is a globally available DNS service that offers better support and a 100% SLA (Service Level Agreement) for DNS resolution.
Plus, it provides some advanced features like maximum DNS uptime guarantee, advanced DNS DDoS Protection, complete DNSSEC support for DNSSEC-signed TLDs, etc. to add more power, flexibility, and control to the DNS management.
5. SSL Certificate
SSL (Secure Sockets Layers) is a standard web security technology for transmitting the encrypted data over the internet between a user browser and a web server.
A few domain registration companies offer an SSL certificate as a premium-addon for their domains. Sometimes, companies may provide free SSL if you decide to purchase their domain+hosting bundle.
5. G-Suite and Third-Party Integrations
G-Suite is one of the most popular SaaS product offered by Google for cloud computing, productivity, and collaboration tools.
Apart from that, there are many third-party apps required for business operations. Check whether your domain registrar provides such add-on services or not.
4. Domain Transfers
If you are following this guide, then you probably won't need to move your domain from one registrar to another.
However, in some unfavorable conditions (if you're not happy with your current domain registrar), you can transfer your domain name.
Make sure this option is available before you make a purchase.
Remember, you won't be able to initiate the domain name transfer within the first 60 days of the registration (as per ICANN guidelines).
After that, you can move your domain to the registrar of your choice.
Almost every domain registrar lets users transfer domain names in or out without any hassle. But, a few of them may make the domain transfer process more complicated.
Usually, domain transfer is free with the existing registrar, and you need to pay the regular charges to register the domain with the new registrar.
However, you should review the domain transfer policies for both before registering/transferring a domain name.
Important
I'm a little biased, but NameSilo is one of the best domain registrars to transfer your existing domains.
5. Customer Support
A domain name is not just a word; it's your brand identity.
If something goes wrong, then there should be an expert professional to help you. You may rarely need to ask for domain-related help if you are a techie, but beginners will definitely need customer support in the domain section.
Most domain registrars have a content-rich knowledge base to solve your queries in the first place. Still, responsive and knowledgeable customer support executives are the backbone of any domain registration company.
Reading domain registrar reviews and actually getting in touch with customer support are a couple of the best ways to judge the quality of service.
6. User Experience
Whether you are an expert or a beginner, the user experience is one of the major factors to decide who is the best domain registrar.
Right from picking a preferred domain name to managing DNS, creating custom email addresses, and other domain-related activities, everything should be simple and user-friendly.
Still, you are not confident?
Go to YouTube and get a virtual tour by watching some related videos uploaded recently.
Another big thing that spoils your user experiences is marketing spam.
Many domain registrars including GoDaddy and Bigrock, send a ton of marketing emails to upsell their products which absolutely looks spam.
Who will like to see their inbox flooded with such unwanted emails?
Sending some important announcements or updates whenever required is appreciable, but I hate the spammy techniques which they may explain as a marketing strategy.
7. Drop Catching
You may forget to renew your domain name before expiration, or some issues occur with the auto-renewal feature.
This leads to the domain expiration, and other people can register that domain name. It may happen because someone has liked your domain and purchased it accidentally without knowing your brand is associated with that particular domain name.
And, if it has been taken by your direct competitor, then it may ruin your entire business strategy.
Whatever the reason, you don't want to risk your domain as well as the business for such silly mistakes.
But there is great news too.
Now, the majority of domain registrars offer a grace period after domain expiration to renew it. So, you can renew or transfer your domain name to prevent unwanted third-party registration of your domain.
At least, the domain registrar should send you reminders about renewing the domain name(s).
Remember, the grace period to renew the domain is about a month after the domain expiration date. However, ask your domain registrar about it clearly before registering a domain.
8. Additional Services
The majority of domain registrars will offer additional services beyond just domain registration.
When you buy a domain name, you need web hosting, web design, backup & security management as well as SEO services to run a full-fledged online business.
In such a case, you can get a premium bundle at an affordable price, including all those services mentioned here.
People prefer all-in-one web services for saving time to browse multiple dashboards to increase productivity.
Web Hosting
Although I prefer buying the domain and hosting from separate companies for several reasons, there is no compulsion.
You may get a free domain (*actually the cost is included in the hosting package) with the purchase of web hosting for one year or more.
But carefully review the terms associated with such plans.
Backup & Security Management
Domain registrars may upsell some backup and security management services along with their web hosting packages. In most cases, you won't need them as there are many free alternatives available in the market.
However, large businesses may opt-in for such services.
Web Design
A website is a place where the users actually interact with your business. You can create a customized design from scratch, but the majority of domain registrars allow building your website using some free as well as premium page builders.
SEO (Search Engine Optimization)
SEO means optimizing your web pages so that they can appear at the top of the organic search results. Some companies may have a dedicated team of experts to manage the SEO activities under their belt.
However, such services are costly, and you MUST be careful while adding them to your cart.
Best Domain Name Registrars
Below I have created a list of some of the biggest domain registrars in the market. However, do your research thoroughly because every domain registrar mentioned below may not be a perfect fit for your needs.
1. NameSilo
NameSilo ranks at the top of my list of the best domain registrars for several reasons like lifetime free privacy protection, free domain parking, and no renewal upcharges.
When I compare it with other domain name registrars, I found that NameSilo is much better than its competitors.
Features
Namesilo offers transparent pricing so that you will get to know how much you are going to pay for a particular domain even before creating an account.
Plus, NameSilo offers many features and add-on services absolutely free of cost that include Whois privacy, domain parking, enhanced security, and DNS management.
If you're planning to use the domain parking feature, you can keep 100% of revenue generated by ads while other domain registrars may ask for a percentage of that revenue.
NameSilo does not add any hidden charges for processing, ICANN fees, and renewal upcharges.
The best thing about NameSilo is that I have never got any spam email which makes me happy to choose NameSilo as my domain name registrar.
Pricing
You'll get amazed by not only the performance but also the pricing of the NameSilo. NameSilo offers the cheapest options to register domain names.
Here is the pricing for the commonly used TLD (Top Level Domains).
| | |
| --- | --- |
| .com | $8.39 |
| .net | $11.79 |
| .org | $10.79 |
| .biz | $10.79 |
| .info | $10.99 |
Discount
Registering a domain name with NameSilo is the cheapest option when you compare it with other popular domain registrars.
Still, it offers discounted pricing on some TLDs for new users.
For my audience (readers of successpixel.com), NameSilo provides $1 off if you're registering for the first time. Use coupon code SaveMy1Buck on the checkout page.
Still, you can browse the following domain registrars, and see the features & pricing they are offering to decide who is the best domain name registrar.
2. Google Domains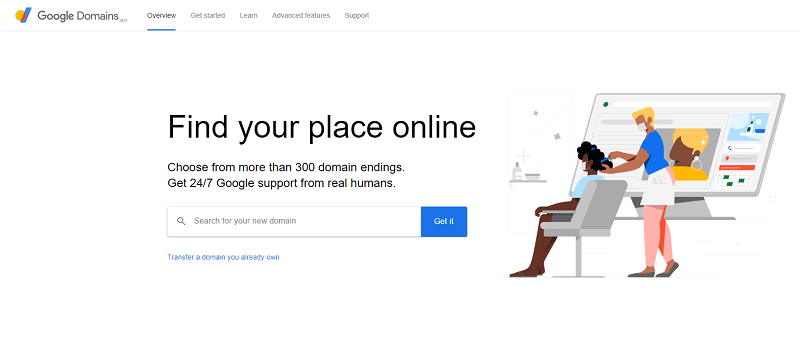 Google offers a domain registration service, which is called "Google Domains." Currently, this service is available in 23 countries, including the US, UK, and India.
Google is one of the biggest tech companies in the world, and you can expect cutting-edge performance and timely customer support from it.
Features
Navigating Google Domains is quite simple, and you will have a great user experience.
Apart from Free Whois Privacy, Google Domains offers many useful features and add-on services. Easy integration with top website builders, a custom email address with G-Suite, Email forwarding, and reliable internet infrastructure are a few things you'll definitely love.
Plus, Google provides a complete set of robust and easy-to-use domain management tools to set up Dynamic DNS, add & manage custom nameservers as well as resource records (such as A, AAAA, CNAME, MX, etc.), configure TTL, and domain locking, etc.
Need support to manage your domains?
You will get chat, phone, and email support (Mon-Fri, 6 am to 9 pm PST) with Google Domains.
Pricing
Google Domains also has transparent pricing for domain registration. It's the best place to buy a domain name whether you're a small business owner or a big organization.
Google provides free privacy protection and also does not upcharge for renewals. You will only need to pay extra fees to reclaim your domain if it's under a restoration grace period.
Premium domains and other add-on services like G-Suite may cost you extra, but they are optional.
Here is the Google Domains pricing for the commonly used TLD (Top Level Domains).
| | |
| --- | --- |
| .com | $12 |
| .net | $12 |
| .org | $12 |
| .biz | $12 |
| .info | $12 |
Discount
Some people may think Google Domains service is a little expensive and ask for a discount. But Google is mostly stiff with its pricing and does not offer any discount.
3. Namecheap
Namecheap is a Phoenix, Arizona-based domain registrar, which provides a variety of web services including web hosting, security, design, and online marketing along with domain registration.
Features
Namecheap offers you a reliable user experience throughout the site, especially on its domain management panel. Everything is smooth in selecting a domain name and the correct extension, adding required add-ons, and checkout.
Buying a domain name will get you Free Whois Privacy for the 1st year, and discounted add-ons like SSL, Premium DNS, etc. 
Namecheap also has responsive customer support. You can get free access to their knowledge base as well as quickly connect with their live chat.
I have asked absolutely silly questions to their customer service representatives, but they answered all my questions.
Pricing
Namecheap allows you to register domain names at reasonable prices. Sometimes you may get price-cut due to promotional deals that are available for the first-year purchase only.
I have registered several domains with Namecheap, and my experience is very good to date.
Here is the pricing for the commonly used TLD (Top Level Domains).
| | |
| --- | --- |
| .com | $10.98 |
| .net | $12.98 |
| .org | $12.98 |
| .biz | $12.88 |
| .info | $11.88 |
Discount
You may find some amazing discounts for domain registration at Namecheap, especially for popular and new generic TLDs.
Not only the domain names but you'll also get a discount on other services and premium add-ons like web hosting, SSL certificates, Premium DNS, etc.
4. GoDaddy
GoDaddy is the world's largest domain registrar with 18 million customers and 77 million domains under management.
It's not only the best place to buy domain names but also serves different areas of the web marketing industry including hosting, design & promotional activities.
Features
GoDaddy often runs promotional campaigns to sell their domains at a very cheap price. New buyers can get a .COM domain name at $0.99 for the first year using some coupons.
It removes the cost barrier for people who don't want to invest much in their online ventures.
GoDaddy is well-known for its aggressive upselling which looks spammy. Although it allows you to register a domain for cheap in the first place, you may end up paying a lot more when the cart is added with add-on services like Whois protection, emails, etc.
If you would like to speak to a person, GoDaddy offers stellar phone support. The live chat and email channels are also responsive whenever you need to connect with them.
The domain management panel of GoDaddy is okay where you can control almost everything you want.
I have purchased a couple of domains with it. Still, I don't recommend buying a domain name from GoDaddy because of the obvious reason for their hard & spammy upselling.
Pricing
GoDaddy pricing is quite flexible for first-time buyers. However, you may need to pay high renewal upcharges.
I have a couple of domains registered with GoDaddy, but the user experience is not as impressive as I expected.
If you are buying domains for short-term projects like event blogs, etc., then GoDaddy is the best place to buy a domain name(s) at the lowest price.
Here is the chart showing GoDaddy's pricing for the commonly used TLD (Top Level Domains).
| | |
| --- | --- |
| .com | $14.99 |
| .net | $18.99 |
| .org | $19.99 |
| .biz | $20.99 |
| .info | $19.99 |
Discount
Are you a new user of GoDaddy web services?
You'll get discount coupons not only for the domain names but also for the web hosting, design, and professional emails.
The most popular discount that GoDaddy offers is a .COM domain at $0.99.
5. DreamHost
Started back in 1997, DreamHost is an independent web hosting company and one of the best domain registrars in the market.
Currently, it has more than 400K customers and 1.5 million hosted websites. If you need a reliable domain+hosting package to manage from a single dashboard, Dreamhost would be a perfect choice.
Features
DreamHost is basically a web hosting company but at the same time offers domain registration service with over 400 TLDs.
Plus, the pricing is affordable and includes Privacy Protection for free. Its flexible auto-renewals feature allows you to set auto-renewal preferences, "Yes," "No" and "Ask me" to receive renewal notices regularly directly to your inbox.
You can replace your default nameservers with custom to respond to DNS requests for your domain, add domain forwarding, and create multiple subdomains.
Do you want to secure your domain names against unauthorized changes or transfer requests from scammers?
Use domain locking and don't share your secret EPP code with anyone.
Apart from that, the DNS management tools and overall user experience on the DreamHost website seem perfectly fine.
Pricing
DreamHost offers a fair price for domain registration including free Whois privacy with all eligible domains which may otherwise cost approx. $12/year.
There is not much difference in the pricing for the initial term and renewals/transfer-in. However, the discounted domains will be renewed at the regular price.
Here is the pricing for the commonly used TLD (Top Level Domains).
| | |
| --- | --- |
| .com | $13.95 |
| .net | $14.95 |
| .org | $13.95 |
| .xyz | $12.99 |
| .info | $14.95 |
Discount
You may not find deals or coupons for domain registration. However, if you decide to go with DreamHost Shared Unlimited hosting plan (annual), then you can receive a free domain name.
For standalone domain registrations, you will receive a regular discount of a few dollars as mentioned on their website.
In most cases, such discounts apply to the first-year purchase only and do not work with renewals or transfers.
Here are other few domain registration companies you can work with.
6. Name.com
7. Domain.com
8. Dynadot
9. Uniregistry
10. Hover