Affiliate Disclosure: I publish various content marketing strategies, online business ideas, blogging tutorials, review articles, and discount offers on my blog. My content may contain some affiliate links for products/services I use, love, and recommend. If you take action (i.e., subscribe or make a purchase) after clicking one of my affiliate links, I'll earn an affiliate commission at no additional cost to you. It helps me in creating more helpful content like this.
ChemiCloud has gained immense popularity over the last few years as a top-notch cloud hosting platform. I've tested many shared, VPS, and cloud hosting services for my own and clients' websites.
To conduct a ChemiCloud review, I recently bought its Turbo Shared hosting plan. And after rigorous testing on various parameters, today, I am finally here with honest opinions on its overall performance.
In this ChemiCloud review, I have shared a few test results to evaluate ChemiCloud hosting's speed, response time, uptime (availability), and load handling capacity.
The review will also cover its key features, such as user interface (UI), security aspects, customer support options, pricing plans, domain registrations, backups, CDN, website migrations, and data center locations.
In conclusion, I'll discuss ChemiCloud's pros and cons, suggest alternatives, and reveal whether or not it's right for you.
Additionally, I have a special discount offer if you decide to buy ChemiCloud hosting service for your website, so make sure you keep reading!
What is ChemiCloud? (About the Company)
Founded in 2016, ChemiCloud is an independent cloud hosting company. The company is headquartered in Middletown, Delaware, in the USA, hosting over 80K websites worldwide.
The ChemiCloud platform offers a variety of hosting options, including Shared Hosting, WordPress Hosting, Cloud VPS Hosting, and Reseller Hosting.
The company operates 11 data centers in different parts of the world to provide a faster web hosting experience to its customers.
The company strives to provide its customers with simplicity and transparency. As of today, it maintains a 98% customer satisfaction score, which is among the best in the business.
TL;DR: I have compiled ChemiCloud's features in a tabular form if you are in a hurry.
ChemiCloud Review: A Quick Overview
| | |
| --- | --- |
| Web Hosting Company Name | ChemiCloud |
| Founded In | 2016 |
| Address | CCHosting, Inc., 651 N. Broad Street, Suite 206, Middletown, Delaware, United States 19709 |
| Speed | 127 ms (India), 789 ms (US), 1.2 sec (UK) |
| Uptime | 99.98% |
| Data Centers | 11 data centers in 4 continents: North America, Europe, Asia, and Australia |
| Backups and Restores | Free automatic daily backups for up to 30 days (as per the selected plan) with a 1-click restore option |
| Migrations | 200 cPanel migrations or 10 non-cPanel migrations free within 60 days of purchase |
| Customer Support | 24/7 live chat, email, ticket system, phone support, and excellent knowledge base, including video tutorials |
| Key Features | LiteSpeed servers, cPanel as control panel, SitePad website builder, free domain name for one year |
| Security Features | Free Let's Encrypt SSL certificates, 2FA, WAF, malware protection and removal, Imunify360, CloudLinux OS with account Isolation, 24/7 proactive server and network monitoring |
| Developer Tools | PHP 8.2, NodeJS, Python, Perl, Bash, Laravel, and Symfony support, SSH and SFTP Access, preinstalled GIT, custom cron jobs |
| Add-Ons | RapidSSL certificates, SpamExperts email security, Marketgoo SEO tools |
| Hosting Plans | Shared Hosting, WordPress Hosting, Reseller Hosting, Cloud VPS Hosting |
| Payment Methods | PayPal and International credit/debit cards via Stripe |
| Refund Policy | An Impressive 45-day money-back guarantee |
| Pricing | Shared hosting plans start from $2.99/month (70% off) |
| Buy Now Link | Explore ChemiCloud Hosting Services (70% Off) |
ChemiCloud User Interface (UI)
ChemiCloud has an intuitive interface appropriate for all levels of users. It has been improved significantly since the previous year, and it now looks much cleaner, easy to navigate, and responsive.
The left panel provides access to basic options such as Services, Domains, Billing, Support, Addons, and Affiliates.
The top bar provides a quick tour for new users, migration options, a shortcut to the knowledge base, support pin, and account settings.
The home screen displays your dashboard with many important options, including Active Services, Domains, Unpaid Invoices, Prepaid Hosting Credits, and Support Tickets.
Below this section, you'll see your active hosting plan(s) with server location, disk space, and plan validity information. Besides your active services, you'll find quick links to access App Installer, cPanel, Webmail, Hosting Management Page, and Server Information.
ChemiCloud displays Recommended Addons and Affiliate Program sections for interested users at the bottom of the dashboard.
The company provides the cPanel control panel, which is an easy-to-use hosting management solution and is loved by millions worldwide.
Overall, ChemiCloud's user interface is intuitive and visually appealing, with a lovely color palette, fonts, and well-organized design layout.
ChemiCloud Review: Speed Performance
ChemiCloud's outstanding performance is reflected in its best score on Pagespeed Insights and several other speed metrics. In recent years, the company has set a new benchmark in the industry, delivering lightning-fast website loading times that leave competitors far behind.
With its robust hosting infrastructure and state-of-the-art technologies, ChemiCloud ensures that websites hosted on its platform load almost instantly, providing a seamless and enlightening user experience.
With this remarkable achievement in speed optimization, ChemiCloud not only enhances user satisfaction but also significantly contributes to improved search engine rankings, making ChemiCloud the ideal choice for website owners who prioritize speed, performance, and a 100/100 score in Pagespeed Insights.
Below are the real-life test results for ChemiCloud WordPress hosting's speed performance.
1. ChemiCloud Hosting Mobile PageSpeed Insights Results: 100/100 Score
2. ChemiCloud Hosting Desktop PageSpeed Insights Results: 100/100 Score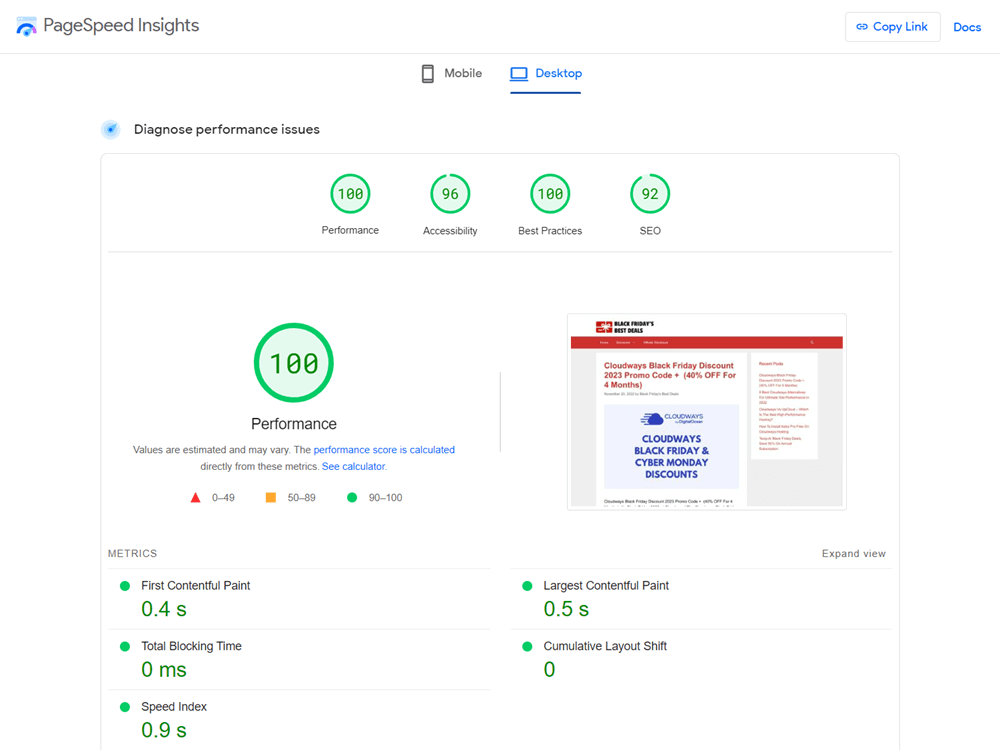 ChemiCloud Security Features
Keeping a website secure from online threats is crucial. Don't worry! With its excellent security features, ChemiCloud proves an invaluable web hosting choice.
1. SSL Certificates
All ChemiCloud hosting plans include free Let's Encrypt SSL certificates. Furthermore, you can always upgrade to RapidSSL premium SSL certificates by paying a few bucks.
2. Two-Factor Authentication (2FA)
Adding two-factor authentication to your site will protect your data and site from hackers.
2FA provides an enhanced layer of security by requiring a second step when logging in. To prevent unauthorized access to your web hosting account, you can easily set up 2FA in your ChemiCloud client area or cPanel. No one will be able to log in without your smartphone.
3. Imunify360 Protection
ChemiCloud offers Imunify360, a comprehensive security suite with its hosting packages. The program uses herd immunity and a proactive multi-layer approach to provide complete protection against known and unknown threats, including distributed brute-force attacks.
It also offers advanced firewall protection utilizing artificial intelligence and cloud heuristics to detect new threats and protect your server environment.
Firewalls protect against most cyberattacks, such as brute force attacks, DoS attacks, and port scanning.
4. Account Isolation
The use of this technique prevents users from impacting each other's accounts.
The shared hosting servers at ChemiCloud use CageFS, a virtual file system that isolates each user's data and processes it in a CloudLinux virtual environment. As a result, server performance, stability, and security improve dramatically.
5. Malware Detection and Removal
ChemiCloud's proactive defense technology detects and blocks malicious execution flow in real time. This program analyzes PHP script behavior and prevents it from causing damage.
The Immunify360 security solution automatically scans file systems for malware injection and quarantines infected files.
Moreover, the Turbo plan comes with a free malware removal feature, which automatically scans your website for malware and fixes any threats to your website's security.
6. 24/7 Server and Network Monitoring
To ensure maximum protection from online threats and attacks, ChemiCloud constantly monitors your server and network.
The company security systems monitor your server and networks constantly and react proactively to any cyber attacks or issues affecting your business.
As a result, you can focus on your core business, ensuring that your server is secure and that your websites remain accessible.
7. SpamExpert Email Security
ChemiCloud offers SpamExperts professional email security solution as an add-on to protect and secure your email against attacks and malware.
Your emails will be routed through SpamExperts intelligent self-learning servers that detect and block spam before it ever reaches you.
This program processes millions of emails every day using industry-leading email filters with close to 100% accuracy.
ChemiCloud Backups
All ChemiCloud web hosting plans include free daily backups. As a precaution against data loss in the event of an accident, the backed-up data is stored off-server in a secure remote location.
ChemiCloud shared hosting, and WordPress hosting plans store backups for the following durations:
| | |
| --- | --- |
| ChemiCloud Hosting Plan | Backup Retention Window |
| Starter | 10 Days |
| Pro | 20 Days |
| Turbo | 30 Days |
JetBackup5 manages ChemiCloud's backups. The 1-click restoration feature also lets you choose precisely what to restore, i.e., complete account, cron jobs, database, DNS zones, and more.
Additionally, you can download backups periodically to your local machine for added security.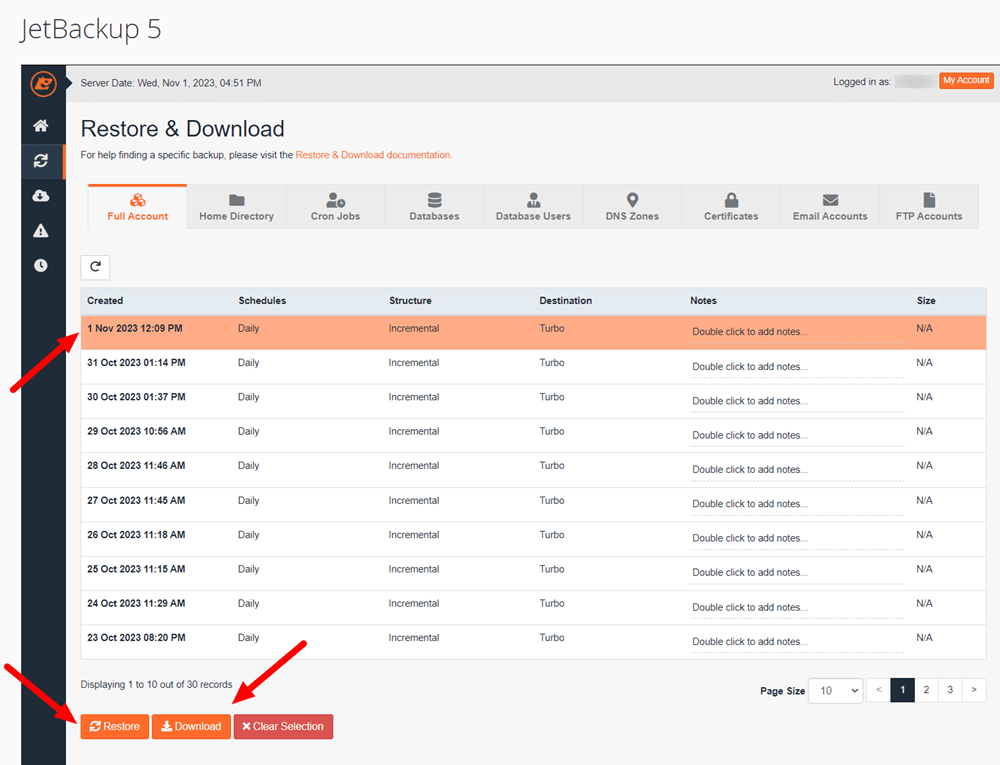 If you want to take manual backups, you must use the traditional cPanel method. ChemiCloud still lacks modern options for this function.
On the other hand, Rocket.net allows you manual backups and restores with 1-click! In case you need this feature, check out Rocket.net managed WordPress hosting. A one-month subscription is $1, allowing you to try all the features risk-free for 30 days.
ChemiCloud Uptime
ChemiCloud's cloud hosting solution distributes all users' data across various cloud servers, reducing the risk of downtime considerably.
I've added my website to a couple of uptime monitoring tools, and surprisingly, it has not experienced any downtime so far. Since I have purchased ChemiCloud's WordPress Turbo hosting plan, I'll update the server uptime each month.
ChemiCloud guarantees 99.99% uptime on its networking and services based on its internal monitoring systems annually. The company will compensate you if the uptime falls below the guaranteed uptime in the following instances:
99.99% to 99.00% uptime: 1 month of free hosting
Every 1% of downtime below 99.00% results in an additional month of free hosting
ChemiCloud is very transparent about its uptime guarantee. Still, if your website experiences frequent traffic surges, I recommend you try Cloudways or Rocket.net managed hosting services.
ChemiCloud Cache
Since all ChemiCloud hosting plans use LiteSpeed servers, you can use the LiteSpeed Cache WordPress plugin to boost your website's performance. It's available for free in the official WordPress plugin repository.
Once installed and activated, you can easily configure it from your WordPress admin dashboard.
ChemiCloud Inode Count
An inode is a pointer to a file or folder on your server. The inode count on a server is limited, and it varies by disk size.
You can run out of inodes for various reasons (typically too many log files, session files, etc.). In that case, you won't be able to create new files/folders, and your server will not work correctly.
In other words, it is preferable to have a higher inode count.
ChemiCloud's shared hosting plans offer the following inode count.
| | |
| --- | --- |
| ChemiCloud Hosting Plan | Inode Count |
| Starter | 250,000 |
| Pro | 350,000 |
| Turbo | 500,000 |
My account comes with 500,000 inodes since I use the ChemiCloud Turbo WordPress Hosting plan.
If you want to extend the inode limit beyond 500K and run your site on a high-performance managed cloud server, you can check out Cloudways hosting.
I'm using the Cloudways DigitalOcean Premium Starter plan priced at $14/month, which provides me with 2.4 million inodes.
Rocket.net is another premium hosting solution powered by Cloudflare Enterprise that doesn't place any restrictions on inodes.
ChemiCloud Data Centers
ChemiCloud's data centers are distributed across 11 locations around the world.
You can view all server locations below and pick the one nearest your target audience.
Dallas (United States)
San Francisco (United States)
New York (United States)
Toronto (Canada)
London (United Kingdom)
Sydney (Australia)
Frankfurt (Germany)
Bucharest (Romania)
Singapore (Singapore)
Tokyo (Japan)
Mumbai (India)
ChemiCloud Pricing Plans
ChemiCloud offers four types of hosting services: Shared Hosting, WordPress Hosting, Reseller Hosting, and Cloud VPS.
Depending on the plan you choose and its duration, the pricing may vary.
Below is a quick comparison of ChemiCloud plans, highlighting their key features and pricing.
1. ChemiCloud Shared Hosting Pricing Plans
| | | | |
| --- | --- | --- | --- |
| Shared Hosting Plan | Starter | Pro | Turbo |
| Number of Websites Hosted | 1 | Unlimited | Unlimited |
| NVME Storage | 20 GB | 30 GB | 40 GB |
| Bandwidth | Unlimited | Unlimited | Unlimited |
| Add-on Domains | NA | Unlimited | Unlimited |
| Free Daily Backups | 10 Days | 20 Days | 30 Days |
| CPU Cores | 1 | 2 | 3 |
| Available RAM | 1 GB | 2 GB | 3 GB |
| Inodes | 250,000 | 350,000 | 500,000 |
| Price (When Purchased Triannually) | $2.99/Month | $4.79/Month | $5.99/Month |
| Purchase Link | Buy Starter Plan | Buy Pro Plan | Buy Turbo Plan |
2. ChemiCloud WordPress Hosting Pricing Plans
| | | | |
| --- | --- | --- | --- |
| WordPress Hosting Plan | WordPress Starter | WordPress Pro | WordPress Turbo |
| Number of Websites Hosted | 1 | Unlimited | Unlimited |
| NVME Storage | 20 GB | 30 GB | 40 GB |
| Bandwidth | Unlimited | Unlimited | Unlimited |
| Add-on Domains | NA | Unlimited | Unlimited |
| Free Daily Backups | 10 Days | 20 Days | 30 Days |
| CPU Cores | 1 | 2 | 3 |
| Available RAM | 1 GB | 2 GB | 3 GB |
| Inodes | 250,000 | 350,000 | 500,000 |
| Price (When Purchased Triannually) | $2.99/Month | $4.79/Month | $5.99/Month |
| Purchase Link | Buy Starter Plan | Buy Pro Plan | Buy Turbo Plan |
3. ChemiCloud Reseller Hosting Pricing Plans
| | | | | |
| --- | --- | --- | --- | --- |
| Reseller Hosting Plan | Kickstart | Grow | Expand | Established |
| Number of Websites Hosted | Unlimited | Unlimited | Unlimited | Unlimited |
| NVME Storage | 60 GB | 90 GB | 140 GB | 200 GB |
| Bandwidth | 3 TB | 6 TB | 9 TB | 12 TB |
| cPanel Accounts | 30 | 60 | 80 | 100 |
| CPU Cores per cPanel | 1 | 1 | 1 | 1 |
| Available RAM per cPanel User | 2 GB | 2 GB | 2 GB | 2 GB |
| Inodes per cPanel Account | 250,000 | 250,000 | 250,000 | 250,000 |
| Free Daily Backups | 30 Days | 30 Days | 30 Days | 30 Days |
| Price ( Applicable to First Invoice Only) | $8.99/Month | $11.99/Month | $16.49/Month | $20.99/Month |
| Purchase Link | Buy Kickstart Plan | Buy Grow Plan | Buy Expand Plan | Buy Established Plan |
4. ChemiCloud Cloud VPS Pricing Plans
| | | | | |
| --- | --- | --- | --- | --- |
| Cloud VPS Hosting Plan | Cloud 1 | Cloud 2 | Cloud 3 | Cloud 4 |
| Number of Websites Hosted | Unlimited | Unlimited | Unlimited | Unlimited |
| NVME Storage | 80 GB | 160 GB | 320 GB | 640 GB |
| Bandwidth | 4 TB | 5 TB | 6 TB | 7 TB |
| CPU (Cores) | 2 x 2.20 GHZ | 2 x 2.20 GHZ | 2 x 2.20 GHZ | 2 x 2.20 GHZ |
| Available RAM | 4 GB | 8 GB | 16 GB | 32 GB |
| Inodes | 5 Million | 10 Million | 20 Million | 40 Million |
| Cloud Remote Backup | $9.95 | $14.95 | $19.95 | $24.95 |
| Price ( Applicable to First Invoice Only) | $29.95/Month | $47.95/Month | $88.95/Month | $165.95/Month |
| Purchase Link | Buy Cloud 1 Plan | Buy Cloud 2 Plan | Buy Cloud 3 Plan | Buy Cloud 4 Plan |
Compared to cheap web hosting companies like Hostinger and MilesWeb, ChemiCloud's Shared Hosting plans are a bit pricey, particularly during renewals.
However, their attractive features make them well worth the investment. LiteSpeed servers, NVME storage, unlimited bandwidth, free SSL, daily backups, Cloudflare CDN integration, free migrations, and unlimited email accounts are some key features worth mentioning here.
For the best discounts, ensure you purchase ChemiCloud shared hosting for a maximum duration because the introductory price only applies to the first invoice.
Which is the Best ChemiCloud Hosting Plan?
I believe ChemiCloud's triannual Turbo WordPress Hosting plan is the best. It can easily accommodate a large number of visitors (4X more traffic handling capacity) before requiring you to upgrade and offers the best feature set for any shared hosting service.
The Turbo plan offers ample NVME storage, 3x more CPU and RAM, unlimited bandwidth, 30 days of offsite backups, malware detection and removal, and advanced caching (Redis, APC, OPCache). It also supports HTTP/3 (QUIC by Google).
Here is an exclusive link to buy the ChemiCloud WordPress Hosting Turbo plan at a 70% discounted price.
How to Purchase the ChemiCloud Hosting?
Here's a step-by-step guide on how to purchase a ChemiCloud Shared or WordPress hosting plan:
Step 1: Visit the ChemiCloud website
Go to the ChemiCloud website through my affiliate link or visit https://chemicloud.com/.
Step 2: Select the Turbo hosting plan
Click the "Shared Hosting" or "WordPress Hosting" tab and select your preferred ChemiCloud hosting plan. There is not much feature difference between shared and WordPress hosting plans. The latter one is designed specifically for WordPress users.
I recommend you opt for the "Turbo" plan and click the "Get Started Now" button.
Step 3: Choose a domain name
On the next page, register a domain name with ChemiCloud if you don't have one already.
Alternatively, you can enter an existing domain name. ChemiCloud offers a free domain for a year with every hosting plan.
Step 4: Choose your billing cycle
Select the billing cycle that you want. The longer the billing cycle, the cheaper the monthly price will be.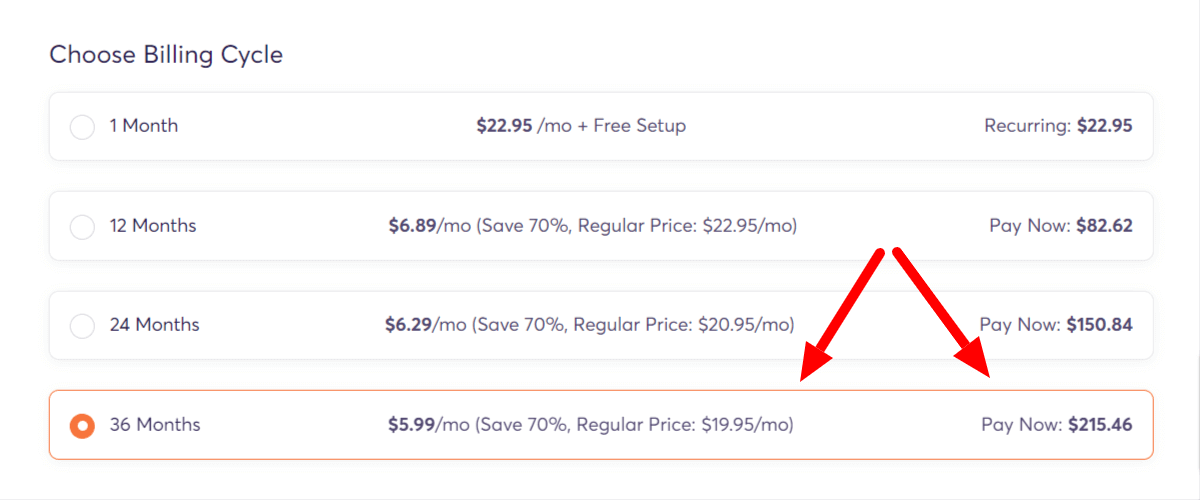 Choose a server location nearest your target audience and additional services if needed.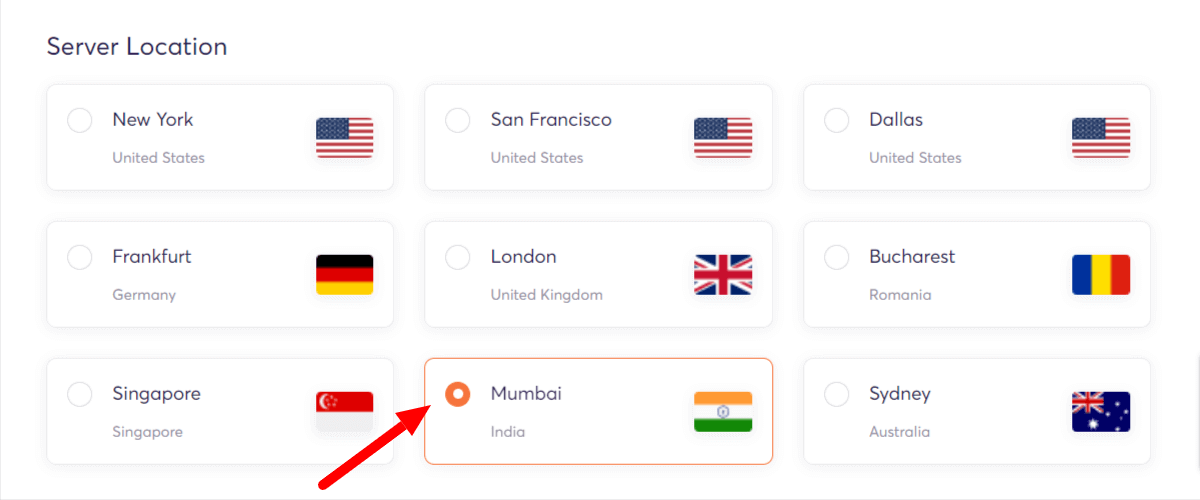 Step 5: Create an account
Enter your personal information and billing address to create a new ChemiCloud account.
Step 6: Enter your payment information
Enter your payment information and complete the checkout process.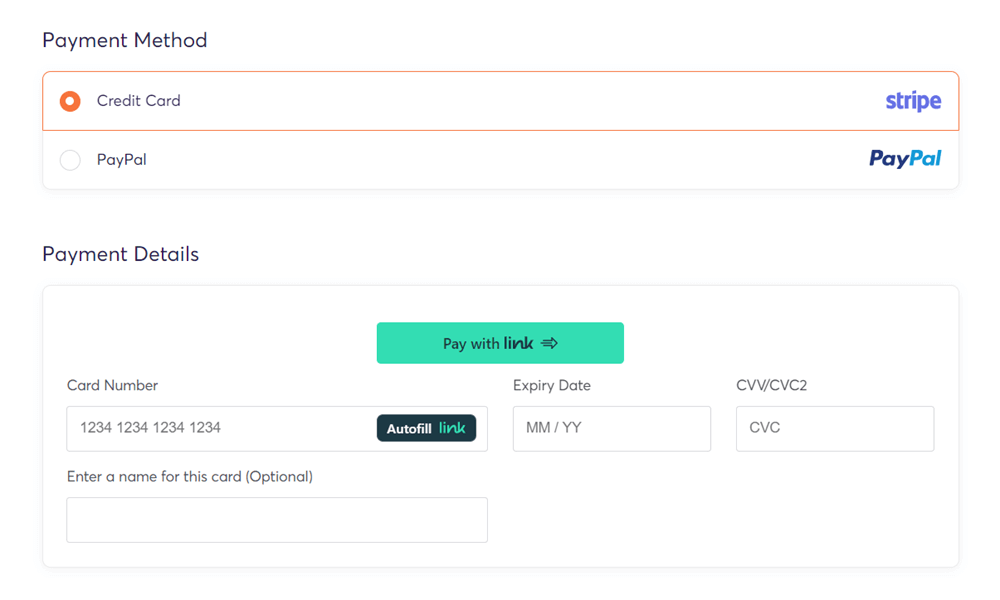 Step 7: Check your email for login information for your hosting account
ChemiCloud will send you an email with the login information of your hosting account and nameserver details.
Step 8: Log in to your ChemiCloud account
Once you have received the purchase confirmation email and login info, you can access your ChemiCloud account.
Step 9: Set up your website
You can now configure your website using the ChemiCloud control panel. Add ChemiCloud nameservers to your domain to connect it to your hosting account.
Depending on your preference and development skills, build your website using SitePad or the Softaculous app installation wizard.
It's that simple! You have now successfully purchased a ChemiCloud Turbo hosting plan.
Payment Methods
ChemiCloud supports two primary payment methods: international debit and credit cards via Stripe and PayPal.
Since the company has launched a data center in Mumbai, it should introduce Indian payment options like RuPay cards and UPI to serve India-based customers.
In addition to default payment methods, other payment options and apps would greatly benefit users who want to purchase ChemiCloud hosting.
ChemiCloud Website Builder
ChemiCloud offers SitePad's drag-and-drop website builder, which you can access through your cPanel. Even beginners will find this site builder easy to use.
It's easy to get started. Pick a theme from its extensive selection of 850+ themes, add your site details, contact details, and social media profile links, and proceed with installation!
When you enable dev mode during installation, the site will be visible only if you are logged in.
The website editing experience is smooth and features a WordPress customizer-like interface for a faster design workflow.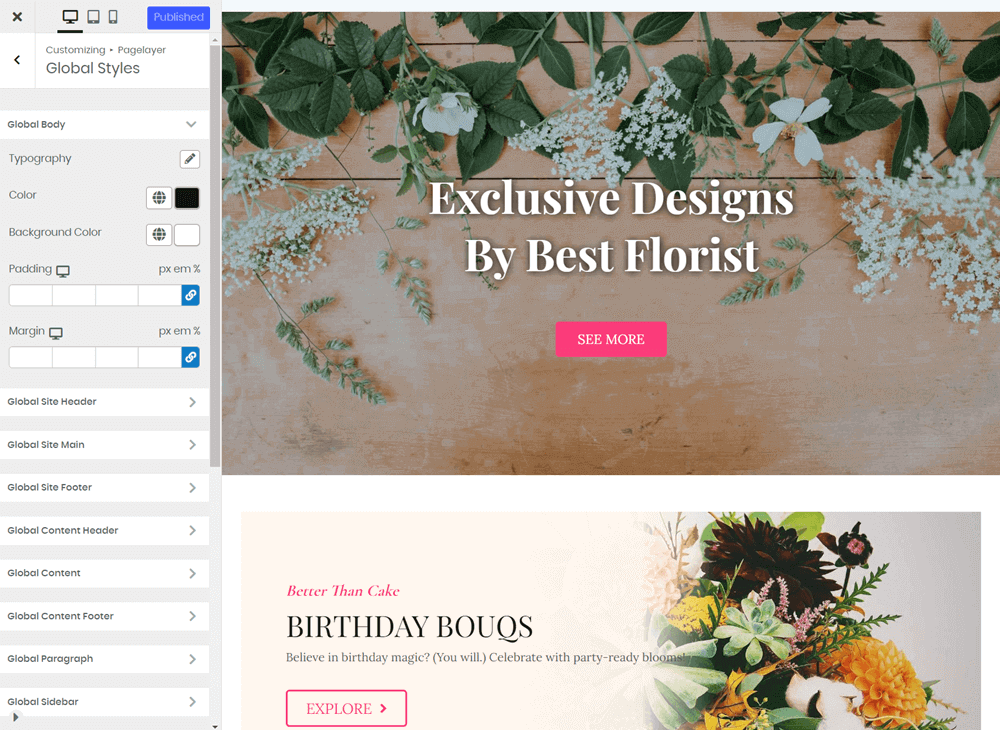 While you can always use advanced WordPress visual builder plugins like Elementor or Divi, it's a fantastic option to start quickly and get your site online within no time.
Chemicloud Developer Features
ChemiCloud provides dozens of exciting features for developers, including
Multiple PHP Versions (the latest 8.2, and all previous versions, such as 8.1, 8.0, 7.4, 7.3, 7.2, 7.1, 7.0, and 5.6) with PHP Selector
Softaculous 1-Click App Installer
Application Autoupdates
Unlimited MySQL Databases (MariaDB 10.5)
Remote MySQL Access
Unlimited PostgreSQL Databases (PostgreSQL 13)
phpMyAdmin
SSH and SFTP Access
NodeJS Support
Python Support
Perl Support
Bash Support
Laravel
Symfony
Preinstalled GIT
Mod_rewrite for SEO URLs
Custom Cron Jobs
ChemiCloud Add-ons
Besides its hosting plans, ChemiCloud offers the following add-ons. They are available for an additional fee.
Premium SSL certificates, including standard Domain Validation (DV), Organisation Validation (OV), and Extended Validation (EV) SSL certificates from RapidSSL and GeoTrust
SiteLock™ website security and malware protection suite
SpamExperts email spam filtering
Marketgoo do-it-yourself SEO toolkit to improve website traffic and grow your business
Dedicated IPv4 address
Turbo+ Boost
Additional disk space
Nonetheless, a regular website would need none of these tools.
ChemiCloud Affiliate Program
The ChemiCloud affiliate program is a great way to generate income by promoting ChemiCloud's web hosting services to your audience. The company offers a high commission rate and a wide selection of marketing tools.
Here is an overview of the ChemiCloud affiliate program:
Commission rate: $50-$200 per sale, depending on the sales volume.
Payout threshold: The payout threshold for the ChemiCloud affiliate program is $100.
Payout frequency: ChemiCloud pays its affiliates every month.
Marketing tools: ChemiCloud offers a variety of marketing tools to help you promote its web hosting services, including banners and text links.
Sign up for ChemiCloud's affiliate program by visiting the ChemiCloud website. Once your affiliate account has been created successfully, you receive a unique affiliate ID/link and various marketing tools to promote ChemiCloud hosting services.
You will earn commissions if a visitor purchases a ChemiCloud web hosting plan after clicking on your affiliate link. ChemiCloud affiliate dashboard lets you track your earnings and referrals.
Here are some tips for promoting the ChemiCloud affiliate program:
Write blog posts, tutorials, and reviews about ChemiCloud's web hosting services.
Create social media posts and videos about ChemiCloud.
Join online forums and communities, such as web hosting-related Facebook groups, Quora spaces, and Pinterest boards, where you can talk about web hosting and promote ChemiCloud.
The ChemiCloud affiliate program is an excellent option if you are looking to promote a high-paying affiliate program. It offers a high commission rate, several marketing tools, a reliable affiliate tracking system, and a timely payout schedule.
Here is a special surprise for you!
You can earn free hosting renewal as a ChemiCloud affiliate partner.
There are only three requirements:
Become a ChemiCloud customer through this exclusive link to get a 70% discount, and then sign up as an affiliate.
Write an article about ChemiCloud and generate at least five qualified sales.
Enjoy an attractive commission on each sale and free renewal.
In the table below, you will find the minimum sales requirement for renewal of each hosting plan.
| | |
| --- | --- |
| ChemiCloud Hosting Plan | Sales Requirement for Account Renewal |
| Starter or WordPress Starter | 5 sales |
| Pro or WordPress Pro | 10 sales |
| Turbo or WordPress Turbo | 15 sales |
ChemiCloud Domain Registration
1. New Domains
Besides being a top-rated web hosting service provider, ChemiCloud is also a domain name registrar. It takes just minutes for them to register your domain name with ChemiCloud.
An online domain name generator tool will help you find a suitable domain name for your blog or brand.
You may notice that ChemiCloud domain registration pricing is a bit high, but the company does not increase domain rates, so you can keep the same domain price when renewing.
Some popular domain extensions are listed below, along with their first-time registration and renewal prices.
| | | | |
| --- | --- | --- | --- |
| TLD | Registration Cost | Renewal Cost | Transfer Cost |
| .biz | $15.95/Year | $15.95/Year | $15.95/Year |
| .blog | $29.95/Year | $29.95/Year | $29.95/Year |
| .club | $21.60/Year | $21.60/Year | $21.60/Year |
| .co | $29.95/Year | $29.95/Year | $29.95/Year |
| .co.uk | $13.95/Year | $13.95/Year | $13.95/Year |
| .com | $15.95/Year | $15.95/Year | $15.95/Year |
| .in | $9.95/Year | $9.95/Year | $9.95/Year |
| .info | $22.05/Year | $22.05/Year | $22.05/Year |
| .io | $43.95/Year | $43.95/Year | $43.95/Year |
| .live | $34.67/Year | $34.67/Year | $34.67/Year |
| .net | $15.95/Year | $15.95/Year | $15.95/Year |
| .org | $15.95/Year | $15.95/Year | $15.95/Year |
| .tech | $61.60/Year | $61.60/Year | $61.60/Year |
| .xyz | $14.42/Year | $14.42/Year | $14.42/Year |
For new customers who have subscribed to ChemiCloud's shared or WordPress hosting plans for at least one year, ChemiCloud offers a free domain for one year.
The first year of domain ownership is entirely free if you purchase a hosting account and register a new domain name alongside it.
However, the offer must be redeemed within 60 days of purchase.
2. Domain Transfers
If you currently have a domain registered with another domain registrar, you can effortlessly transfer it to ChemiCloud.
Domain transfer rates are the same as purchase and renewal rates, without additional fees.
You can use the official ChemiCloud coupon code TRANSFER20 and get 20% off all domain transfers to ChemiCloud.
3. Temporary Domains
ChemiCloud does not offer temporary domain names or preview URLs, unlike other providers such as Cloudways or Rocket.net.
You must either register a new domain or enter your existing domain name while purchasing your hosting plan or setting up your WordPress site.
ChemiCloud Customer Support
ChemiCloud's support team is very knowledgeable and helpful. All support executives (ChemiCloud calls them happiness engineers) answered all my questions quickly and efficiently. Overall, I am very impressed with ChemiCloud's customer service.
ChemiCloud offers customer service through live chat, email, ticket system, and phone. The company has built a comprehensive knowledge for solving user queries, which includes blogs, support articles, and video tutorials.
Moreover, if you live in the United States, you can visit their office in Middletown, Delaware, or contact them through social media.
Below are the complete details for contacting ChemiCloud support.
24/7/365 Live Chat: The chat icon is located at the bottom right corner.
Phone: +(1) 3027667722
Email: help@chemicloud.com
Ticket System: It is available in your ChemiCloud client area.
Knowledge Base: Click this link to view the knowledge base articles.
YouTube Channel: Visit ChemiCloud's YouTube channel for quick video tutorials.
Address: CCHosting, Inc., 651 N. Broad Street, Suite 206, Middletown, Delaware, United States 19709
My personal experience with ChemiCloud live chat support was highly positive.
The initial response from the chat operator was within 5 seconds, which is incredibly fast. Plus, all of the live chat representatives were highly knowledgeable and courteous.
A while ago, I had trouble opening my WordPress site. Instead of pointing me to a knowledge-base (KB) article, the support engineer reinstalled the WordPress core files, fixed all security issues, and asked me to confirm that it worked on my end.
That's how ChemiCloud support works.
Compared to Cloudways managed hosting, ChemiCloud support was much quicker and more responsive.
ChemiCloud Pros
1. Lightning Fast Speed
ChemiCloud hosting provides lightning-fast loading speed because it runs on powerful LiteSpeed servers, NVME storage, and plenty of server resources per account.
2. 99.99% Uptime
ChemiCloud claims 99.99% uptime except for the scheduled maintenance. Uptime has improved substantially in the last few years. I have experienced 100% uptime, which is incredible!
3. 11 Global Data Centers
Currently, ChemiCloud has 11 data centers worldwide, including one in Mumbai, which benefits Indian customers a lot.
4. Free Domain for 1 Year
ChemiCloud offers a free first year of domain registration/transfer when you purchase a shared/WordPress/reseller hosting package.
5. Excellent Customer Support
ChemiCloud offers top-notch customer support. The support engineers are knowledgeable and reply to all your queries politely. The best part is you get an initial response from the ChemiCloud support team within 10 seconds.
6. Free Migrations
If you're moving from your existing host to ChemiCloud, you can request up to 200 cPanel migrations and 10 non-cPanel migrations for free. Currently, it is the only web hosting company to offer so many free migrations.
7. Comprehensive Security
You get a range of security options with ChemiCloud hosting plans, including Free Let's Encrypt SSL certificates, 2FA, Imunify360 Proactive Defense, Malware Detection and Removal, WAF, Account Isolation, and 24/7 Server and Network Monitoring.
8. 45-Day Refund Policy
ChemiCloud hosting comes with an impressive 45-day refund policy, which is very convenient if you want to test it before purchasing. No worries, you can get your money back if you don't like it!
9. Free Email Hosting
ChemiCloud hosting offers free unlimited email accounts even with its Starter Shared Hosting package.
Those who don't want to use third-party email services like Google Workspace, Zoho, or Microsoft 365 will find this feature extremely helpful.
Additionally, it comes with MailChannel integration, email spam filters, and email autoresponders for added convenience.
10. Impressive Developer Tools
As a developer, you'll appreciate ChemiCloud's support for various developer features, including PHP 8.2 with PHP selector, SSH and SFTP Access, WP-CLI, Preinstalled GIT, WordPress Staging Environment, NodeJS, Python, Perl, Bash, Laravel, and custom Cron Jobs.
ChemiCloud Cons
1. Best Discount is Available for First Invoice Only
ChemiCloud's introductory discounted pricing is valid for the first invoice only. Plus, you get the best discounts on triannual plans.
Although a 70% discount makes the initial pricing look lucrative, a 3-year commitment for a shared hosting plan seems very long. Since the discount value significantly reduces for a shorter plan duration, you must commit to a triennial purchase or pay much higher pricing than displayed on the landing page.
2. Limited Payment Methods
ChemiCloud supports payments made only through international credit and debit cards via Stripe and PayPal at the moment. It would be great if the company provided more convenient payment methods like UPI, domestic cards, and payment apps, such as Amazon Pay and AliPay.
3. Limited Storage Space
While ChemiCloud provides ultra-fast NVME storage, even with its shared hosting plans, the storage space is limited. However, there is always the option to upgrade to a higher tier or buy more storage.
4. No Temporary Subdomain
Unlike Cloudways or Rocket.in, ChemiCloud does not get a temporary subdomain or a preview URL to decide how the website appears without connecting your domain.
5. No Direct Cloudflare CDN Integration
ChemiCloud claims that it has partnered with Cloudflare to provide a free CDN service to its customers. In reality, you need to configure CDN yourself by visiting the Cloudflare website.
The company does not offer direct one-click Cloudflare integration in its hosting control panel or cPanel area. I'm disappointed for such a renowned hosting company to have this issue.
6. Malware Removal is Only Available on the Turbo Plan
ChemiCloud provides many basic security features with all hosting plans, but malware detection and removal feature is only available in the Turbo plan.
The Imunify360 Proactive Defense and Advanced Firewall Protection aren't available on the Starter plan, which might pose a security risk.
ChemiCloud Alternatives
Check the following alternatives offering similar features and affordable pricing if you are unhappy with ChemiCloud hosting.
1. HostArmada
HostArmada is a fast, reliable, and secure web hosting service provider. It offers many advanced features, such as LiteSpeed servers, free SSL certificates, managed website migrations, and free website speed optimization.
Moreover, it offers a data center in India, which is beneficial to website owners who cater to Indian audiences.
The HostArmada's pricing plans are also pretty affordable, with shared hosting packages starting at only $2.49/month. Use my exclusive affiliate link to save a flat 75% on HostArmada hosting.
2. FastComet
FastComet is another web hosting service provider that guarantees exceptional site speeds, optimal load handling, outstanding customer support, free SSL+ CDN, Imunify360 security suite, and a 45-day refund policy.
Like ChemiCloud and HostArmada, FastComet offers multiple data centers to serve a global audience.
FastComet runs regular promotional campaigns throughout the year, so you don't need to wait for the festive season or Black Friday sale to get the best discounts. Additionally, the pricing is also quite affordable, starting at just $2.59/month.
The best part is that you get a free lifetime domain as long as you keep it a primary domain and renew your account.
3. GreenGeeks
GreenGeeks has positioned itself as a green hosting company that makes a positive impact on the environment!
It utilizes an advanced tech stack to offer blazing-fast speeds and optimal load handling.
Free CDN, scalable platform, advanced security, 24/7 expert support, free domain for the first year, and a 30-day refund policy distinguish GreenGeeks from the competition.
GreenGeeks'GreenGeeks' pricing starts at $2.99/month, and you can opt for a hosting plan that meets your requirements and budget.
ChemiCloud Review: Conclusion
Thanks for reading my ChemiCloud Hosting Review. Please let me know if the information was helpful to you in determining whether ChemiCloud hosting is right for you.
ChemiCloud appears to be the best-shared hosting choice, with so many impressive features, such as LiteSpeed servers, NVME storage, unlimited bandwidth, a 100% uptime guarantee, free migrations, excellent customer support, PHP 8.2, a 45-day refund policy, and more.
I recommend you check out ChemiCloud's hosting service if you run an affiliate blog, business site, or a small e-commerce store.
Please remember the best discounts are available on three-year plans. So, if you're considering ChemiCloud as a hosting solution for your business website, purchase the triannual plan.
ChemiCloud Review: FAQs
Q: What is ChemiCloud?
ChemiCloud is an independent web hosting company that provides various hosting packages, including shared hosting, reseller hosting, and Cloud VPS hosting. Its lightning-fast speeds, robust security, excellent customer support, and affordable pricing made it a popular choice.
Q. What are the ChemiCloud hosting options?
The company offers four different types of hosting services: affordable shared and WordPress hosting, reseller hosting, and powerful cloud VPS hosting. 
Q: Which ChemiCloud hosting plan should I choose?
Consider your budget and requirements when purchasing a ChemiCloud hosting plan. If you have a limited budget, a shared hosting or WordPress hosting plan would be a good choice. For more power and flexibility, you can always opt for the Cloud VPS hosting plans. 
Q. Does ChemiCloud offer a free domain name for life?
Earlier, ChemiCloud included a lifetime domain name with their shared hosting plans. Unfortunately, this offer is no longer available. Please don't feel sad! Every new ChemiCloud shared/WordPress hosting package still includes a free domain for a year.
Q. What is the price of ChemiCloud's shared hosting?
ChemiCloud's shared and WordPress hosting pricing starts at $2.99/month when purchased triannually. 
Below is the pricing for all ChemiCloud shared hosting plans: 1. Starter Plan: $2.99/month, 2. Pro Plan: $4.79/month, 3. Turbo Plan: $5.99/month
Q: What is the ChemiCloud money-back guarantee?
ChemiCloud offers an impressive 45-day money-back guarantee on all of its hosting plans. You can try ChemiCloud hosting services risk-free for 45 days and get a full refund if unsatisfied.
Q: How can I contact ChemiCloud customer support?
You can contact ChemiCloud customer support 24/7/365 via live chat, email, and phone. The company has also established a comprehensive knowledge base and YouTube channel that includes video tutorials for DIY users.