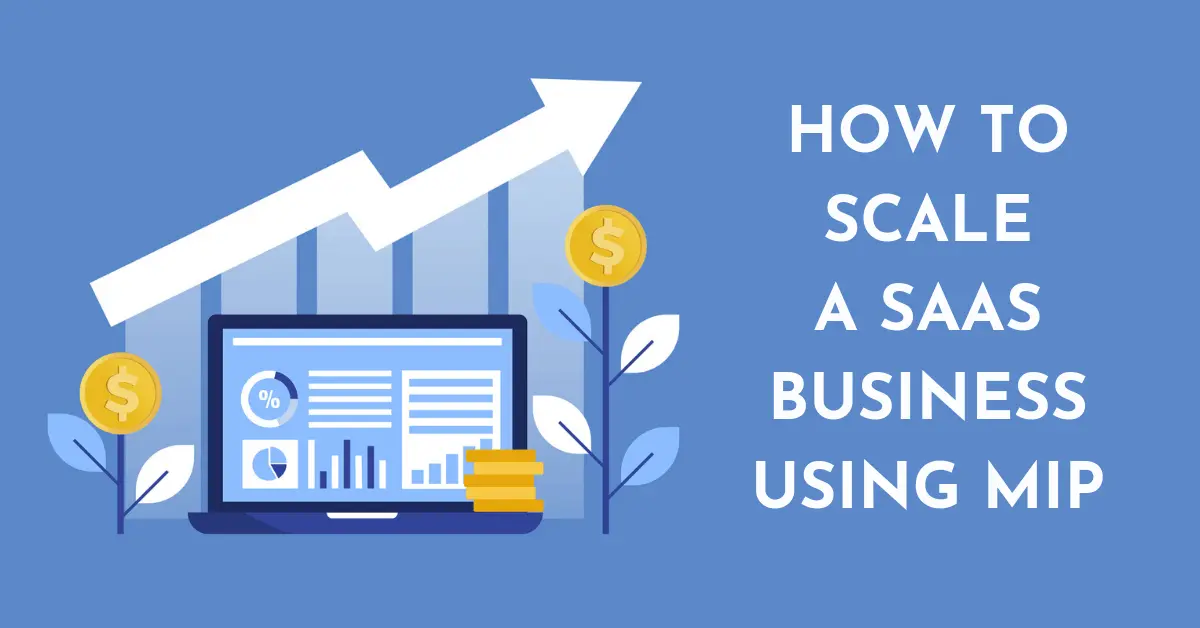 Affiliate Disclosure: I publish various content marketing strategies, online business ideas, blogging tutorials, review articles, and discount offers on my blog. My content may contain some affiliate links for products/services I use, love, and recommend. If you take action (i.e., subscribe or make a purchase) after clicking one of my affiliate links, I'll earn an affiliate commission at no additional cost to you. It helps me in creating more helpful content like this.
Many people especially designers, developers, and marketers dream about starting a SaaS business, but at some point, they don't want to pursue their dream because of a fear of failure.
If you have the expertise, capital, time, and an idiot-proof business plan, then it's possible to build a SaaS business and scale it successfully to the next level.
In this article, I have outlined all the major points required to launch and grow a SaaS business instantaneously.
Grab a cup of coffee and enjoy this treat.
1. What is SaaS Business Model?
Software as a Service a.k.a. SaaS refers to the way of accessing software programs on a subscription basis which are hosted in the cloud.
Due to technological enhancements in the recent few years, the SaaS business model has become mainstream, and many companies including Adobe, Google, Microsoft, and Shopify are adopting this model because of its sustainability.
2. How Do SaaS Businesses Work?
Earlier software programs were being distributed through a perpetual license. Users might need to pay for updates and support, but it was optional.
SaaS, on another hand, differs from this on-premise software delivery.
In the SaaS business model, software, as well as data, are hosted in the cloud and accessed over the internet. Software updates, support, and many other fees are included in the subscription plan you choose.
Smart users prefer SaaS over traditional license model because of –
The software is hosted and run in the cloud that eliminates hardware requirements except for a computer with significant internet speed and access to the web app or browser.

Need not to worry about server maintenance, software updates.

Software cost is spread over time that reduces the upfront cost and thus the risk factor.
Although it's quite intuitive to pick the SaaS platform, you must check the critical clauses in SLA including the data ownership, security, and backup system irrespective of you are a developer or a customer.
3. Define Your Business Idea
Every business starts with an idea.
If you want to solve a problem that no one is addressing or want to create a better SaaS alternative to the existing product, then define your idea.
You may come with several ideas simultaneously, but defining them helps you to set priorities and create a work-plan.
4. Business Idea Validation
The next step is all about validating your business idea(s).
Business idea validation is the process of validating your product prior to launching it.
In short – the research and development phase before launching your business name, logo, tagline, website, and the actual product to the general public.
Here is a checklist for business validation.
Brainstorm internally.

Market research for finding the useful metrics including a total number of potential customers, average price vs. value proposition, SEO & PPC competition to check the profitability and sustainability of the business.

Reaching the target audience in person and interviewing them to find their needs and expectations. Surveys and community polls are a couple of useful tools.

Building early feedback communities and email list.

Launching pre-order via a landing page.
5. Building a Website
Once you receive positive feedback and essential insights required for launching a SaaS product, create a full-fledged website. You can use any language/CMS or craft it from scratch depending on your budget, skill-set, and feature requirements.
However, learning the branding strategies or consulting an expert will help you to create an out-of-the-box website design.
I have mentioned the top ten elements you must focus on while designing a business website.
Security

Speed

Responsiveness

Navigation

Structure

Contents

Aesthetic Feel

Branding including the Color Scheme, Fonts, etc.

CTA and Lead Generation

Accessibility
Don't forget to cater to the user intent with a better experience to make him stay on your page and take the desired action.
6. Building MVP
MVP (Minimal Viable Product) is a basic version of your product with core functionalities. MVP with future iterations is the best idea to quickly validate product success with less budget.
MVP allows businesses to push the product in the market and gather user intelligence and feedback. Improving the range of data beyond the closed feedback communities, you can build a better product that people love to buy.
UI/UX design and actual product development are two different things. No matter, you are developing an MVP or final product, great UI and UX are crucial elements to reduce the bounce rate.
7. Beta Testing
You must test a SaaS product in the live environment so that users can report bugs and share the experience with the product. It helps to launch the fully-functional final product without any glitch or defect.
Many people often use an MVP interchangeably with the Beta, which is not true.
An MVP is an alpha phase where the product is tested for user demands and usefulness to validate the product assumptions versus a beta version is the somewhat unpolished final product that undergoes technical analysis in the live testing environment.
MVP testing is often carried out with an internal audience or selective group of a few early adaptors while the beta product is an almost mature product ready to cater to masses.
8. Create Knowledge Base with FAQs
Once you launch the product in beta mode, many people may opt-in to your SaaS platform.
A knowledge base is the best way to create a product tour and show how each module works.
Still, a few of the potential customers may have some questions you need to answer manually.
Collecting that data and compiling FAQs (Frequently Asked Questions) section will reduce your time and workforce required in customer support.
You can use articles, PDFs, infographics, and explainer videos creating a product knowledge base.
9. Build A Customer Service Portal with Live Chat/Phone Support
Every customer is unique.
Although the KB portal and FAQs reduce a support queue to a greater extent, some issues need personalized attention from the product expert.
In such a case, you must have a live customer service portal where customers or prospects can speak to your support team over a phone call or live chat.
Using automation tools including AI-powered chatbot and Virtual Assistant Integration is an alternate way to cater to users through personalized communication.
10. Define Pricing
Depending on the data collected previously, you can position decide the product pricing.
Freemium SaaS business model is quite popular because people can test the product before purchasing a subscription.
All features free for a limited time (ConvertKit) and limited features free forever (Shortpixel, Buffer) are a couple of best freemium SaaS product delivery modules.
Keeping it free forever (unless it's the non-profit business funded externally) will reduce the sustainability whereas allowing the premium subscriptions without free trial may significantly reduce the sales volume if you haven't created enough buzz or targeted the product for the elite class only.
11. Pre-launch
Pre-launch is the most critical period for any SasS business.
You need to ensure everything is working as expected – the product, website & landing pages, email autoresponders, live-chat automation, phone lines, and anything which is a part of the product launch. Even the staff should ready to handle the flood of support queries, and develop quick solutions.
Remember, the worst things can happen anytime. So, you must be prepared for that and have an alternate system in place.
If your product is performing well and ready to launch in public, announce the tentative date for product-launch.
You can use social media promotion, PR or paid advertisements to create brand awareness.
Again, allowing pre-booking with early-bird discount offers may significantly improve the signup rate on your coming soon page.
12. Product Launch
You might have heard a famous quote,
The more you sweat in peace, the less you bleed in war.
By working smartly in pre-launch, you can streamline the entire product launch process.
Yes, you can create an offline launch event to present your product in front of hundreds of potential customers, resellers, and affiliate partners.
However, this is the 21st century where you can live stream the product launch event to millions of potential customers over the globe.
Inviting the niche influencers and celebrities instantly increases the product exposure and chances of lead generation.
13. Set Goals
Once you launch the Saas product successfully, you must set realistic goals to scale your business and improve profitability.
Each department of your company including the research and development wing, marketing, sales, customer support, and administration must have goals for the growth of your SaaS startup.
Having business goals for short-time as well as for long-time keeps your team productive, creative, and disciplined.
14. Analyze Performance
Great businesses are often data-driven.
Analyzing different metrics including traffic, leads, conversion, the average value per customer, and unsubscribe rate give insights about how the product and the entire business is performing.
Finding the weak points and improving them may give you better results and competitive advantage.
Depending on the analytics and competitive market research tools is not always a great idea. Sometimes, you need to reach the existing and potential customers so that you can deliver the delighting user experience to create and improve average customer lifetime value (CLV).
15. What is the MIP (Mega Influencer Platform)?
You often see many celebrities and influencers with millions of followers.
Similarly, MIP (Mega Influencer Platform) is a website or an app with a massive audience.
E.g. AppSumo, StackSocial, or any other website with 1M+ monthly traffic.
16. Why Should You Work with MIP?
Many businesses pay significant customer acquisition cost (CAC) due to the competitive environment in the SaaS market.
Mega Influencer Platforms have thousands if not millions of potential customers that might purchase your SaaS product if you come with an irresistible offer reducing your CAC.
MIP allows businesses to collect a large number of customers in a short-period, generate considerable revenue, gather valuable feedback, and most importantly, gain brand exposure.
17. Choose the Perfect MIP
Although picking more than one MIP seems tempting and boost your sales volume, you shouldn't not be doing that for obvious reasons.
Depending on your research and internal factors like the sales target, system status, employee strength, and product niche, you can select the Mega Influencer Platform to work with.
18. Reach MIP
Although it seems straightforward to reach MIP to start negotiations, it's not.
Right from the channel you're going to use for outreach to the products they're promoting, everything matters a lot.
In this case, having a reference from their previous client or an industry expert can boost your chances to receive a quick reply.
Else, a solid social presence adds some plus points.
Remember, MIPs receive hundreds of pitches for product promotion, but have only limited slots per month. So, your outreach email should be concise and straight to the point.
19. Negotiate For Mutual Benefits
If you receive a reply from a MIP executive, you need to prepare for the negotiations. Being a marketing partner, you need to share a substantial amount of sales revenue with MIP that leads to considerably low net-profit during the promotion event.
That's why you need to negotiate the sales target, campaign duration, revenue share, and decide the marketing workflow strategy.
Sometimes, MIP wants to offer lifetime deals to their audience. However, you must check whether the cost vs. expense relationship will be in favor of your business growth or not.
And, most importantly, you should not devalue the product which can backfire in the long run.
20. Create Discount codes
If both parties agree on a deal for mutual benefits, you as SaaS business or merchant need to create discount codes or bonus offers to maximize the sales volume.
You can allow to stack discount codes to unlock more features or additional users.
21. Dedicated Sales Page
A dedicated sales page is essential to redirect MIP converted buyers and let them redeem the unique discount code valid for the limited-time.
It helps to measure the referral traffic and final conversions driven by the MIP campaign.
22. Preparing For Traffic Spikes
Usually, SaaS businesses use Cloud servers to host their applications and website.
Considering the traffic hike during the MIP promotion event, you must equip your servers with additional resources. This will help to handle the surge of traffic effectively without affecting the performance of your SaaS system or website.
23. Customer Onboarding
When Mega Influencer Platform starts active promotion to their audience including sending marketing emails, social posts, live streaming, or anything suitable for all parties, then a huge crowd checks out the offer and purchase the deal if it's worth buying it.
Here your team comes into action.
As soon as the MIP converted person lands on your sales page, you must offer him clear navigation to redeem the coupon.
Some people may visit your website's pricing page to differentiate the deal value. In such cases, you can sell irresistible premium upgrades to generate monthly recurring revenue.
24. Team Alignment
businesses often have an in-house team of developers with a few remote-working freelancers and virtual assistants.
Since the workload is going to increase tremendously during the MIP promotion event, every team member should be prepared to contribute the best he/she can.
Customer support staff and development team may need to work around the clock answering the user queries and fixing the bugs as quickly as possible.
Figure out when most of your customers are active and be online to help them for successful onboarding.
25. Reach Customers to Educate them and Ask Feedback
MIP converted buyers may start using your product successfully after going through your KB articles and video tutorials.
Still, some features of your SaaS system remains undiscovered.
By tracking the user behavior and browsing history on your SaaS platform, you can reach out to them and educate about getting most of their purchase.
This action creates a positive feeling that you care about your customers and helps to retain most of the customers for a long time.
In some cases, you may ask for feedback, feature requests, and collect information about customer satisfaction levels.
26. Reach Micro-influencers for Aggressive Promotion
Once your MIP deal goes live, reach out to micro-influencers, including SaaS affiliate bloggers, YouTube Creators, Social Media Influencers, and small coupon websites to tell about the event.
Since most of MIPs have affiliate programs, the micro-influencers will help you reach a more targeted audience.
If you think, your product is worth paying it even after the MIP promotion ends; then you should create a dedicated affiliate program with a recurring commission model and invite partners to partner with your SaaS business.
27. Monitor external Sources and Social Media
Nowadays, every brand has its social media handles on top websites including Facebook, Twitter, LinkedIn, Instagram, and many other channels. SaaS businesses may have accounts on development platforms where other people with tech backgrounds are assessing your products.
You must monitor every social platform and external sites so that you can take corrective measures if something goes wrong.
Several tools are available in the market including SEMrush, Ahrefs, Synup, and BuzzSumo for social monitoring, discovering brand mentions, spying review portals, and ORM.
Remember, criticism and bad reviews are elements of growth.
If someone has posted a positive review, thank that person and encourage him to use your product and refer it to his friends/colleges.
In a rare case, unsatisfied buyers or competitors may leave negative reviews.
Don't show aggression in such moments.
Reach out to the respective person, ask how you could help them or improve your product or service.
Genuine buyers may respond with their concerns and change their reviews after you address their issues.
Remember, everyone is not your ideal customer, and you can't satisfy each person having unrealistic expectations.
In such cases, offer a refund to avoid further headaches and save valuable resources.
If the competitors are gaming on you to harm your reputation or growth, showcase the proofs that they are doing that deliberately and ask them not to do that.
28. Create Story to Sell More
Storytelling is an important element in sales and marketing.
People don't like to be sold, but they love to buy.
Creating stories around your brand or SaaS product, you can better relate to the targeted audience and convert them into paying customers.
29. Apply FOMO Principle to Sell More
FOMO (Fear of Missing Out) is a widely used marketing technique to generate more leads and sales.
Since you've partnered with MIP to offer a massive discount for a limited time, people may not want to miss that opportunity.
To use the FOMO principle effectively, you should not offer such deals for more than a couple of times per year, and the maximum duration of the MIP event should also be less than one month.
30. Community Building
Mega Influencers Platforms promotion is not just about selling more subscriptions and making quick money.
Effectively managing thousands of customers with diverse nature is a big challenge for any SaaS business. Building a community around your brand or product can unite them, help each other, give you valuable feedback and suggestions for improving your SaaS business.
Plus, a community is a great way to showcase the social proof for new customers.
Final Words
Building a successful SaaS business and growing it 10X or even more is not less than a dream.
However, it requires time, knowledge of multiple domains or an expert team, capital, risk-taking capabilities and most importantly, the understanding of the market.
SaaS business model is not about creating software programs to make recurring revenue, but solving the biggest problem that people are facing using software and technology.
Customer delight is the key to success, and when you start working in this direction, you'll see that the business is growing more than you dreamed.