Affiliate Disclosure: I publish various content marketing strategies, online business ideas, blogging tutorials, review articles, and discount offers on my blog. My content may contain some affiliate links for products/services I use, love, and recommend. If you take action (i.e., subscribe or make a purchase) after clicking one of my affiliate links, I'll earn an affiliate commission at no additional cost to you. It helps me in creating more helpful content like this.
Internet technologies have heavily influenced the growth of the e-commerce sector.
Since many people are moving to online shopping platforms, no business really wants to lose its potential customers.
However, you need a robust e-commerce marketing strategy to win maximum customers and claim market leadership.
That's why I have written a comprehensive guide on how to build a successful e-commerce marketing strategy right from picking a profitable niche to promoting your store to the targeted audience.
Building a Successful Ecommerce Marketing Strategy [7-Steps]
Creating an online store and growing it into a popular shopping destination needs a robust marketing plan that converts a stranger into a loyal customer.
I have mentioned everything that you'll ever need to optimize and grow your e-commerce business.
You don't even need to spend thousands of dollars on those activities. Semrush toolkit will help you win the e-commerce marketing battle.
Grab a cup of coffee and start reading.
1. Choosing a Profitable E-commerce Niche
Picking a profitable niche for an e-commerce store is a challenging task.
You wouldn't put money into niches where the store may struggle to get a few sales per month.
At the same time, most of the commercial niches are captured by top authority sites, and it's extremely difficult to compete against them.
Hence, understanding the correlation between commercial competition and profitability is necessary to invest funds in the right place.
The market size and potential growth opportunities are determined by multiple factors, but keyword research and traffic analysis are primary considerations for niche selection.
For example,
If you want to build an e-commerce website on a topic – portable electric cookers, the most common search term has an average monthly search volume of 1600.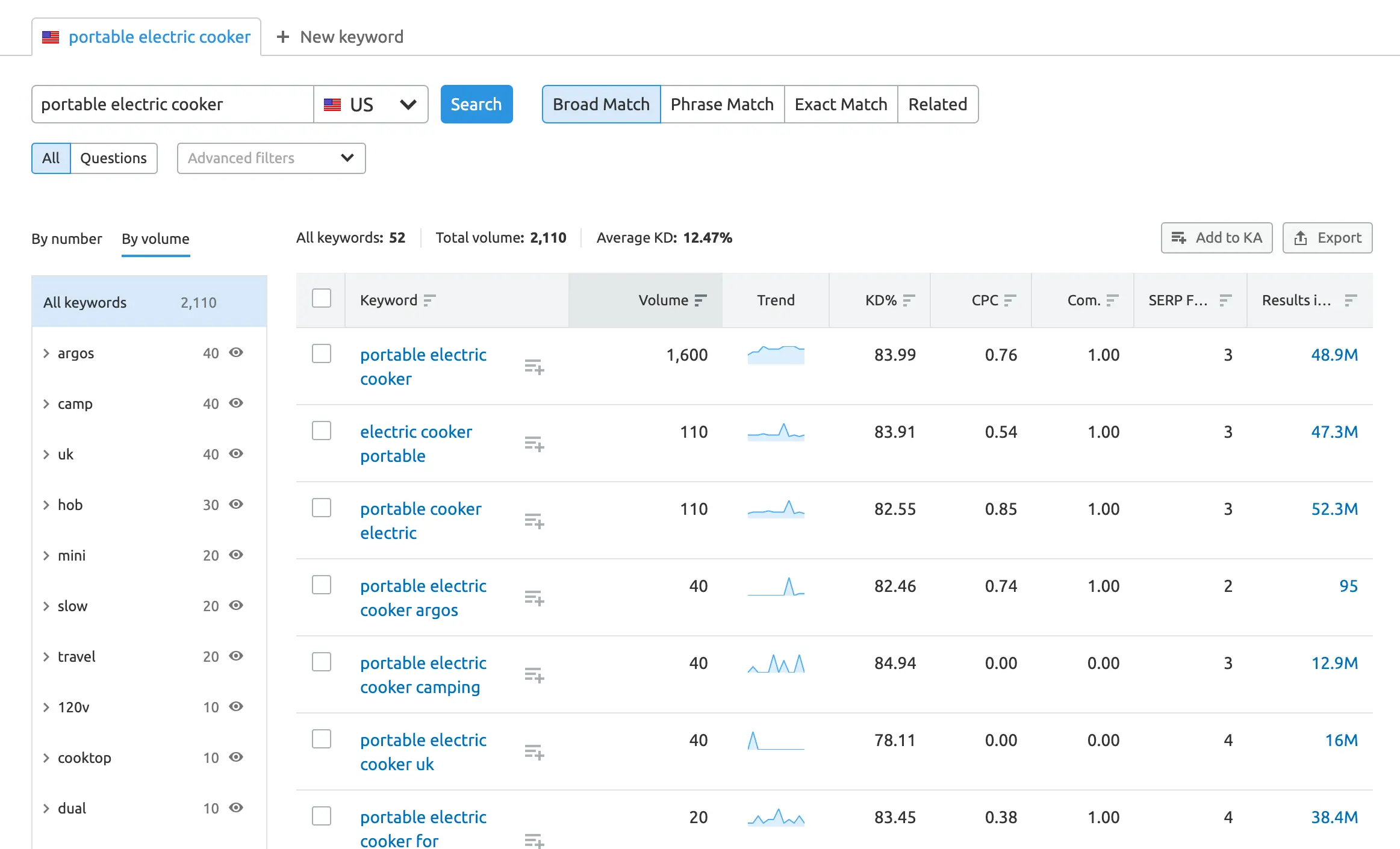 It would be better to build an e-commerce website on electric pressure cookers and add a separate section for portable electric cookers.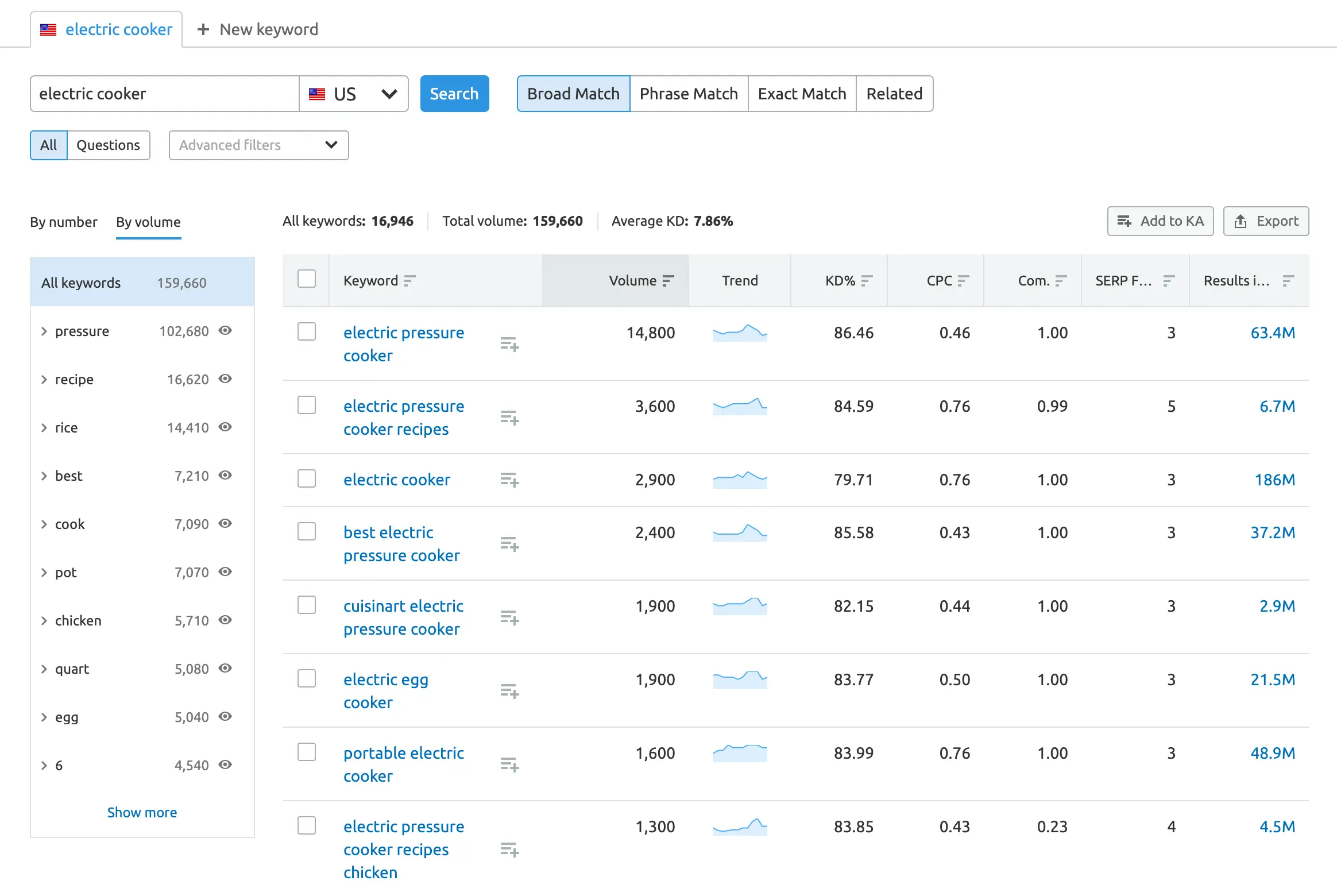 Semrush Traffic Analysis can be another best method for finalizing the niche.
Find the top-ranking pages for your keywords list and check how much traffic they are getting per month.
You can enable advanced data filters by purchasing a Traffic Analysis add-on.
It'll help you get the complete traffic overview for any domain, including the traffic sources, audience overlap, top landing pages, and geo-distribution.
Analyzing Semrush Traffic Cost also offers a great reference point for the e-commerce niche selection.
This data may vary from real-world numbers, especially for low-traffic websites. However, you'll get an idea about the niches that will generate reliable revenue.
2. E-commerce Keyword Research
Keyword research for e-commerce highly depends on your business model. You can either sell products from your brand or have an e-commerce store to resell others' products.
In some instances, you may build an e-commerce marketplace and invite merchants to sell their products on your platform.
Keyword research and e-commerce marketing strategies will be entirely different in all of the above cases.
Since branded searches for authority websites have significant search volume, improving the brand presence must be the primary focus for e-commerce sites.
Maximizing the user base and leveraging the keyword research data will significantly impact the growth of your online business.
Before discussing e-commerce keyword research in detail, let's understand the three types of keywords.
1. Informational Keywords
Informational keywords are the search terms used for exploring the topic. These keywords determine the awareness stage of the user in the sales funnel.
It means that the user knows about his problem/need and is looking for solutions.
E.g., air fryer
2. Navigational Keywords
Navigational keywords are often used to visit a specific website or brand. It means that the user is solution aware and wants to know more about it or see a product demo.
E.g., Philips air fryer
3. Transactional Keywords
Transactional keywords are the most profitable search terms because the user knows the existence of the product that can fulfillƒ his requirements or solve the problem effectively.
Usually, these terms are used in the final stage of the sales funnel, where users are actively looking to buy a product.
E.g., buy Philips air fryer
Although you don't want to miss potential customers and focus more on transactional keywords, you should have the right mix of keywords in the e-commerce marketing strategy.
Here is the easiest way to find profitable keywords for your e-commerce store.
Method 1 – Organic Keyword Research
1. Brainstorm the search terms that people might be looking for and create a list.
2. Put the first keyword into the Semrush search box and press the Enter key.
3. Semrush will populate a list of keywords related to the seed keyword as well as a few metrics, including search volume, CPC, SEO Keyword Difficulty, and PPC competition.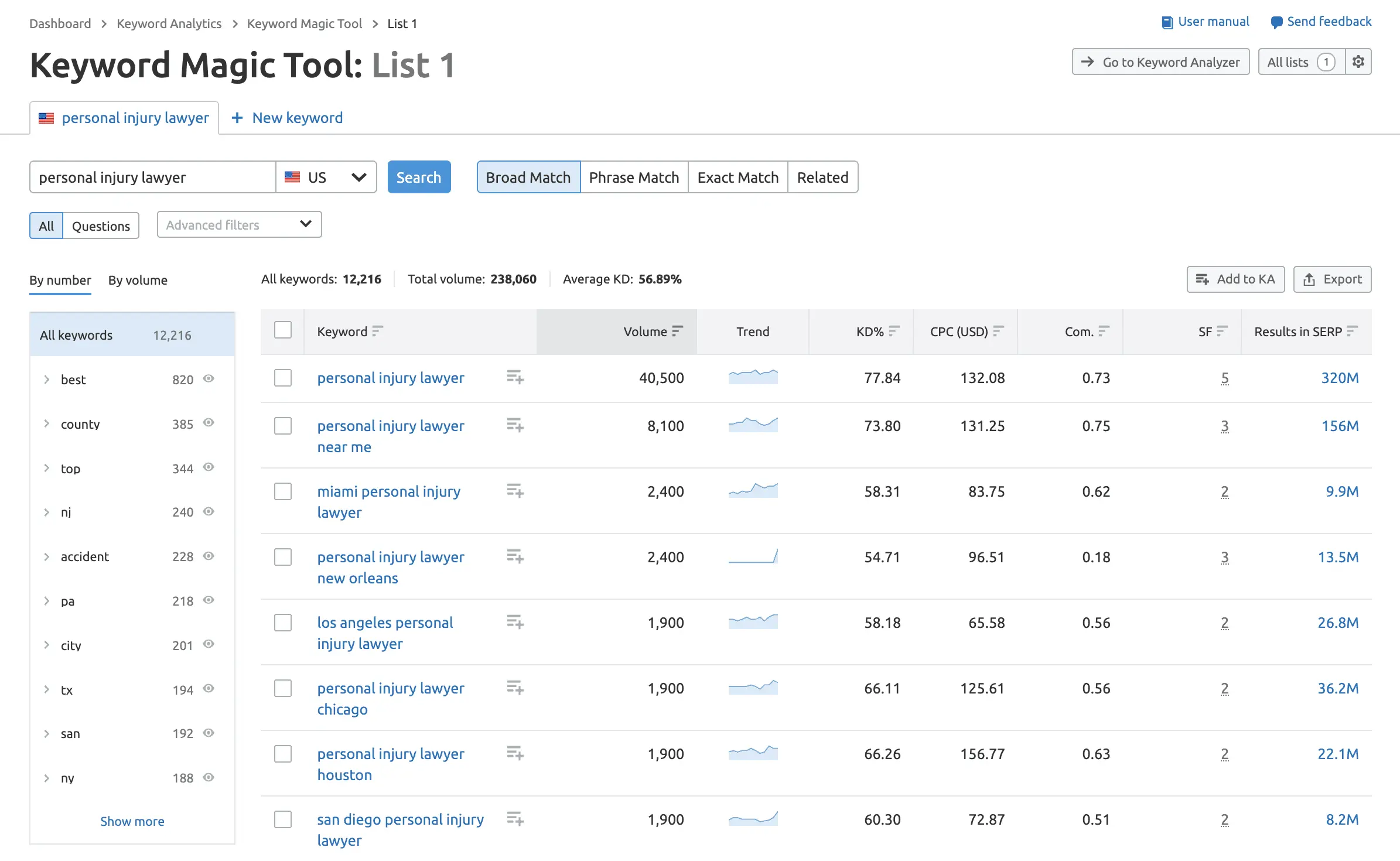 4. Pick all keywords having a significant monthly search volume and commercial intent. You can use built-in filters in the Semrush keyword research tool to improve the data output.
5. Export all keywords into a spreadsheet and categorize them according to your requirements.
Method 2 – Competitors Analysis
1. Once you have a list of primary keywords, the next step is to analyze top-ranking websites and steal profitable keywords.
2. Analyze every domain ranking on the first and second pages to generate additional keywords.
3. Since an established e-commerce store might be ranking for thousands of search queries, you need not worry about the keyword ideas.
4. Filter all keywords for search volume, competition, and commercial intent. You may decide to exclude the branded keywords depending on your e-commerce marketing strategy.
5. Remember, it's not worth competing for keywords where the first page of Google is full of big players like Amazon, Walmart, and Flipkart unless you are one of them or selling popular products under your own brand.
6. Semrush Keyword Gap analysis is another tool to find profitable keywords that your competitors are ranking for, but you're not targeting in your marketing campaign.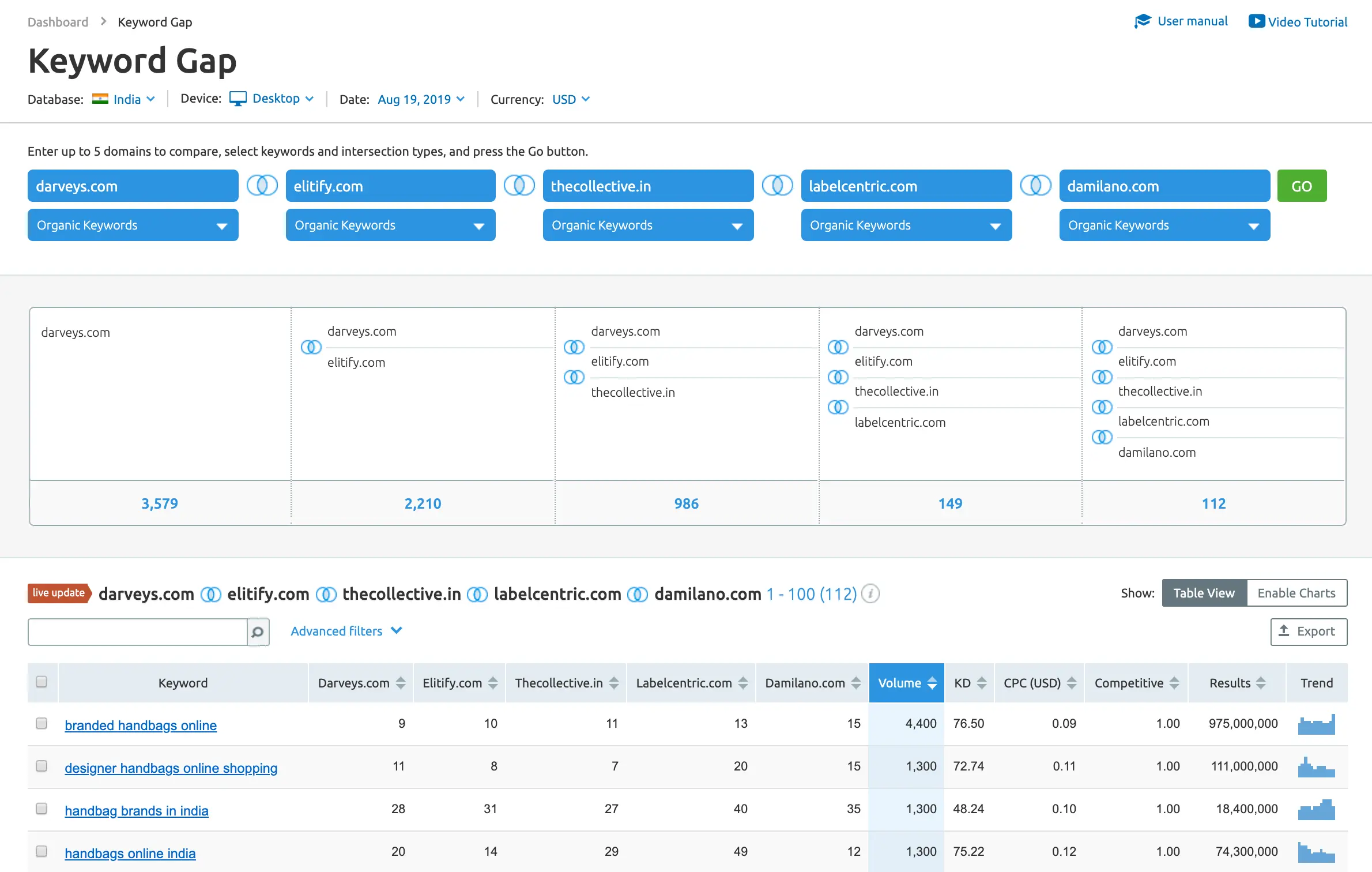 7. The next step is to download these keywords and merge them into organic keyword research data to create a master list.
3. Content Creation and On-Page Optimization
No matter whether you are concentrating more on SEO, social media, or PPC ads for traffic generation, creating engaging content is a crucial part of your e-commerce marketing strategy.
The content creation and on-page optimization process for an e-commerce website can be divided into five parts.
1. Homepage
A homepage of an e-commerce store is often crowded with a personalized product catalog under multiple categories, social proof, and links to some important pages, including register/login, about us, privacy policy, and support center.
Although visual contents cover major percentages of the homepage, you should not forget to optimize other elements.
2. Category Pages
Usually, category pages showcase the product lineup and hot offers. Visitors can filter the search results to get the products matching to their interests.
Authority e-commerce sites with thousands of products in their repository may consider using subcategories for easier navigation.
3. Product Pages
A single product page must have unique appeal and conversion-optimized content.
This page must have eye-catching images or videos, product specifications, key features, detailed descriptions with benefits, FAQs, and most importantly, the CTAs.
4. Blog
Since most of the pages on e-commerce websites have thin content, adding a blog section is a critical step in maintaining the content balance and attracting additional organic traffic.
The blog visitors can be educated about the products and redirected to the appropriate product pages to increase conversions.
Businesses that publish 16+ blog posts per month get 350% more traffic and 450% more inbound leads compared to those that publish 0-4 posts per month. (Source: HubSpot)
5. Supporting Pages
About us, contact us, privacy policy, terms of service, shipping & return policy, and affiliate program pages are equally important as other pages of an e-commerce store.
Apart from that, you need to create content for social media posts, ad copies, lead magnets, and email sequences. I'll discuss it more in the e-commerce promotion part.
Let's discuss how to leverage the power of content using on-page optimization.
Keyword Insertion
Adding appropriate keywords naturally in the content is an art.
Depending on the categorization, you can add various keywords and LSI terms to page titles, descriptions, URLs, headings, content body, image tiles, and alternative text.
Titles and Meta Descriptions
Create unique titles and descriptions for every page on your e-commerce website. Adding relevant keywords and CTA will help you improve the click-through rate.
In the image below, Amazon.in has added the product color, price, savings, and hook element (FREE Delivery) associated with the products.
You may ask the developer to insert such things dynamically into page titles and meta descriptions.
Site Structure
A proper site structure and clear navigation help visitors quickly access the desired product page.
The ideal e-commerce site structure should be like this:
Homepage > Category > Subcategory > Brand > Product > Product Variant/Product ID
You may strip down a few elements, including subcategories and brands according to your requirements.
Similarly, enabling consistent URLs and Silo structure will improve UX and help search engine bots crawl your site faster.
Content
I have already mentioned how to create content for an e-commerce site. On-page optimization will power up the content to achieve better search rankings and conversion rates.
Headings
Headings and subheadings divide the content into multiple sections for better readability.
Content Body
We often see e-commerce sites, especially product pages, contain duplicate content with variations of only the product name and related attributes.
Although it can save some initial cost, you need to compromise on user experience and thus search engine ranking.
Having keyword-rich unique content that helps users to make a buying decision is an essential element of content marketing.
Keep a watch on the keyword prominence and keyword proximity so that users, as well as search engine crawlers, will understand the content in a better way.
You can use the Semrush On-page SEO checker tool to optimize and improve your content to the next level.
Internal Linking
Linking category pages or even product pages to the homepage is one of the best e-commerce SEO strategies.
Smart marketers can use advanced features, including product recommendations, bundled offers, previously visited items, bestseller products, and much more.
Proper internal linking helps potential users find the desired items quickly.
It increases the chances of getting more conversions for an e-commerce store.
4. Technical Optimization
Once you have added and optimized the content for better readability and search visibility, the next step is technical optimization.
Ecommerce stores have tons of pages and thus more chances of mistakes. Technical errors are lethal that can break an entire e-commerce marketing strategy if corrective action is not taken.
You know that prevention is better than cure.
Hence proactively addressing the technical issues will save you from the future headache.
I have enlisted a few critical technical optimizations for an e-commerce store.
Sitemap Submission and Improving Crawl Budget
A sitemap is a structured list of pages on your website. Submitting a sitemap to the search engine console will help search spiders to crawl your site faster and more efficiently.
You can use robots.txt and no-index tag to tell search engine bots which pages they shouldn't crawl or index.
Adding internal links, inbound links, and using feeds are great ways to improve the crawl budget.
However, the site should not have any broken link or long redirect chain that drains the crawl quota.
Identify and Fix HTTP Errors
HTTP errors are critical issues on an e-commerce site that need to be fixed asap.
You can use Semrush technical analysis tool to find and fix various link issues including:
3XX redirection errors. E.g., error 301 – permanent redirection
4XX Client errors. E.g., error 404 – page not found
5XX server errors. E.g., error 502 – bad gateway
You can perform the Semrush site audit to find technical errors, including the missing page titles, meta descriptions, headings (H1, H2, …, H6), and ALT text.
Security
Web security and data privacy help in building trust among website visitors.
Google has started showing a Not Secure warning for all pages that are served over HTTP; regardless of whether they contain sensitive input fields, including passwords and credit card information.
Such security warnings may stop your potential customers to take action, especially on the "Sign up" or "Buy Now" pages where buyers' critical information is shared.
Moving to HTTPS, adding WAF, and setting 2FA for login are a few steps to save your e-commerce store from internet security threats.
Semrush users can perform a Site Audit to find the HTTPS implementation status and fix issues related to Security certificates, Server, and Website Architecture.
Optimizing UI and UX for Mobile-first Indexing
Google rolled out mobile-first indexing back in March 2018 after mobile search traffic surpasses desktop traffic. (Source: Google)
As mobile commerce becomes more prevalent in the United States, it is expected to generate more than ten percent of all retail sales by 2025. (Source: Statista)
If you want to grab those sales, then you must start working on the UI and UX on the mobile version of your e-commerce site.
A responsive mobile design or an independent mobile version of your site can be a great option to improve the user experience.
Make sure that the entire website layout, especially the rich media, text, and CTAs, is correctly displayed on the mobile viewport.
Site Speed and AMP
It's a no-brainer to optimize your e-commerce website for a minimum loading time when Google has already announced that site speed is a ranking factor for organic ranking.
Akamai Online Retail Performance Report states that a 100 ms delay in website loading time can reduce the conversion rate by 7%. (Source: Akamai)
Small changes may bring a massive difference in website speed, including image optimization, faster hosting, code minification, and the use of AMP.
When we discuss AMP for e-commerce, surprisingly, 89.3% of websites are missing a massive opportunity to offer faster mobile performance by not using AMP.
Limited features in the AMP catalog could be a reason for many e-commerce websites not opting into AMP technology.
However, you can start using some AMP components, including amp-carousel, and amp-video, to achieve better organic search ranking and amp-analytics to understand user-engagement patterns.
Use Canonical Tags
A canonical tag is a simple HTML element that tells search engines which is the preferred version of the URL to be crawled and shown in the SERP.
Since the e-commerce pages are reachable from multiple ends, you need to set canonical URLs for the homepage, category page, and product pages.
It saves you from the duplicate content penalty for web pages having the same content but different URLs.
For example,
All URLs mentioned below take visitors to the same page.
http://myecommmercesite.com
https://myecommmercesite.com/
http://www.myecommmercesite.com
https://www.myecommmercesite.com/
http://www.myecommmercesite.com/index.html
Search engine bots treat the above URLs as different pages, and it becomes a critical issue of content duplicity.
This problem can be solved by implementing the canonical tag in all of the pages above and pointing them to a predefined URL.
Schema Markup
Although search engines are smart enough to understand the website contents, structured data helps them gain additional information about the particular page.
While Google has been denying that structured data isn't a direct ranking factor for SEO, we have seen websites benefit from implementing various types of markup.
These benefits include better representation of search snippets that results in higher click-through-rate (CTR), increased website traffic, and conversions.

It means that structured data implementation indirectly helps to achieve better ranking and business benefits.
However, one of the Semrush studies found that 47.88% of the e-commerce websites they reviewed hadn't implemented any schema markups. (Source: Semrush)
Let's look at the three major types of structured data markups.
Open Graph markup converts web pages into rich objects on social media sites and shares additional information, including product title, description, images, price or blog title, featured image, and excerpt.
Schema.org markup is commonly used to create structured data to improve the web page's appearance for SERP. The product ratings and FAQs are a couple of examples of the Schema.org markup.
Twitter cards work similarly to the open graph markup and pull website data to display up-to-date information about the web page.
You might be worrying about how to add structured data to your e-commerce website, am I right?
Don't worry!
WooCommerce stores can use plugins like Rank Math or WP Review Pro plugins while others can use cloud apps like Schema Markup Generator or insert structured data by directly editing the source code.
Structured Data Testing Tool is a free platform offered by Google to validate structured data.
Remember, Schema markup is a great way to inform Google about additional data sets on a web page, but this data should be valid and visible to search crawlers.
5. Link and Off-Page Optimization
Links are one of the top-ranking factors for SEO. Besides that, the links driving targeted traffic are most important for an e-commerce site.
That's why building backlinks should be an integral part of your e-commerce marketing strategy.
Semrush has plenty of useful features for link building and off-page optimization, including backlink analysis, gap analysis, review management, and much more.
While Ahrefs, Moz, and Majestic boast their backlink databases, Semrush has a massive index of 1.6 billion referring domains and 43 trillion backlinks. (Source: Semrush)
Let's discuss how to analyze the competitor's backlink profile, understand the backlink gap, and find new link opportunities.
Backlink Analytics
If you know the enemy and know yourself, you need not fear the result of a hundred battles. If you know yourself but not the enemy, for every victory gained you will also suffer a defeat. If you know neither the enemy nor yourself, you will succumb in every battle. (Sun Tzu, The Art of War)
It's true for an e-commerce business too.
Understanding your own backlink profile and spying on the competitors' data will help you build an e-commerce marketing strategy that beats the others in SERP.
Put your competitor's URL in the Semrush backlink analytics tool to find all backlinks pointing to the site.
You can enable deep search to find backlinks pointing to a particular product page or a blog post.
Semrush offers additional data, including referring domains, referring IPs, anchor text profiles, indexed pages, and types of backlinks so that you can determine the link acquisition strategy.
Backlink Gap Analysis
Semrush Backlink Gap Analysis module compares the backlink data of your e-commerce site with its rivals and displays results in a graphical format.
You can analyze up to 5 domains to see the link-building performance of each domain.
Semrush will also identify the link-building opportunities and tell which domains are linking to the competitors' e-commerce sites, but not yours.
You can access this module by clicking on the Gap Analysis > Backlinks on the left sidebar.
Semrush shows historical link-building trends in unique color codes for quick comparison between the domains, subdomains, or URLs added to the Backlink Gap tool.
Alternatively, the Semrush Bulk Analysis tool allows up to 200 domains or URLs and gives results for their link-building performance.
You can export that report and use it in the link outreach campaign for your e-commerce site.
Finding Backlink Opportunities
Semrush Backlink Analysis allows you to find the sweet spots to build high-quality, relevant links to your e-commerce site.
There is another method to get a list of link prospects.
Semrush offers an SEO link-building module under an active project where you can add the keywords you want to rank for, including the branded keywords and competitors' domains.
Depending on the combination of data input, Semrush creates a list of prospective websites to launch a link outreach campaign.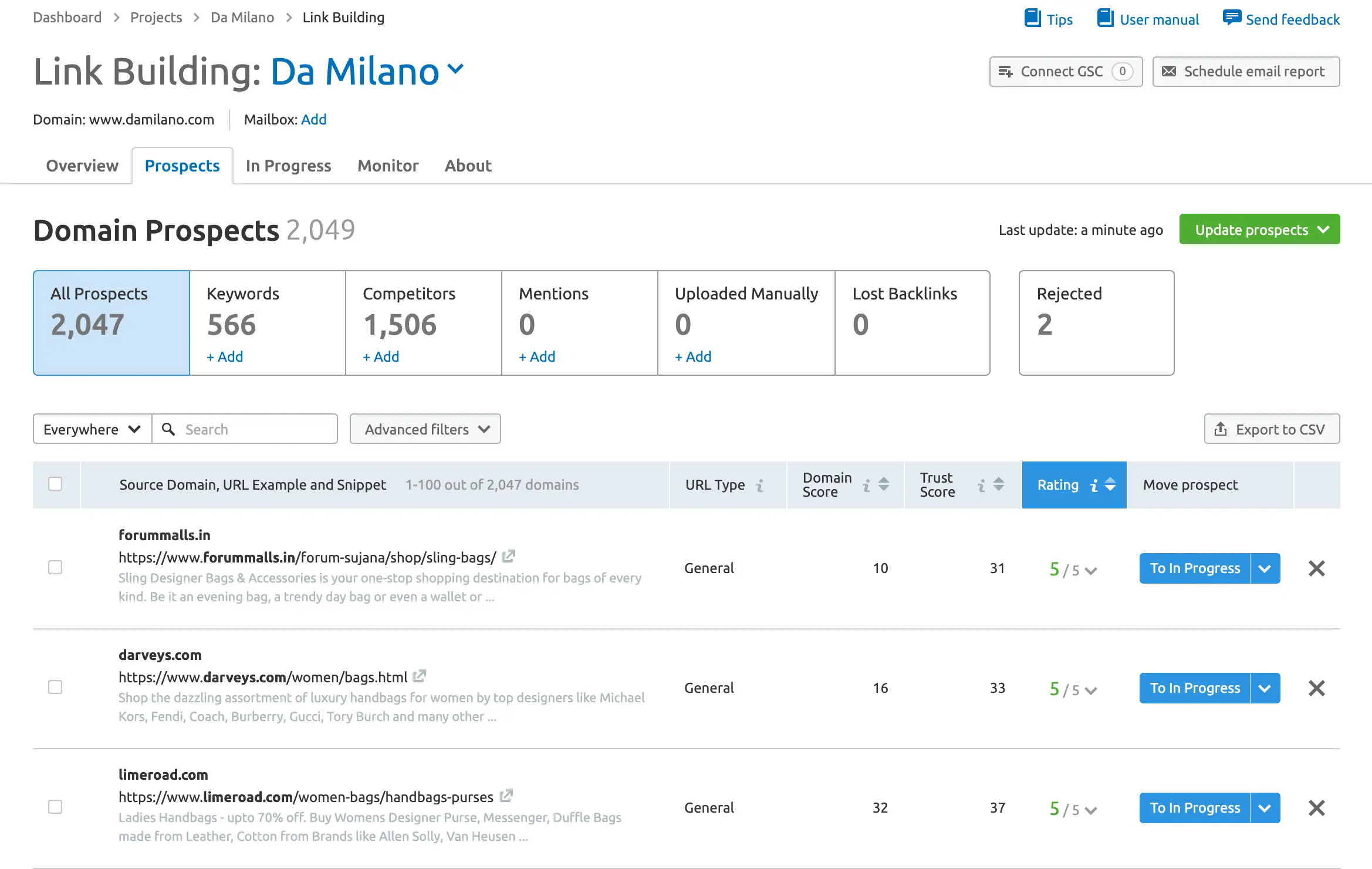 You can either apply advanced filters, including URL types, targeted keywords, and TLD, or refer to Semrush Domain score/Trust Score, to determine your link-building strategy.
Semrush has a unique algorithm to rate the particular link prospect (out of 5) based on the backlink quality and accessibility.
The next step includes choosing a suitable link outreach strategy and its execution.
Semrush provides a couple of tabs under the Link Building module for link building and monitoring the overall process.
Even, you can send 500 outreach emails per day from the Semrush dashboard, saving you hundreds of bucks on other SEO link-building and automation tools.
Listing Management
Listing a business in authoritative directories is a great way to drive targeted traffic and trust signals.
However, managing dozens of listings with accuracy is a little difficult task.
This is not a problem with the Semrush Listing Management tool.
Simply, provide the basic information about your business, including accurate NAP details, and check how your business appears on search engines, apps, maps, and other authoritative sites.

Finally, you can distribute correct data to those listing platforms with a single click using the Semrush Listing Management tool which costs only $20 per month.
6. Social Media Marketing
Currently, 2.82 billion people use social networks; that's a whopping 36.62% of the world's total population.
For e-commerce brands, it's no more optional to have a solid social presence.
While you need to compete with other brands almost everywhere, being better in SMM is an effective e-commerce marketing strategy.
Look how the top brands, including Nike, Adidas, and Apple are killing with reliable social media marketing.
It's often said that be present where your customers are. SMM offers an opportunity to meet existing as well as potential customers, send them a marketing message, engage with them, and listen to their feedback or suggestions.
Let's discuss how Semrush can help you build a famous e-commerce brand on social media.
Social Media Monitoring
Semrush offers a robust social media tracker that lets you track the social activities, audiences, and engagement metrics for your brand and competitors too.
First, you need to set up Social Media Tracker and connect your social handle(s) with Semrush.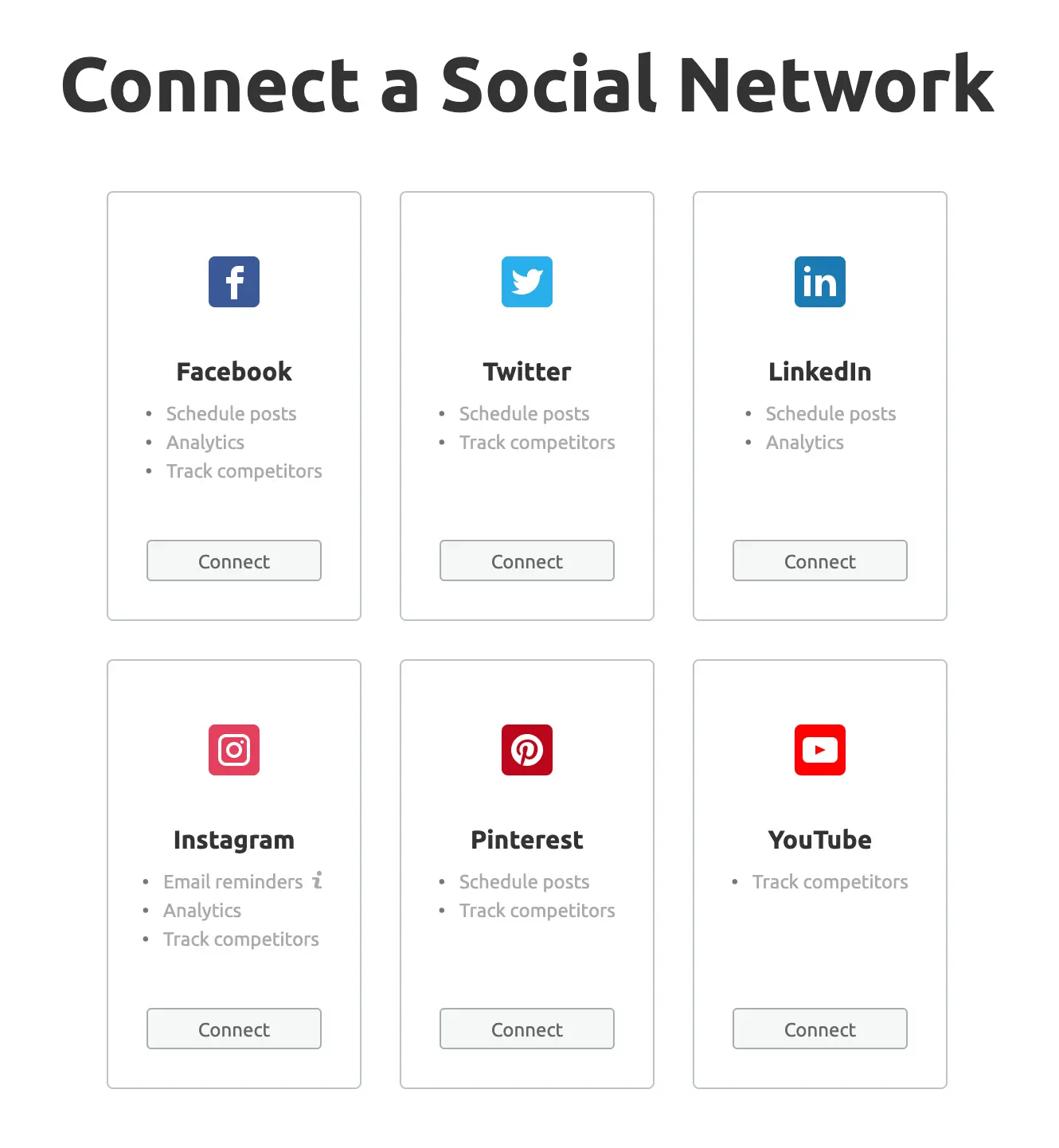 Currently, the Semrush social media tracker can be integrated with six different social networks, including Facebook, Twitter, Instagram, LinkedIn, Pinterest, and YouTube.
While you can track competitors' social media activities and engagement for all channels, Semrush offers Data Analytics features for Facebook, Instagram, and Linkedin.
Social Media Poster
Once you have connected the social accounts with Semrush Social Media Poster, it boosts up your social media marketing to the next level.
You can find new content ideas using RSS feeds of other publications and share them with your social handles.
Or, you can create branded content to showcase a new product lineup, cover industry news, or update the audience about some important changes.
Semrush offers an intuitive post editor where you can add text, rich media, and even UTM parameters for tracking purposes.
You can see the live previews for desktop as well as mobile devices, and if everything seems fine, then the post will go into the queue.
The posts can be published immediately, scheduled for a specific time, or regularly over a predefined timeline.
If content doesn't seem perfect for posting at a particular time, then you may decide to save it as a draft with a tentative publishing time. Semrush will alert you a day before the estimated date associated with the particular draft.
The Calendar view of the Semrush social media poster is a great feature to get a quick overview of a social campaign.
You may also explore Semrush social analytics to see how your social media is working. However, this feature is only available for Facebook and Instagram at the current date.
Semrush Social Media Poster – Google Chrome Extension
This tool allows users to post or schedule any link to Facebook, Twitter, or LinkedIn using a couple of clicks.
You can post content across multiple social handles simultaneously using this extension.
This tool offers a couple more features, including the usage of a hotkey (Alt+S) for sharing web pages and a hover button for sharing images.
To use this plugin, you need to register an account with Semrush and have at least one active project.
While free users can schedule 10 posts for each social profile, premium Semrush accounts can have up to 2000 posts in all paid plans.
Usually, the standalone social media automation tools charge somewhere between $15 to $299 for this functionality.
However, Semrush has bundled this module to provide you with an all-in-one marketing toolkit at an affordable price.
7. Advertising Research
Apart from SEO and Social Media modules, Semrush offers insights into Google advertising, including regular PPC ads, display ads, and PLA.
You can find targeted PPC keywords, create compelling ad copies, preview them from the ad builder dashboard, and assign those newly crafted ads to the existing keyword groups.
Let's look into all Semrush advertising modules one by one.
Advertising Research
Semrush provides much-needed insights about competitors' ad campaigns, top-paid keywords, and budgets so that you can build or improve your e-commerce marketing strategy for PPC campaigns.
The Advertising Research module monitors the PPC activities, ad spends, live ad copies, and ad trends, and discovers the PPC keywords that your competitors are bidding on.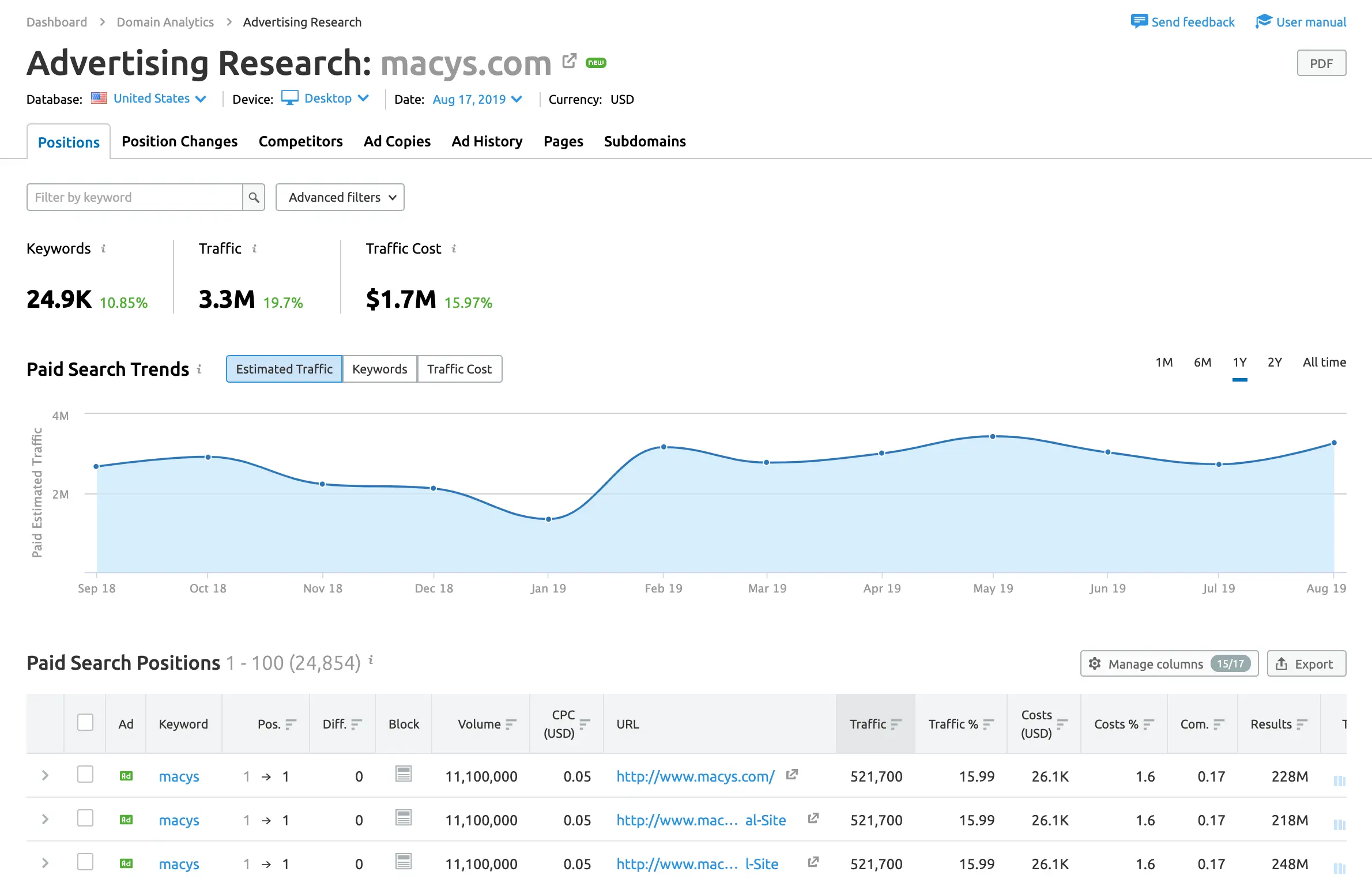 You can also identify the main competitors in paid search, their top-performing keywords, and ad texts.
The good news is that the advertising research data is available for over 100 locales and in more than 20 major languages.
That's INSANE!
PLA Research
Product Listing Ads (PLA) are cost-per-click (CPC) ads used by e-commerce websites to promote their products in Google Shopping carousel ads.
These ads are a part of the Google Ads system and often match the search query.
Semrush PLA Research helps you to find the competitors' Google shopping ads, their position in paid search, and the search queries responsible for triggering the PLA.
You can also get access to competitive PLA data, including competition level (in %), common keywords, PLA keywords, paid keywords, paid traffic, and paid traffic cost.

Finally, spying on rival's PLA copies will gather essential information like promoted product's title, visual, and pricing data. This data can be further filtered, analyzed, and downloaded in an excel or .csv format to tweak your e-commerce marketing strategy.
PPC Keyword Tool
Semrush PPC Keyword Tool allows you to search, add, and manage your keywords.
You can add keywords manually, upload a .txt, .csv or .xlsx file, or import a list directly from Semrush keyword reports.
Once you've PPC keywords and geo-targeting location ready, you can create campaigns and ad groups from the Semrush dashboard itself.
The features like setting up keyword filters, adding negative keywords, and removing duplicate keywords may speed up the ad-building process and save unwanted expenditure on PPC ads.
Ad Builder Tool
If your e-commerce marketing strategy heavily relies on Google ads, then Semrush Ad Builder is a must-have tool for you.
It's a useful tool to find new ad ideas by spying on competitors' domains or triggering a seed keyword.
These ads can be used as a template for ad creation and edited directly in the Ad Builder dashboard.
Semrush allows manual ad creation, or you can upload pre-built ad copies in .csv or .xlsx format.
Along with that, four ad extensions are readily available with the Semrush ad builder tool, including Sitelink, Callout, Structured Snippet, and Call extension.
Here are a few more features that make it a Stormbreaker of the PPC universe.
Dynamic Keyword Insertion to improve ad relevance to the search query by auto-updating the ad text with keywords that triggered the ad.
Tracking template with UTM parameters.
Ad cloning with automatic overriding of tracking parameters.
A section for ads without campaign a.k.a. Orphans, where the ad campaign or ad group is removed. These ads can be moved to a specific group or deleted section, depending on the campaign requirement.
Wrapping Up
E-commerce businesses are growing rapidly, but managing them successfully is not everyone's cup of tea.
You need to develop a winning e-commerce marketing strategy that includes SEO, Social Media, paid advertisements, SMS, and email marketing.
Automation and data-driven decision will help you grow faster. However, investing a huge chunk of money can be an entry barrier for e-commerce startups and SMBs.
That's why you must have an all-in-one marketing toolkit that satisfies most of your requirements. Semrush is one of those tools you need to build a successful marketing strategy.
Do you want to get an overview of how it works and what magic it can do for you?
Grab 14-day Semrush free trial and explore the unimaginable world of marketing data.
---
One small request,
Please share this article on social media channels so that more people can get benefitted.
SHARING IS ❤️