Affiliate Disclosure: I publish various content marketing strategies, online business ideas, blogging tutorials, review articles, and discount offers on my blog. My content may contain some affiliate links for products/services I use, love, and recommend. If you take action (i.e., subscribe or make a purchase) after clicking one of my affiliate links, I'll earn an affiliate commission at no additional cost to you. It helps me in creating more helpful content like this.
Have you ever thought about how to make money on Facebook?
Currently, Facebook is the largest social media network with over 2.9 billion monthly active users.
This massive crowd creates a golden opportunity for Facebook users to earn a huge amount of money with little effort.
Apart from browsing the feed, chatting with friends, and taking quizzes, you can get paid to use Facebook.
No, it's not about selling likes, shares, and followers by using automated scripts or doing online frauds to make quick money.
Here I have discussed only legit methods on how you can earn money from Facebook.
Although some of these methods may require initial investments in terms of money or time, you will get a massive ROI by following this Facebook monetization guide.
1. Earn Money From Facebook Page
Facebook pages have massive potential to generate a sizable income.
You can grow a Facebook page and create a business opportunity.
If you already have a business, then you can grow your audience and convert them into customers by educating them about your products.
You can also share some informational content, industry news, fun challenges, and product updates to keep your audience connected.
For example,
Red Bull, Starbucks, Coca-Cola, Nike, Durex, OREO.
Alternatively, you can grow a Facebook page as an individual creator or team by sharing valuable content.
Facebook allows you to post status updates, images, videos, live streams, jobs, events, and marketing offers.
You can collaborate with other businesses to post sponsored content to leverage your Facebook page reach in exchange for monetary benefits. 
Facebook pages with an extremely large follower base can ask for extra money based on their performance metrics.
For example, The RVCJ Media was started as a Facebook page, but today it has become a leading digital platform in India for sharing viral content.
2. Selling Items on Facebook to Generate Revenue
If you offer tangible goods, then it's possible to sell on Facebook.
You can use Facebook pages, groups, or the marketplace for selling items or gigs.
Facebook allows you to start for free. However, you should consider running Facebook ads to boost lead generation and sales.
If you have a niche relevant page with lots of potential customers engaging with your content, then you can create a Facebook post or offer to generate a few quick sales.
On the other hand, Facebook groups are a great way to build a strong community, educate and assist prospective as well as existing customers, and make money via flash sales.
Lastly, Facebook Marketplace is a dedicated place for businesses and solopreneurs to sell their products or services with minimum effort.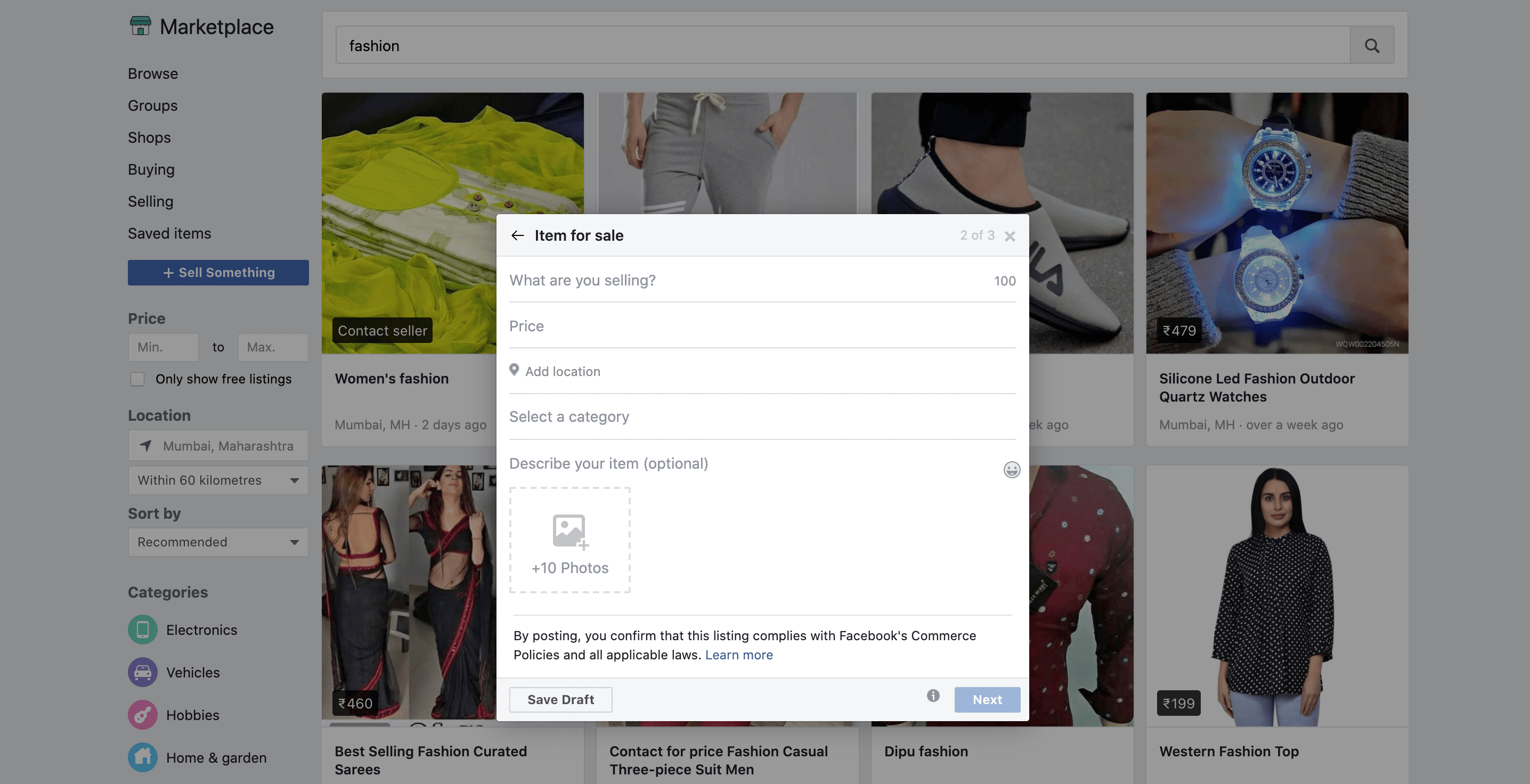 If you have innovative or popular products and a flexible pricing structure, the Facebook marketplace is the best way to earn money on Facebook by selling items.
In case you don't have products to sell, you may consider reselling or dropshipping products from other manufacturers.
3. Sell Freelance Gigs on Facebook
Selling freelance services is a great way to earn side income in your free time. 
Some people may consider it a full-time career opportunity. 
However, putting these freelance gigs in front of the targeted customers is a critical step to achieving success as a freelancer.
Facebook gives you a platform to showcase your skills and grab the attention of prospective clients who may be interested to work with you.
Although you'll find many freelance marketplaces such as Fiverr, Upwork, and Freelancer, there is fierce competition that may lead to less revenue. Moreover, the average lifetime value of these contracts is lesser than the projects received via referrals, networking, or WOMM.
Since many businesses and their topline executives use Facebook, your creative portfolio may get noticed.
A Facebook page, your profile, or relevant groups are the best places to share your work.
Sometimes, businesses share freelance job offers on their official Facebook page or in reputed Facebook communities. 
In such cases, you can reach them with your portfolio and win the project by showing how you're the best person or agency for that job.
Seasoned freelancers and professional agencies may use Facebook ads to generate more leads. Since Facebook has massive data of its users, you can target them based on many factors such as geo-locations, languages, interests, behavior, and much more.
4. Running Facebook Ads
Facebook has invested billions of dollars in building a sophisticated social media network.
Facebook definitely expects returns on its investments.
Currently, advertisement is one of the major sources of Facebook revenue.
It means running Facebook ads is a critical step for the growth of the business.
However, Facebook ads are different from traditional ads. You need to study different factors including audience interests, behavior, ad creatives, ad placements, the best timing to deliver ads, and landing page optimization to run a successful ad campaign.
It also requires regular performance analysis to ensure every penny is spent in the right way.
Once you understand how Facebook ads work and how to optimize them to achieve positive ROI, you can replicate the process for other businesses.
Not all businesses have a dedicated Facebook marketer to optimize ads. In such cases, you can offer Facebook marketing services directly or work as a consultant.
Usually, Facebook marketing professionals ask for a fixed monthly fee or 10-30% of the ad expenditure. 
Depending on your experience and the results, you may decide how much you should charge for Facebook marketing services.
You can make more money by branding yourself into a specialized role such as Facebook ad strategist, Facebook ad analyst, or Facebook growth hacker.
5. Affiliate Marketing
Affiliate marketing is a proven advertising model used by many companies to promote their products and services.
In this process, third-party publishers a.k.a. affiliate partners generate leads and sales for the merchant company in exchange for monetary benefits.
You can start promoting affiliate products on Facebook even without creating a blog.
Although a blog gives more control and flexibility, it's not mandatory to start an affiliate marketing business.
If you have a large fanbase on Facebook, then share some useful products that they might be interested in.
Creating a business page or Facebook group in a particular niche, growing it as an active marketing channel, and sharing relevant yet valuable products with your audience is the key to becoming a super affiliate on Facebook.
In the advanced stage, you can consider running Facebook ads and creating integrated funnels to increase the average lifetime value of each user.
Many large companies including Amazon, Flipkart, and SaaS businesses allow Facebook promotion for their affiliate partner as long as you're not breaking the ToS.
6. Make Money via Facebook Audience Network
Facebook Audience Network connects publishers and developers to a massive network of global advertisers – all while delivering a better ad viewing experience.
To make money via Facebook Audience Network, you need to create a Business Manager account or sign in to the existing account.
A Facebook Business Manager account is necessary to use the Audience Network Monetization Manager, which is a platform for ad monetization management.
Add detailed information about the app that you want to monetize. The Facebook team will review it for policy compliance and approve your app on the Audience Network.
Setup ad placements for your app by choosing from a wide range of ad formats such as native ads, banners, rewarded videos, interstitial ads, and the latest playable ads. It also requires Audience Network SDK integration for your Android, iOS, and Unity apps.
Publish your app, drive targeted traffic, and start making money by displaying ads. Facebook will send accumulated monthly earnings into your selected bank account.
Apart from that, you can earn money by developing instant games and apps for third-party publishers, and offering development support.
While Google AdMob is the largest advertising platform for apps, Facebook Audience network isn't too far.
More than 30 billion Instant Games sessions have been played since the launch of the Facebook Audience Network. Moreover, Facebook paid $1.5B+ to its publishers and developers in 2018.
If you have a solid app idea, then it's time to get started.
7. Become a Social Media Manager
If you love spending time on social media and have great communication skills, then you can offer social media management services. Many corporate companies, political parties, celebrities as well as SMBs need a professional to manage their social media account.
As a social media manager, you need to handle the following responsibilities:
Creating and publishing social media posts. Big companies may have a team of graphic designers, copywriters, and social media experts because the scope of work is much larger. Sometimes, part of the work is outsourced for saving the project cost and time.
Responding to comments, interacting with the social media followers, helping them in onboarding, or redirecting to the most relevant solution.
Analyzing the industry trends and discussing them with the respective person. 
Competitors Analysis
Monitoring ad campaigns and optimizing them for better performance
Building a targeted audience in the form of Facebook page followers, group/community, email lists, or chatbot subscribers.
You may need to manage multiple social media accounts besides Facebook. So, it's a good idea to get familiar with some of the most popular platforms such as Twitter, Instagram, Pinterest, and LinkedIn.
If you're an avid Facebook user, then a social media manager or a social media virtual assistant can be a perfect opportunity to work from home and make a side income by working part-time.
8. Participate in the Facebook Bug Bounty Program
A small loophole in the security system of a large social media network like Facebook may ruin its reputation built over the past several years.
That's why Facebook closely looks for the security flaws in the websites as well as apps under its hood, including Facebook, Instagram, Facebook Messenger, and WhatsApp.
Since hackers can take advantage of such vulnerabilities to play with internal systems and steal valuable user data, Facebook has launched a Bug Bounty Program.
It lets you find the coding issues and potential security flaws that need to be patched immediately.
You can get paid for your hard work if the particular issue hasn't been reported to Facebook yet.
Facebook Bug Bounty Program will not only help you get money from Facebook but also help to improve the Facebook ecosystem and the user experience for the rest of us.
9. Facebook for Creators – Make Money with Facebook Videos
It's a common question – how to make money with Facebook videos by displaying ads on them.
Similar to YouTube, Facebook offers monetization opportunities for creators who create valuable video content.
Currently, Facebook for creators has three monetization tools, including In-stream Ads, Brand Collabs Manager, and Fan Subscriptions.
You need to meet certain criteria to enable access to Facebook monetization tools.
For example,
To show In-stream ads, your Facebook page needs a minimum of 10K followers and 30K 1-minute views on the videos that are at least 3 minutes in length.
To enable paid partnership or Brand Collabs Manager in Facebook for creators, your page must have a minimum of 1000 followers and 15K post engagements, or 30K 1-minute views on the videos that are at least 3 minutes in length, or 180K minutes of total watch time. 
The Fan subscription feature is available for select Facebook pages. They can create monthly subscriptions for their audience in exchange for exclusive benefits while growing a community of loyal fans.
Facebook is definitely a great option for people who are looking for YouTube alternatives.
If you stream gameplay for titles like PUBG, Call of Duty, Fortnite, or their mobile versions, then you can multiply your income by restreaming the same video on different channels, including YouTube, Facebook, and Twitch.
Get $10 credits by registering a free account on Restream.io.
10. Using Facebook For Online Classes
Facebook is a powerful tool for teaching online. Many cloud apps for online training or advanced Learning Management Systems (LMS) are too costly for beginners to get started.
Facebook offers essential tools for online trainers to conduct online classes for free.
You can create a private group for students and teach them the respective topics by using Facebook live videos.
Alternatively, you can share recorded videos for students who are not able to attend live sessions.
Extra study material such as reference ebooks, graphics, and worksheets can be shared in the group under the Files section.
Facebook also allows organizing the training videos by units and tracking the performance for each unit or post.
If you decide to charge a fee for teaching online, then you can use popular payment processing services such as Instamojo or PayPal.
Delivering a free webinar on Facebook to share valuable content and pitching your course or premium training to engaged users is also a great way to make money on Facebook.
How to Make Money on Facebook: Summary
Making money from Facebook seems a little tricky because it doesn't allow organic promotion to a large number of people for obvious reasons. 
However, you can improve organic performance by sharing valuable content and engaging with your Facebook fans.
Running Facebook ads is another way to reach a large audience within a short time.
As a Facebook marketer, you should keep testing which method is more profitable and gives the maximum ROI.
Once you find your winning method to earn money from Facebook, you can dominate the number game.
I'm sure that you liked this article on how to make money on Facebook.
Please share your feedback and suggest more Facebook monetization strategies in the comments.