Affiliate Disclosure: I publish various content marketing strategies, online business ideas, blogging tutorials, review articles, and discount offers on my blog. My content may contain some affiliate links for products/services I use, love, and recommend. If you take action (i.e., subscribe or make a purchase) after clicking one of my affiliate links, I'll earn an affiliate commission at no additional cost to you. It helps me in creating more helpful content like this.
Here I'm sharing my detailed ConvertKit review, including its top features, pricing, pros & cons, alternatives, and a few little-known ConvertKit hacks.
Whether you're a blogger or online creator looking to grow your audience or sell products to them, be sure to read this review thoroughly.
What is ConvertKit
ConvertKit is an email marketing tool that is specifically designed for bloggers, individual creators, and solopreneurs who want to grow their email lists.
ConvertKit was started by Nathan Barry back in 2013, a blogger who wanted to build a SaaS product that would help him generate $5K in monthly recurring revenue.
Although it takes months to achieve this goal, as of today, ConvertKit has around 28K active customers, and it's generating over $1.69M in MRR.
A few days ago, the ConvertKit was rebranded to Seva. However, after lots of discussions with customers, non-customers, and team members, this decision was reverted.
Currently, ConvertKit is a popular email marketing software and a top choice for bloggers, podcasters, freelancers, and online creators.
ConvertKit has put a lot of effort to offer simple yet efficient email marketing tools to its customers.
Improving in certain areas can win more customers.
ConvertKit Pricing
The ConvertKit is slightly more expensive than its competitors.
If you are interested in exploring advanced email marketing features such as tagging, segmentation, and visual automation, ConvertKit can be one of the best choices for you.
ConvertKit pricing is based on the number of contacts on your list, and it does not count duplicate subscribers to the total list size.
ConvertKit offers three pricing tiers: Free, Creator, and Creator Pro. You can choose any of these plans depending on which features you need.
ConvertKit Free Plan
ConvertKit has launched a free plan that enables the creation of unlimited forms and landing pages. You can also send unlimited broadcast emails.
However, the free plan does not support advanced features such as sequences and visual automation.
If you're seriously planning to integrate email marketing into your online business, you should consider upgrading to one of the premium ConvertKit plans.
ConvertKit Creator Plan
This plan is ideal for growing creators, affiliate marketers, and small businesses that wish to automate their email marketing processes.
ConvertKit pricing for the Creator plan starts from $15 per month for up to 300 subscribers. Moreover, an annual subscription includes two months for free.
With ConertKit's pay-as-you-go pricing model, you can easily switch to a higher tier if your subscriber count exceeds the current limit.
In addition to ConvertKit's free plan features, the plan also includes a free migration from another email marketing tool, automated sequences, visual automation builders, third-party integrations, an additional team member, and removal of the ConvertKit branding.
ConvertKit Creator Pro Plan
This plan offers excellent value for established creators, marketers, and coaches who wish to scale their businesses.
ConvertKit's Creator Pro plan costs $29 per month for up to 300 subscribers. On top of that, you get two free months when you subscribe annually.
In the same way as the previous plan, ConertKit offers pay-as-you-go pricing, so you can easily upgrade your subscription if your subscriber count increases.
In addition to ConvertKit's Creator plan features, the package includes unlimited team members, priority email and live chat support, a newsletter referral system, subscriber scoring, and advanced reporting.
ConvertKit Creator Pro is a must-have for anyone who sells digital products, such as courses, webinars, and coaching services.
ConvertKit Features
1. Forms and Landing Pages
ConvertKit allows you to create lead forms and landing pages to convert your readers into email subscribers.
To create a lead form in the ConvertKit account, choose the "Landing Pages & Forms" menu on the top bar.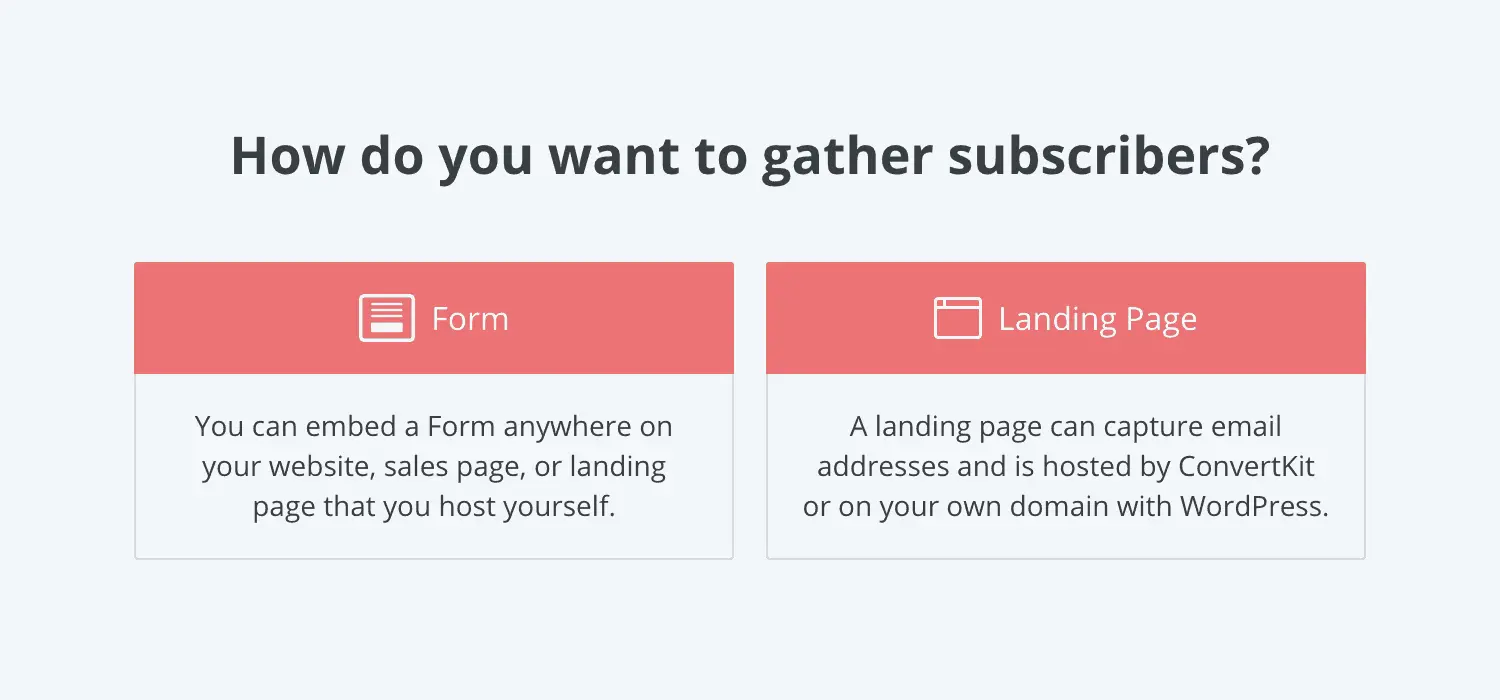 Now, select whether you want to create a form or a landing page.
First, I'll discuss how to create a lead form in the ConvertKit.
As soon as you choose the "Form" option, the ConvertKit will ask you to select the format for the forms you want to create. E.g., Inline, Modal, Slide In, or Sticky Bar.
Many people use third-party lead generation plugins such as Thrive Leads or ConvertPlug, due to advanced customization possibilities, beginners can use this feature to save a few bucks.
Currently, ConvertKit has seven premade form templates and one sticky bar template that you can use.
You can beautify the forms using the customization panel (Styles) and set triggers to display your form, e.g., exit-intent, time-based, or scroll percentage-based.
Unless you require advanced customization for your lead forms, you don't need to invest in fancy lead generation plugins.
You can show ConvertKit forms on your WordPress site using JavaScript or HTML code, or install the ConvertKit WordPress plugin.
It also has an Unbounce integration and hosted form SmartLink feature to show your forms on other platforms.
In case you don't have a website, ConvertKit will let you create hosted landing pages.
You can choose one of the prebuilt landing page templates and start editing it to match your requirements.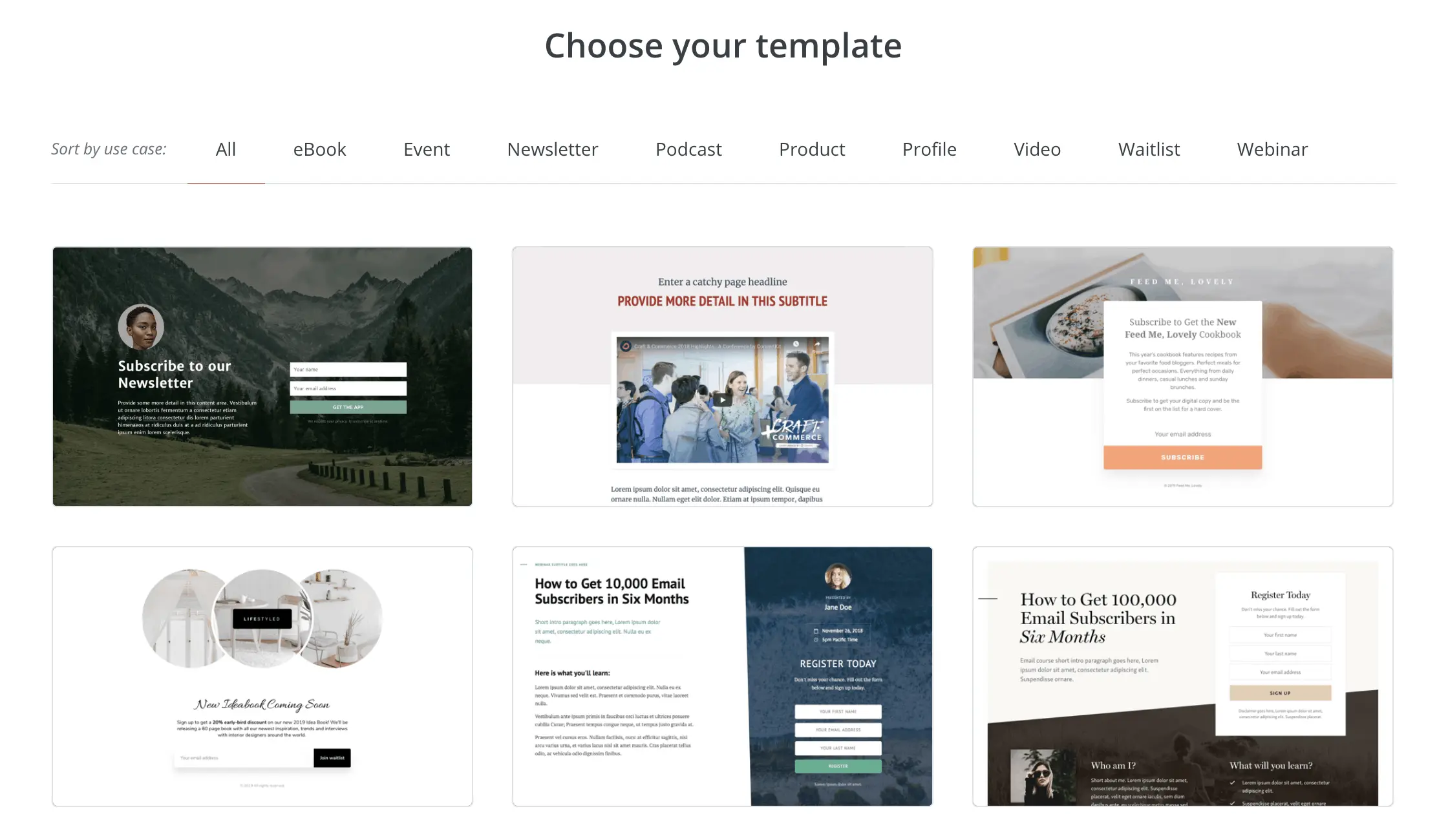 Currently, ConvertKit has 32 landing page templates in different categories.
You may also request more templates if you don't find one that you're looking for.
Similar to the ConvertKit forms, Landing pages are customizable too.
You can change the colors, fonts, background, opacity, or use custom CSS to improve visual appeal.
ConvertKit allows you to add SEO titles, and descriptions, and integrates with popular third-party platforms, including Google Analytics, Pinterest, Facebook, and Segment.
Although the ConvertKit landing page can be shared directly using a link, you can host it on your website using the ConvertKit WordPress plugin to get a clean domain-specific URL.
2. Tagging and Segmentation
ConvertKit offers the Tagging and Segmentation feature to organize your contact list in a better way.
There are primarily four methods:
Forms
Depending on the lead form or landing page that the particular subscriber has signed up for. E.g., Lead form 1
Tags
Tags are the labels applied to subscribers when they take a predefined action. E.g., joining a form, completing an email sequence, or purchasing a product.
Subscriber tagging is a popular feature offered by ConvertKit. This feature allows users to create hyper-targeted email marketing campaigns within no time.
Segments
You can easily understand the working of ConvertKit segments by comparing them with WordPress categories.
Segments have subscribers with different parameters.
You can create a segment using multiple filters available in the ConvertKit or edit existing segments to target your marketing communication to certain people.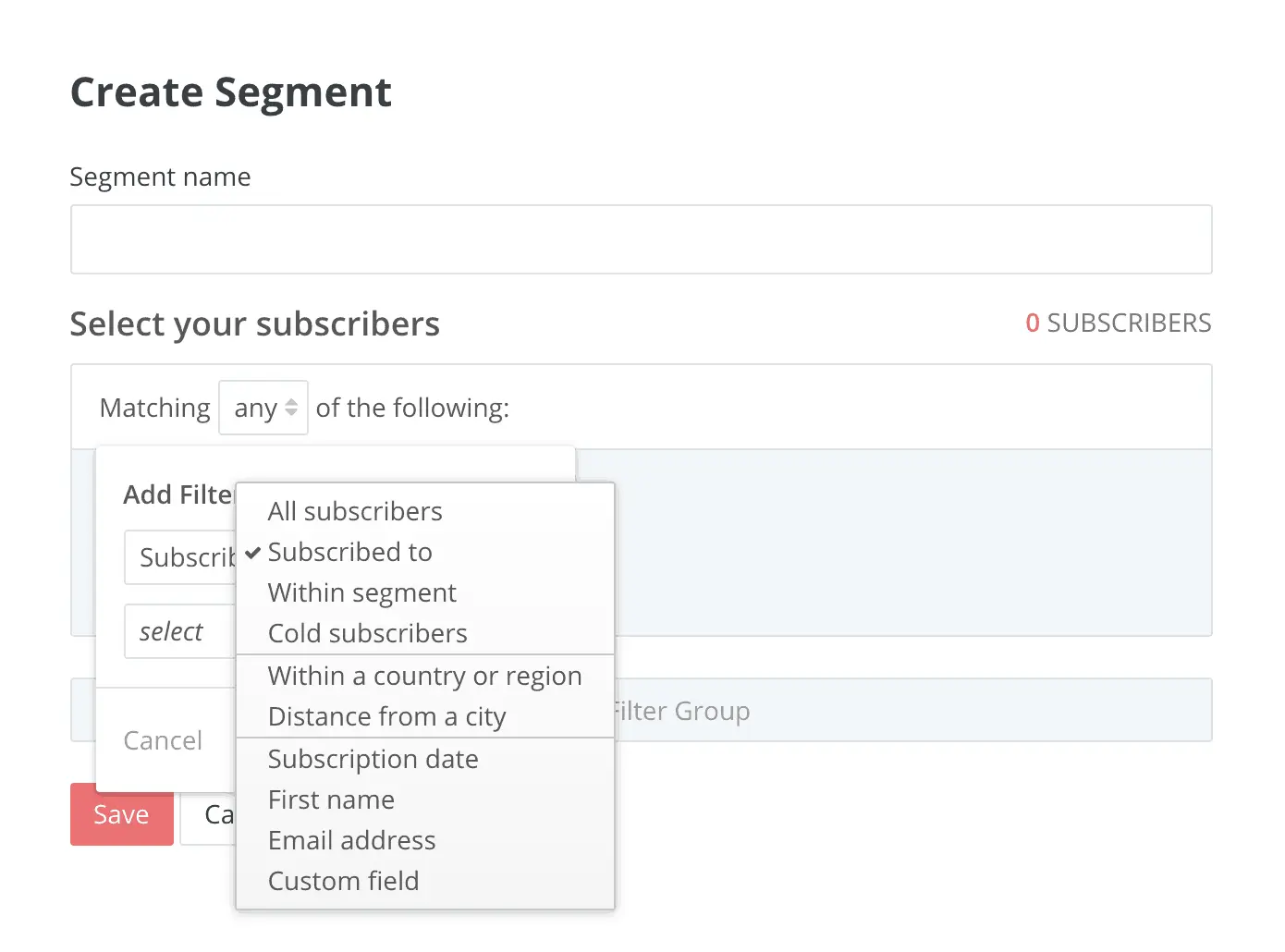 ConvertKit offers multiple filters for in-depth segmentation. E.g., subscription date, custom field, subscribed to a particular form, city/region, or distance from a specific location.
Products
ConvertKit has enabled integrations with popular product selling platforms such as Shopify and WooCommerce.
Depending on which product the subscriber has purchased, you can send him further emails.
3. Broadcasts
ConvertKit Broadcasts feature enables you to send one-off emails to targeted audiences.
Since ConvertKit doesn't have multiple lists, you can use filters to target email subscribers to whom you want to send a particular marketing message or offer.
You'll most often apply the "Subscribed to" filter to send a broadcast to people who are segmented by the forms, tags, sequences, or products.
In the next step, you can craft your Broadcast email using a newly designed block editor or old legacy editor.
You can add images, buttons, files, links, or HTML blocks along with the text copy. It also allows you to format and style your text.
Still, I prefer and advise using plain text to improve the deliverability of the campaign.
Once you created a Broadcast email, you can preview it as a subscriber. It's incredibly beneficial to avoid silly mistakes.
Lastly, you can save the Broadcast as a draft, send it immediately, or schedule it in the upcoming days.
ConvertKit Broadcasts have two compelling features:
A/B Testing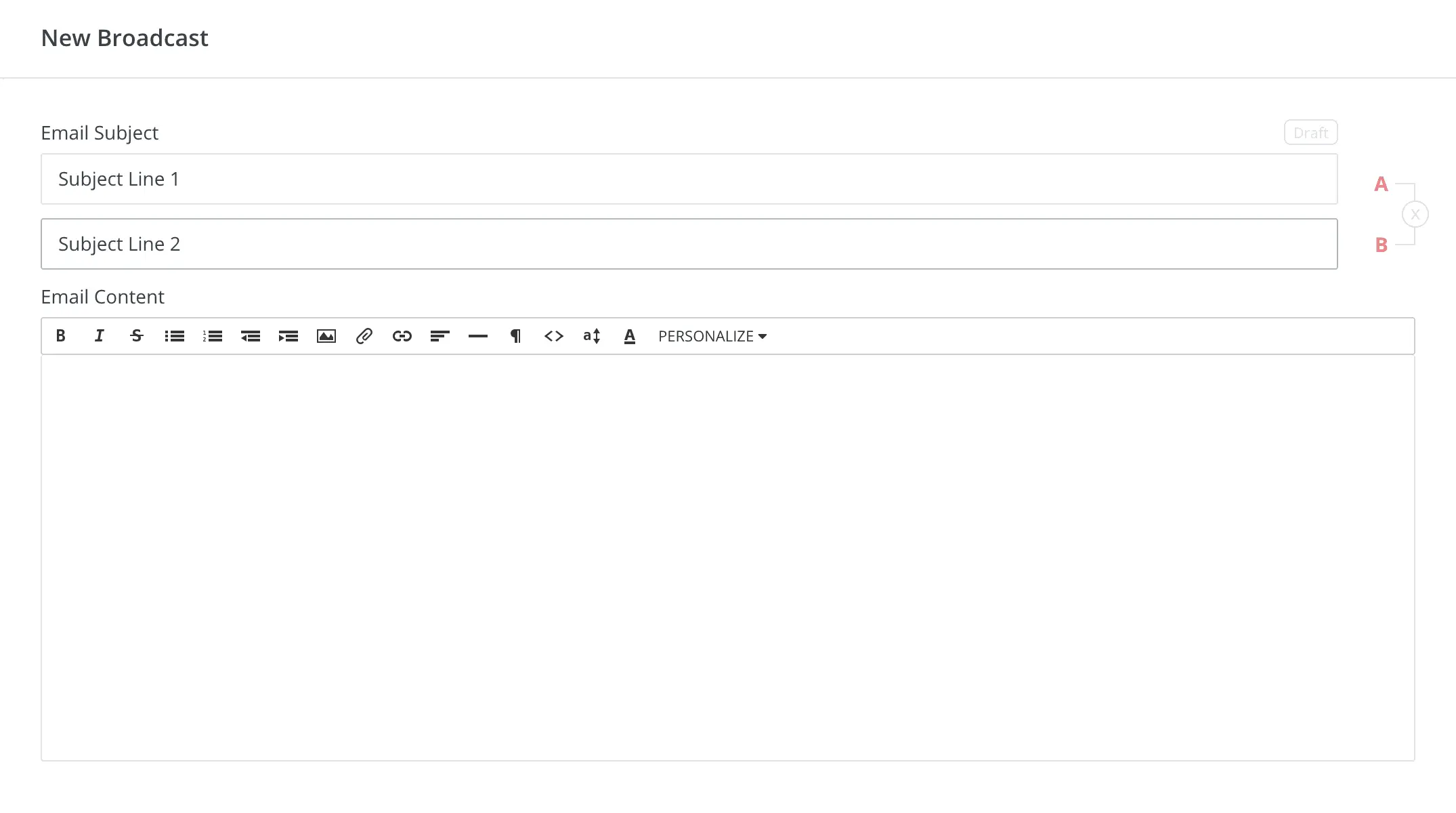 A/B Testing allows you to create two different versions of the Broadcast subject line and send them to 30% of the total audience.
One that gets maximum engagement will be preferred over another and used as a subject line for emails sent to the rest 70% of the people.
If you have a small email list containing less than 1K subscribers, running A/B testing may not give you actionable data, as the number of subscribers isn't significant to make the best decisions regarding the particular marketing campaign.
Personalization By Tags
This feature helps to send relevant marketing messages or offers by segmenting the recipients with Tags.
Unlike the ConvertKit Automation features, the tags used in Personalization are added inside the email body, not as triggers.
Depending on the Tags associated with a particular subscriber, he will get the relevant email crafted for him.
4. Sequences
Sequences feature lets you create an autoresponder series of emails that get sent to targeted subscribers at a predefined schedule.
Once you click on the Sequences menu, you'll see a series of emails on the left sidebar along with an email editor on the right side.
If you're creating a new sequence, then you'll see only one email on the left.
When you add a few emails in your sequence, you can drag those emails to the left sidebar to quickly change the order in which they are sent.
On the right side, you'll see the email status, i.e., draft or active, email scheduling, and the same editor as you see while creating Broadcast emails.
Although you'll have the same features available in the Sequences email editor, you can perform A/B split testing for the subject lines.
When you create the entire sequence, you can preview each email and how it looks in the browser or the email inbox.
You can also change the schedule by going to the Settings tab.
There is another interesting feature for creating duplicate sequences.
If you have multiple products or variables to add to your sequence, you can automate the process by using tags and segments.
Lastly, the ConvertKit has a dedicated reporting section for each sequence that displays the open rate, click rate, unsubscribes, and how many people have completed the particular sequence.
By analyzing this data, you can make better decisions for your email marketing campaign.
5. Visual Automation
Automations
ConvertKit offers a powerful visual automation builder so that your email marketing business runs on autopilot.
You can either use prebuilt templates or create automation from scratch.
Although using the template is the easiest method to create visual automation inside ConvertKit, I always prefer building my email marketing automation from scratch.
It requires choosing an action that triggers automation. Single automation workflow may have multiple triggers.
First, you need to select a trigger for the automation to start working. You can have multiple triggers for an automation workflow.
For example, a motivational speaker can create an automation workflow that is triggered when the new website visitors join a lead form embedded in a particular blog post or existing email subscribers complete an email sequence.
ConvertKit automations have a limited set of events, actions, and conditions compared to other popular email marketing service providers.
Bloggers, affiliate marketers, and creators may find it user-friendly.
However, the ConvertKit isn't suitable for big publications and e-commerce sites that need advanced automation functionalities.
They may either try Drip, GetResponse Enterprise or create custom email marketing automation for themselves.
Automation Rules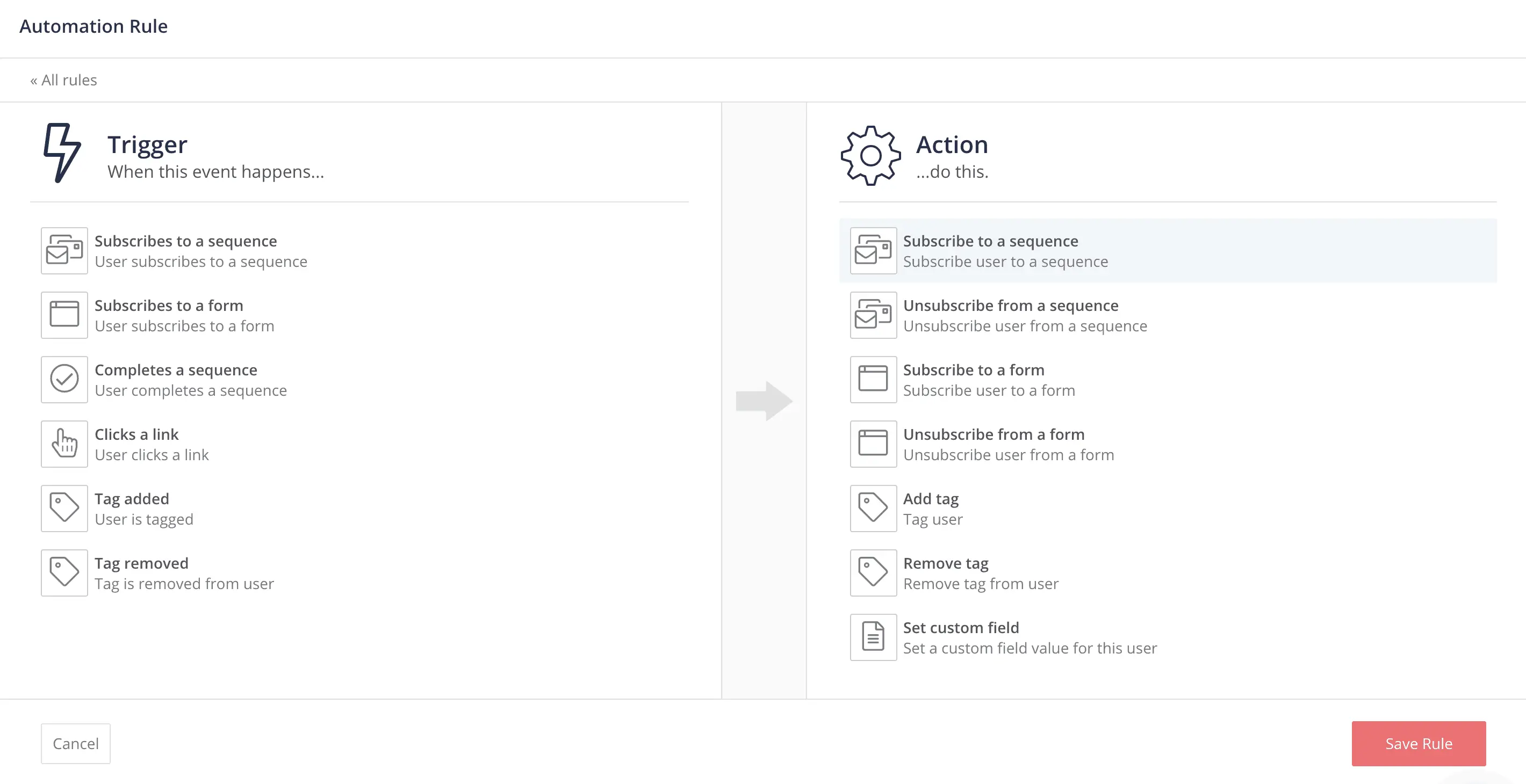 ConvertKit has a dedicated section to manage different automation rules.
You can find this option under the "Automations" menu inside your ConvertKit account.
In this section, you can view existing automation rules, modify these rules, or create new automation rules by choosing the triggers and actions.
Automation rules are useful in segmenting email subscribers by their interests.
When a new subscriber joins your list, you can send him an email asking him to choose between multiple choices. Depending on his preference, you can tag him and add to the particular automation workflow.
E.g., When a new visitor joins an email list on your SEO blog, you can ask him whether he is interested to know more about on-page SEO, link building and off-page SEO, technical SEO, or local SEO to send him relevant emails.
Since he would be getting what he wants, there are more chances of engagement and conversions.
RSS Feeds Automation
You often want to get traffic when you publish new blog posts. Sharing blog posts with your email subscribers is an easy and quick way to get tons of visits.
How would you feel if it happens automatically?
Add your blog RSS feed URL to the ConvertKit account. It'll send each post individually or gather multiple posts into a digest (similar to a Quora digest) to send to your email subscribers.
By default, the RSS feed broadcasts are saved to draft so that you can review them and send them to your list. However, you may choose to send an automatic broadcast whenever a new post gets published.
Automation Integrations
ConvertKit visual automation is flexible, and it can be integrated with popular online platforms in broad categories such as lead generation, online course hosting, and e-commerce platforms.
As of writing this review, ConvertKit automation can be paired with 19 external platforms.
6. Advanced Reporting
ConvertKit displays reporting data intuitively so that a beginner can also understand it and make better marketing decisions.
When you log into your ConvertKit account, it will show an overview of total subscribers and email metrics such as emails sent, average open rate, and average click rate.
By navigating to a particular email broadcast or sequence, you can get more data about the recipients, open rate, click rate, number of unsubscribes, and top links clicked.
Apart from that, you can track how many people visited your ConvertKit form or landing page, the number of subscribers, and the conversion rate under the Forms & Landing Page menu.
You can get detailed information about these metrics and top referring sites in the Reports section of individual forms or landing pages.
ConvertKit Integrations
Third-party ConvertKit integrations extend its functionalities beyond just email marketing software.
As of writing this ConvertKit review, it can be integrated with 118 external apps in various categories such as e-commerce, webinar services, lead capture, CRM, affiliate management, memberships & course, Facebook ads, and many more.
For example,
I use Sumo and Thrive Leads WordPress plugin for lead capturing, and Shopify for my dropshipping site.
ConvertKit has native integrations with all of these apps, making it my top choice among all ESPs.
You can access hundreds of more integration with Zapier.
Visit the ConvertKit integrations page for more information.
If you don't see ConvertKit integration with your favorite app, you can either build it yourself using ConvertKit API.
You may also ask the ConvertKit dev team to create new integration, and most probably, it'll be released in the upcoming months.
ConvertKit Pros
1. User Interface
ConvertKit has an intuitive user interface that makes it easy to navigate inside the account.
Everything is placed in the right place. Whether you want to access visual automation or broadcast or create a new landing page, you won't face any difficulties finding these options in your ConvertKit account.
This simple and easy-to-use UI feature makes ConvertKit more powerful than its competitors.
2. Tag-based Subscriber System
The tag-based subscriber system is the USP of the ConvertKit.
Unlike other email marketing services such as Mailchimp which use multiple lists, ConvertKit uses Tags.
It adds flexibility to segmentation and marketing automation.
Since this feature enables you to send hyper-targeted emails, it results in better deliverability of marketing campaigns.
There is another benefit of the tag-based subscriber system. You won't be charged for the duplicate contacts on your list because each unique subscriber gets counted at once.
3. Dynamic Emails
I have already explained how you can use tags to personalize your emails depending on the user interactions.
This feature also helps you to improve campaign deliverability and engagement rate.
4. Unlimited Email Sending
ConvertKit pricing depends on the total subscribers on each account. You can create unlimited forms & landing pages, and send unlimited emails to your subscribers who have opted-in to your list.
Plus, you'll get all features (except concierge migration) on each premium plan no matter whether you have subscribed to a $29 per month plan or a $679 per month plan.
5. WordPress Integration
Today, 35% of people use WordPress to build their websites. Considering this fact, ConvertKit has easy WordPress integration in the form of a WordPress plugin.
Install the ConvertKit WordPress plugin on your site, add API and secret key to activate the plugin, and start displaying the forms and landing pages on your WordPress site.
This feature eliminates the process of playing with codes to display forms and landing pages.
6. Seamless Visual Automation
ConvertKit visual automation has an amazing feature that allows you to create or edit email sequences without leaving the automation window.
Instead of going back to the Sequences tab and editing your emails, the automation email editor offers a seamless experience for ConvertKit customers.
7. Share your Visual Automation with Others
Similar to the ClickFunnels Share Funnel concept, this feature of ConvertKit allows you to share your visual automation publicly as a template.
Anyone with access to the automation template link can copy this automation and everything within it into their ConvertKit account.
If you want to share your automation with fellow bloggers or your students, then it's a handy feature.
8. Third-Party Integrations
ConvertKit seamlessly integrates with 94 popular digital platforms in various categories.
Whether you want to capture leads, sell online courses, or run a dropshipping store on Shopify, ConvertKit is never going to stop you.
Need more integrations?
Use Zapier or build your own ConvertKit integration by referring to the API docs.
9. Responsive Customer Support
ConvertKit offers 24/7 live chat and email support if you face any technical difficulty accessing your ConvertKit account of its features.
Although ConvertKit live chat can be improved, email support is mind-blowing.
10. Frequent Product Updates
In today's dynamic world, being updated is necessary. That's why ConvertKit launches regular product updates depending on the feature requirements asked by customers.
You can refer to its Changelog and Product Roadmap by visiting this page.
11. Lead Magnet Double Opt-ins
There is confusion among many people about whether they should use single opt-in vs, double opt-in.
The double opt-ins indeed improve the email list quality; it may hurt the conversion rate by adding an extra step.
However, ConvertKit will handle double opt-ins seamlessly if you're using lead magnets. You can insert a lead magnet link in the incentive email so that the subscribers get double opted-in when they click on the link to access their freebie.
12. Resend Broadcast to Un-opens
As I discussed earlier, you can resend broadcast emails to email subscribers who haven't opened your original email.
What if your subject line went wrong that landed your email into a promotional tab or spam folder?
ConvertKit will let you edit the original email and resend it to unopens so that you can reach more people on your email list.
ConvertKit Cons
1. Limited A/B testing
A/B testing improves the open rate and conversion rate of the email marketing campaign.
ConvertKit lets you do A/B split testing for only the subject lines of email Broadcasts and not for the Sequences.
Apart from that, you can't perform A/B testing for sender name, sending or delivery time, automations, and email contents.
I think this is a major downside of using ConvertKit.
2. Limited Customization for Forms and Email Templates
Although you can customize forms and landing pages, there are some limitations to customization, especially for people who don't know how to code.
The same problem continues with the email template.
Using fancy email templates is an old fashion and affects the deliverability of the campaign.
Still, many people prefer using rich email templates over plain text.
If you're one of them, the ConvertKit may disappoint you.
Plus, there are no prebuilt email templates for different categories. You need to create all of your emails from scratch.
3. Limited Triggers in Visual Automation
ConvertKit has limited triggers compared to other email automation software like Drip or ActiveCampaign.
It means you can't build complex automation workflows in the ConvertKit.
You also won't get access to advanced features such as Site Tracking, Customer Attribution, Lead Scoring, Goal Tracking, Sales & CRM, Messaging, and Predictive Sending with the help of Machine Learning.
4. A Little Expensive for Beginners
Recently, ConvertKit has launched a free landing page plan that allows you to create unlimited lead forms & landing pages, build a list of up to 1K people, and send unlimited broadcast emails.
However, it lacks advanced features such as autoresponder sequences and visual automations.
To get access to these features, you need to upgrade to one of the premium plans that start from $29 per month.
While this isn't quite huge, beginners may feel that the ConvertKit pricing is a little expensive for them.
ConvertKit Support
ConvertKit offers 24/7 live chat and email support.
The customer support team is responsive, and often you'll receive a reply within 15 minutes of opening an email ticket.
However, live chat support can be improved to achieve a better customer experience score.
In addition to the live chat and email support, ConvertKit offers an extensive knowledge base and video tutorials to teach how to use its email marketing platform effectively.
Meanwhile, you can join the ConvertKit community to learn new email marketing hacks and get answers to your ConvertKit-related queries.
ConvertKit Alternatives
1. Drip
Drip offers ECRM (E-commerce CRM) features that enable businesses to meet customer demands.
If you want to know more about your customers, grow your list faster, and offer personalized marketing communication, then Drip is one of the best email marketing tools for you.
Drip offers many advanced features such as tagging, custom fields, automation, in-depth segmentation, automatic revenue attribution, detailed reports along with 90+ third-party integration.
If you are in the e-commerce space, then Drip is a must-have tool for you.
Drip pricing is a bit on the higher side, but you can take a 14-day free trial before purchasing the premium plan.
2. GetResponse
GetResponse offers an all-in-one online marketing solution at an affordable price.
It contains email marketing and online campaign management tools to create winning marketing funnels, grow your leads & sales, and maximize ROI.
You can build beautiful landing pages, autoresponder sequences, and sales funnels, and send unlimited email broadcasts to your email subscribers.
Higher tier plans of GetResponse allow webinar funnels, lead scoring, tagging, automation builder, and 150+ third-party integrations to get the best out of your investment.
GetResponse pricing is flexible, and you pay only for the tools you use. Beginners can sign up for the basic email marketing plan, whereas seasoned marketers and e-commerce brands can opt into more premium plans to get advanced features.
3. MailerLite
MailerLite is one of the affordable email marketing service providers with many useful features.
You can create unlimited pop-ups, embedded forms, and landing pages to capture more leads.
MailerLite allows you to improve marketing communication by adding email automation, tagging, segmentation, and personalization.
It will also let you optimize the marketing campaign by A/B split testing, auto-resend, delivery by time zone, and RSS integration.
Data-driven decisions greatly help to improve campaign performance. MailerLite provides detailed reports, including open rate, click rate, and opens by location.
80+ third-party integrations, including Zapier, OptinMonster, Thrive Leads, Gleam, or PayPal, extend the possibilities of the MailerLite application.
Although it seems aggressive on the performance end, the MailerLite pricing is comparatively inexpensive.
You can either start for free or upgrade to a premium plan by paying as low as $10 per month.
ConvertKit Review: FAQs
Is ConvertKit suitable for me?
If you are a blogger, affiliate marketer, YouTuber, podcaster, freelancer, course creator, or solopreneur who sells products or services online, then the ConvertKit is a must-have tool for you. 
How can I migrate to ConvertKit?
You can add email subscribers to ConvertKit, upload a CSV file, or import from popular email marketing tools such as Mailchimp, Drip, and Mailerlite. Creators having a list of more than 5000 email subscribers can request the ConvertKit Concierge Migration service.
How much does ConvertKit cost?
ConvertKit pricing depends on the number of email subscribers. It starts at $29 a month for up to 1,000 contacts, $49 per month for 1K-3K contacts, and $79 per month for an email list up of 3K-5K contacts.
Does ConvertKit offer a free trial?
Yes, ConvertKit offers a 14-day free trial for its new users. Unlike other email marketing companies, you can access all features during your trial period.
How do I get the ConvertKit discount code?
Currently, ConvertKit is not offering any discount on its monthly plans. However, you can get 2 months of free subscription when you purchase the ConvertKit annual plan.
What is the refund policy of ConvertKit?
ConvertKit has a 30-days refund policy. If you are not satisfied with ConvertKit, then you can ask for a refund within the first 30 days of signing an account. 
Can I send bulk emails?
ConvertKit does not allow unsolicited bulk emails to safeguard its infrastructure and performance. You can send bulk emails (broadcasts) only to the people who have opted-in to your email list and granted you permission to send them relevant emails.
Does ConvertKit have landing pages?
Yes. ConvertKit allows its users to build beautiful landing pages within minutes. These landing pages are hosted on the ConvertKit platform. You can create unlimited landing pages and email marketing campaigns associated with them.

Name: ConvertKit
Description: If you're looking for easy to use yet powerful email marketing automation software for your online business, the ConvertKit is one of the best tools available right now. Go through this entire ConvertKit review and you'll find why you should use ConvertKit for your blogging business.
Offer price: 9
Currency: USD
Operating System: Linux
Application Category: Email Marketing Service
Author: Ankit Main
Performance

Features

Pricing

Support
Comments Rating
( reviews)