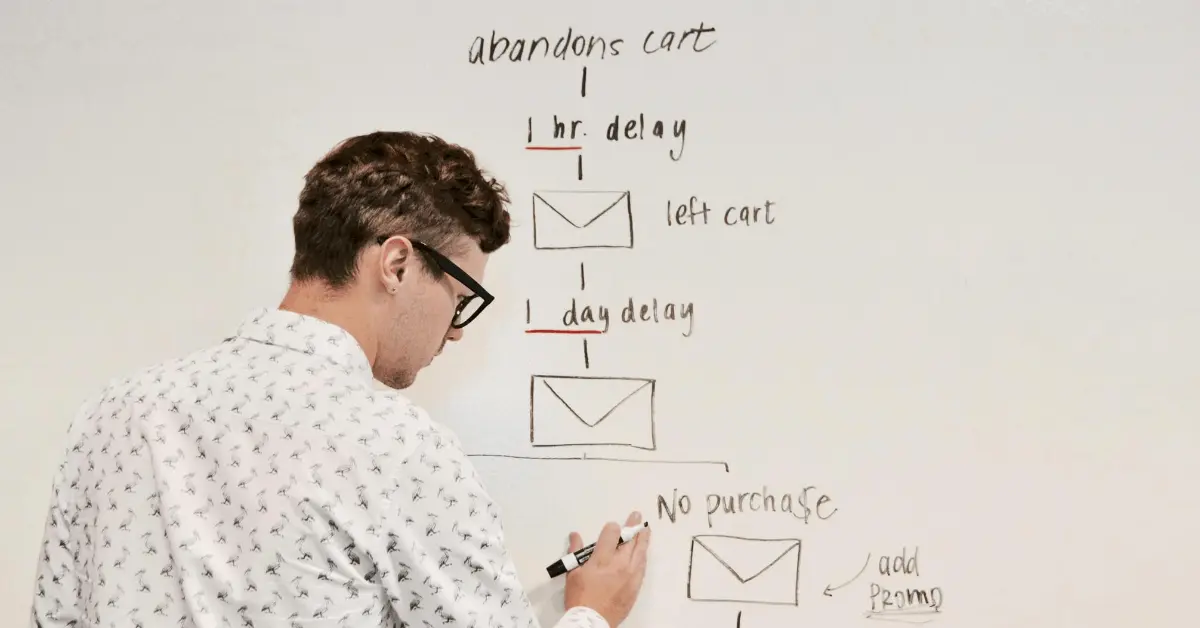 Affiliate Disclosure: I publish various content marketing strategies, online business ideas, blogging tutorials, review articles, and discount offers on my blog. My content may contain some affiliate links for products/services I use, love, and recommend. If you take action (i.e., subscribe or make a purchase) after clicking one of my affiliate links, I'll earn an affiliate commission at no additional cost to you. It helps me in creating more helpful content like this.
If you are a digital marketer, you've probably heard of the term — marketing automation.
What does marketing automation mean?
I'm sure that most people relate this term only to email marketing sequences or automated social media sharing, and nothing else.
However, marketing automation refers to the technologies and software platforms that are designed to amplify marketing efforts and automate repetitive tasks to improve overall marketing efficiency.
It's one of the best marketing strategies to drive engagement and meet customers at multiple touchpoints that lead to the highest CLV (Customer Lifetime Value).
What Does Marketing Automation Do?
There are five primary functions of any marketing automation system.
1. Brand Awareness
It's the first step where people get to know about your brand and the products that you offer.
Traditionally, businesses were using tons of marketing tactics to increase brand awareness including Print, TV, and Press Releases.
Adding automated processes like scheduling and analytics will help you streamline marketing activities and measure the impact of brand awareness campaigns.
2. Lead Generation
It's a process of converting strangers into leads (people who are highly interested in your products or services). Generating MQL (Marketing Qualified Leads) may be a time-consuming process for most business owners especially when you haven't put effort into brand awareness.
However, marketing automation significantly reduces time and cost by putting your lead generation process on autopilot.
3. Engagement
What would you do if the prospect unsubscribes your list after downloading an e-book, a checklist, or anything you've offered as a lead magnet?
It's the most annoying moment for any marketer after putting in a massive effort.
Engagement is necessary after acquiring leads where you need to nurture them to convert them into loyal customers.
It's a useful factor not only in pre-sale activities but also to keep your current customers happy, retain them, and gently push them towards upgrading to more premium services.
4. Closing
The closing means converting the prospects into actual buyers.
Since manual closing is time-consuming, especially for high-ticket and B2B products, marketing automation simplifies the entire process to get more customers with minimum effort and adds scalability.
5. After Sales
The responsibility of the marketing team does not end with delivering leads to the sales department.
In engagement-based integrated marketing, businesses need to collect data across all touchpoints of a marketing campaign even after the customer has made a purchase.
Engagement after a sale leads to better customer experience, repeated sales, and increased referral leads.
Apart from that, businesses can see major improvements in customer experience, message targeting, and ROI after opting into marketing automation platforms.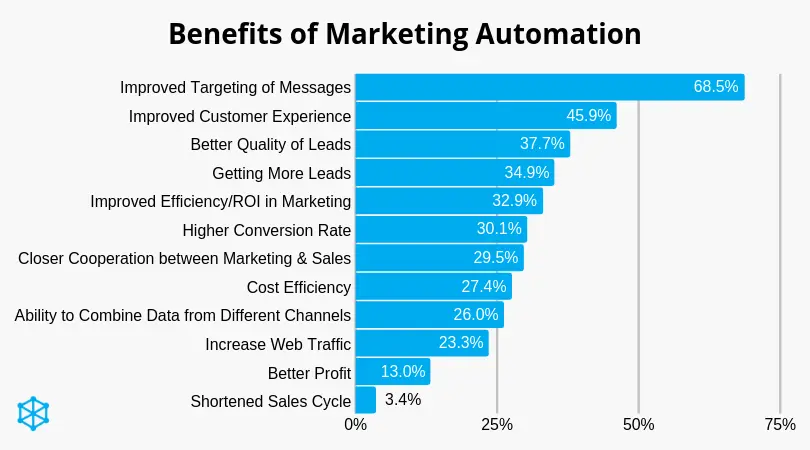 I've mentioned a few examples showing how marketing automation can help solopreneurs, SMBs, as well as large-scale businesses, improve their productivity and ROI.
1. Market Research
Whether you are a startup or an existing business with significant influence, market research is a crucial step to take you to success.
You can't just put in a massive investment without understanding the growth potential and estimated profit in a short term as well as long term.
Market research provides many valuable insights and statistics needed for successful growth.
Gathering and processing data manually is definitely not worth it.
How could you tackle this problem effectively?
— By using marketing automation for market research.
It's necessary to find the pain points of potential customers, demand and supply relationships, trends over a specified period, and most importantly, the drawbacks of current solutions available in the market.
See the following example to understand, how marketing automation can help in market research activities.
Suppose, you want to start a business in a competitive niche like web hosting, insurance, or real estate. In that case, you would probably like to know the market insights — the potential customer base, the average price for each product/category, estimated sales, and the time required to achieve the break-even point to decide your marketing strategies.
How could you do that?
#1. Surveys
Surveys assist businesses to know the customers' needs, their demography, psychography, and much more. The tools like SurveyMonkey, Typeform, Monday, and Google Forms can automate this task.
For example,
Sometimes, people watch your webinar and hit the sales page, but don't buy the product or service.
You can ask if they face any problems while purchasing or expect something different.
Gathering feedback will help you resolve the issues quickly and split-test your offers to achieve a better conversion rate.
#2. Keyword Research
Finding profitable keywords for your marketing campaigns is a small element of market research.
Today, it's quite easy to know different metrics including average monthly searches, search trends over the last 12 months, SEO & PPC competition, and CPC using some advanced keyword research tools like Semrush, Ahrefs, and Google Keyword Planner making your marketing efforts more effective.
There is no benefit of thousands of hits to your landing page unless you get the conversion (whether immediately or after a long follow-up sequence).
To achieve the ultimate goal of conversion, you must shift your focus from traditional keyword research to intent research.
Intent research will help you decide what to include in the marketing campaign and what not.
Doing manually — is it feasible?
Let marketing automation software gather, analyze and process the raw data to give you the final results in an excel sheet.
Remember, you can't ignore the accuracy, time-saving ability, and profitability of keyword research tools.
2. Web Development
A web page is a crucial part of any marketing campaign. Right from designing the landing pages to tracking visitor activities and processing that data to create more sophisticated marketing strategies is the prime target of any conversion-focused web development.
Remember, marketing automation is not limited only to lead generation and sales. It has much more potential to generate substantial ROI by transforming your marketing campaign into a sustainable result-producing machine.
Here are a few examples to give you a better idea.
#1. Landing Pages
You may find several high-quality cloud apps as well as dedicated page builders to create beautiful landing pages.
However, marketing automation tools not only help to build the landing pages but also capture the leads, send them personalized communication, track their on-page activities and develop your further marketing plan.
You probably know how heat maps, as well as other analytics tools, collect data about every visitor coming to your landing page.
This data can be processed and used for segmentation and marketing communication and drive user engagement by interacting with customers at the 1-to-1 level.
#2. Live Chat
Whenever you visit a business website, you might have noticed a small widget for a live chat in the bottom right corner.
While some big companies have a dedicated support team to handle sales & marketing queries, others choose AI-powered bots with predictive marketing to navigate the potential customers through an automated buyer journey where every action is recorded for affinity and behavioral analysis.
Since 51% of the customers want businesses to be available 24/7, and 41% of customers see a website with a live chat feature as more trustworthy, adding AI-powered chatbots can significantly improve your marketing engagement and reduce the time in the support queue.
#3. Quizzes
Running a quiz is the best way to automate lead capturing in integration with email marketing automation software.
Once you decide on your target audience, create a quiz around the niche.
Add some MCQs (multiple-choice questions) so that people can choose an option for each.
Don't forget to add a fun part or relate those questions to your target audience.
People will go through that questionnaire, and after successful completion, they'll need to enter their contact details (preferably name & email address) to see the results.
Such quizzes have a psychographic effect on users which results in a rapidly growing email list, social shares, and most importantly, acquiring audience insights.
Thrive Quiz Builder and MyThemeShop WP Quiz Pro are two useful plugins for WordPress-powered websites.
#4. Search Filtering
Suppose, you want to buy a blue colored jacket for $200 or less.
How can you find the best one?
You will visit an e-commerce store like Amazon or Myntra and start the product hunt by choosing some filters like category, price, color, and rating.
Isn't it the most comfortable way rather than surfing hundreds of product pages and comparing them with each other?
Marketing automation is often built for businesses to simplify the lead generation and sales process.
However, search filtering is a useful web development feature that primarily focuses on helping customers to find the desired product.
It helps buyers to save time in the manual search process and businesses to get more conversions due to the improved user experience.
Here is another example of search filtering – trivago.com, a website for finding hotels and resorts.
Trivago automatically compares live prices on more than thousands of websites & apps to make sure the user finds an ideal hotel at an unbeatable price.
In addition to that Trivago's Interactive Map feature start loading dynamic search results for the selected location.
Search filtering is one of the best marketing automation tactics that creates a win-win situation for both, marketers as well as customers.
3. Email Automation
You might be familiar with email marketing automation.
Since emails are the best channel for B2B as well as B2C communication and drive an ROI of $44 for every $1 spent, all businesses want to build a massive list of targeted audiences.
Do you think, that's possible without using email marketing automation software?
Probably not.
Attracting visitors, offering value, acquiring them to your list, nurturing, and manually pitching your product(s) to each customer could quickly drain your budget.
Email Marketing automation lets businesses like yours gather tons of subscribers and run marketing campaigns seamlessly 24/7.
On another side, automation helps to find the open rate, CTR, CVR, and unsubscribe rate. A few email marketing automation tools help to visualize the buyer's journey throughout the marketing funnel.
Sometimes, people may decide to opt out of your mailing list for many reasons, but email automation can find the exact reason why the subscribers are leaving your list.
Advanced email marketing has much more capability to drive more engagement and sales completely on autopilot.
I have mentioned a few advanced email marketing automation tactics.
#1. Personalization
Personalization creates an instant relationship with your readers. Plus, personalized marketing automation has a positive impact on the unique open rate and click rate.
Personalized promotional mailing gives 29% higher unique open rates (UOR) and 41% higher unique click rates (UCR). Similarly, personalized triggered mailing shows a positive shift, with 25% higher unique open rates (UOR) and 51% higher unique click rates (UCR) than non-personalized mailings. (Source: Experian)
#2. Third-party Integrations and API
Email marketing tools can be integrated with third-party platforms through API to collect data from CRM and e-commerce software.
Collecting accurate data will help you craft better marketing strategies to generate higher ROI.
For example,
You can check the shopping cart abandonment for your Shopify store and remind customers to complete their purchases by sending a simple email notification.
Sometimes, people may have issues like high prices, and shipping problems where you can offer an irresistible custom offer to generate a sale.
You can also refer to the article: How to Craft a Successful Abandoned Shopping Cart Email on the Semrush blog.
Email marketing automation is an incredibly powerful tool when you see the global cart abandonment rate of 75.52% (Source: Annex Cloud).
#3. Segmentation
When you launch an email marketing campaign without segmentation, all contacts on your list will receive the same message every time.
Email marketing automation helps marketers to divide the audience into different segments depending on their geographic, demographic, psychographic, cultural, and behavioral data.
Plus, collecting this information allows businesses to break down their email list into smaller groups of people perceiving common interests or needs, and fine-tune their nurturing process with laser-targeted email communications.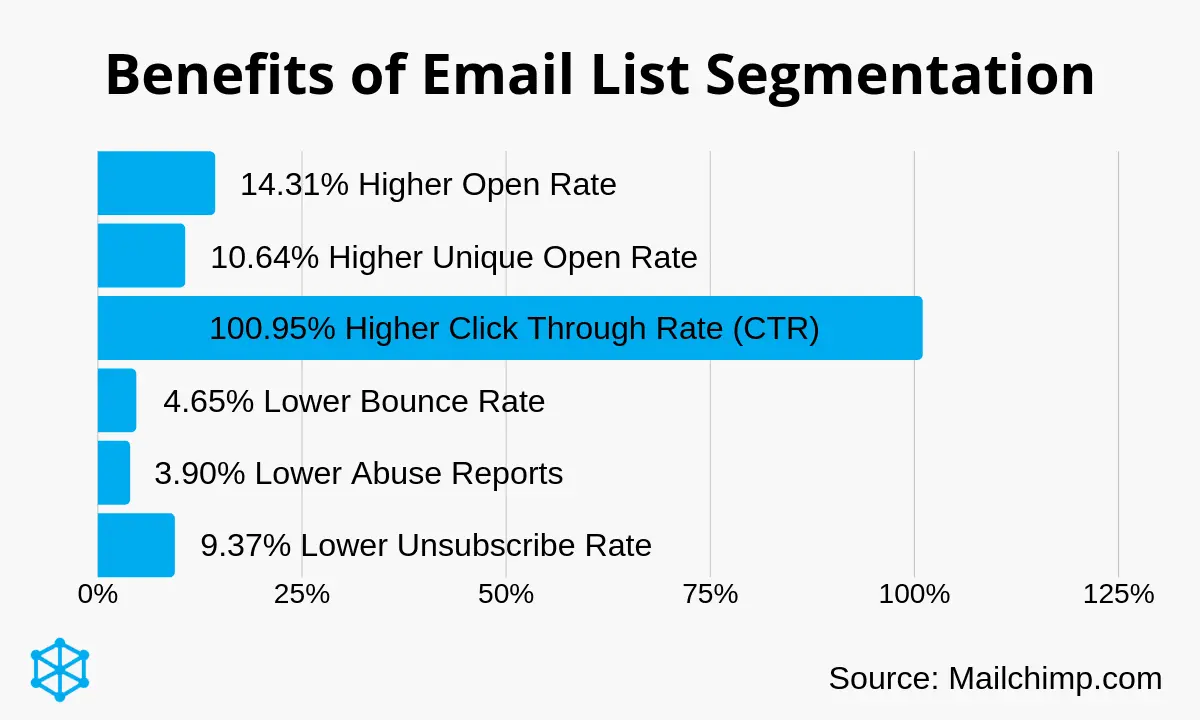 Apart from that, you can find many advanced tactics in email marketing automation including workflows, tagging, and dynamic content delivery.
Email marketing is a proven method to drive a massive ROI, but adding automation can boost its performance like never before.
4. Webinars
Seminars and networking are not new for people working in the digital marketing industry. A webinar is an online projection of physical meetups.
From a business perspective, automated webinars are a great way to generate a pool of passive income.
Don't you believe it?
Top digital marketers like Neil Patel and Russel Brunson use these tools to get maximum audience engagement and sales completely on autopilot.
5. Social Media Marketing Automation
You might have used IFTTT (If This Then That) tool to tweet your Instagram picture or share it as a Facebook page album.
Similarly, social media automation tools help to automate or semi-automate repetitive tasks like content curation, sharing posts on multiple social media channels, brand monitoring, and creating reports.
Most of the reputed social media automation software programs are easy to use even by a non-techie and are highly effective to improve productivity.
Although social media marketing automation is not a replacement for human marketers, it can save a lot of time and effort.
These automated software products can –
Discover popular content across the World Wide Web or curate from blogs you love.
Schedule and optimize your social media posts for the highest engagement.
Give valuable insights by measuring the necessary metrics for your campaigns.
Drive customer engagement using AI-powered bots.
I have discussed how social marketing automation can influence the commonly used social media channels.
#1. Facebook
Being a dominant player in social media with 2.271 billion monthly active users worldwide, Facebook is the first choice for small businesses as well as enterprises to promote their products.
Facebook marketing involves organic social promotion using viral content, video marketing, FB adverts, and messenger bots.
Facebook Organic Promotion
If you are using Facebook organic promotion for driving engagement, then you must know what kind of content is creating buzz across the web and focus on crafting beautiful posts to share with your audience.
Sometimes, social media marketers may need to manage multiple accounts, schedule posts for weeks or even months, and measure essential metrics like post impressions, reach, engagement and clicks.
Social media marketing tools like ContentStudio and BuzzSumo are very useful in content discovery, brand monitoring, influencer outreach, auto-scheduling, analytics, and competitors' research.
In some cases, Facebook's default marketing suite can satisfy your automation requirements and drive MQLs on demand.
Look at the following example where Barbeque Nation has leveraged Facebook organic promotion to improve customer engagement to get more bookings to its restaurant.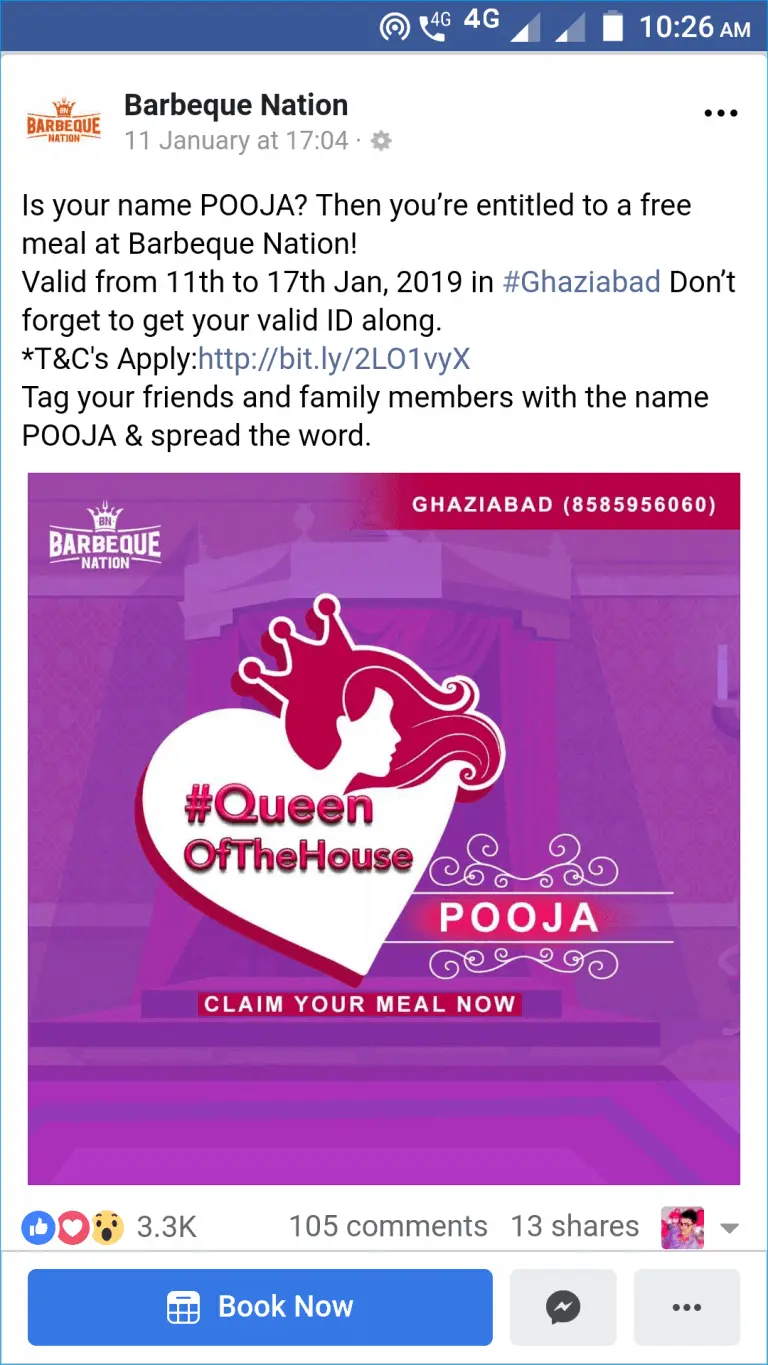 Facebook Adverts
Securing the second position in digital ad revenue share, Facebook offers a massive advertising platform for every type of business irrespective of its size.
Once you create and run an ad campaign, Facebook takes care of everything automatically.
Using marketing automation tools like ROI Hunter and Qwaya will help you get more engagement and customers. You can use their ad scheduler, ad & campaign rules, ad rotator, and split testing modules to cut down your advertising cost.
Facebook Messenger Bots
Relatively new to the marketing industry, Facebook Messenger bots help businesses to interact with their potential customers.
Today, Facebook bot software programs use AI technology to handle user queries and reply with the most sophisticated solution depending on the predefined sequence.
These programs can be easily added to the web page to convert an unknown visitor to a marketing lead.
If you're planning to give a shot to Facebook Messenger bots, then MobileMonkey and ManyChat are a couple of excellent platforms to get started.
#2. Twitter
Although there is a character limit, Twitter is an immensely popular social network, especially in the B2B space.
However, increasing followers, getting significant reach, driving engagement, and acquiring customers are hard to manage manually without using any automation tool.
Marketing automation tools will supercharge your content by putting them on autopilot.

You can schedule tweets or retweets, follow relevant accounts, unfollow the unfitting profiles and engage with your audience to keep them connected.
#3. Pinterest
Pinterest is not only an image-sharing website but also a content discovery portal. With 250 million monthly users, it's one of the best opportunities to market your products.
You will find it difficult to believe, but 93% of pinners use Pinterest to plan purchases and around 50% of people buy the product or services after seeing a promoted pin. (Source: Pinterest Business)
93% of potential customers out of 250 million users!
Isn't it a great number to target?
After Pinterest launched the Smart Feed update, the content quality, topical relevance, and user experience have got more importance than the chronological content.
Still, businesses need to share somewhere around 50 pins per day (not more than that) to grow their Pinterest accounts.
While you can't completely automate the content creation process, the Pinterest account can be easily managed using some social media marketing automation tools.
If you are using Pinterest as a primary or secondary source of traffic, then you should consider using the Tailwind app which is an MDP (Marketing Developing Partner).
#4. LinkedIn
With 562 million users, LinkedIn is the world's largest professional network. There is no doubt; LinkedIn is a golden opportunity to present your business in front of the actual decision-makers.
However, every business can't hire a team to interact with the prospects, walk them through the range of products and close a deal in the shortest period.
What is the solution?
LinkedIn, itself offers a set of marketing automation tools if someone decides to upgrade to the premium plan and use the sales navigator.
The third-party tools may seem a good fit in certain cases, especially the businesses that want to expand their network.
It's not necessary to purchase an expensive subscription for a reputed marketing automation platform. Even the Google Chrome extensions like Linked Helper or LinkedIn Sales Navigator can help a lot depending on your marketing goals.
#5. Instagram
If you're on the fence about leveraging Instagram to promote your business, now's the time to get started.
With an augmentative set of features like Stories, IGTV, and the power of more than 1 billion monthly active users, Instagram is a goldmine for digital marketers.
However, you need to maintain ongoing communication, offer fresh content, and track your activities to yield better results.
Automation tools can help you reinforce the Instagram marketing campaign to improve the engagement rate as well as CVR.
Previously, Instagram automation was limited to follow/unfollow bots and auto-likes. This is not the case anymore.
Today, you can use different tools to find the most popular contents and hashtags, schedule posts for weeks or months, spying your competitors, and automate Instagram marketing with smart growth modules.
SocialCaptain is one of the best tools if you're stepping into Instagram automation. It has many useful features including competitor tracking, targeting options for niche, language, and hashtag, Auto Direct messaging, and real-time analytics to convert the targeted audience into followers automatically.
Shorby is another tool to get most of your Instagram bio links. It drives users to Facebook messenger, social media networks, or custom web pages without extra effort.
Plus, you can analyze clicks, create a custom audience, and run remarketing ad campaigns to boost the sales volume.
#6. WhatsApp
A mobile app, social network, marketing tool, or an addiction, you can name it anything.
WhatsApp is the world's most-used messenger app with 1.5 billion monthly active users. Often people use it as a casual messaging app; only a few digital marketers make WhatsApp drive engagement to their businesses.
WhatsApp is not only for sending Good Morning or Good Night messages to your beloved ones, but it has true marketing automation potential when used smartly.
I was unaware of it until I booked my bus ticket through the redBus.
For the first time, I saw the smartest marketing strategy that redBus has implemented.
We often receive OTP or confirmation SMS on mobile. However, I received a WhatsApp message for my redBus booking within a few seconds.
The quality of service was also superior to what I was getting through regular ST bus travel.
After searching a bit more, I found that redBus is using WhatsApp chatbot seamlessly as a marketing automation tool to improve the customer support experience.
You can read more at How redBus made use of DialogFlow and Whatsapp to improve Customer Experience.
6. Marketing Automation in SEO
Search Engine Optimization (SEO) is one of the major online marketing channels to drive organic traffic to the blog or landing page. I have already explained how businesses can find the keywords with buying intent using some advanced tools like SEMrush.
However, SEO rankings depend on more than 200+ factors including on-page, off-page, and technical elements. We will look at how marketing automation can help build a solid presence in SERP and attract potential customers.
#1. On-page SEO
Often, people keep saying — to write for users, not for the search engines.
What if it does not reach the target audience?
Hence, the proper content structure, good readability, and on-page keyword optimization are a few serious issues to look into.
You know how SEO plugins like Yoast and Rank Math help to achieve better SEO scores, and, how Grammarly finds the silly mistakes in our copy using its artificial intelligence.
#2. Off-page SEO
Off-page SEO is often constrained only the link building.
While Advanced SEO automation tools like Ahrefs, SEMrush, and Majestic will help you by spying on your competitors to steal their backlinks (legally) to improve search engine ranking, off-page SEO means much more than that.
Software products like Ninja Outreach help you streamline the influencer marketing, branding, and lead generation process by driving engagement to your content.
Social signals, reviews, and brand mentions are also crucial off-page SEO elements. Implementing marketing automation to manage these things significantly improves customer engagement, conversions, and data collection which can be analyzed and used to craft future marketing strategies.
#3. Technical SEO
How many staff hours will you require to complete the technical SEO audit of a big publication site and fix the issues if you are doing that manually vs. using automated SEO tools like SEMrush?
Finding broken links, and checking issues for mobile friendliness, site speed, structured data, AMP, breadcrumbs, and pagination by scanning only the website code may become time-consuming & tedious.
Plus, there are chances of mistakes.
Don't you think so?
SEO automation tools can pick all issues, create a report and suggest the best possible solution. That too completely on autopilot.
Since the website is an important marketing medium, you can't overlook technical SEO.
7. Mobile Marketing Automation
Since mobile traffic has surpassed desktop traffic, businesses must focus on mobile marketing automation.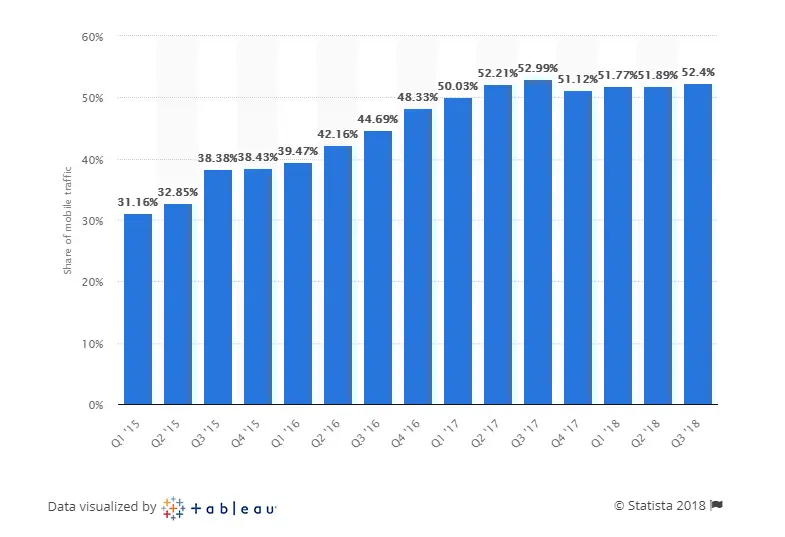 The fun fact is that more people worldwide own a cell phone than a toothbrush. (Source: Blue Corona)
Not convinced?
80% of smartphone users most likely like to purchase from brands whose mobile sites or apps help them quickly find answers to their questions. (Source: Think with Google)
Mobile has become a part of our life, and people have more affinity toward their smartphones than anything else.

That's the reason brands should invest in mobile marketing automation.
#1. SMS Marketing
With an astonishing open rate of 99% and a CTR of 36%, SMS marketing is a great medium to communicate with your current and potential customers.
Adding automation to SMS and integrating with other digital platforms may create a significant difference in your marketing ROI driving more SQL (Sales Qualified Leads).
You can send promotional messages and discount coupons to entice users to make a purchase as well as to confirm the transactions.
Since SMS is the fastest and more reliable channel, adding automation to SMS marketing is very helpful, especially in reminding the cart abandonment, showing payment and delivery status, and attracting more people through integrated text campaigns.
SMS marketing is often considered a unidirectional way of customer interaction; automation may help brands reach a new horizon of marketing.
Here is a simple example of how Paytm is leveraging text messages in its marketing campaign.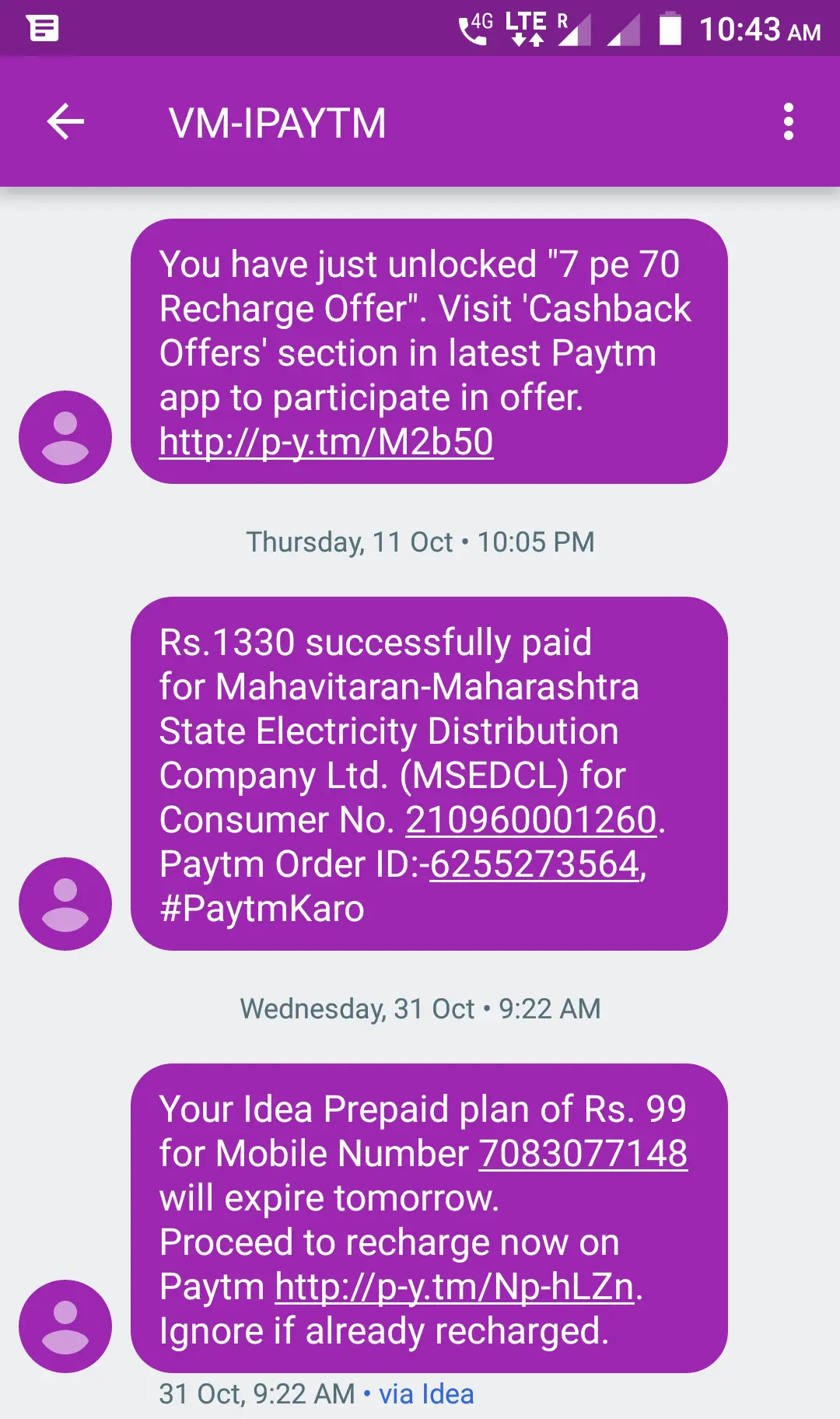 #1. The first message to send marketing offers (here is the cashback) is to get more traffic and engagement.
#2. Payment notification for successful transactions along with the hashtag #Paytmkro to increase brand awareness.
#3. This SMS shows how Paytm is leveraging the true potential of SMS marketing automation by integrating historical payment data to supercharge their marketing campaigns to drive engagement and conversions.
#2. Proximity Marketing
Proximity marketing a.k.a. hyperlocal marketing lets businesses utilize the power of proximity to drive customer engagement and often sales, completely on autopilot.
It helps to target potential customers accurately when they are about to make a purchase decision.
Proximity marketers can send notifications or valuable content via a Bluetooth or WiFi signal using BLE beacons or hotspots, similar to a mobile app push notification.
While the target audience is limited (in close vicinity), proximity marketing seems a game-changer for retail businesses especially those who run retargeting ad campaigns.
More than half of the consumers are most likely to engage with location-based ads and are willing to share their current locations.
That's not all!
62% of online consumers share local deals with friends. (Source: Forbes)
It clearly shows that the use of proximity marketing automation greatly influences the buyer's purchasing decision.
#3. Mobile App Marketing
Mobile app marketing is one of the best ways to drive customer engagement using personalized content.
For example, banks can send push notifications with multiple shopping offers on their credit cards boasting the XX% of saving and this communication can be further personalized for each customer based on their in-app behavior, account status, and banking policies.
Similarly, marketers can use different channels including in-app messaging, wearable device notifications as well as SMS/MMS to connect with customers browsing their mobile applications.
Integrating e-wallets like Paytm, Google Pay or any other payment services will improve the conversion rate when combined with the right offers.
Mobile apps create a virtually isolated environment, so using dynamic content delivery based on user behavior will get more engagement in improving the chances of conversion.
Now, you know, why every brand including Facebook and Quora keeps promoting their apps even when they've mobile-friendly websites.
That's not all.
Mobile apps can help e-commerce companies to automate abandoned cart recovery using targeted offers and discounts.
For example,
AI-powered 'Personalized Smart Triggers' have helped Cleartrip to convert 5% of app users who were dropping off from their booking funnel. (Source: MoEngage)
8. Digital Ads
Online advertising is already automated where you choose target keywords and maximum bid on CPC/CPM basis.
Paid advertising is one of the best ways to get quick and scalable results.
However, it doesn't necessarily mean you'll make a profit every time. Although you generate significant revenue, you may have different costs including product development, marketing & support.
Sometimes, you may need to compete with multi-million businesses with a tiny marketing budget.
Marketing automation is a magic wand for digital marketers, to beat potential competitors and make positive cash flow.
Here, you can see how automation helps in digital ads.
#1. Ad Personalization
Marketing automation helps to segment customers by interests, preferences, and behavioral data gathered from the interactions across different marketing channels.
Businesses can leverage these segments to deliver more personalized ads that people want to consume.
#2. Improvement in Ad ROI
Due to accurate targeting, conversions and Return on Ad Spend (ROAS) are significantly higher compared to random ad campaigns.
#3. Bringing Back Potential Customers to Landing Page
Since only 2% of traffic converts on the initial visit, you have 98% more people who might be interested in your product or service.
You can bring them back using meaningful retargeting ads. Just install a tracking code/Pixel to your landing page and see how Google or Facebook will get you loads of traffic who have bounced before.
Businesses that primarily focus on digital ads to get traffic and leads should consider using integrated marketing systems and measuring results to achieve consistent growth in ROI.
9. Analytics
How can you improve & scale your marketing campaign if you don't measure the effectiveness in the form of different metrics?
The best marketing strategies are data-driven and not the hypothesis.
Before launching any campaign, it must be tested and validated at a smaller scale.
That's possible only if you are tracking visitors' activities, the right engagement metrics, and analyzing them to measure the effectiveness of your marketing strategies to focus exclusively on those that are working fine for you.
Although you can measure hundreds of marketing metrics, only a few of them matter to your marketing campaign. These metrics are divided into four categories so that you can judge the performance of a marketing automation system and improve your strategies to achieve better results.
#1. Activity Metrics
Before you start evaluating the success of your marketing automation campaign, you need to ensure that your team is actually using marketing automation software.
Since automation software is a significant investment, it must be in the operational phase to see a meaningful ROI.
Tracking activity metrics helps to determine whether your investment is getting used to its optimum potential or facing any difficulty in execution.
Examples of Activity Metrics
The number of Marketing Emails/Messages Sent
The number of people reached
#2. Response Metrics
Response metrics give an idea of how your marketing communication resonates with your audience.
If you want to make sure that your marketing automation is well-received, start measuring the response metrics.
Examples of Response Metrics
Website Traffic insights including geographic, demographic, and behavioral data
Bounce Rate
Open Rate
Click Through Rate
Conversion Rate
Unsubscribe Rate
#3. Efficiency Metrics
Efficiency metrics indicate whether your automation campaign is working correctly or not.
If you want to see positive ROI, then you must be checking these metrics. In case, you see an abnormality in efficiency metrics; you must evaluate your marketing strategy and reform your automation campaign.
Examples of Efficiency Metrics
Customer Acquisition Cost (CAC)
Marketing Qualified Leads (MQLs)
Sales Qualified Leads (SQLs)
Cart Abandonment Rate
Purchase Frequency
#4. Value Metrics
Making a profit is the ultimate goal of every business.
Value metrics will tell you whether marketing automation is affecting the bottom line — in short, making you money.
These are the most critical metrics in marketing data analytics to understand how well your business is performing at ground level.
Examples of Value Metrics
Close Rate
Current Active Customers
Revenue Generated
Cost of Investment
Return on Investment (ROI) — Short-term Focus
Customer Lifetime Value (CLV) — Long-term Focus
10. CRM
The primary objective of marketing automation platforms is to effectively manage the company's interaction with current and potential customers – in short, Customer Relationship Management (CRM).
CRM software is an all-inclusive marketing automation package to increase brand awareness, speed up the lead generation & sales process, and earn customer loyalty to create the highest possible CLV (Customer Lifetime Value).
For the successful onboarding of a customer and building a positive ROI, CRM software is a proven marketing automation tool.
Why am I saying this?
See the following stats.
Although the CRM system is expensive marketing automation, you can get an average ROI of $8.71 for every $1 spent. (Source: Nucleus Research)
74% of users have improved access to customer data after adopting the CRM system. (Source: Software Advice)
Here is an infographic showing the benefits of a CRM system.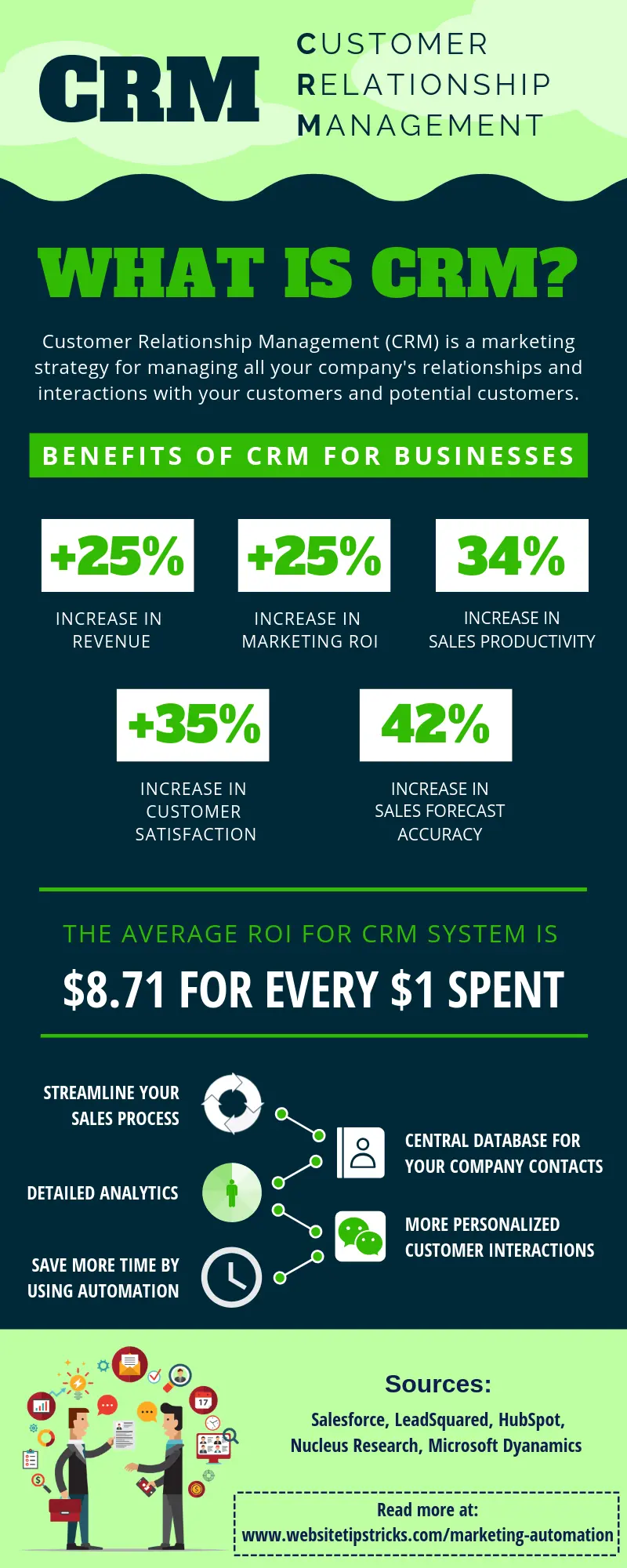 11. Artificial Intelligence
Since labor cost + services now account whooping 53% share of the total marketing budget, talent is a major concern for many organizations. (Source: Gartner)
Artificial Intelligence helps to reduce this cost by allowing software technologies to learn from marketing data to drive digital transformation by taking smarter automated decisions.
Recently, Microsoft India conducted a Twitter Poll (26,521 votes) to know how AI is helping organizations to transform their digital marketing strategies, and the results are what exactly we are hoping for.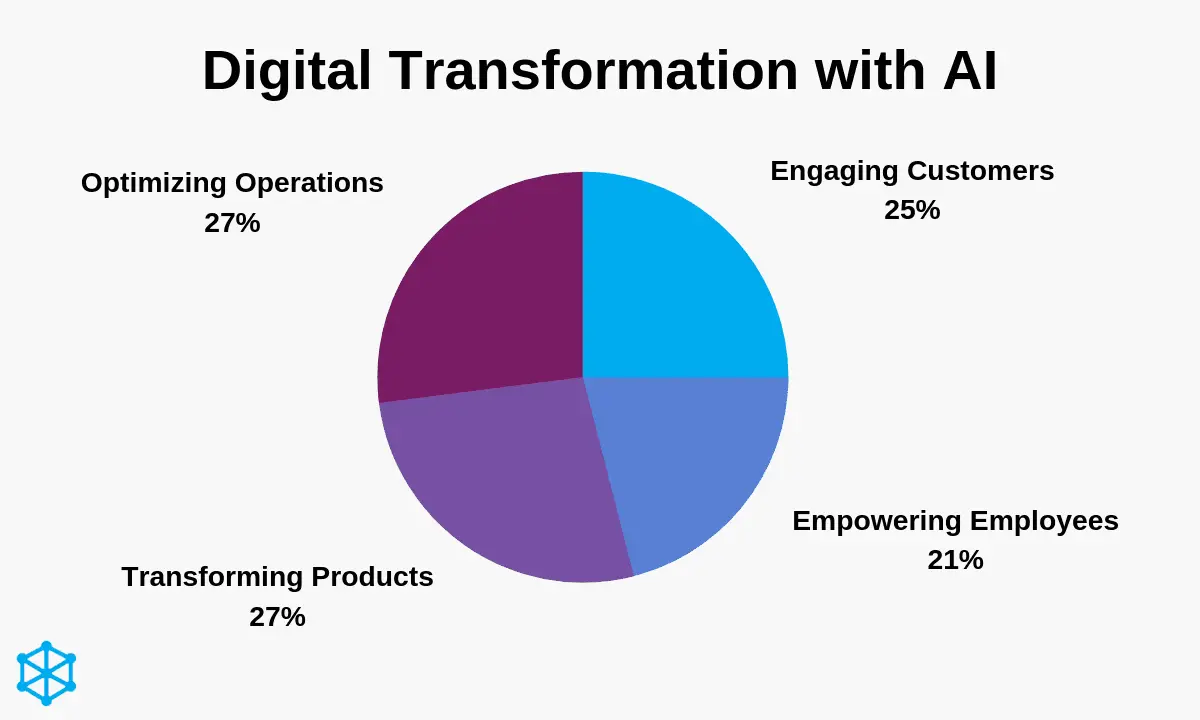 Although AI won't be a substitute for human intelligence, you may find it performing better in certain areas to make your marketing automation more reliable.
#1. Email Marketing
Artificial intelligence will take email marketing automation to its most granular level. It'll analyze the behavior of each email subscriber and send them targeted, yet personalized messages at an optimum time when the probability of conversion is the highest.
AI-powered email automation will even perform multivariate tests and give recommendations about subject lines, visuals, and CTA (calls to action).
#2. Ad Targeting
AI in ad targeting isn't difficult to understand when you have already used Google products.
However, the ad industry is changing from RFP (Request For Proposal) to programmatic advertising where networks have started measuring CFV (Customer Future Value) along with CLV (Customer Lifetime Value).
AI is helping them with the best placement recommendations based on predictive analytics — in short, which ad spaces to buy and how much to pay for them.
#3. Social Media Marketing
AI will develop a stronger brand-customer relationship by maintaining a meaningful conversation between them. It will analyze user interaction and craft engaging content based on those insights.
AI will also find when people are online or most likely to be receptive to brand communication and cater to them with highly personalized content to generate maximum social engagement.
Businesses can use artificial intelligence for precise social ad targeting and get maximum ROI on their advertising budget.
#4. Search Engine Optimization
Although many SEO activities can be automated as I've explained earlier in this article, it still requires human creativity and ongoing project management to achieve better results.
On another hand, implementing AI in SEO will be a game changer. It'll help to improve automated processes by making data-driven recommendations for optimizations and eventually, going ahead and making those optimizations.
Imagine titles or meta descriptions that auto-optimize as rankings shift, or image alt-text or description that is written based on understanding search engine algorithms or deeply analyzing image search results.
Currently, Google and other search engine rankings are incredibly dynamic. Many websites are scared of this continually shifting SERP environment while a few sites have already lost a significant portion of their organic traffic.
AI will quickly predict the algorithmic changes, make optimizations and keep you distinctly ahead of your competitors.
Can you miss this opportunity?
#5. Chatbots and Virtual Assistants
AI-powered Chatbots and Virtual Assistants let businesses engage with customers at different stages of the buyer's journey.
They offer scalable, yet individualized marketing capabilities, such as sending personalized messages and customizing the offers, to meet the continually growing consumer demands.
Let's see, how AI-powered Chatbots and Virtual Assistants will enhance your marketing campaigns.
AI Chatbots
AI-powered Chatbots can interact with customers and provide real-time, valuable assistance to drive them from TOFU to BOFU.
The majority of customers are now familiar with automated bots and feel comfortable interacting with them; still, some people don't like to chat with impersonal software programs.
Artificial intelligence with NLP (Natural Language Processing) gives a personality to chatbots to enhance user experience with the most sophisticated and personalized communication that is difficult to differentiate from non-humans.
No wonder, the Chatbot Market size is set to exceed USD 1.34 billion by 2024. (Source: Global Market Insights, Inc. research report in 2018)
With more and more brands integrating their services with Virtual Assistant platforms like Google Assistant, Alexa, and Siri, users will now have a hands-free shopping experience.
For instance, customers can ask Google Home to book a Uber ride.
Similarly, KFC India becomes the first QSR (Quick Service Restaurant) brand in the country to associate with Alexa for online food ordering.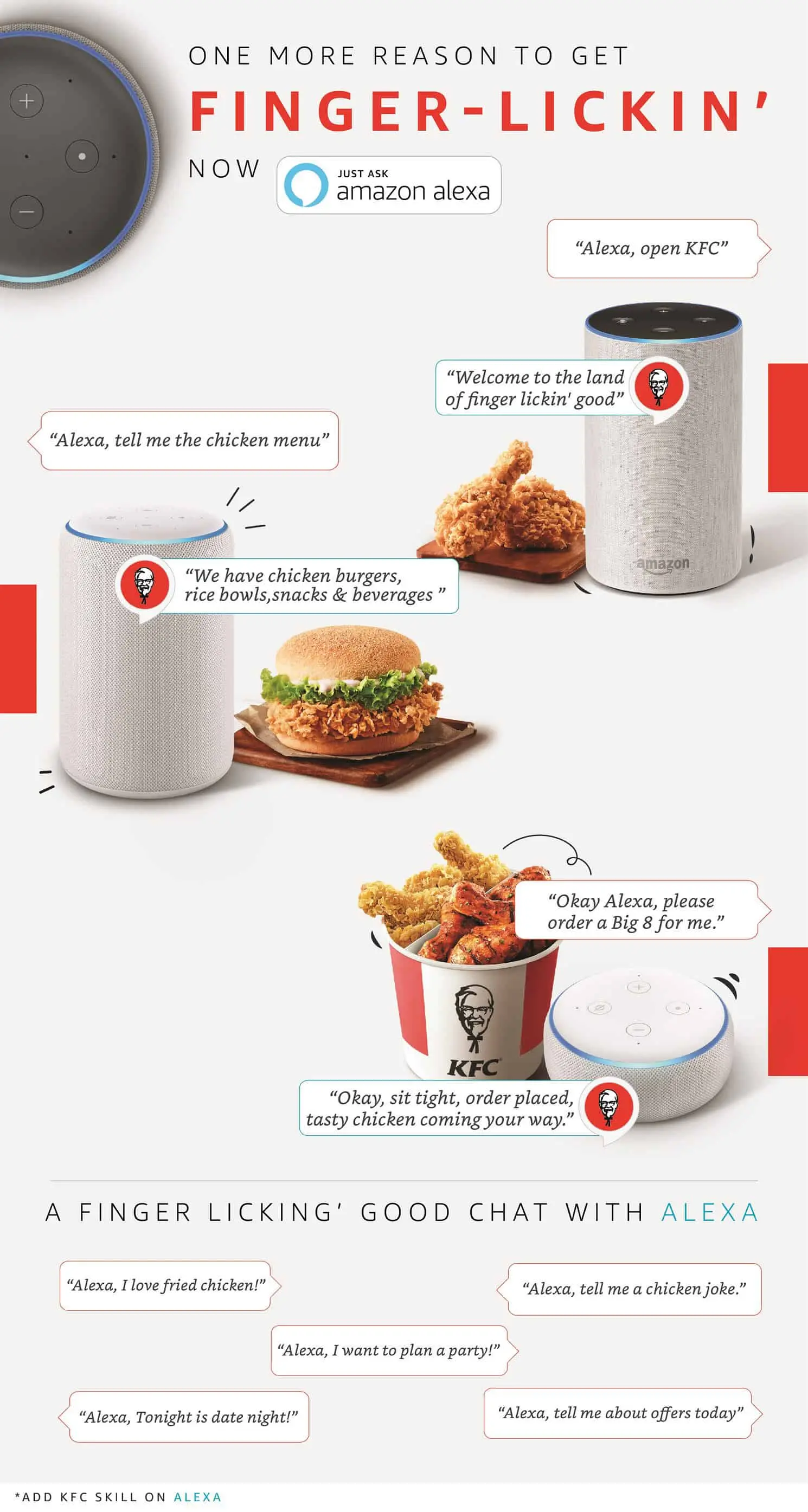 12. Marketing Automation for Offline Businesses
Traditional offline marketing campaigns can be expensive in the majority of cases.
If your business is committing financial resources to offline marketing, then you should be getting value back in the form of user engagement or sales.
Today, print media, T.V., radio, and phone calls are primary sources of offline marketing. Sometimes, networking events and trade show also work great.
Integrating these offline marketing channels with automation platforms will help you to speed up lead generation, centralize marketing data, nurture leads that otherwise have been lost, and improve tracking capabilities.
Let's see how it works.
#1. Speeding up Lead Generation
See the following example to understand how marketing automation can generate more leads during offline events or trade shows.
Most of the time, people are unlikely to share their contact information with advertisers because of obvious reasons.
However, you can grab them on your marketing list using one simple hack.
Every trade-show attendee gets an identity badge or an event pass. You can directly scan these passes in exchange for valuable freebies like ebooks, white papers, or a free subscription to your services.
If it's not possible, then you can redirect them to a landing page by giving a custom short link or QR code.
Remember, you can speed up this process by limiting the timeframe to access the freebies to create a sense of urgency among the visitors.
Here is another example of how MTS India leveraged an out-of-the-box automation tactic during the offline event (NH7 Music Festival) to get massive user engagement and 2M+ organic reach on social media.
#2. Centralize Marketing Data
Since the data captured by automation tools is centralized, everyone with authentic access can collaborate in processing and analyzing this data using the sync feature.
E.g. Most of the companies using the SAP system has centralized data with access across multiple terminals.
#3. Nurture Leads
Nurturing is all about developing relationships and providing value to your potential as well as existing customers to lead them to buy from you.
Now, think about lead nurturing using traditional marketing methods vs. using marketing automation software.
Integrating your offline business with marketing automation gives marketers tremendous power to nurture leads using emails, SMS, push notifications or automated calls, and drive them to your website or nearby shop.
#4. Improve Tracking Capabilities
Yes, you can measure the performance of offline advertising campaigns in terms of increased store visits, and organic traffic with branded keywords.
However, combining your offline marketing with automation platforms is a better way to know the KPI of a particular campaign.
When you run an offline campaign, create a dedicated landing page (preferably, with a shorter domain name) or associate a special coupon to it.
It will help you measure even more metrics that are otherwise not possible using traditional methods.
DialogTech offers an excellent call-tracking automation platform to turn voice conversations into actionable insights by making them as measurable and optimizable as website clicks.
You can then tweak your telemarketing campaign to drive more leads and convert them into customers.
What is the Best Marketing Automation Software?
The requirements of marketing automation software are different according to the size of the company and the industry they are working.
While considering investing in marketing automation, you should focus on the unique goals, estimated business results, and long-term benefits rather than the features.
How to Choose the Best Marketing Automation Software?
Marketing automation tools have multiple functions like automating repetitive actions, segmentation, and personalized interaction with customers or prospects across every touchpoint, and most important the detailed analytics to measure KPIs, campaign ROI, and impact on overall revenue.
It's quite a challenging task to pick the best one from a stack of thousands of marketing automation tools.
The product must fulfill the following requirements to qualify for inclusion in our list.
Automate at least two or more marketing activities including email, mobile & SMS, social media, SEO, and digital advertising.
Help in lead generation and act as a central database for marketing communications.
Perform dynamic lead segmentation and lead management activities like lead scoring.
Interact with the targets at multiple touchpoints depending on their behavior, triggers, or time interval.
Provide in-depth analytics and reports to track the lifecycle of the marketing campaign for each lead and decide the correlation with ROI.
Our Picks
I've already mentioned different marketing automation tools, but you can choose anyone from the following G2 Crowd Grid for marketing automation software programs.
Here are our top picks for the marketing automation category.
HubSpot is the world's leading inbound marketing automation suite offering multiple channels in an integrated form including blogging, email marketing, social media marketing, SEO, and analytics.
Do you need CRM to manage interactions with your customers or prospects?
HubSpot provides a CRM system that is free forever for up to 1 million contacts.
Premium plans of HubSpot marketing automation range from as low as $50 to a few thousand dollars per month.
Although HubSpot is well-worth for big enterprises, small businesses can leverage the power of inbound marketing to generate quality leads which ultimately turn into customers.

Marketo

It's a widely recognized marketing automation platform for its reliable performance, scalability, and user experience.
This software can help you in lead management, advanced email marketing, digital ads, social media, and mobile marketing to drive customer engagement.
Plus, Marketo's advanced analytics allows businesses to decide on further marketing strategies.
Pardot (Salesforce)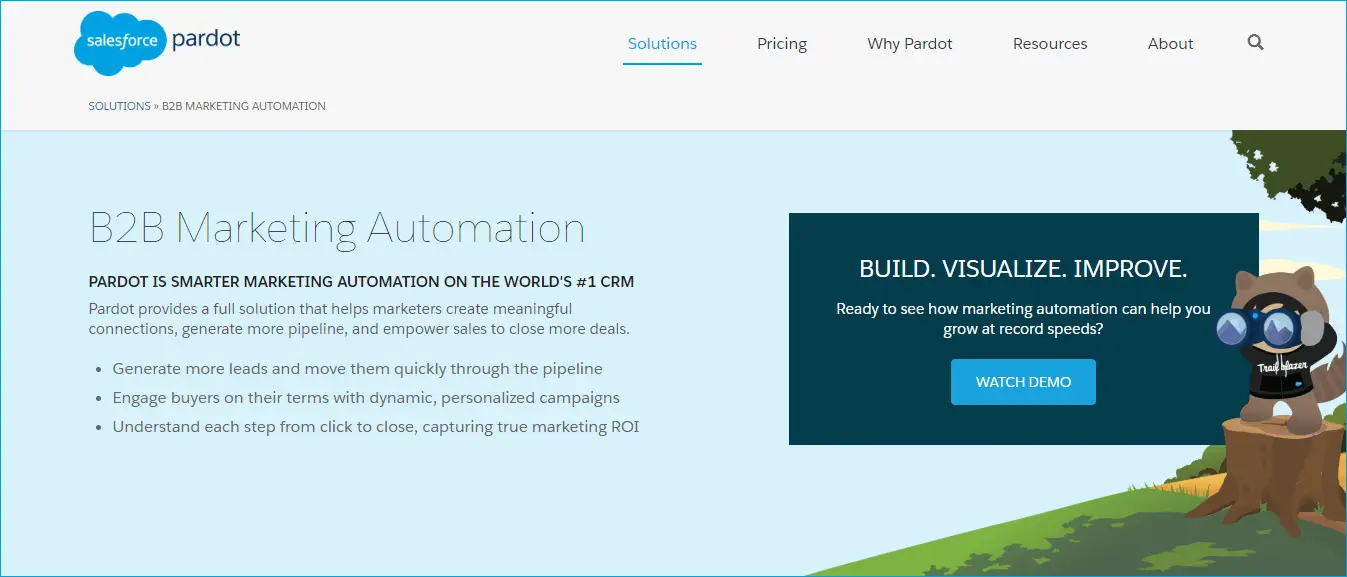 Pardot is primarily a B2B Marketing Automation platform for smarter lead generation, streamlined lead management, email marketing, seamless sales alignment, and insightful ROI reporting.
It helps to find the hottest leads and convert them into your customers.
Whether you want to monitor your SEO keywords or spy on competitors, Pardot is one of the perfect solutions.
It also offers multiple integrations for an Olark chat, Google AdWords, Webinar, and native CRM.
To drive a consistent stream of user engagement and align sales & marketing, Pardot is one of the best marketing automation tools.
Leadsquared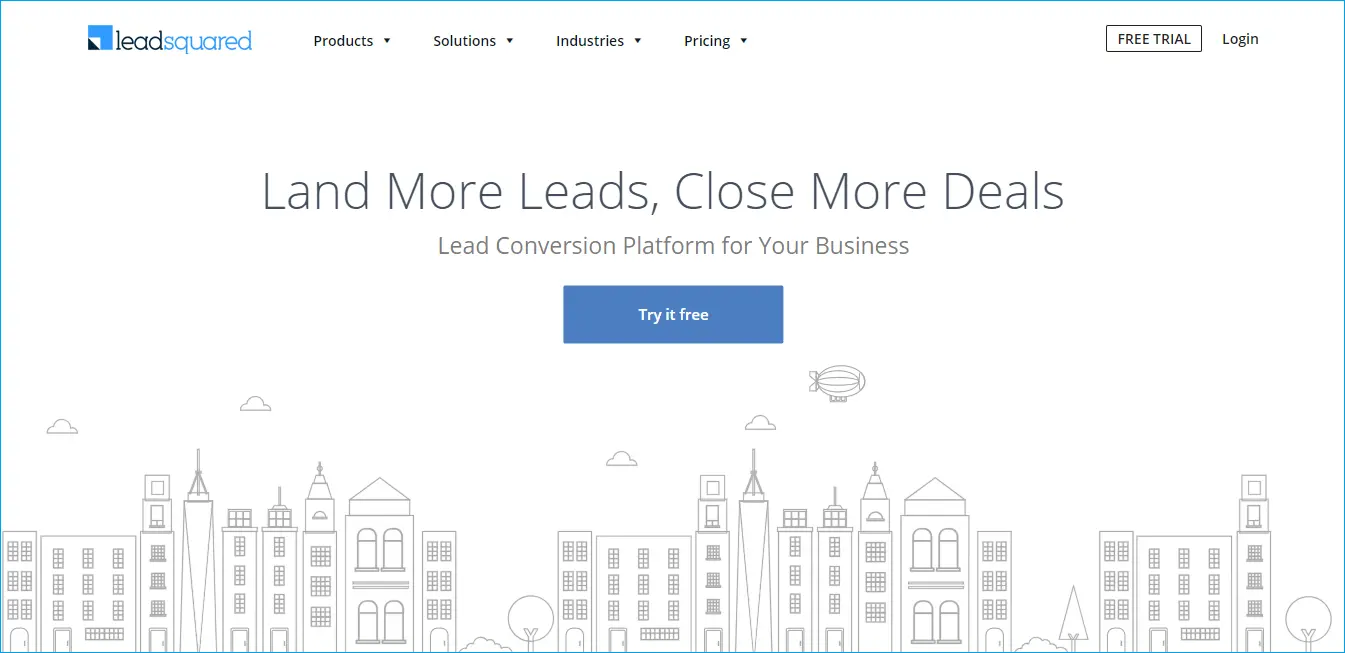 In 2019, businesses need to face fierce competition due to market saturation. It's difficult to survive unless you are focusing on innovation and bringing value to the customers.
If you want to land maximum leads, drive engagement, and close more sales in record time, then you must opt for marketing automation.
LeadSquared offers an all-in-one toolkit to push down leads faster in your sales funnel with conversion-optimized landing pages and drip marketing.
Its native Sales & Mobile CRM integration helps to improve sales velocity with smart lead management and sales automation.
Their 30K users are proof that LeadSquared is one of the best marketing automation suites for your organization.
Drip
Drip claims itself to be a full-fledged e-commerce CRM system with an artificial marketing brain that engages users and sells products like a human seller.
It features multiple integrations including landing pages, CMS, CRM, payment processing, and webinars that make it a powerful marketing automation system.
Drip can help you to design intuitive workflows to create a delightful user experience, show automated ads depending on customer behavior, and send them personalized emails to drive maximum engagement and sales.
Right from a tiny business to a large e-commerce company, Drip is an excellent platform to grow business rapidly & build ROI-based marketing.
Summary
The future is shifting towards ubiquitous marketing, and it seems impossible without using automated processes.
Since omnichannel marketing has become a necessity and your ability to deliver personalized communication across multiple platforms will decide your success over upcoming years, you must adopt marketing automation.
However, the user experience throughout the buyer's journey should be the central point of your marketing campaign rather than automation alone.
The engagement and ROI will flow side-by-side resulting in the increased brand equity that every business dreams of.
Please feel free to share your impression of how marketing automation helps meet customers by driving engagement, and how your company is addressing it.